Please be patient, it can take

some time to load the photos.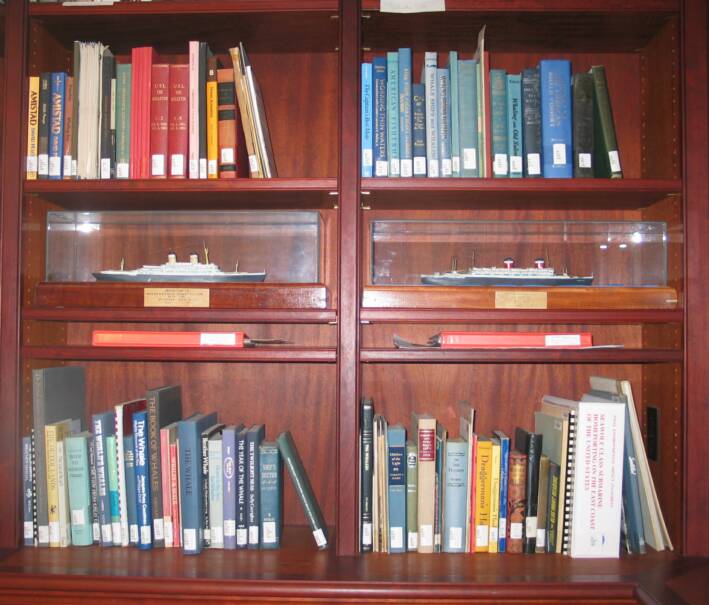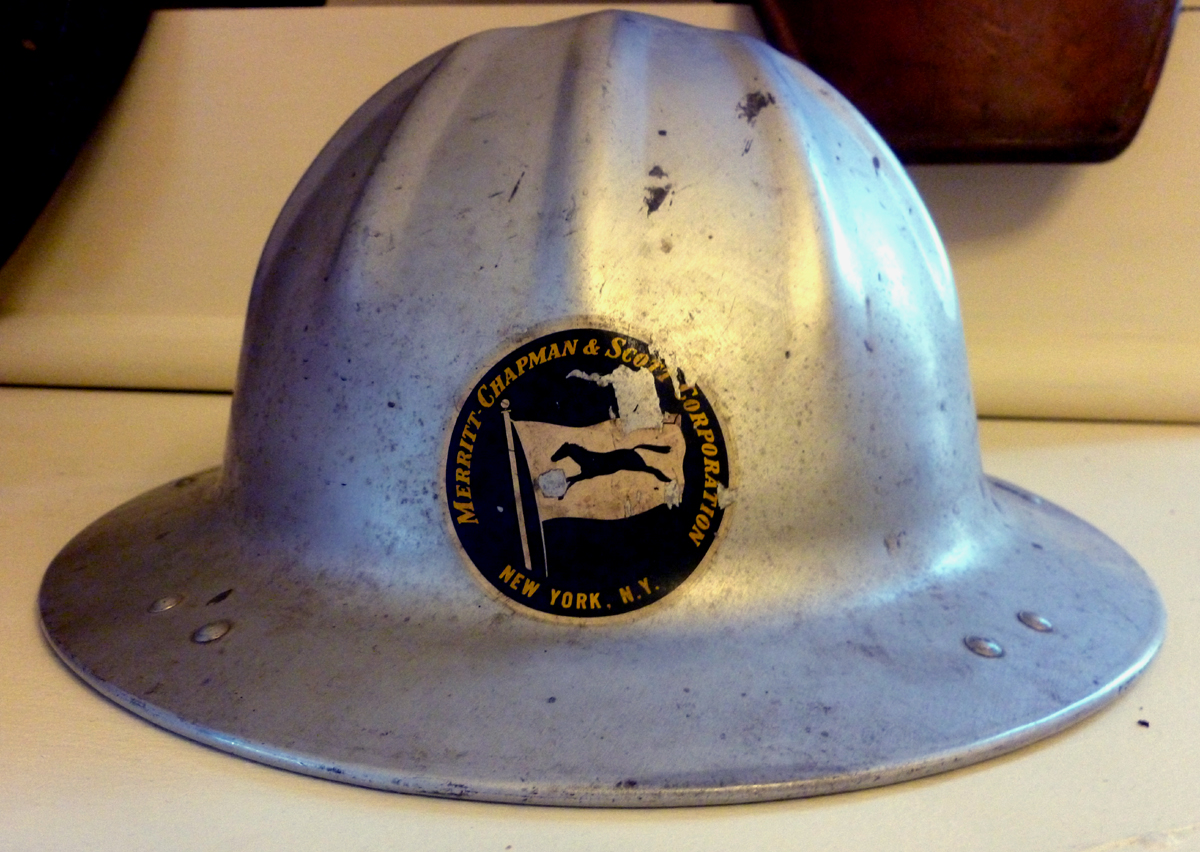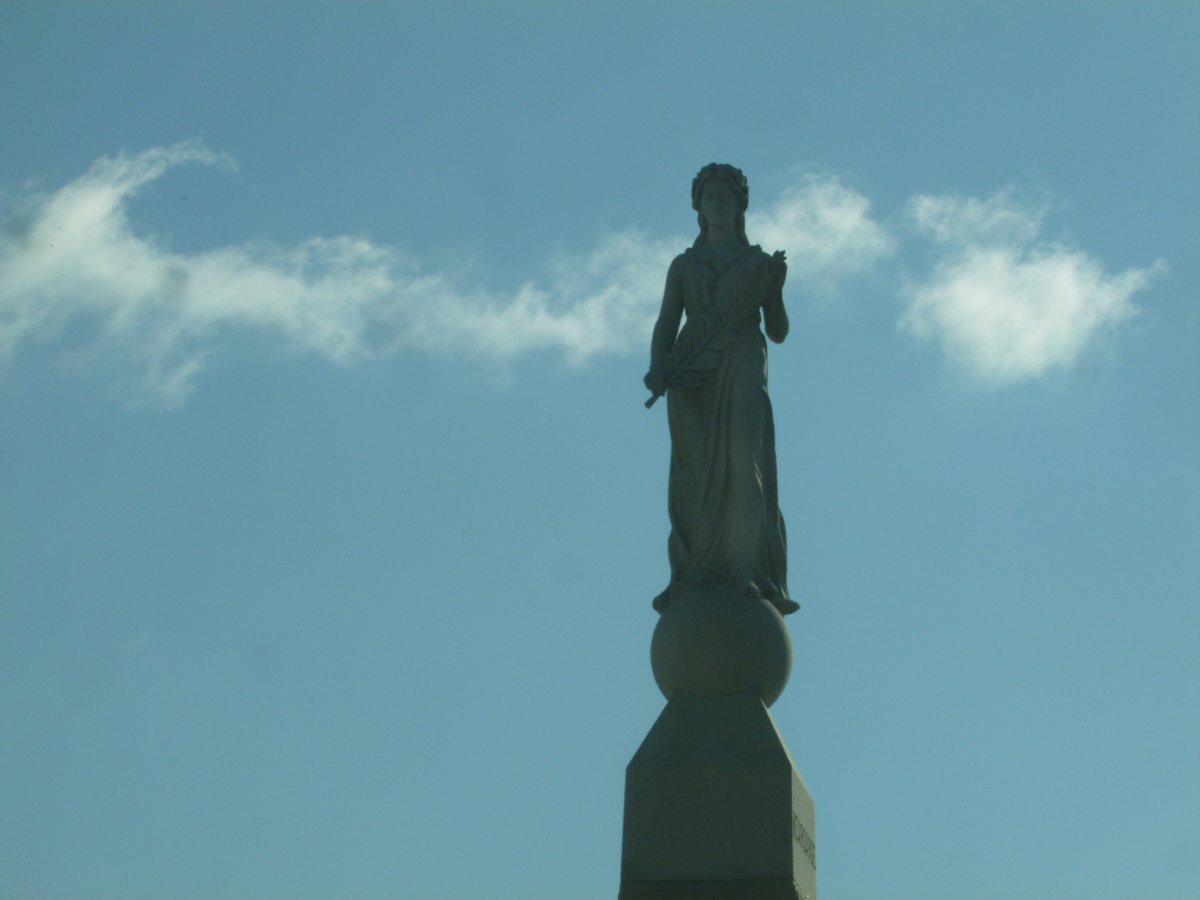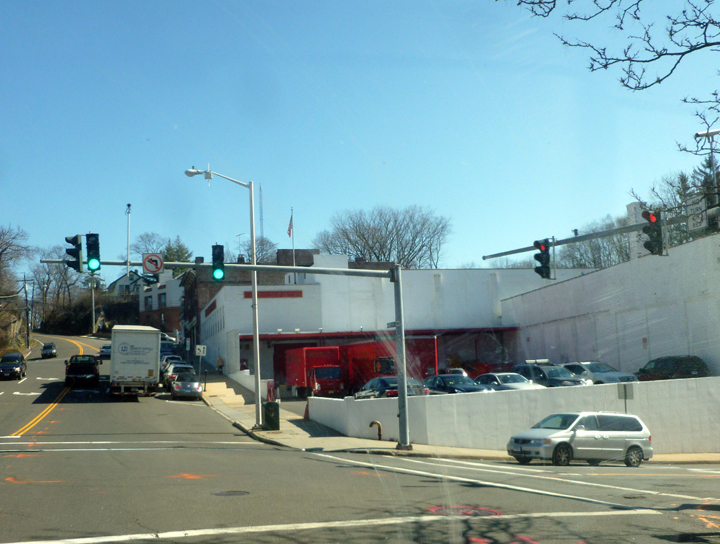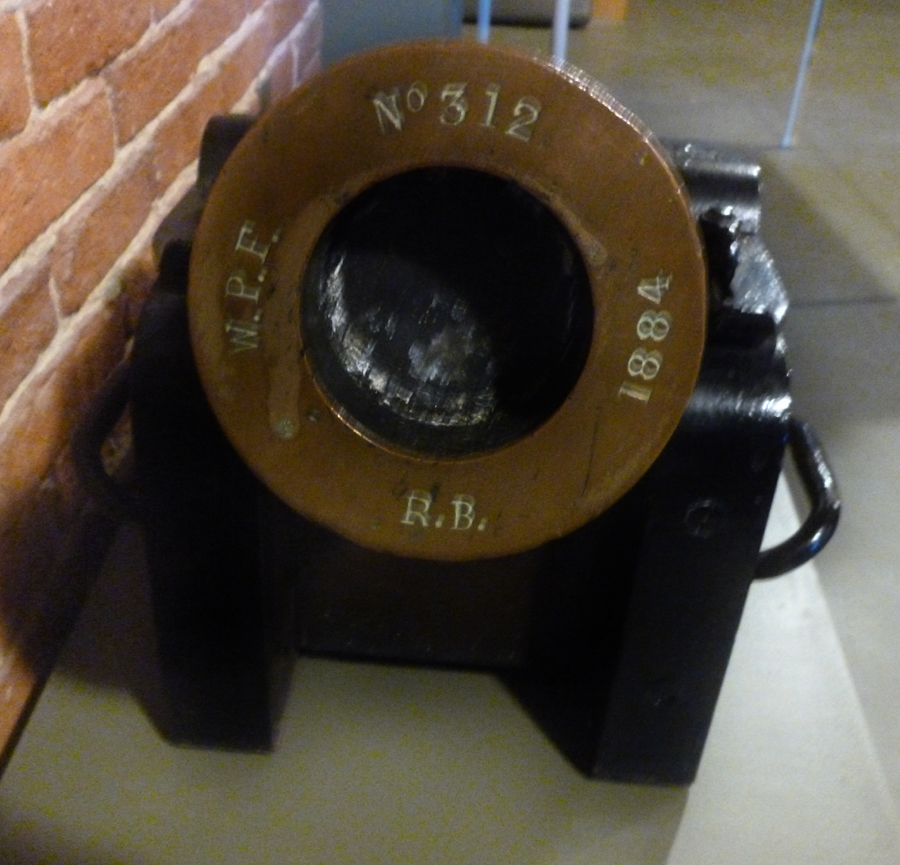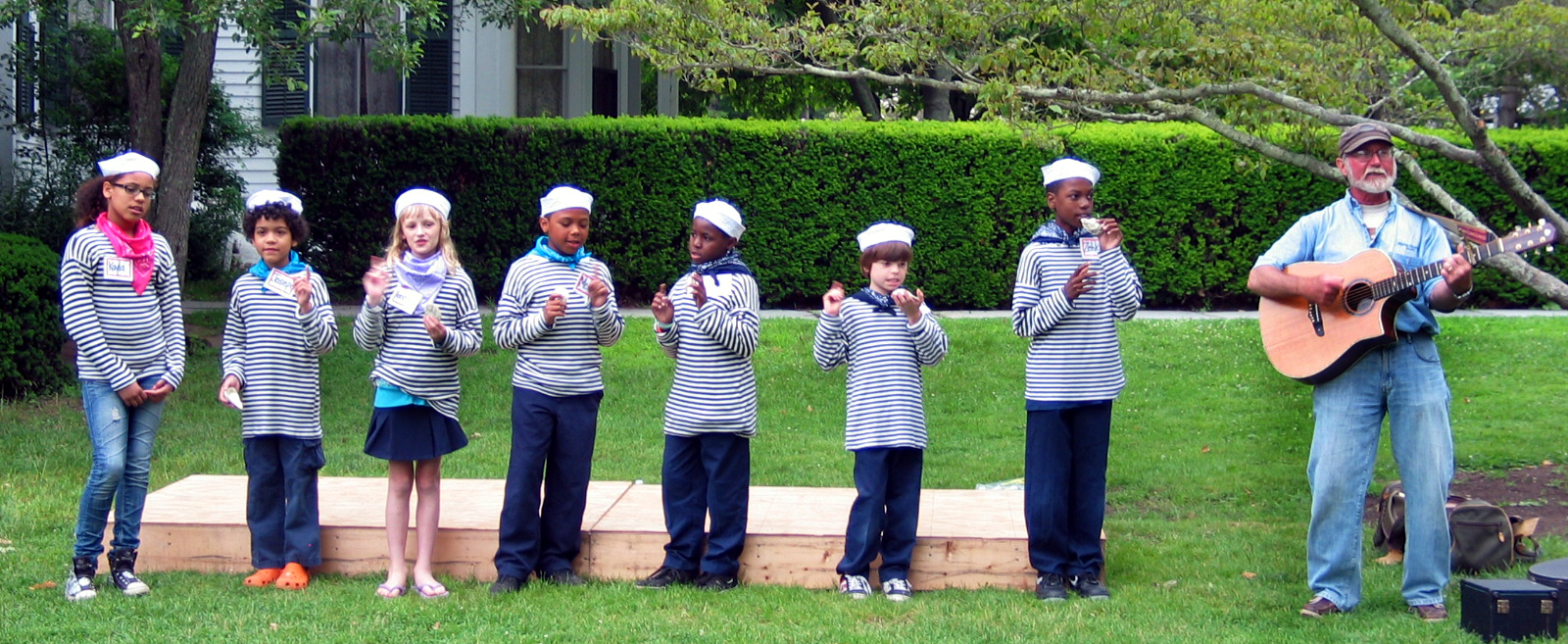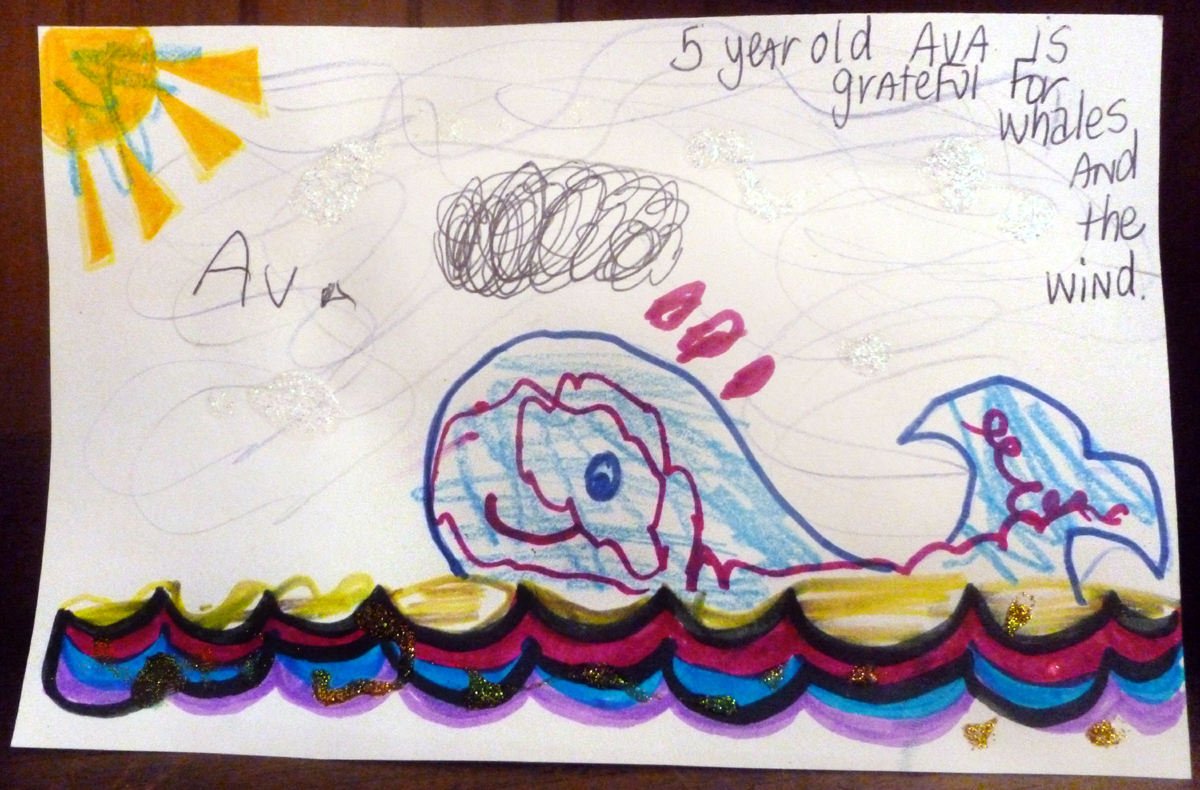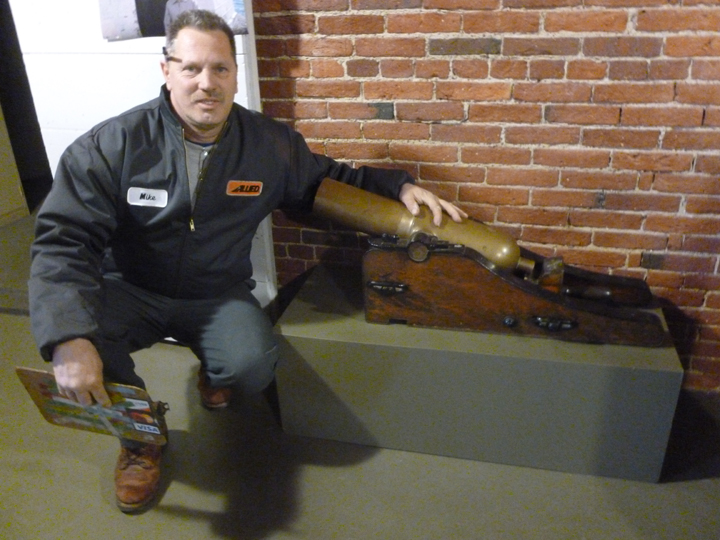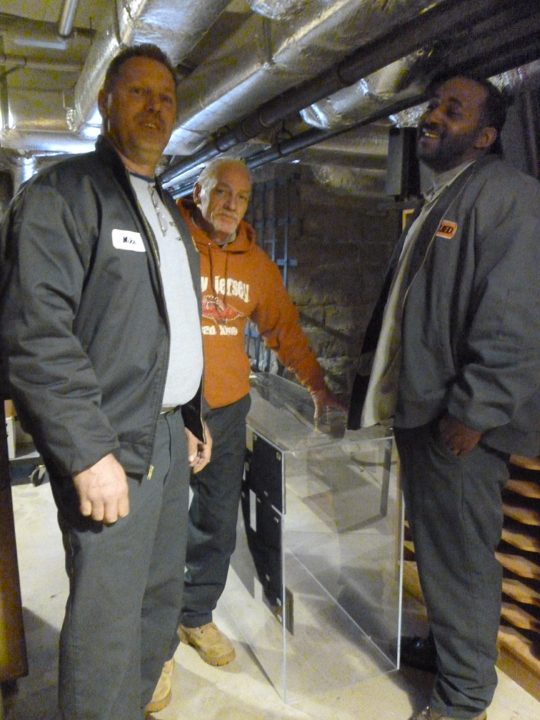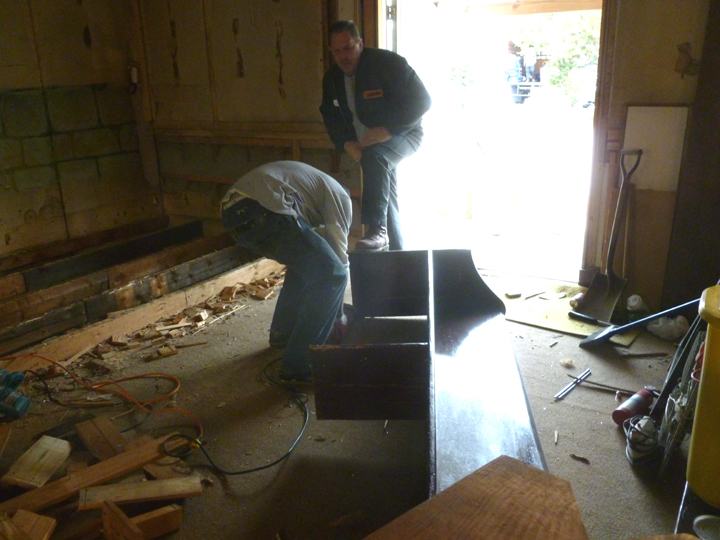 3.1.12 Rogovin (Movers) to the Rescue again. They spent the morning things around the CIty for us--first, we were given several cases by the USCG Museum, and loaned a Lyle Gun(!). Most of the items came to the Custom House but one of the cases will reside at New London's Union Station, where we will be making a small display some time soon. The movers also visited St. Peter & Paul Church to retrieve some benches and three church pews--which also came back to the Custom House.

Anne Kubitsky's 'Look for the Good' exhibition has inspired visitors to create a flurry of postcards.  The card, at left, is from Ava,age 5, who is grateful for whales and the wind.

3.6.12 Today we took a van to Greenwich to retrieve two mural paintings--sides of a triptych painted in the 1940s by marine artist Griffith Baily Coale. One mural is of New London Harbor Light (with some artistic liberties taken). A companion painting, which we also now own, is of Mystic harbor is the 19th century. The ship is the Cynosure of Stonington, mentioned in Mary Brewster's diaries:

28 February [1846]

Mary Brewster, SATURDAY [February] 28th [1846]: "Moderate breezes and fair weather. At 11 AM spoke ship Trident, of New Bedford, 32 months out, 3900 [bbls] 100 of it sperm, bound to Europe to sell her cargo and then home. Capt. Black came aboard and brought a basket of apples which waw quite, a few days I think from Talcahuano. Had been aboard the Sheffield the day before. She had a gale which had done his ship some damage. He reports the Cynosure of Stonington. Says Capt. Simonds has a Spanish wife who is to accompany him on this voyage. Well I think it is better to fetch one from home so as to have a perfect understanding with said agents, far better than find one here this side of Cape Horn. LAT. 43.01 LONG. 80.12 W."

NOTES: The Trident (Ship) sailed June 1843 and returned home September 1846. The Cynosure (Bark) sailed from Stonington, CT August 1845 and was sold in 1847. The Tiger (Capt. Brewster's ship) and Cynosure owner/agent was John F. Trumbull.

(The above is from a website: America's Victorian Era in the Age of Sail: Women at Sea: Whaling in the 19th century)

The paintings each are approximately 18 feet ling and 8 feet wide.

Far left is the storage facility in Greenwich; near left are the rolled paintings in the back of our van.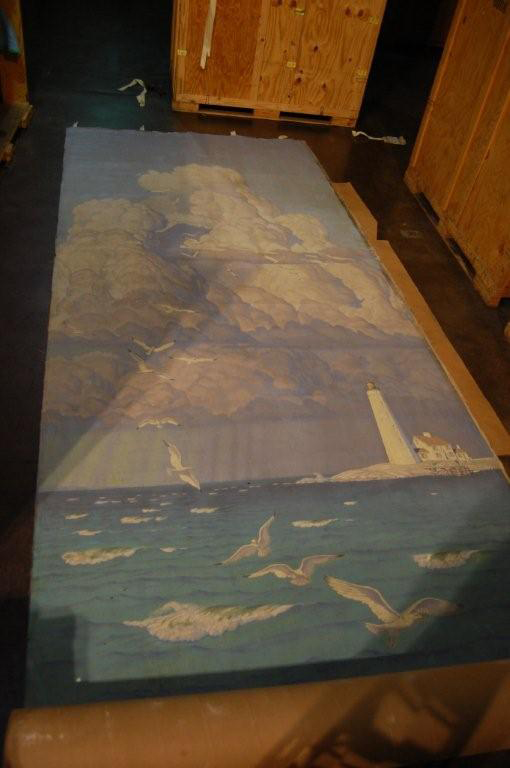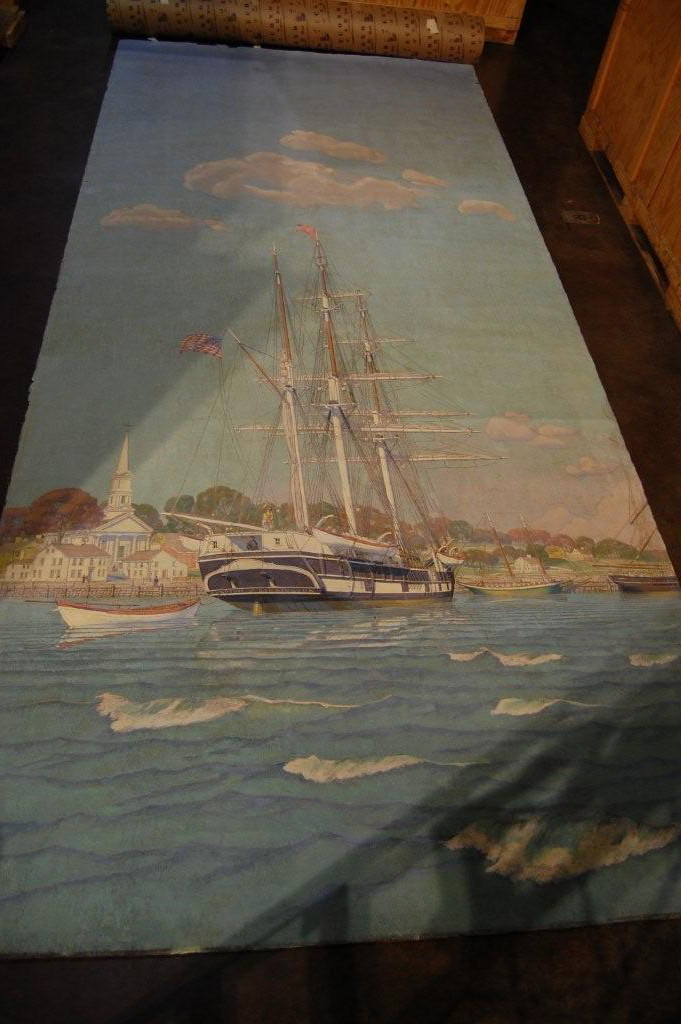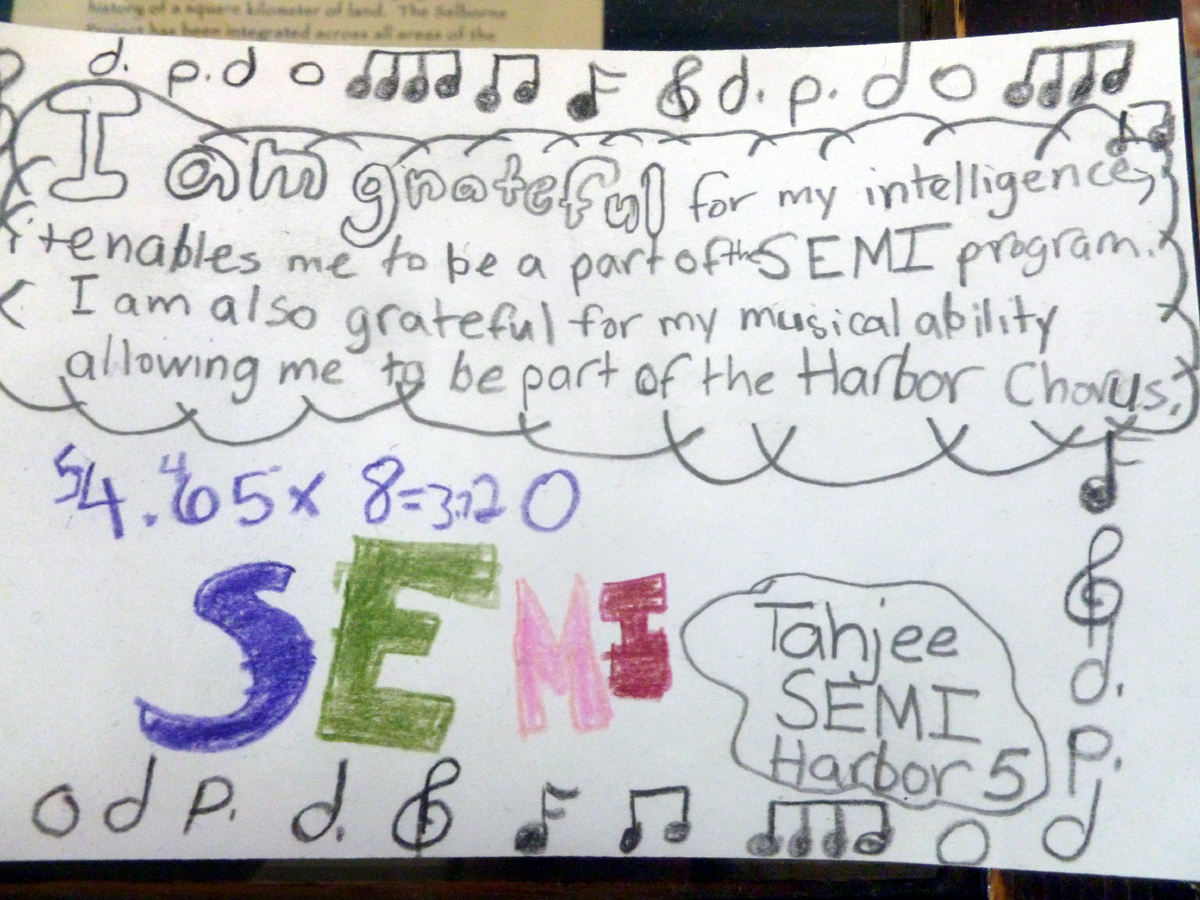 3.6.12 Postcards from our SEMI Lighthouse Kids, above & left.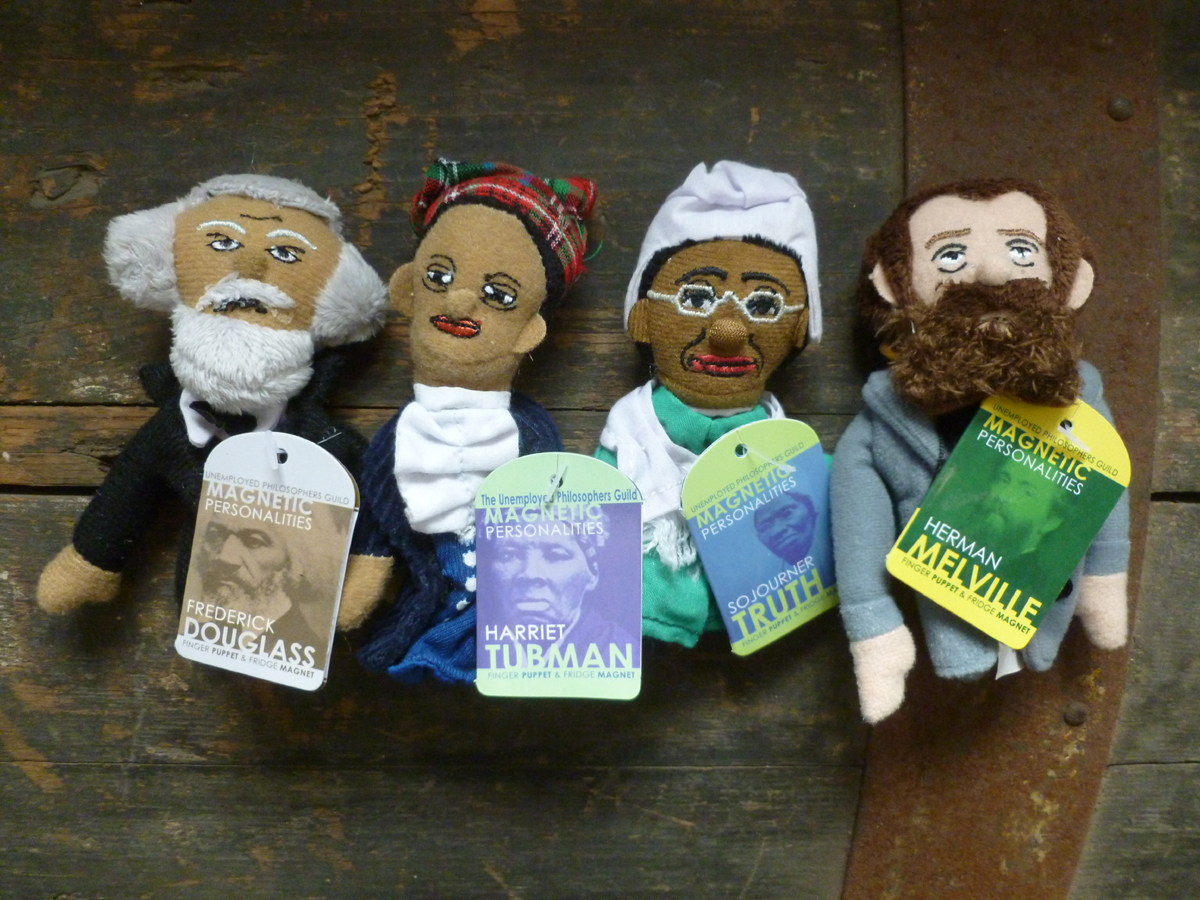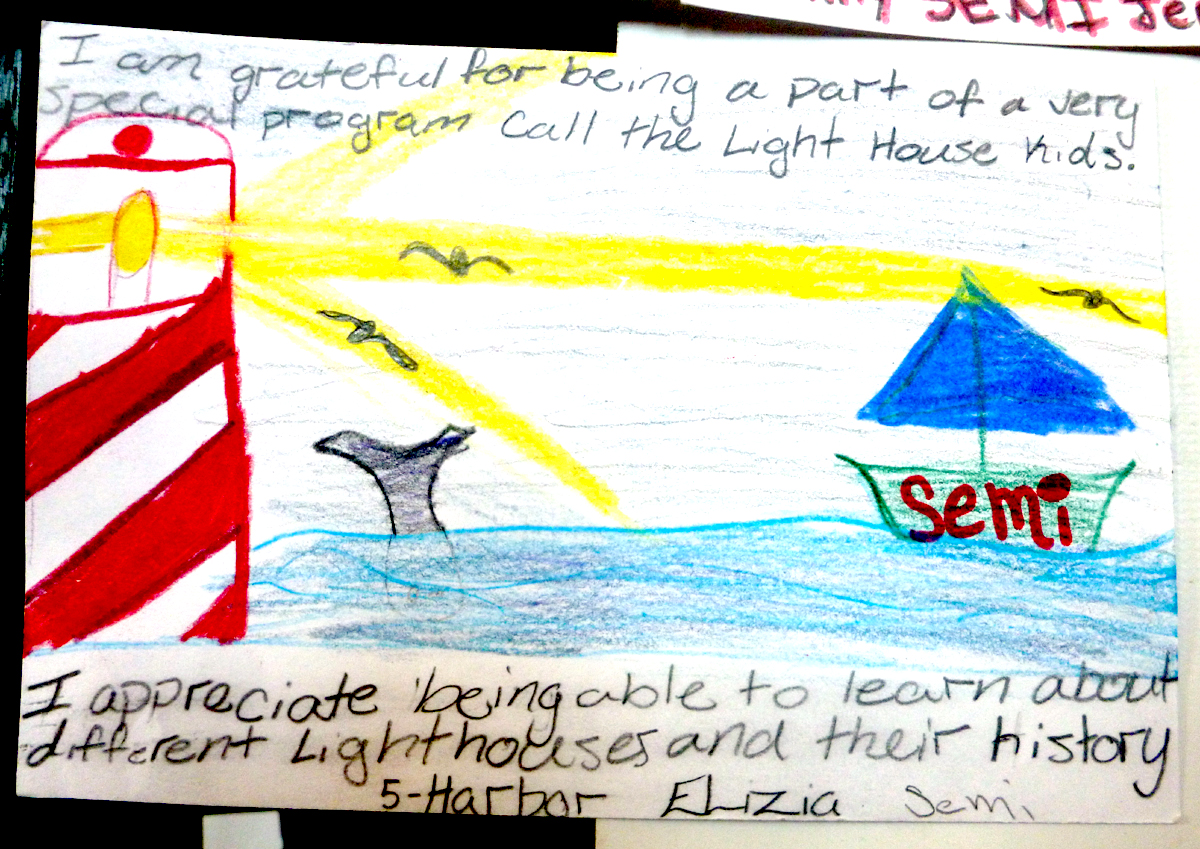 3.6.12 Our latest worry is that the wonderful SEMI-Lighthouse Kids program, run with teacher Jody Barthel, may be cut from next year's New London Public School budget! There is a meeting tomorrow night -- Thursday at 6 PM -- and we will be there to support our kids! In fact, the Lighthouse kids program, through the Custom House Maritime Museum, brought in $18,000 in grants last year.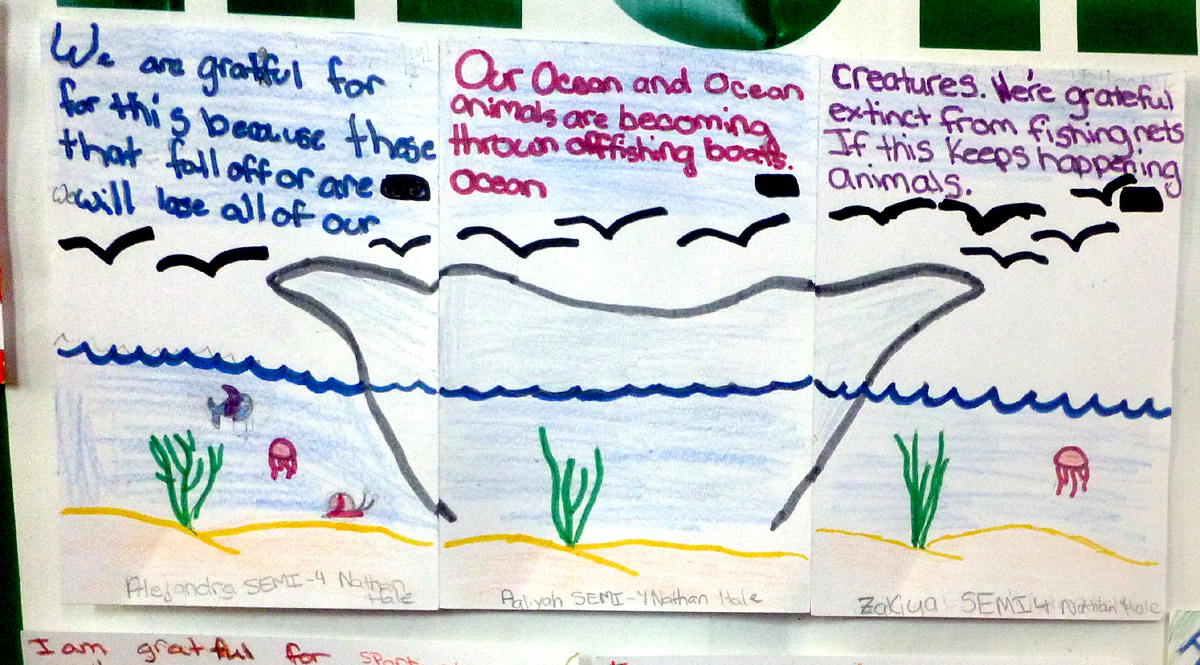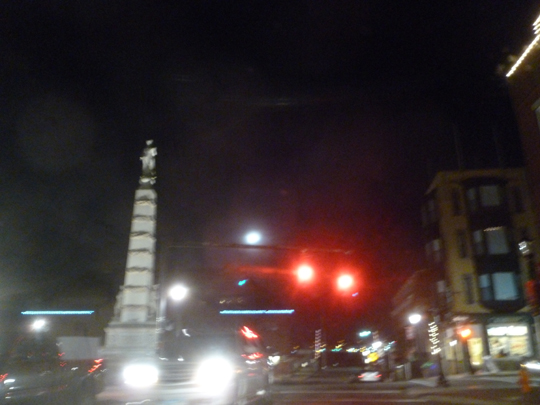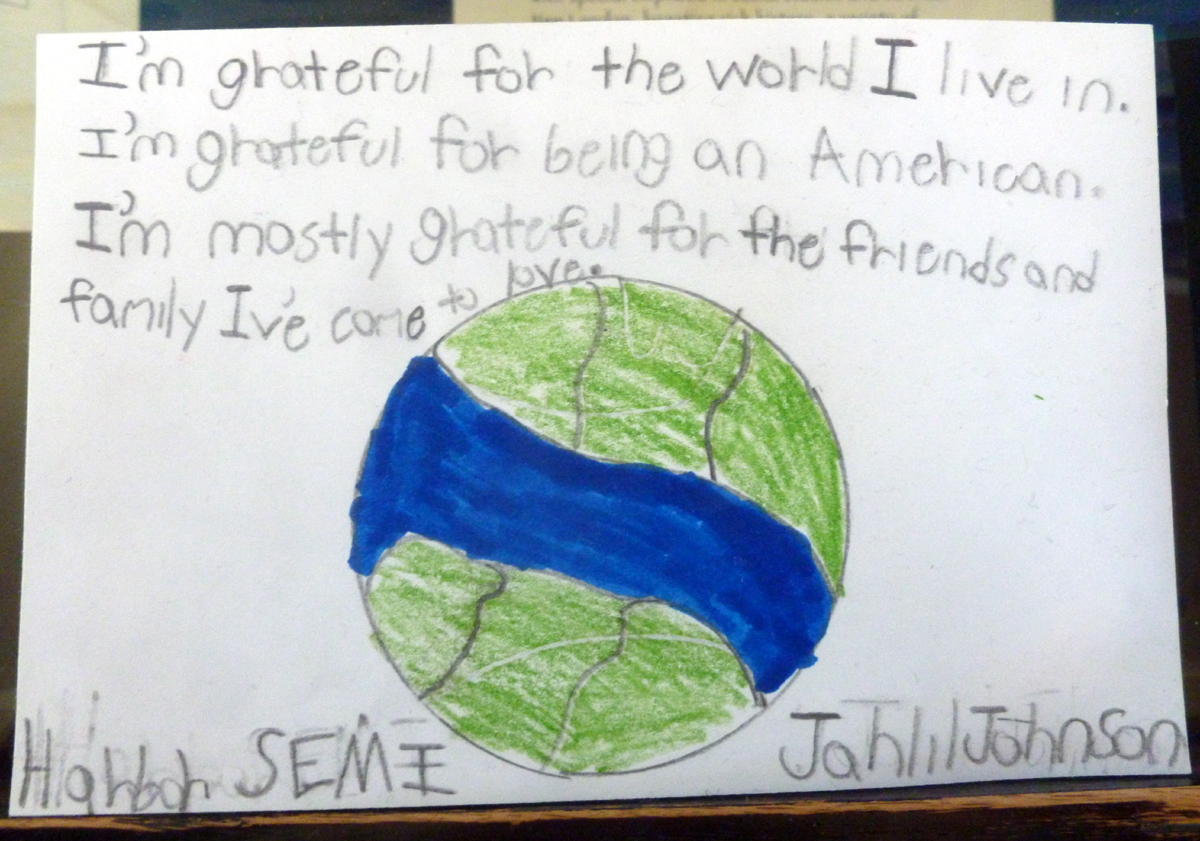 3.7.12 Tonight we reached our Annual Appeal goal of $25,000--in fact, we're $1,500 over! Thank you all -- it took everyone pitching in to succeed.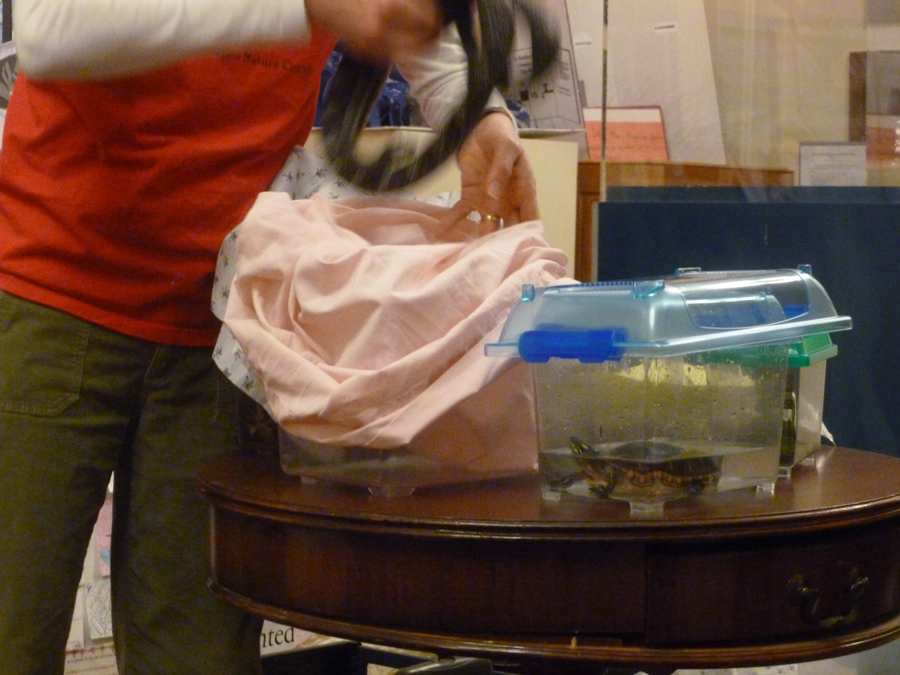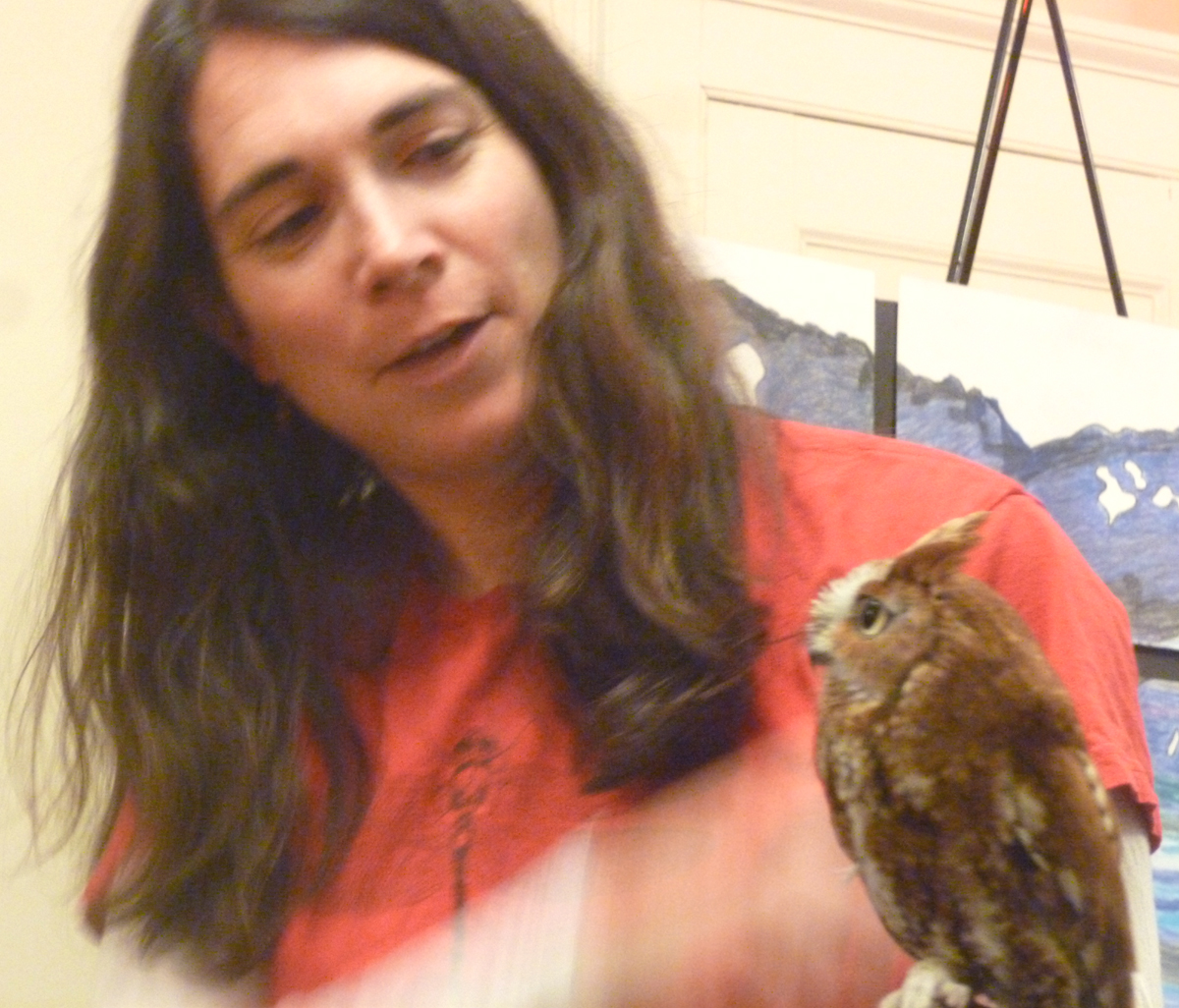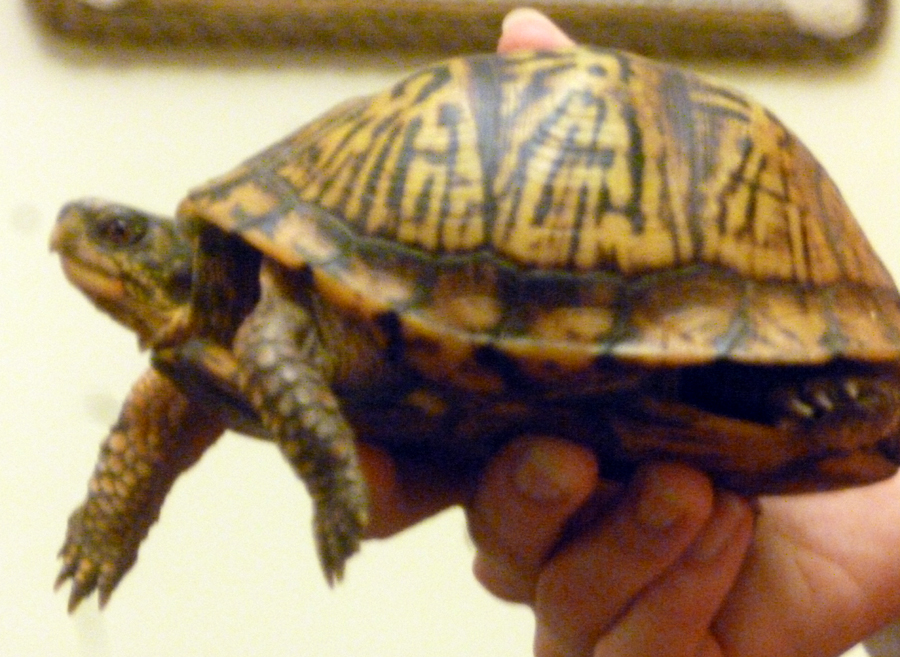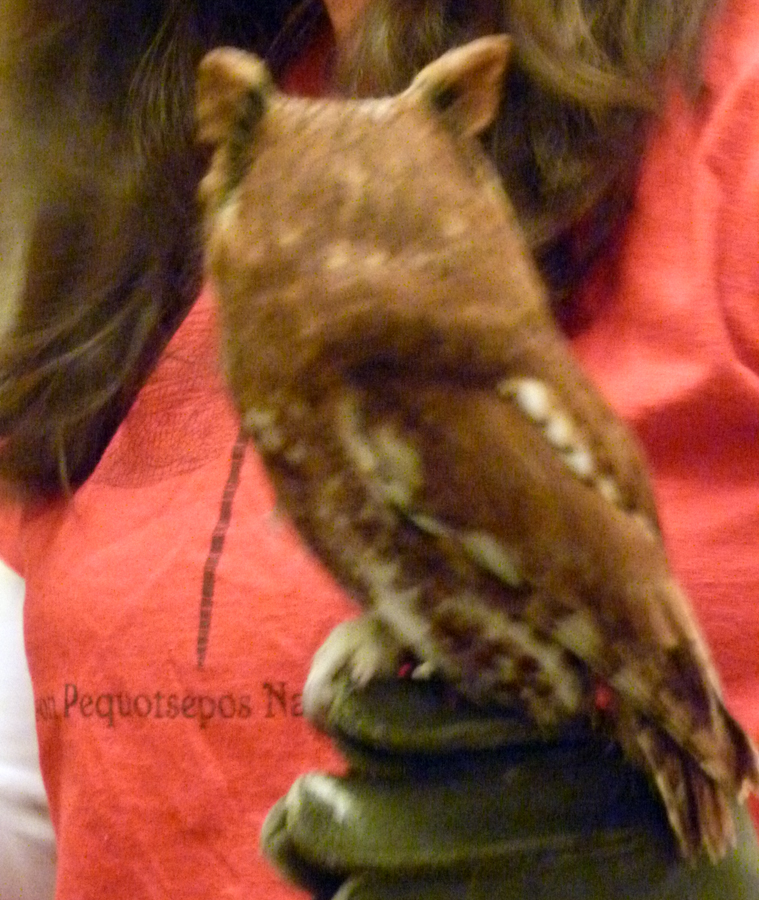 3.8.12 Kim Hargrave, above, education director at Mystic's Denison Pequotsepos Nature Center, brought Otus (the Screech Owl otus asio) & friends for a program on how to

care for wildlife in our environment. Earlier this evening, we joined our Lighthouse Kids & indtructor Jody Barthel in petitoning the New London School Board to not cut the program in next year's budget!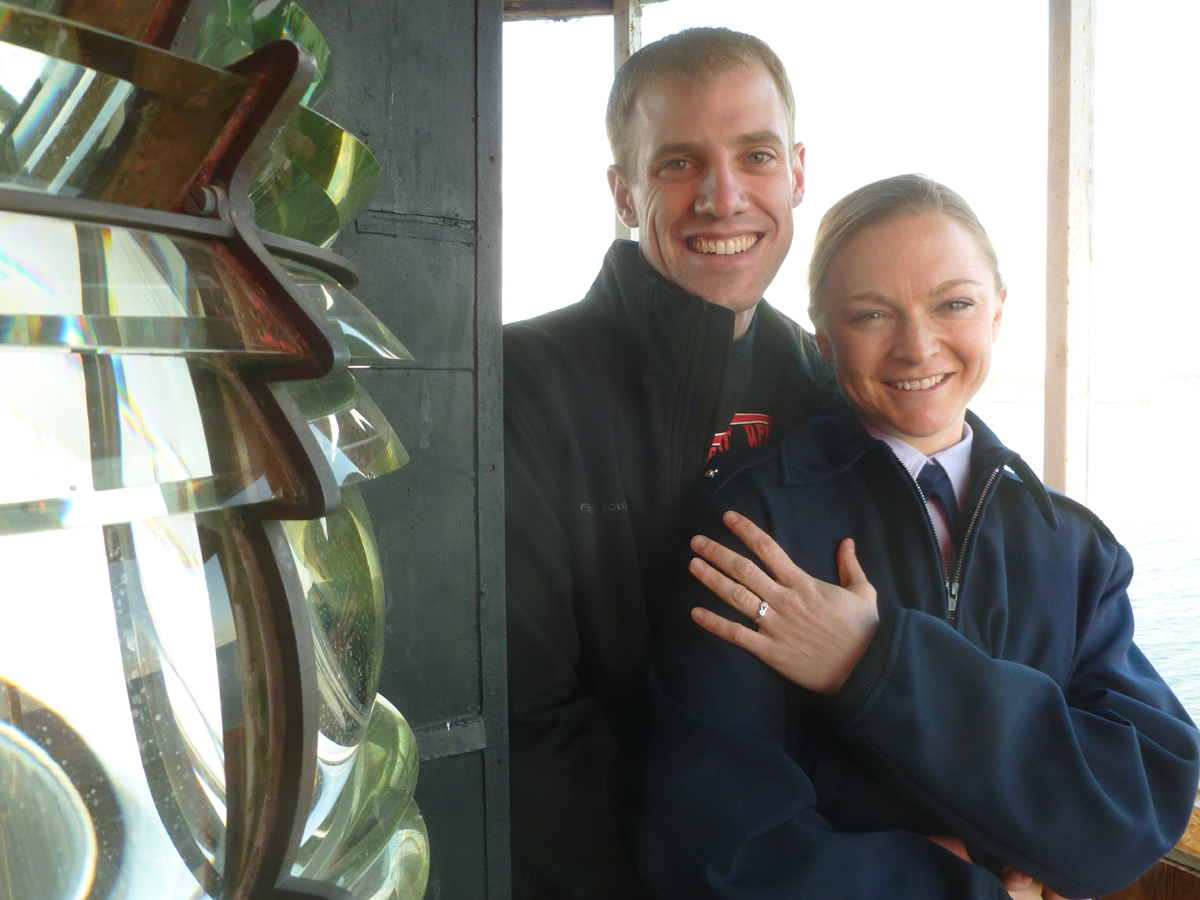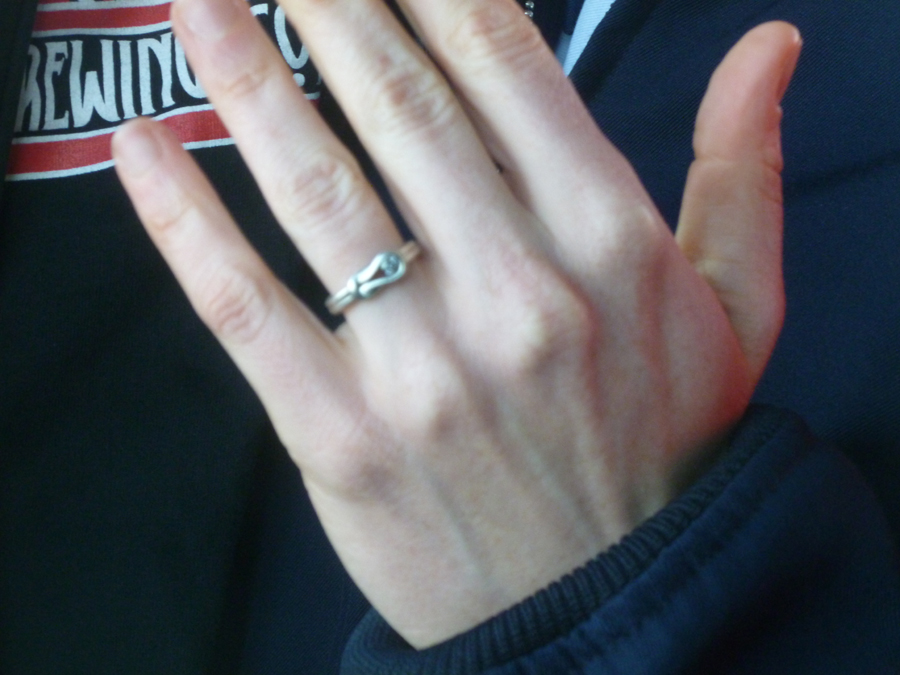 3.9.12 Tomorrow we've a wedding at the lighthouse -- our first! The USCG couple visited today. Lighthouse Kids take note: the wedding ring is a square knot--two equal lengths of rope tied in a permanent bond! Stay tuned for more pictures...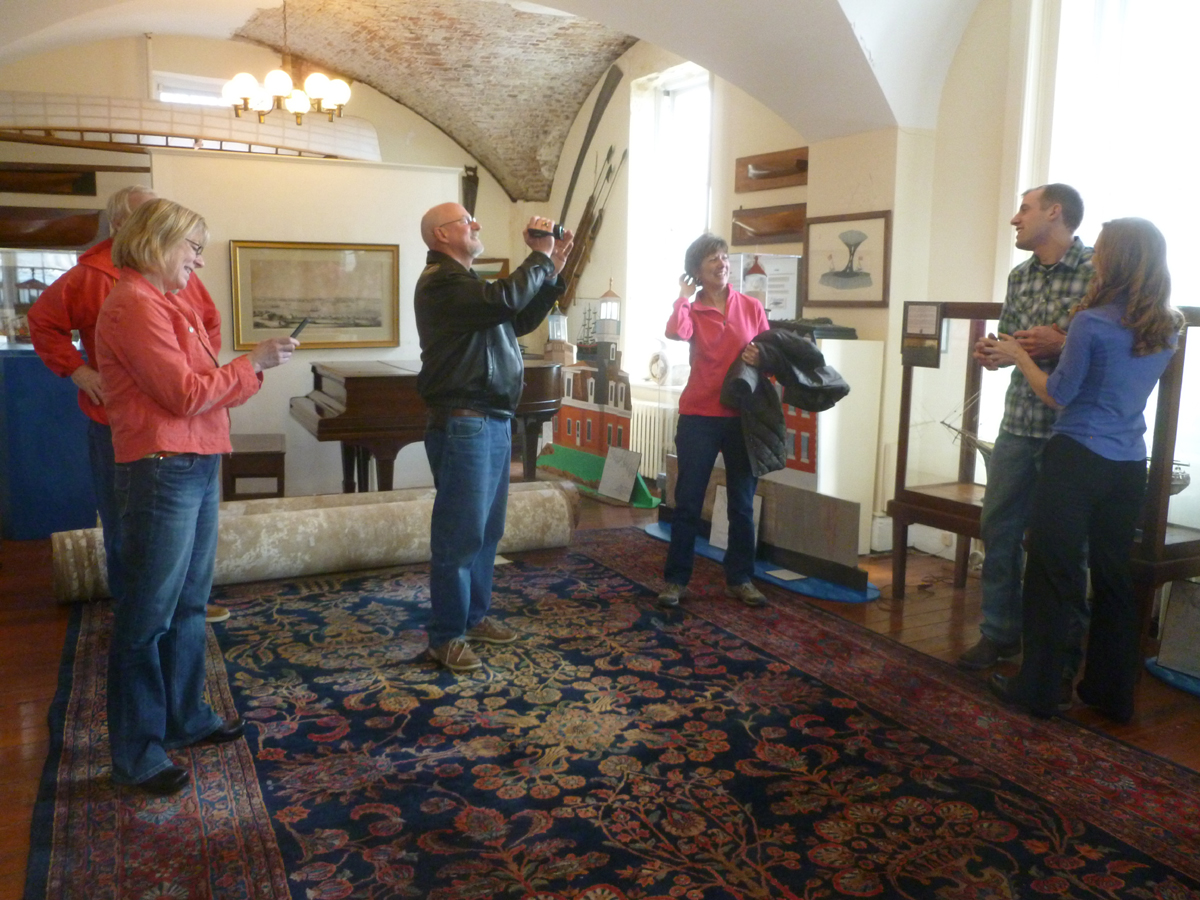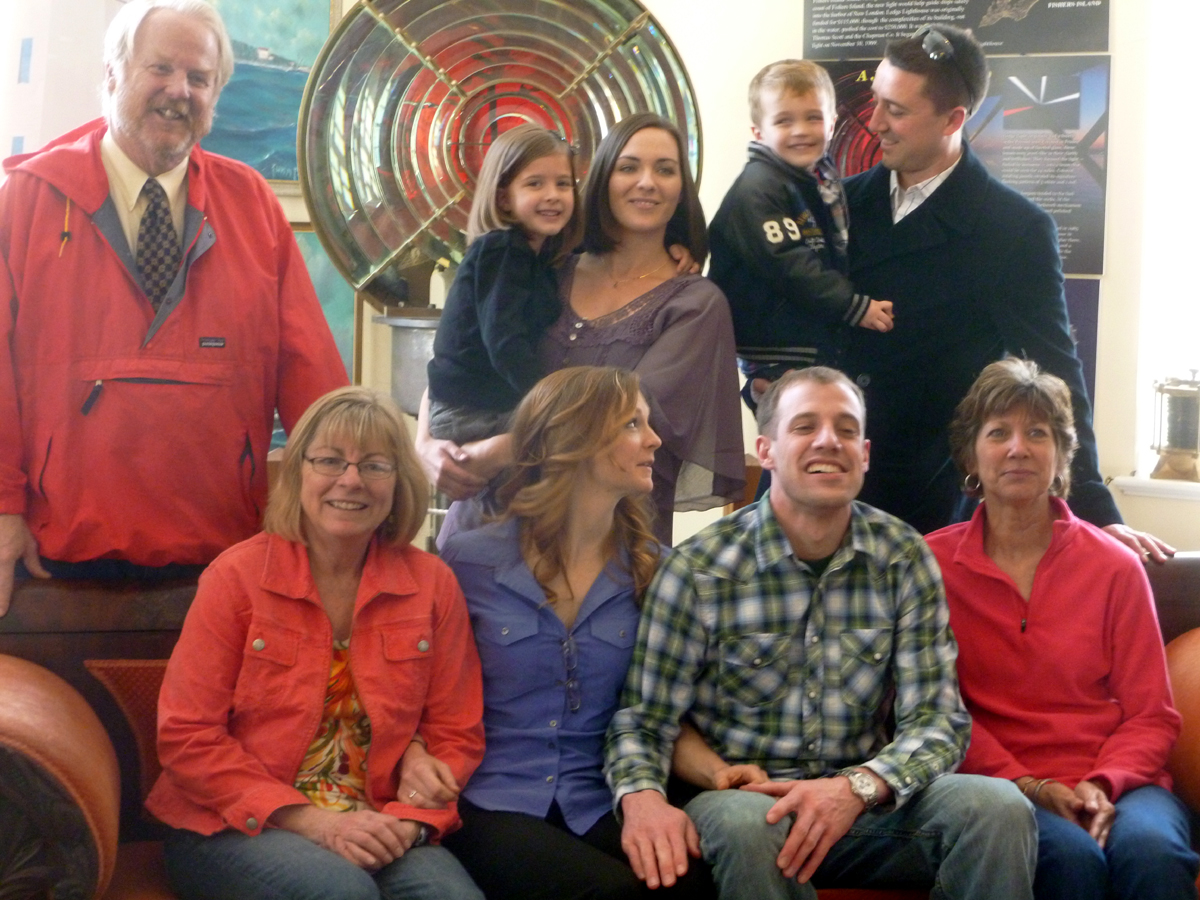 3.10.11 The families met at the Custom House on Saturday and then drove over to the lighthouse for the ceremony. Even the minister is in the USCG.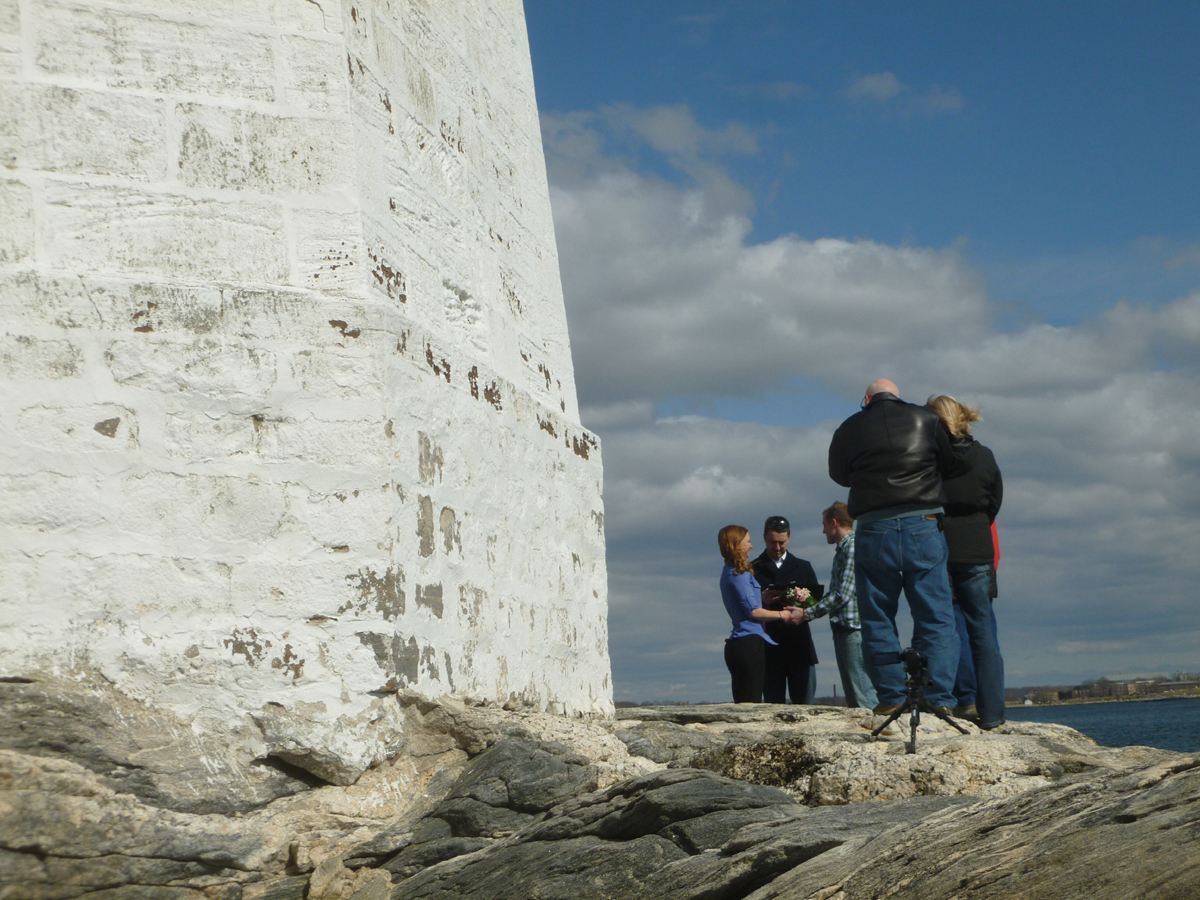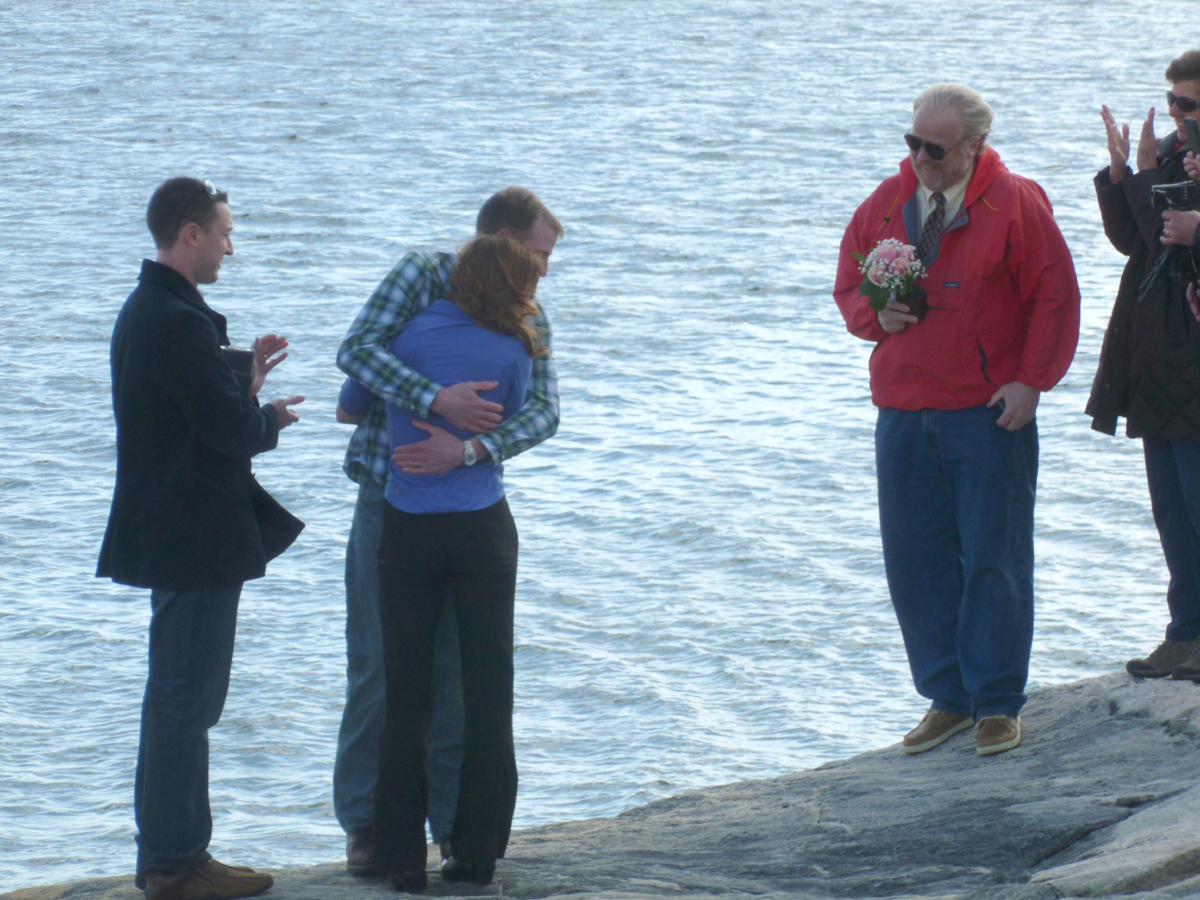 3.10.12 On Saturday afternoon, the wedding of Evan & Victoria  Swinghamer took place at New London Harbor Light. Both USCG officers, Tory is in a program at the USCG Academy for a few more months before she will join her husband in Alaska.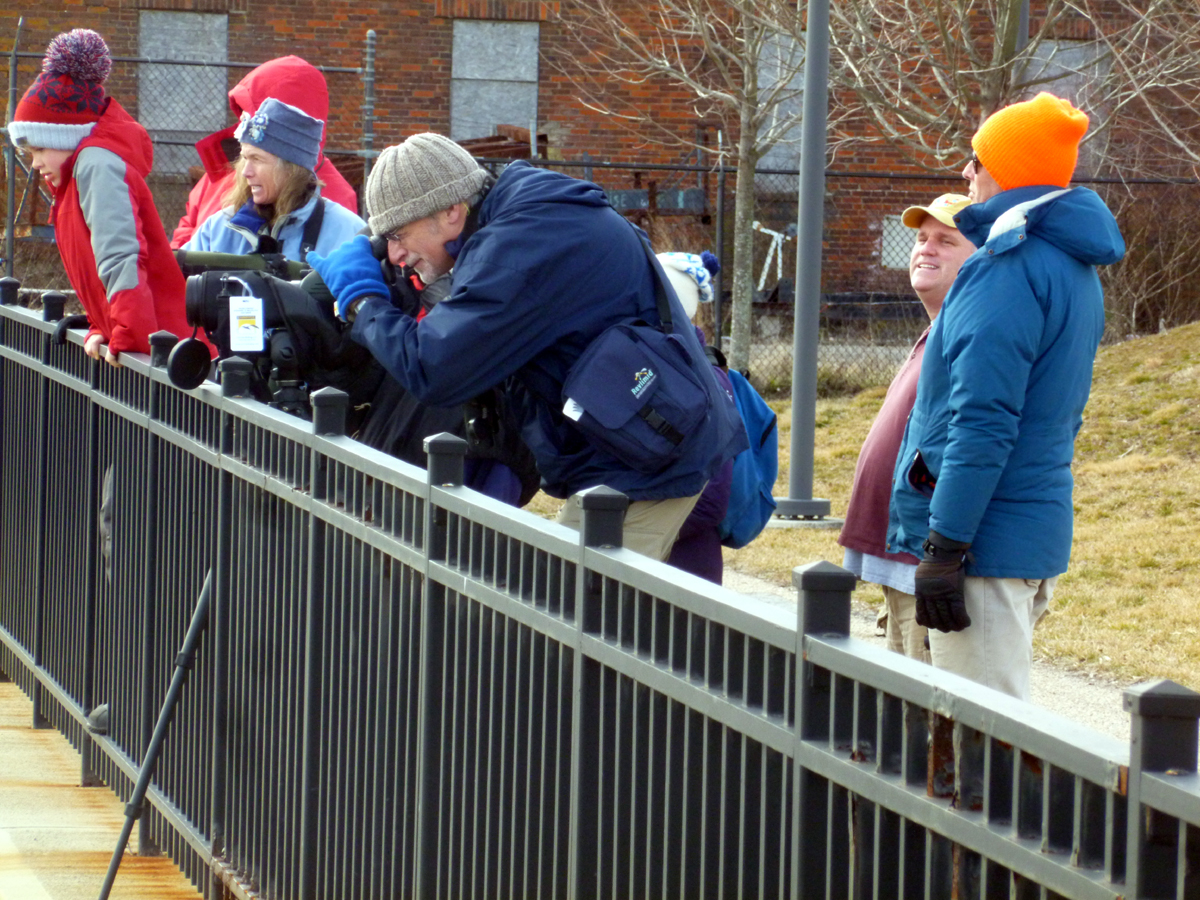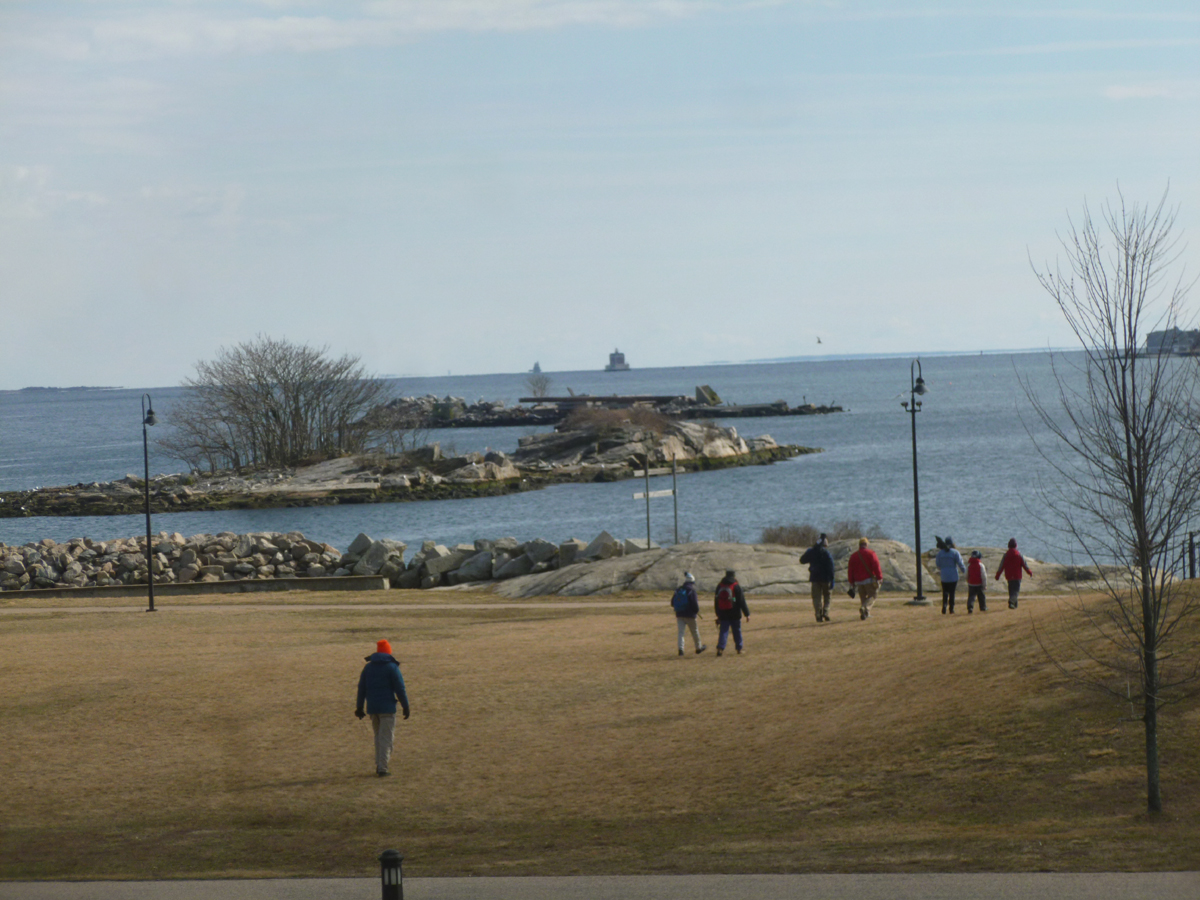 3.10.12 Intrepid birders from the Custom House Maritime Museum and Denison Pequotsepos Nature Center braved the winds to learn about Shorebirds of the Thames River on Saturday, a bird walk lead by DPNC director Maggie Jones. At this spot, at Fort Trumbull, we saw Hooded Merganzers, above.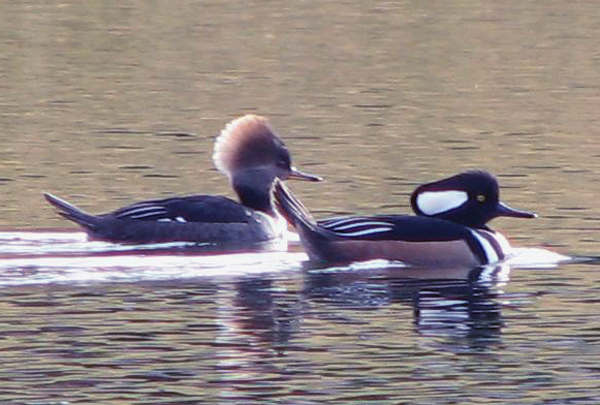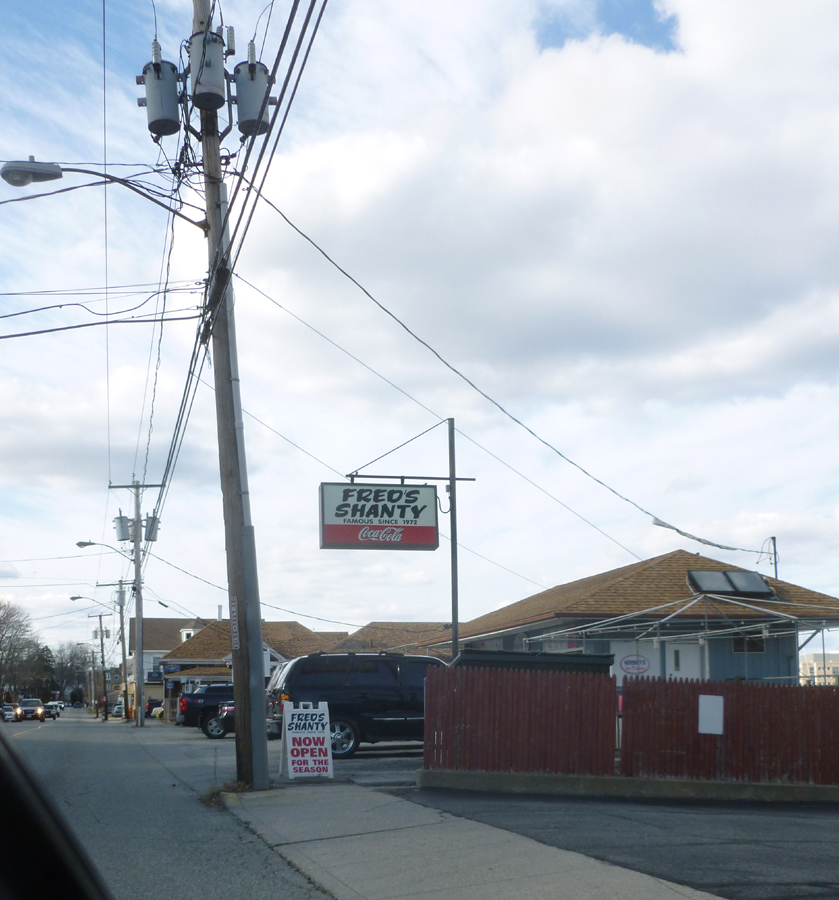 3.11.12 Guess what? Fred's Shanty is open -- it must be SPRING!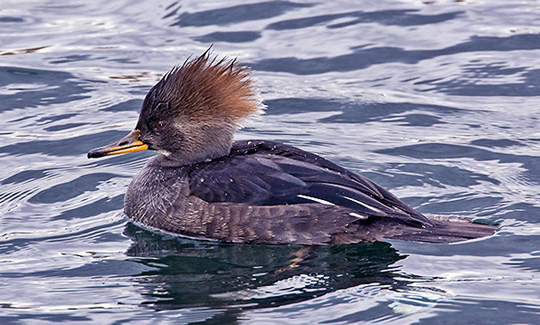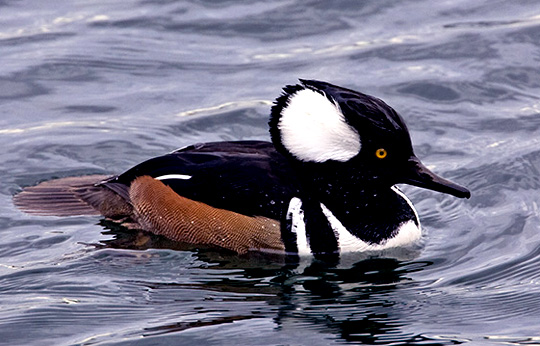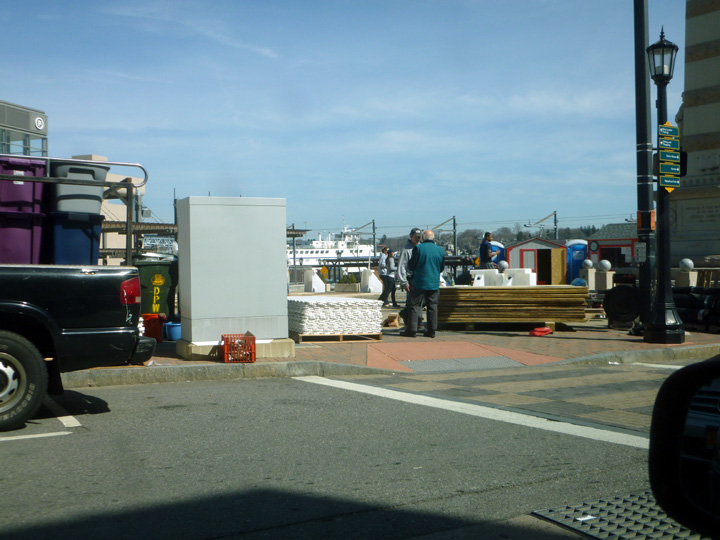 3.12.12 Guess what? The Ice Rink is closed -- it must be SPRING!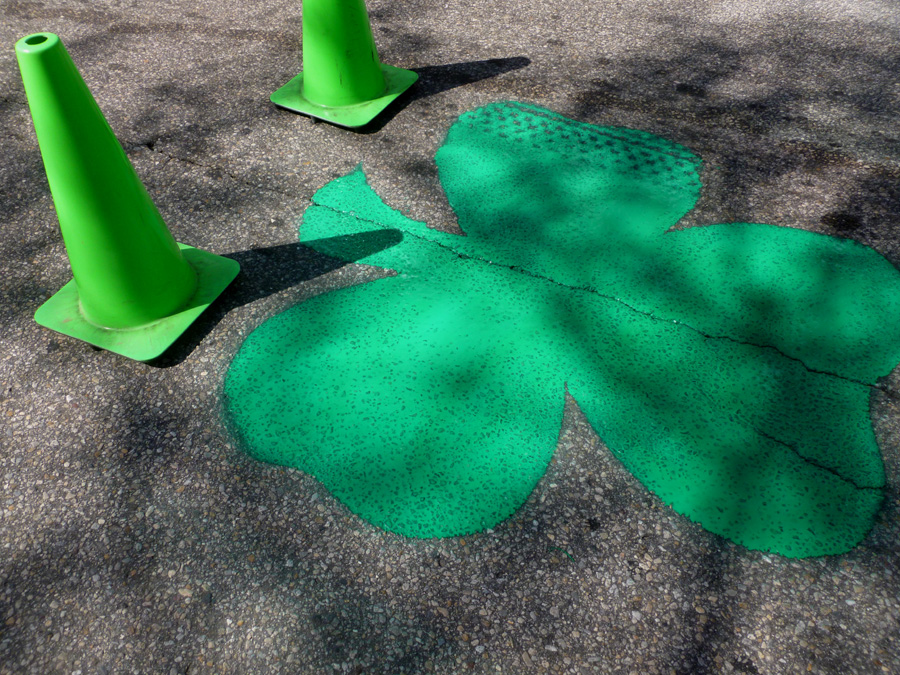 3.12.12 Shamrocks -- it must be St Patrick's Day (parade Saturday)!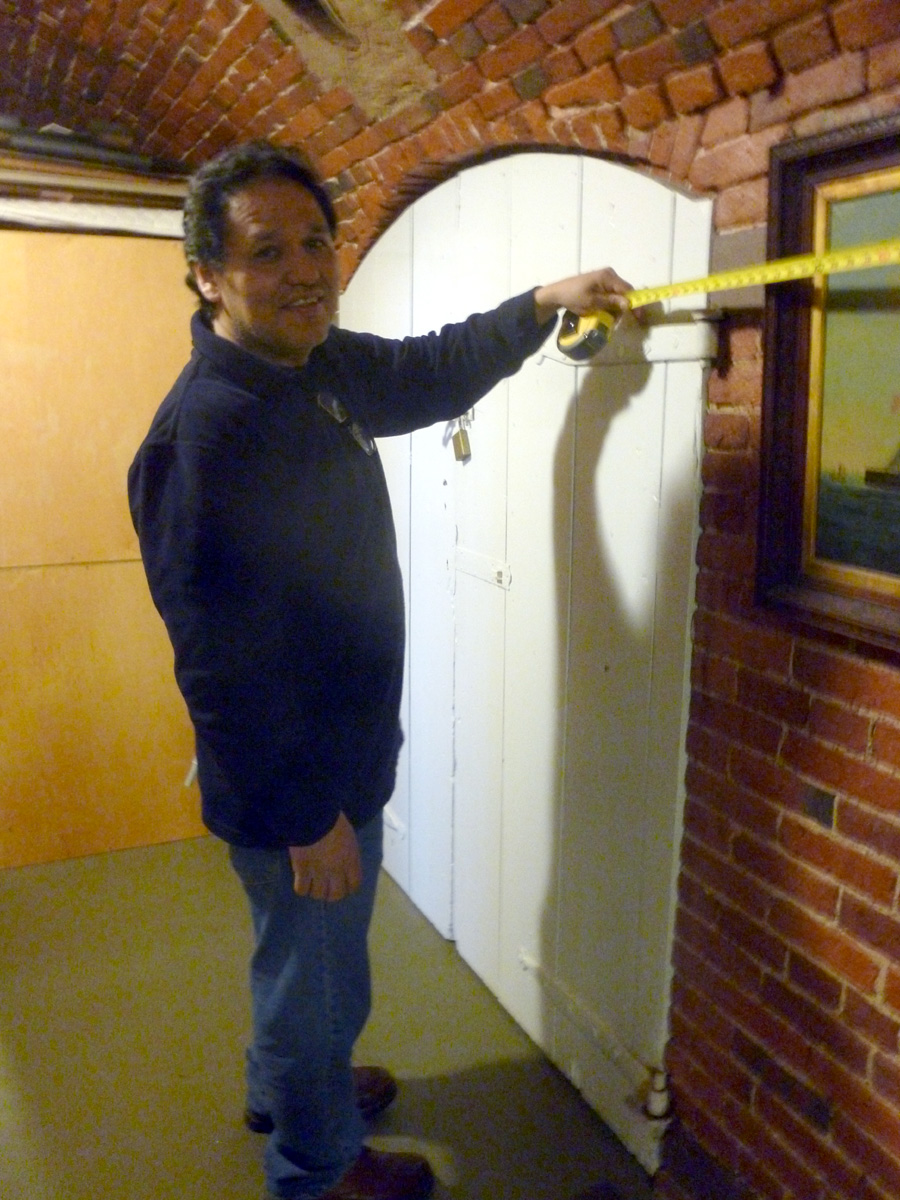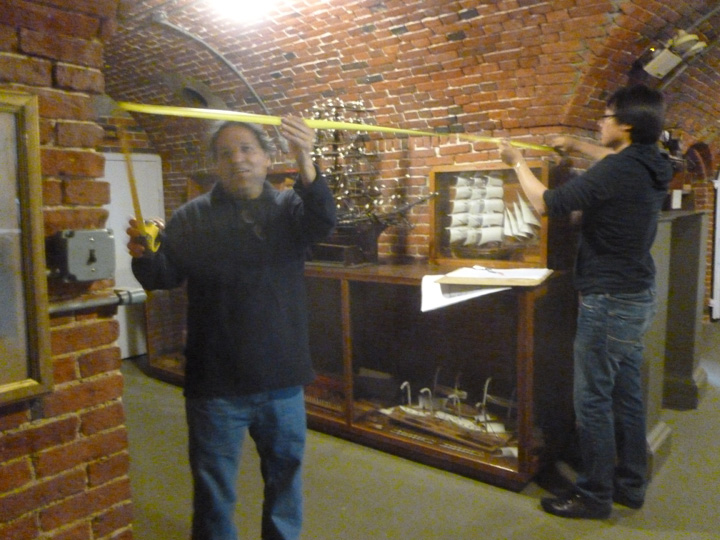 3.13.12 Today architect Jose Guzman, left, came from Boston to begin examining the museum in terms of life-safety issues. His work was made possible because on Friday we were fortunate to recieve a Frank Lookins Palmer grant.

Walt from DDLC, above, has almost finished with our boiler!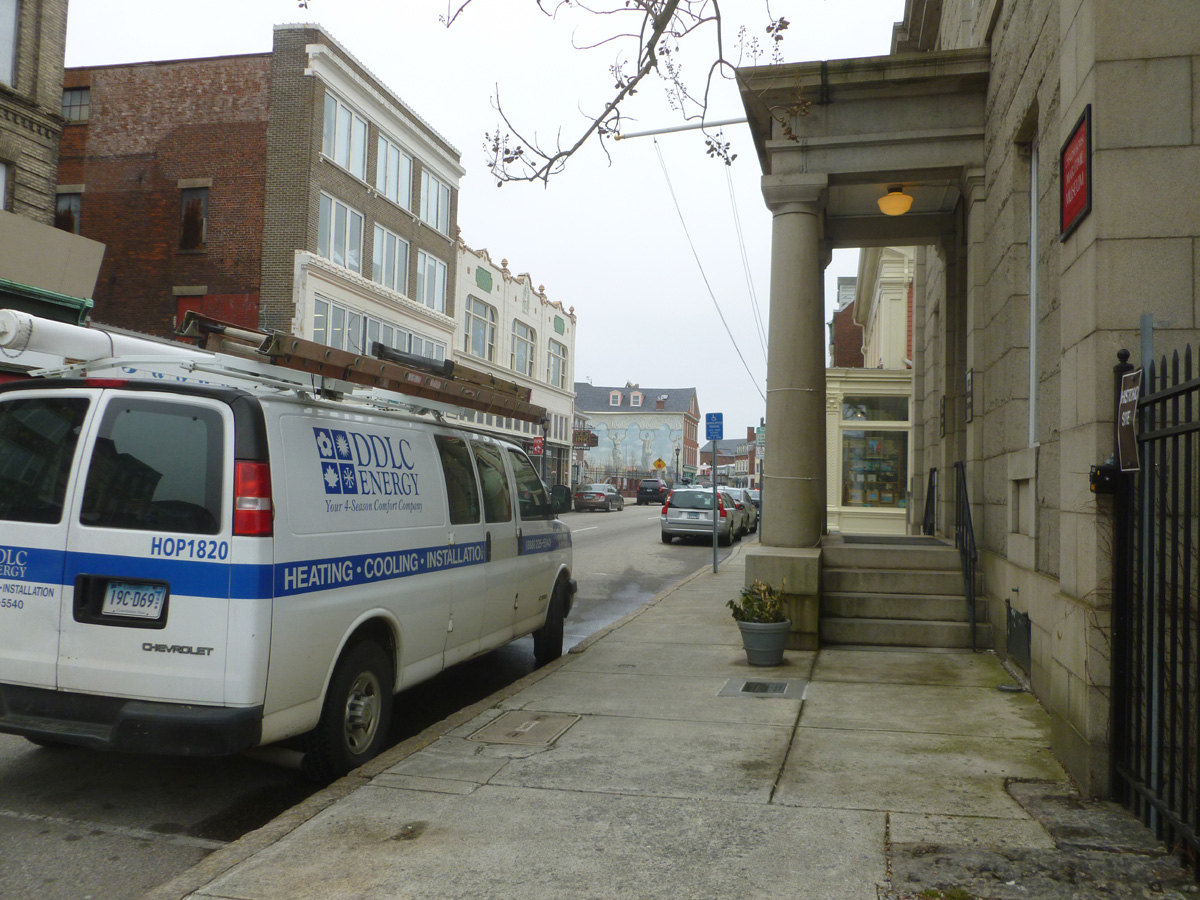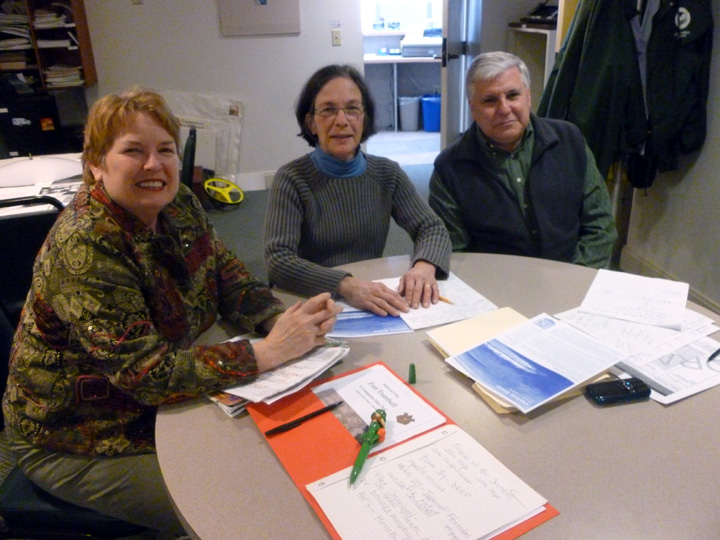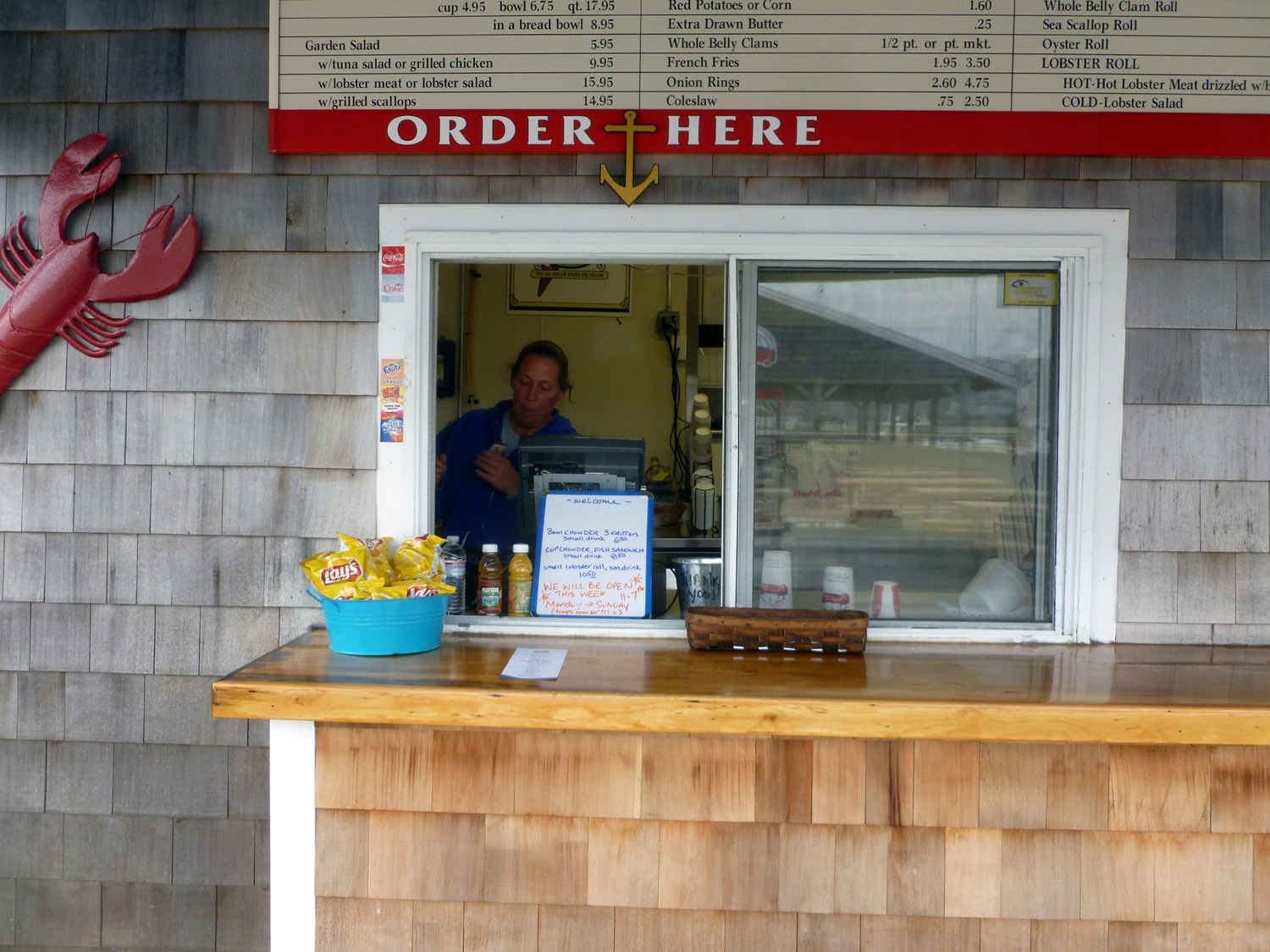 3.13.12 Our super SEMI-Lighthouse Kids instructor, Jody Barthel,met with represenatives from Fort Trumbull and the state to see how we couls all better work together. And Captain Scott's Lobster Dock is now OPEN for the season.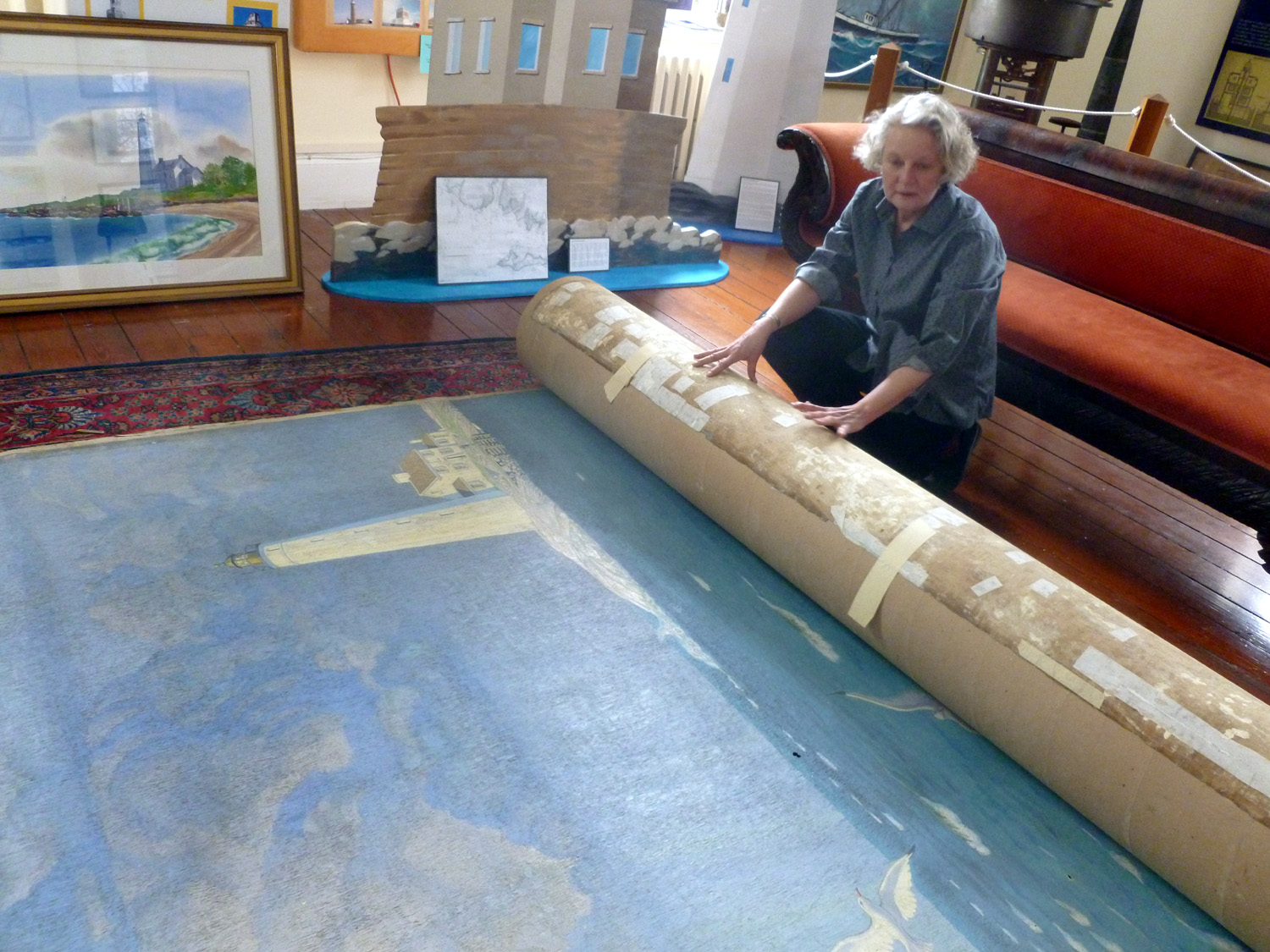 3.13.12
We are fortunate to have some of the finest painting conservators in the world in New London.
Gay Myers,
just back from Washington, DC, where she & partner
Lance Mayer
are working on a group of
Gilbert Stuart
paintings for the
National Gallery of Art,
stopped in today to see our new paintings and think about how we might display them in the museum. See more about the murals, on the March 11, 2012 entry
HERE
The
Griffith Baily Coale
murals are causing some commotion in Stonington, where 'Grif' once lived. From author
Judy DuPont:
This is really interesting. Coale's grandchildren, Madelane and Gordon, seem to keep up some websites about him. Check out www.electricedge.com/griff/. The books,
North Atlantic Patrol
and
Midway
have been put online. Also photos of him. There is a bio on his first wife, Madge, on findagrave.com. Both Griffith and Madge are buried at Stonington Cemetery, but apparently his second wife, Elizabeth, is not. Will have to check. Madelane and Gordon are children of his son from first marriage; Betsy is Elizabeth's daughter.
Now, from my mother's 1932 diary and the Stonington Mirror, we know that Madge drowned herself at Sylvia's Pond.

This is quite a story especially with the murals back in this area...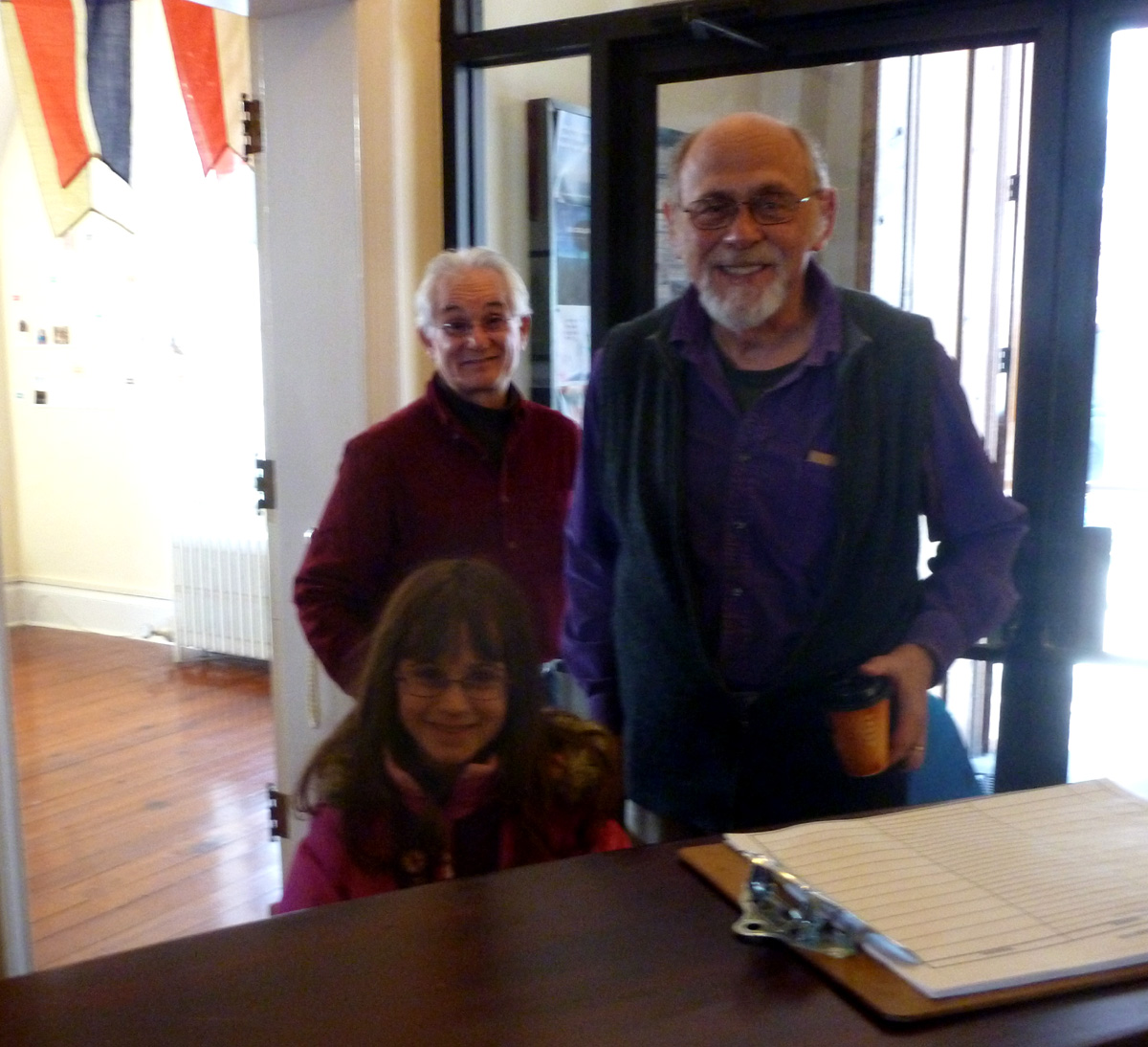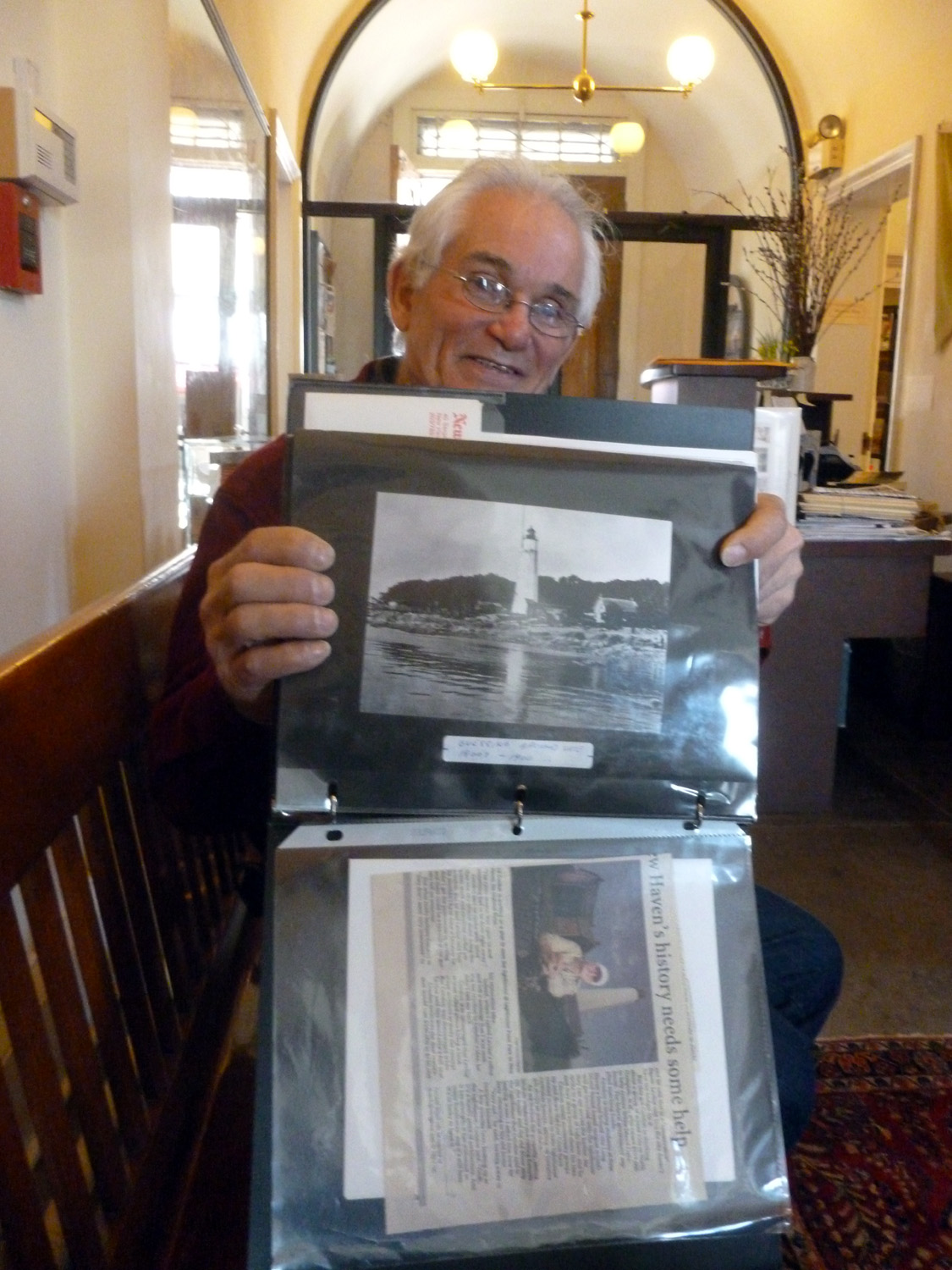 3.13.12 Essex Woodcarver, Ed Condon, is a new face at the Custom House. We met Ed because we needed some new signs. Meanwhile, it turns out Ed is a dedicated preservationist with a focus on lighthouses--and not just any lighthouse but New Haven's Five Mile Point-a smaller version of New London Harbor Light, and also designed by Abisha Woodward of New London in the early 19th century.

Today, Ed brought in a scrapbook of photographs about New Haven Light. Near left, Ed crosses paths with a returning favotite at the museum, Jon Buller, who was here for the start of his Cartooning Basics class.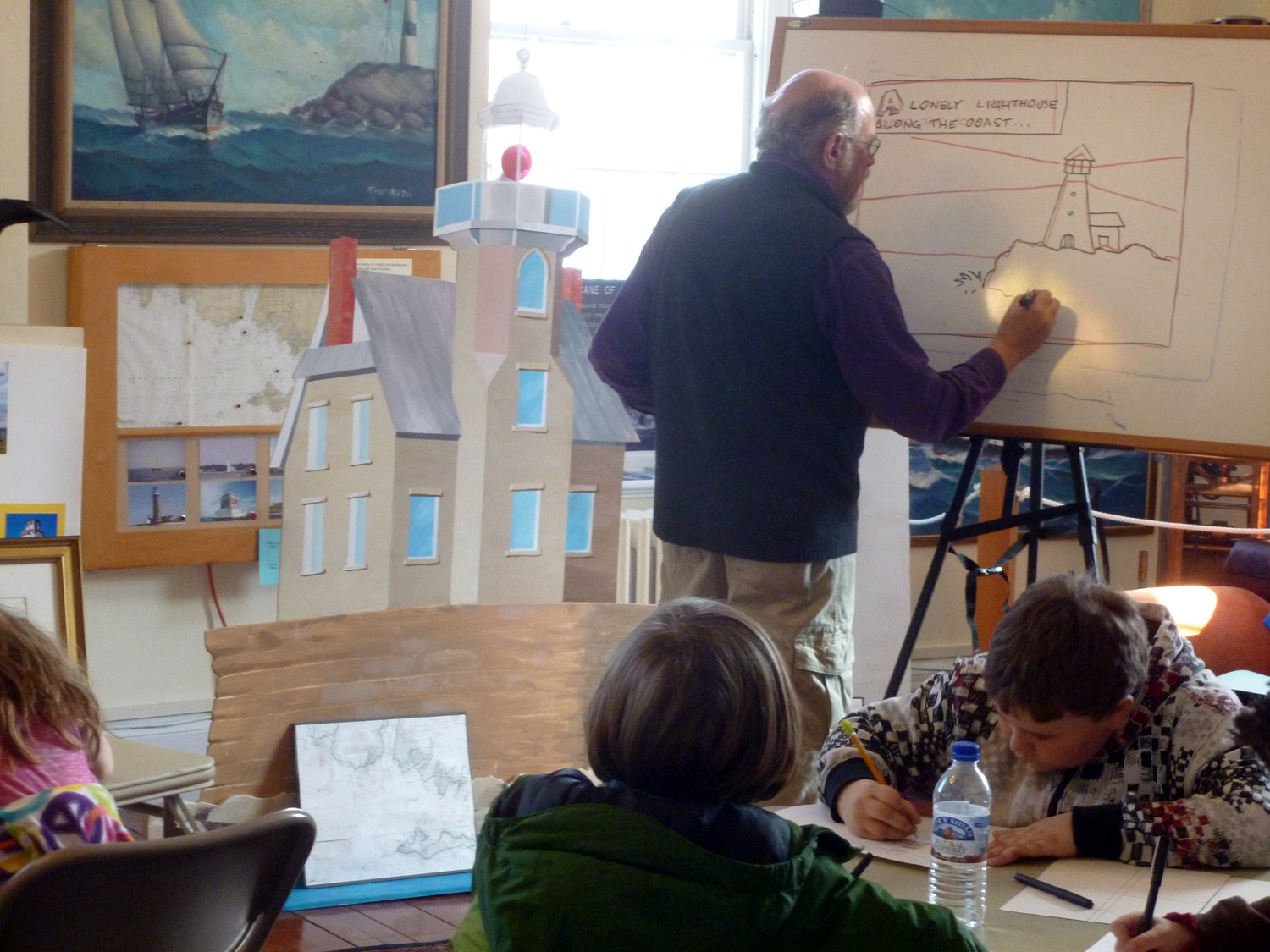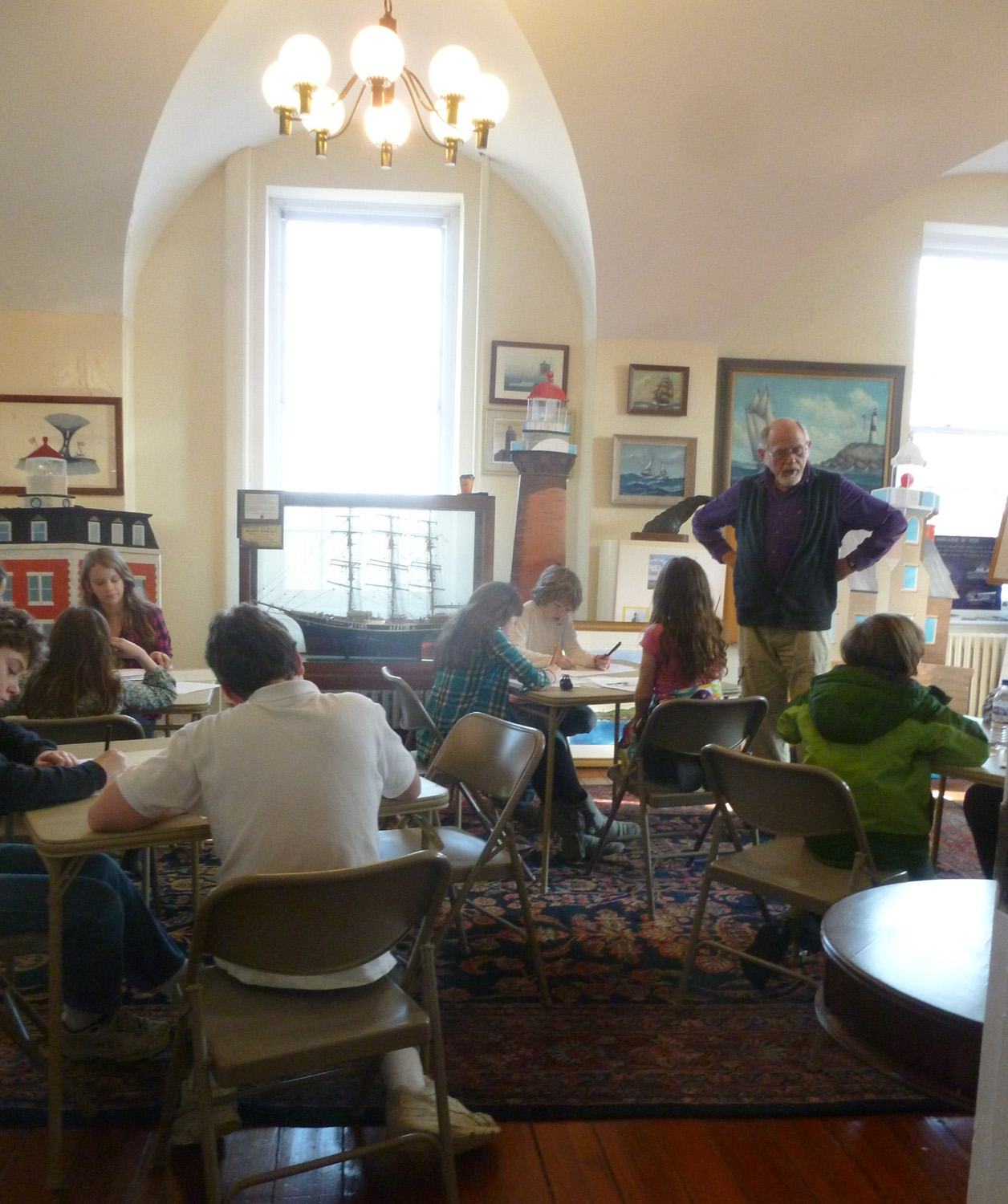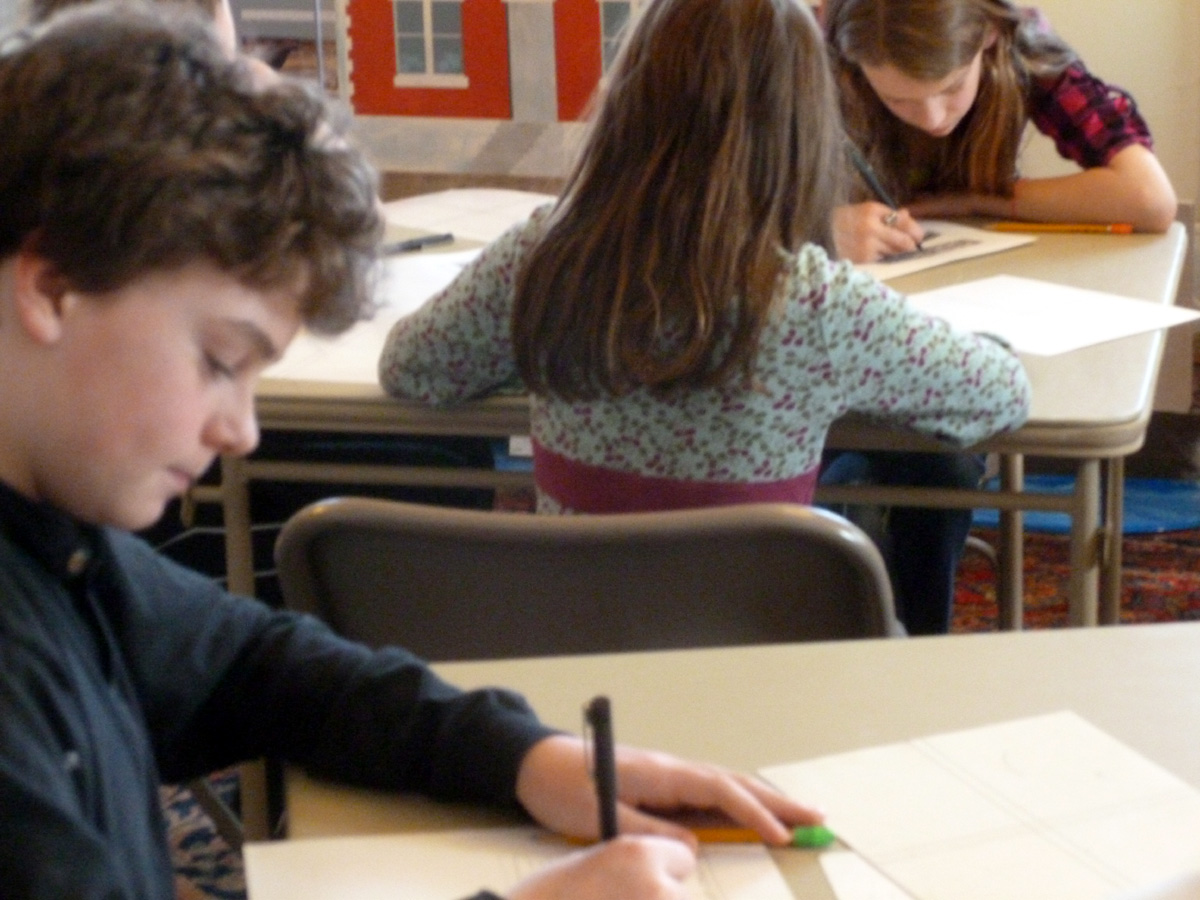 3,13,12 We have 12 enthusiastic artists for Jon Buller's Cartooning for Kids! Using inspiration from the room, they devised a story about lighthouses, lighthouse keepers & ghosts!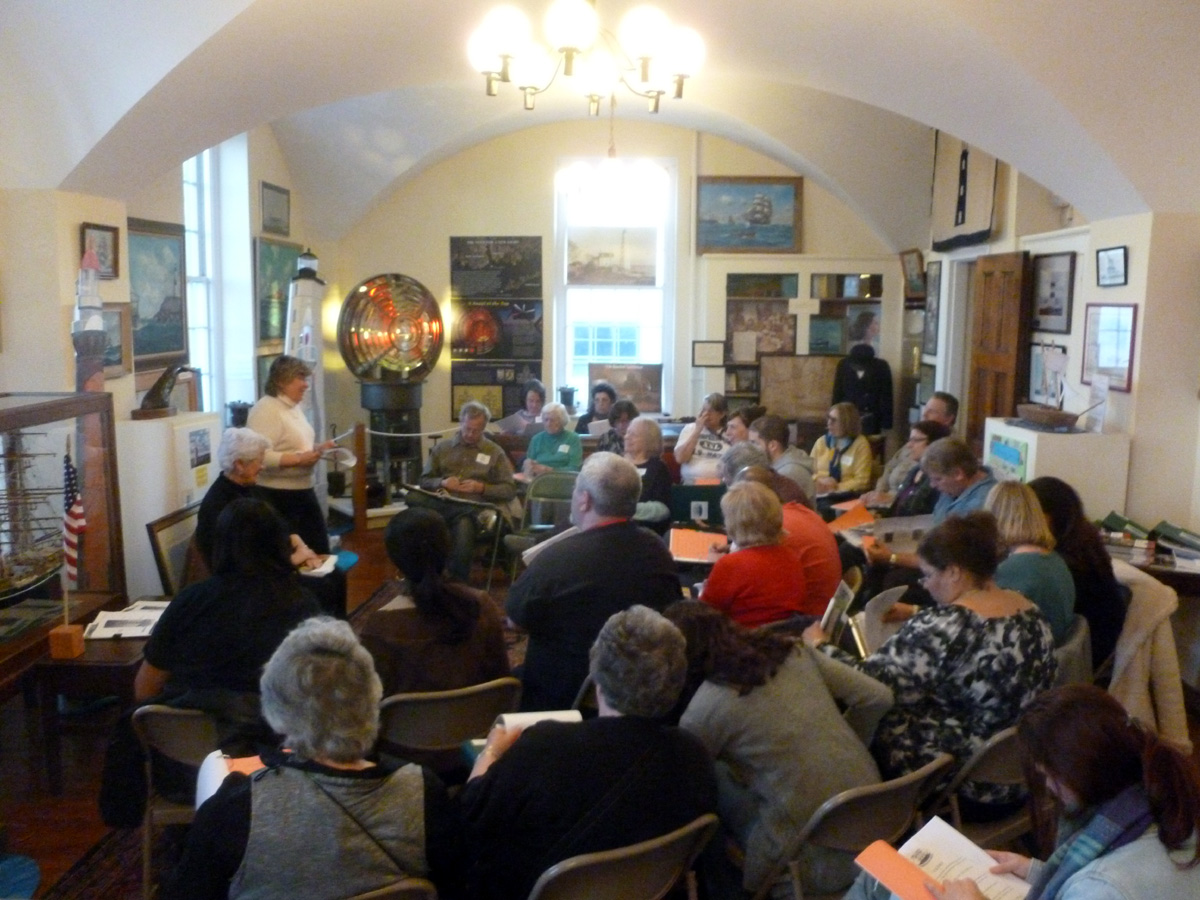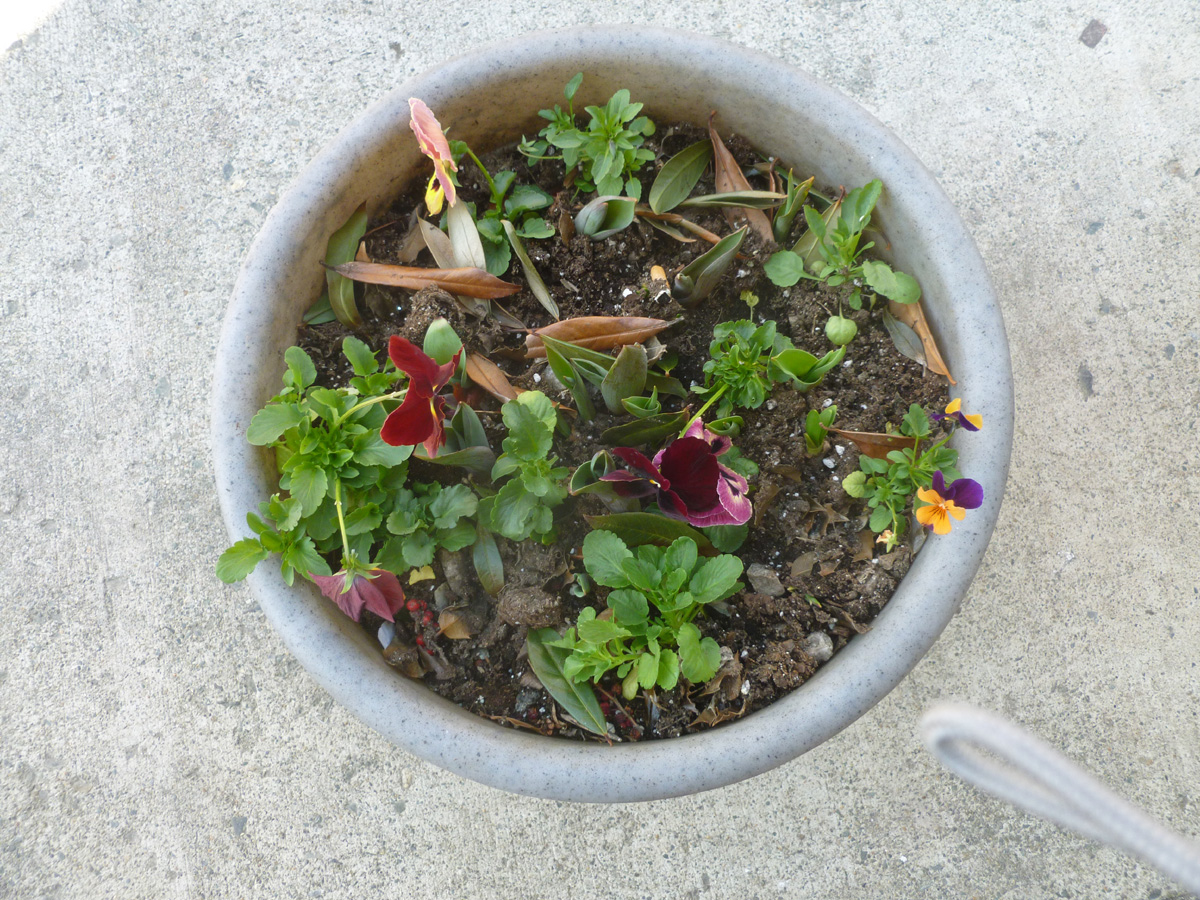 3.14.12 Tulips coming up & we planted pansies today. Watch this space. Jen Hillhouse is devising a surprise for out front...

3.14.12 We were pleased to host Barbara Dixon's Neigborhood Academy tonight. Sally Ryan presented a one-hour historiy of New London and, following refreahments, we all toured the Custom House, from bottom to top.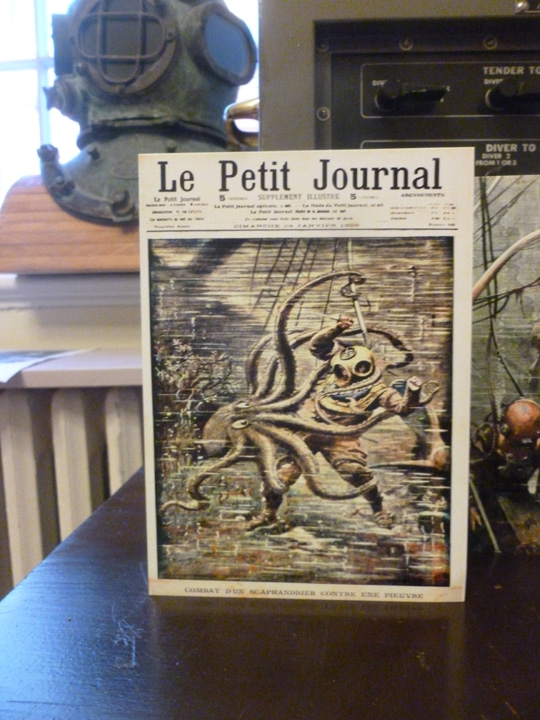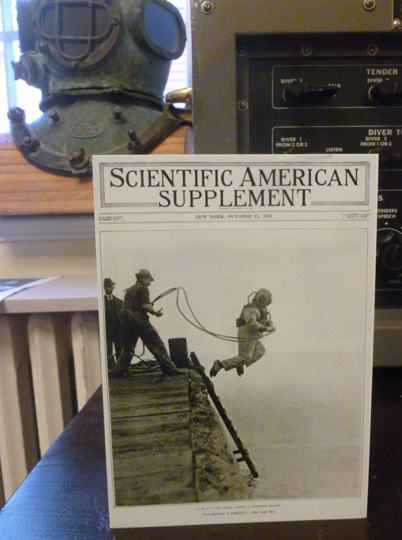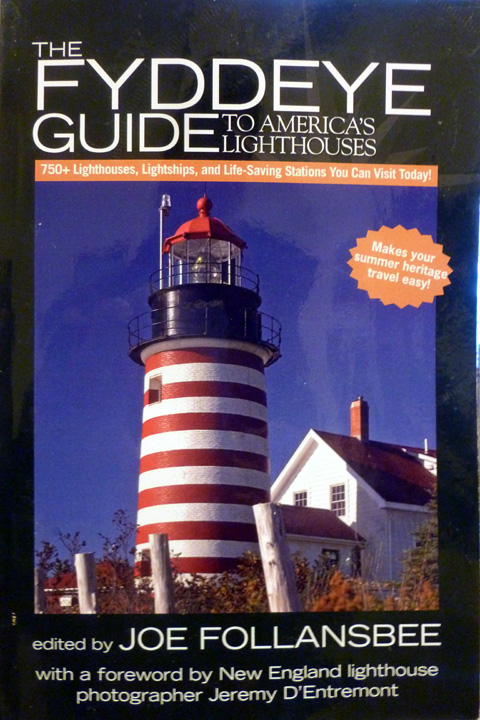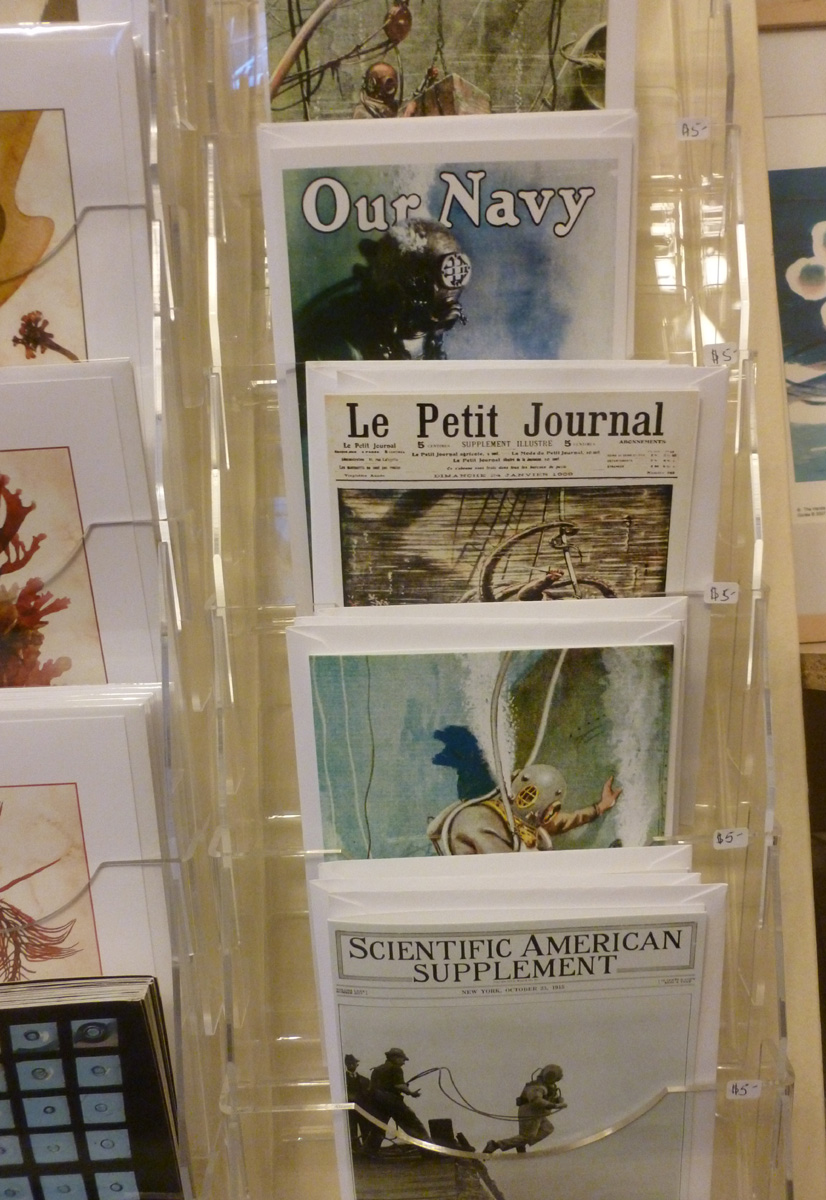 3.15.12 New in the Museum Shop: Vintage Dive Cards from our firend, the Crusty Old Diver. Actually, he's not so crusty--in fact, he donated these cards, made from images in his vintage dive collection, to the museum! They're $5 each.

Also very new is The Fyddeye Guide--hot off the presses!


3.16.12 Work today was all behind-the-scenes, with discoveries about our new murals--the complete provenance--in microfilm on loan from the Smithsonian Archives of American Art.

A big hello to Annie Thatcher, who stopped in on her way to Noank from DC!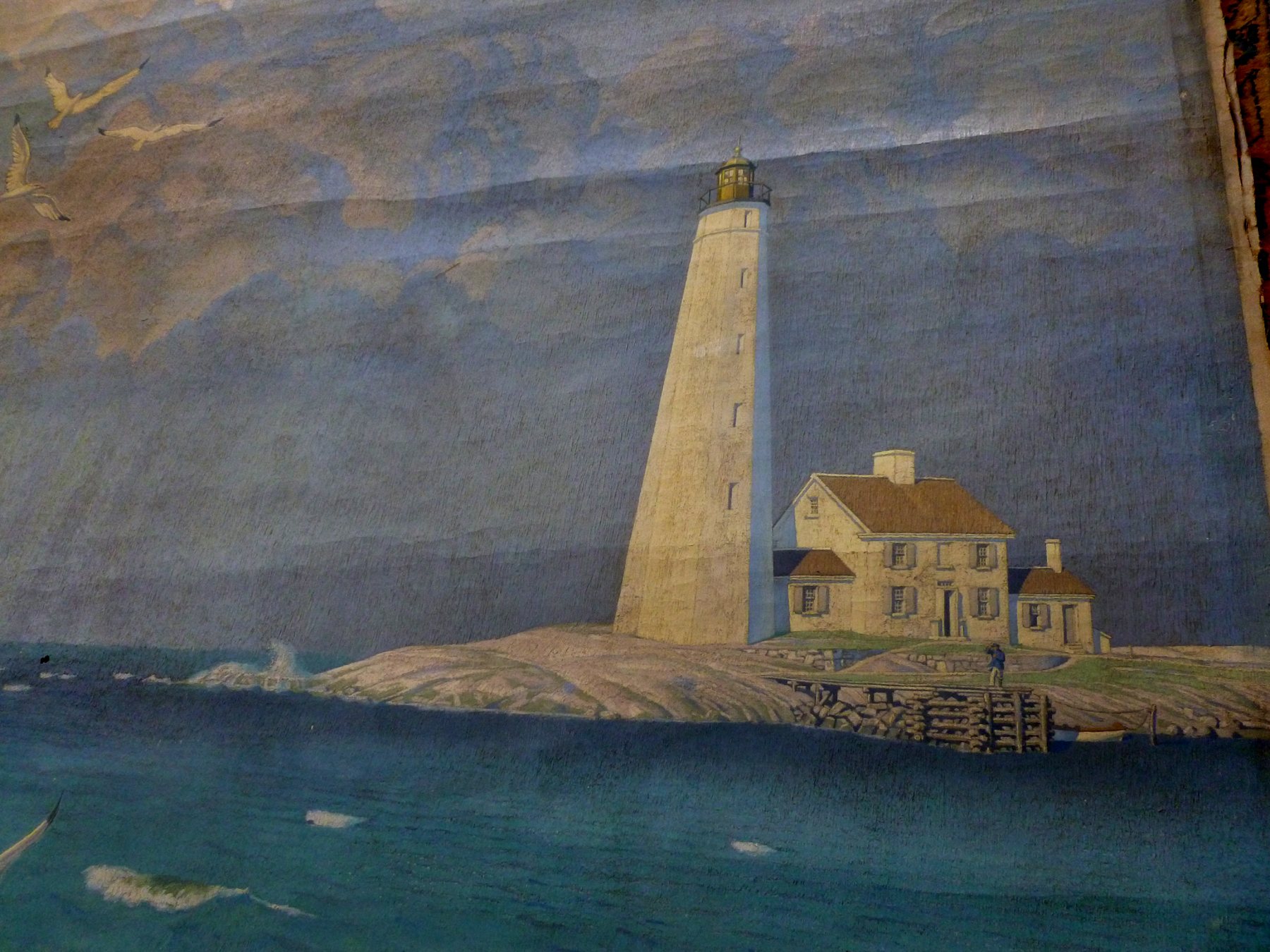 3.17.12  There is lots of good information in the Griffith Baily Coale papers. Here is what the artist, working away in his studio in Stonington, wrote to Andrew Wills, Jr., president of the Drydock Savings Bank, on July 13, 1936:

Dear Mr. WIlls:

I am hard at work on the two inch to a foot color study of "Safe Haven". It is coming along very well and there is a wealth of material here to use...

People in Stonington have identified various buildings in the mural's harbor as coming from both Mystic and Stonington Borough. The lighthouse is New London Harbor Light, albeit with one (not two) chimneys on the main house, and the door moved to this side of the building.

The murals originally were unveiled at the Dry Dock Savings Institute on April 30, 1937 -- almost exactly seventy-five years ago.

Read more from the papers
here.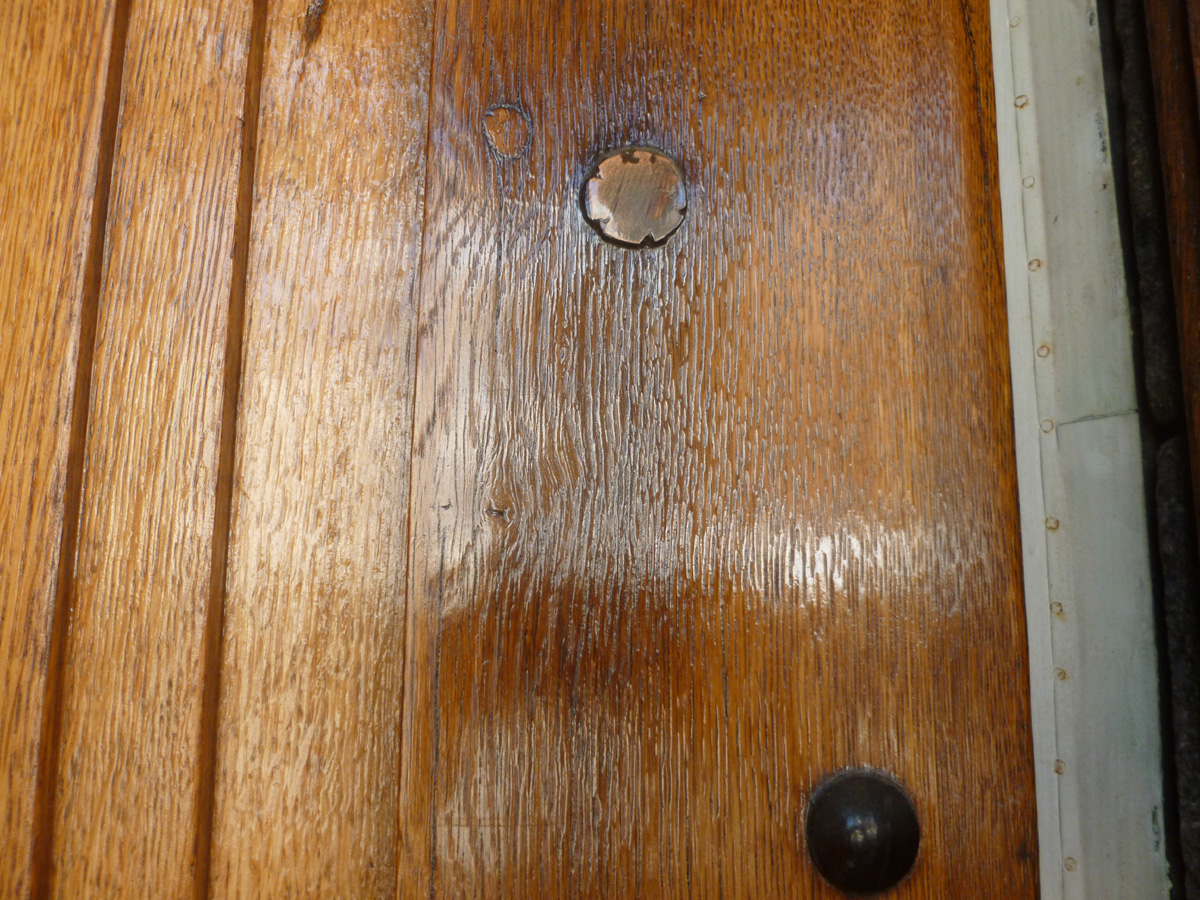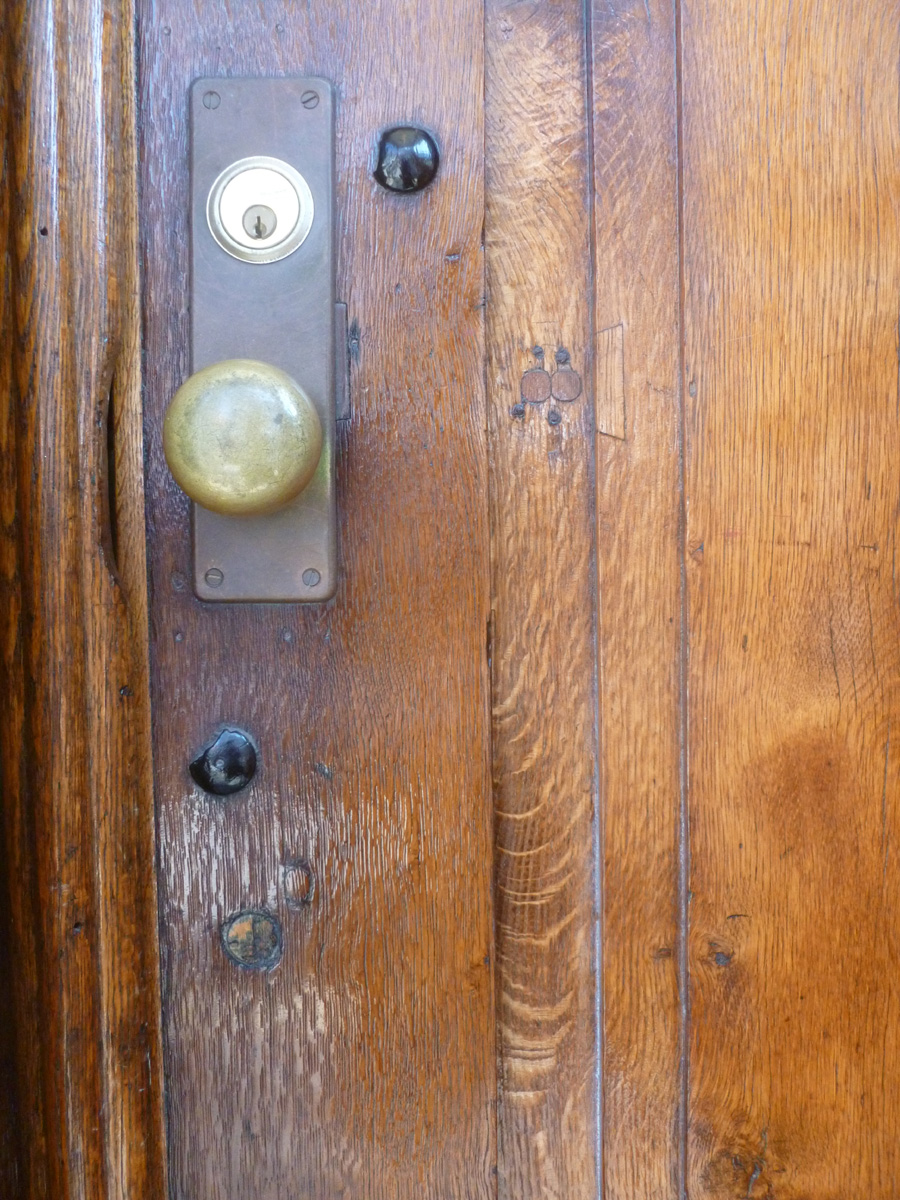 3.18.12 On another front, we are trying to find definite proof that the front doors of the Custom House were made from wood--live oak boards-- from the USS Constitution.

There are several factors that cause us to think this: it is part of the oral tradition of the building; this fact is written in several places--none of which is authorative; Issac Hull, commander of the Constitution, was from Derby, Connecticut, and brought at least one ship through New London before joining the Navy; when the ship was first overhauled, the wood was made available for federal buildings--both the overhaul and the building of the US Custom House commenced in 1833--and the New London custom house was the federal presence in the region. Caulkins wrote that the NL custom house 'door' ( not doors) was built with wood from the ship--however, many people use the term 'door' to describe a building's entrance (and not the actual number of doors at the entrance).

What's more, there are some very odd wood and copper rivets in the front doors. What do you think?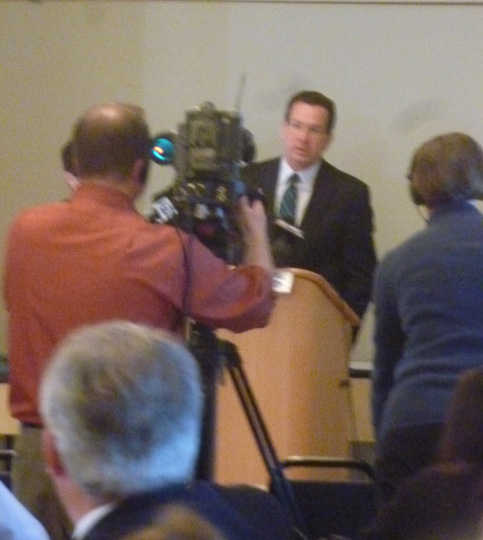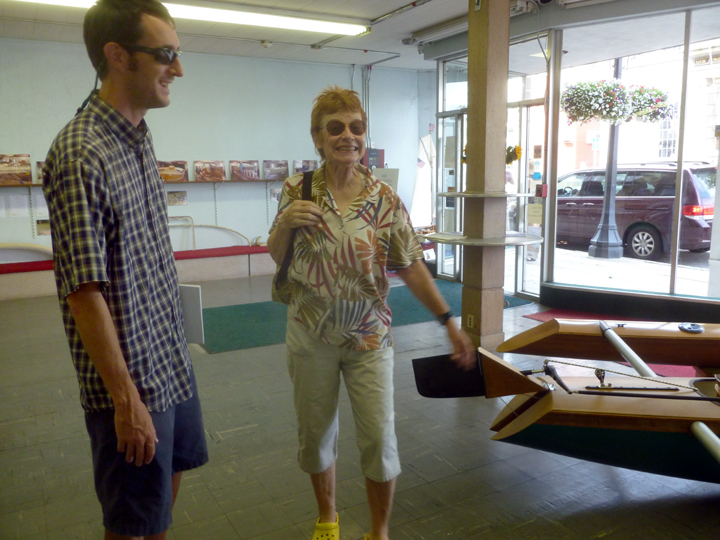 3.19.12 Press conference today at Fort Trumbull -- the  announcement that OpSail 2012 needs money!

Many politicians were present, from our own Mayor Finizio to Senator Stillman to Governor Malloy. The highlight of the event was when the three were given Sailfest hats and then all put them on.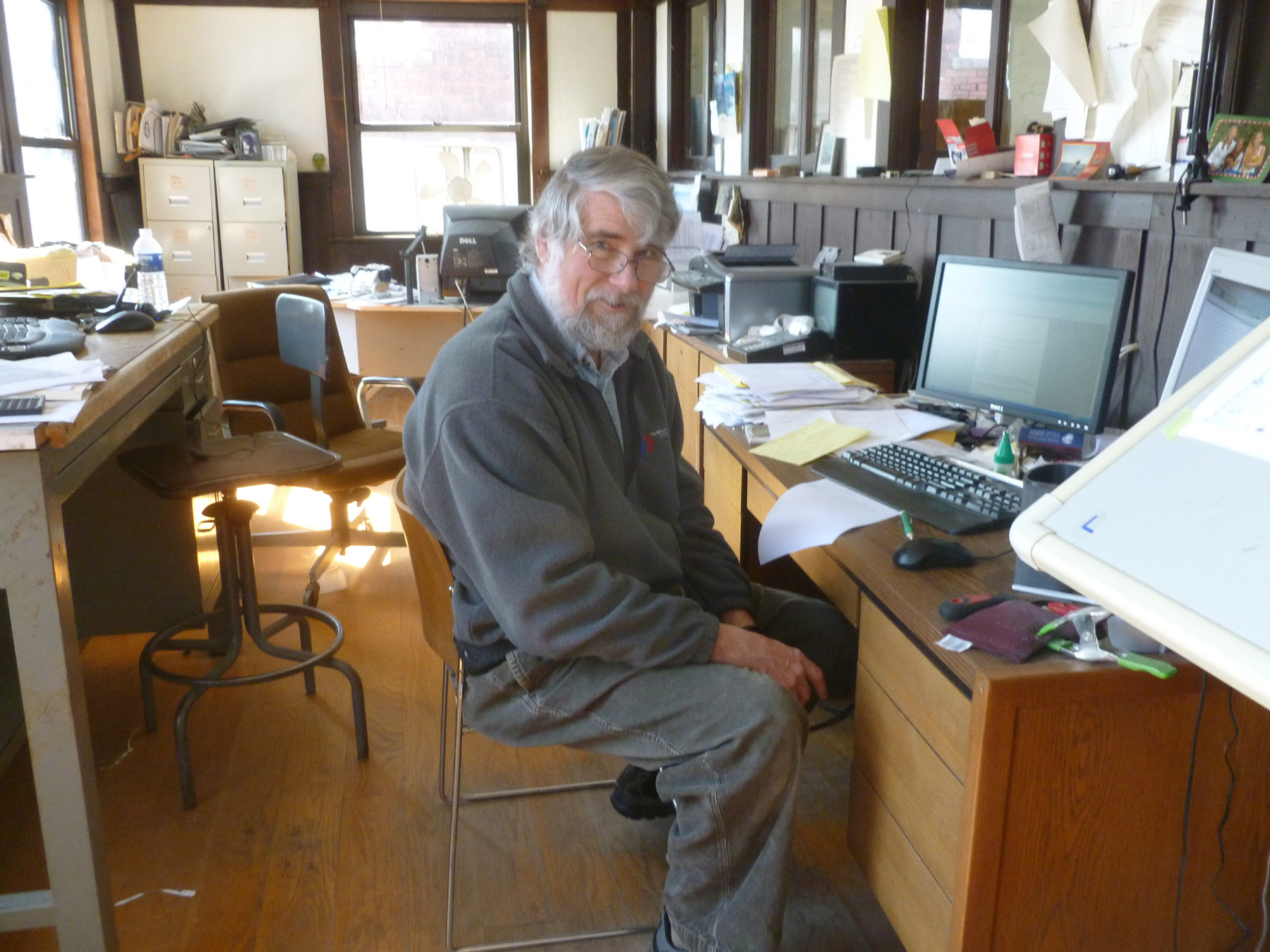 3.19.12 We will be working with sail-maker and ship-builder Kevin Farrar on an exhibition for summer --and OpSail.

For almost two years, Kevin and his friends have been building a racing sailboat. The story of that boat will be our exhibition!

If all works out, timing-wise, he also will lauch the boat at the opening.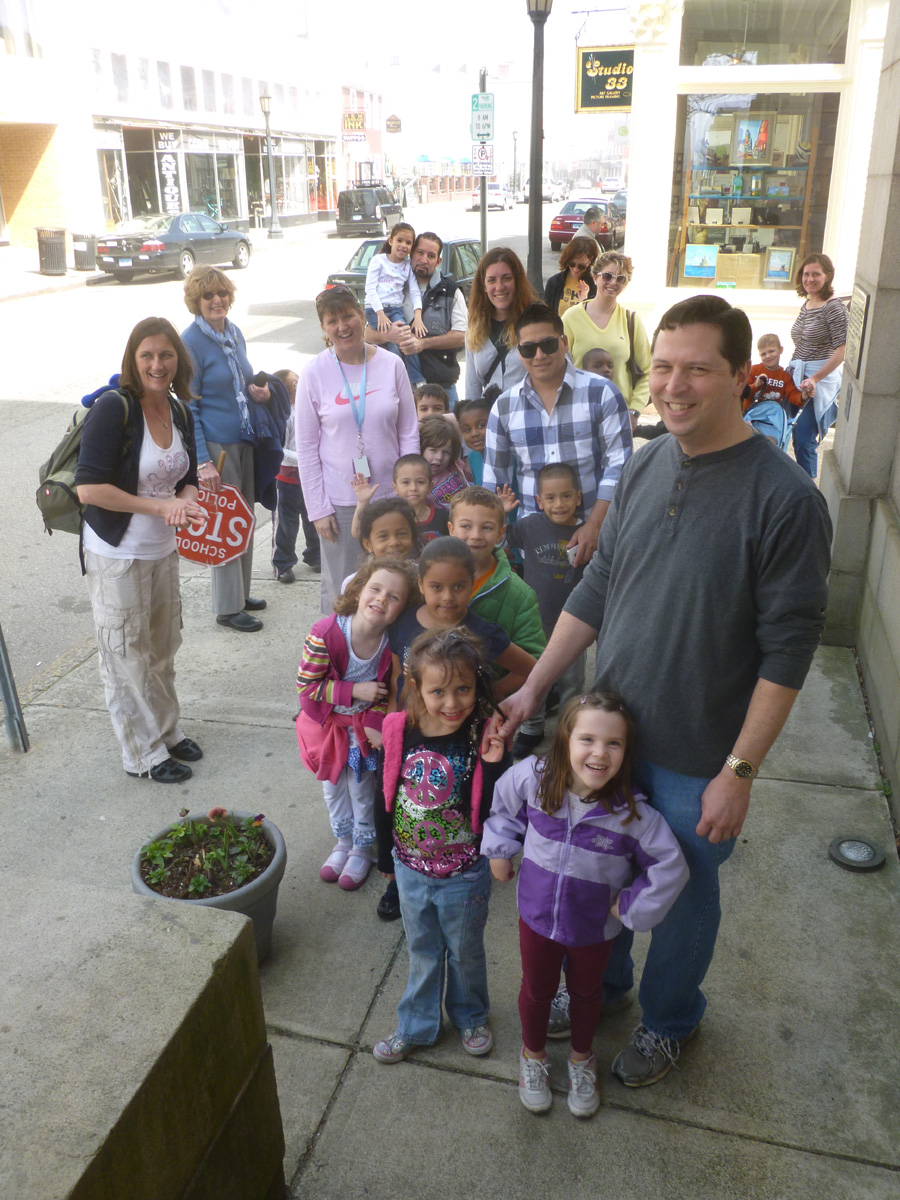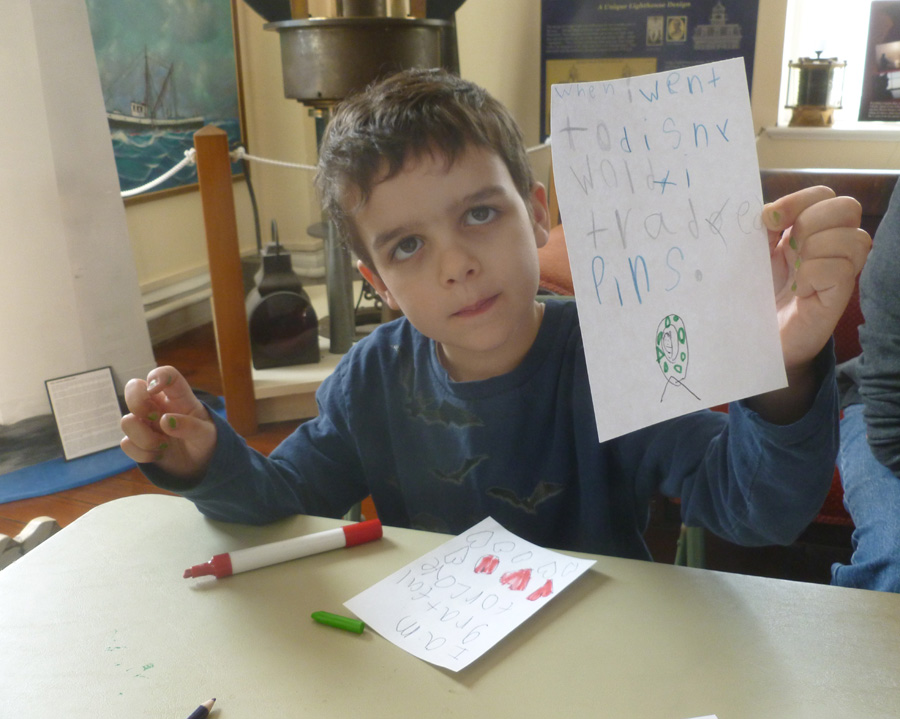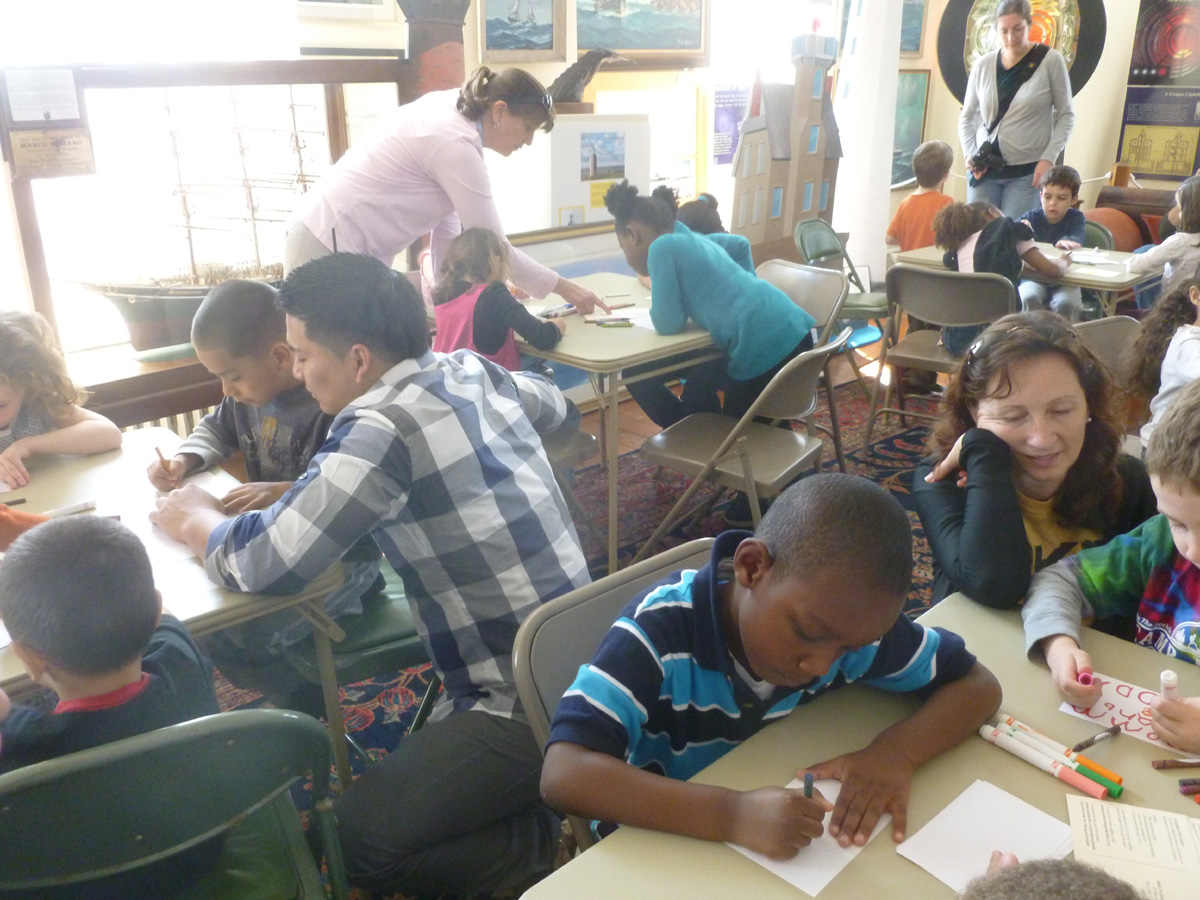 3.19.12 It is not everyday 20 kindergarteners come to visit the Custom House. But last week, at the Magnet School kindergarten, one of the vocabulary words was 'grateful', so it seemed only right the students should catch 'Look for the Good', an exhibition on Gratitude, before it colses on Satiurday.

Part of the visit had to do with students making their own Gratitude postcards. Examples are at the left & above!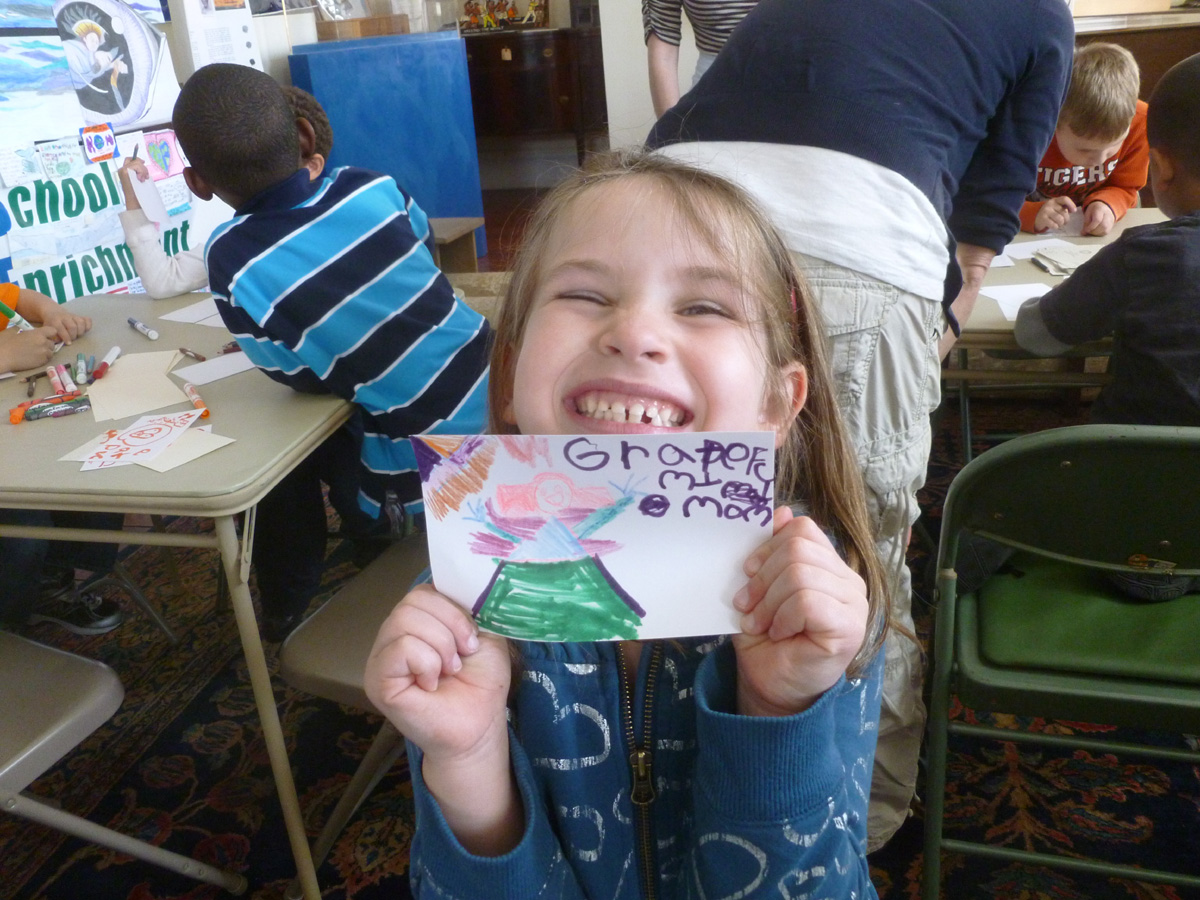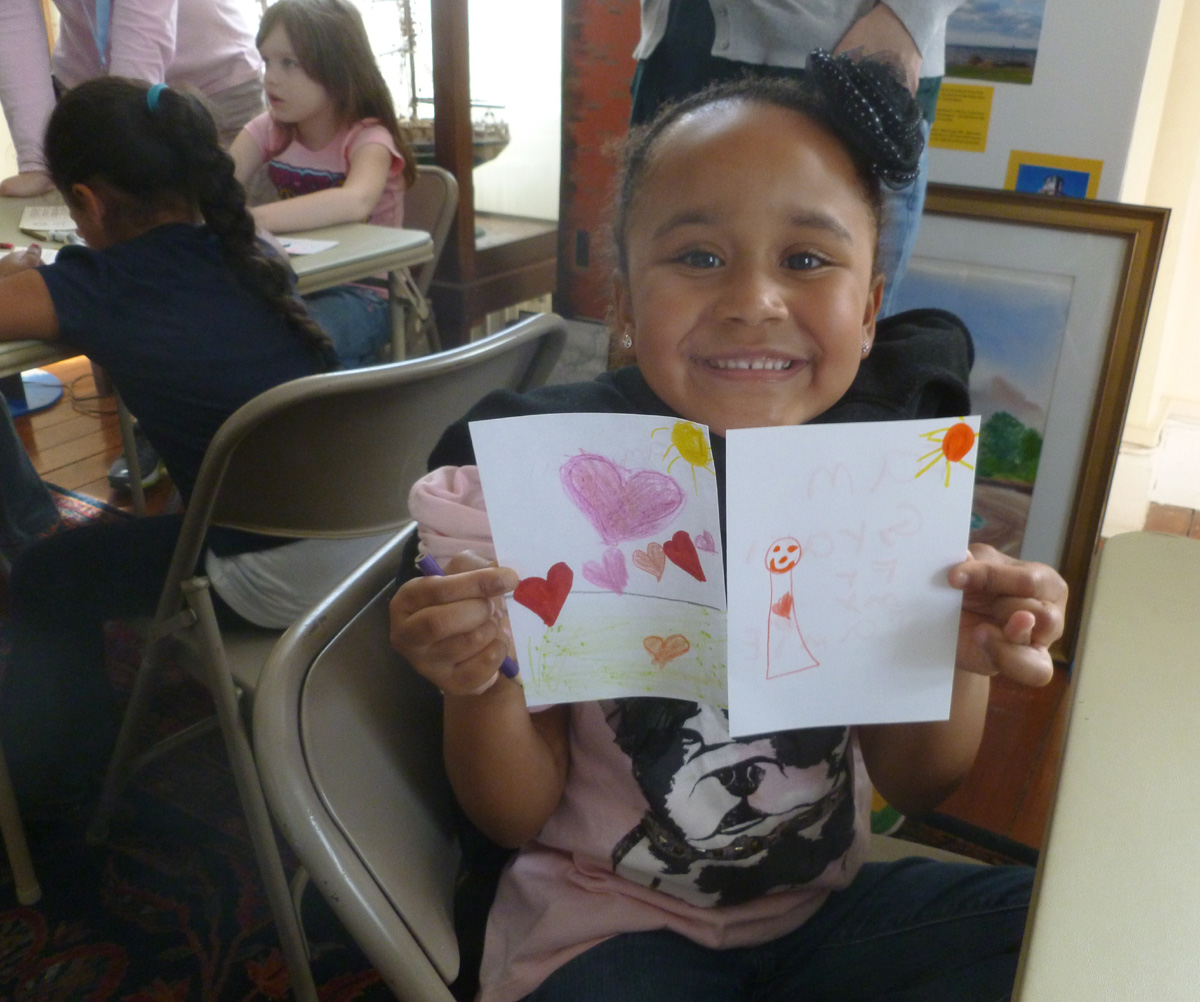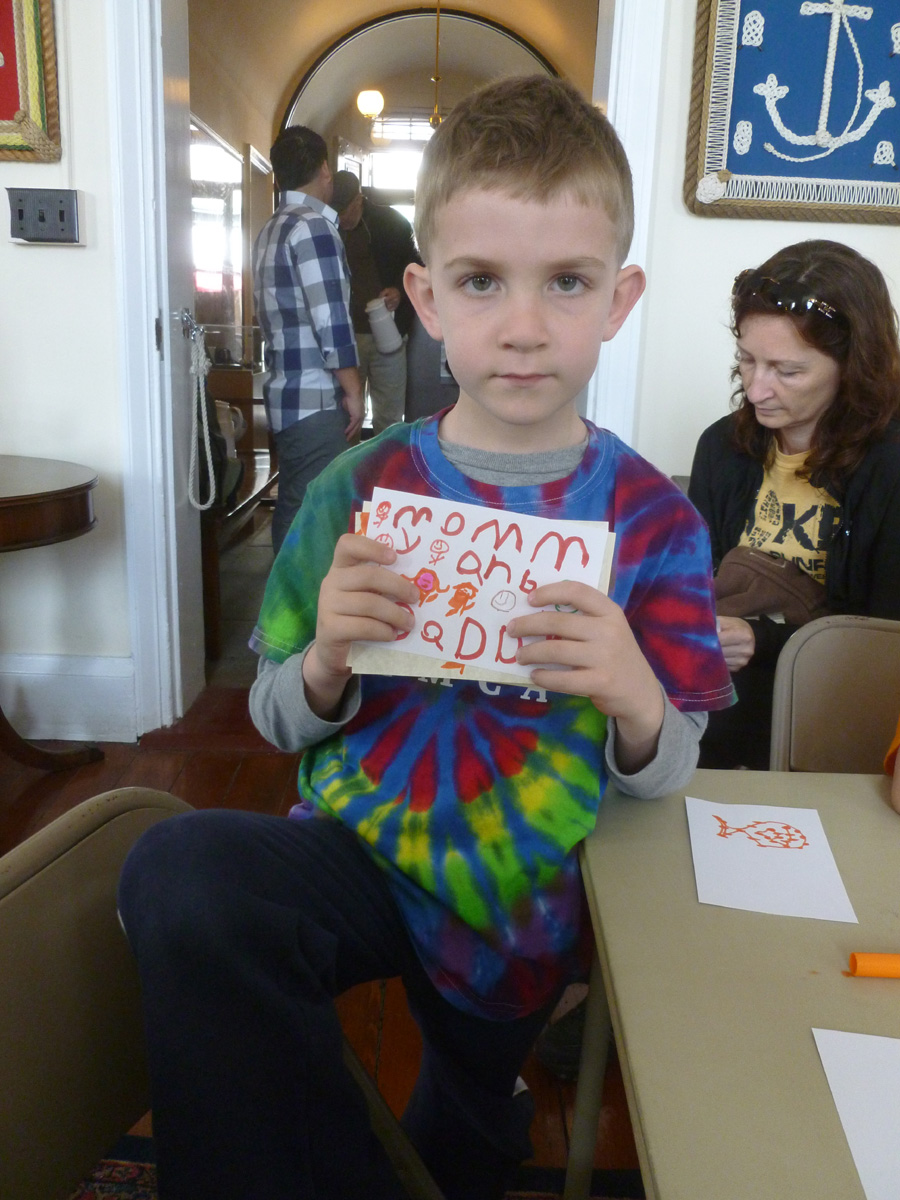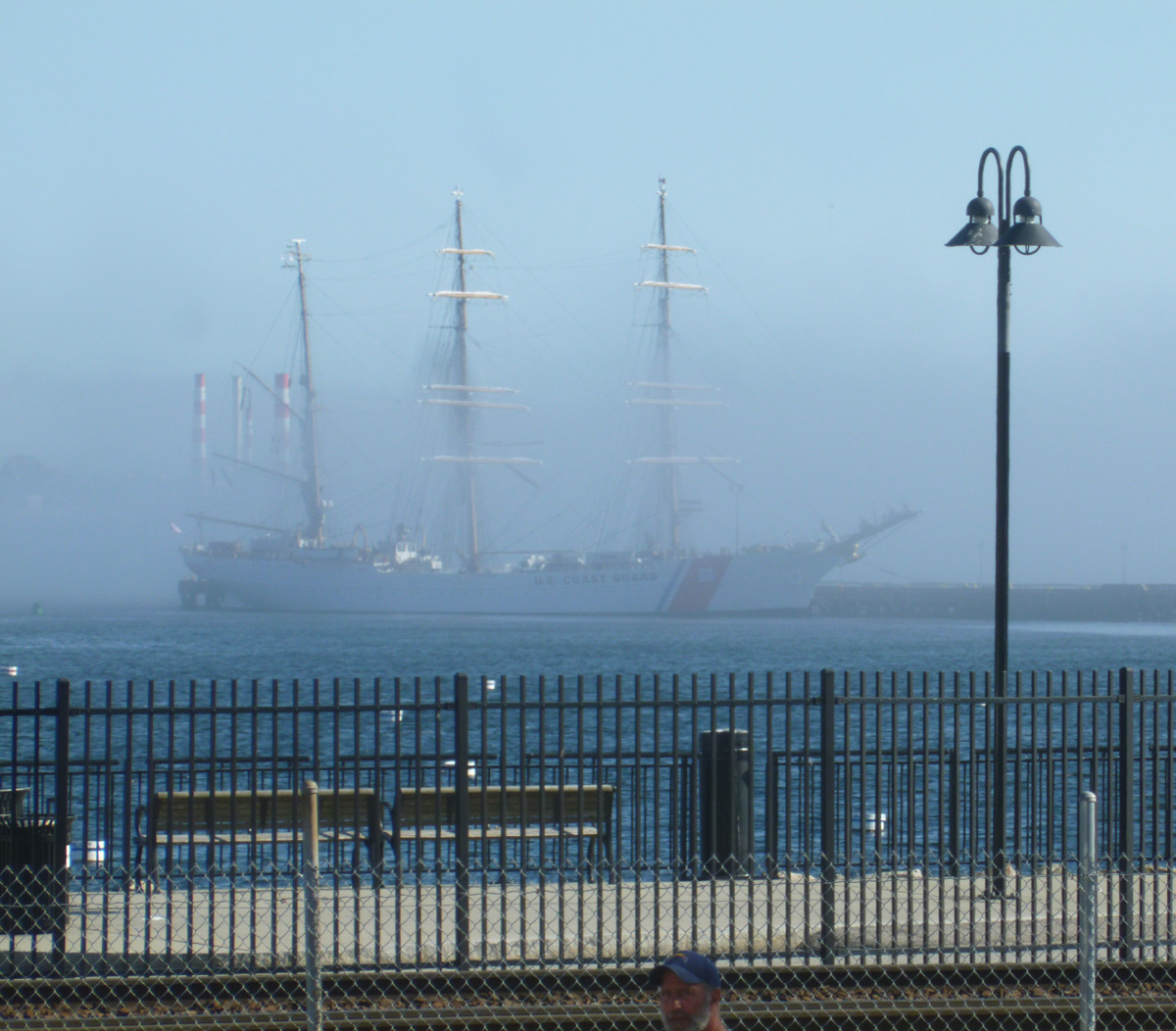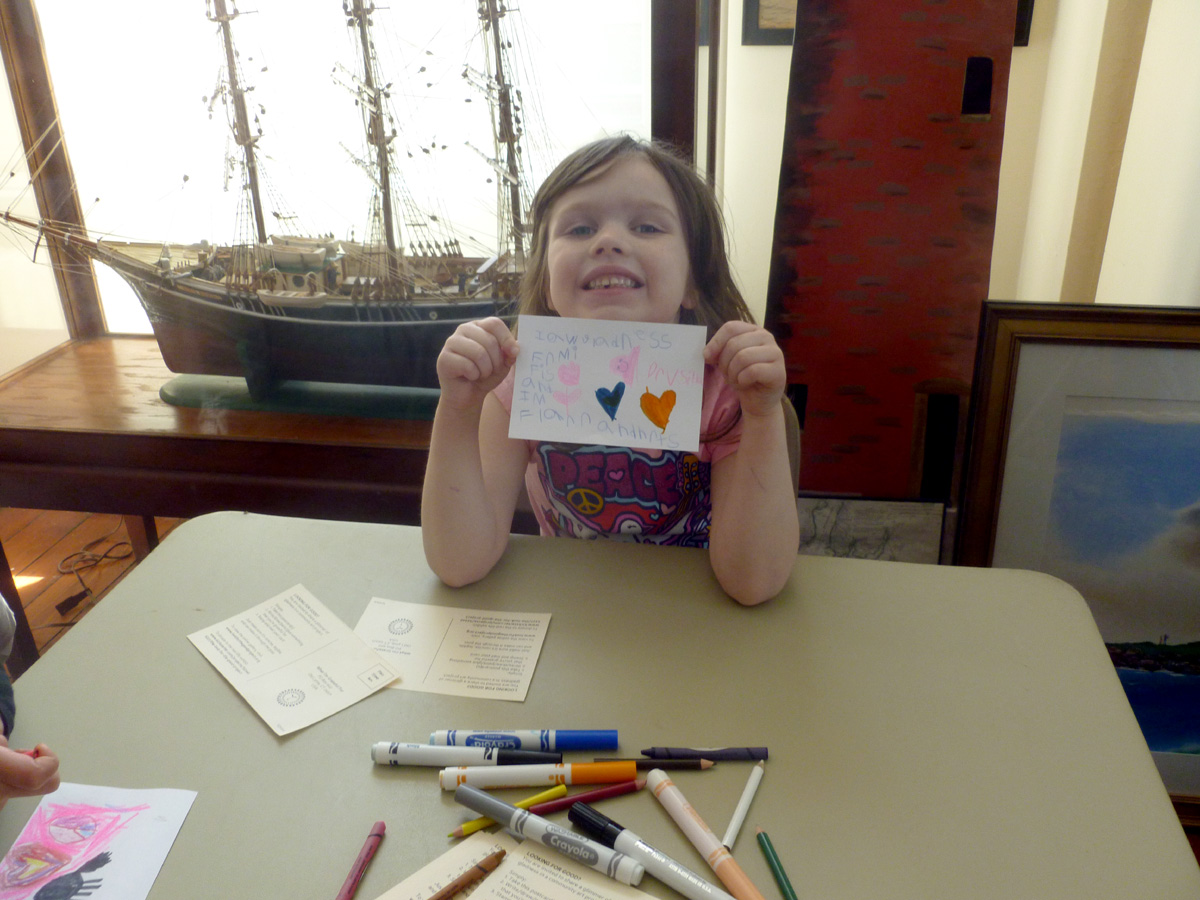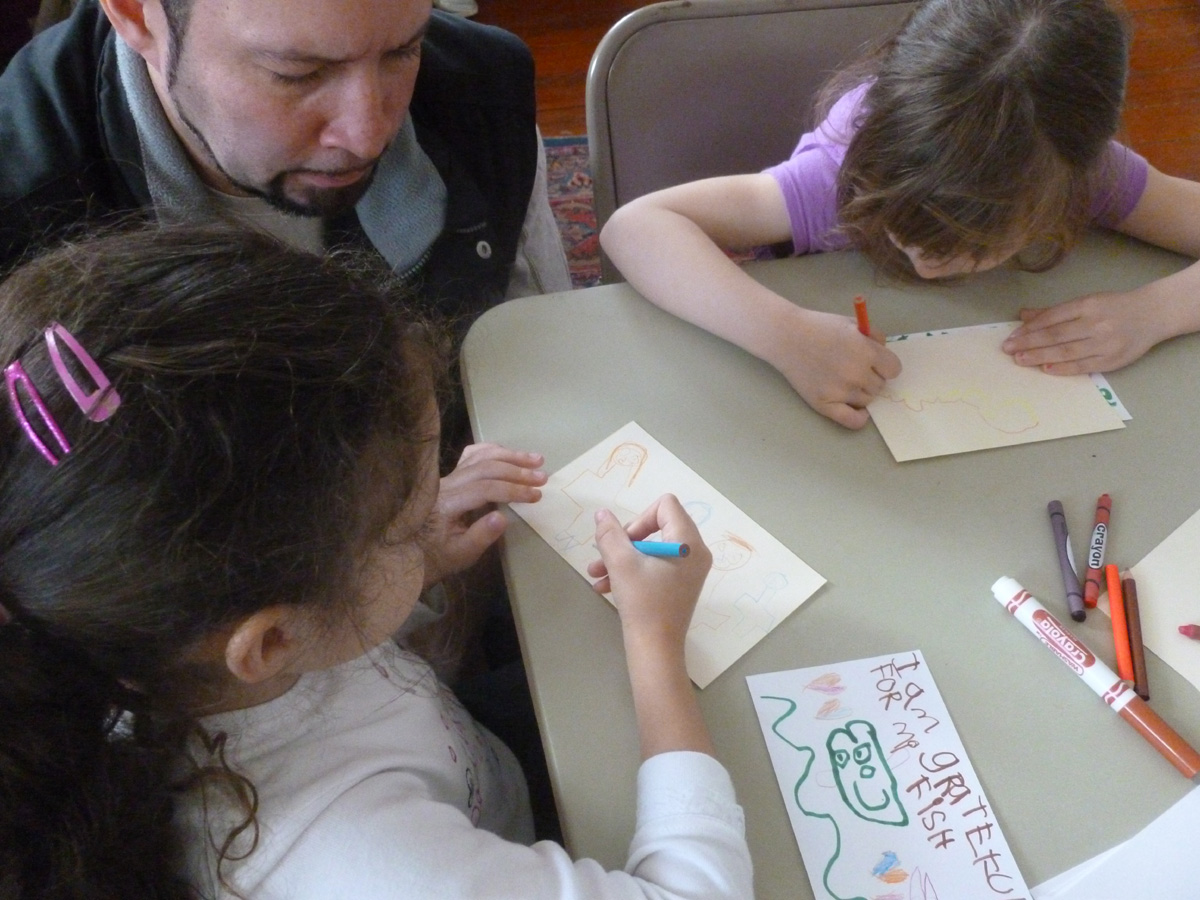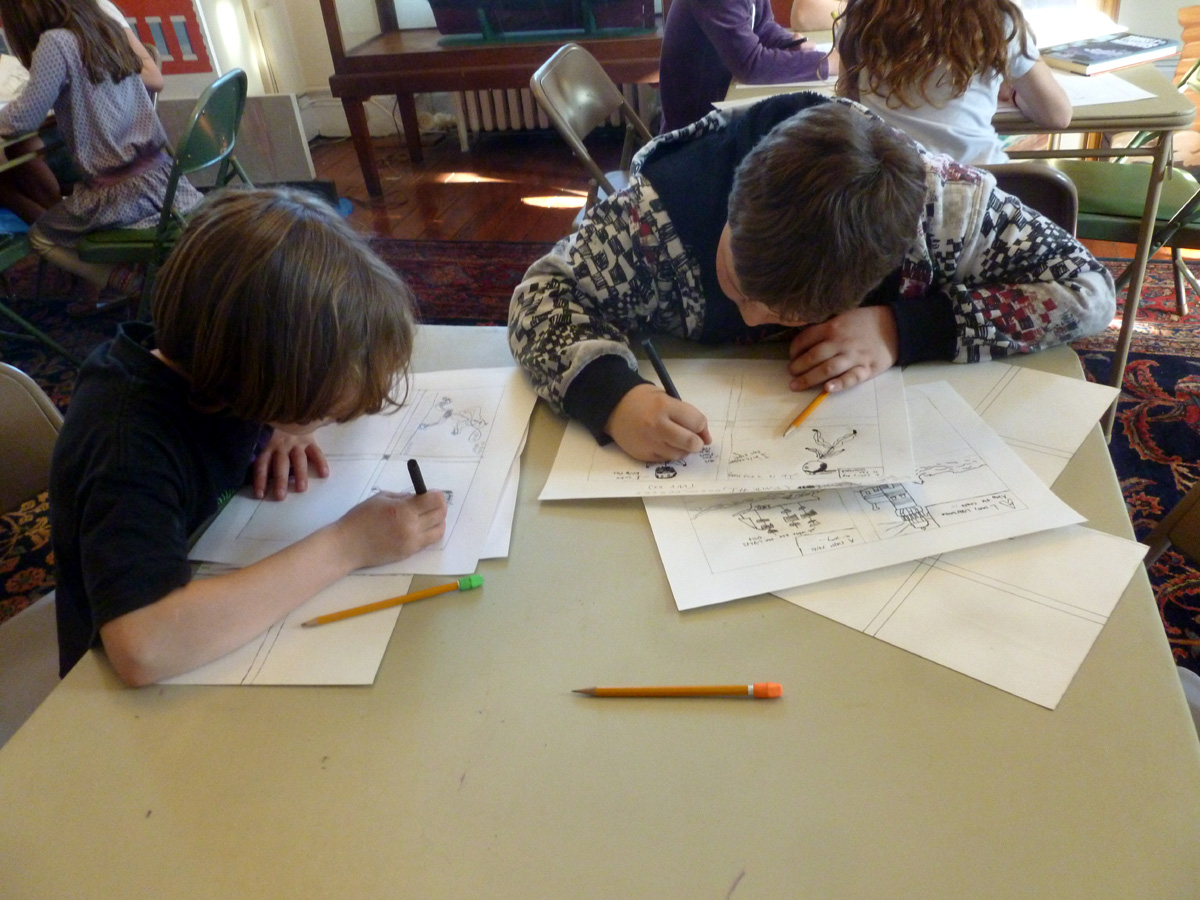 3.19.12 Soon after the kindergarteners left, the cartooning class was back for their second session. I have to admit, I like the use of lighthouses in many of the story lines (above).

Meanwhile, is was an odd, foggy, foggy day in New London!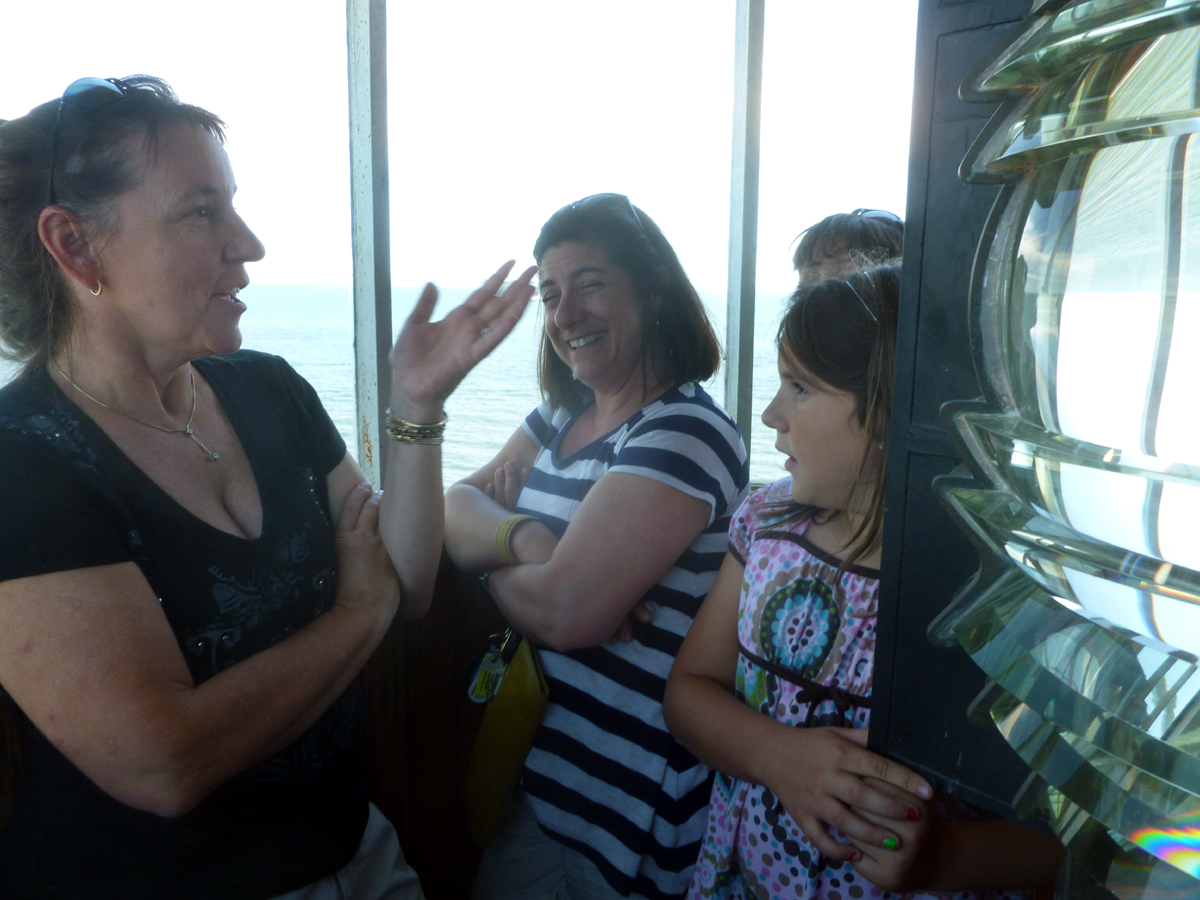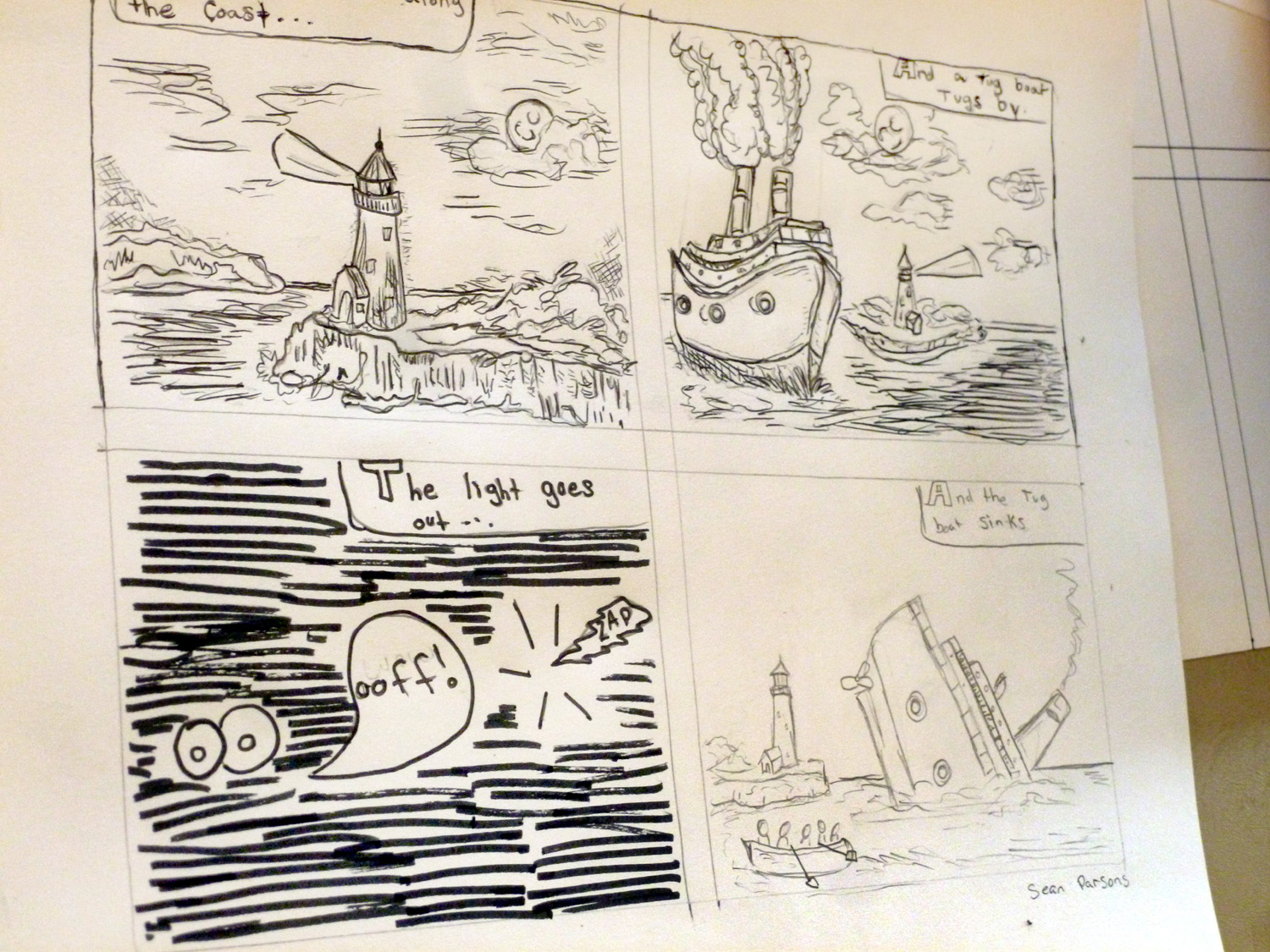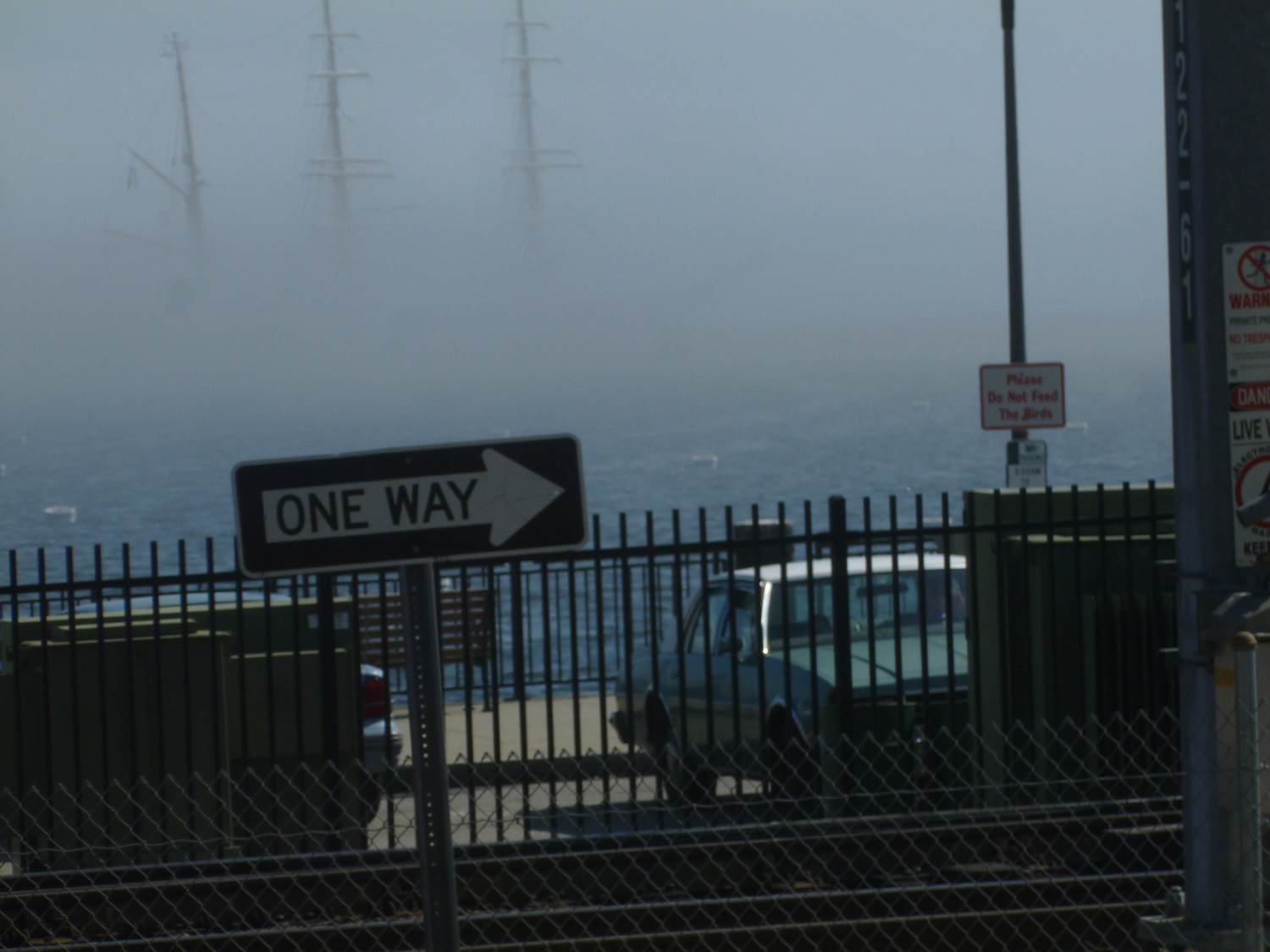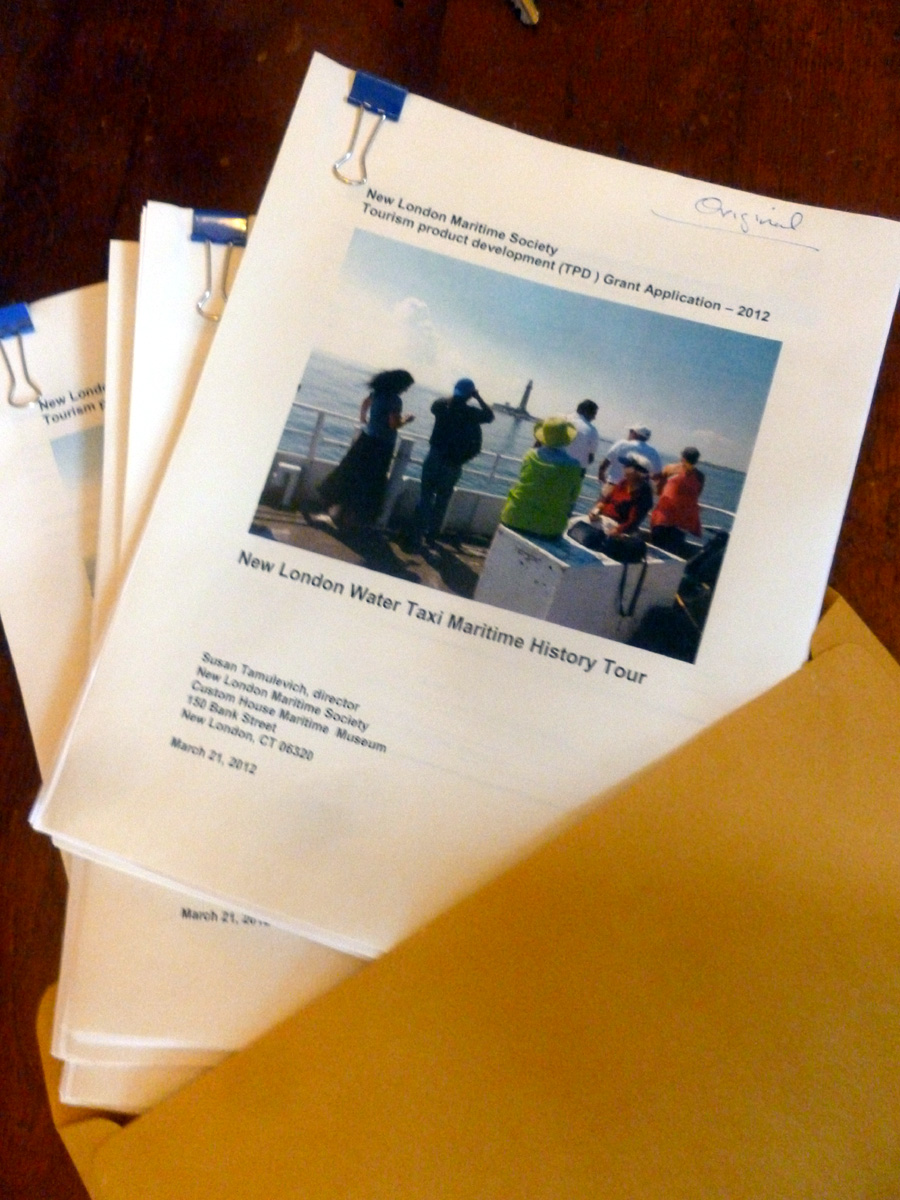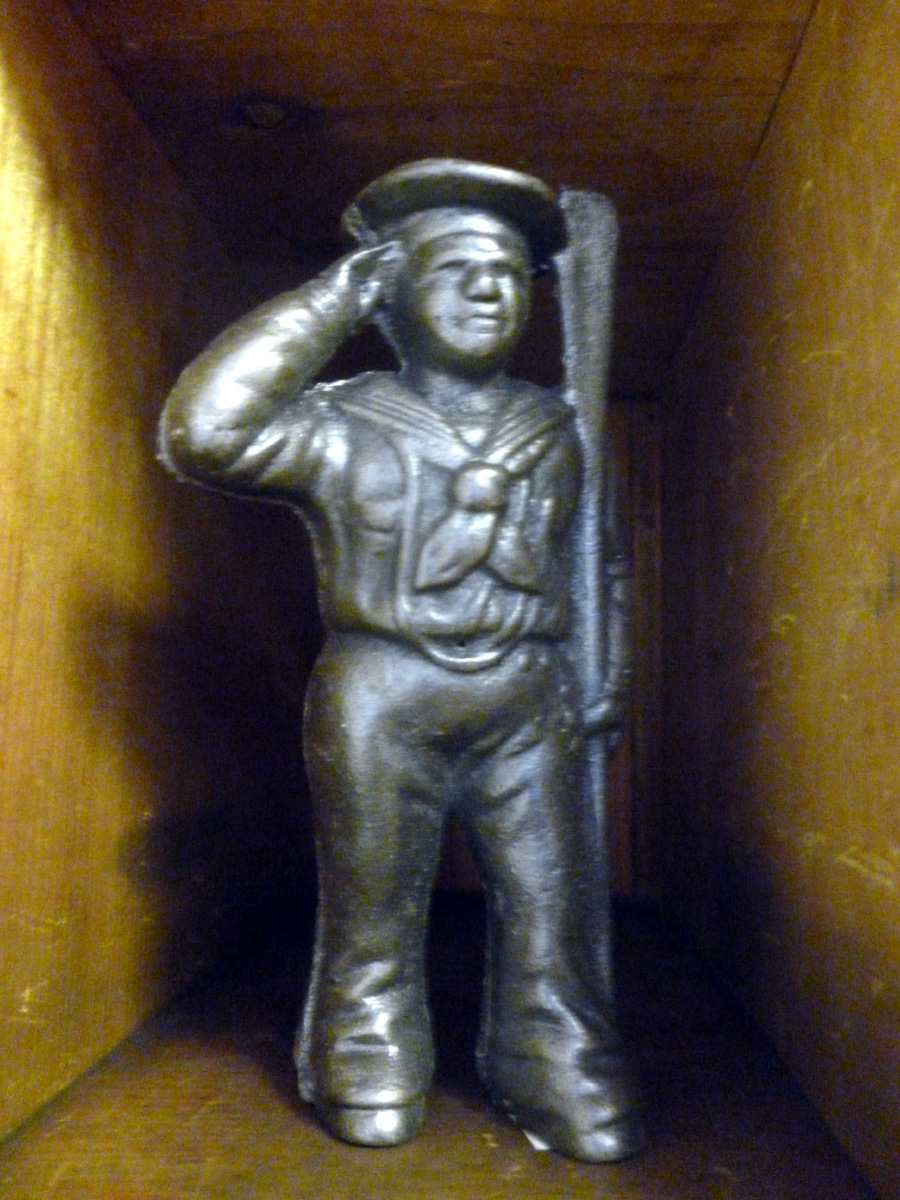 3.21.12 Even foggier today, but we did our jpb and completed the grant proposal (far left) and the drove it up to Hartford to meet the deadline. The project, among other things, would allow us to build a pier at New London Harbor Light, which then will enable us to give better access to the lighthouse this summer, when we host another series of Lighthouse Weekends. The first of these weekends takes place the same week as Bring Back the Boats--the 2nd weekend in July.

Meanwhile, new in the shop are these cast-iron sailor banks (far left).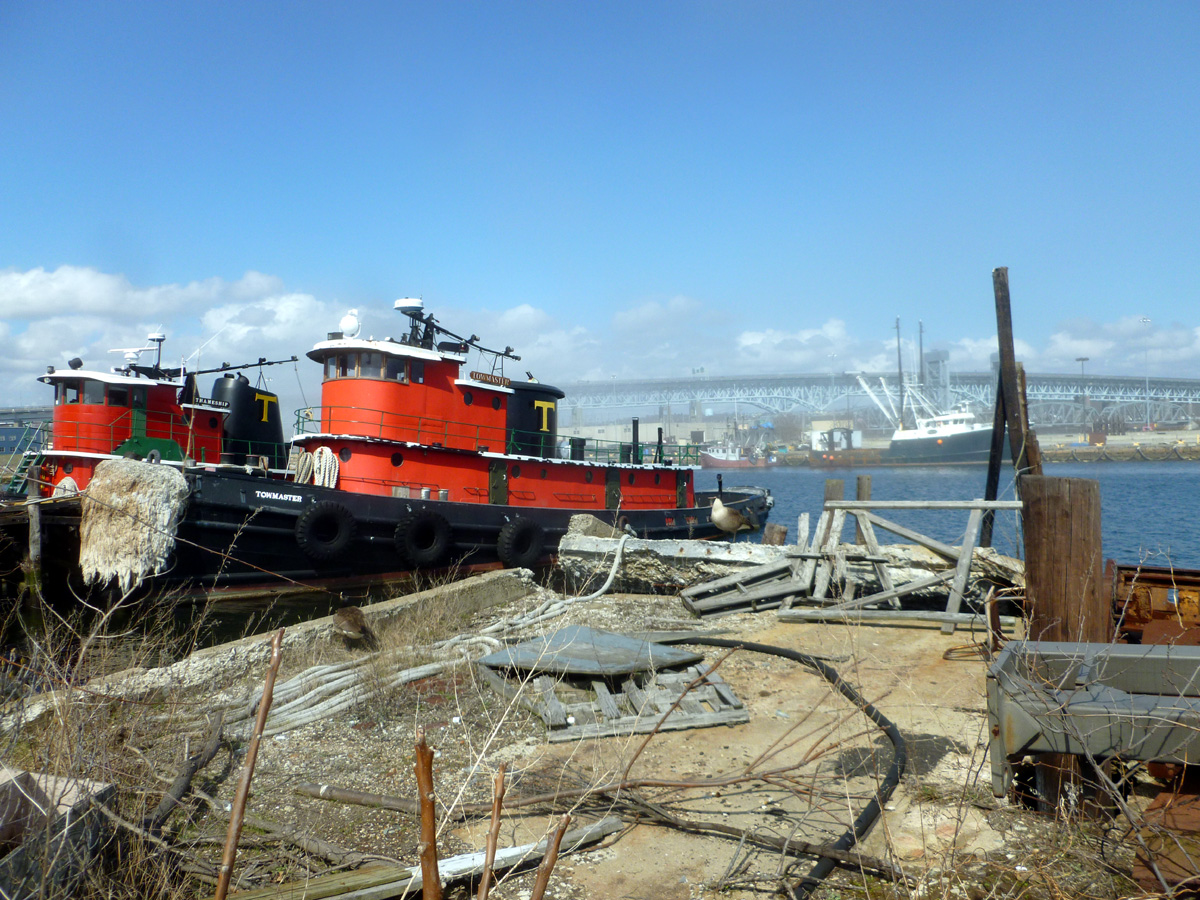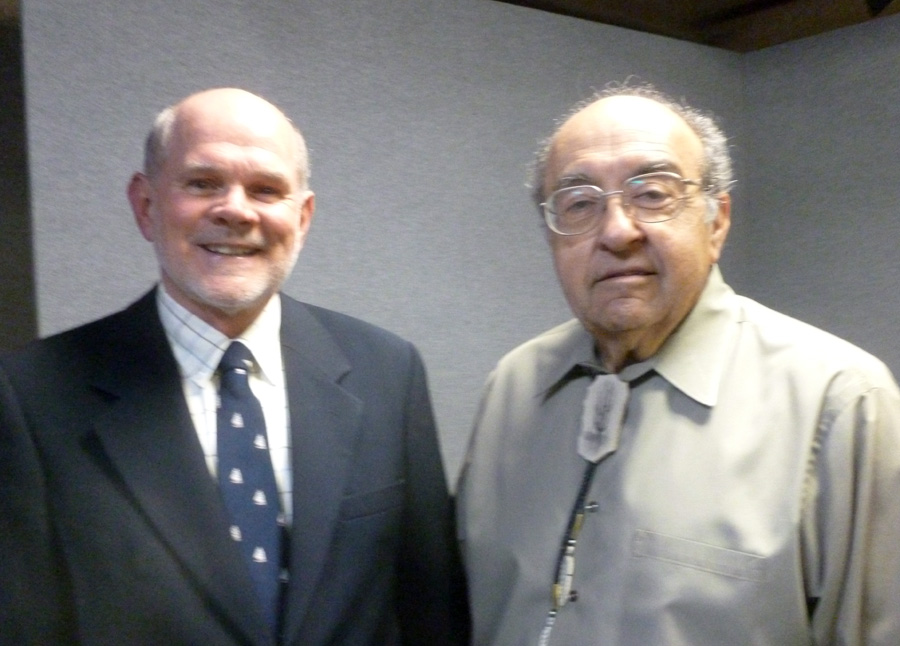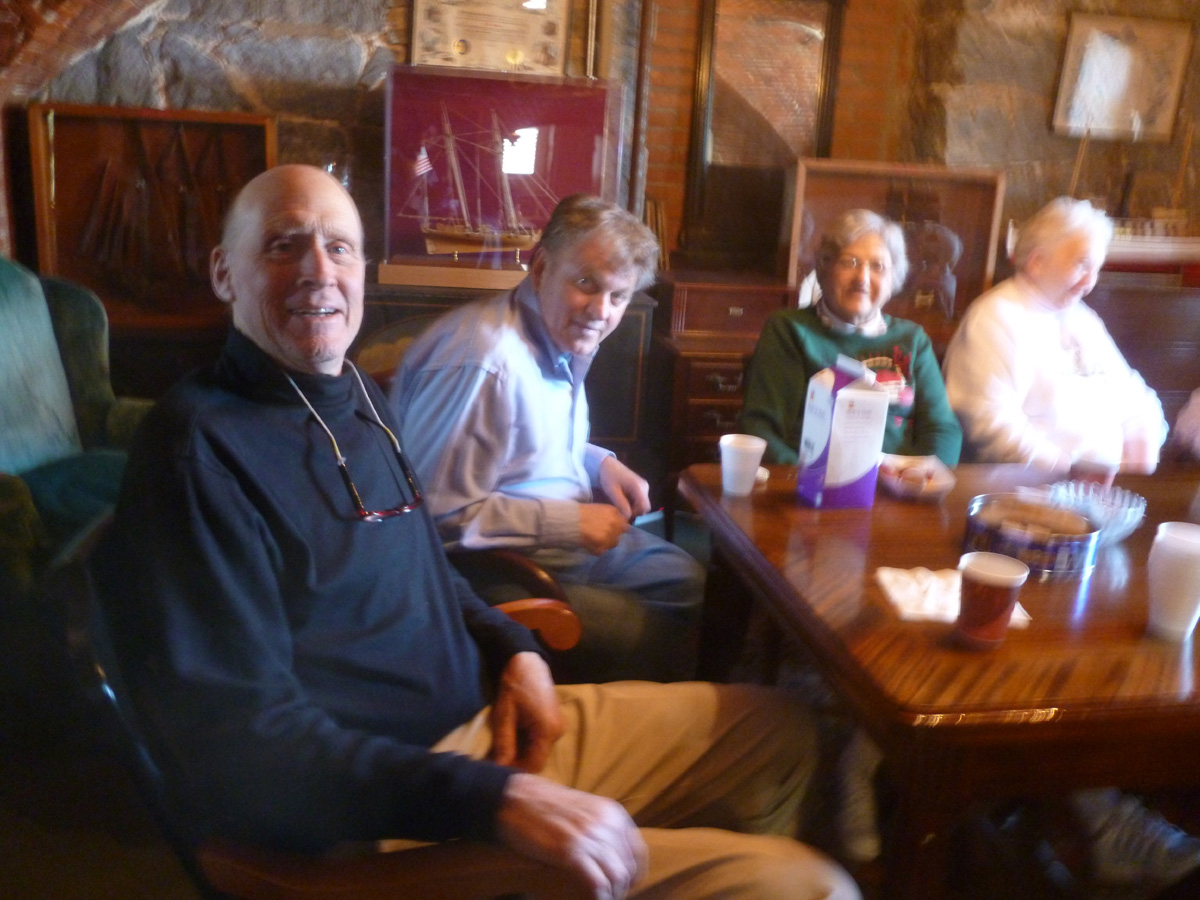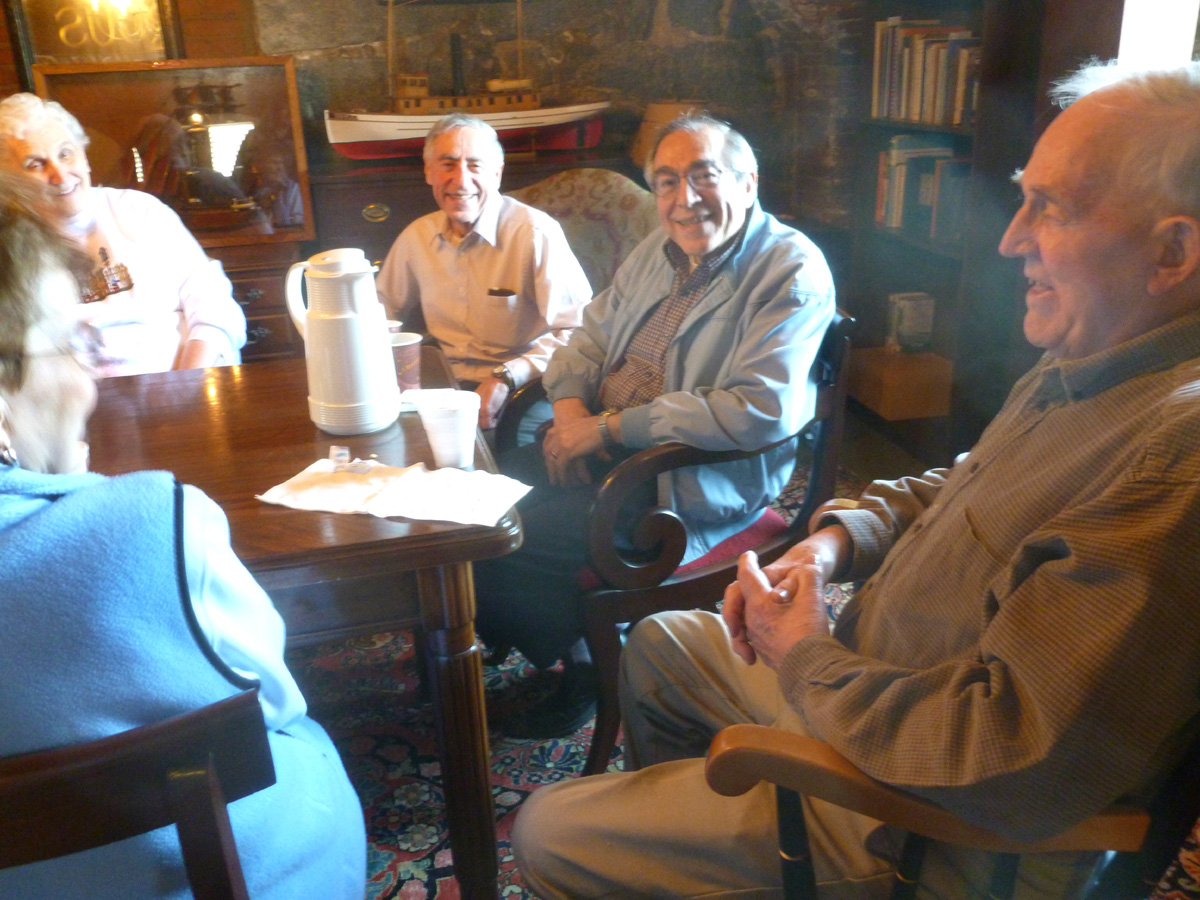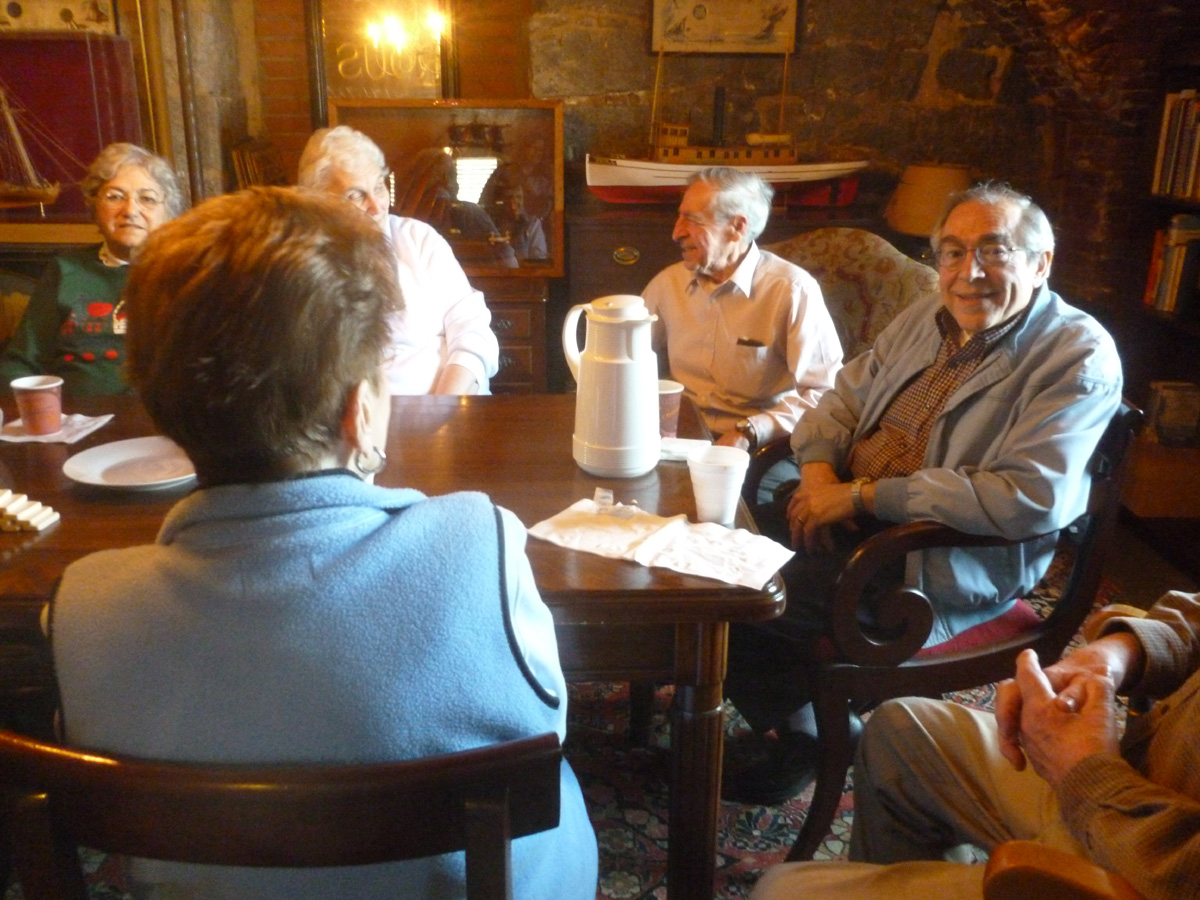 3.21.12 Custom House Maritime Matters, our weekly cable television program, resumed this week, with NLMS president George Sprecace back from a trip to visit his far-flung family.

George's guest, at left, was Dr. Donald Murphy, who will be the speaker at our Founders Day Luncheon on Sunday. (By the way, there was a great article about the event today in The Day.) Oceanographer Dr. Murphy is a New London native. He also is the chief scientist for the USCG International Ice Patrol, which is based at Fort Trumbull. One thing Dr Murphy knows a lot about is ice - sea ice and glacial ice--the kind that breaks into ice bergs.

Above is the crew from this month's Jibboom Club GAM. Good to see George Spragg back! And we all were heartened to have Archie Chester here. GAM take place the third Tuesday of the month, from 1 to 4 PM.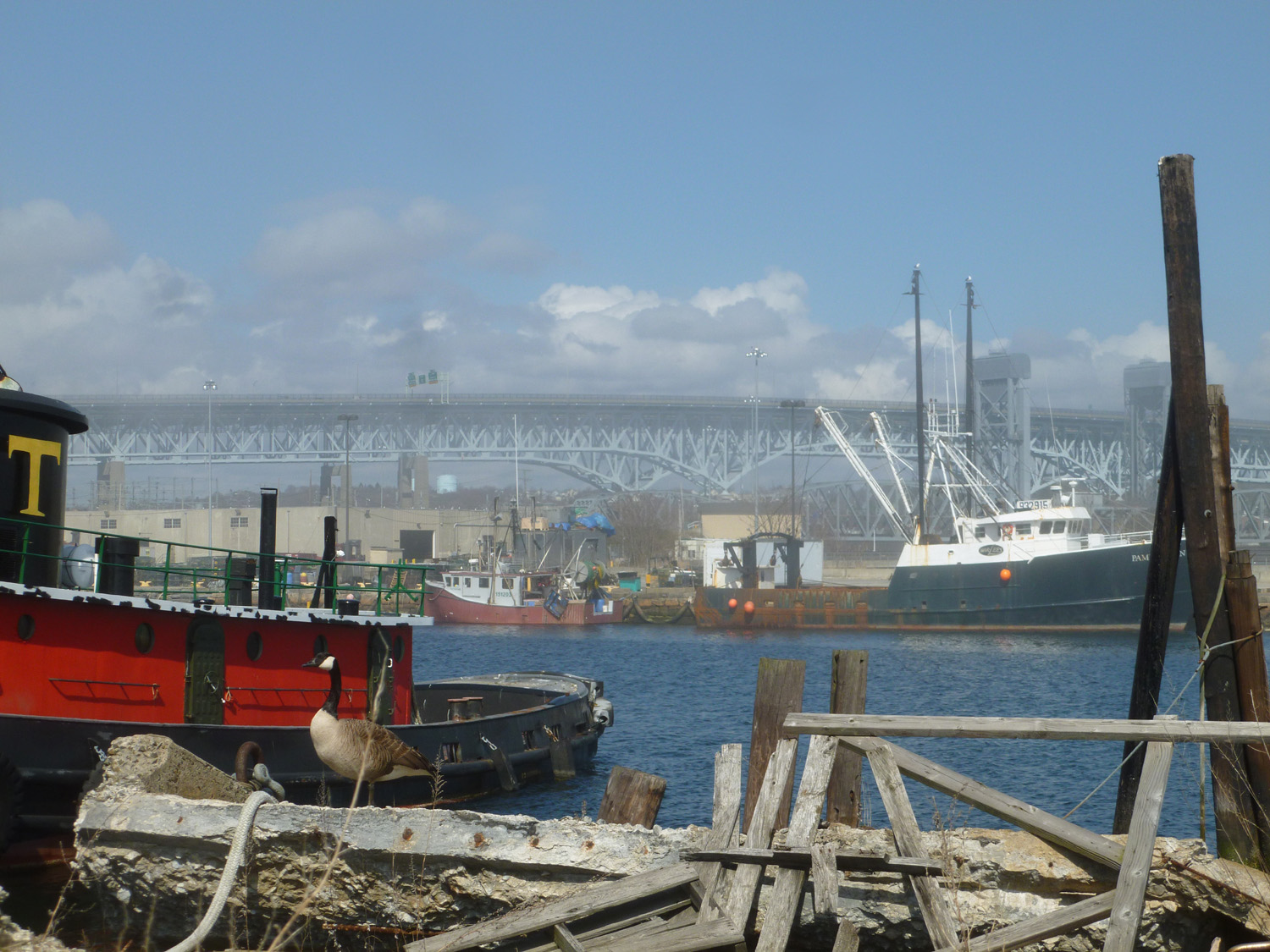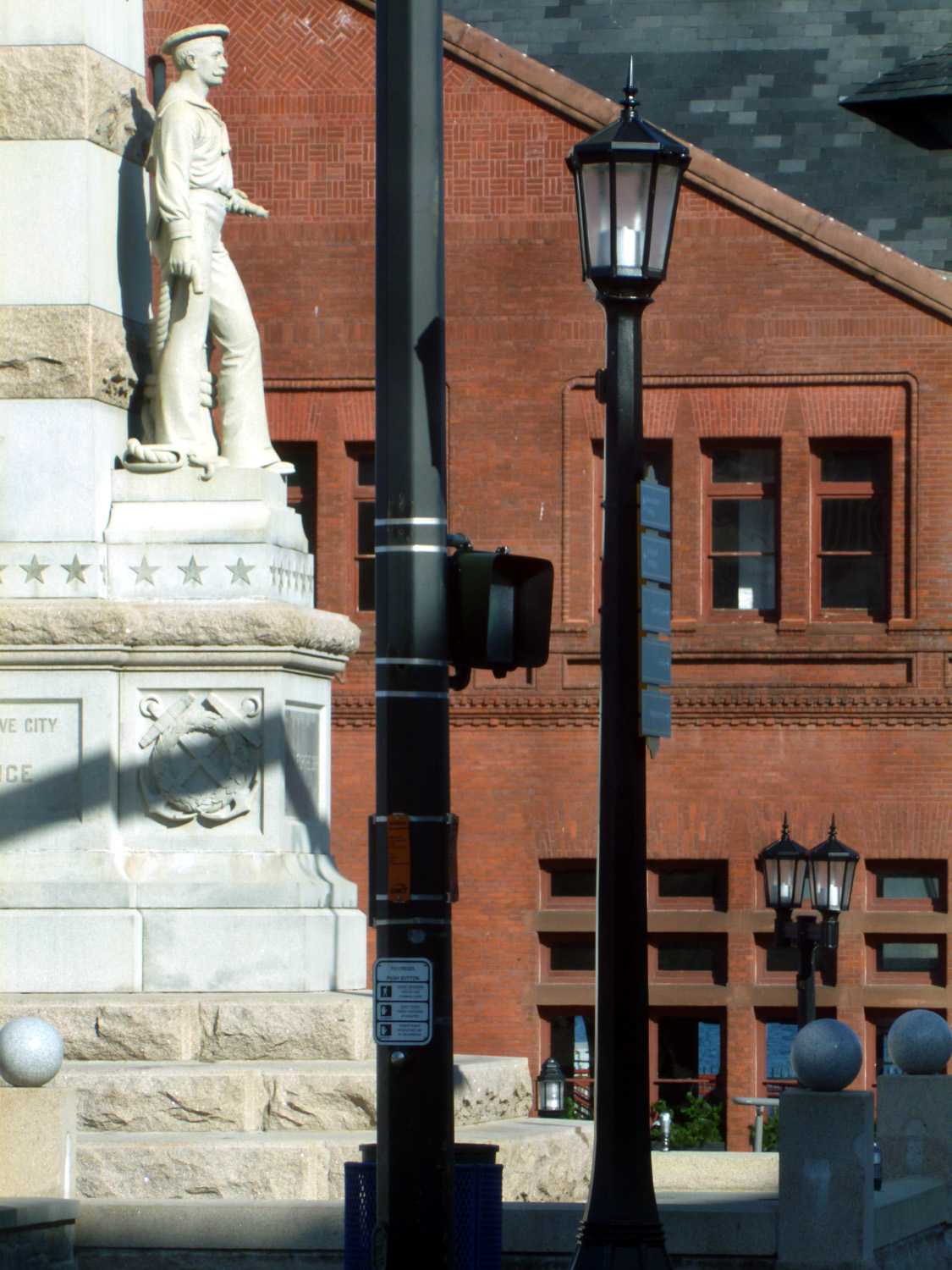 3.21.12 Always beautiful -- the New London train station (yes, that' s water you see through the windows. Above, a scene from the ferry dock looking across to state pier.

3.22.12 Unlike the rest of the year (April through December), January through March is our off-season--the time when things are supposed to be getting done behind-the-scenes. These months, we are open just four days a week. To me, March was going to be nothing special. But looking back at all the activities on this page, and at all the people we've worked with, I'm truly surprised and impressed--and there's still another week of March left!

These photos were taken yesterday afternoon.

3.22.12
This is the portrait of New London Maritime Society founder
Lucille Showalter,
which was featured in
The Day
this morning. The painting was created for us by artist
Michael Peery,
our neighbor across the street on Bank Street.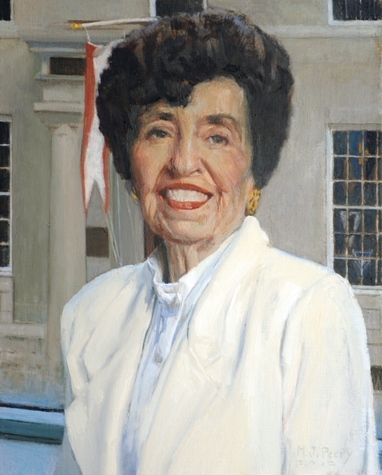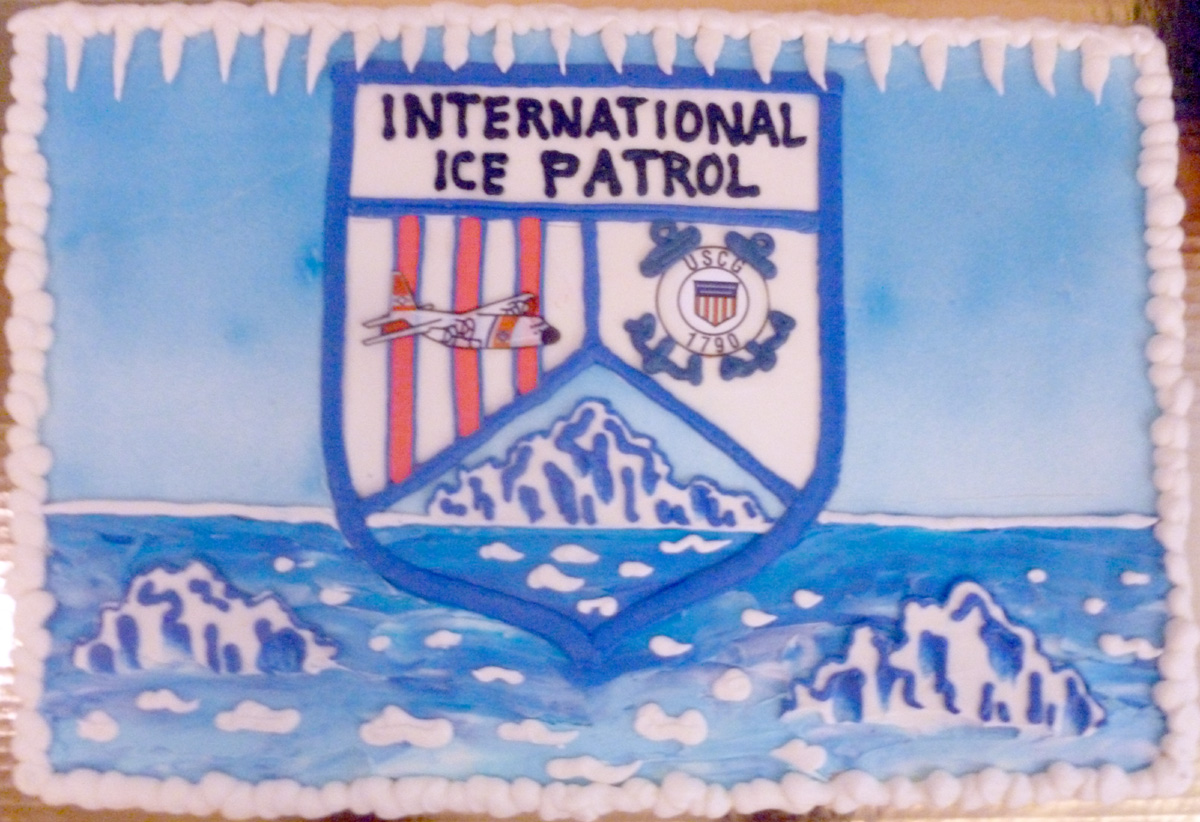 3.25.12 And here it was: the 29th Annual New London Maritime Society Founders Day! A big part of the activities is the CAKE -- and The Cake Lady did a spectacular job (see left). And, near left, is our speaker, Dr Donald Murphy with his wife Martha.

Here, above, is an array of photographs from the day.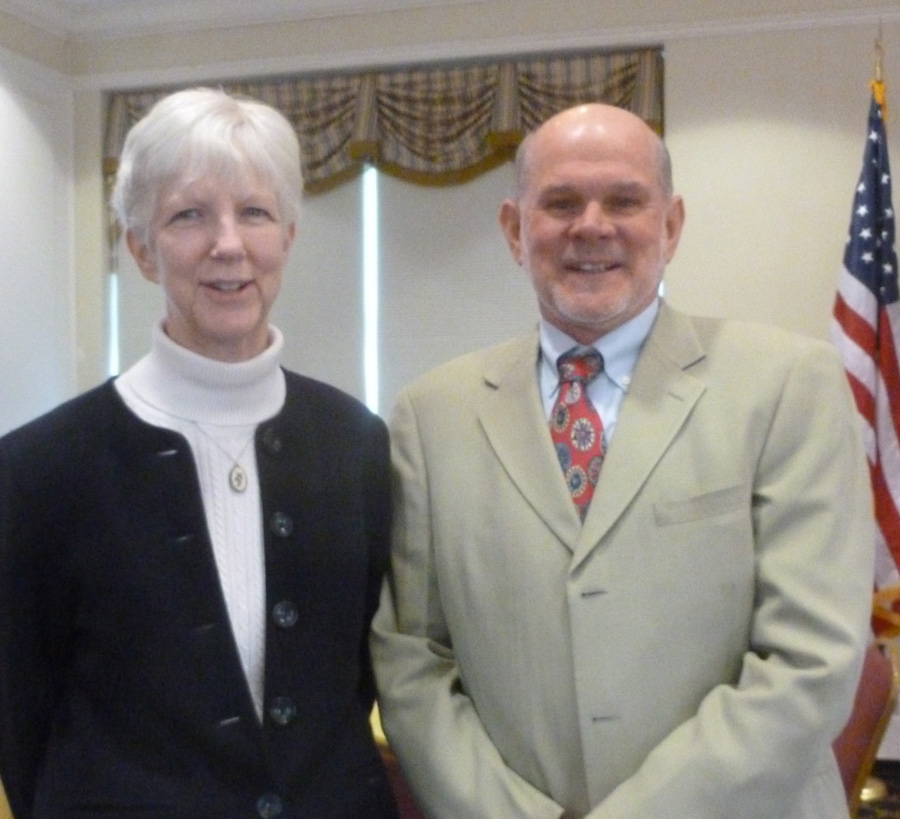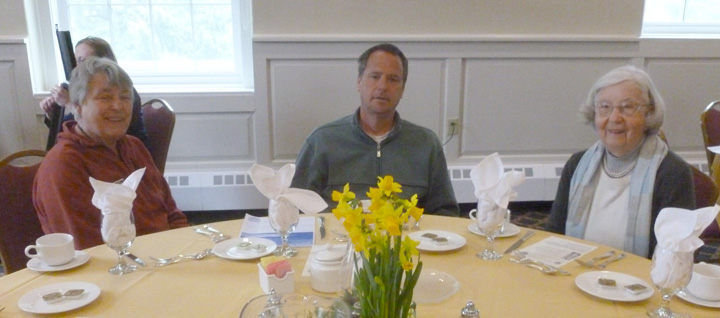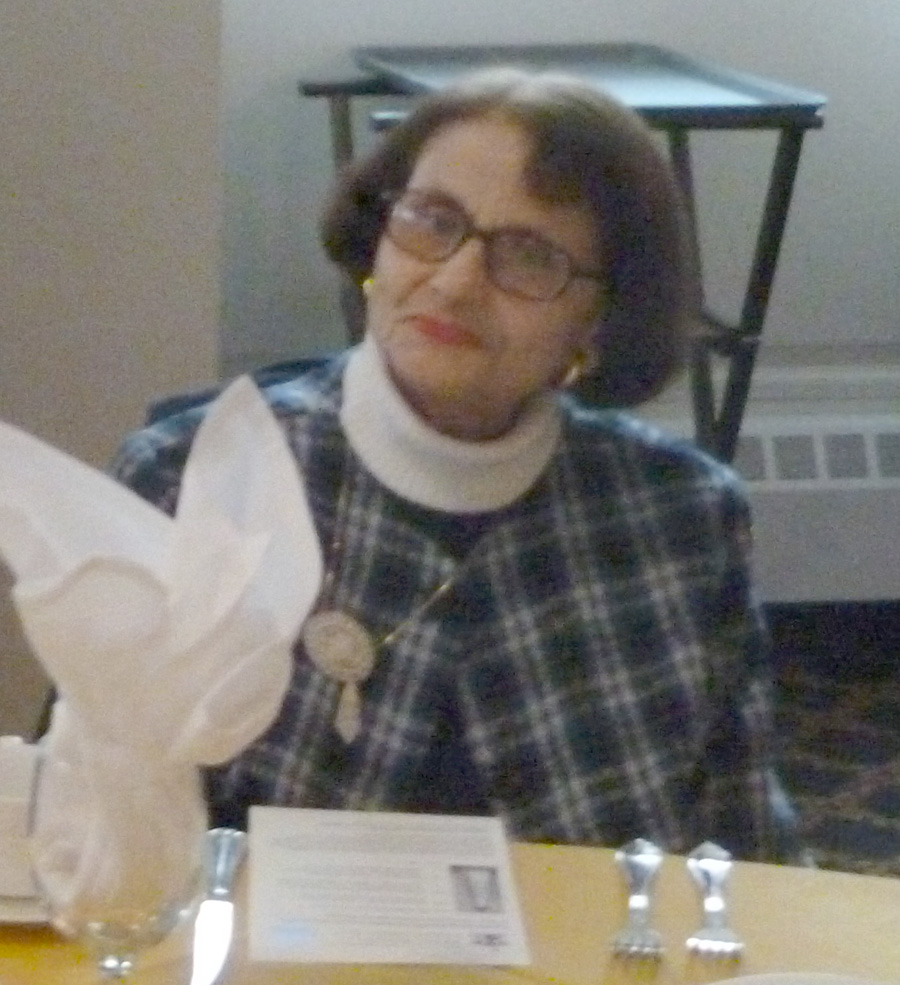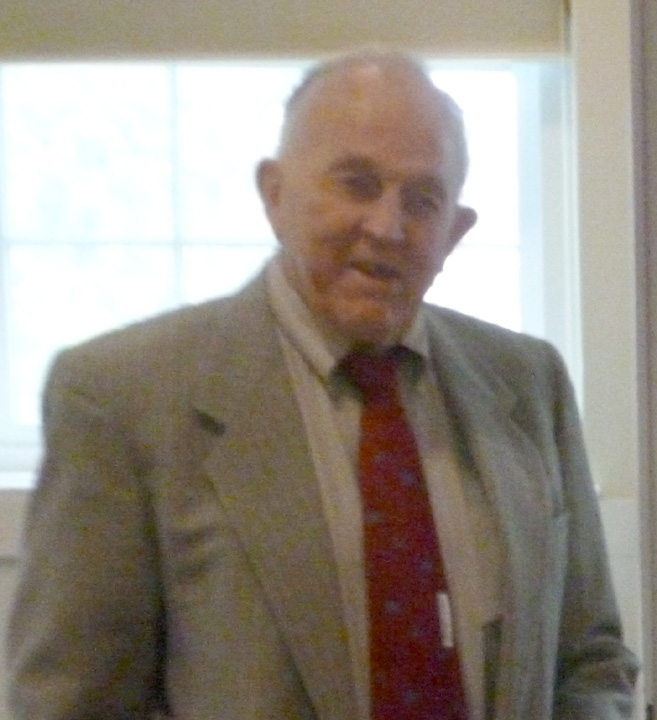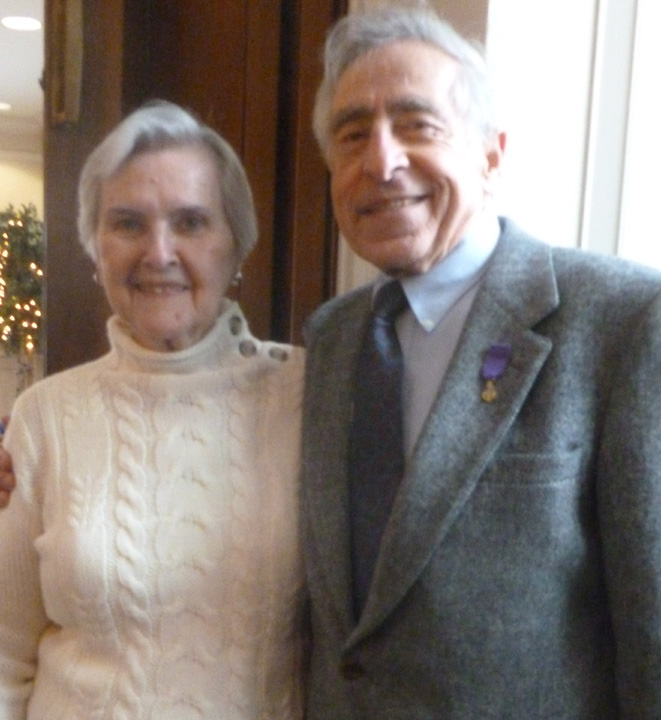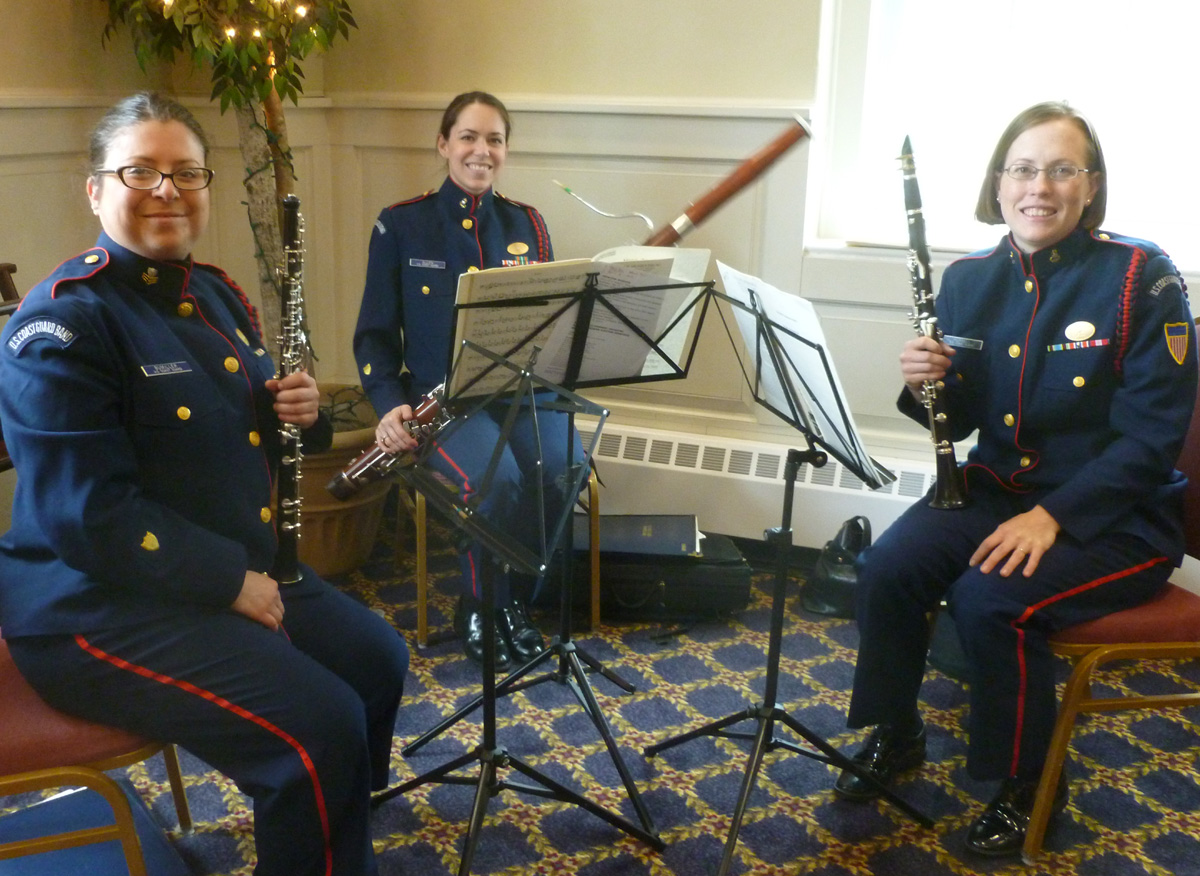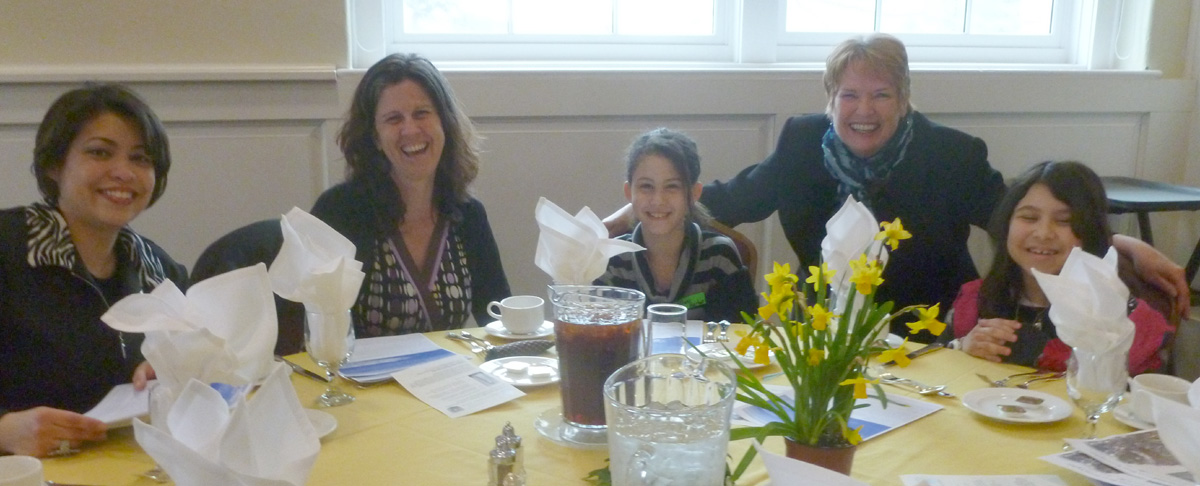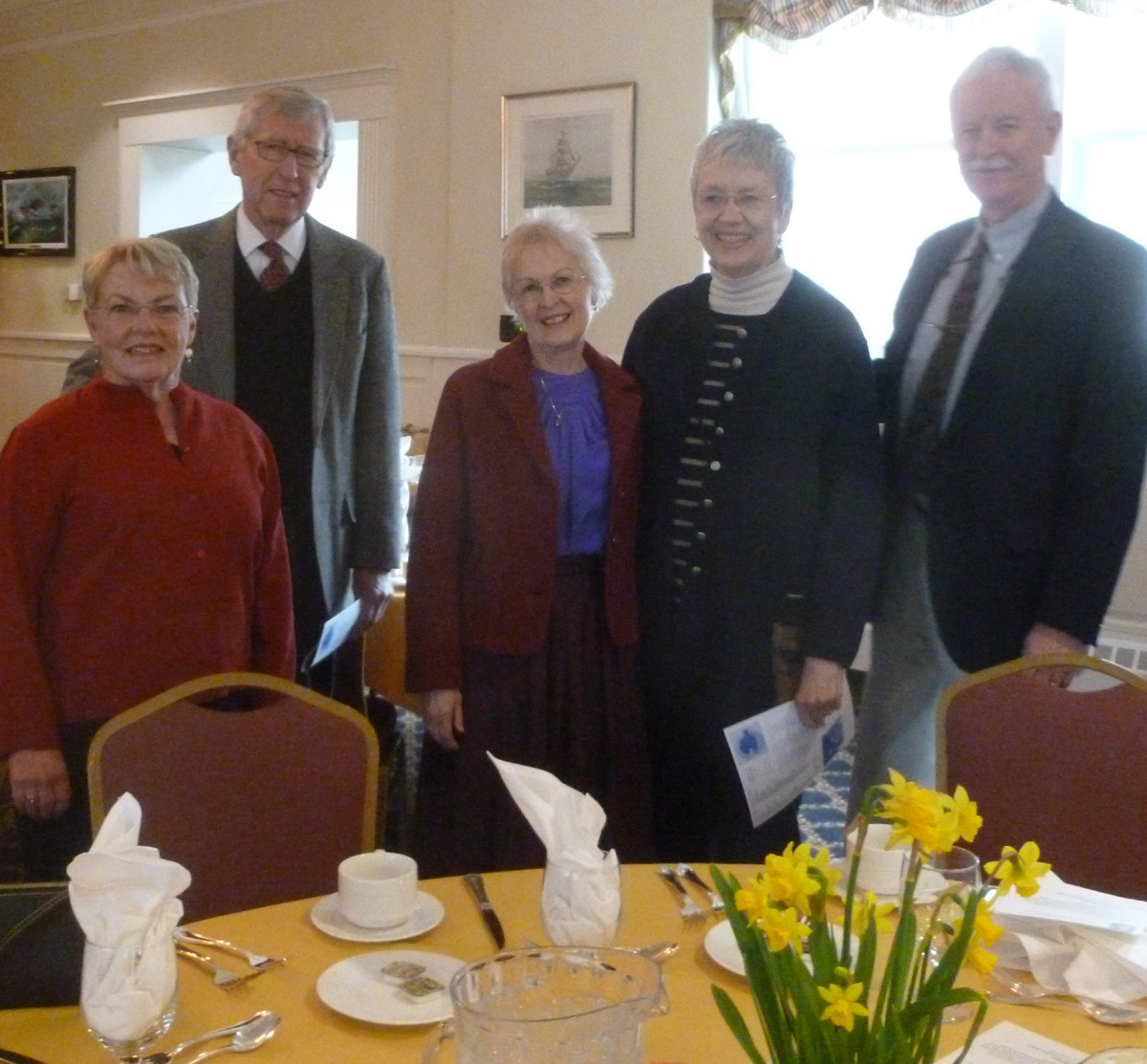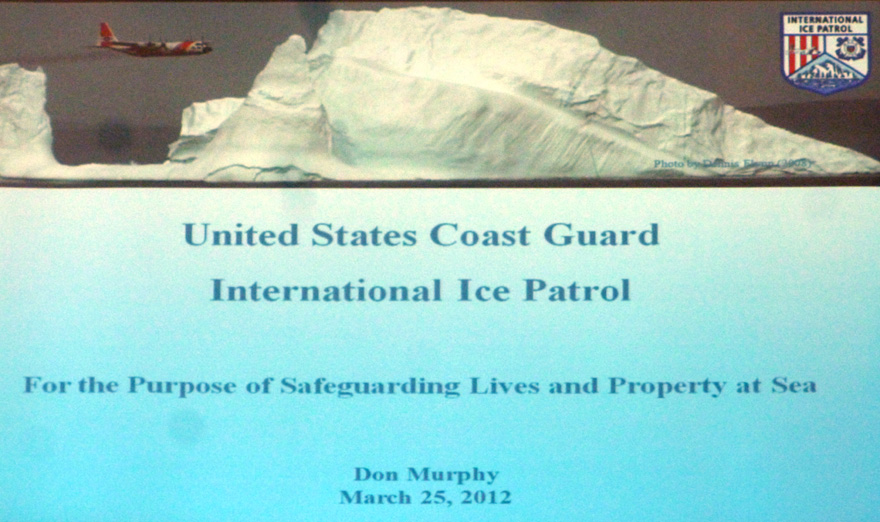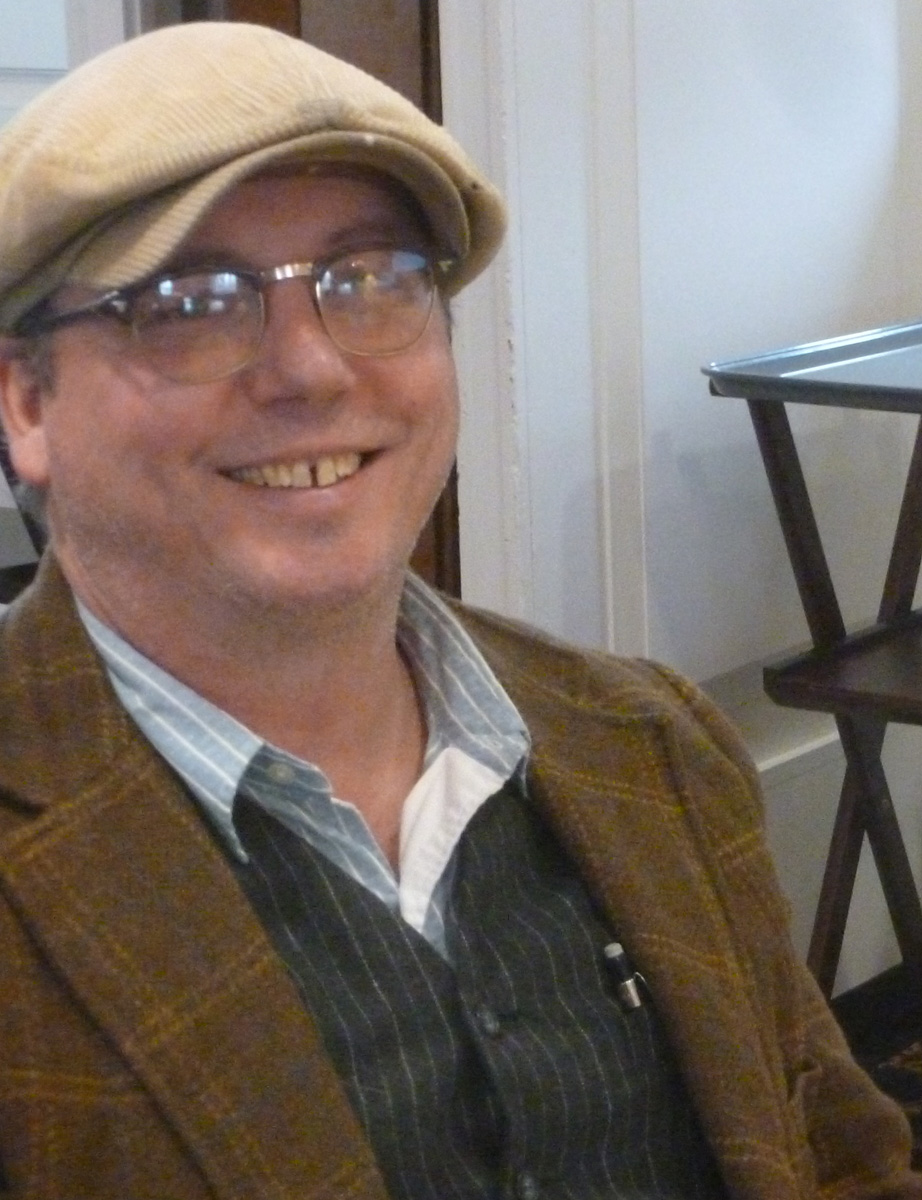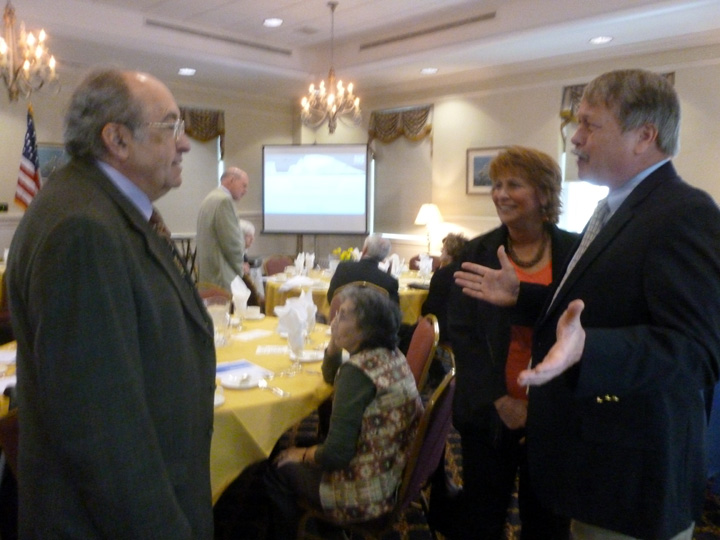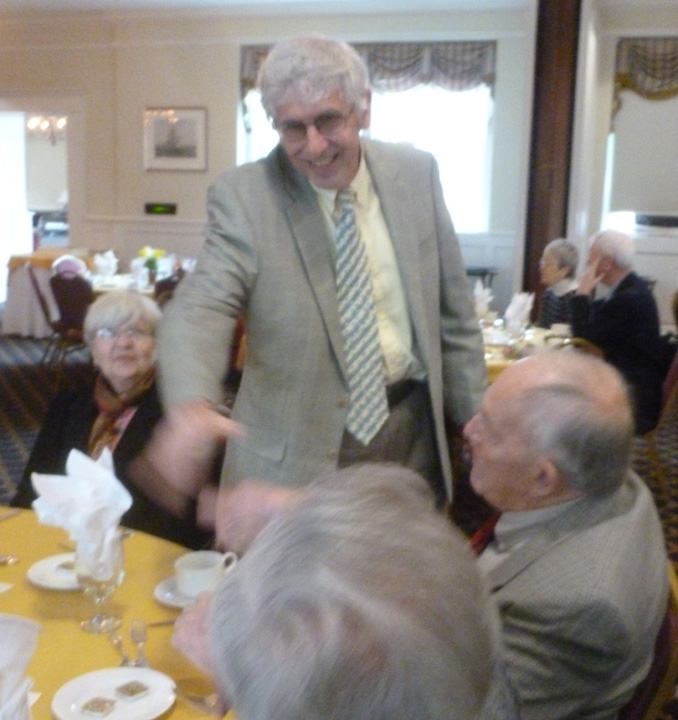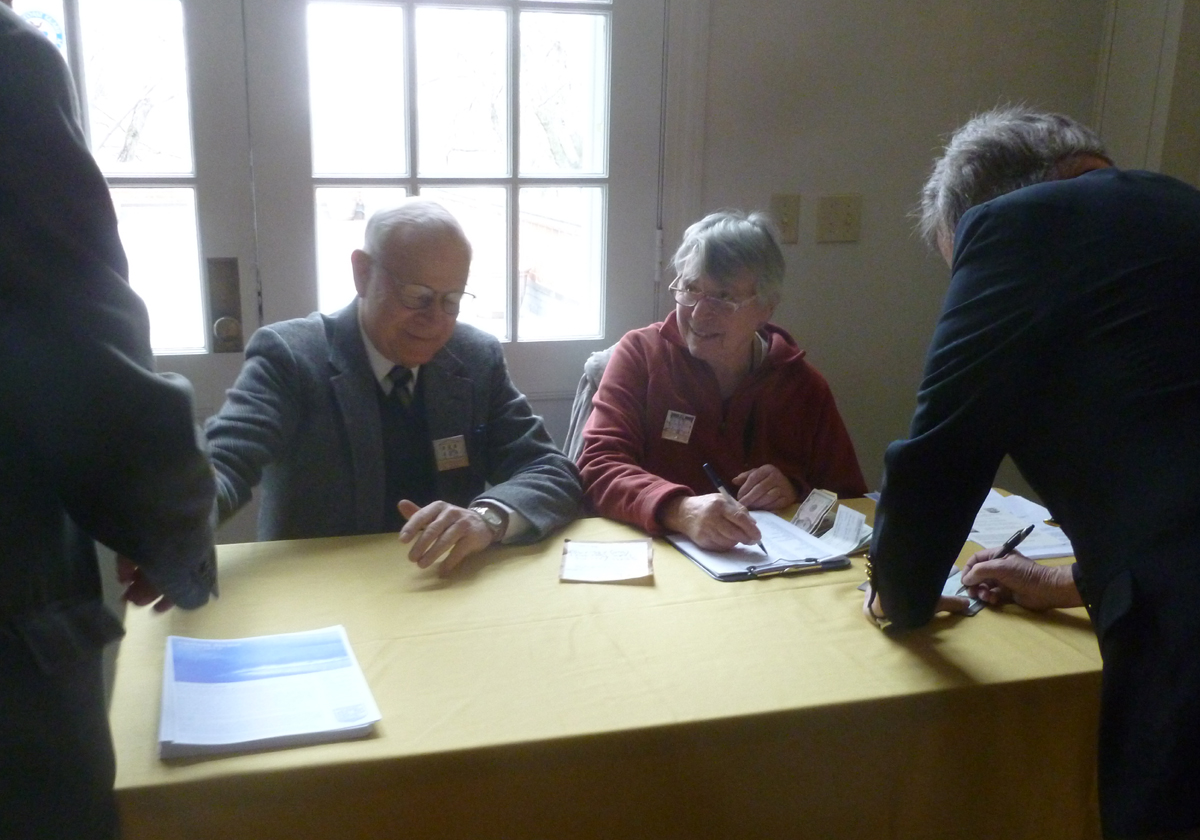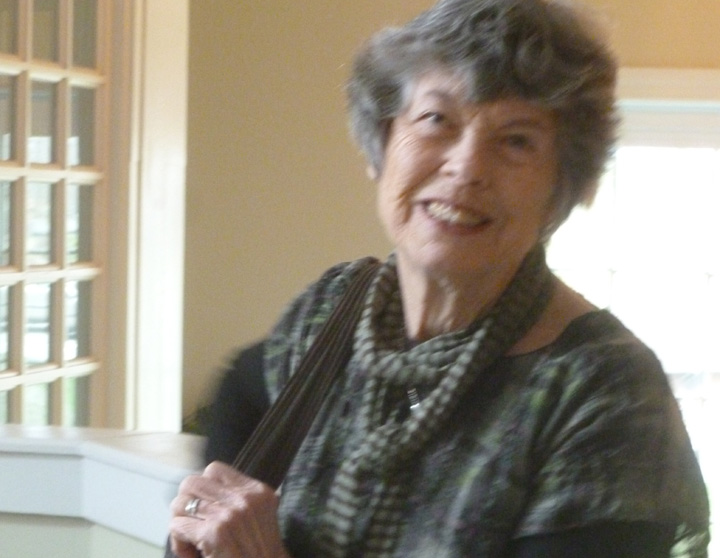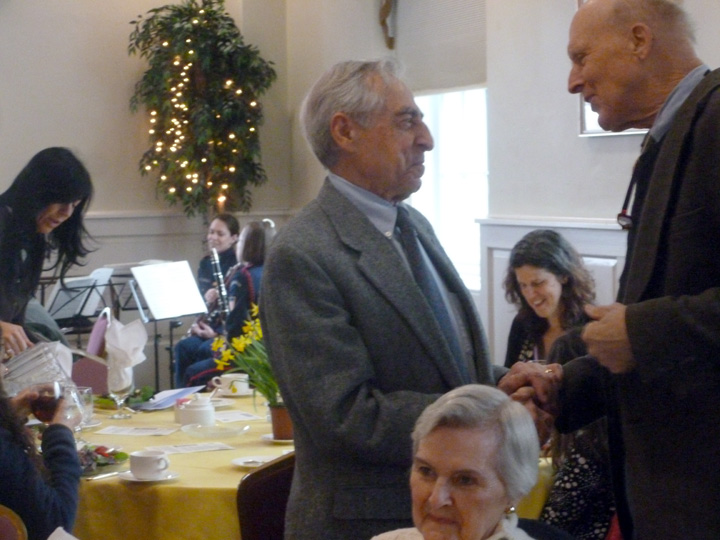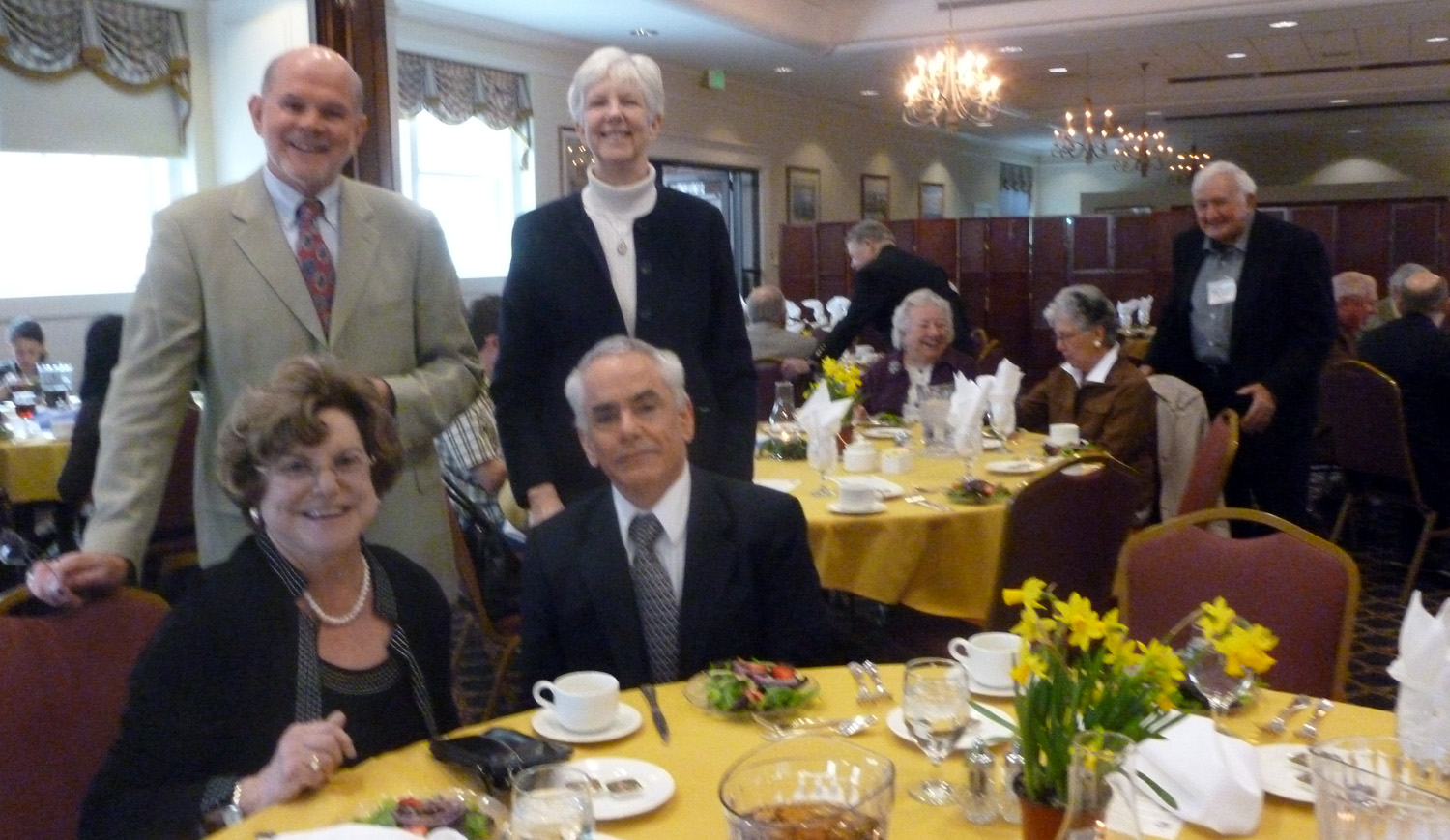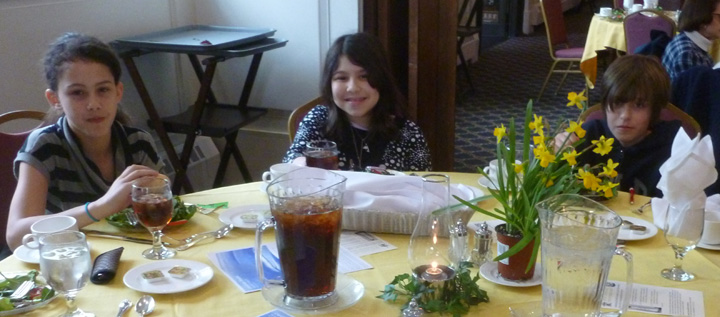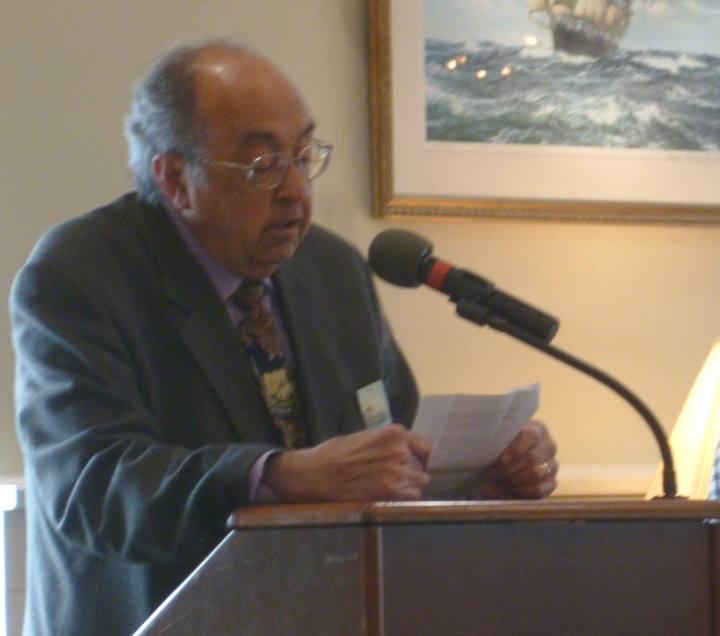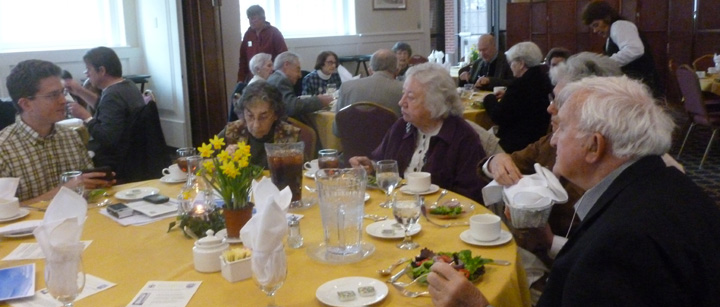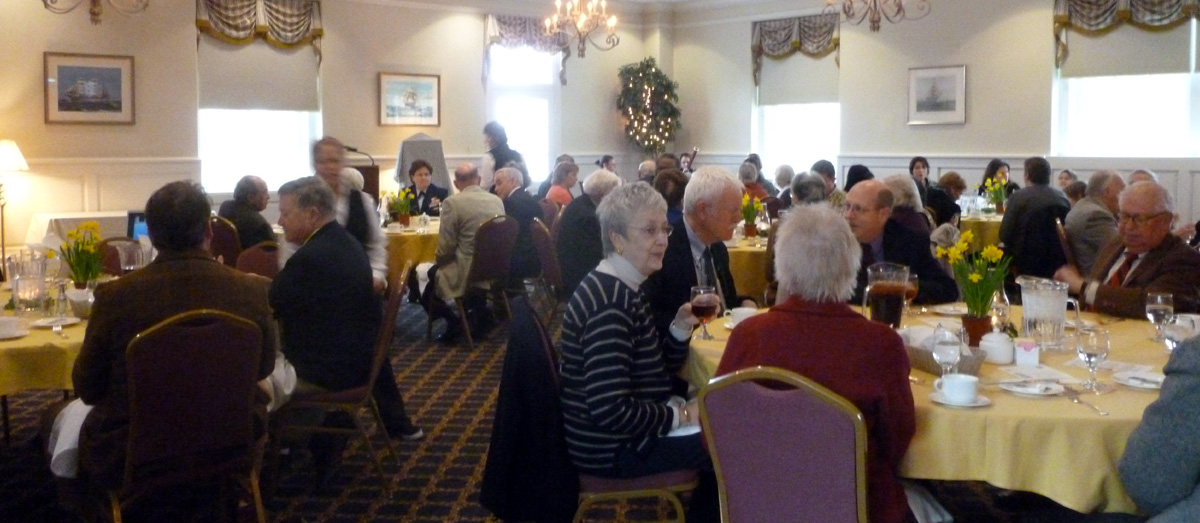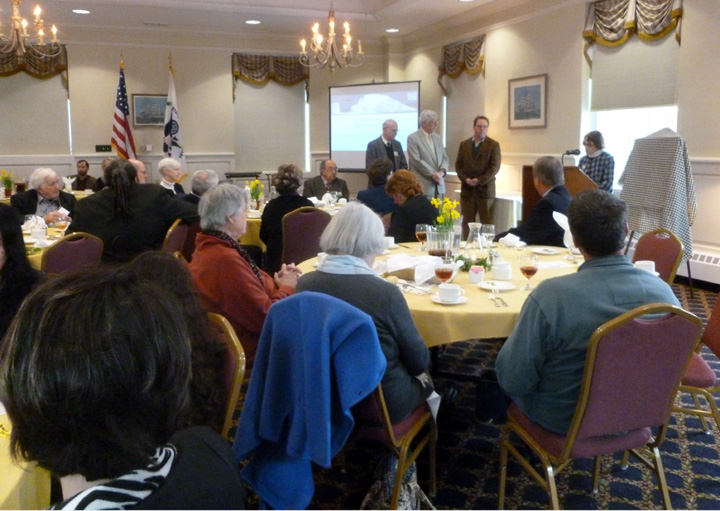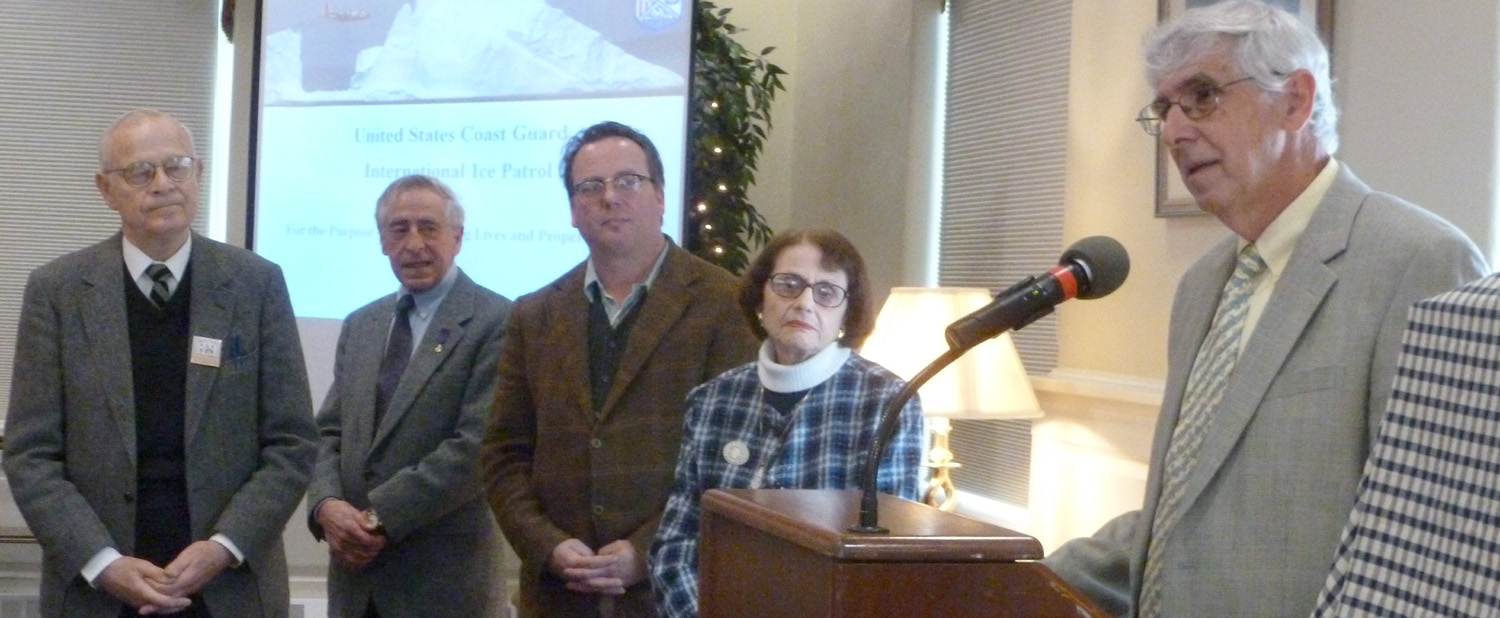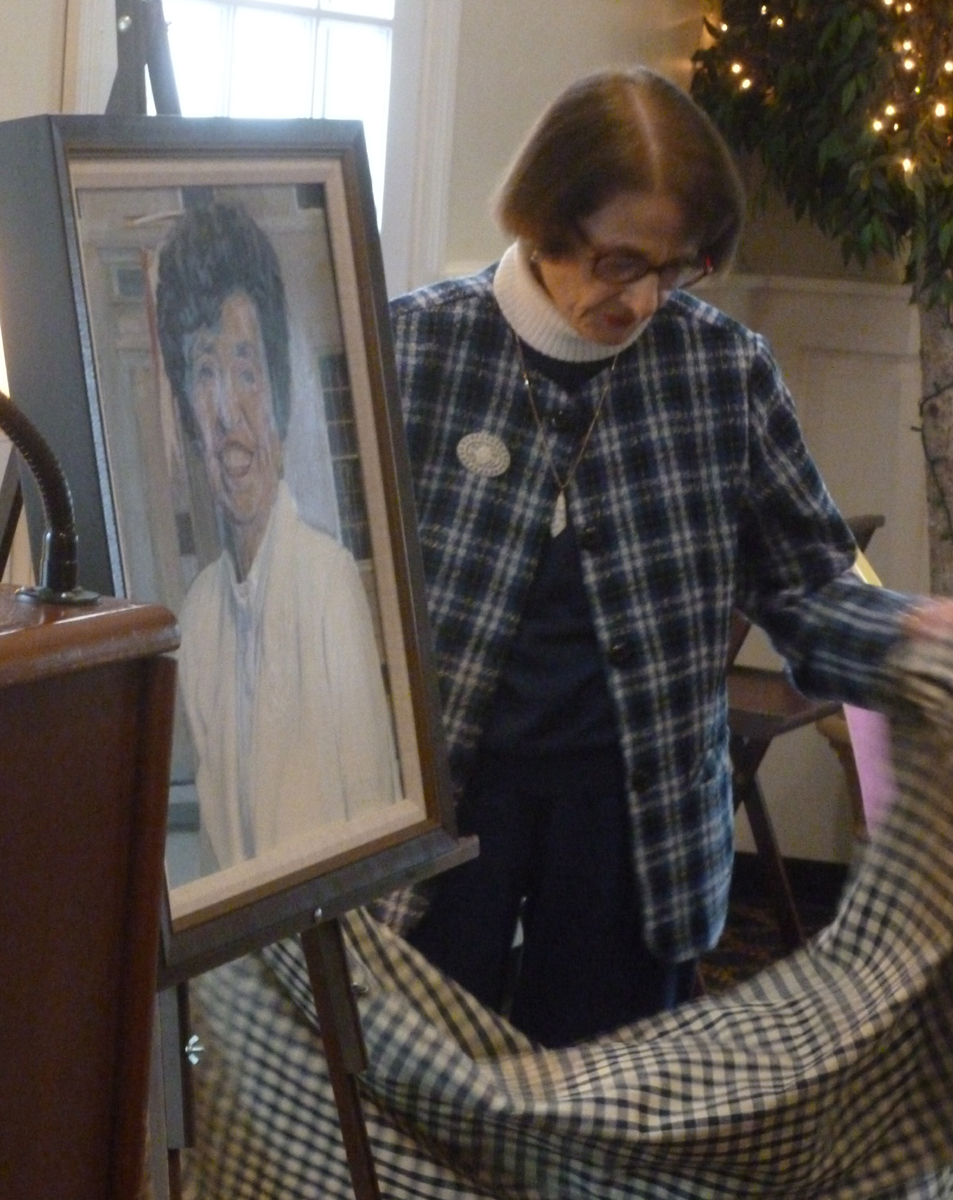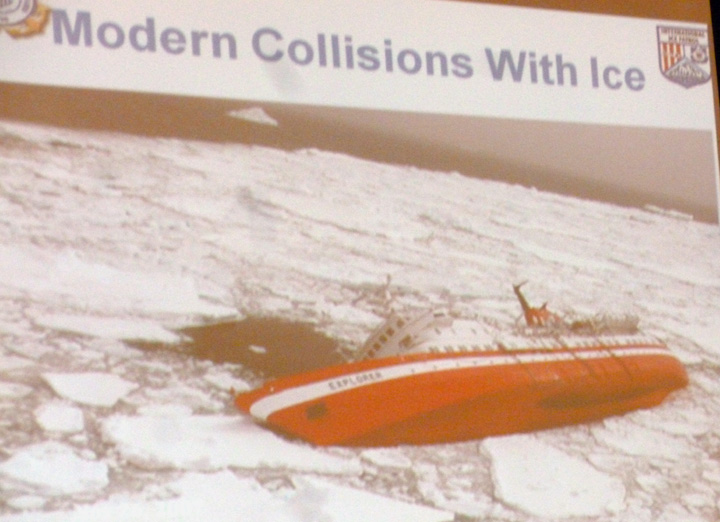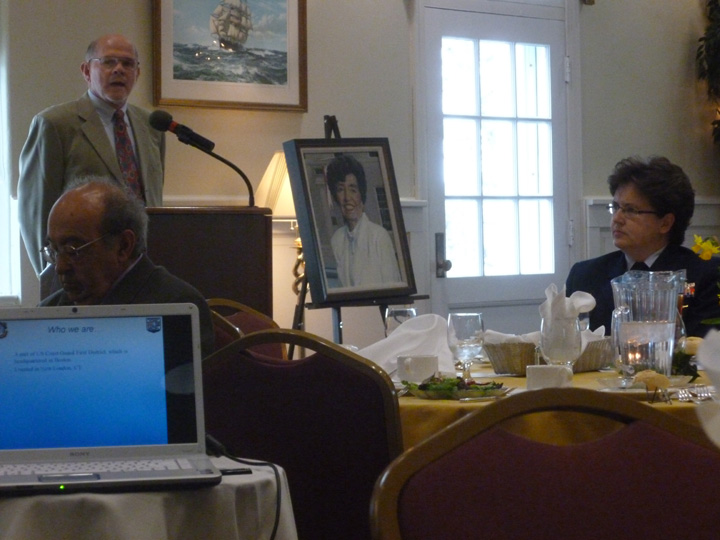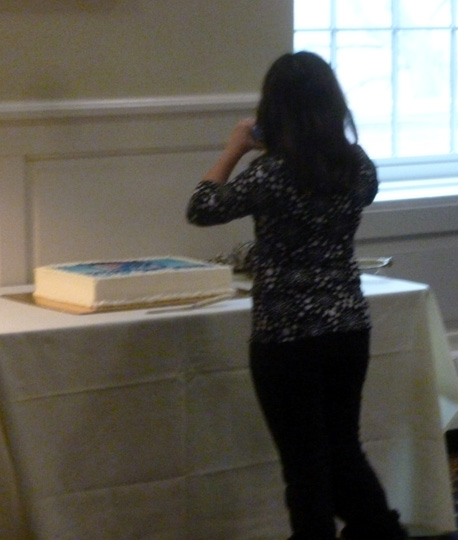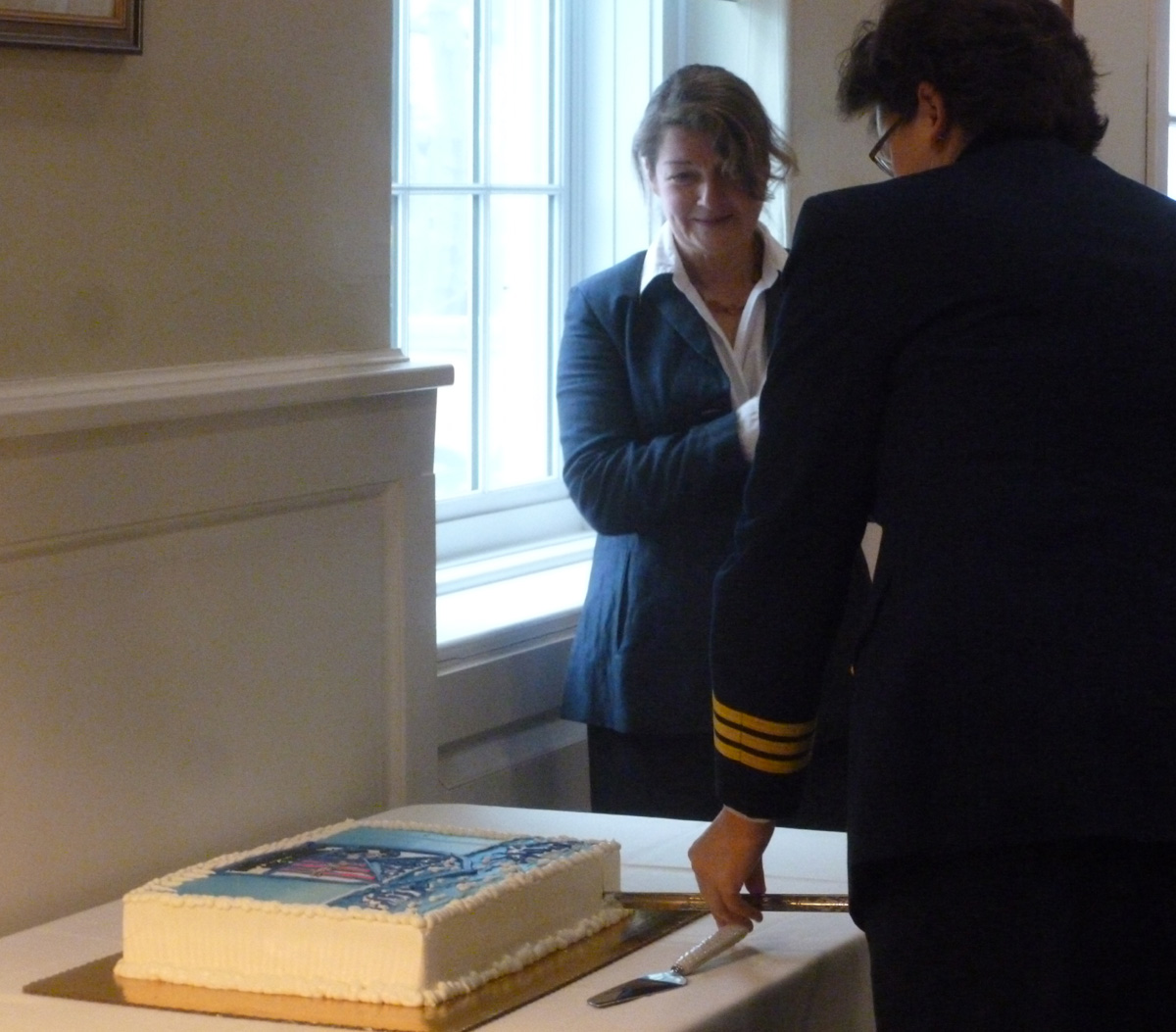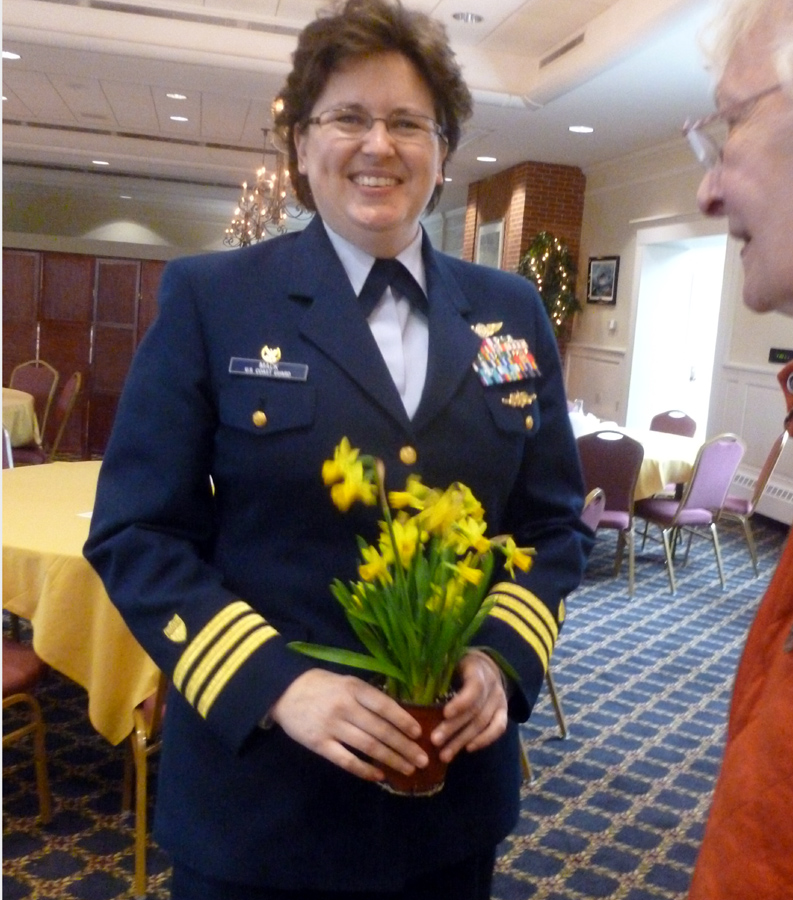 3.25.12 Today was the 29th Annual New London Maritime Society Founders Day - a great afternoon, with the USCG Woodwind Trio, luncheon at the USCG Officers Club, the unveiling of a portrait by artist Michael Peery of NLMS founder Lucille Showalter, lots of guests: members, founders, Lighthouse Kids, our speaker Dr. Donald Murphy and Commander Lisa Mack of the USCG International Ice Patrol, master of ceremonies Dr. George Sprecace, and a terrific cake made by The Cake Lady! Per NLMS tradition, Commander Mack cut the cake with the Heidenreich sword.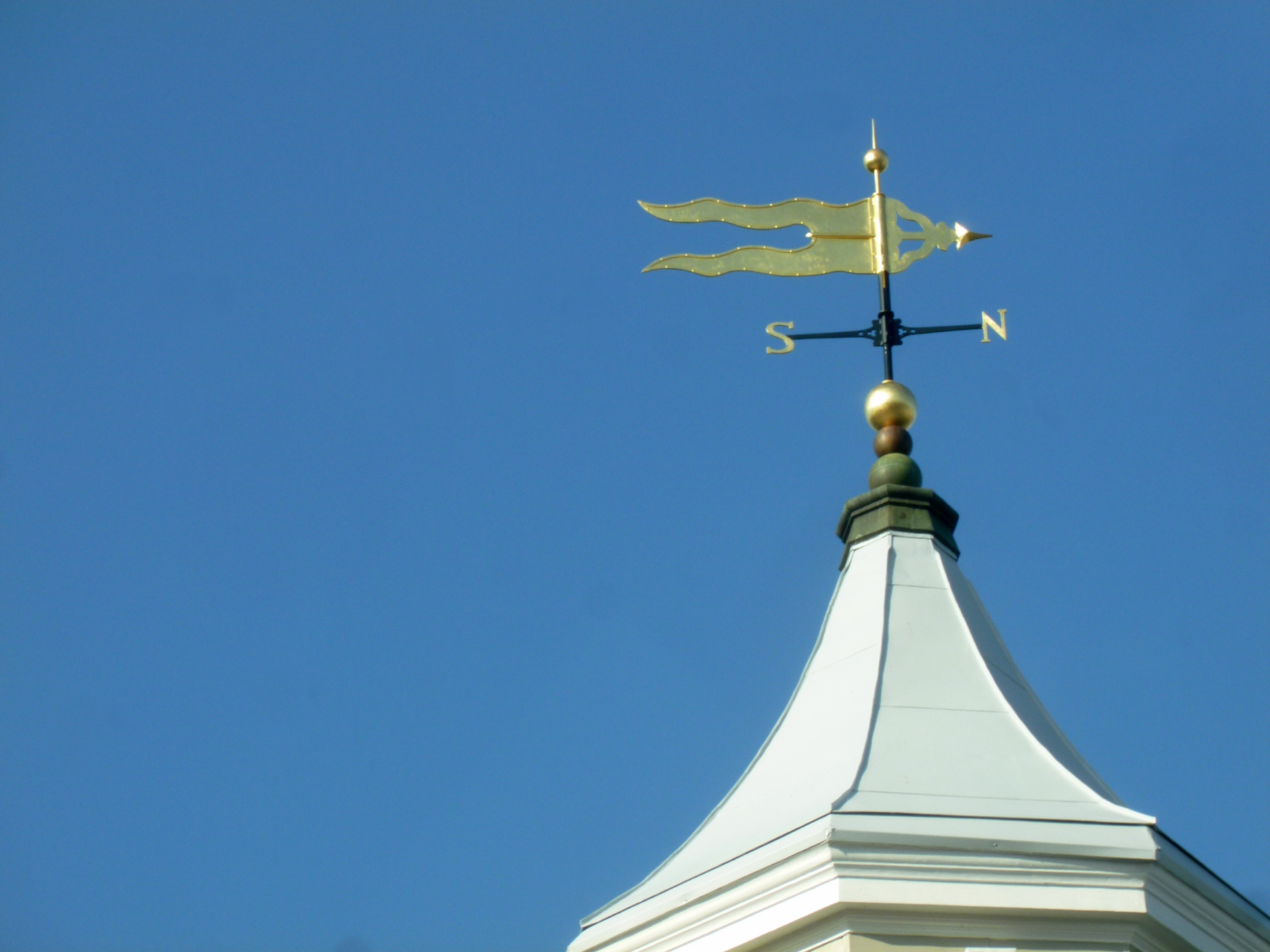 3.27.12 Yesterday and today were more of what March is known for: blustery winds and cold. But there was a beautiful clear sky this morning, the better to see the weathervane on New London's famous courthouse.

And then there's the view down the alley -- today some interesting other kind of boat...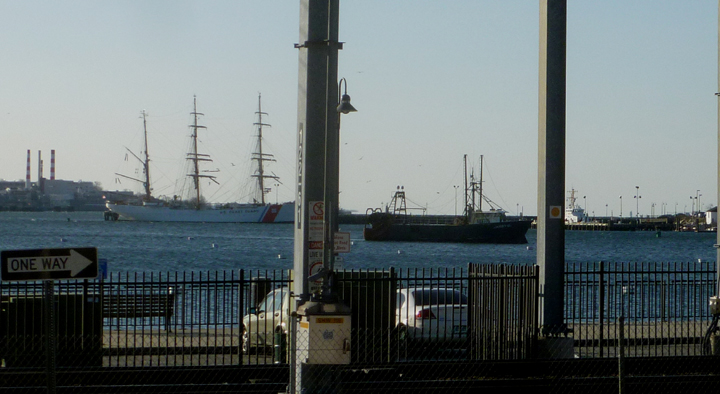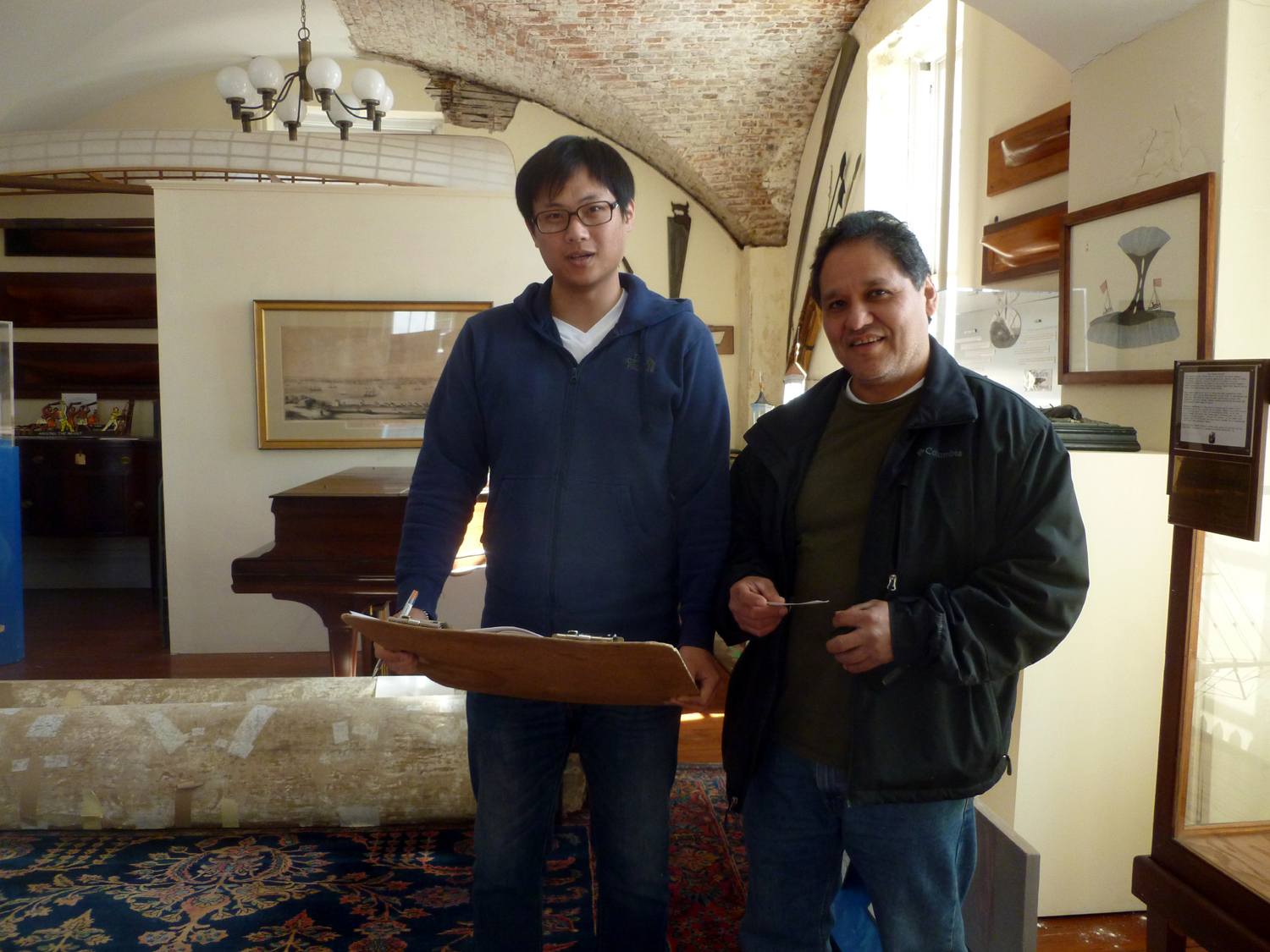 3.27.12 And today architect Jose Guzman was back with his assistant Don Yuan. They are continuing the evaluation of the Custom House building in terms of life-safety issues--a project funded, in part, by a recent grant from the Frank Loomis Palmer Fund.

This assessment is an important matter as, about 18 months ago, a person registered a complaint against our 179-year-old building with the fire marshall. The state fire marshall came out to take a look and cited many violations to the current code. Among other thing, our stair railing is too low. We have no acceptable exits from either the lower level or the sub basement (that is, no exits acceptable to the current code).

Of course, we want the building to be a safe as possible, so we immediately fixed whatever we could ourselves. We moved furniture, walls, programs. Our occupancy was reset at 49, which is acceptable for 99.9% of our activities. But we wanted to investigate what it would take to reach a 99-person occupancy limit for the perhaps three times a year, when we have cocktail parties or special events.

From the sound of things, we will not be able--or willing--or capable $-wise--to make the changes necessary for that revision. But there are things we can do, without doing violence to the building, that will being us up to code and keep everyone who visits the Custom House as safe as can be.

Jose's task is the figure out what those things will be and prepare an action plan for the months ahead.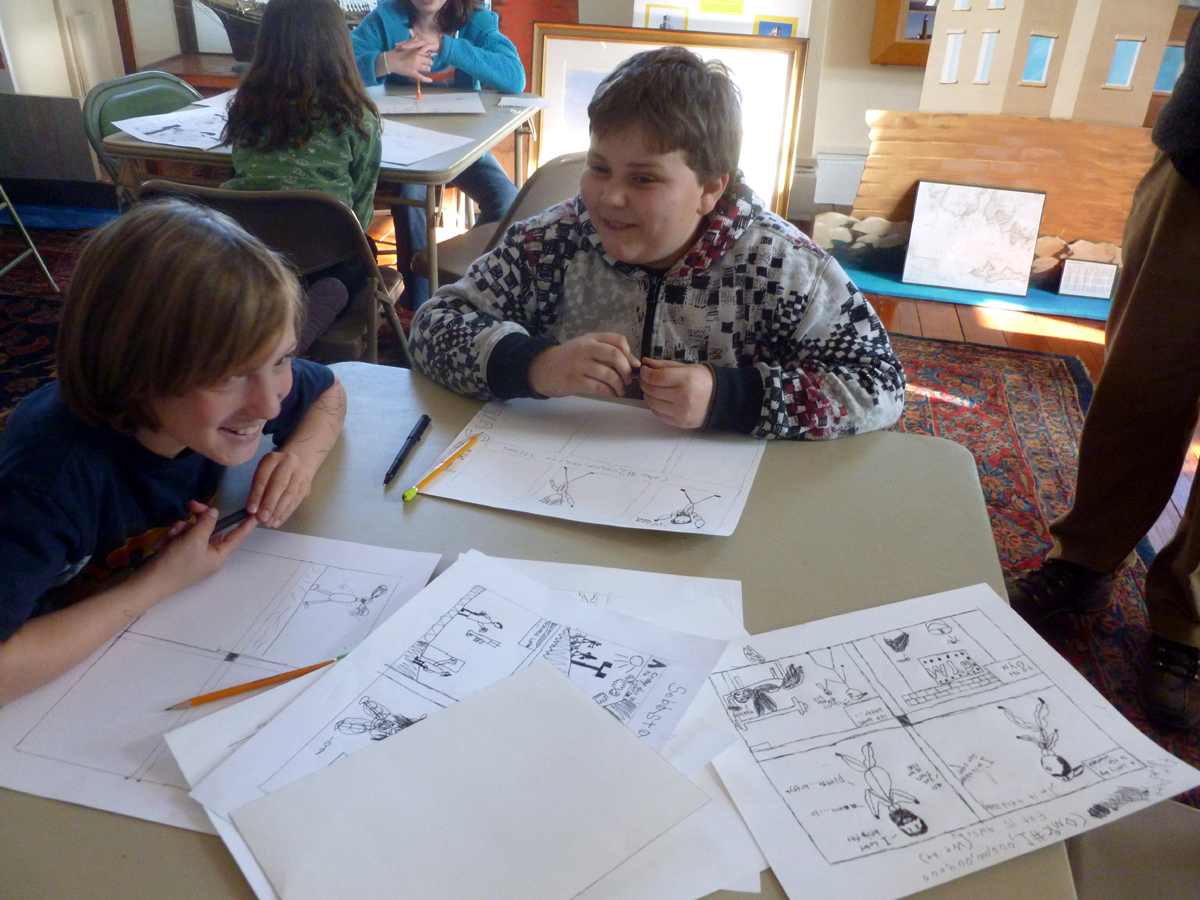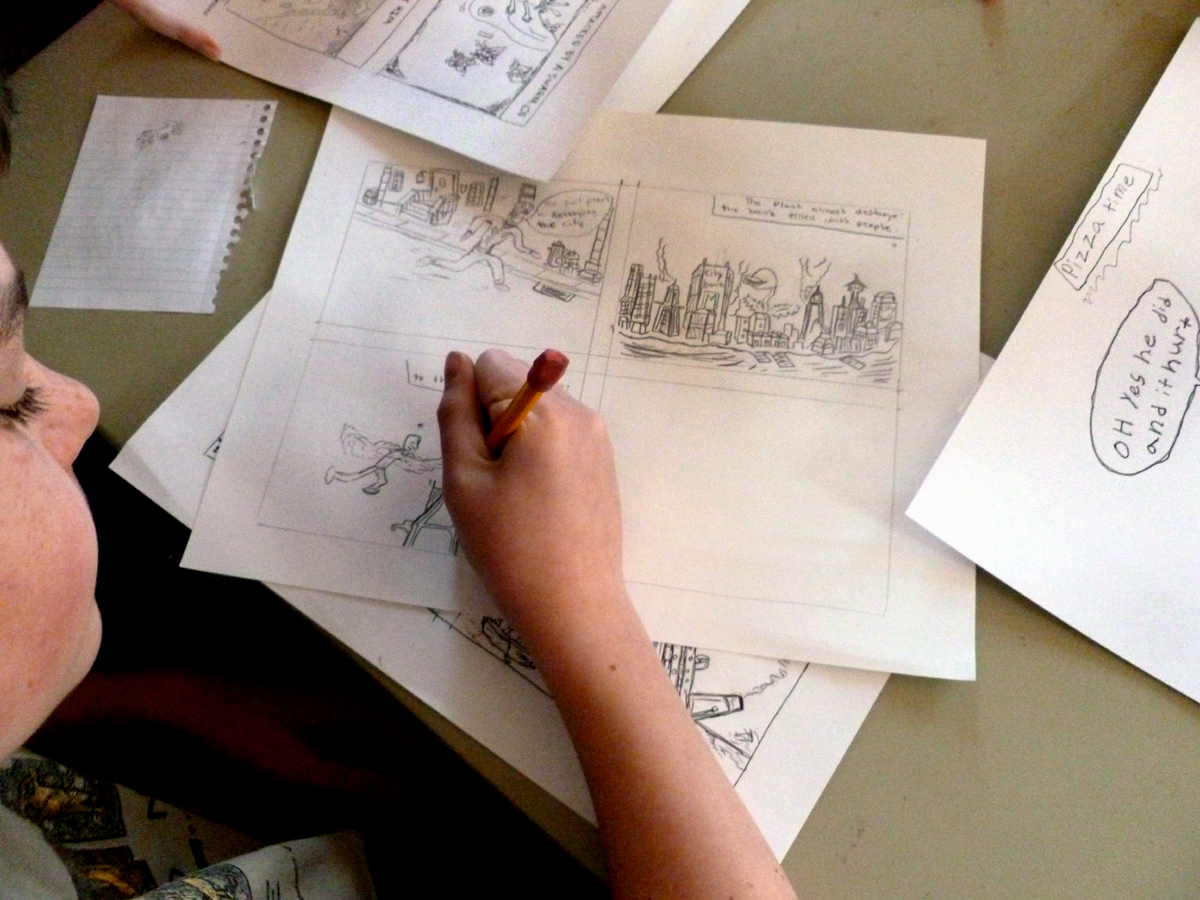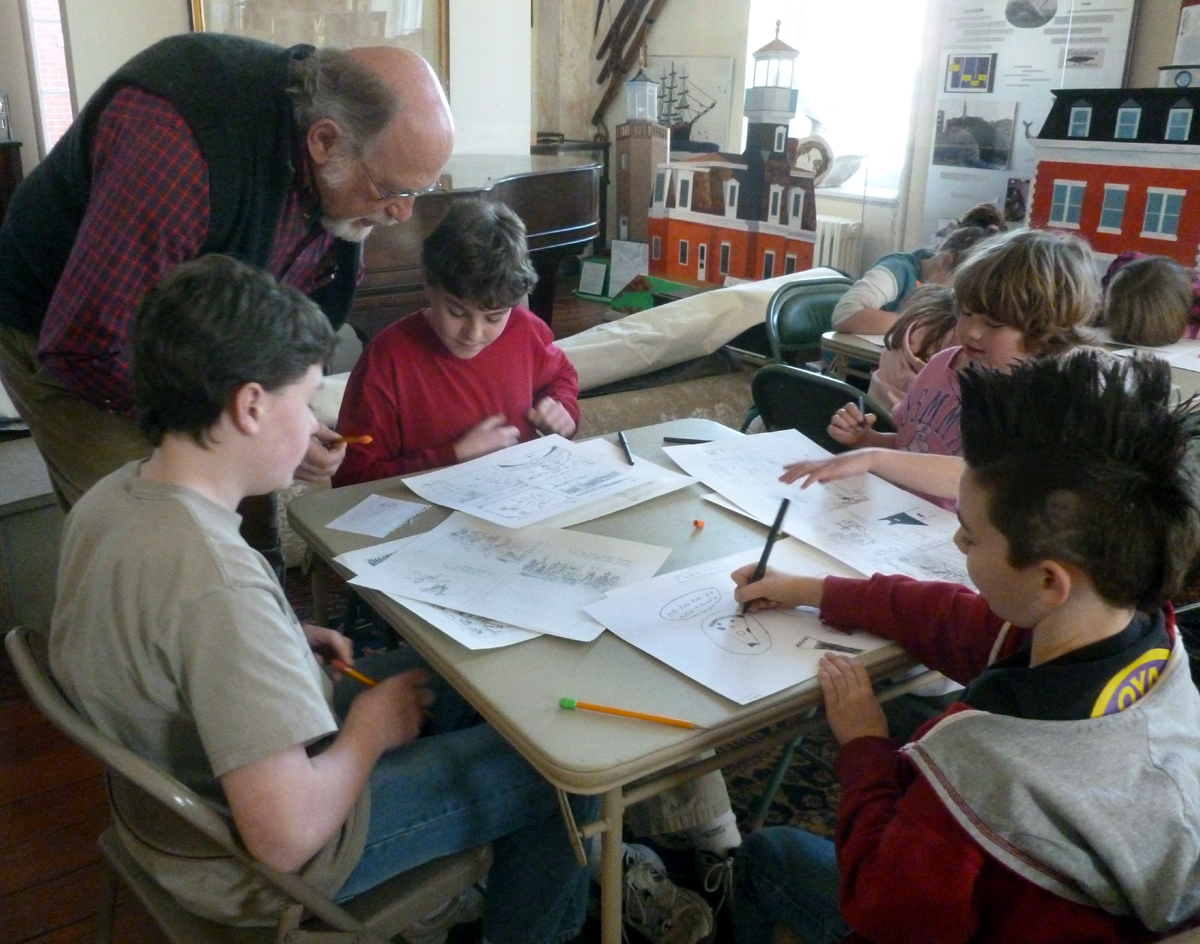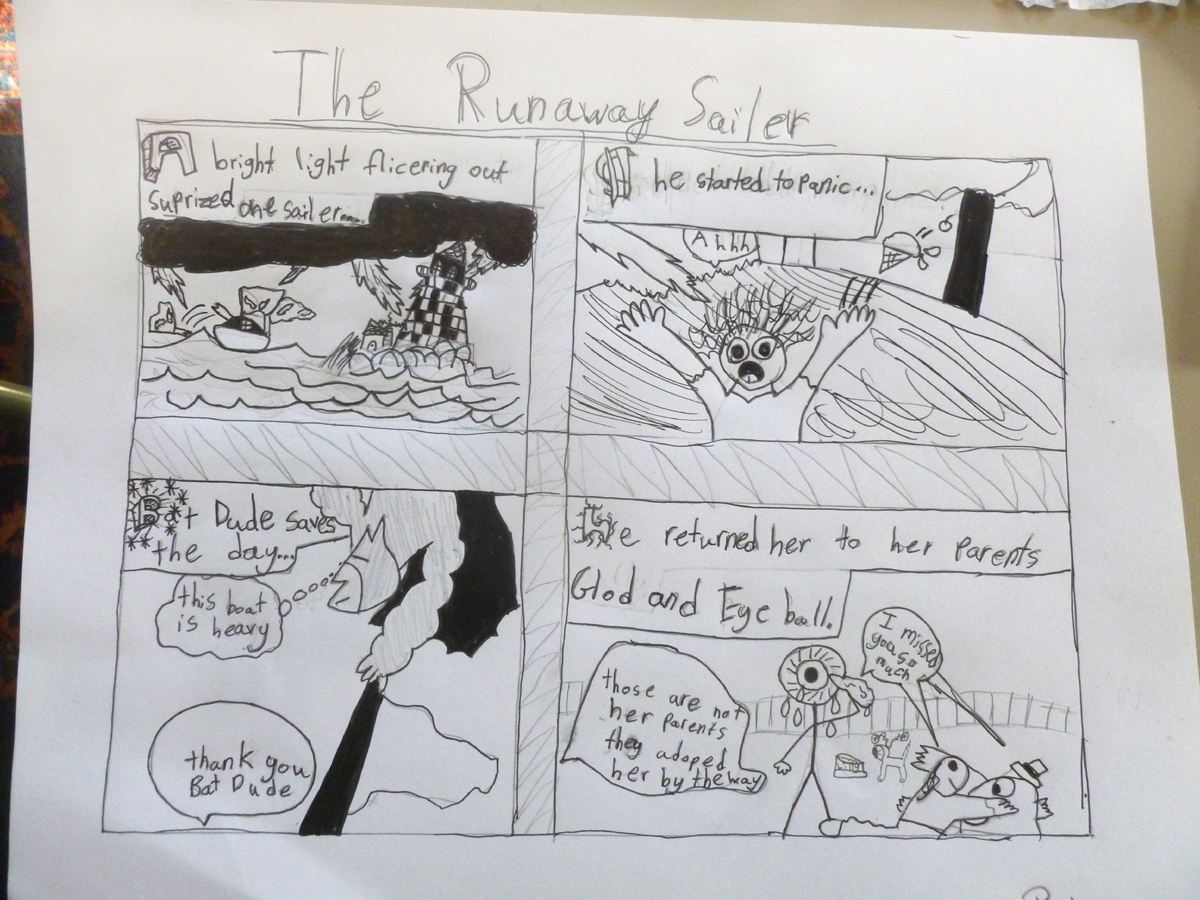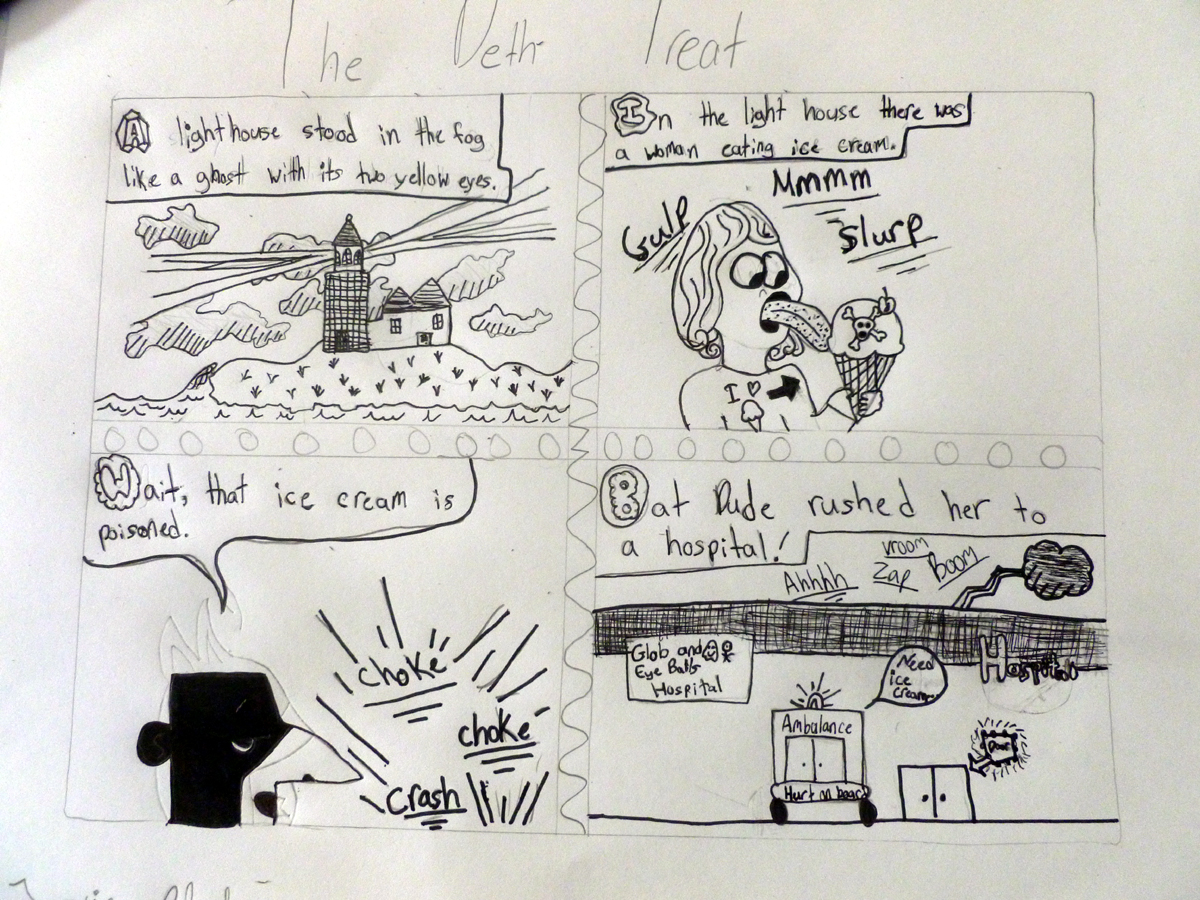 3.27.12 Always really fun, we had our Cartooning class today with Jon Buller and  friends. It was Week III and the drawings are coming along nicely. Some actually made me laugh! Many feature lighthouses...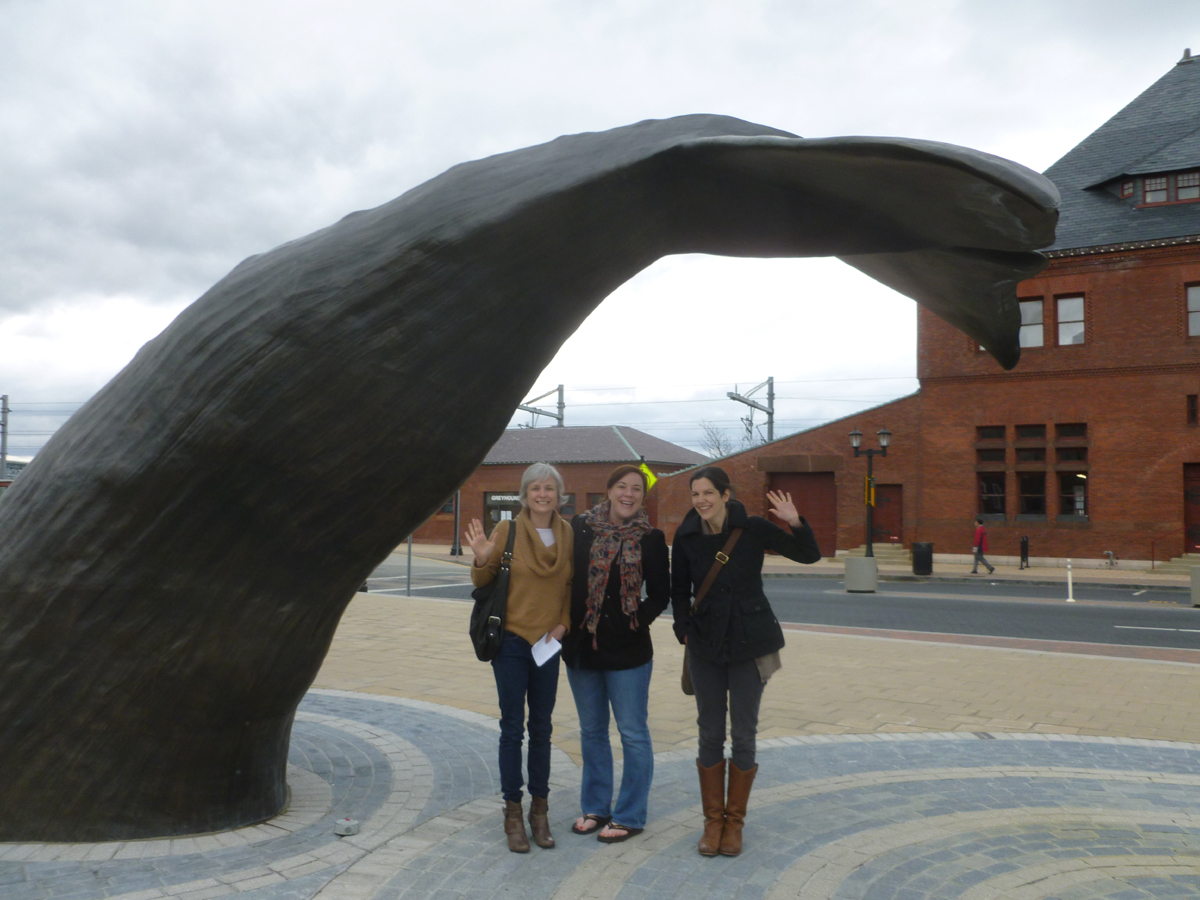 3.29.12 Lizzie Donius, Tara Kayton, and Kathy Edwards of New Haven's International Festival of Arts & Ideas paid a visit to the Custom House this morning. They're setting up a series of events relating to Year II of Freedom's Journey--the Festival's sampling of sites on Connecticut's Freedom Trail.

Last year, we hosted a scholar & a poet, who worked with head docent Bill LaRoue and librarian Brian Rogers to research the Amistad incident. The poet, Randall Horton, gave the first reading of his Amistad-inspired poem the same day as the Hope Week Parade and our annual Chowda' Fest. It was  a great confluence of activities. Be sure to check out the Festival's schedule at www.artidea.org for 2012.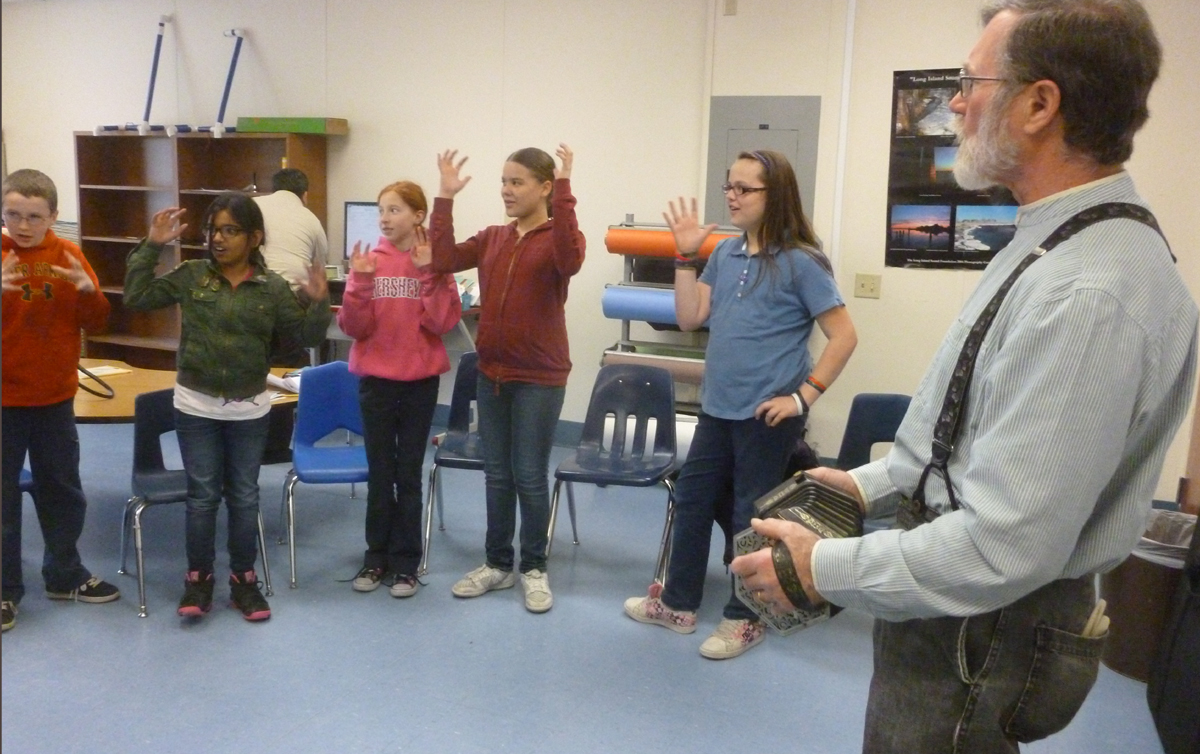 3.29.12 This month, the Lighthouse Kids got the opportunity to learn sea shanties and songs about ecology with singer Geoff Kauffman. Today at Nathan Hale, SEMI 5th graders showed a lot of enthusiasm!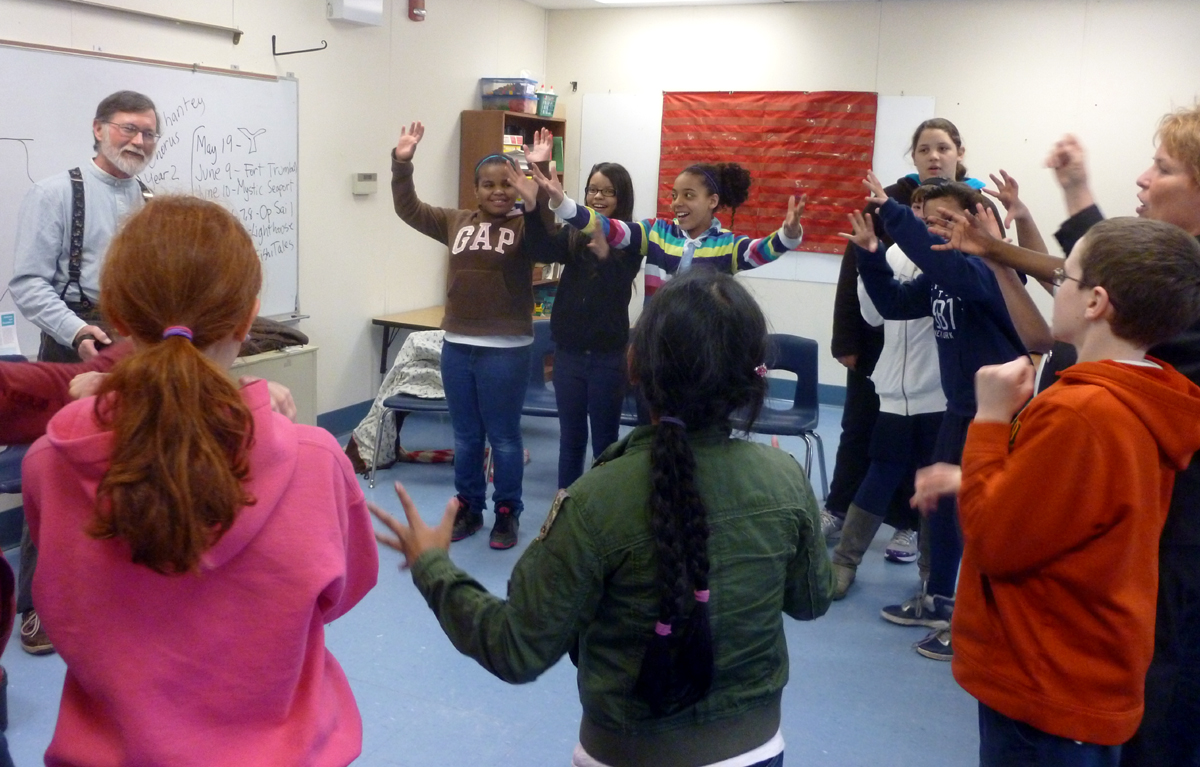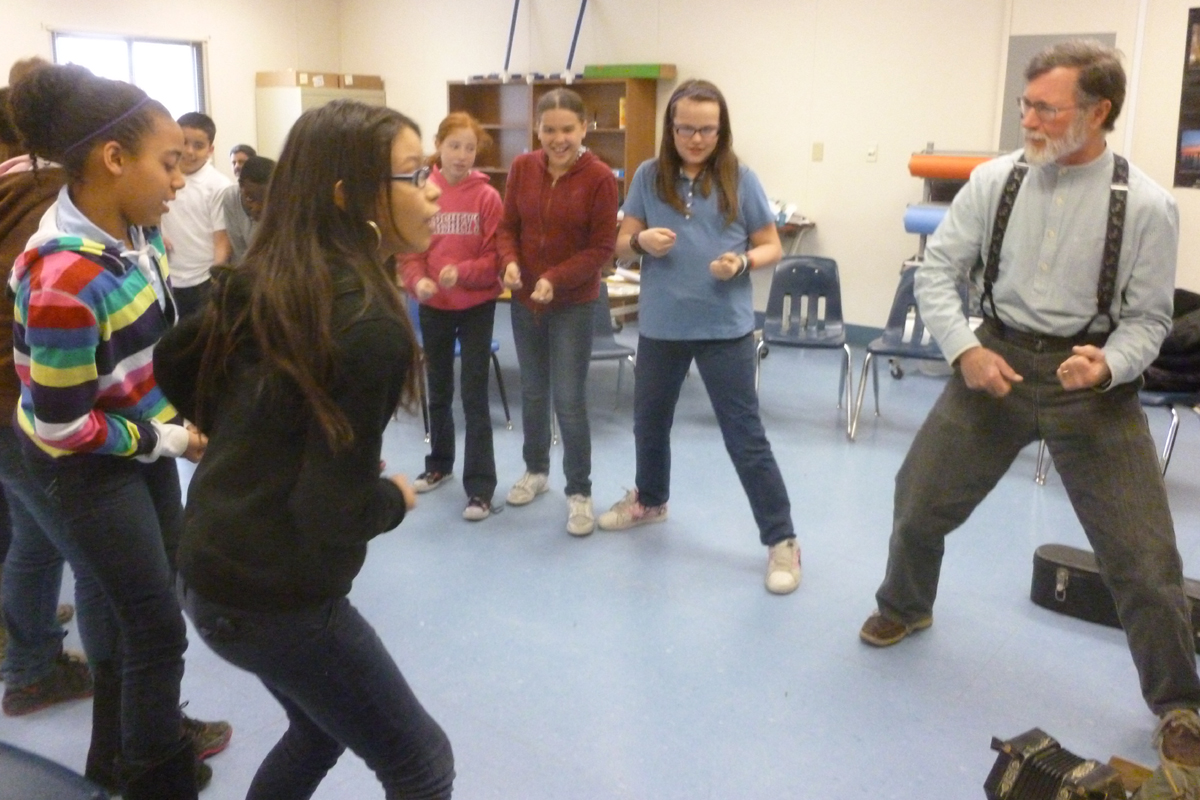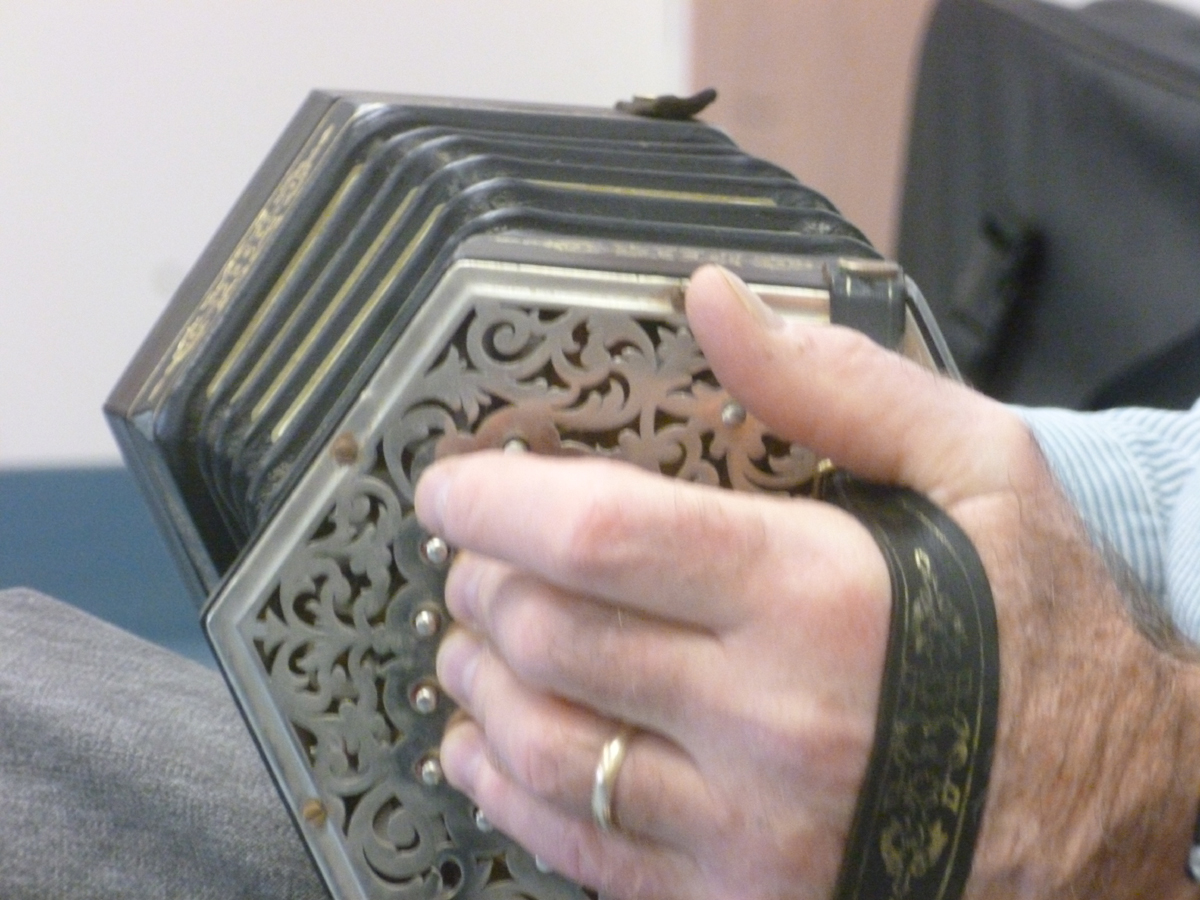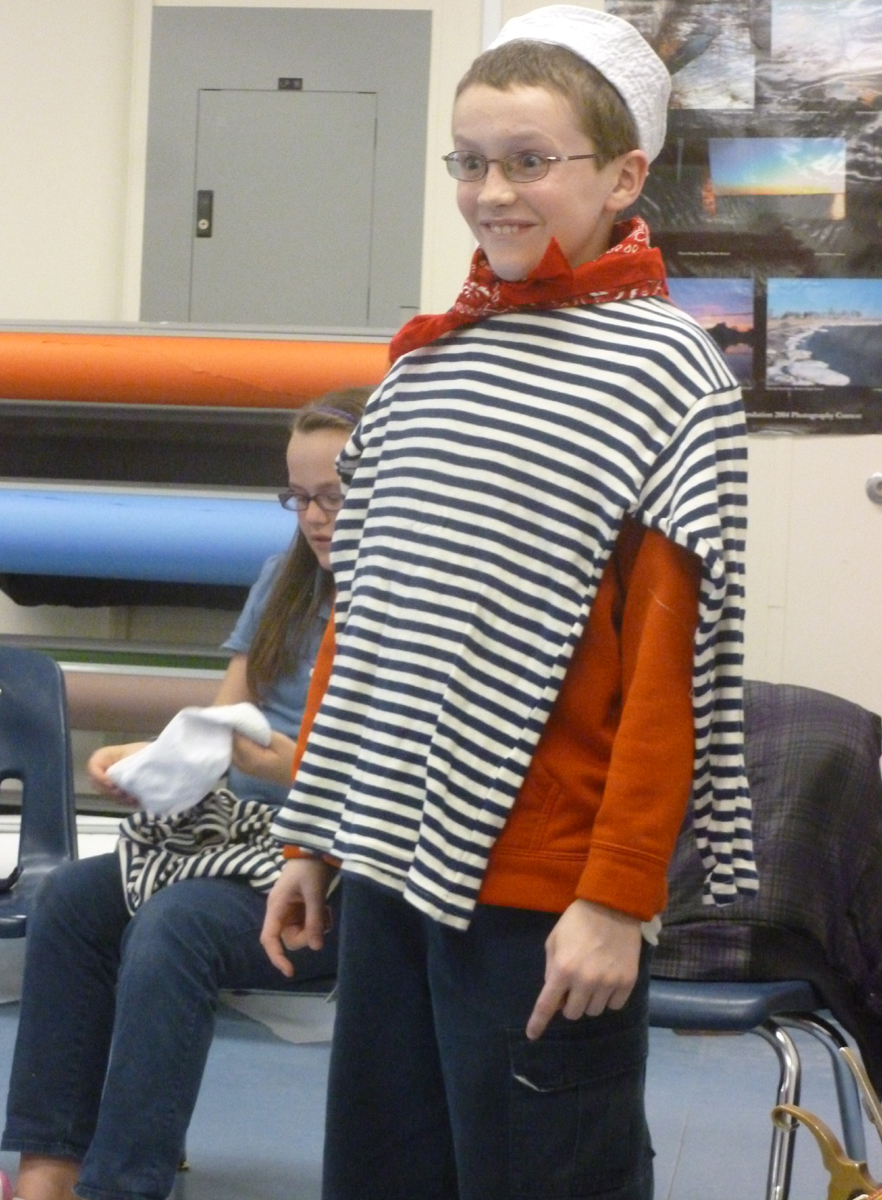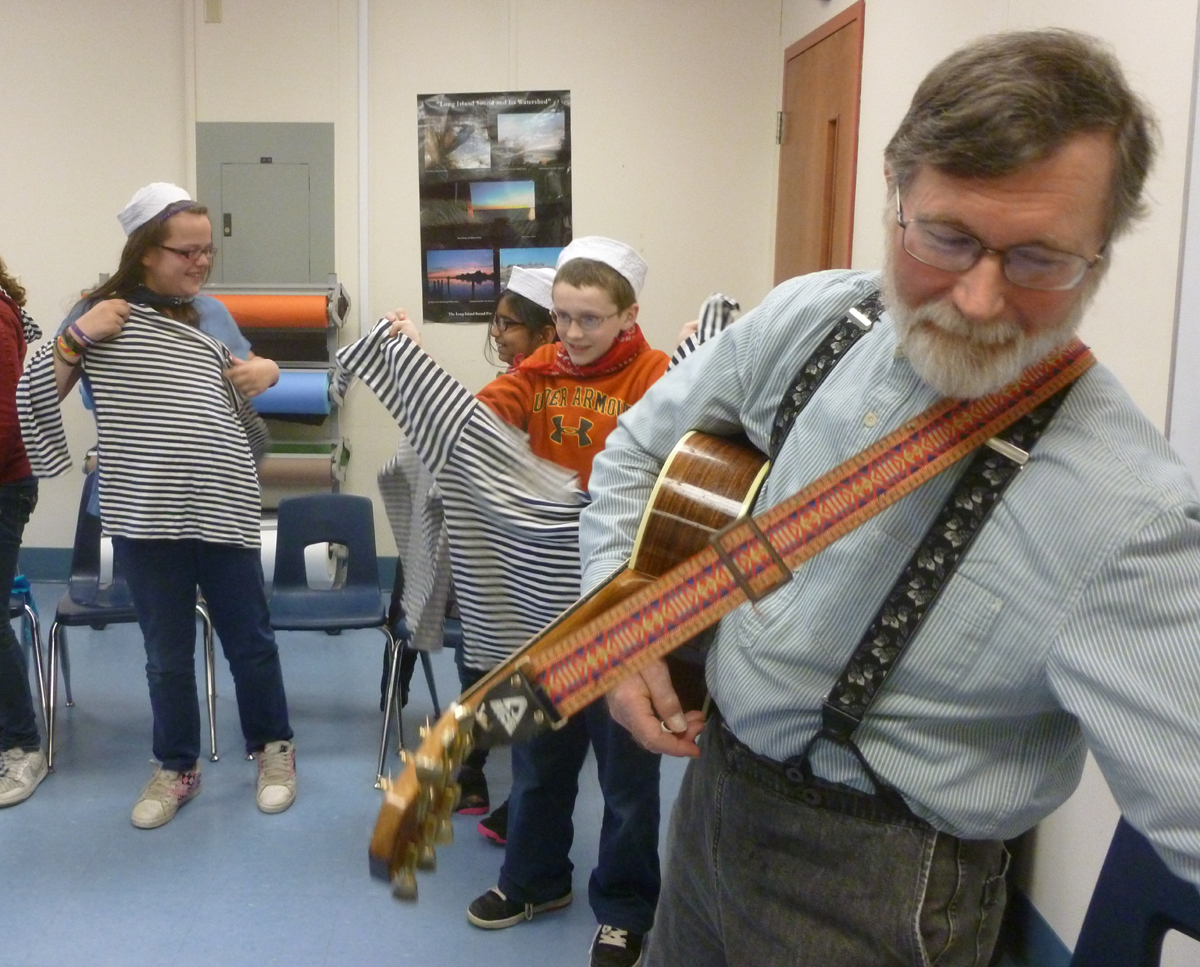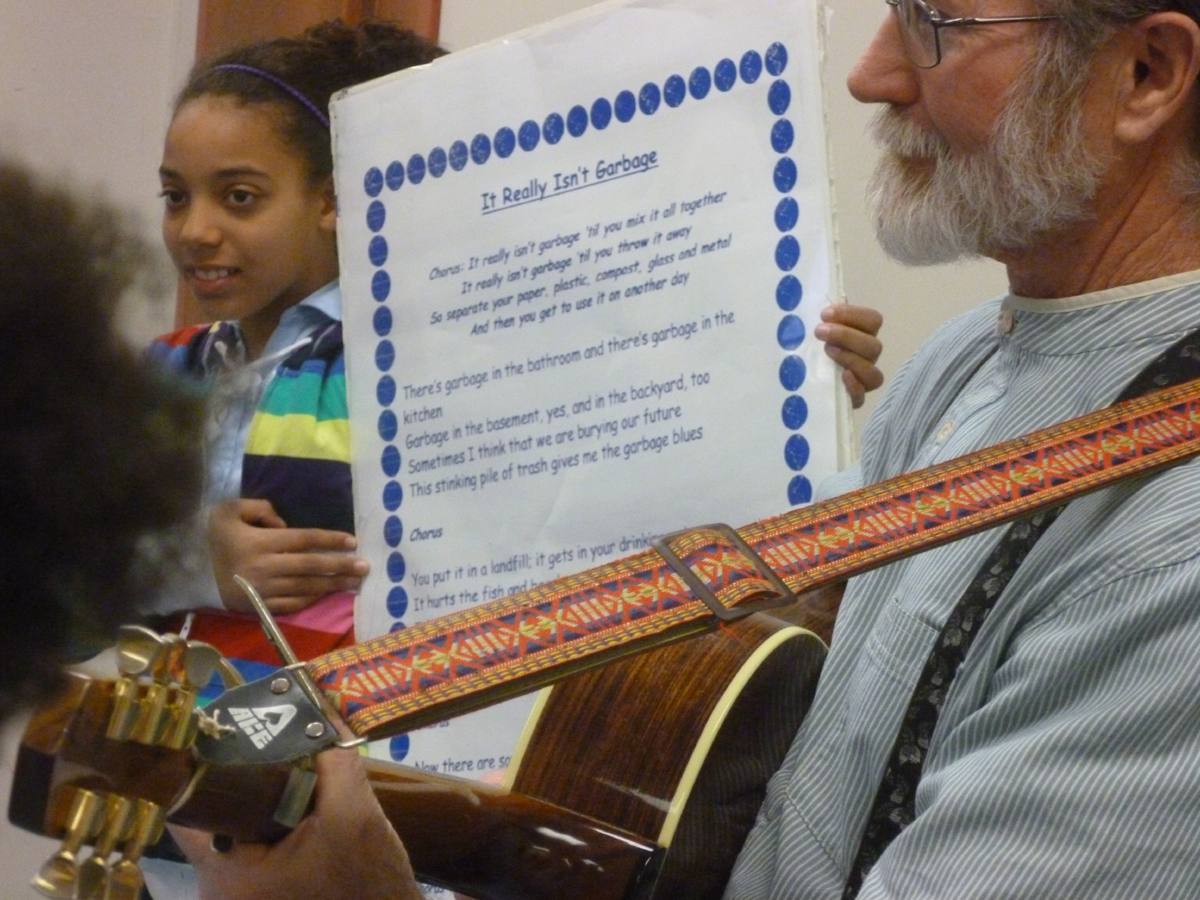 3.30.12 New in rhew Museum Shop: Arrr Bars, the Pirate Fruit & Nut treat!

3.29.12 It's always great to visit with the Lighthouse Kids.

This month, students got the opportunity to work with singer Geoff Kauffman. Many of these 5th-graders worked with Geoff last year and several of them were in the Custom House Lighthouse Kids Sea Shanty Chorus! The chorus starts up again next month with weekly after-school practice sessions. There already are about six performances lined up for summer!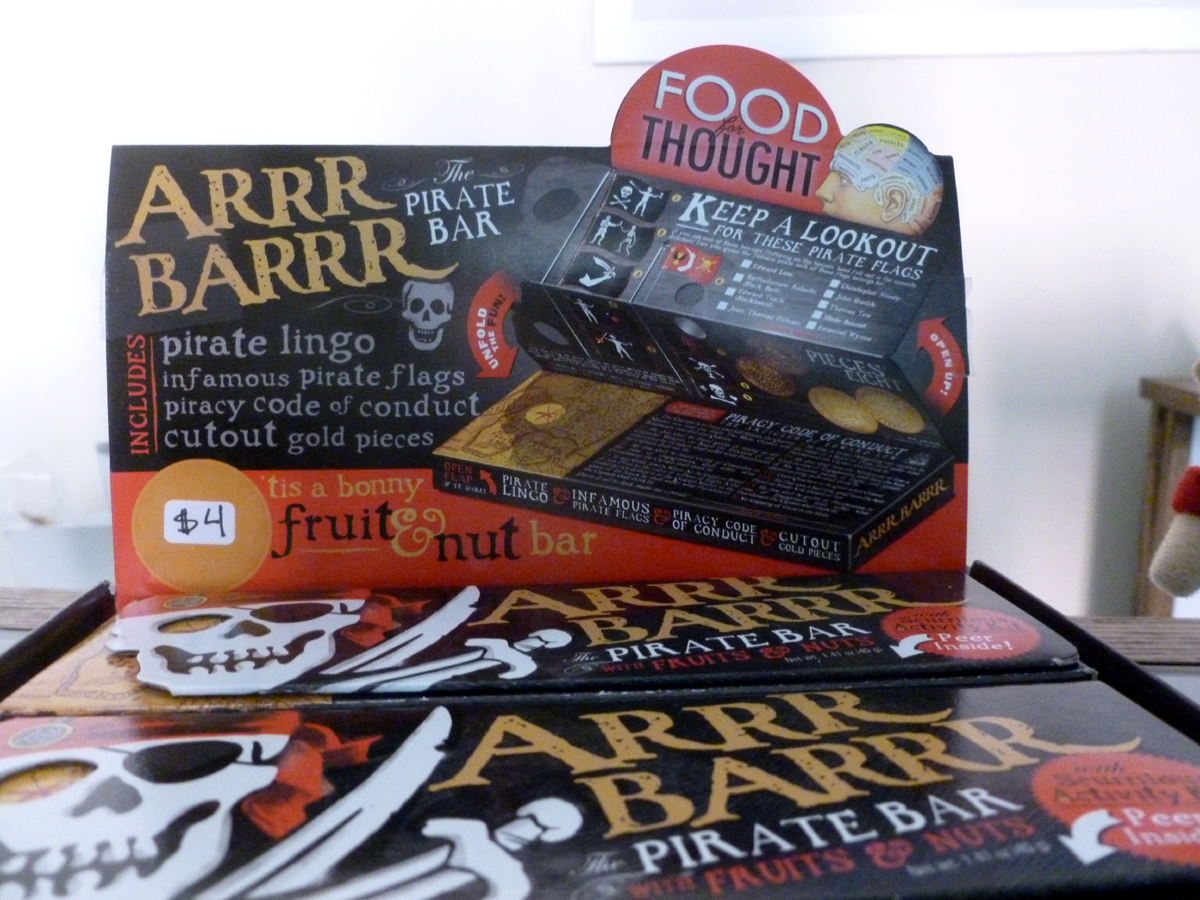 3.30.12 We have a plan to make our lighthouse accessible by water--and that takes so doing. First you've got to have a dock. We discovered last summer that, while it's very exciting to jump out of a boat into waist-deep water with steady waves rolling from the wake of the ferries and the Sea Scouts holding the line to keep the boat steady, there might be an easier way...we might have a dock. That's why we.re consulting with Keith Neilsen of Docko.

And then, to go back another step, we'll also need the boat...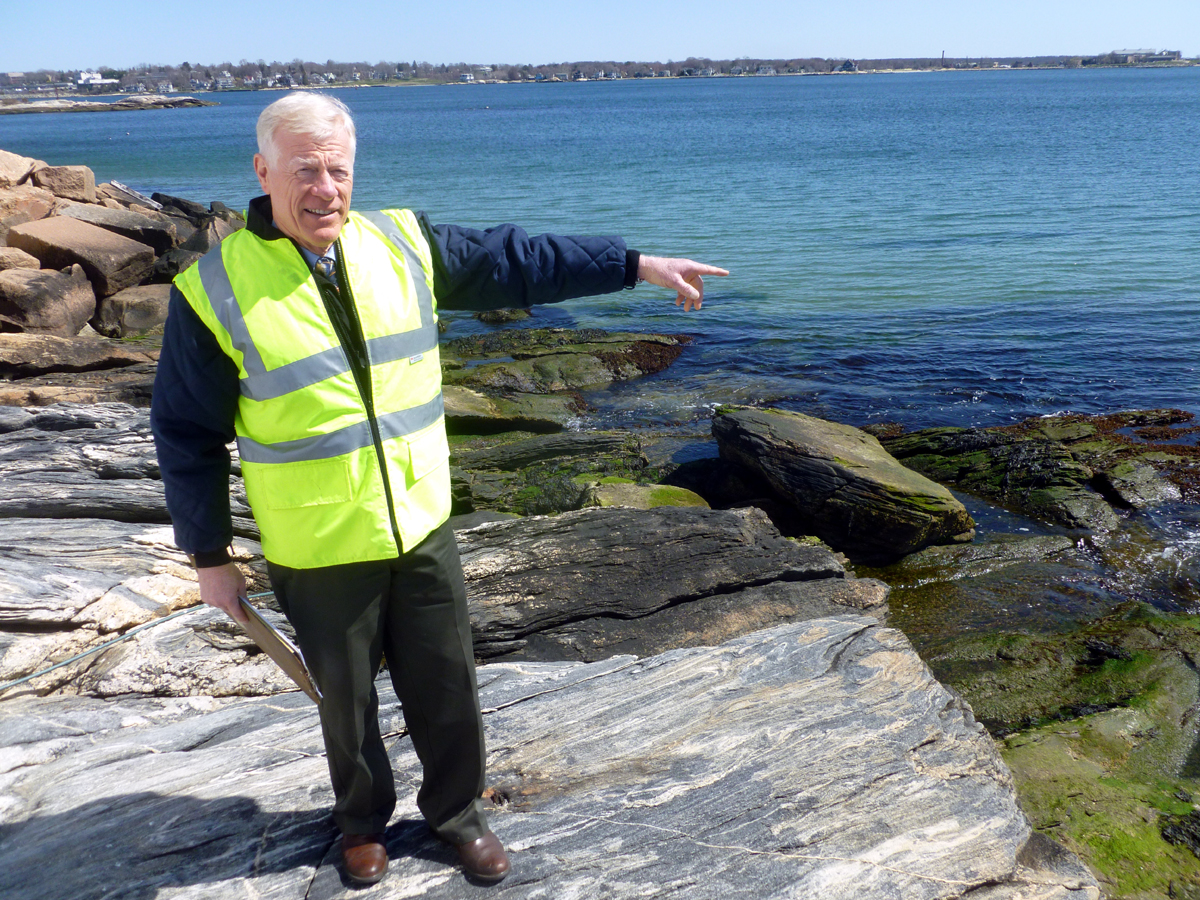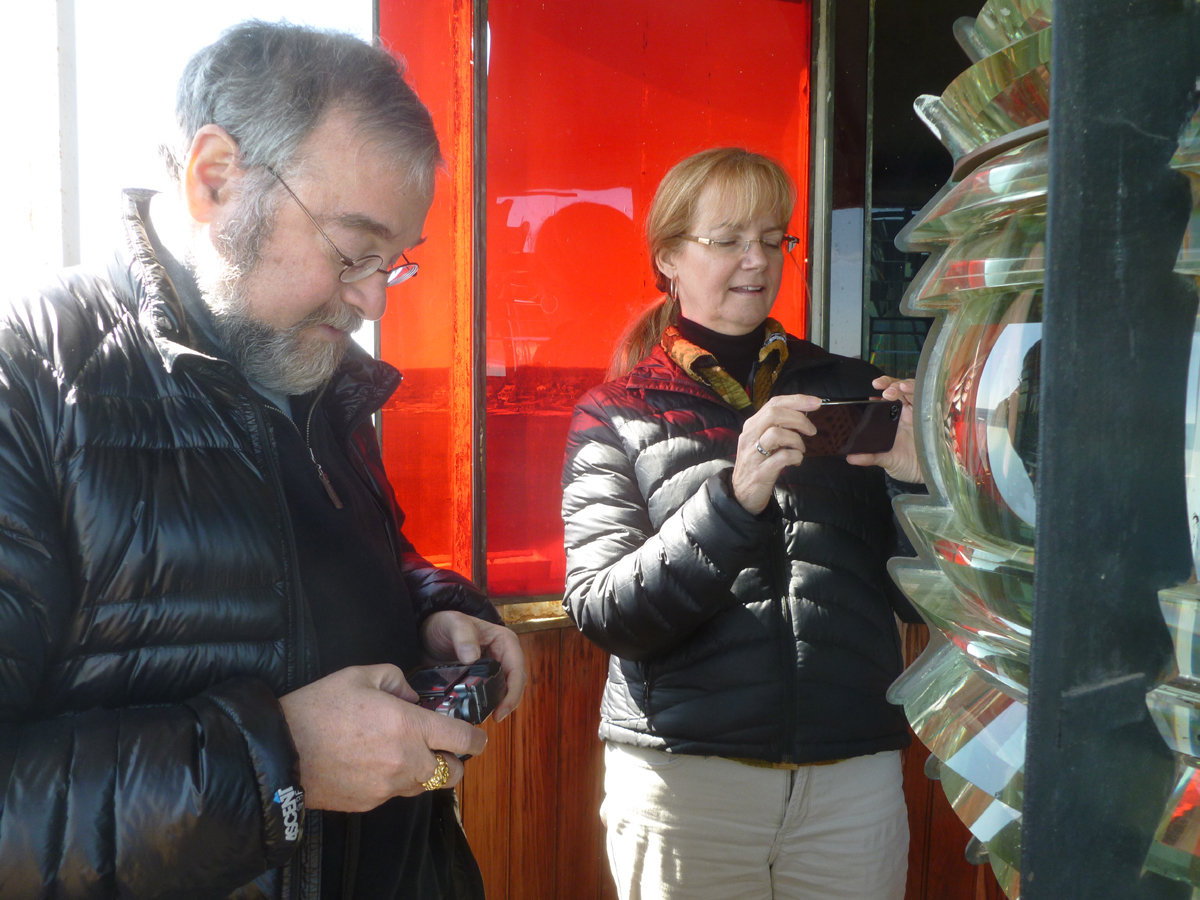 3.30.13 It was a Busman's Holiday for our friends the Gipsteins.

The arrived this morning at 9 AM for our community arts meeting (not a great turnout, by the way, but some things were accomplished), then we headed over to the lighthouse with Keith of Docko (see below), and for the first time Todd & Marcia got to go up in the New London Harbor Light lantern. Actually, Todd was up there as a child, but that was a few years ago and before the two took on management of the Ledge Light Foundation. And what did they do up there? --Why take pictures, of course.

We ate lunch at Sweetie's then met back at the Custom House at 3 for our next meeting...the Lighthouse Committee, above.