Please be patient, it can take

some time to load the photos.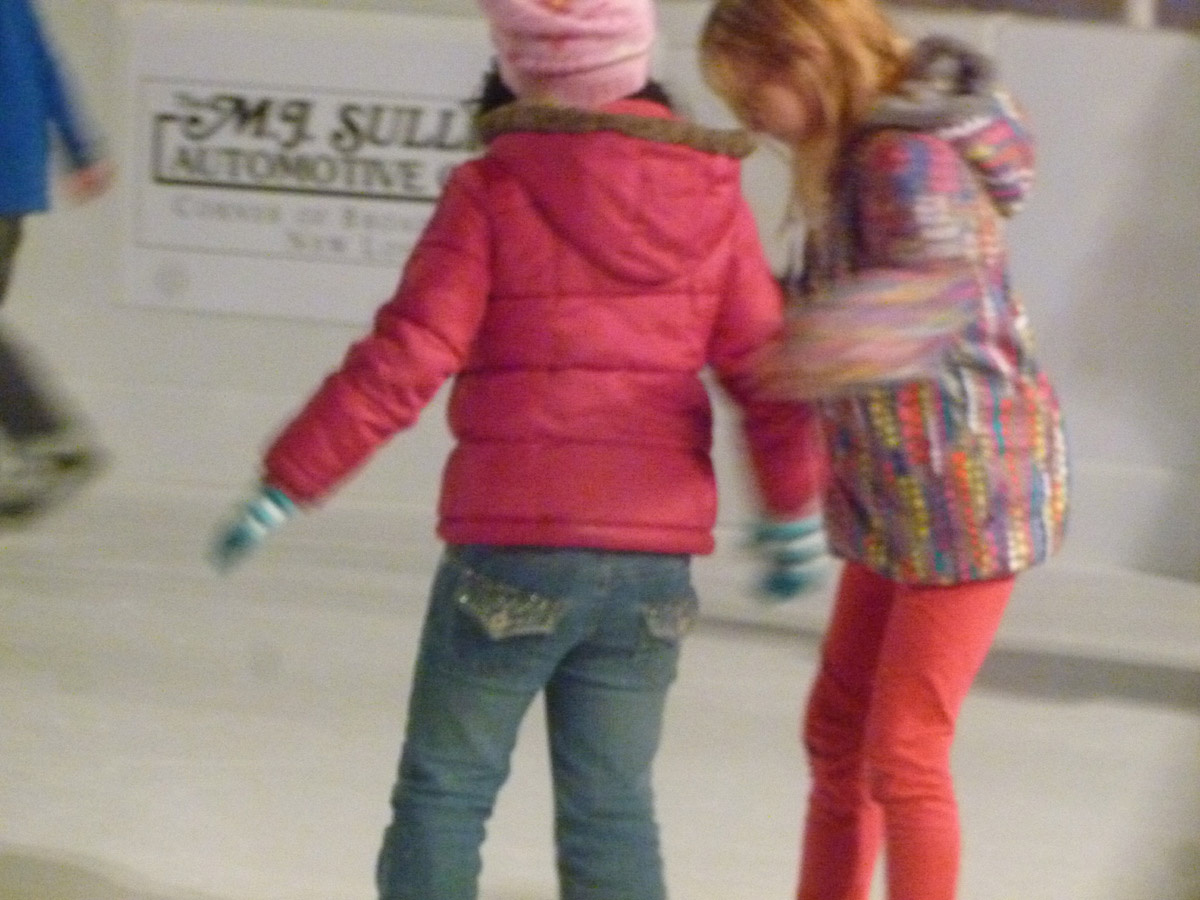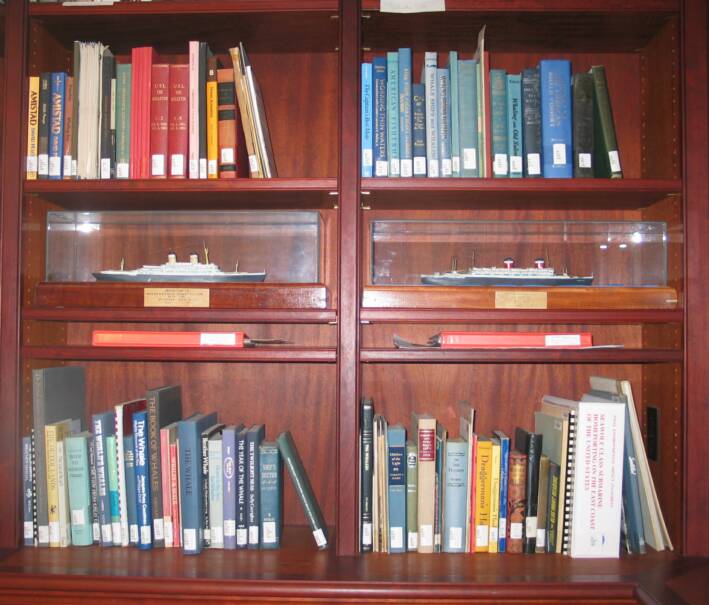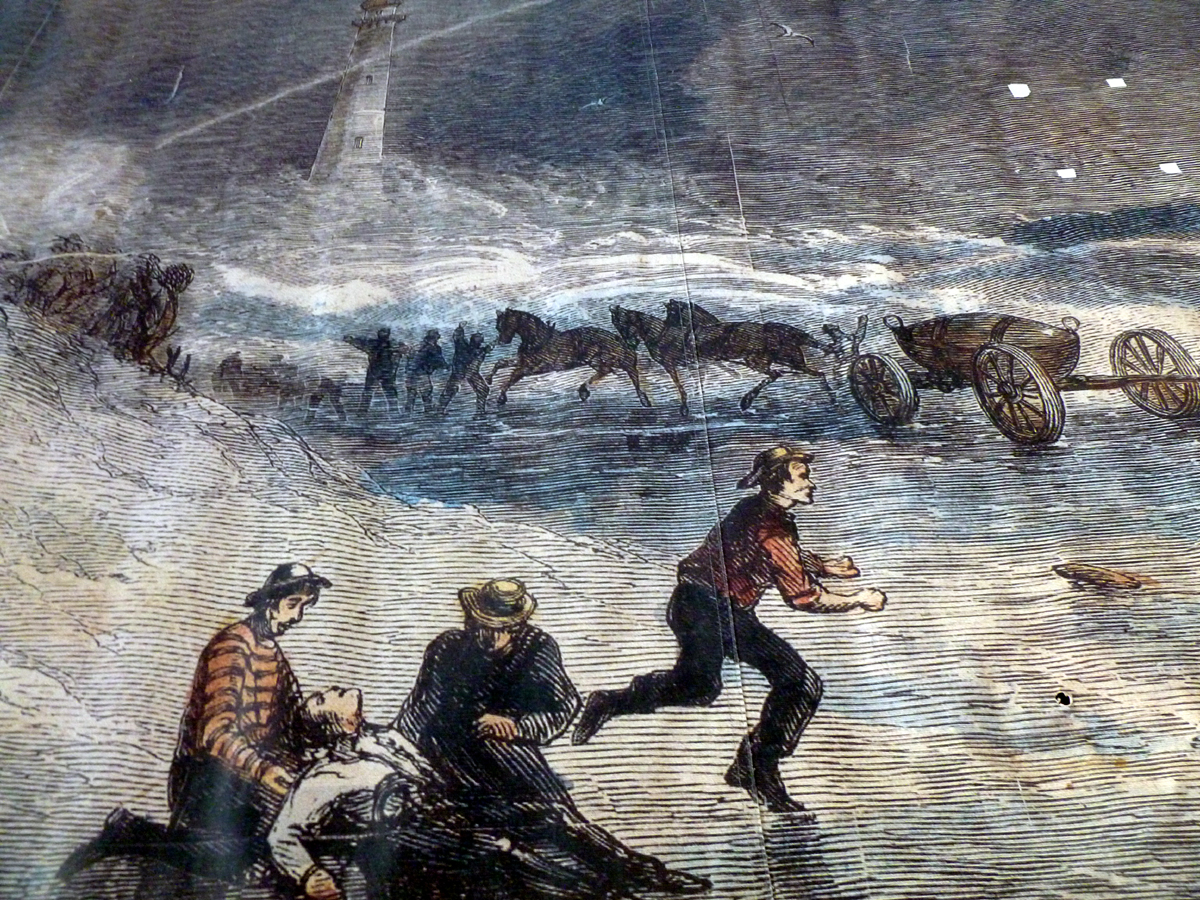 To see what happened last month at the Custom House, click
HERE.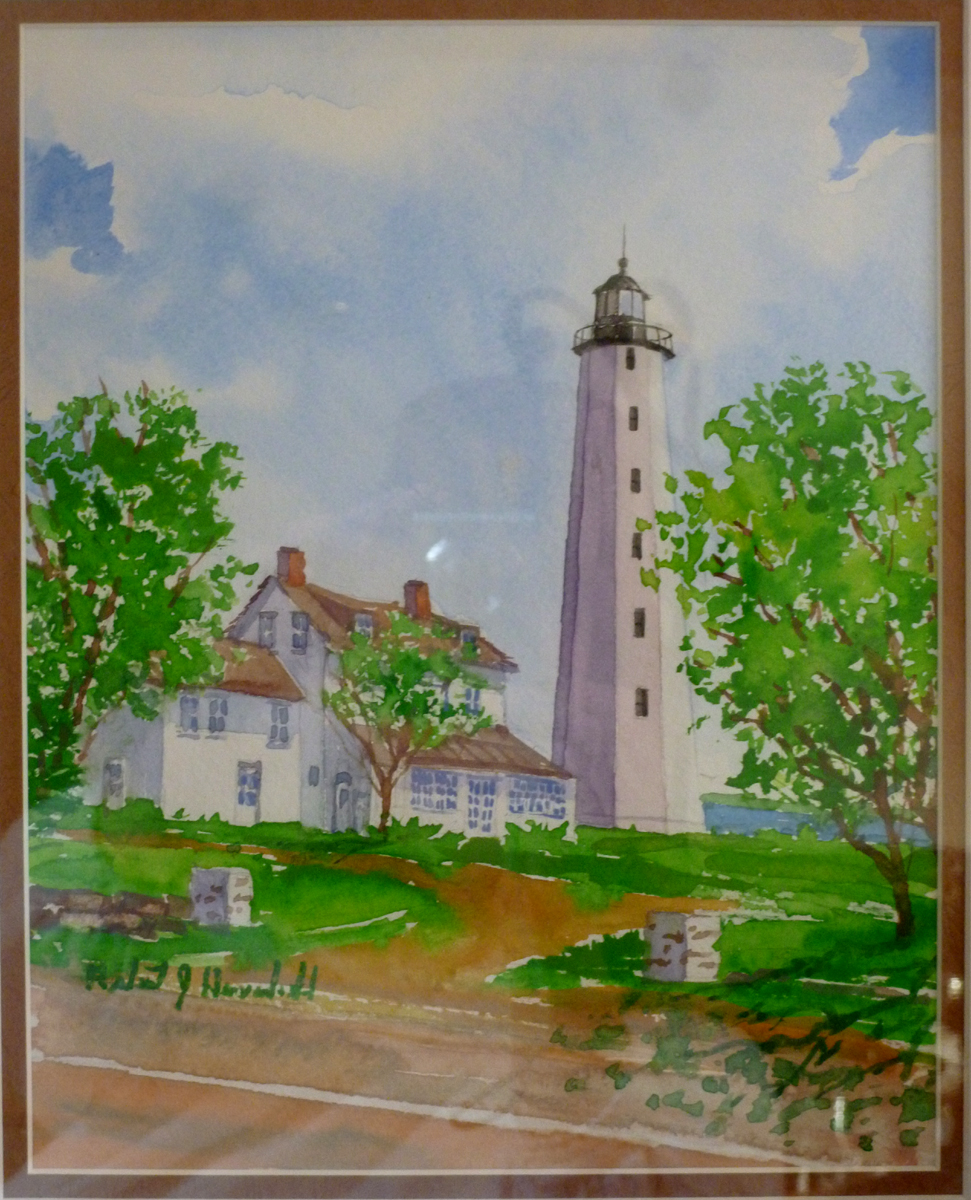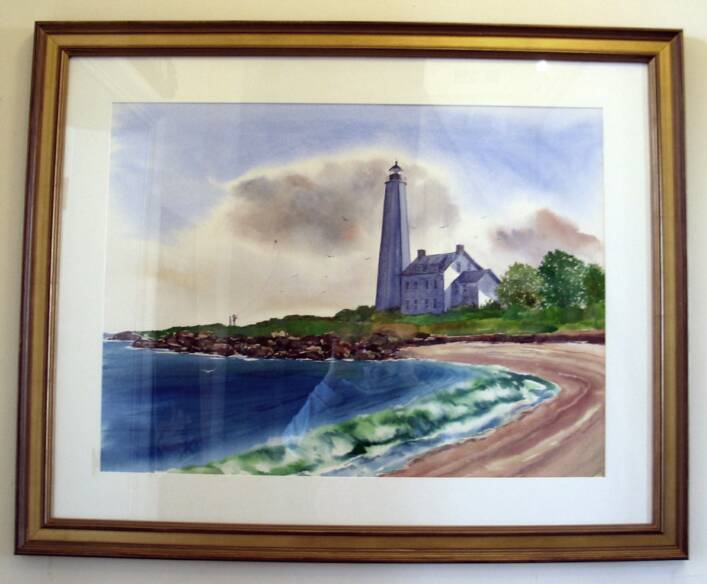 1.29.12 We mourn the passing today of artist Robert Hauschild.

Bob, a great community supporter, loved New London and painted many scenes around town. Two years ago, upon hearing we'd taken ownership of New London Harbor Light, he stopped by the Custom House with the large watercolor, below--a gift! Bob painted the watercolor, at left, last summer in a demonstration at Studio 33 during our Sentinels on the Sound Lighthouse Weekend. My mother watched Bob paint at the gallery with fascination and then purchased the painting for me. I treasure it.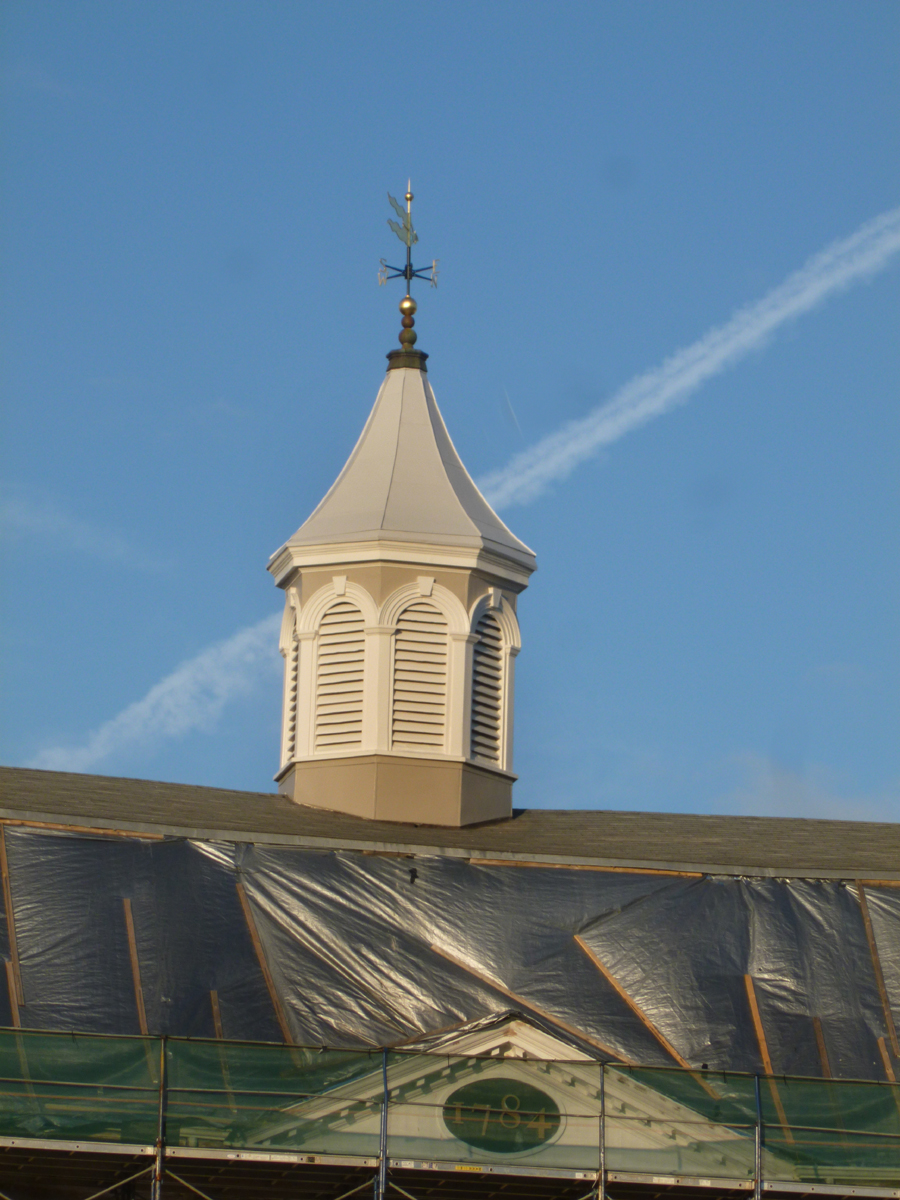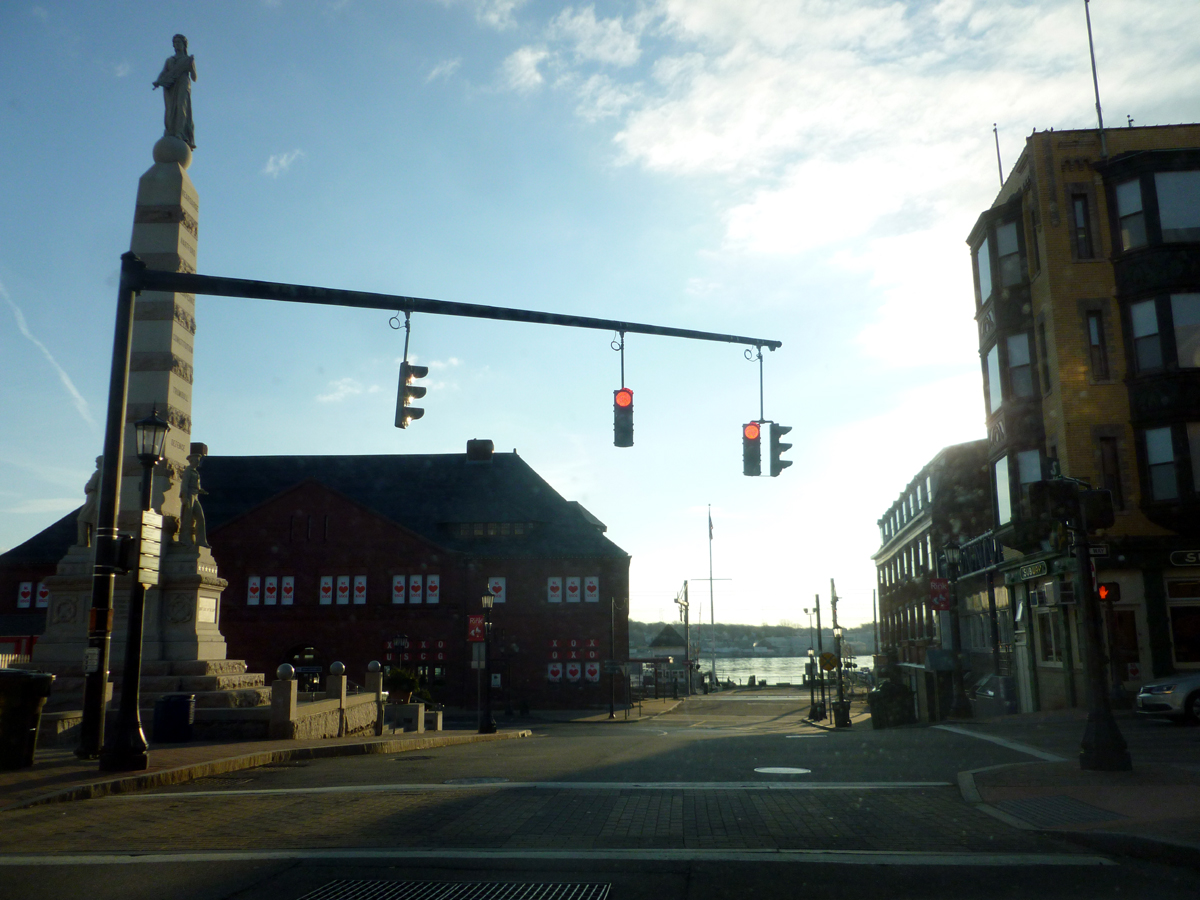 2.2.12 It's Black History Month and we received word today that works commissioned last year by the International Festival of Arts & Ideas celebrating several Connecticut Freedom Trail sites, the Custom House among them, are now available-for publication, for educational purooses, only. Read them HERE,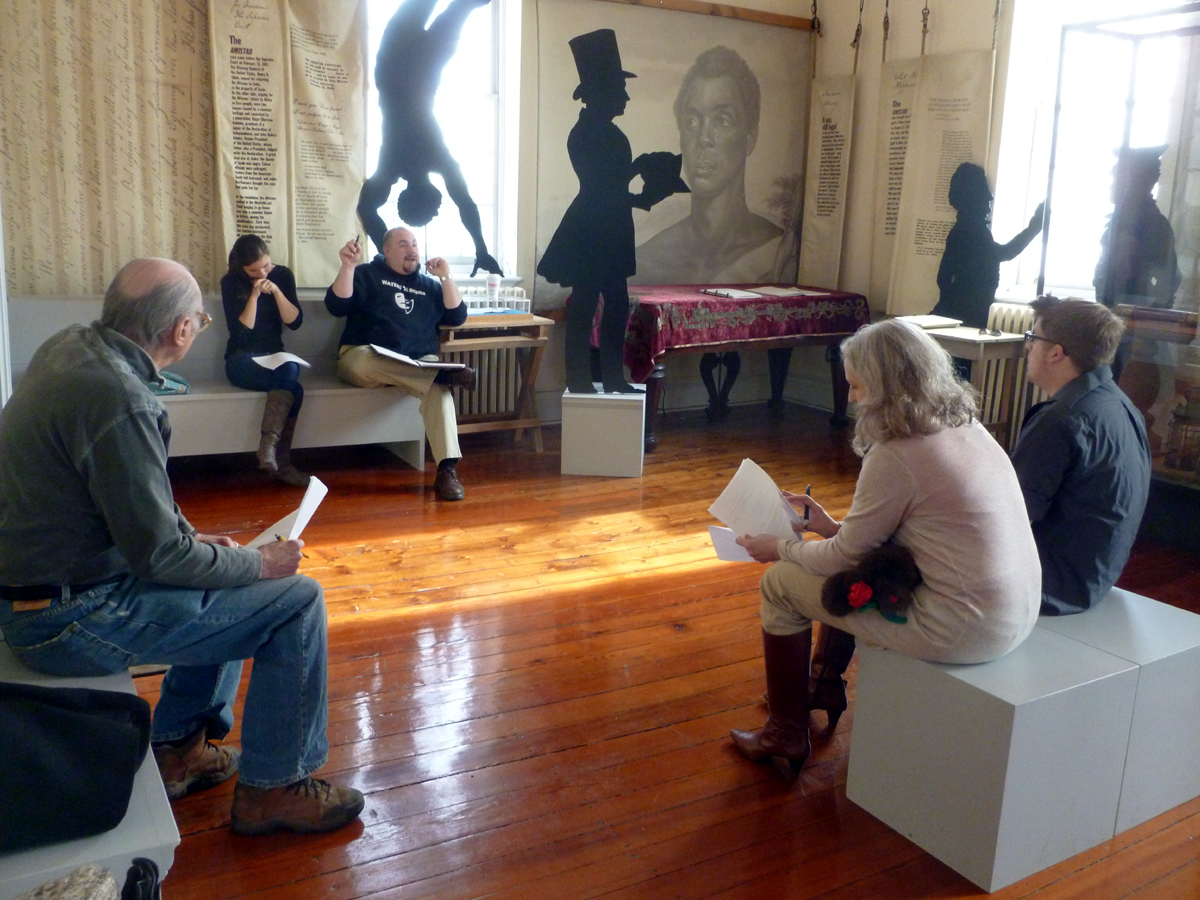 2.4.12 Saturday began early, as we again hosted a team of Mayfly Players--that band of thespians who, through the mechanisms of the Hygienic, agreed to write, rehearse & produce a one-act play in the span of the life of a Mayfly: i.e. 24 hours. Our crew signed in at 8:10 AM and did not leave the Custom House until 17:00 hrs. We wish them all broken legs!

2.3.12 Have been trying to find the right early-morning-on-the- Thames photo to illustrate Randall Horton's poem (see below).

2.4.12 There is not a lot to be said about today's reception at the Custom House in memory of New London artist Bob Hauschild. The turn-out was tremendous, with people stopping up non-stop to greet Margaret Palmer and help share her loss.

The ladies of Star Street took care of refreshments and all the details from start to finish. Margaret must feel very loved by her community. We were happy to play a small part in the afternoon's events. Sarah Munroe, of Studio 33, is planning to mount a retrospective exhibition of Robert Hauschild's work--in fact, there is talk of a larger exhibition later this summer, in which several groups might collaborate.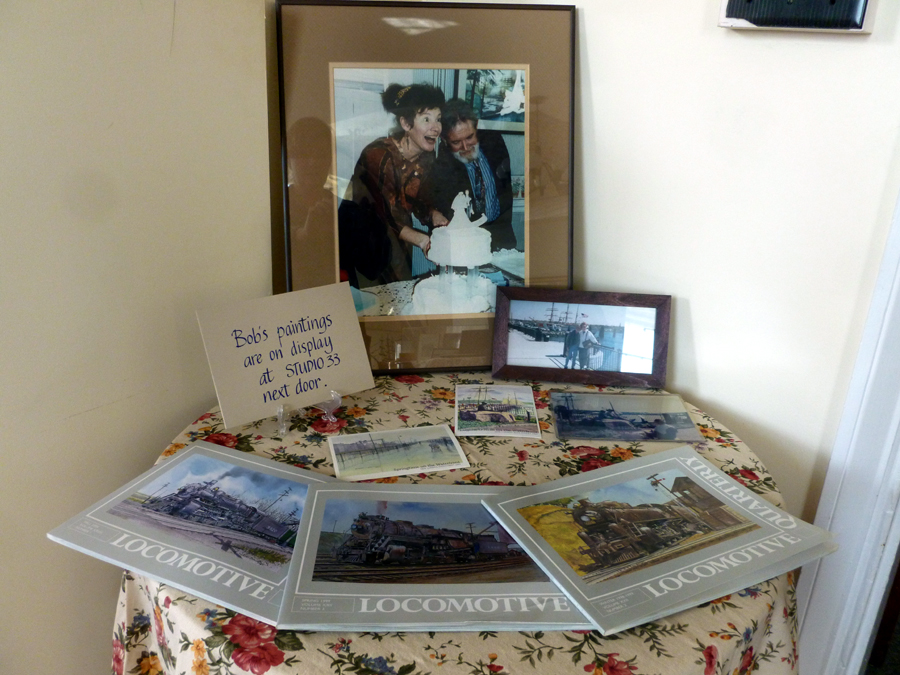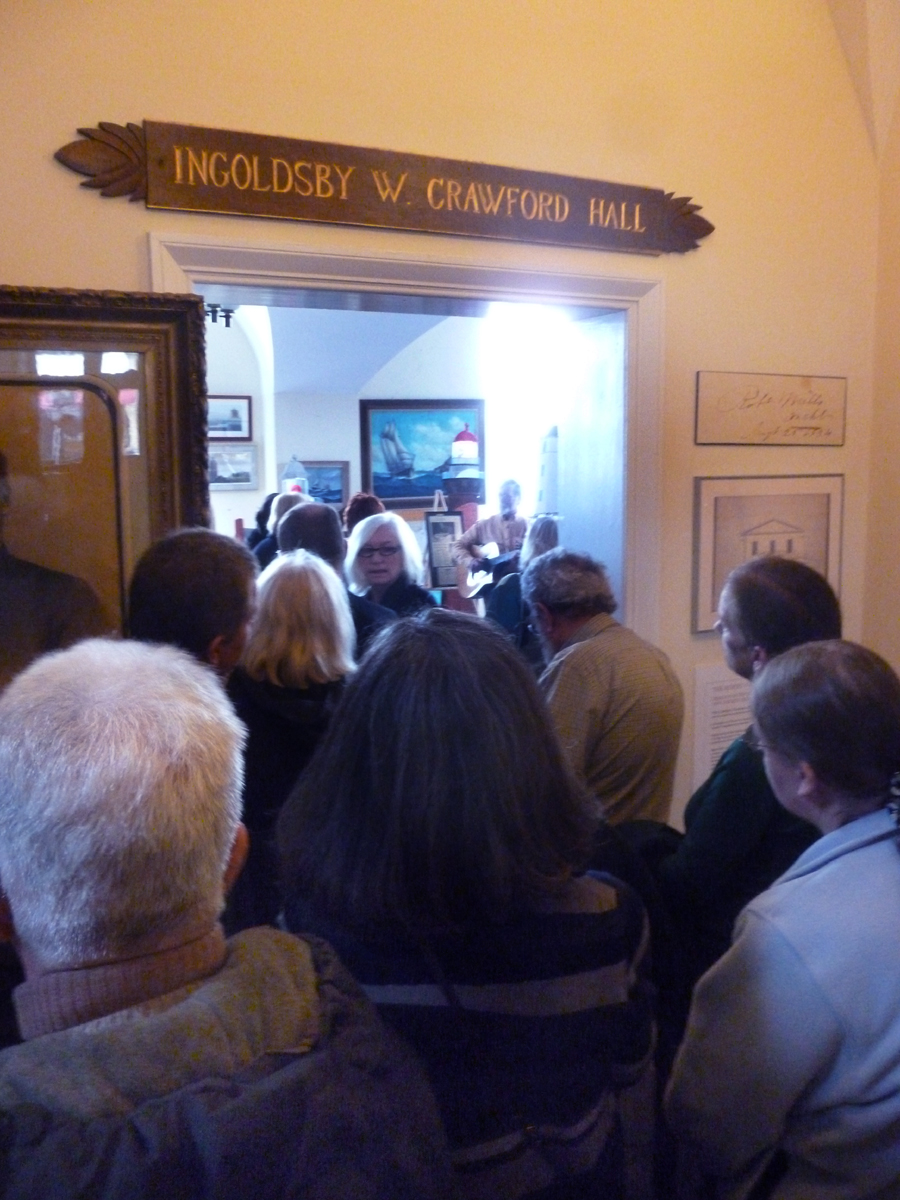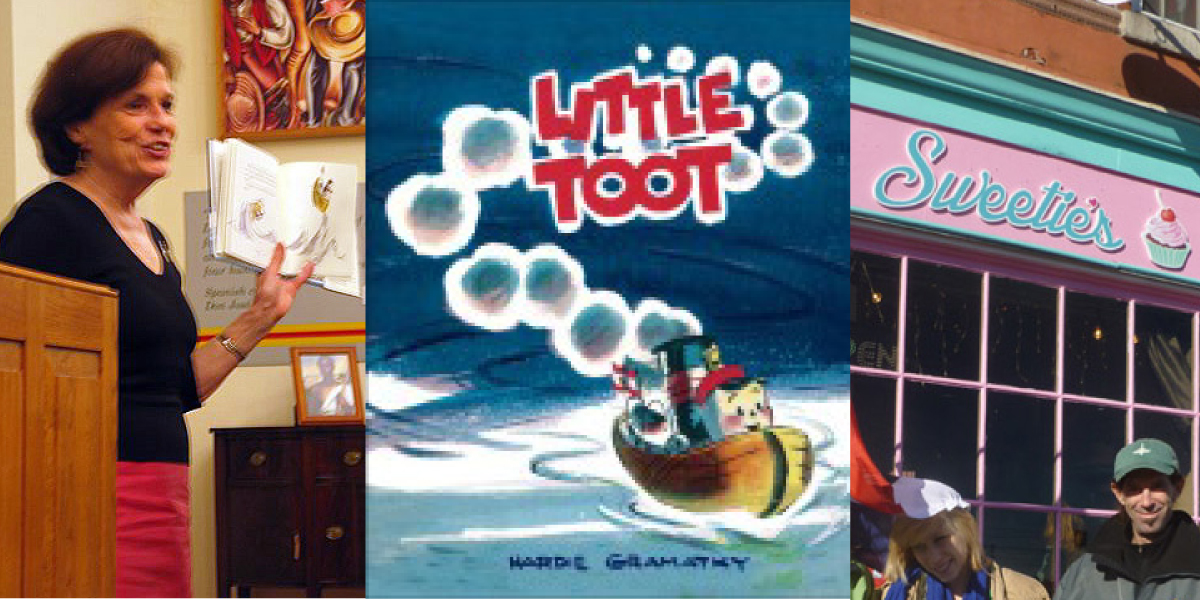 2.5.12 We are looking for young children (with parent) to come to our Little Toot Valentine's Day Tea next Sunday, February 12. For the tea, we are bringing back Linda Gramatky Smith, daughter of illustrator Hardie Gramatky, creator of the Little Toot books. There will be story-telling, mini-cupcakes from Sweetie's and materials to create your own Valentine's, just in time for the big day!

We had an exhibition of Hardie Gramatky's wonderful watercolors about three-&-a-half years ago, in conjunction with our Tugboat exhibition. It will be great to have Linda back. Please let your young friends know about our tea. It's for children ages 4 to 8 with parent. Little Toot, cupcakes & tea! Parent + child $15. Space is limited. Call 860-447-2501 to reserve your place.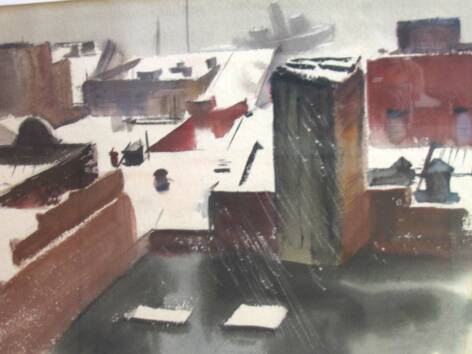 2.10.11 We've been out sick--and that means there are not a lot of pictures this month.

Unfortunately, we've had to cancel the Little Toot Valentines Tea for Sunday -- our apologies.

NB: the museum will close at 3 PM tomorrow, Saturday, February 11, for a special event.

Meanwhile, there is a lot going on behind the scenes. Director Susan Tamulevich spoke to the New London Rotary on Thursday. Did you know, our NL Rotary sings a lot(!) at their meetings. They are a great group and also donated $150 to the museum's Annual Fund, which now has reached the $20,000 mark and is closing in on our goal of $25,000. Thank you, all.

The Lighthouse Committee set yesterday, after a long hiatus. It is an energetic group, which is great because we have a lot to do to get the lighthouse and lighthouse programs up & running for summer. Anyone interested in jumping in, please call 860-447-2501. we need you!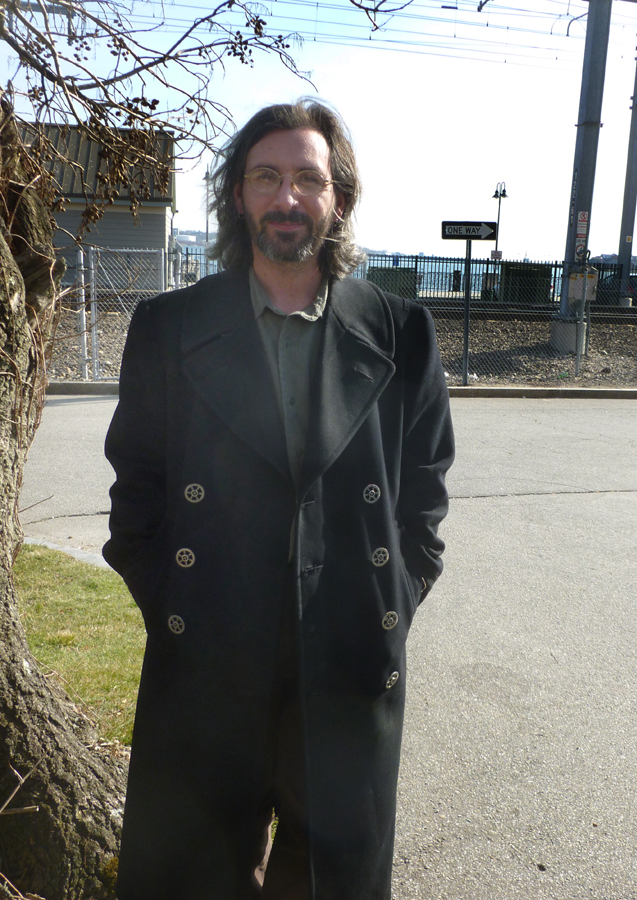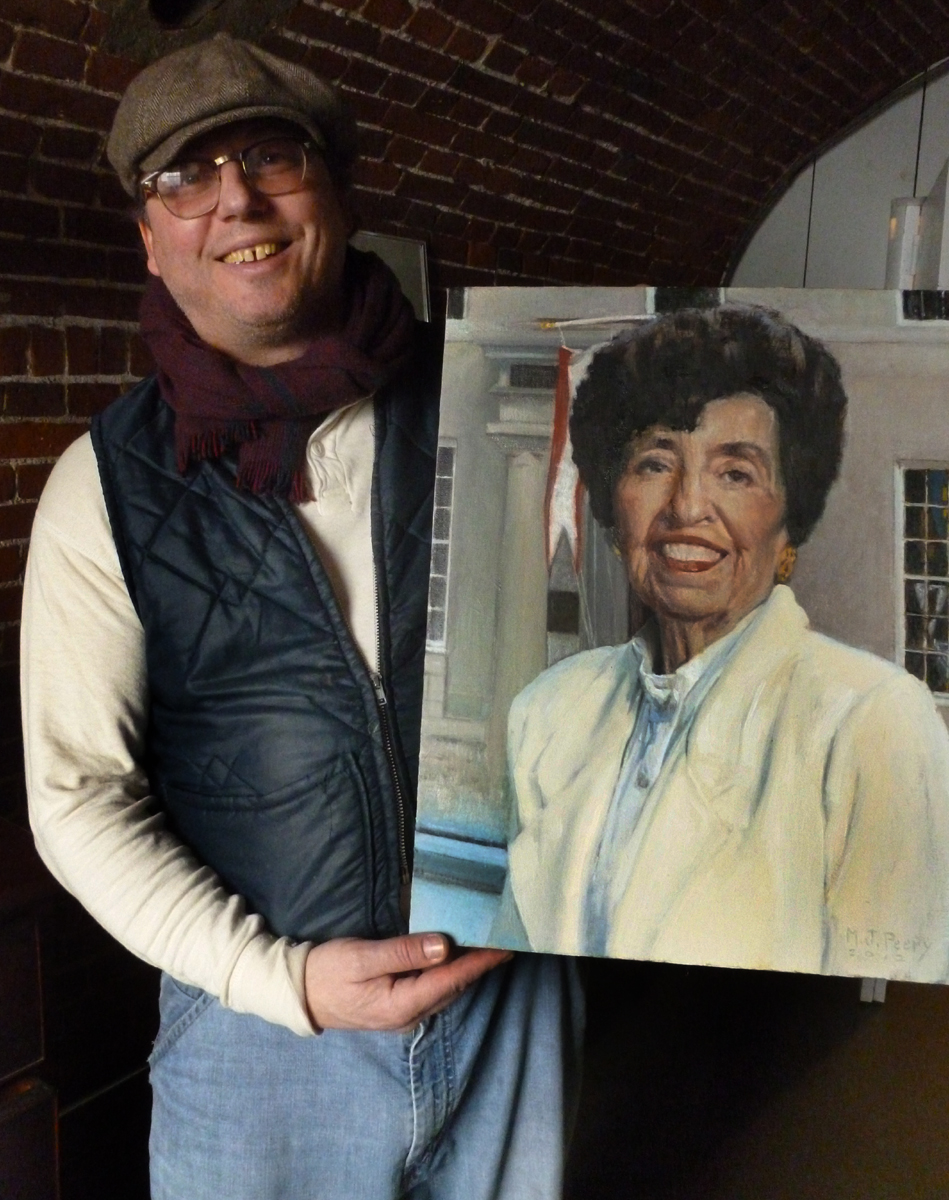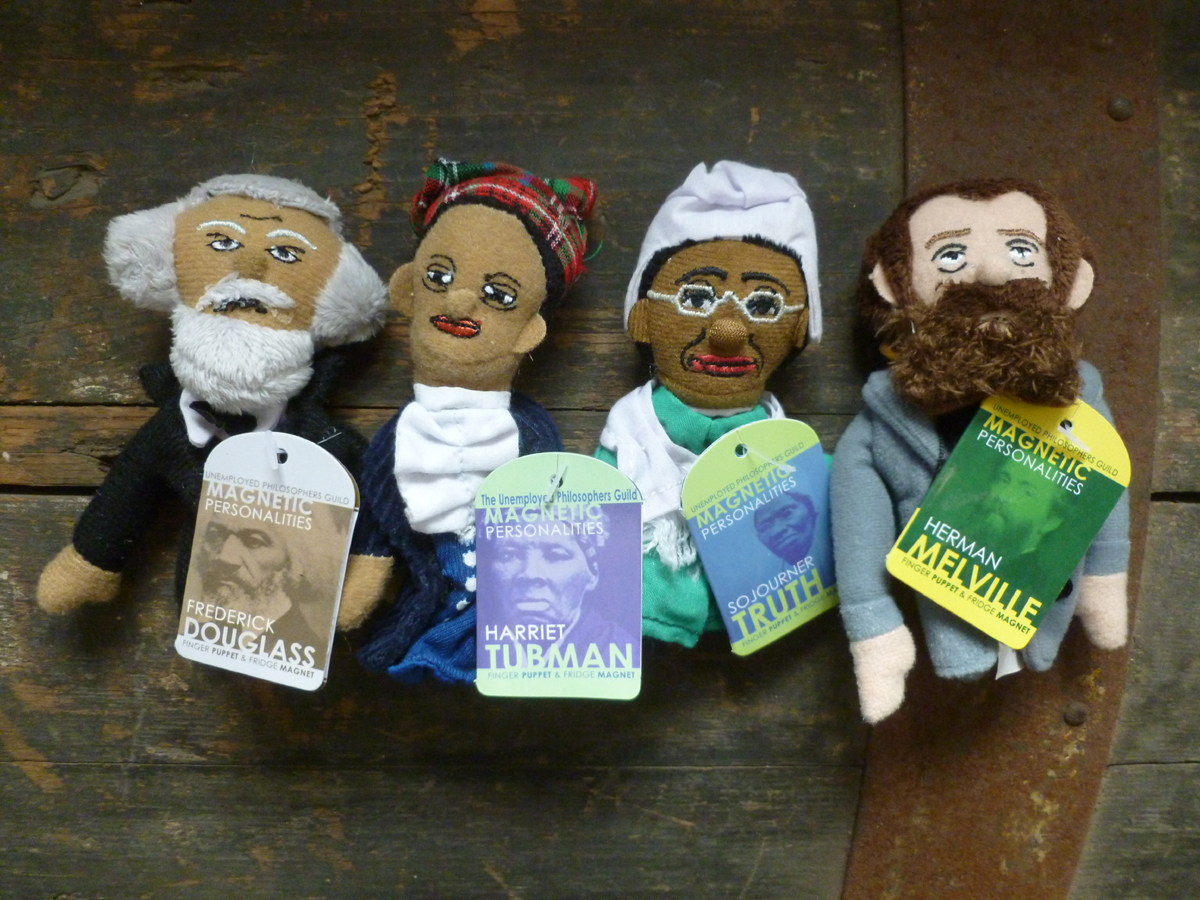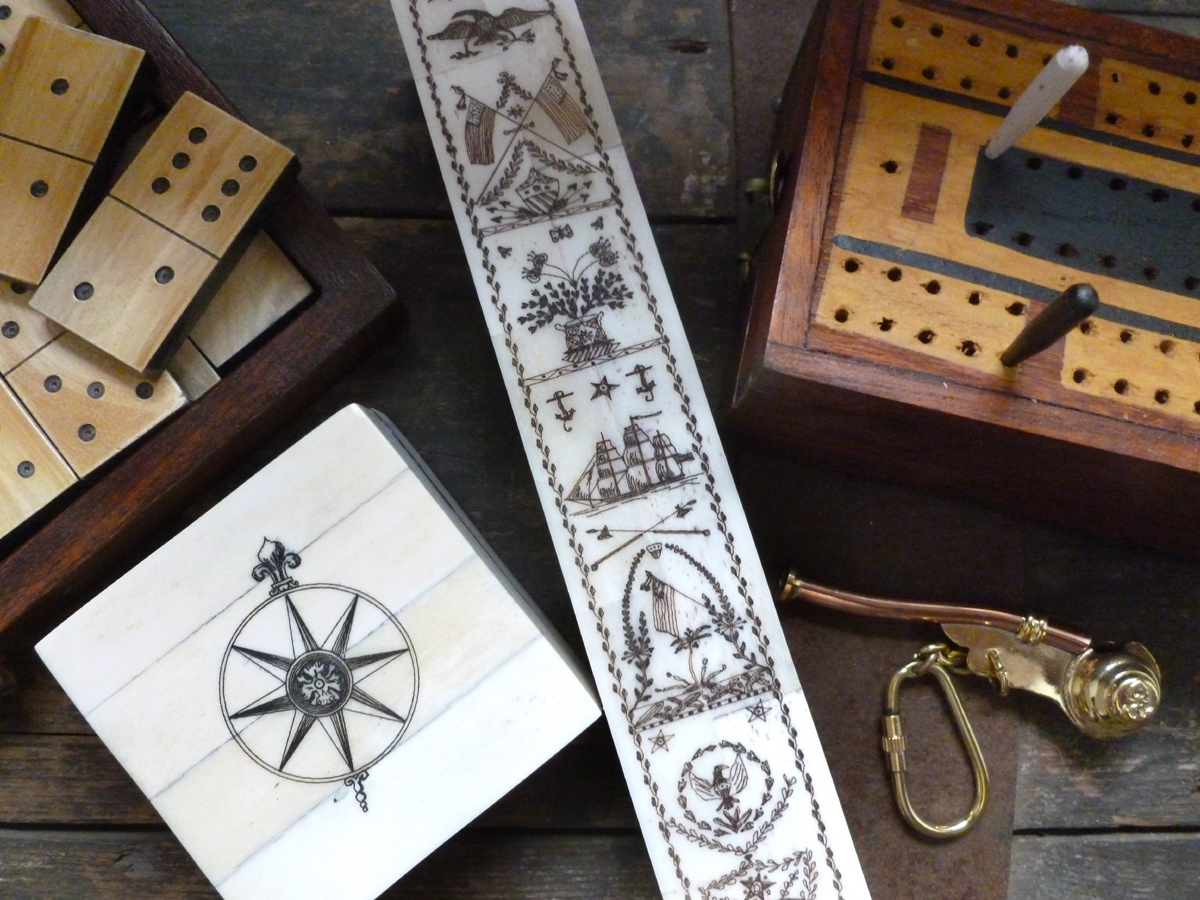 2.11.12 New merchandise is beginning to roll in! About two weeks ago, Louise Pittaway---for three decades+ curator of the Stonington Historical Society's Old Lighthouse Museum and buyer for the shop---went to the New York Gift Show to suggest a new direction for the Custom House Museum Shop. Over the past two days, packages have started arriving. To the upper left are magnetized finger puppets representing Frederick Douglass, Harriet Tubman, Sojourner Truth and Herman Melville. (Of course we had suggestions of additional personalities for the puppet makers: Cinque and Eugene O'Neill!) Just above are a few of the many wood, bone & brass items of a nautical nature we received: a boson's whistle, dominoes, scrimshaw boxes--one with a compass, the other with a pen inside.

2.10.11
We had some visitors today:
Noah Kaiser,
an artist & instrument maker, stopped to check out our gallery spaces. We're hoping to exhibit his '
Tumbleweed'
house some time soon. Tumbleweed houses are tiny houses, in this case 8'x 18', and built on a trailer platform (the better to move it).
Later in the afternoon, artist Michael Peery stopped by with the all-but-finished portrait of museum founder Lucille Showalter. Good timing--our press release, announcing the 29th NLMS Founders Day Luncheon, we released on Monday this week.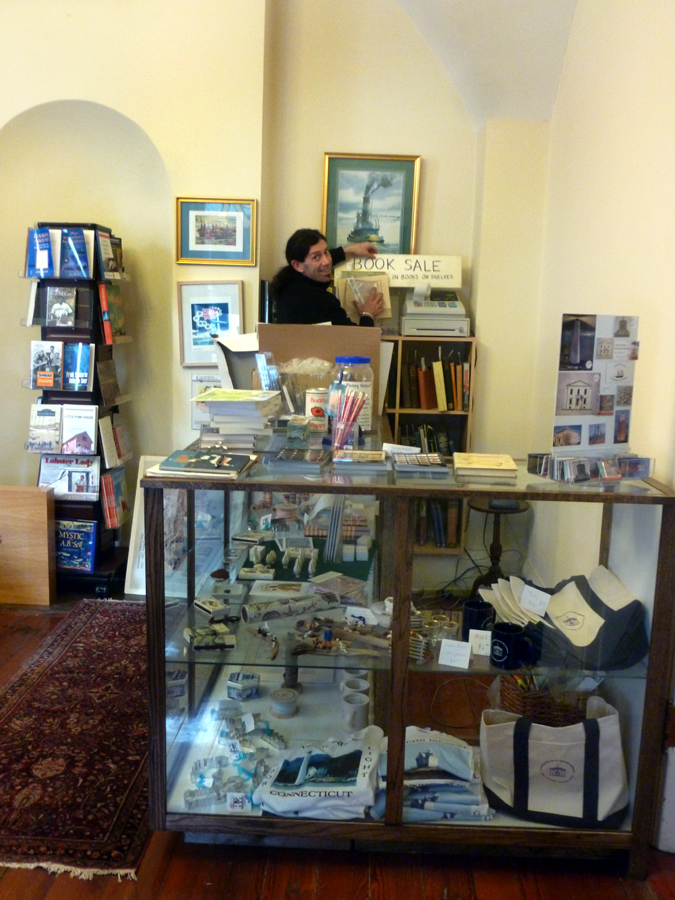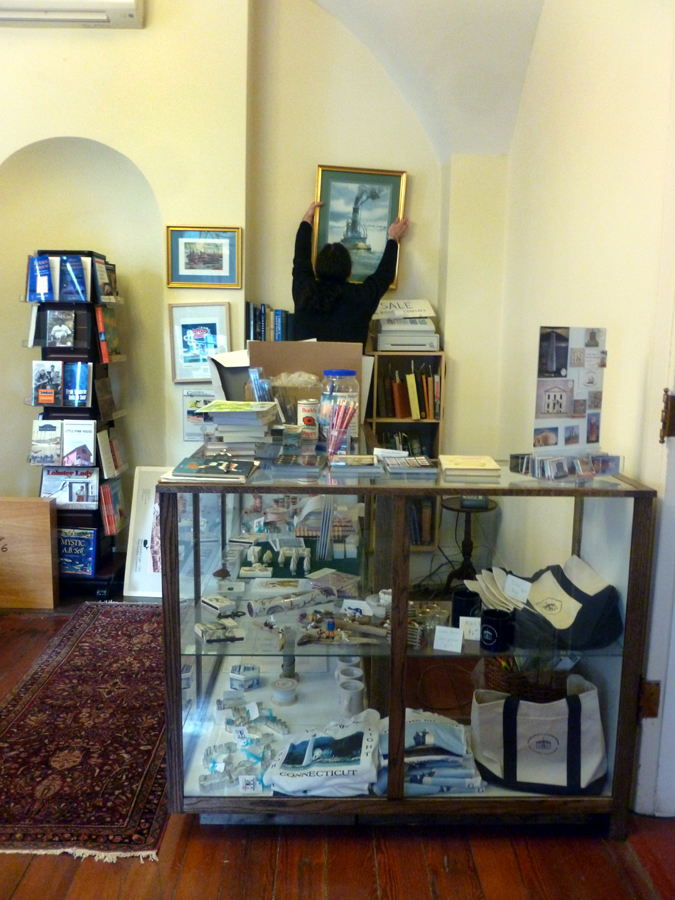 2.10.11 One of our immediate objectives this year is to inject a little pep into our museum shop. We've got Louise Pittaway helping with the buying in New York, (see below), and back home in New London we've got Scott Lang (see left), who has great ideas for how shop furniture and displays can be rearranged. We hope to make real progress across the next couple of weeks, culminating with the shop restocked and reopened by March.

Towards that end, the display area--vintage dive gear, one of the favorite and most-evocative exhibitions in the museum--has been localized along one wall. Shop furniture has been moved, and stored inventory banished from sight.

According to Louise, a gift shop should produce about 30% of a museum's income. We have quite a way to go...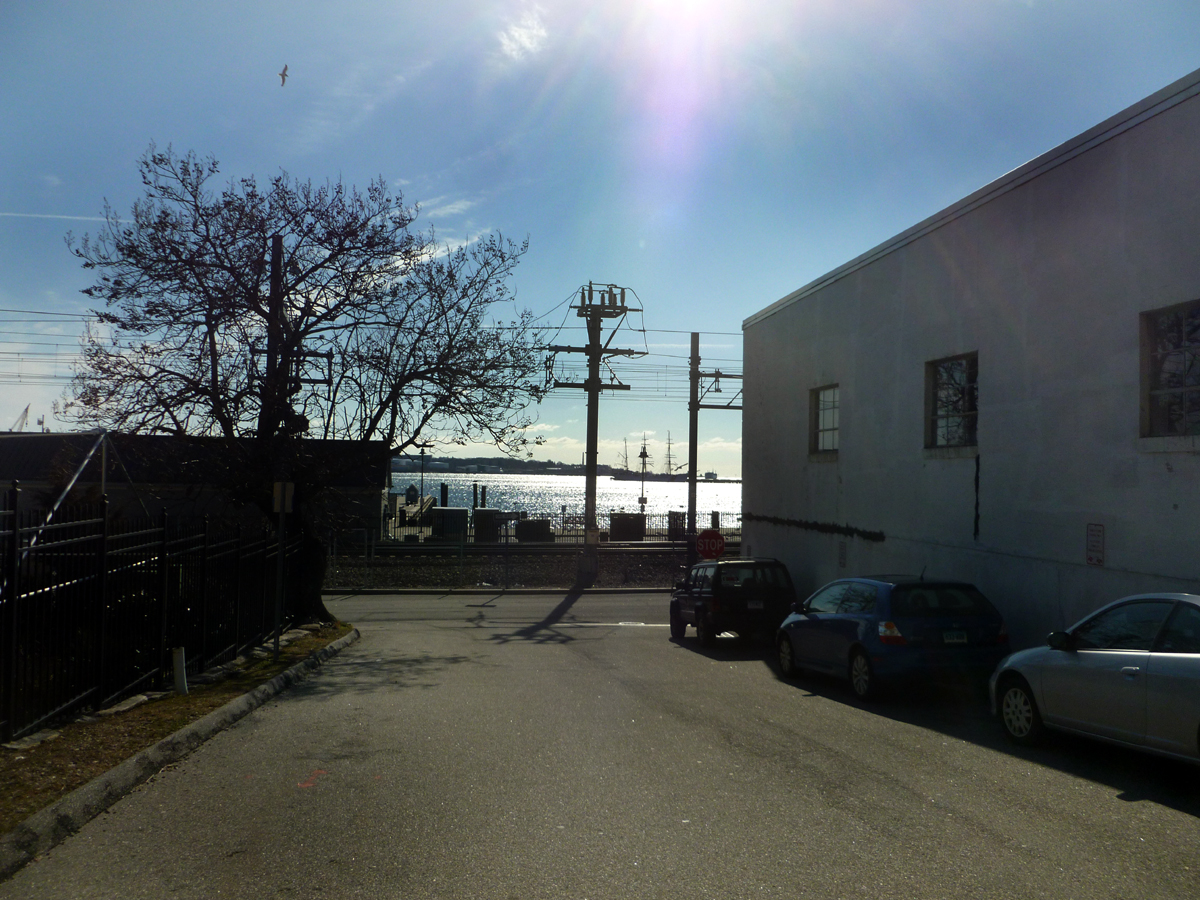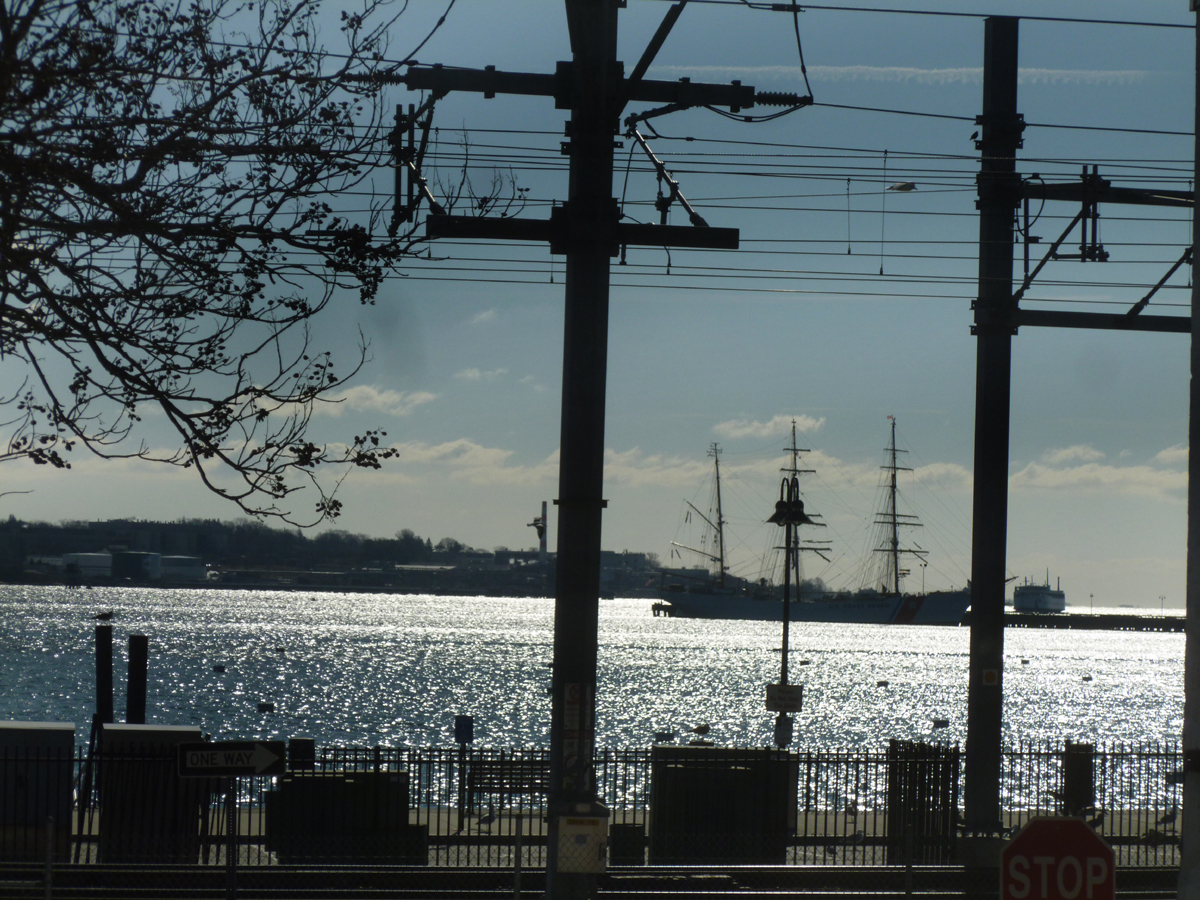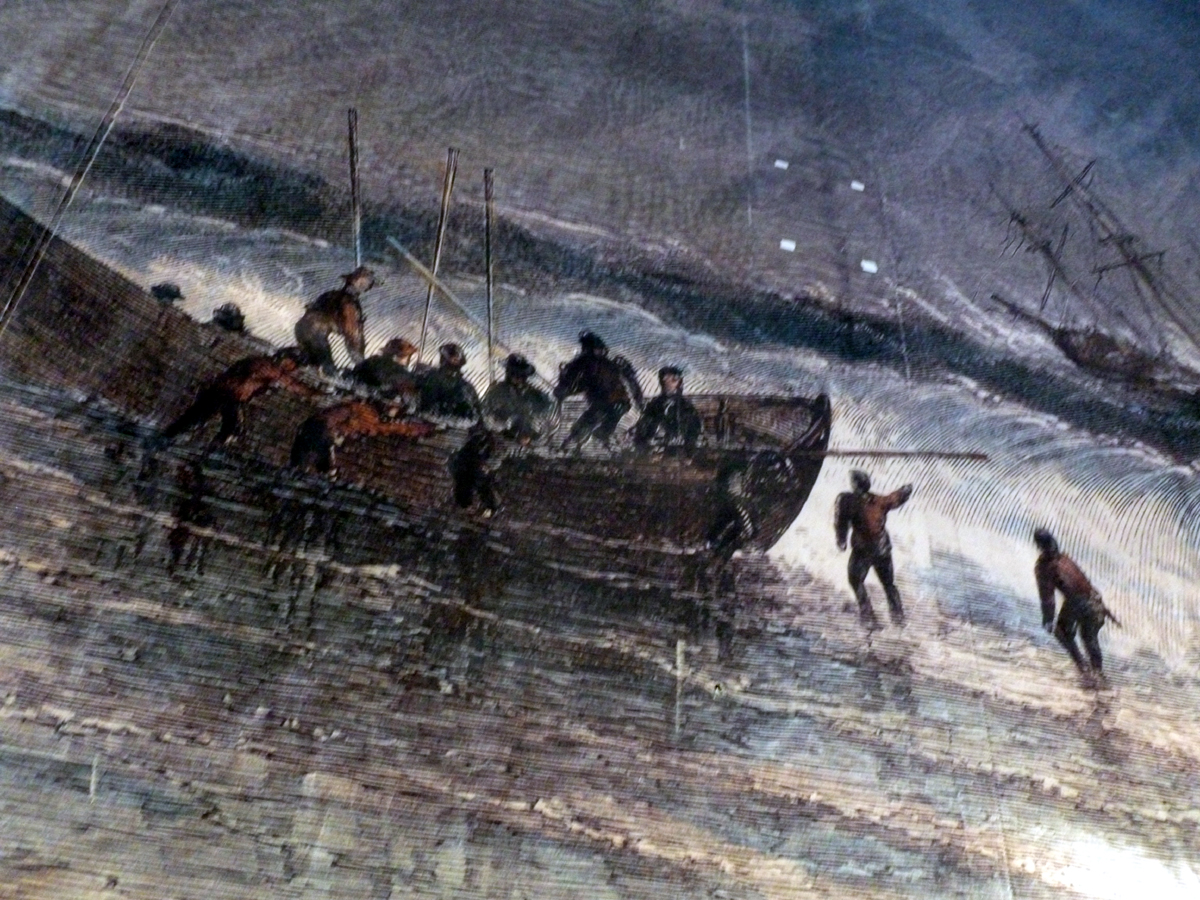 2.13.12 David Lersch is the most recent answer to our prayers at the Custom House. Recently retired from the USCG and a new member of our Lighthouse Comittee, he is taking on overseeing all projects at New London Harbor Light! 

The large canvas far left & below is a gift from the USCG museum.

Meanwhile, the Eagle is back in town. (We take photos from the end of our alley & will share them with you.)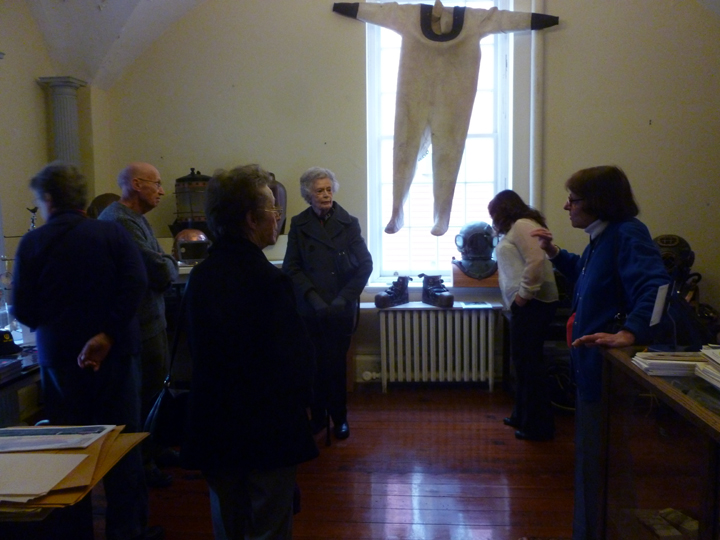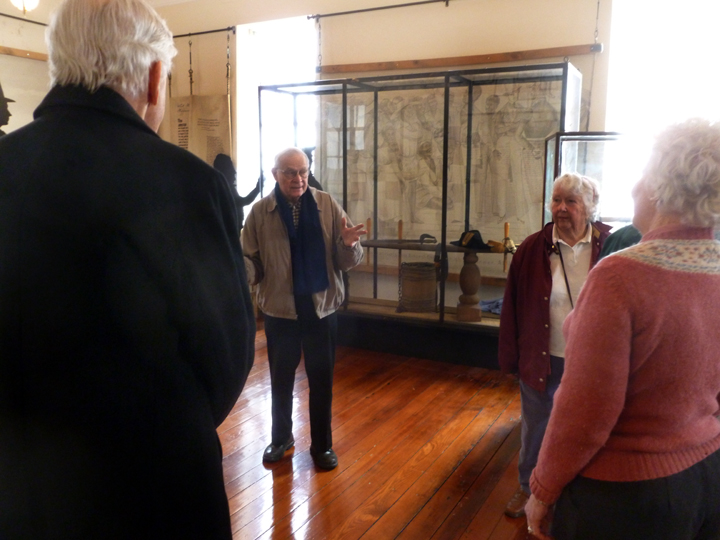 2.15.12 We had a special tour Wednesday morning for residents from Stoneridge. Docents Vincentia Belbruno and William LaRoue came in early to meet the bus, Bill took the upstairs and Vinnie the 1st floor. NB: The museum is open at other than posted hours by appointment; call: 860-447-2501.

2.17.12 Always happy to have our Lighthouse Kids stop in for a visit. Today we had two from Harbor School, with a mom, to find their Look for the Good postcards. Above left: our crew debates frames...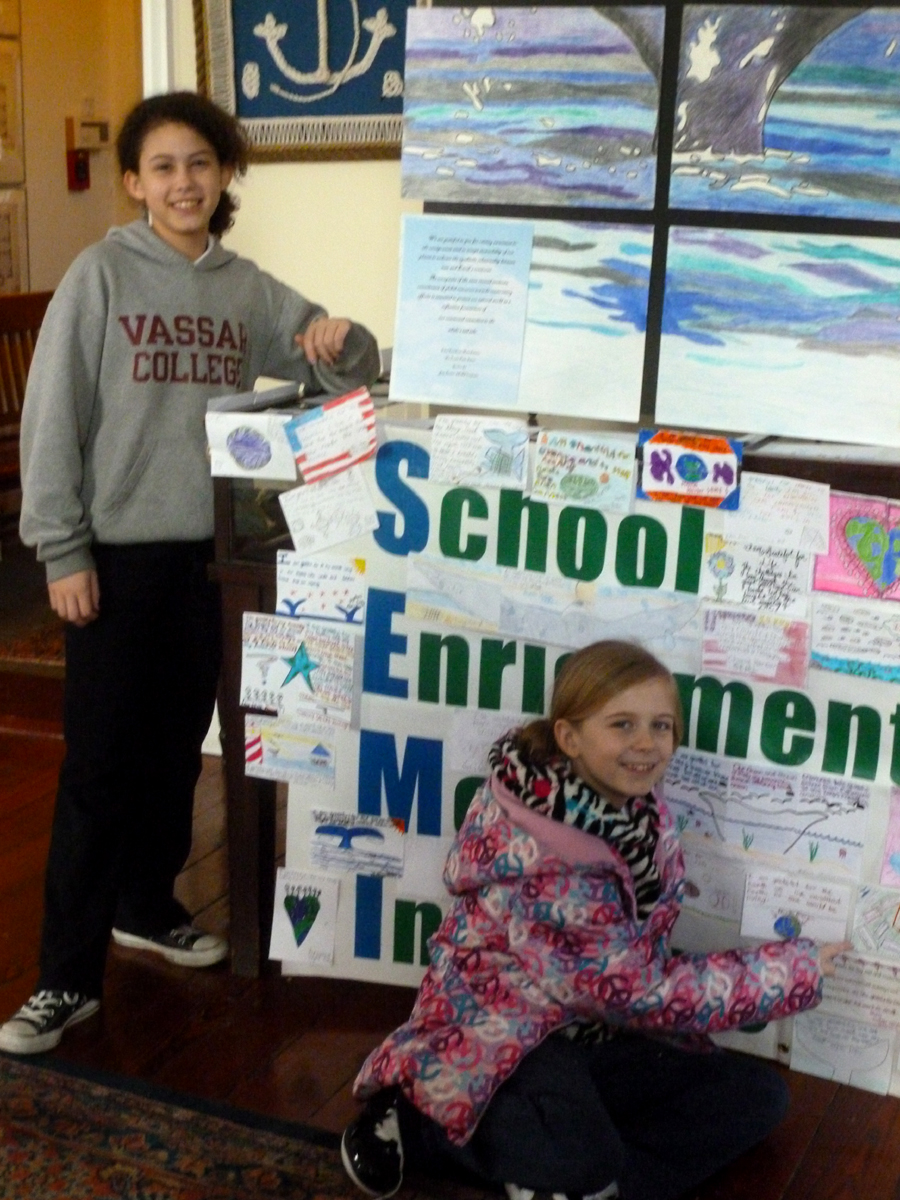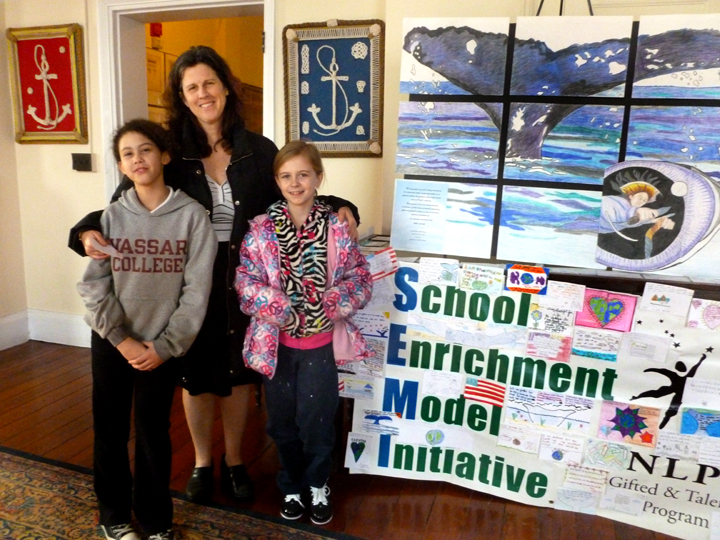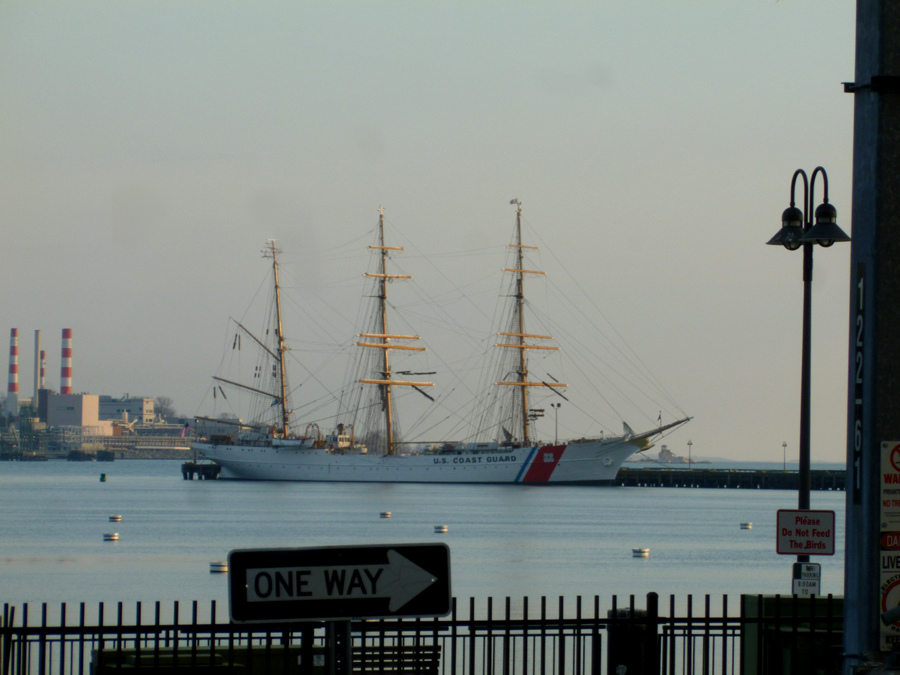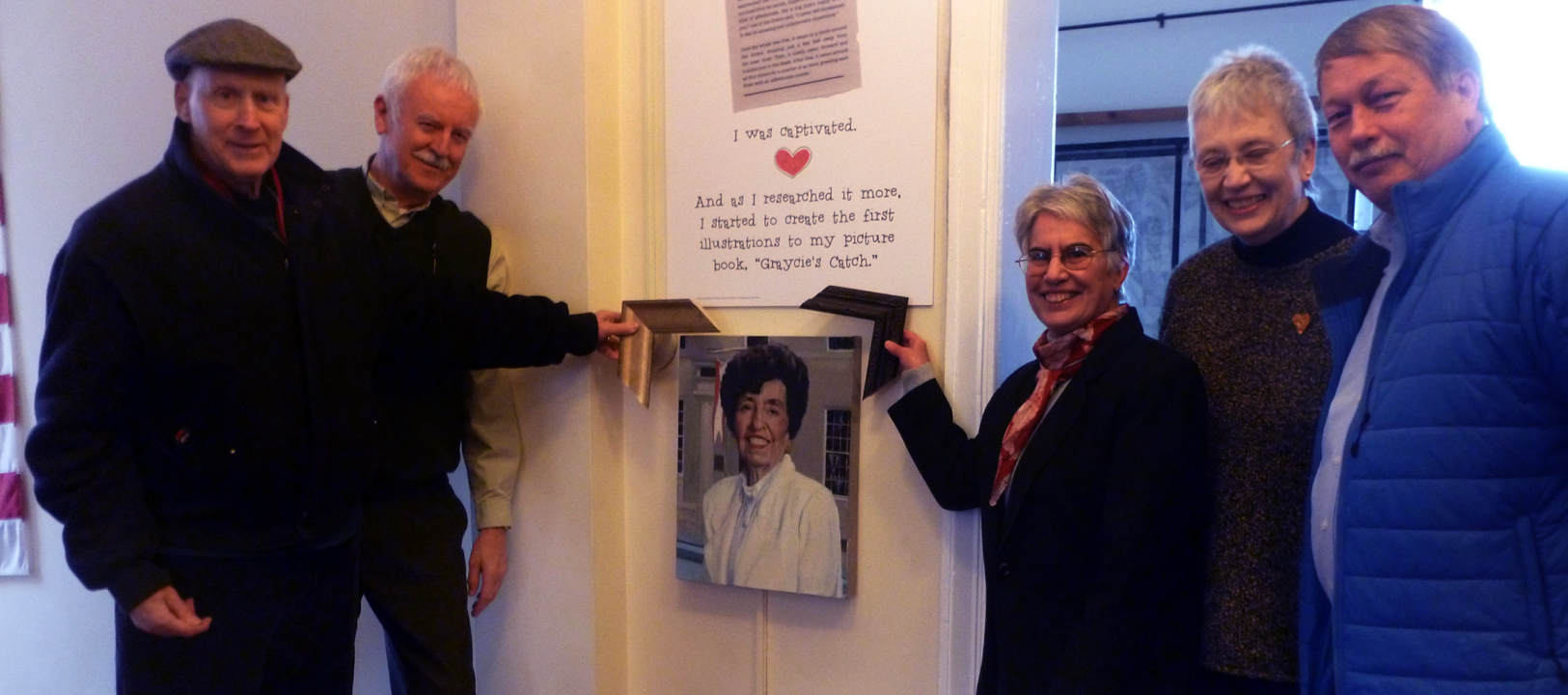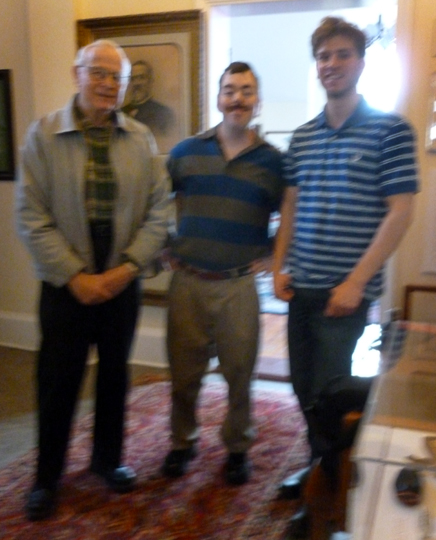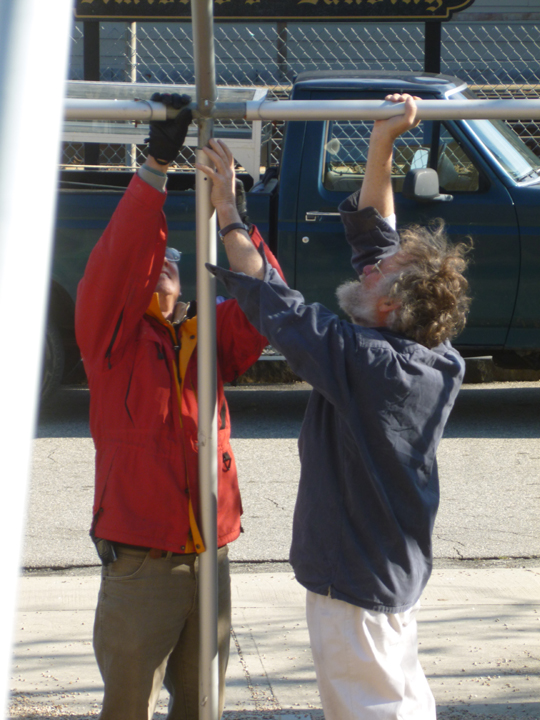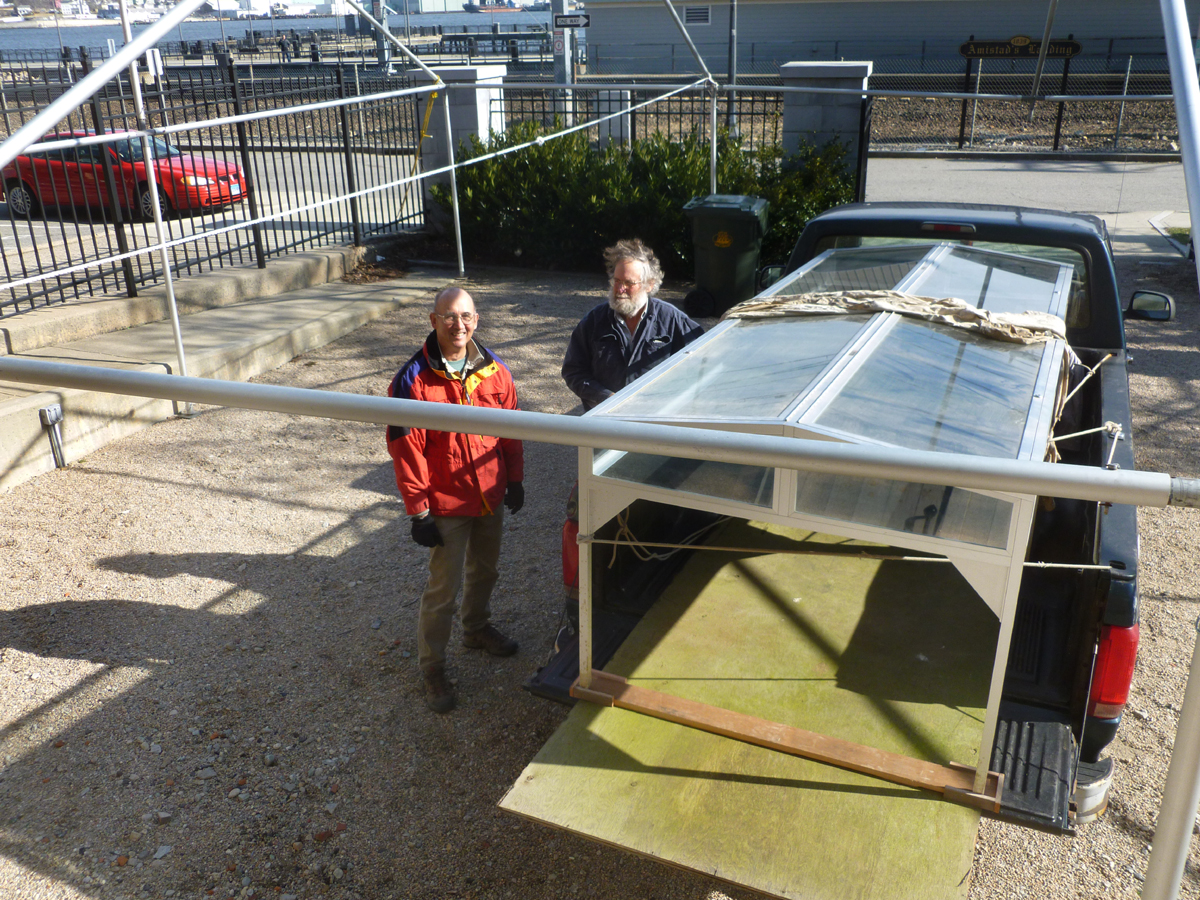 2.22.12 Lots of work behind the scenes. Far left, head docent Bill Laroue with our new intern and work-study student. Above, today we donated two exhibition cases to the Noank Historical Society.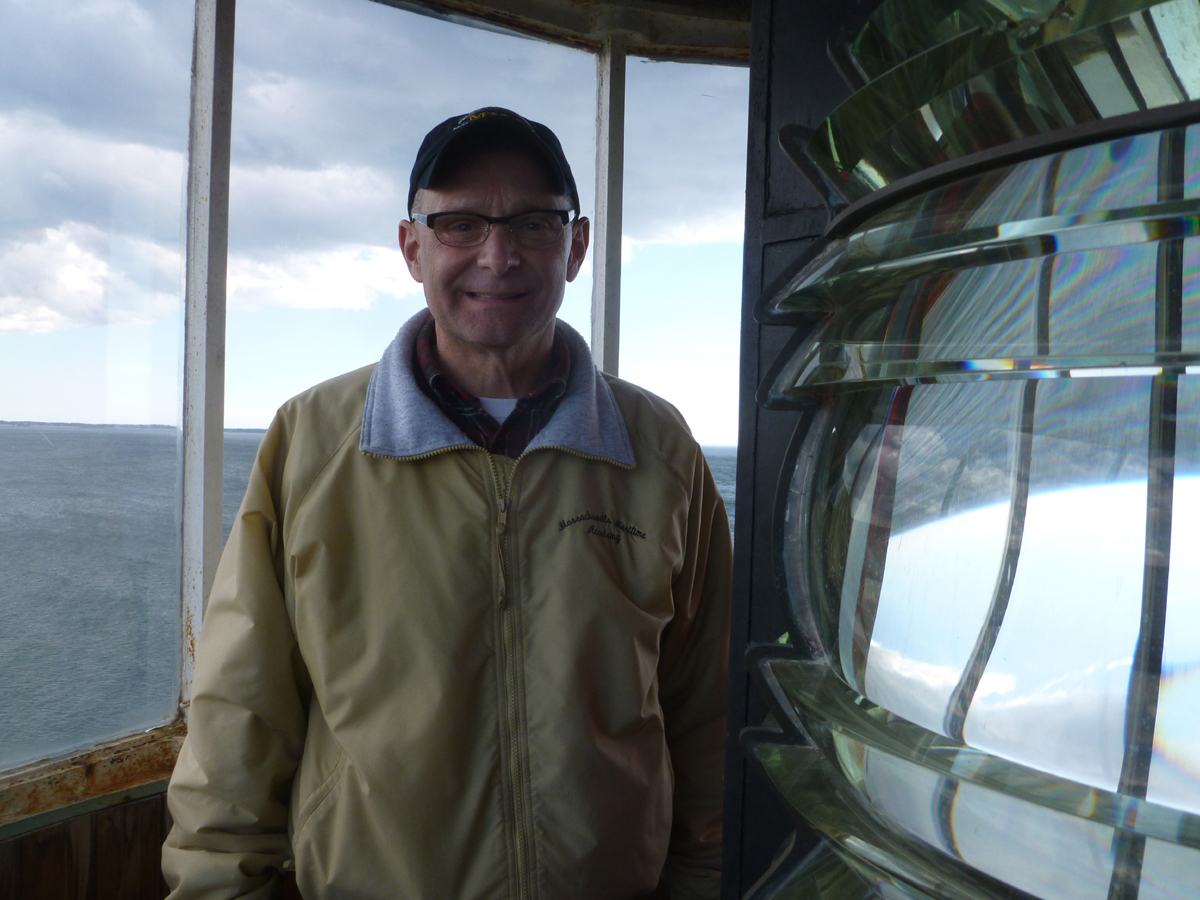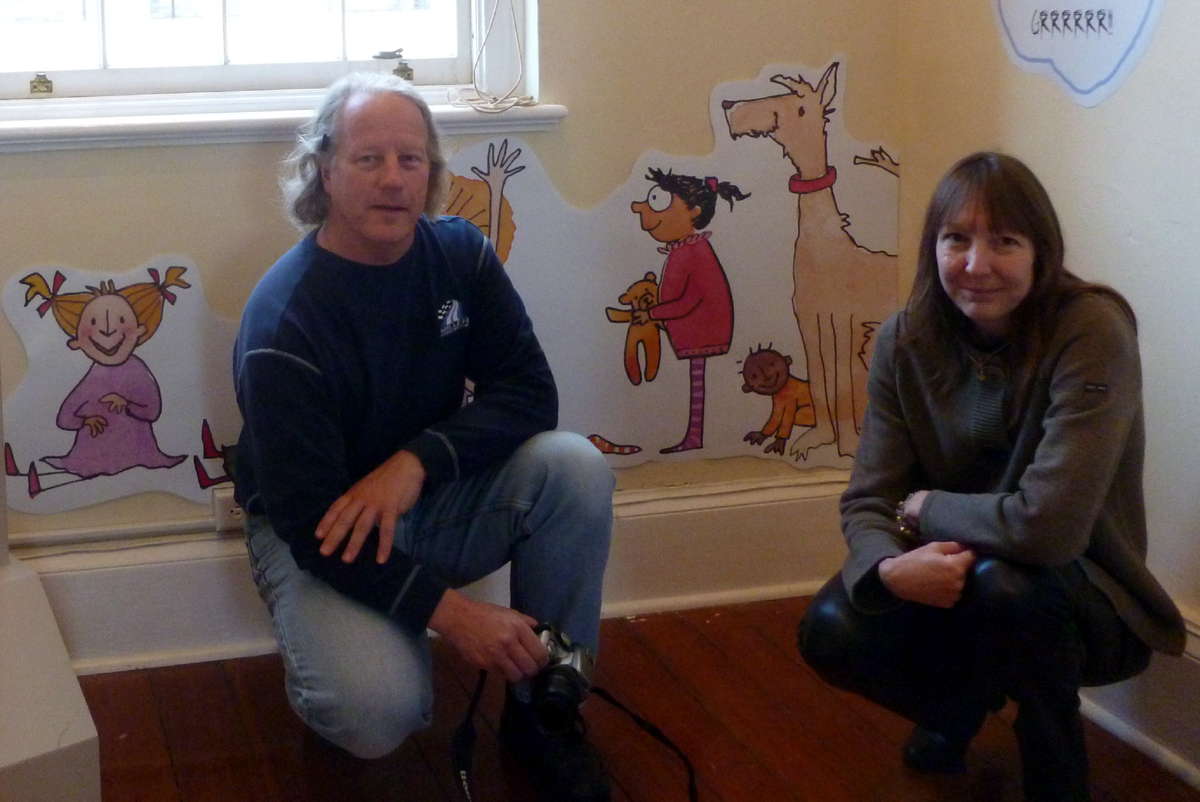 2.23.12 A beautiful day!

Although the morning was tough--see below, with a radiator exploding in the museum lobby overnight--the afternoon was greatly improved...

Visiting the Look for the Good exhibition were printers Bill and Jen Argyle of Four Color Inc. in Niantic. Four Color did all the printing for the show--enlarging  watercolors that were mere inches high into the beautiful, colorful, crisp figures you see mounted on the museum walls. Previously, Four Color made the facsimile reporductions of architectural renderings from our Robert Mills portfolio, which are now hanging in the museum lobby, and we plan to work with them later this spring on our lighthouse exhibiton, Thames RIver Timeline, & who knows what!

In the afternoon, new Lighthouse Manager David Lersch got to spend time at New London Harbor Light checking out the cracks. David, who recently retired from the USCG, had great stories about being stuck out on the Sound and from his years in the Coast Guard. We are very happy to have his help & expertise.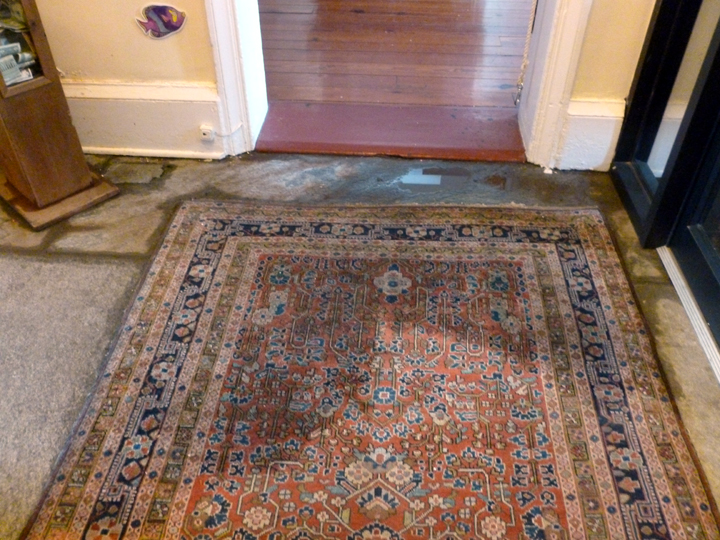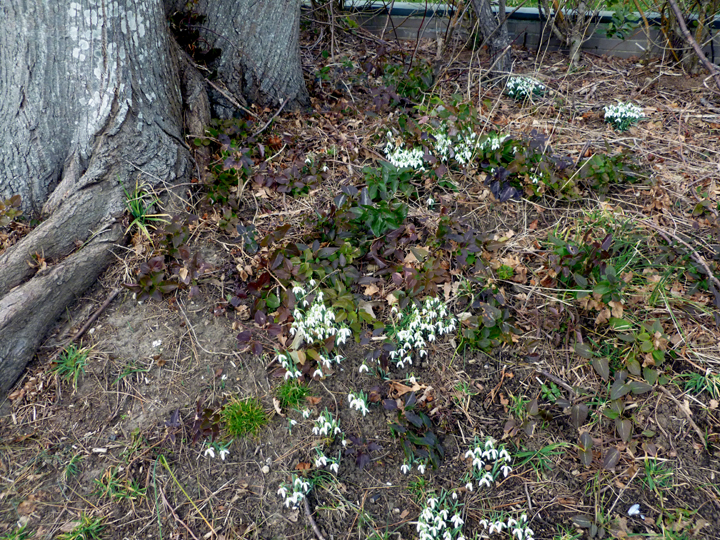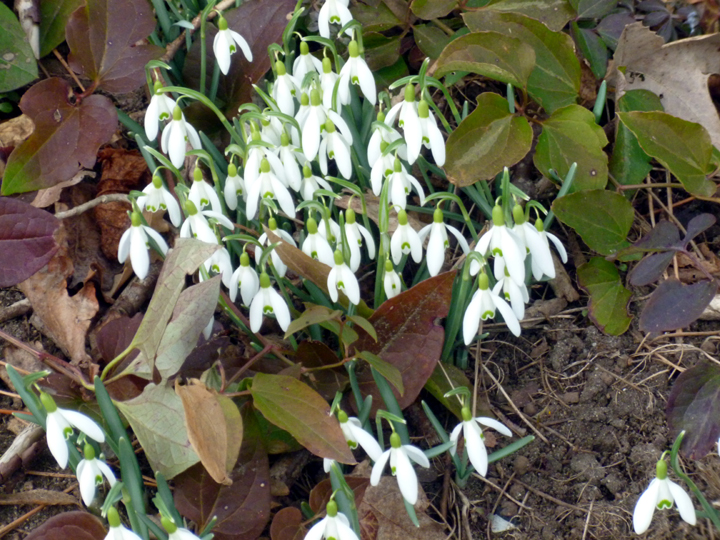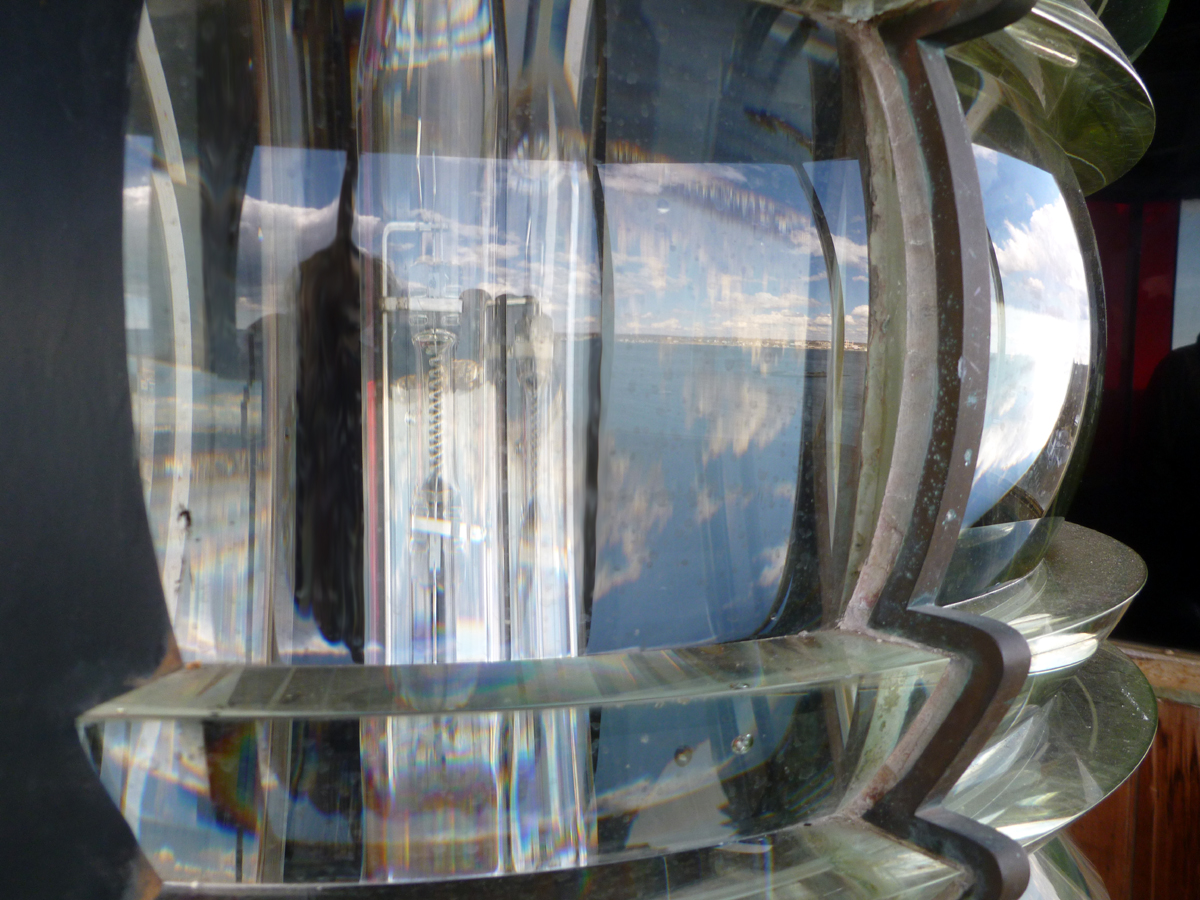 2.23.12 A sunny, windy day in the lantern of New London Harbor Light.

And on the path leading to the lighthouse, there was a full planting of snowdrops tucked in the roots of a maple treel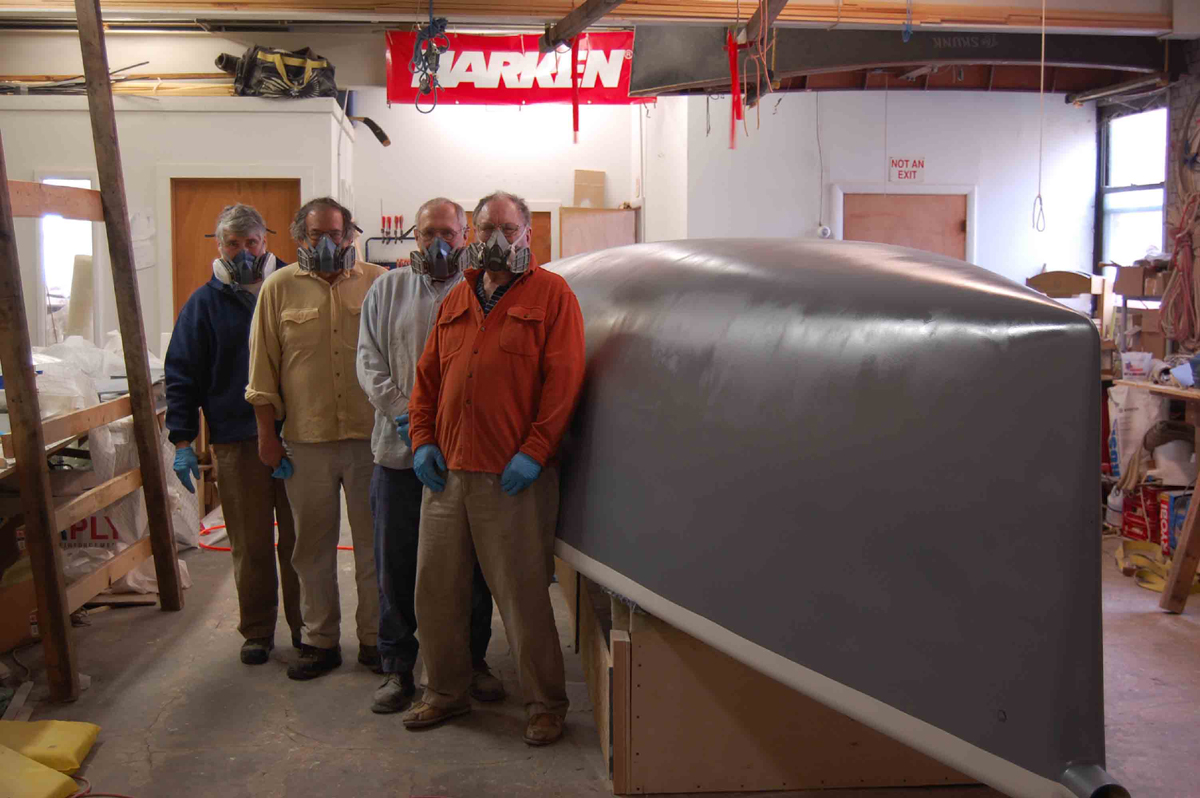 2.26.12 Ed Hellenbrecht
sent us photos above & above left, of the progress on
Kevin Farrar's
GP-26
, which promises to be a
very fast
sailboat! It's being built in the old O'Neill Monte Cristo Garage, in downtown New London. By the way, if you're curious, the boat construction crew can be found most days having their lunch around the corner at the
Dutch Tavern.
Meanwhile, the course has been revealed for the next
America's Cup Race,
to be held--not in New London, alas--but in San Francisco, early in September, 2012.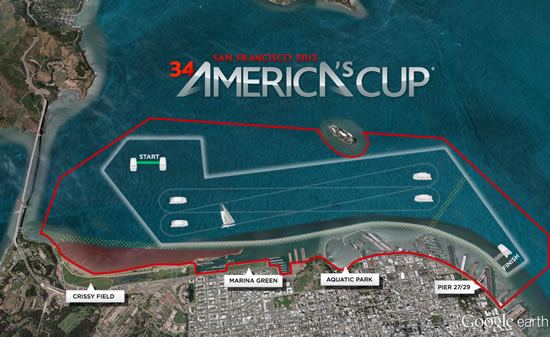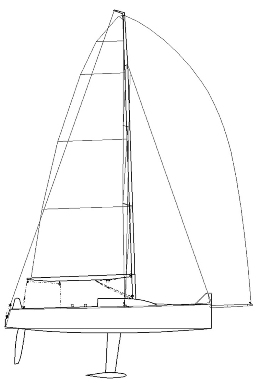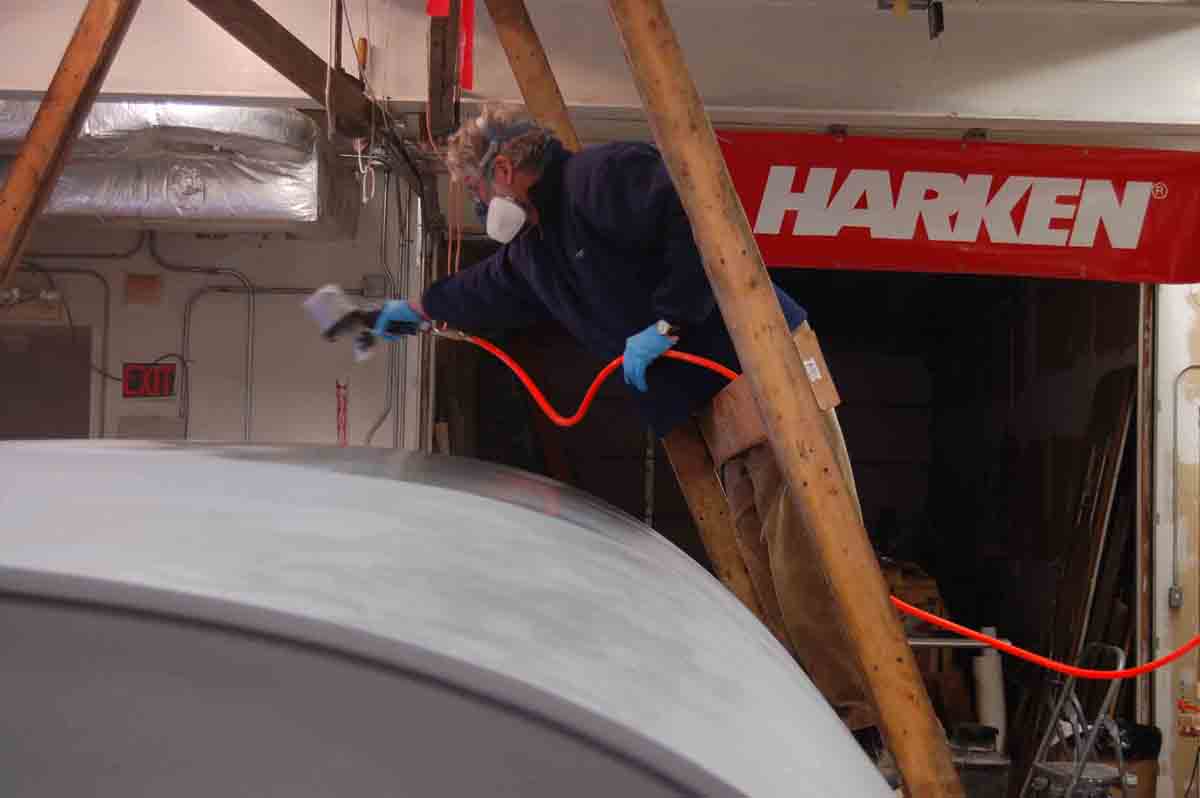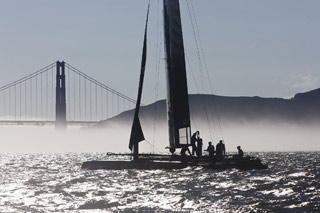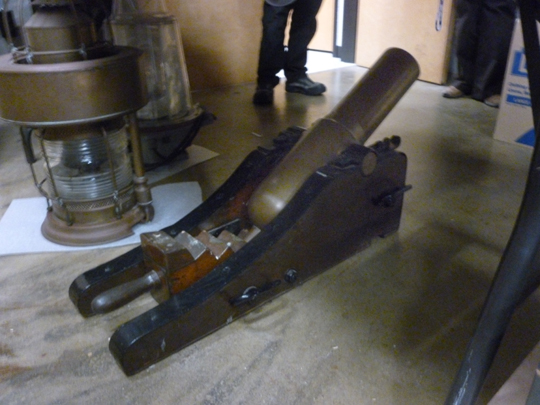 2.26.12 Rumor has it, we will be loaned one of these (at left)--a

Lyle Gun, from the USCG Museum.

'Line-throwing guns are most often referred to as Lyle Guns, after their inventor David A. Lyle. They were used from the late 19th century to 1952, when they were replaced by rockets for throwing lines.' - -thank you, Wickipedia.

'One of the first actions of Superintendent Sumner Increase Kimball, the only superintendent of the U.S. Life-Saving Service, was to find a better line-throwing device. Kimball realized he needed the best artillery expertise available, so he engaged the help of the Army Board of Ordnance and in 1877 they assigned David A. Lyle, Captain, U.S.A (1845–1937), a West Point and MIT graduate who began research and testing that resulted in reliable efficient designs. Lyle developed 3 bronze, smooth-bore guns of different sizes and the 21⁄2-inch-bore (64 mm) gun became the USLSS standard line-throwing gun.'

Weighing 250 pounds, we will see if it can be moved over to the Custom House later this week!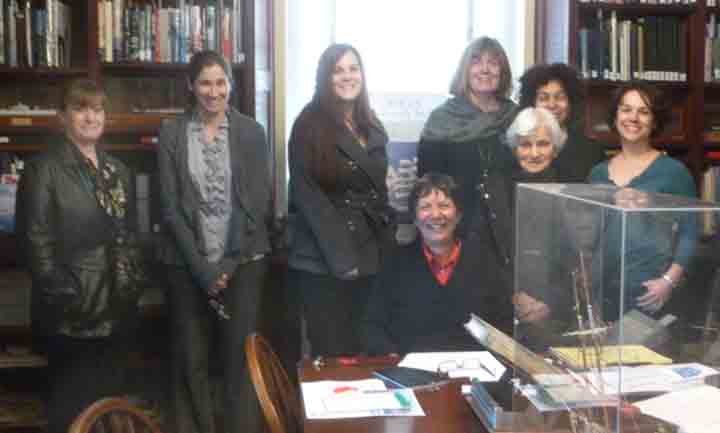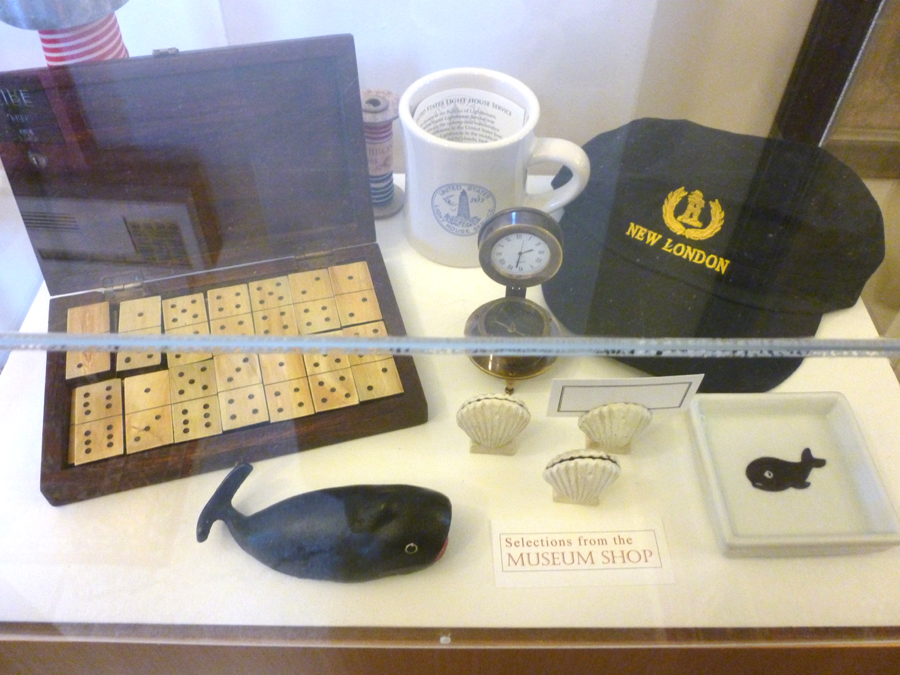 2.27.12 Harriet's Art of the Ask, left, which happens again on Wednesday evening. Good sports, they endured NO HEAT in the museum this morning. Just a mere $2000 and it all will be fixed...    Below, new items in the museum shop.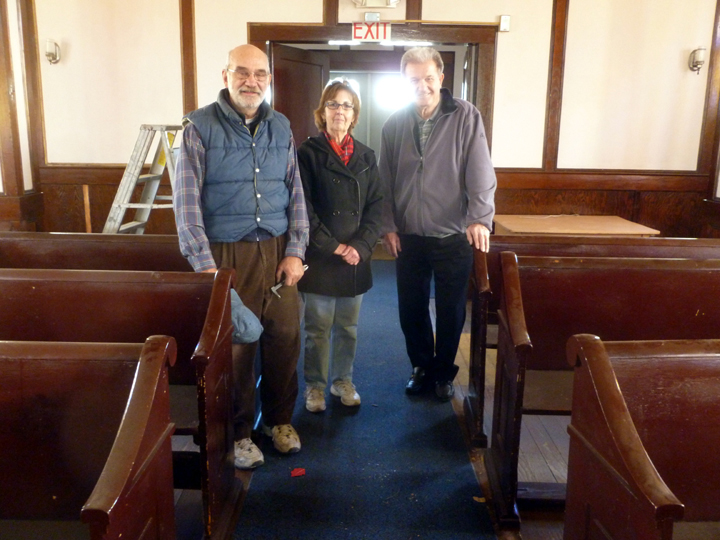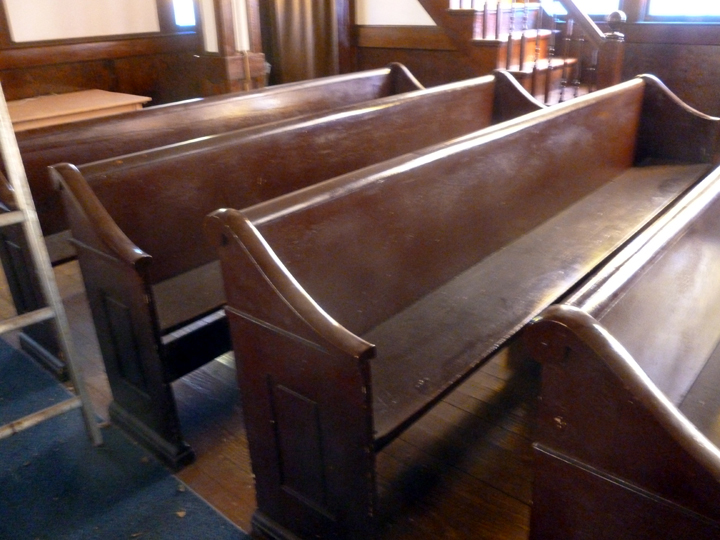 2.28.12 we'd like to thank Colleen and St. Peter & Paul Church (the one near Hodges Sq. under the bridge) who donated these pine, church pews to us. The church is moving and the space turned into the new Homeless Hospitality Center.