Please be patient, it can take

some time to load the photos.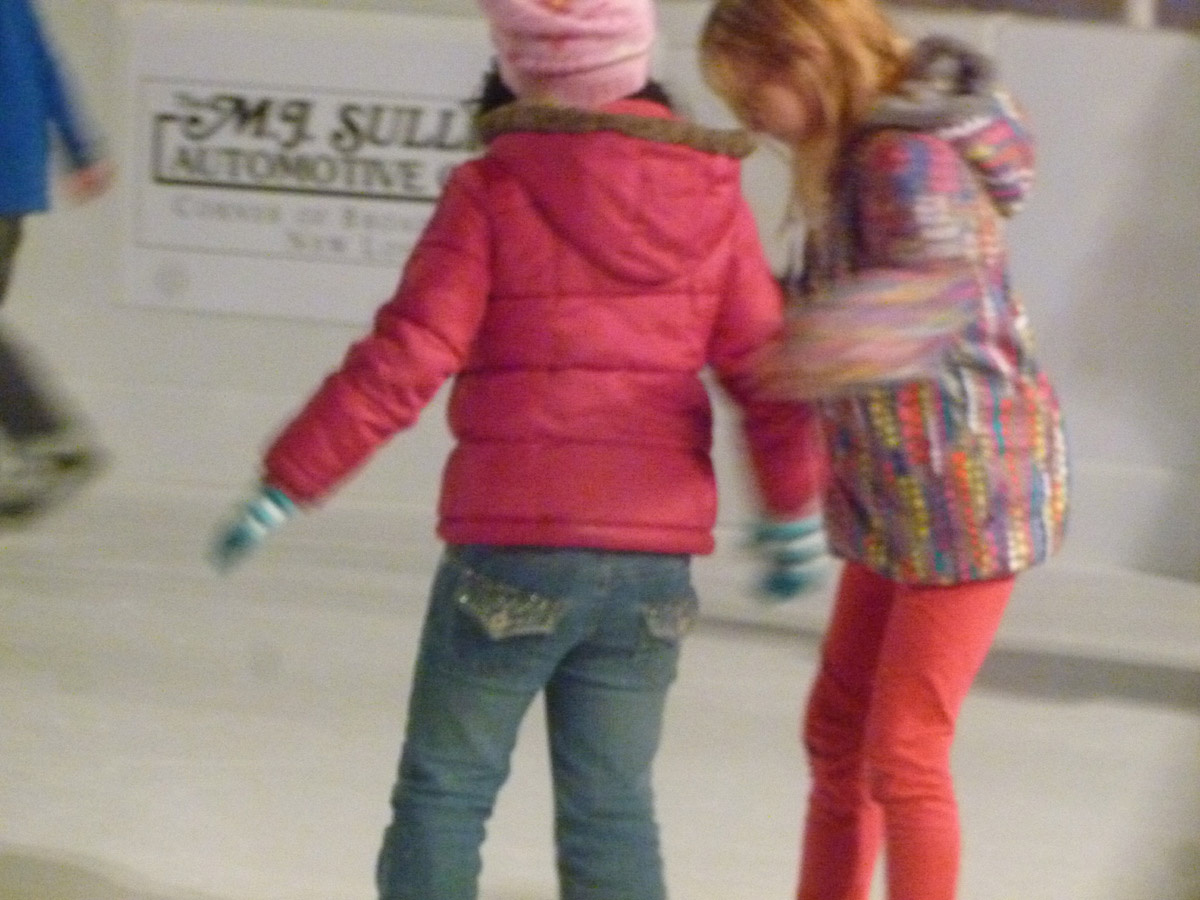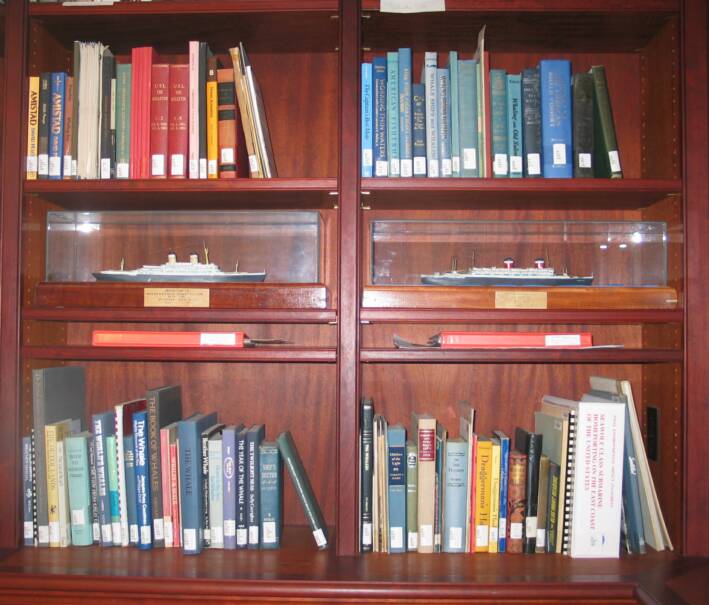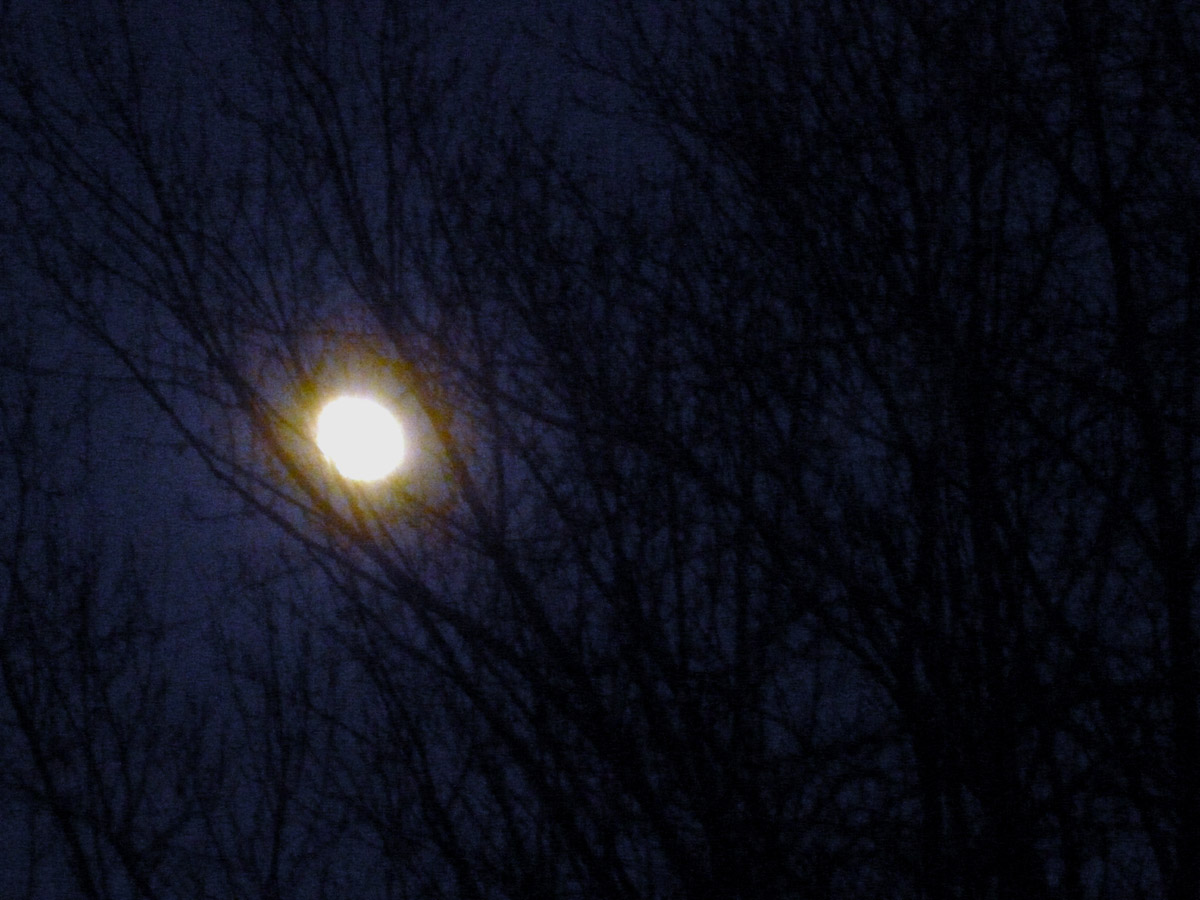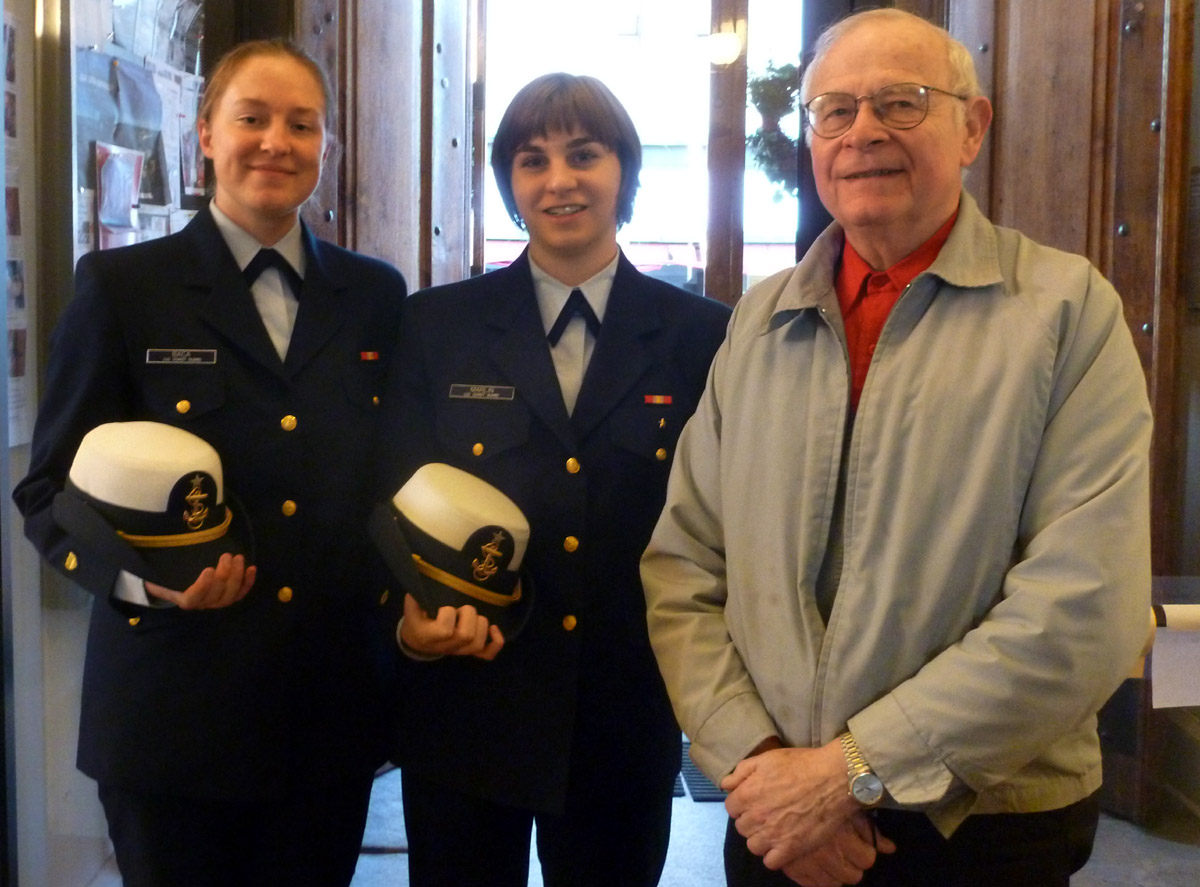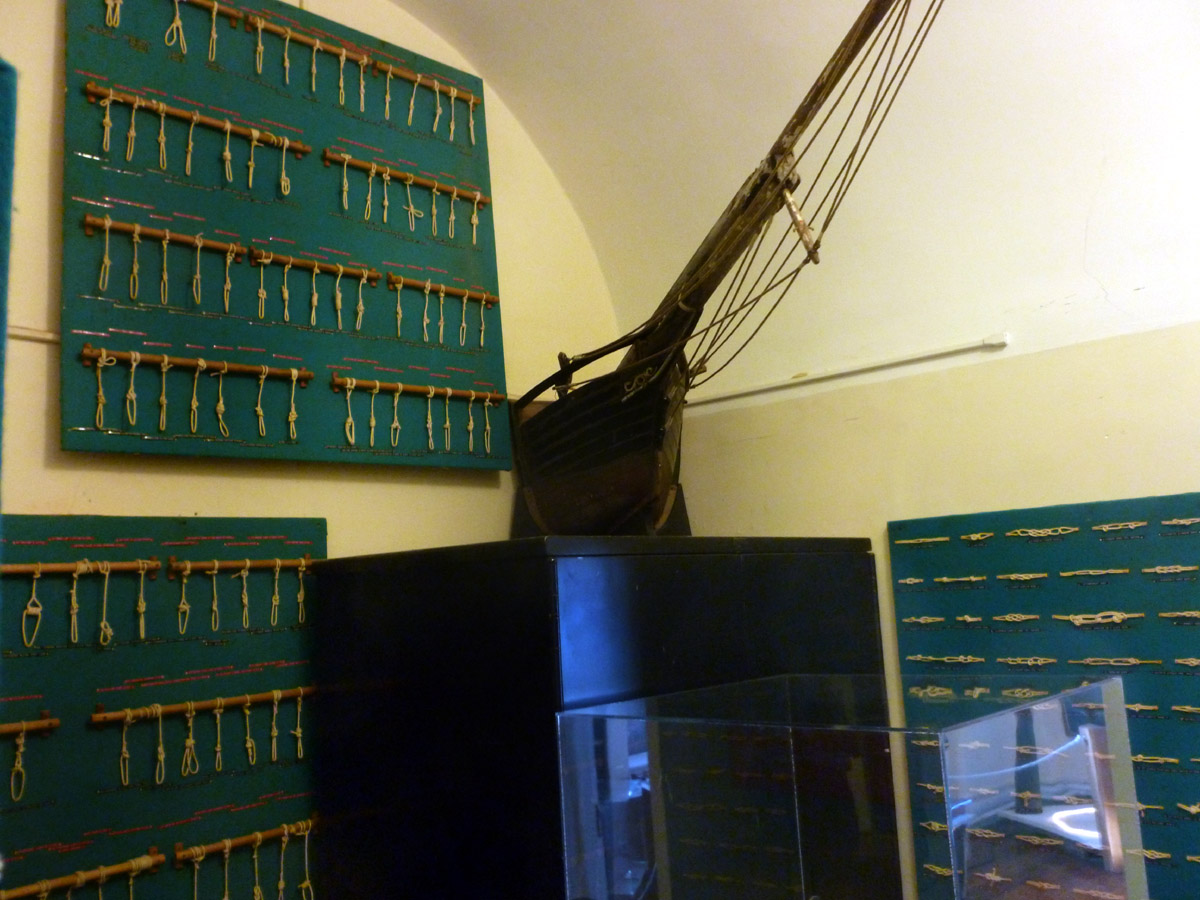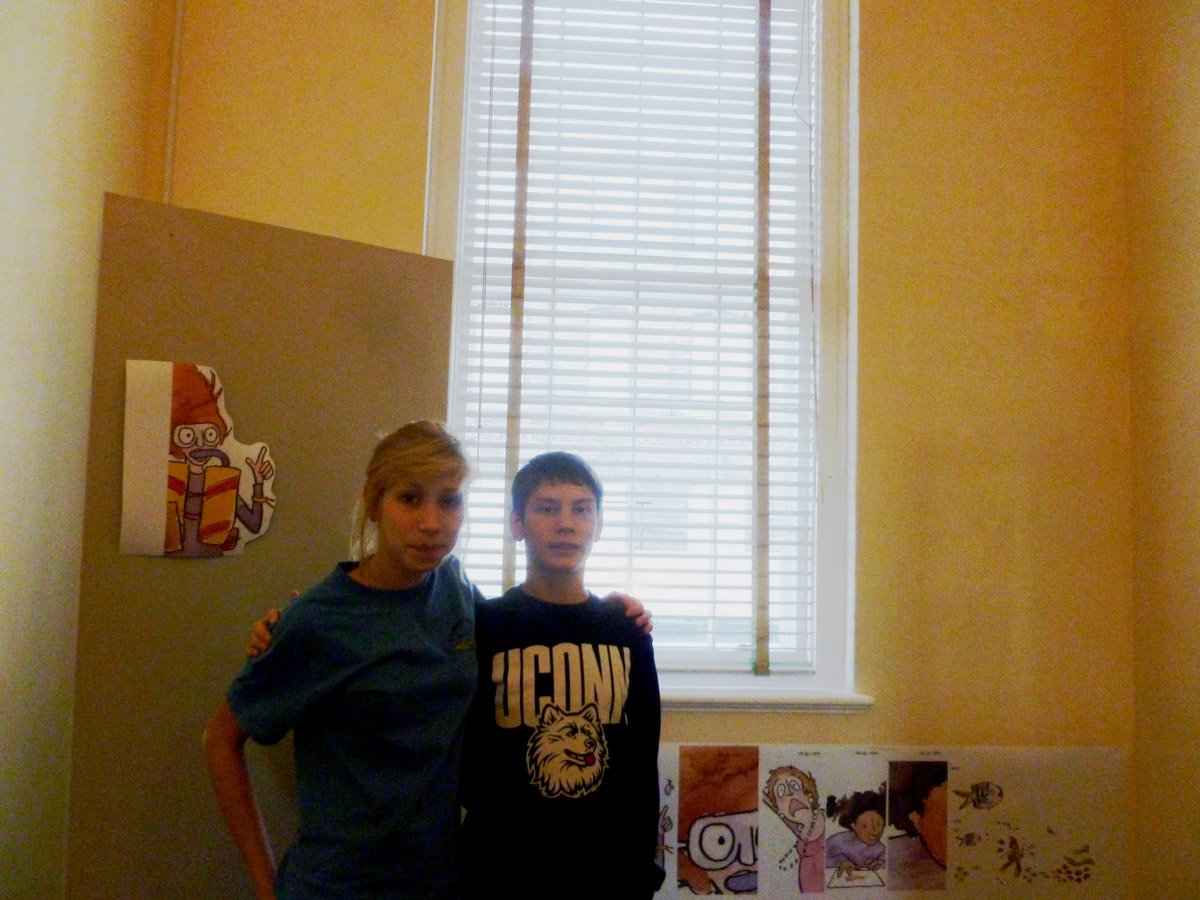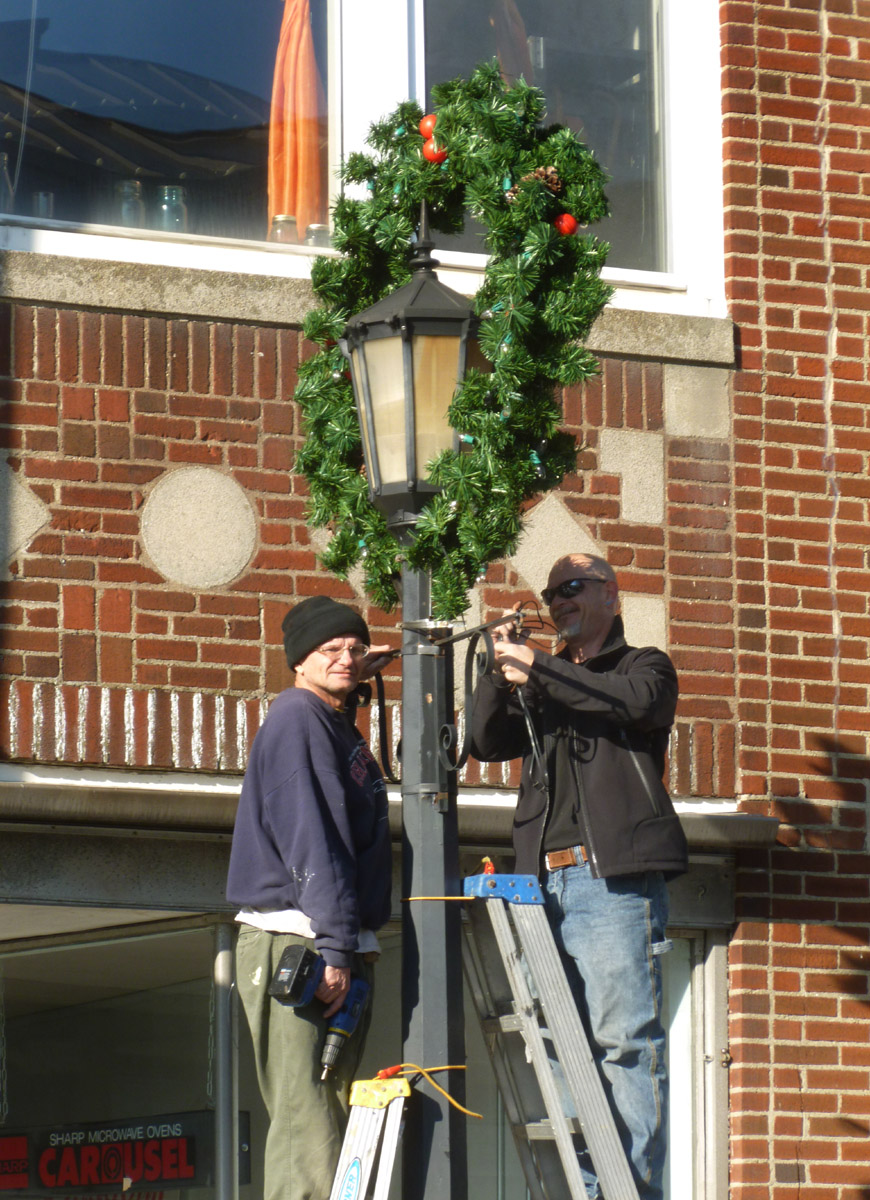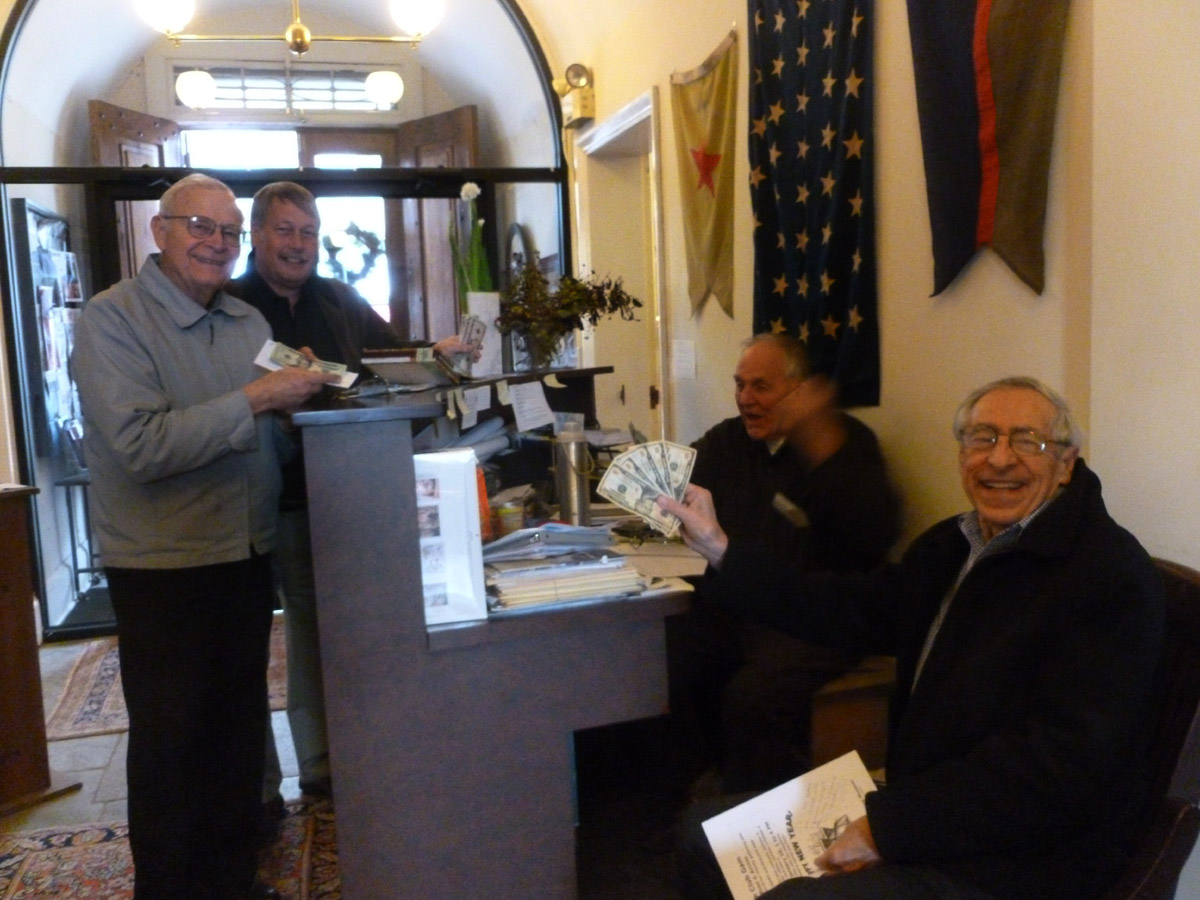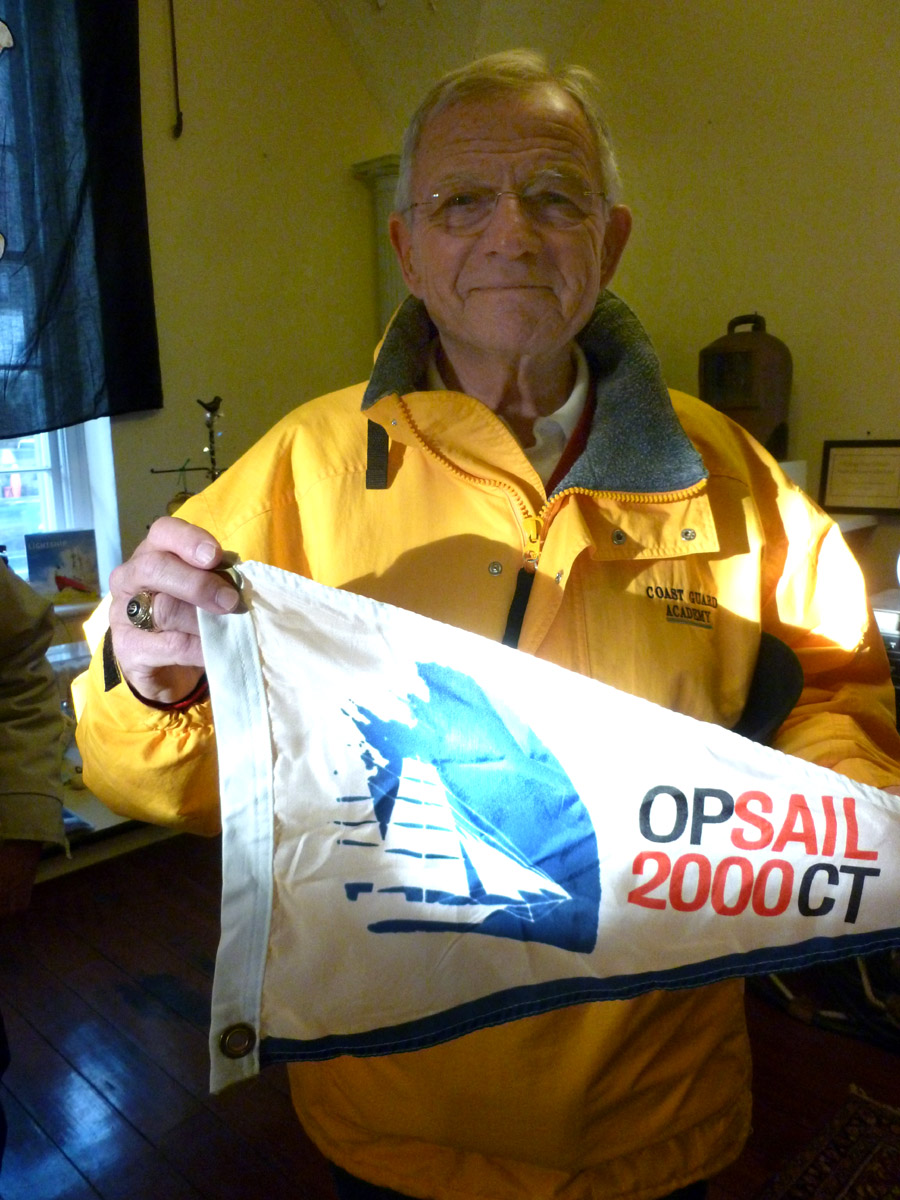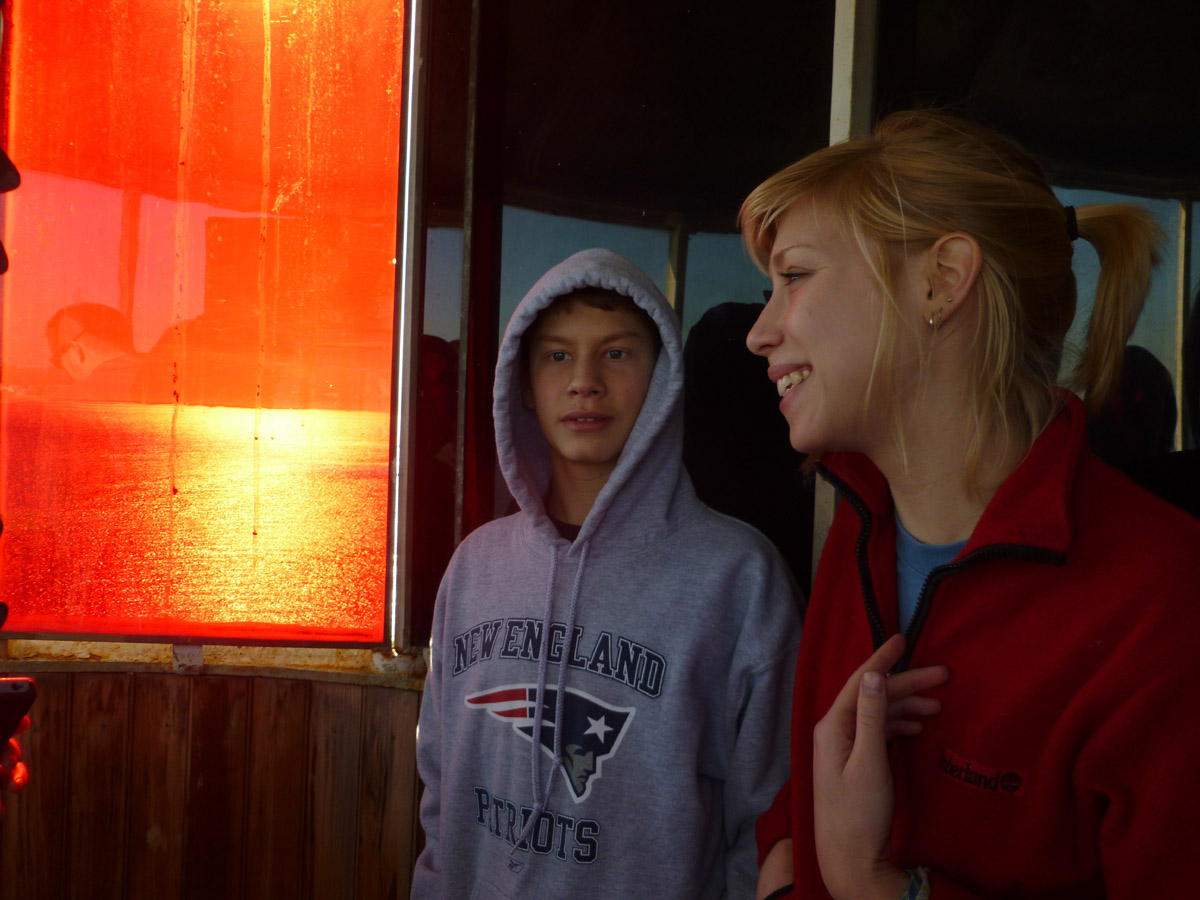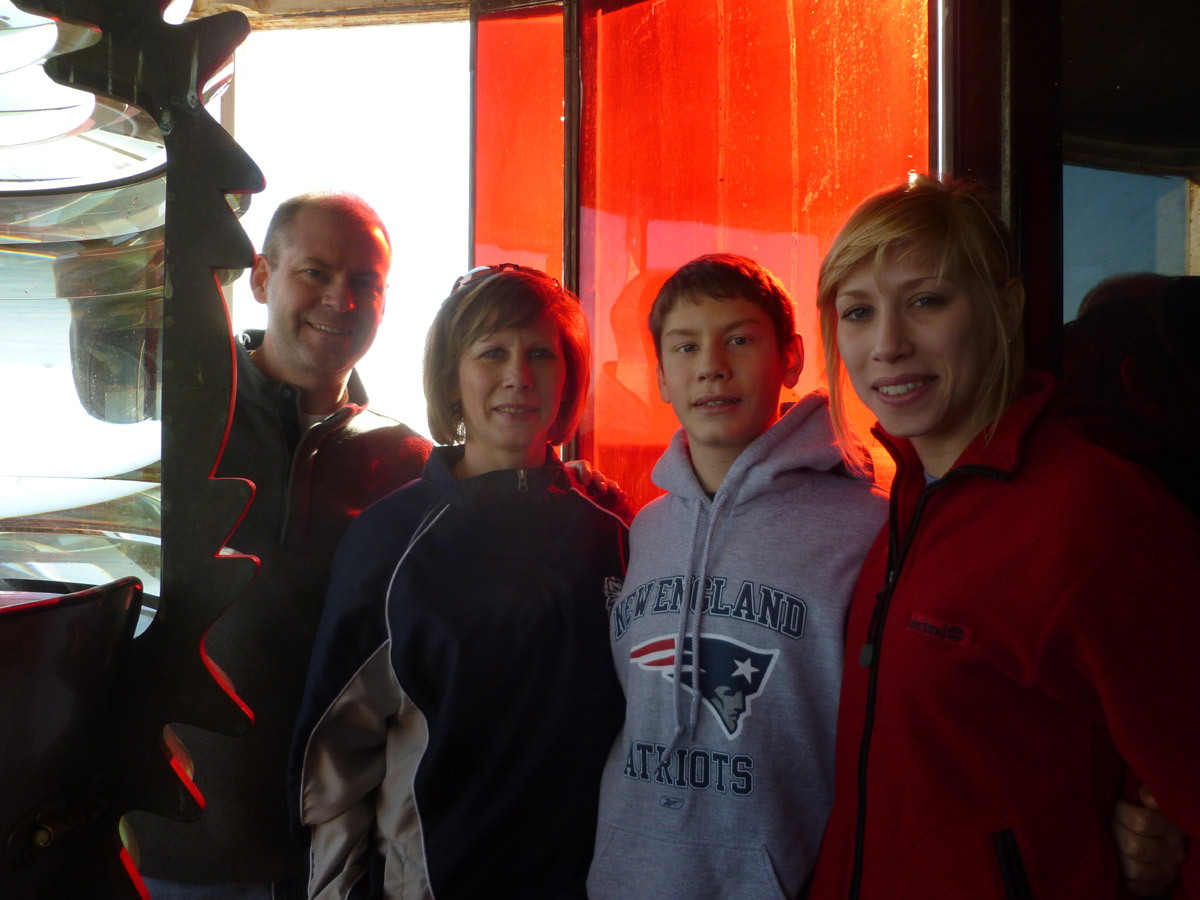 1.6.12 Our super new volunteer, Rachel Perry, and her family got a chance to visit New London Harbor Light this afternoon--and a beautiful day it was, with temperatures reaching 60 degrees! Her family helped revitalize Florida's Pensicola lighthouse. The Perrys moved to Storrs just six months ago and are full of ideas for us!

1.5.12 Planner extroadinaire Bob Getman (left) brought by his records from the last OpSail event in New London, OpSail 2000, for which Bob organized the small boats. Bob's burgee and video tapes now will go into our OpSail collection. Last summer, Bob planned our entire Sentinels on the Sound: Lighthouse Symposium. Retired from the US Coast Guard, he currently is putting together a lecture series about the USCG, to begin at the Custom House in April of this year. Thank you, Bob!

We've just reopened after the holidays and started tallying contributions to our Annual Fund. At bottom, four present and past New London Maritime Society treasurers: Bill LaRoue, Alan Lyon (current treasurer), Archie Chester and Russ DeMarco, gather to celebrate our excellent returns--over $5,000 to date!

1.6.12 We had a stellar day, temperatures at 60 degrees, & then a birght full-moon night.

Jason & crew (below) could have been working in frigid snow.

As it was, the City's holiday decorations came down on a sunny, warm, spring-like day.

1.6.12 Head Docent Bill LaRoue was happy to welcome back  Saturday volunteer Leanne, a USCG cadet, who worked with us last fall and returned to help out at the front desk all afternoon.

NB: We need a minimum of two volunteers to staff the museum: a docent to lead the tours and a greeter to let people in, answer the phone, and coordinate tour groups. If you would like to give it a try, please email the director
HERE
, and put the word 'Volunteer' in the subject heading. We can use help at the front desk when the museum is open; January through March, Custom House house hours are Thursday through Sunday, from 1 to 5 PM.
We also need helpers, like Rachel Perry, to work on special projects. Rachel and her brother Joe spent Saturday afternoon painting two galleries at the museum in preparation for our next exhibition. A student at UCONN Avery Point in marine biology, Rachel also is organizing a new exhibition for the museum -- about whales and New London's new Whale Tail fountain.

An extremely capable girl, Rachel succeeded in bringing her whole family into the picture to volunteer both muscle and expertise and help with some rather tricky moves necessary to clear our our front gallery. Thank you to the entire Perry family.

To see what happened last month at the Custom House, click
HERE.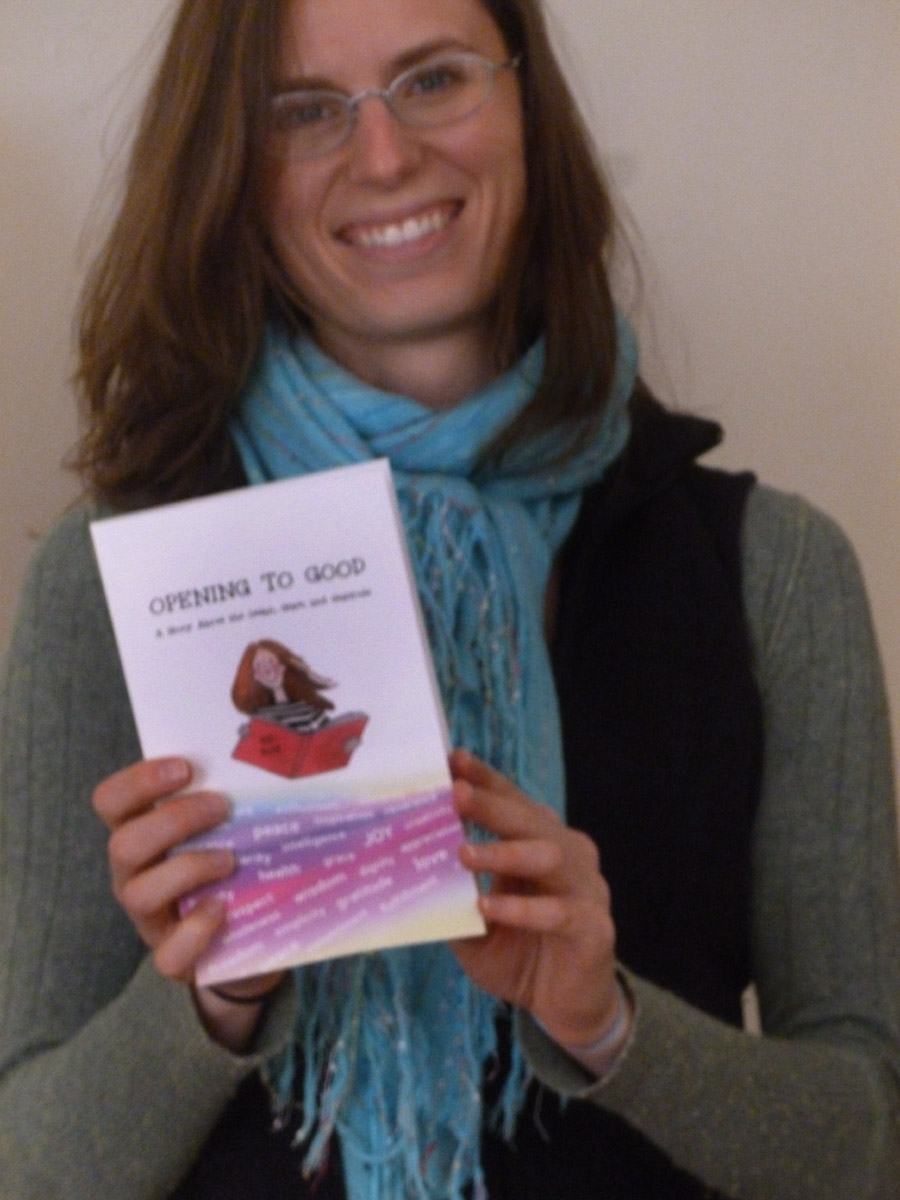 1.8.12 Although it was Monday, we got a lot done today behind the scenes. Rachel Perry came in to help, as did Scott Lang, who'd been off on his tug, Pegasus, through the holidays. Anne Kubitsky came by, too (above), with a copy of her new book, the subject of our next exhibition.

On Sunday, Lindsay Kreuter had left off a business card from her new bakery & cafe, Sweetie's, which is just a half-block down Bank street! Working with Bruno from Chaplin's. Lindsay won in the best tasting category in our lighthouse cake-off competition back in July. Ever supportive of Lindsay, & our neighborhood, we all headed over to have lunch...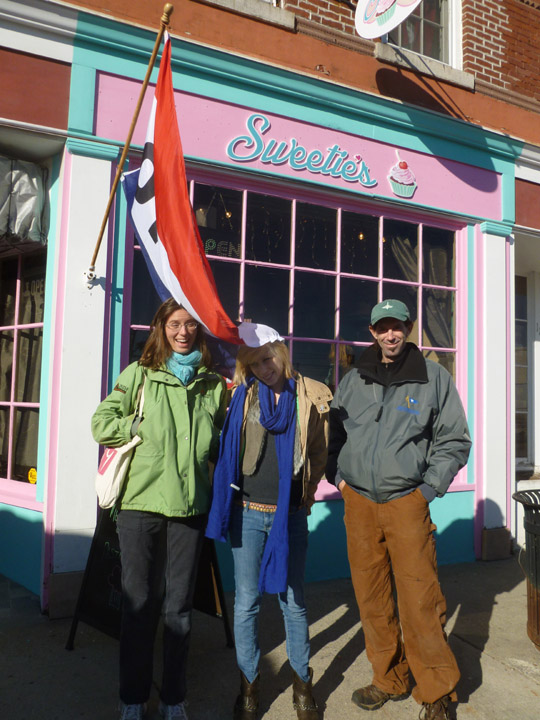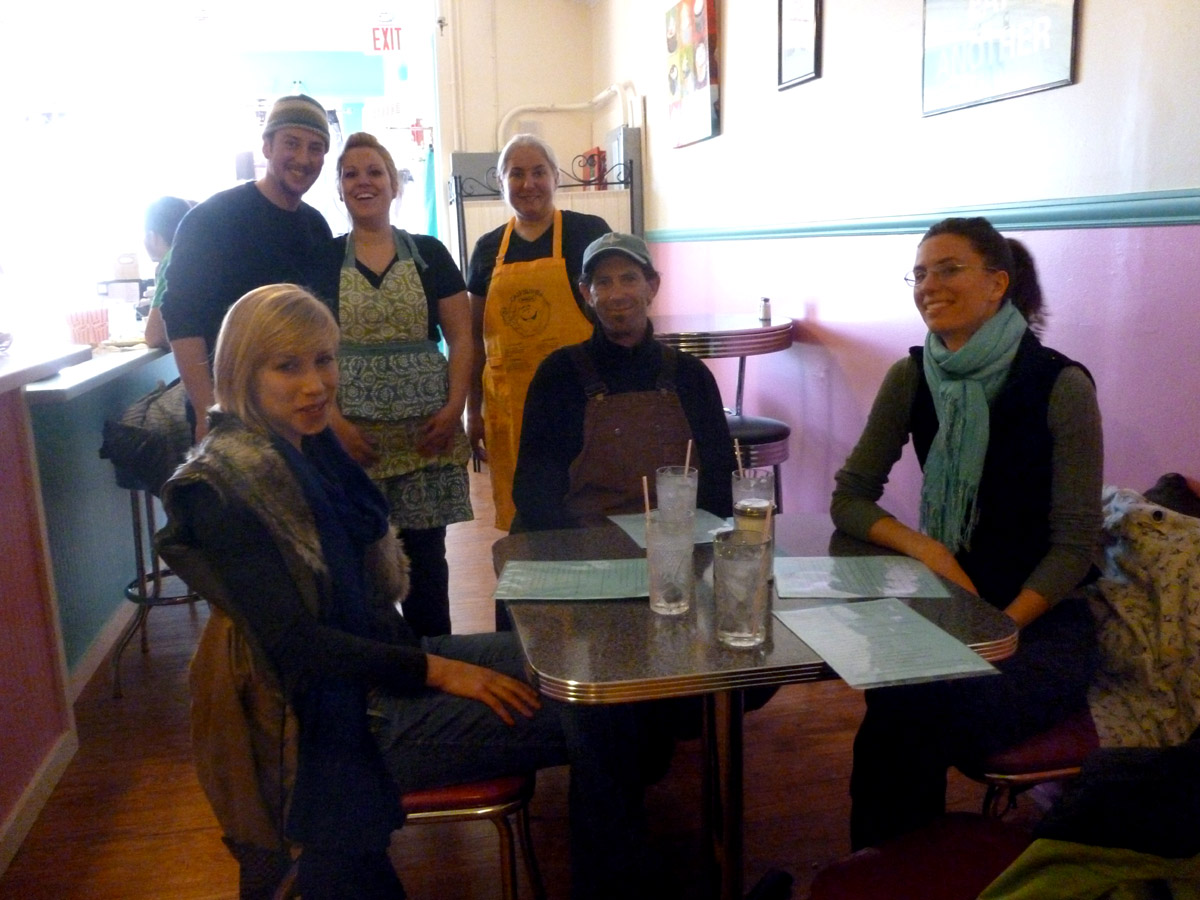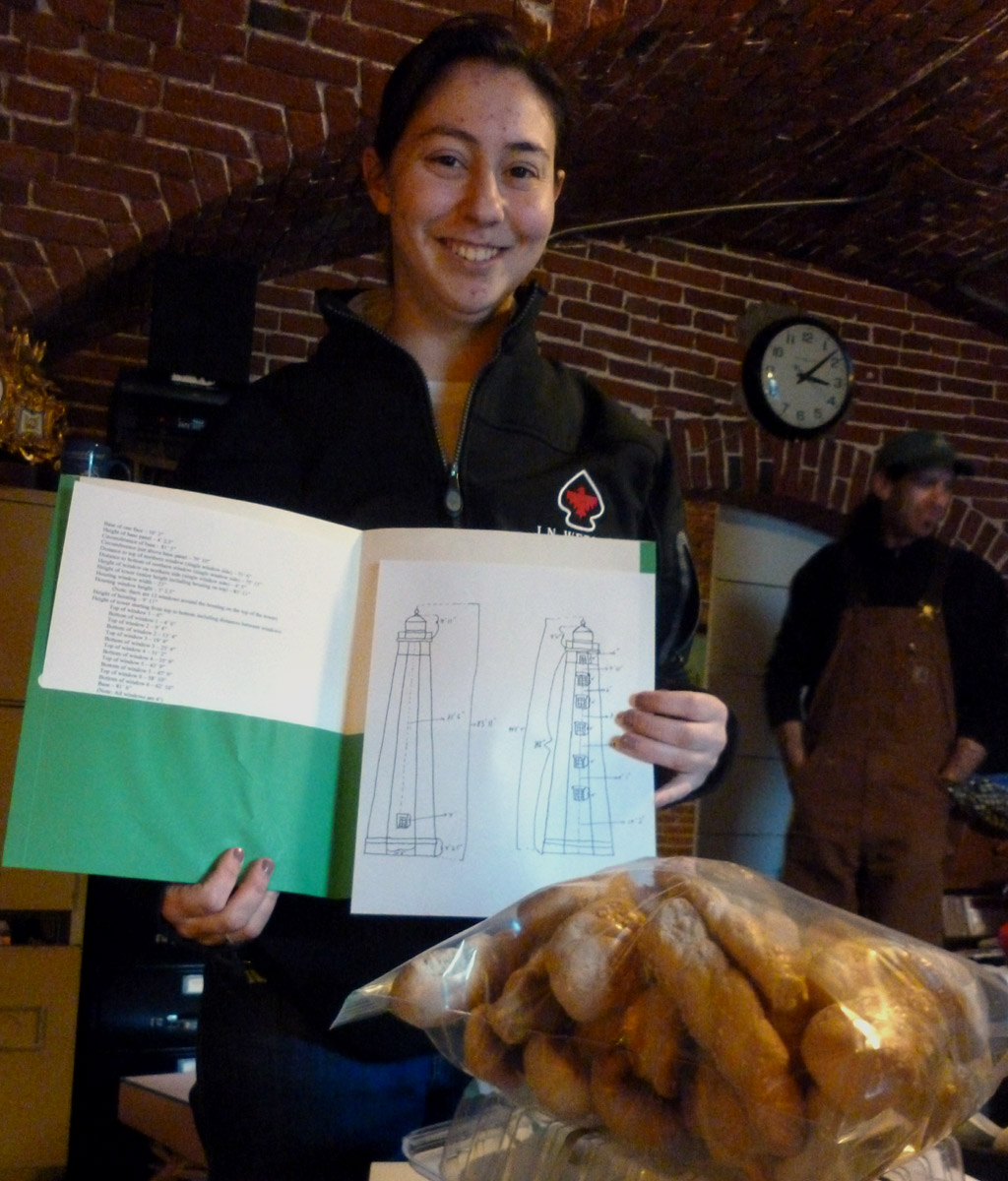 1.8.12 Later this afternoon, our friend Amanda Balassi brought by the final report for her Sea Scouts Quartermaster project. Amanda's assignment, to manage a through cleaning of our lighthouse and then measure and create working dawings for New London Harbor Light, was a challenge! Congratulations, Amanda!

As a thank you to the Custom House, Amanda brought us some of those famous Greek cookies featured in our One Big Table dinner. It was a fittingly sweet end to a delightful day!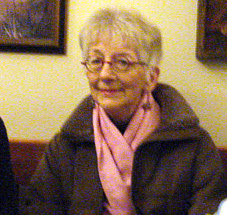 1.10.12 We mourn the loss of our dear friend Ruth Nagle, a terrific docent and loyal supporter of the Custom House.

Ruth, you will be missed.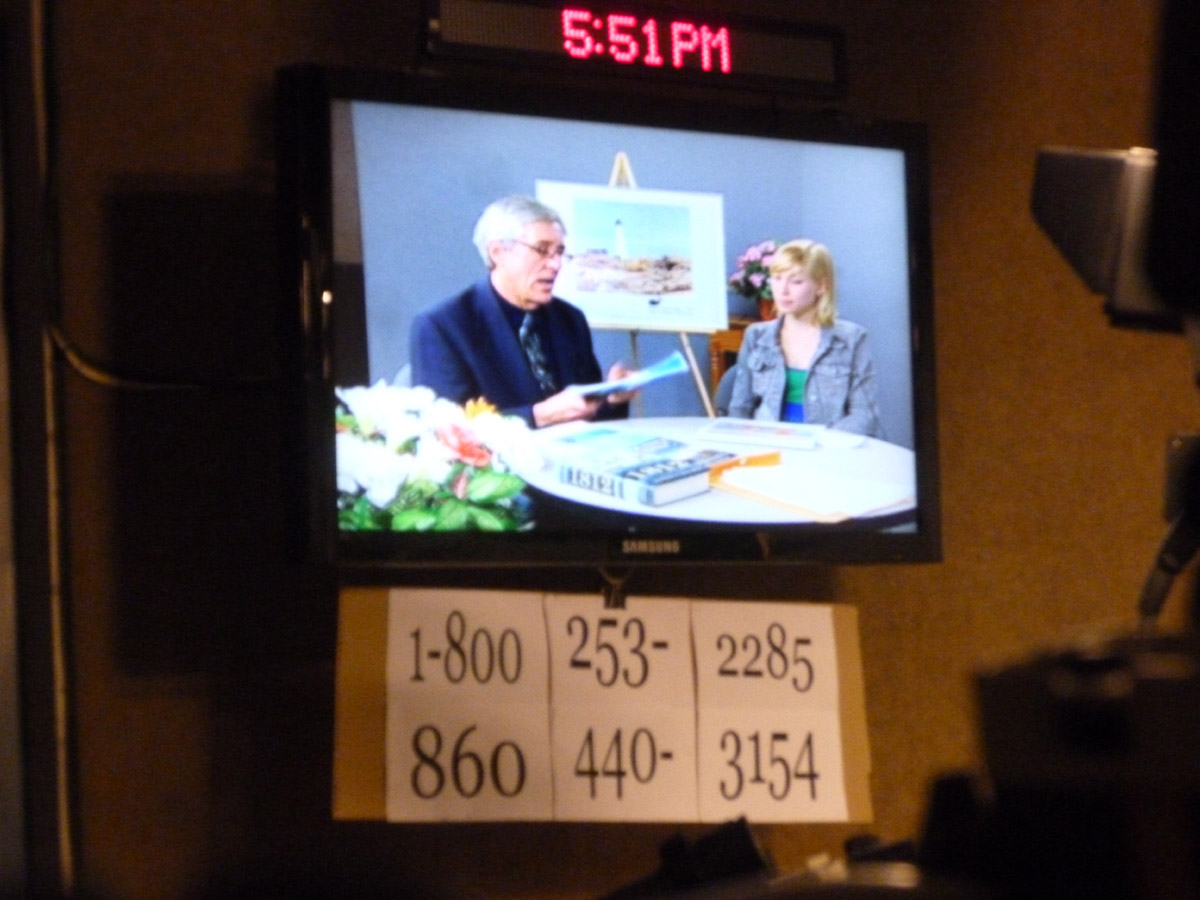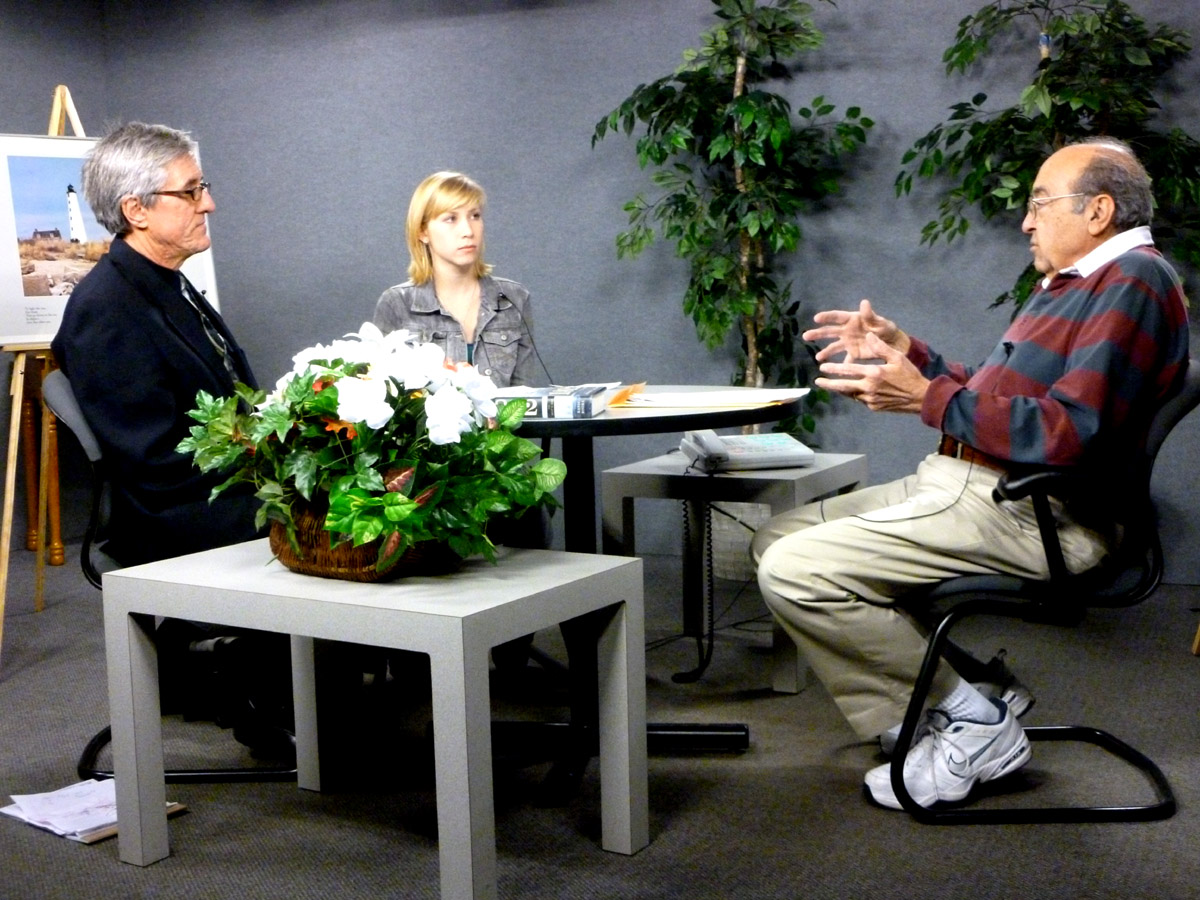 1.11.12 T
his week's guests on
Custom House Maritime Matters
, (hosted by Dr. George Sprecace), were
CT Fund for the Environment'
s Program Coordinator
Curt Johnson
and NLMS (New London Maritime Society) volunteer
Rachel Perry,
a marine biology student at UCONN Avery Point. They were there to discuss issues raised by he just-released
State of the Sound
report. One in ten people in America live within In addition to evaluating recent regional efforts to curb pollution, the report presents suggestions for positive changes individuals can make to help!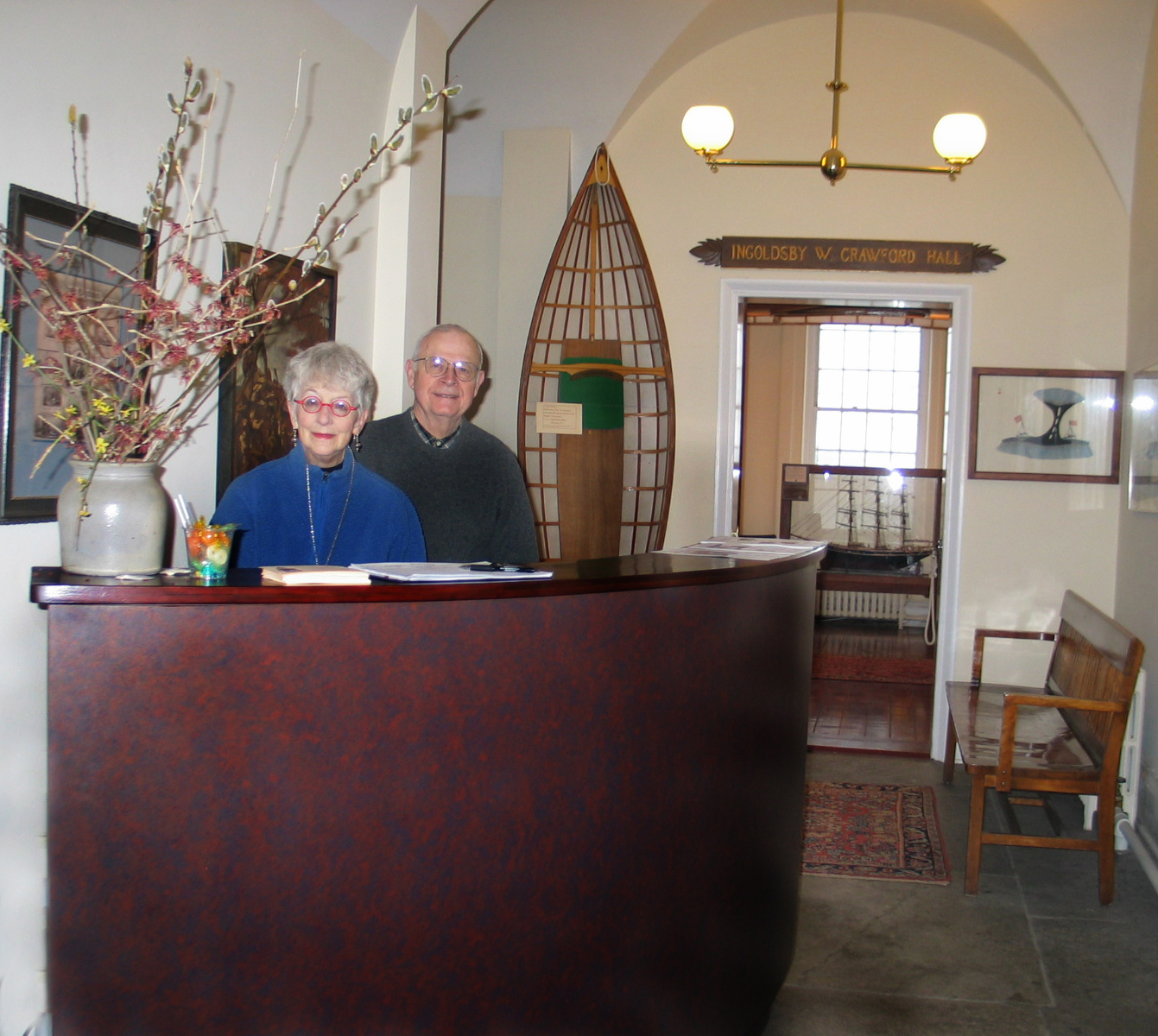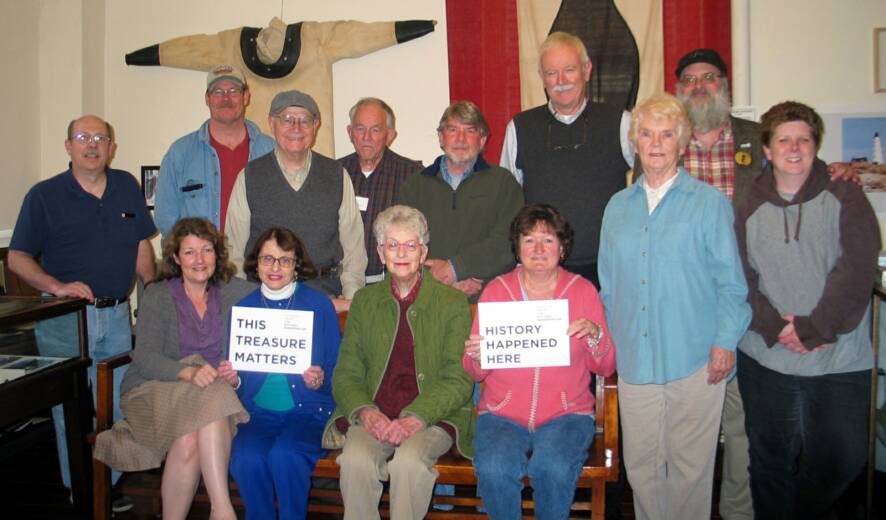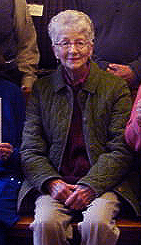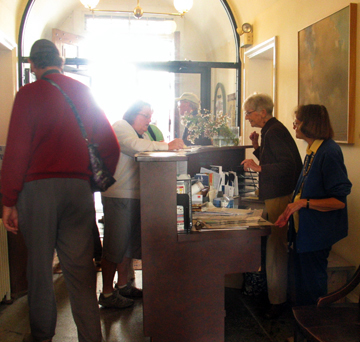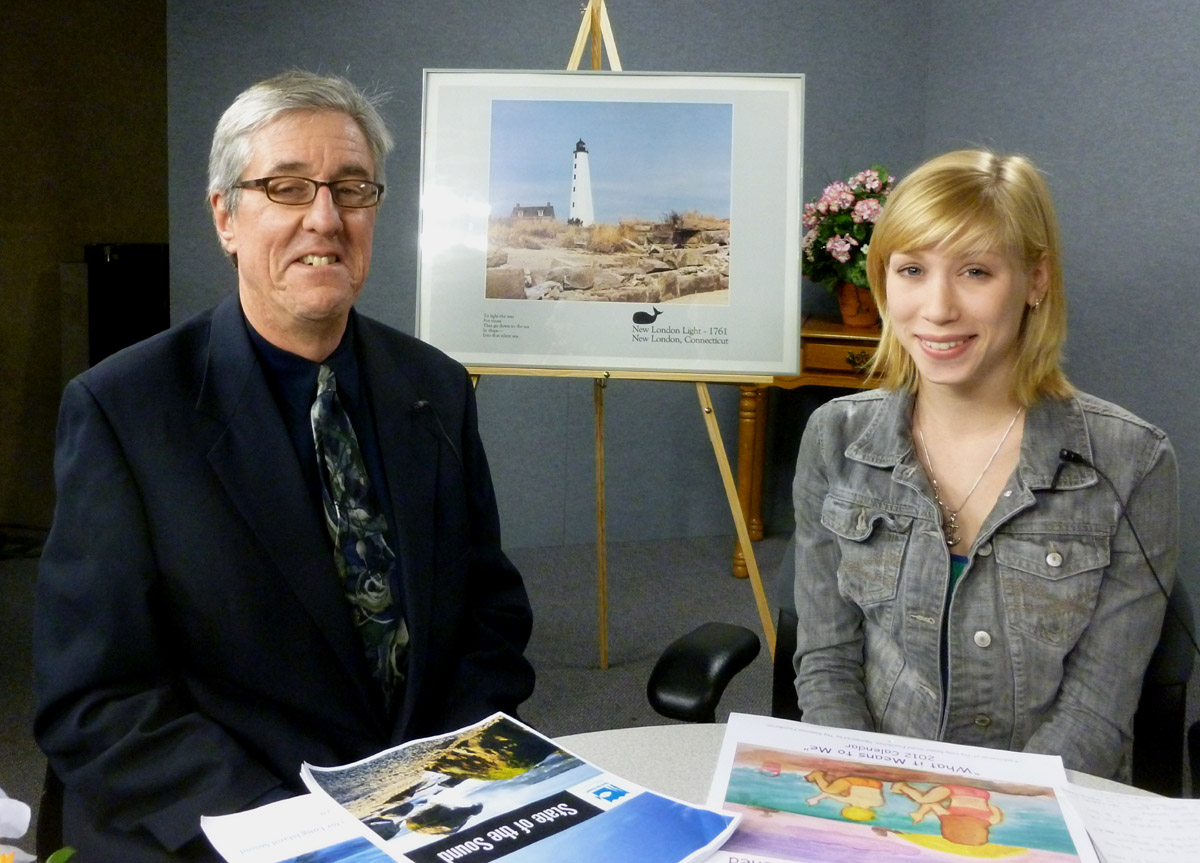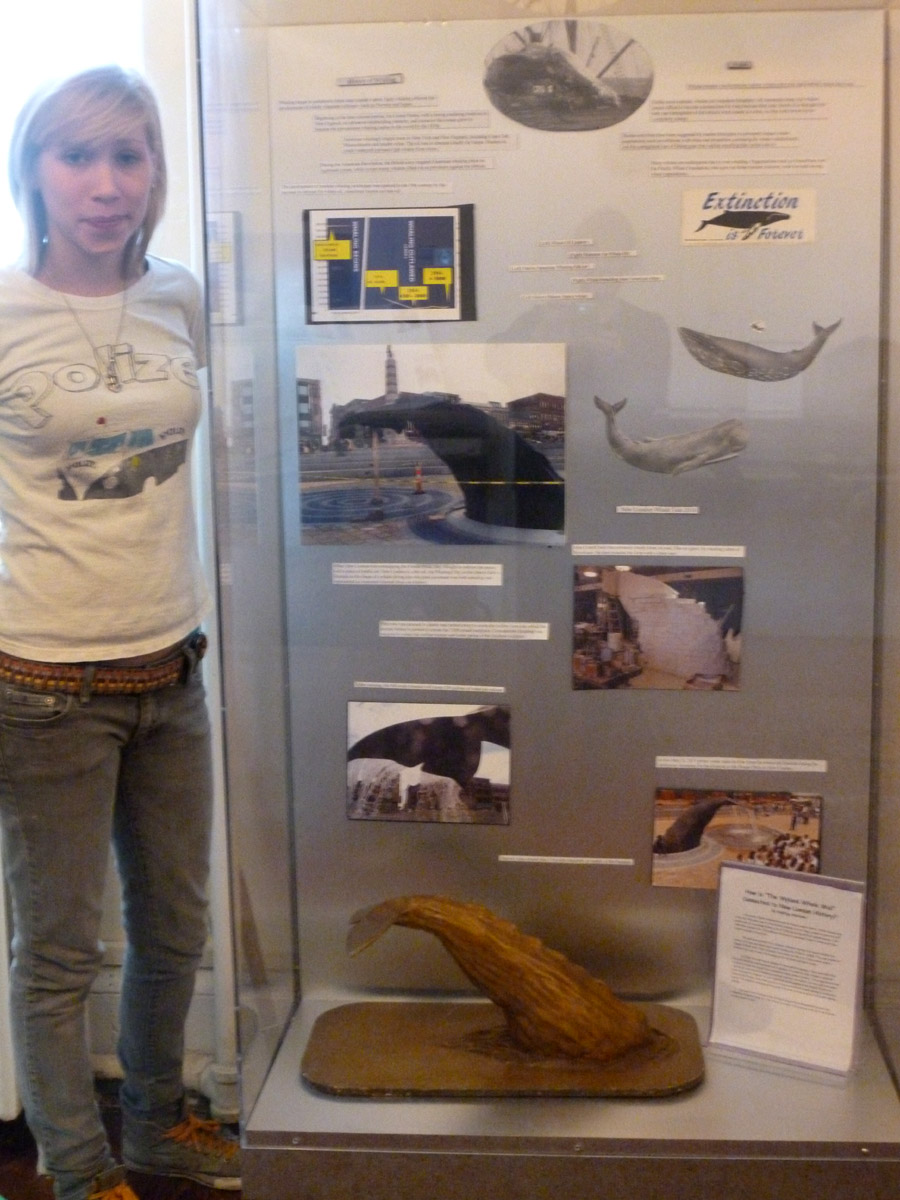 1.12.12 It wasn't exactly Rachel Perry's last day. but it was the last day she'd spend working at the Custom House for a while. Rachel has been volunteering here between semesters at UCONN, and in that time she has accomplished a lot. Today, she finished up a display about whales--from the old whaling heyday of New London's storied past to Alan Cottrill's creation of the new Whale Tail Fountain on Parade Plaza. Thank you, Rachel, for putting the whale back in the maritime museum!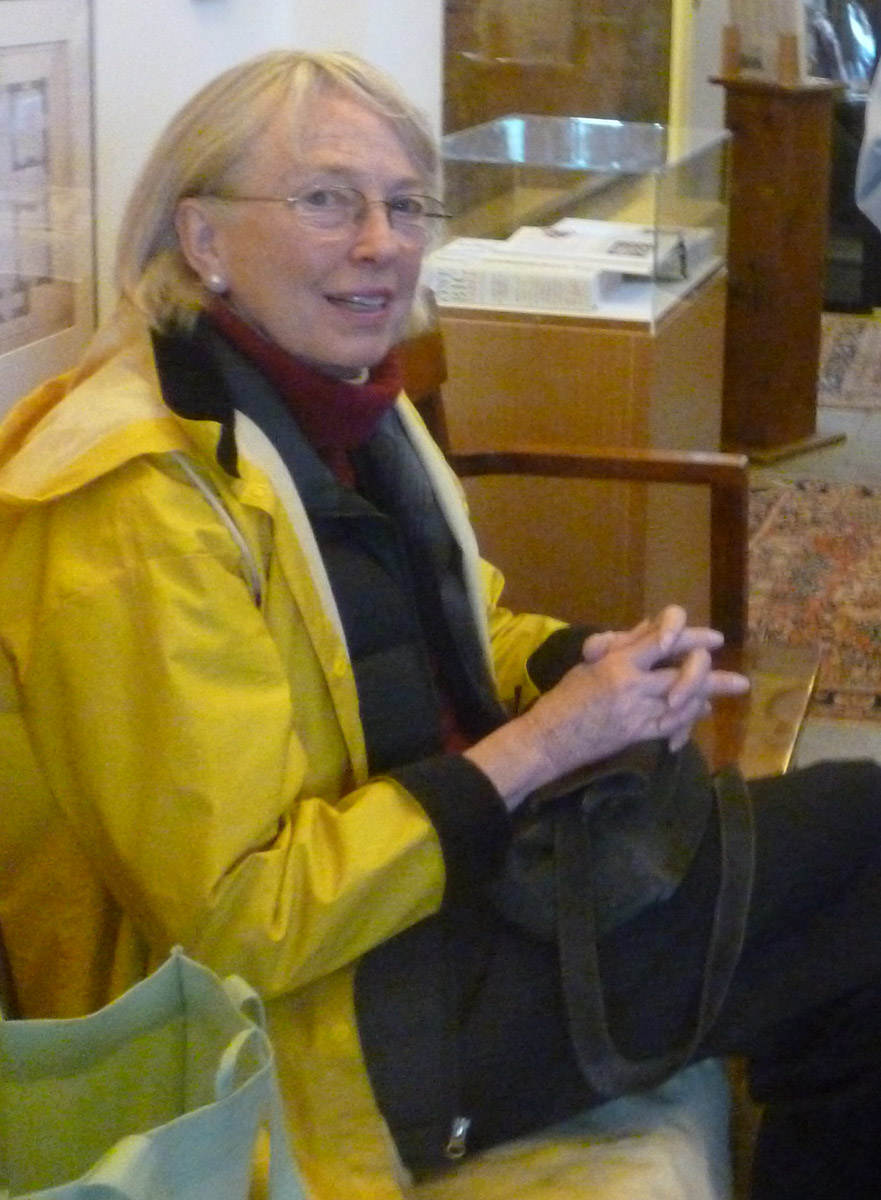 1.12.12 Trustee Alice Houston is finally back from Berlin!

Happy Birthday, Alice, just a few days late!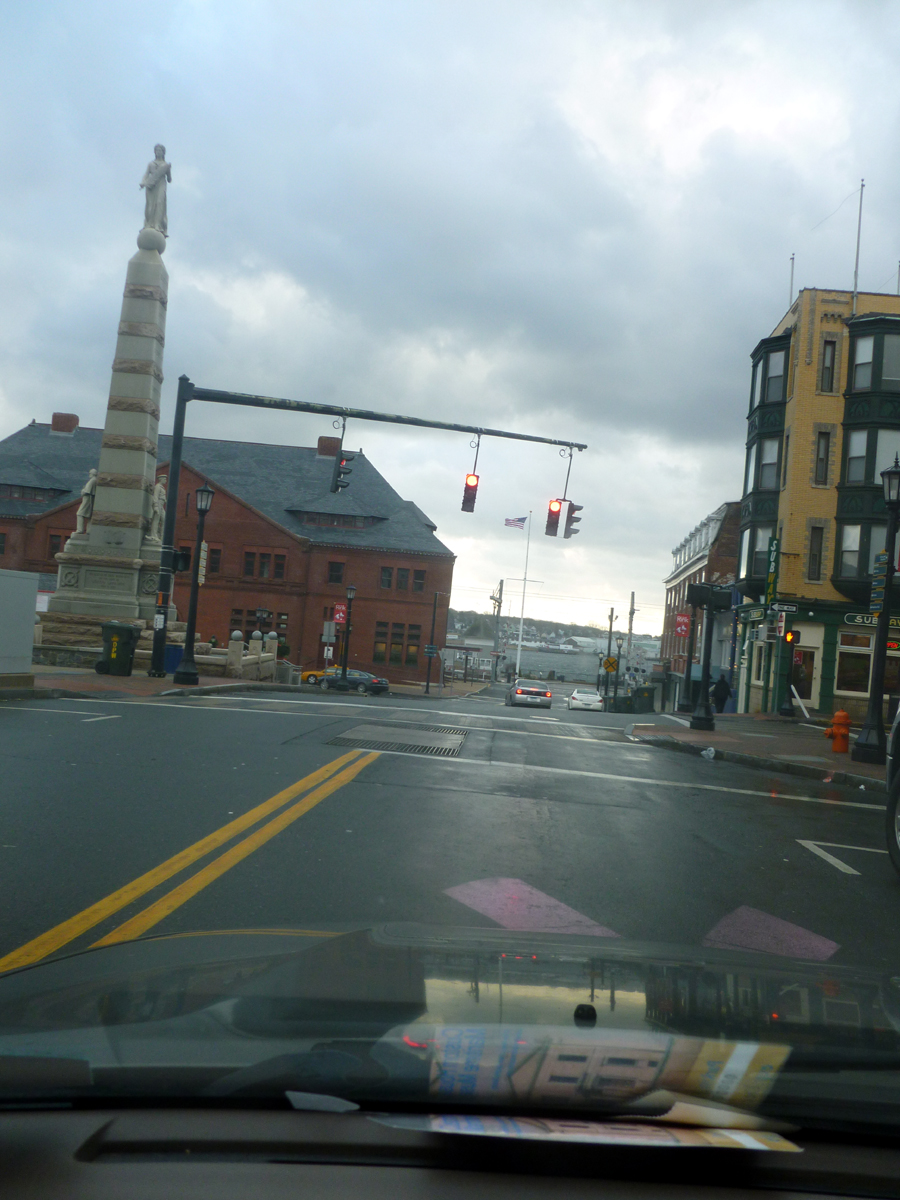 January morning in New London.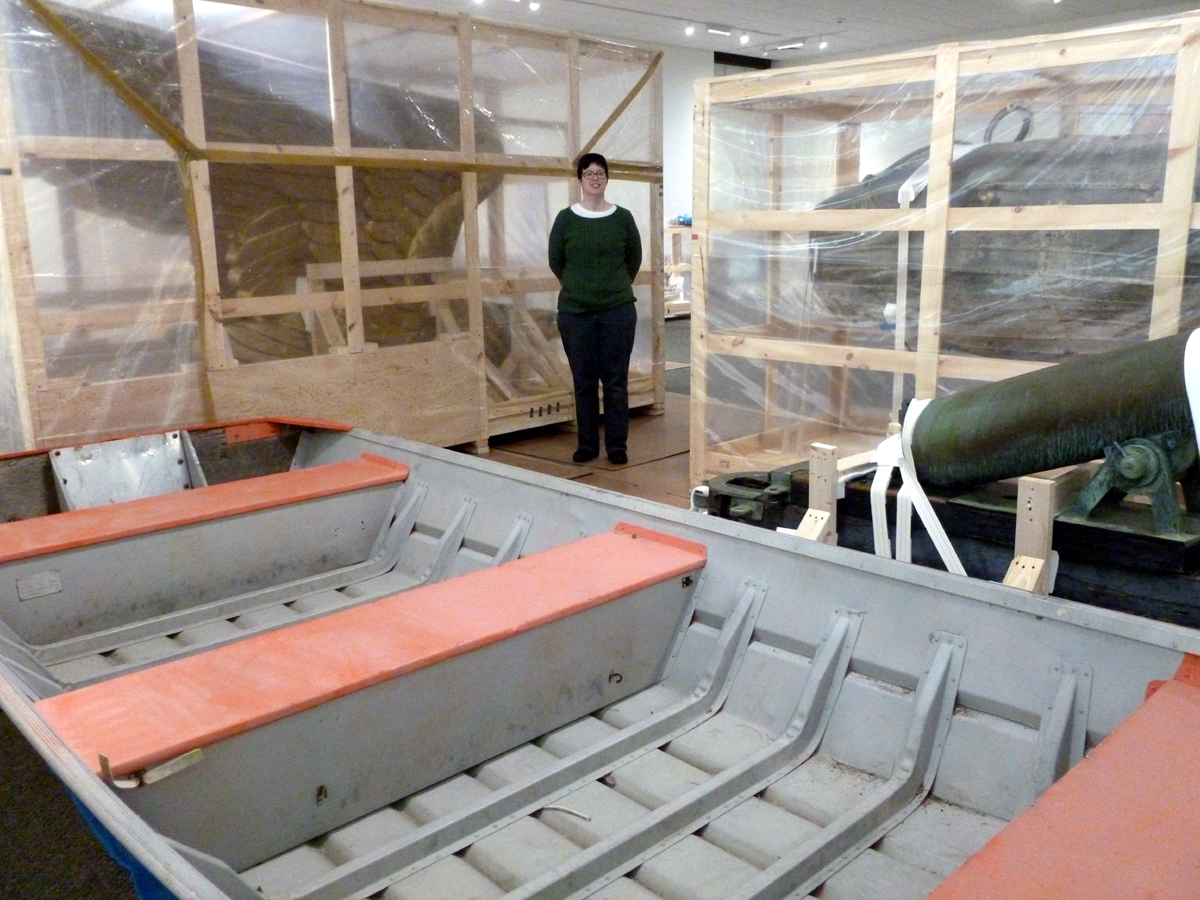 1.13.12 Warm, almost 50 degrees this morning --a good climate to get out and visit curator Jennifer Gaudio, who is in the thick of rennovations to the USCGA museum. That's the Eagle's original eagle in the crate to the left. The museum is scheduled to reopen in May of this year.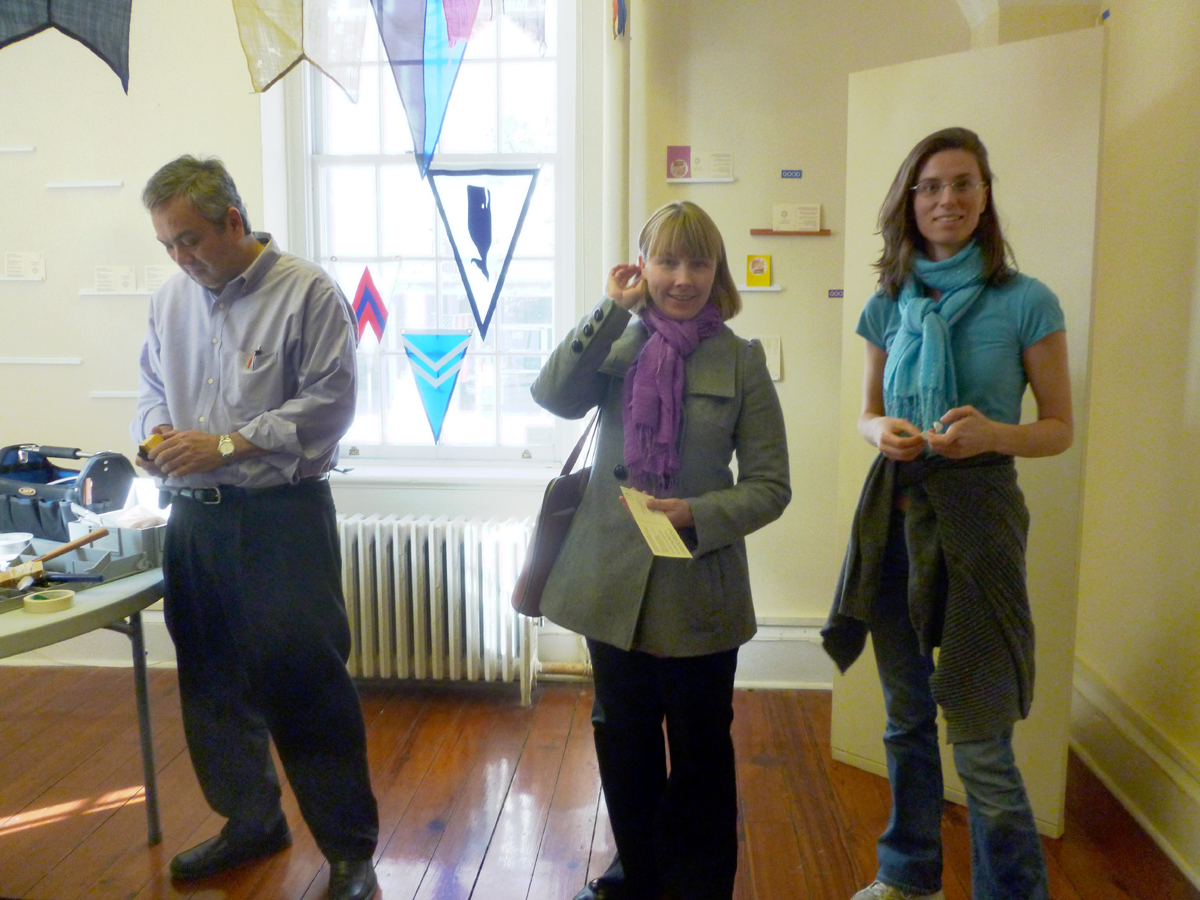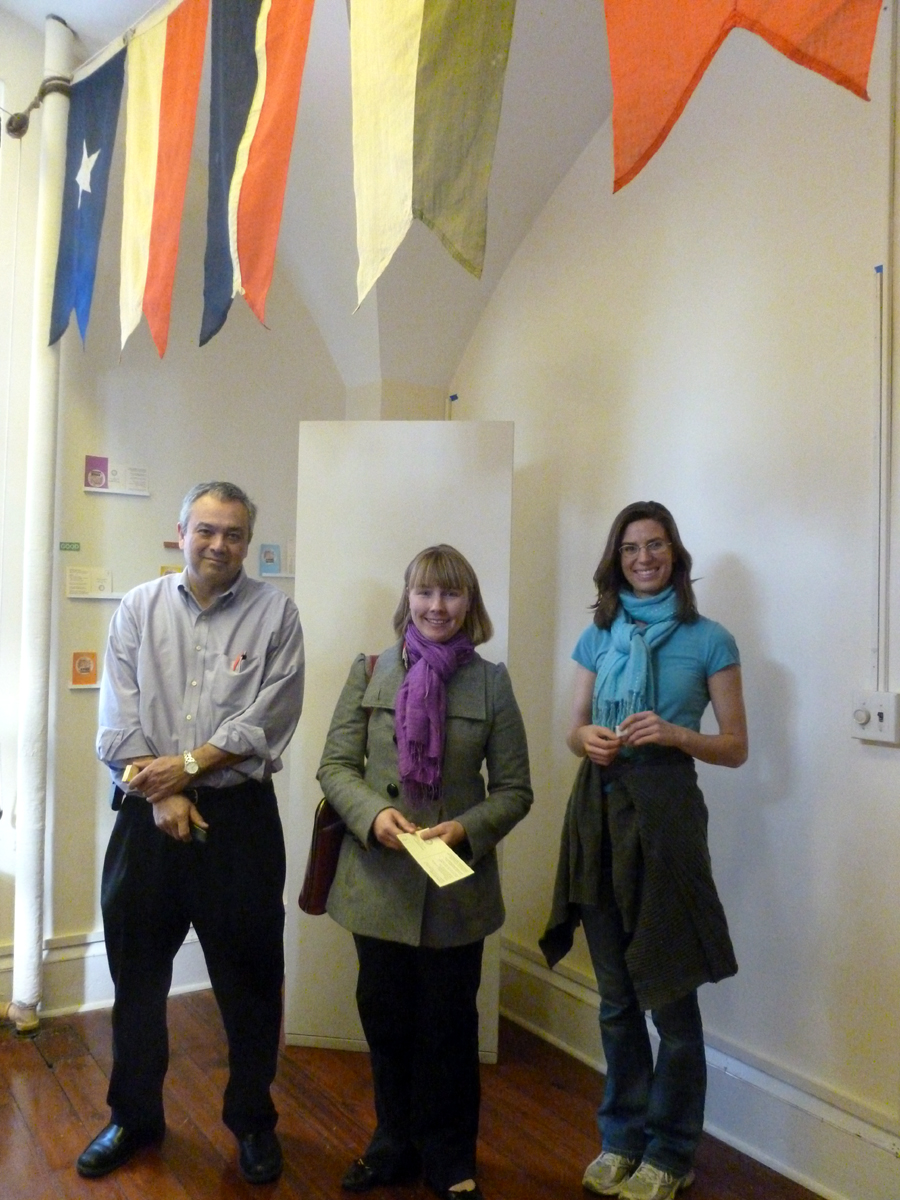 1.13.12 Anne Kubitsky has begun installation of "Opening to Good" & was here today with artist Rich Navarro starting to get things into place for the January 28 opening. Stopping by is Kristin Clarke, the new director of the City's planning & economic development office.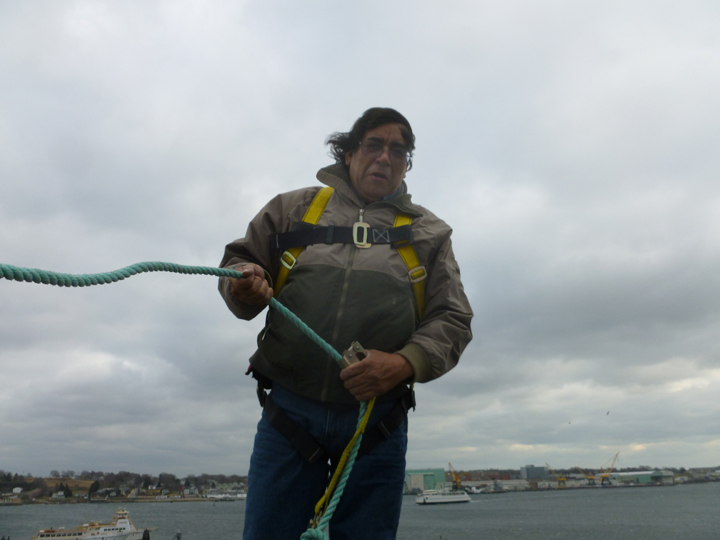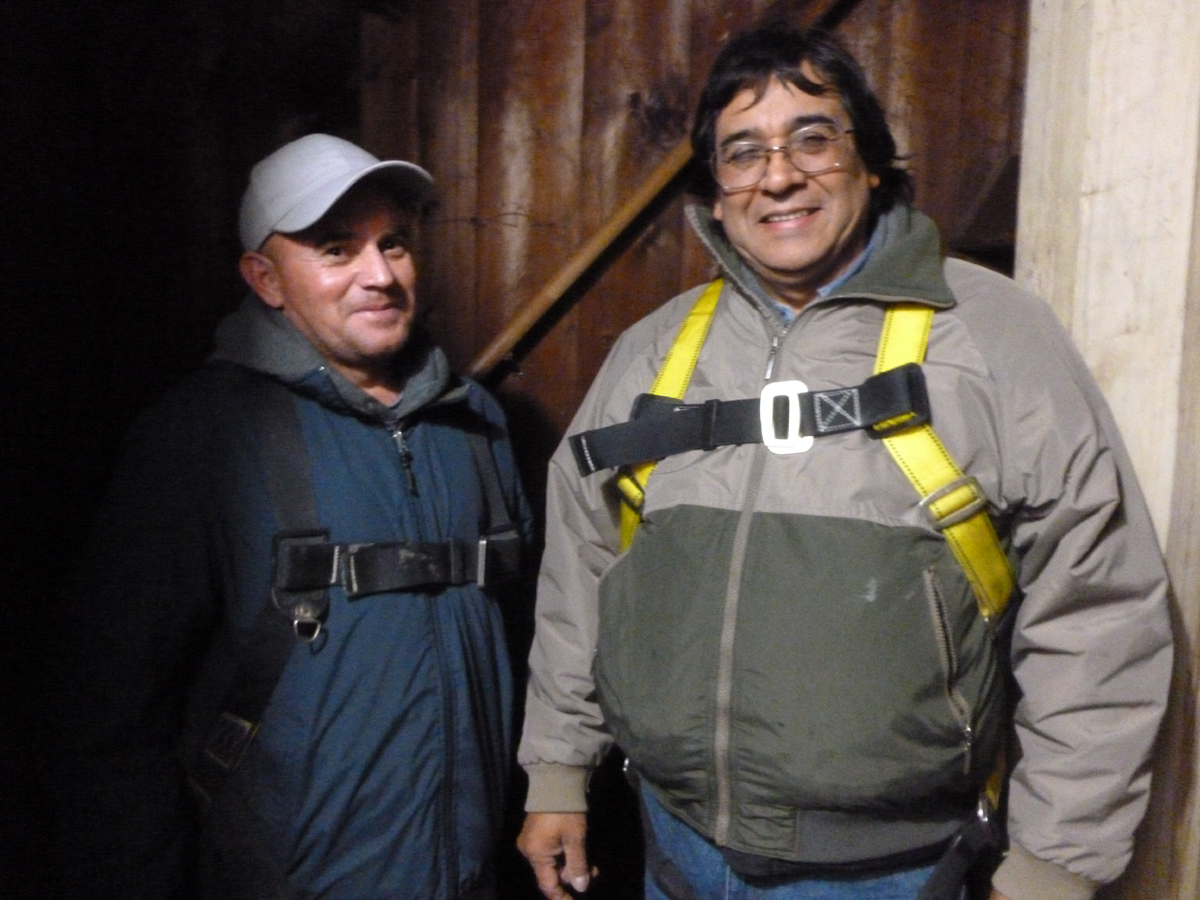 1.13.12 After a balmy AM, the wind came up and temperatures sank --unfortunately for Patricio Montenegro, who drove here from Boston to check out our roof. But he got out there, anyhow.

Two years ago, Patricio gave our roof a temporary fix, so that we would have time to research a permanent and historically-appropriate solution to a water-penetration problem that dates back to 1836--one year after the building opened. (A major  problem in the design is that the building has interior gutters.) 

Unfortunately. a combination of seagull feathers and Pawlonia tree leaves plugged the gutters, and water was back inside the museum a little sooner than expected. Thanks, Patricio, for getting that straightened out for us today!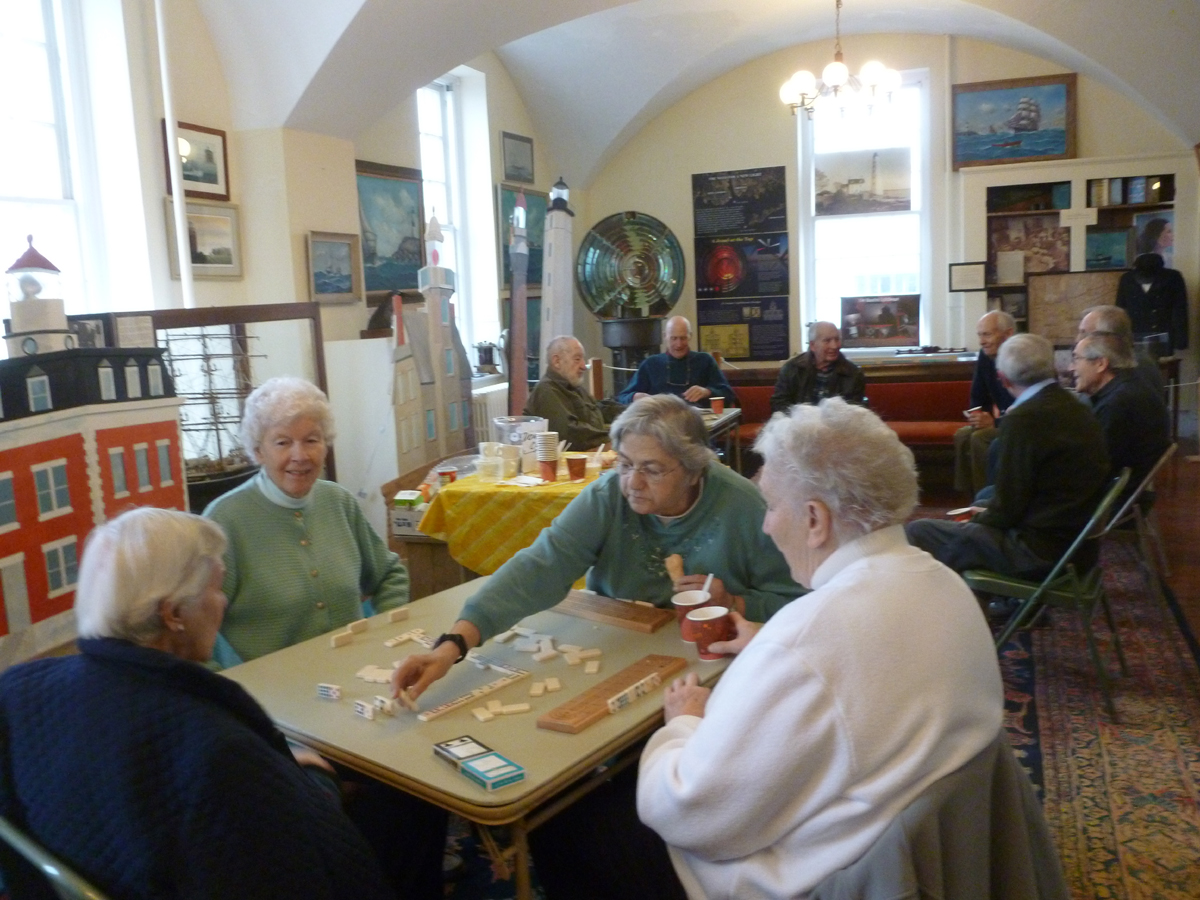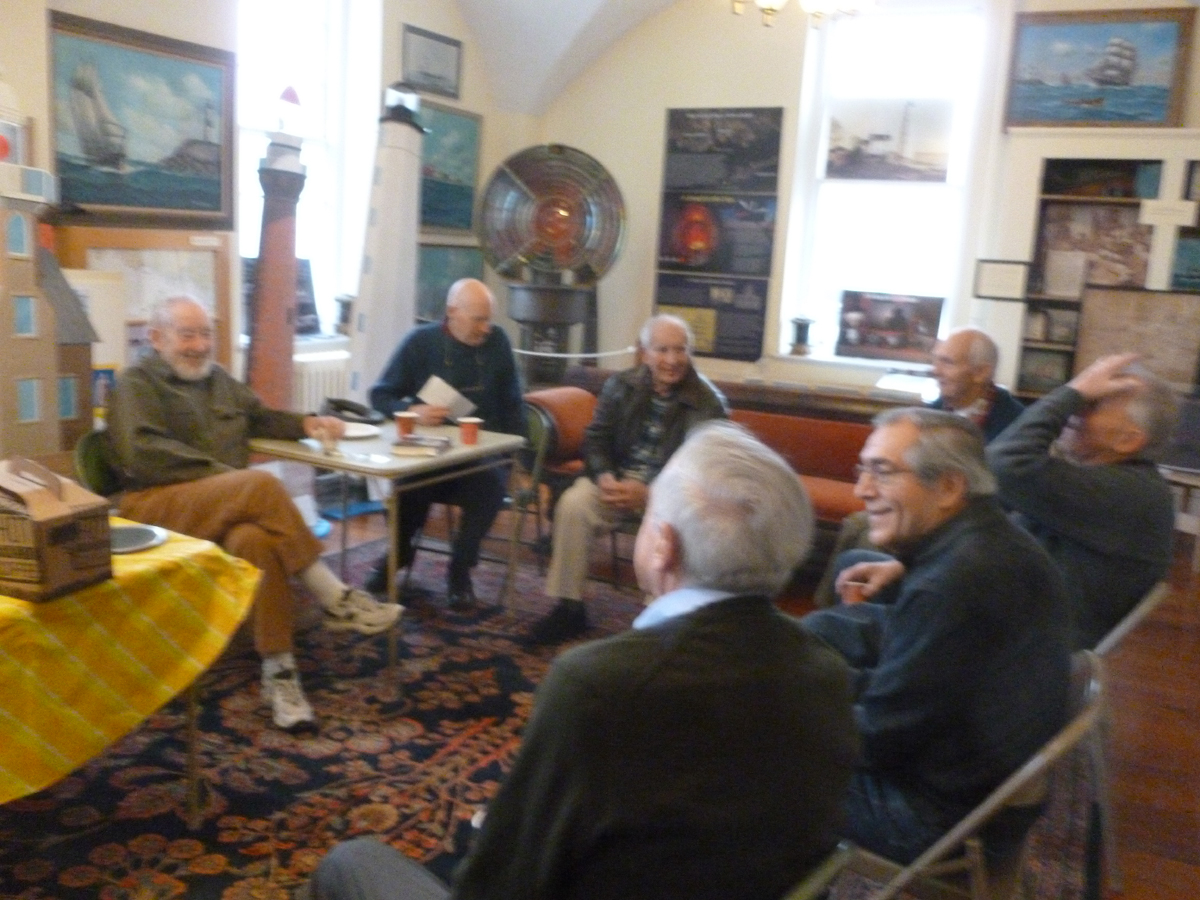 1.17.12 GAM today! --& we had a great turn out.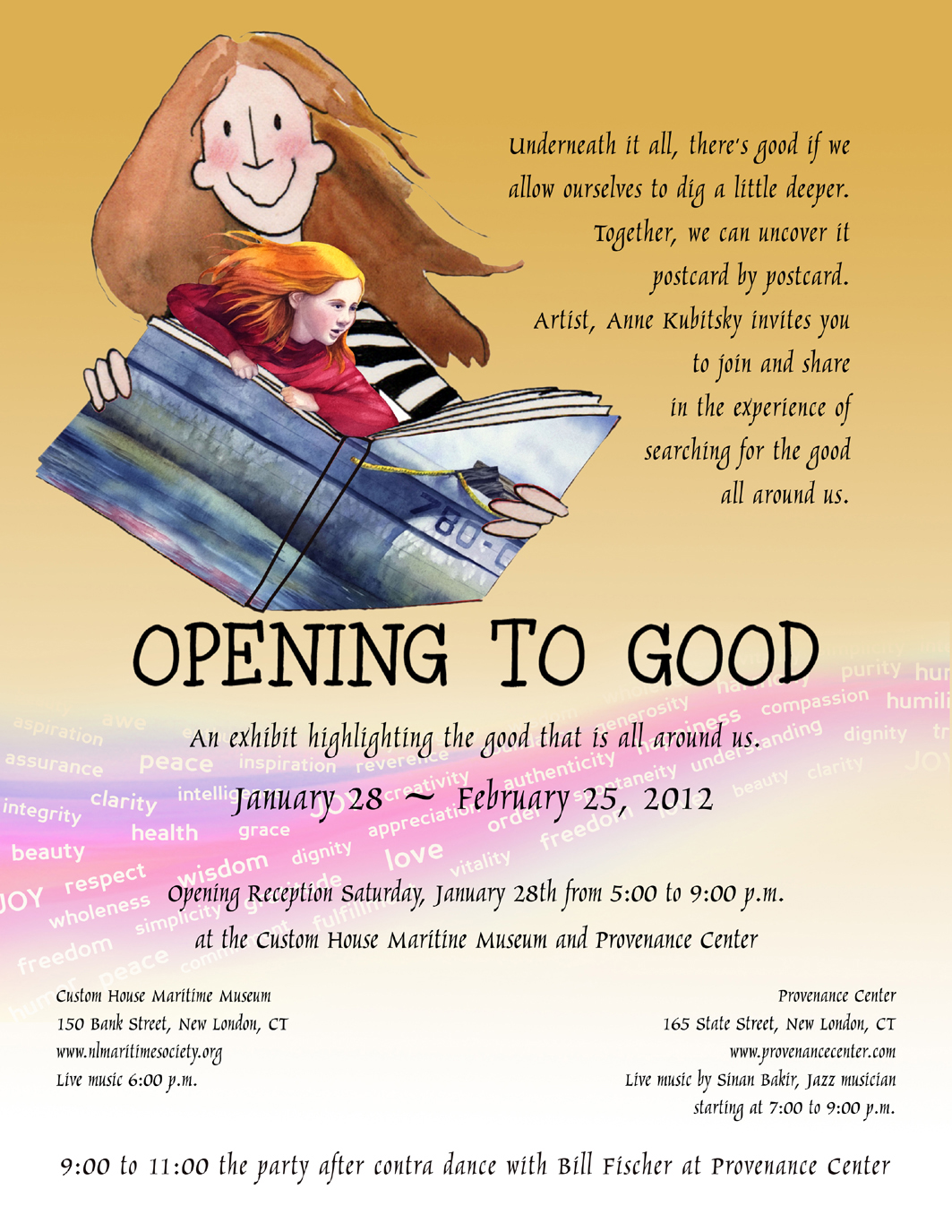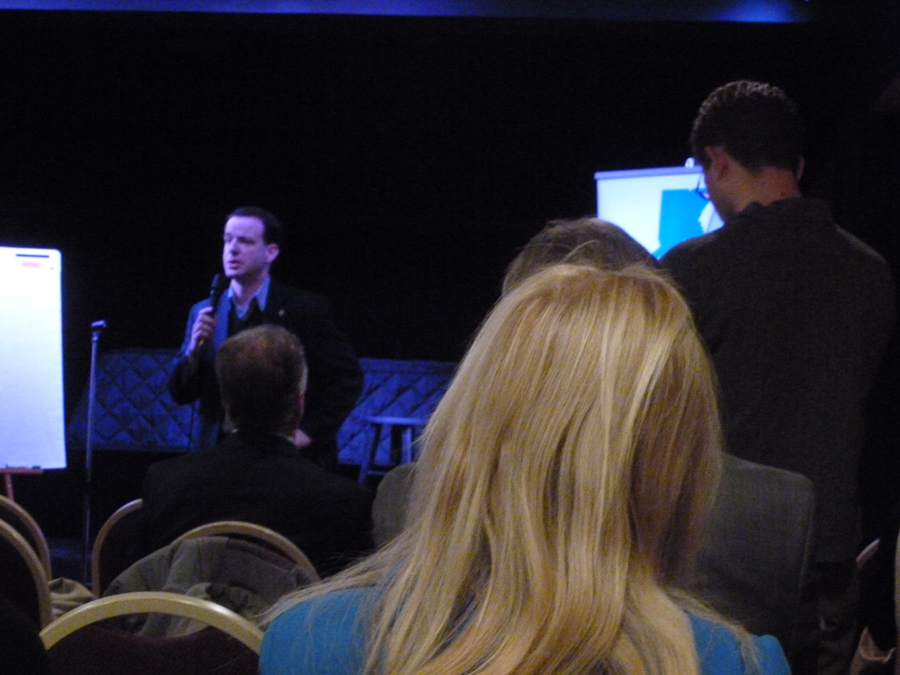 1.18.12 New posters for Anne Kubitsky's exhibition(s) -- ot's in two veues--go out. Nadesha Mijoba, director of the Provenance Center found a wonderful way to merge the images of the two part of the exhibition (see left).

Above, the State of the CIty address by the mayor was delivered this morning at the Garde Theatre.

1.18.12 Lots of meetings this week: the Chamber of Commerce's State of the City report, the New London's art galleries'  planning session for year two of NLart Night, and tomorrow a regional Economic Forecast breakfast & NL Local First's dinner! January is drawing to an end and things are starting to move!

NL Community Orchestra
was in
The Day
to promote their next concert, next Sunday (click
HERE).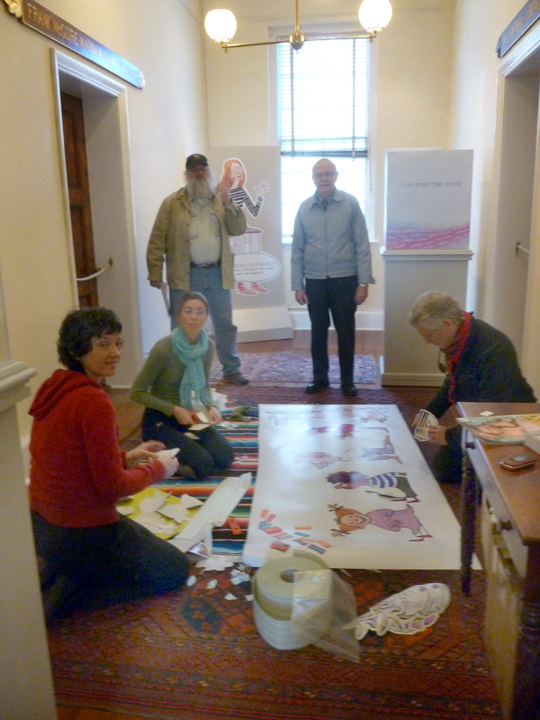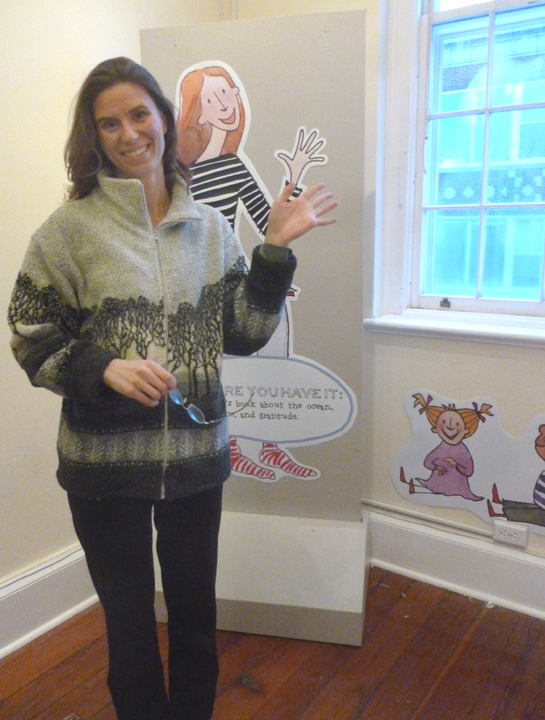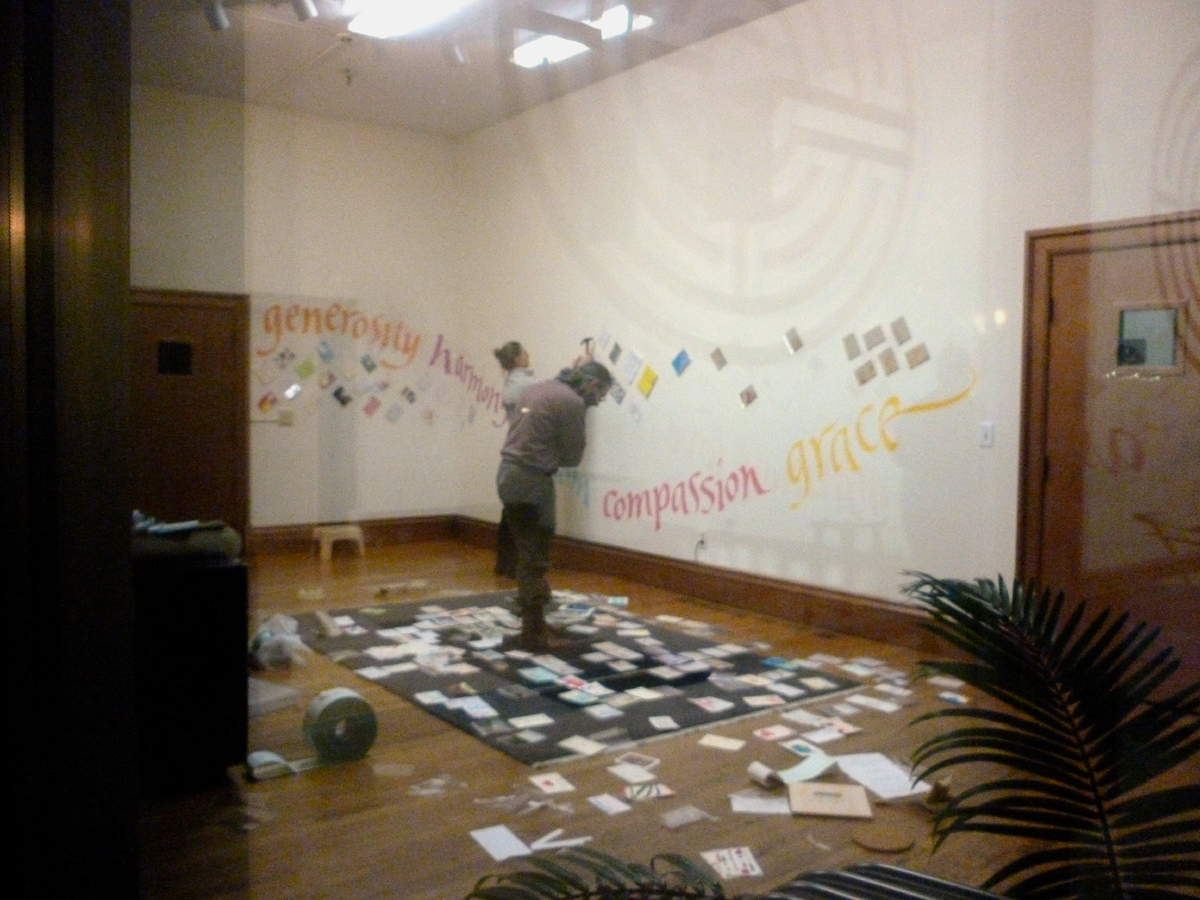 1.19.12 With about one week to go until her two openings (at the CH and Provenance Center above next Saturday night, January 28). Anne Kubitsky has been working both places, & bringing in friends to help with the installations.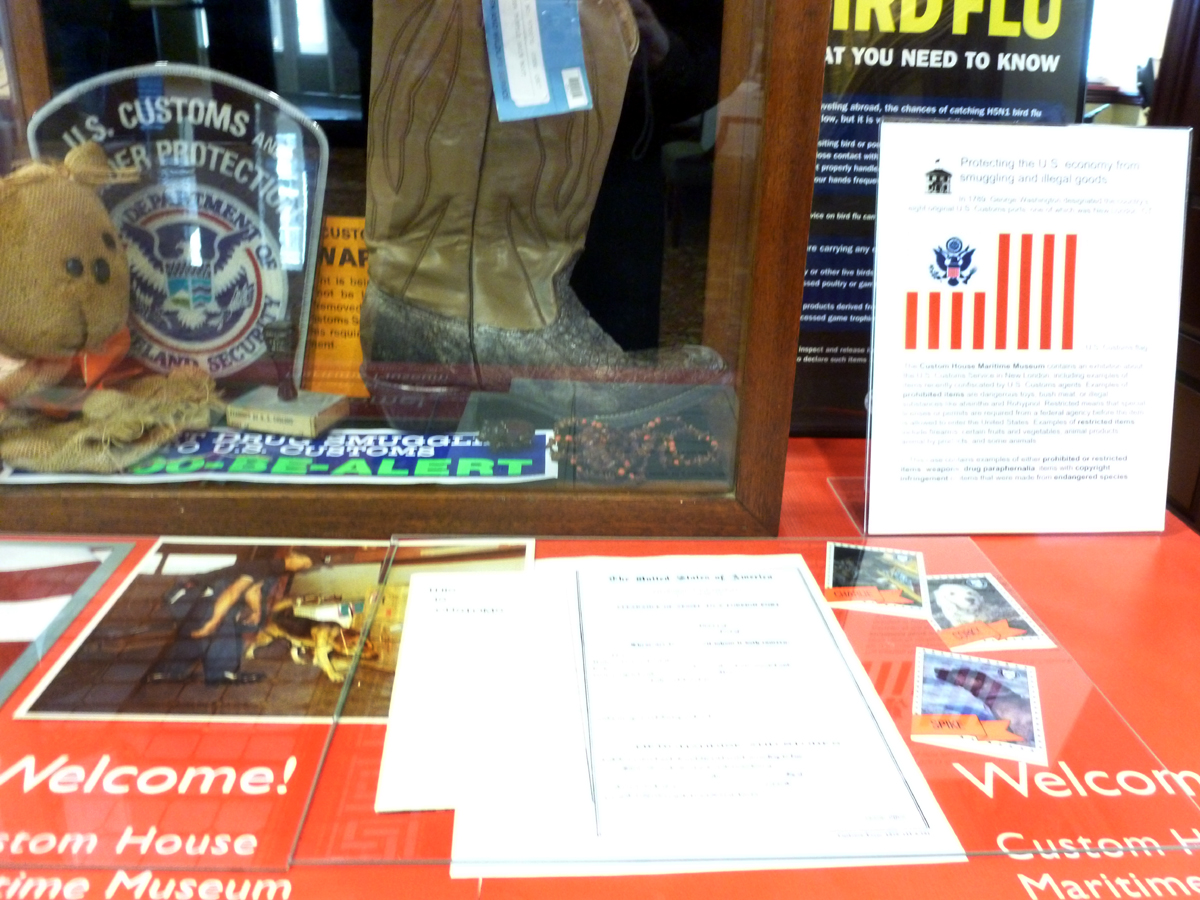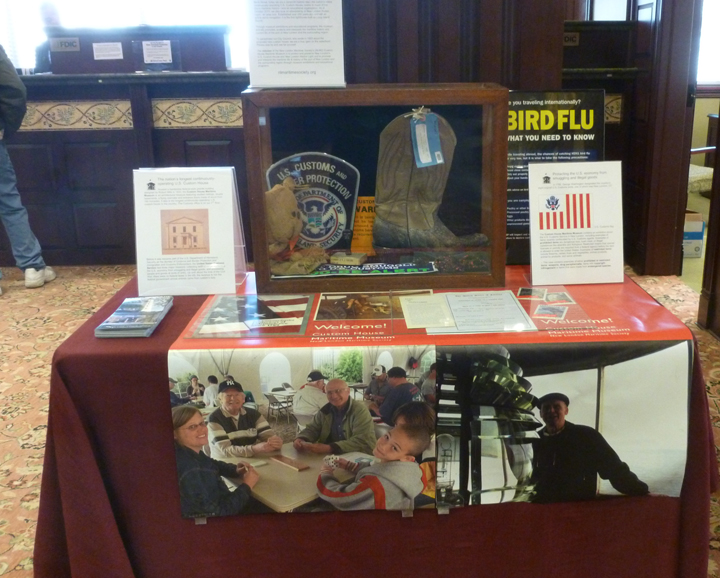 1.19.12 The Custom House installed a small display on U.S. Customs at our local Bank Street branch of the Chelsea Groton Bank. Items in the case were seized by customs agents.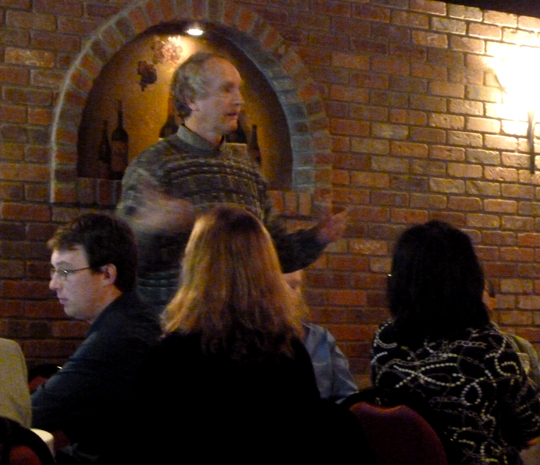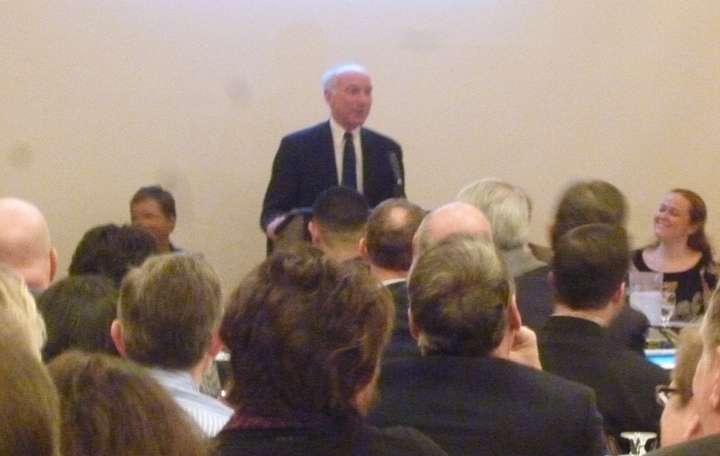 1.20.12 Everyone is talking about the economy. Last night it was at New London Local First's annual dinner - held at Tony D's. This morning, it was at the Chamber of Commerce's economic forecast breakfast with Joe Courtney. Things, they say, appear to be improving, albeit a fragile start.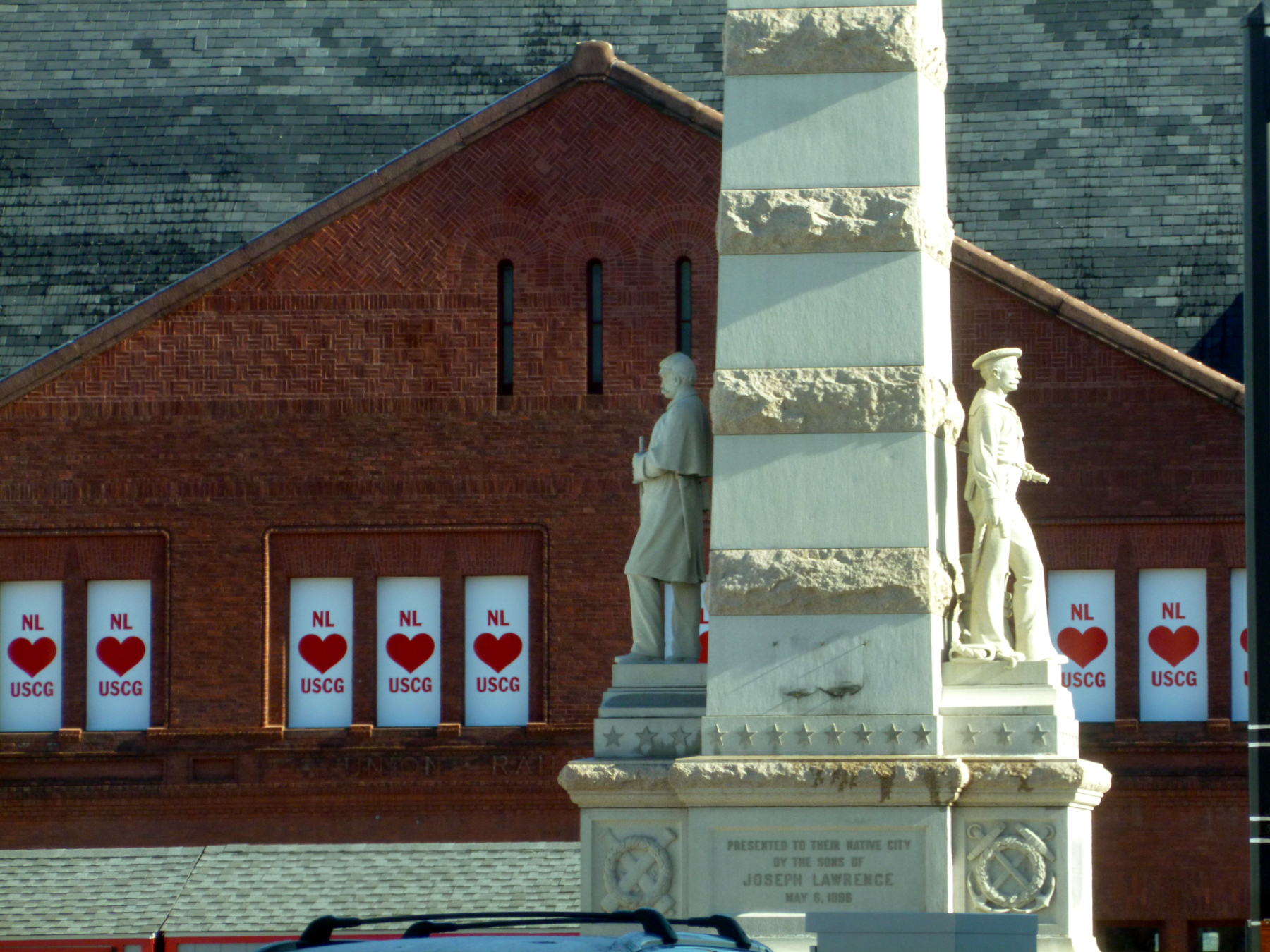 1.20.12 In New London this month, there has been no shortage of bold gestures by groups and individuals trying to stimulate change or bring home their point in a variety of very public ways. One of the latest efforts is New London's City Center District's "NL (Heart) USCG" campaign through Valentine's Day to let the CG/CGA know we appreciate their presence in our town - and throughout the region. The plan asks people to send valentines to the USCGA. This display (left & above), a part of that effort, went up on the train station today. The press conference is Tuesday, 1/24th, 10:30am at Union Station to kick off the effort.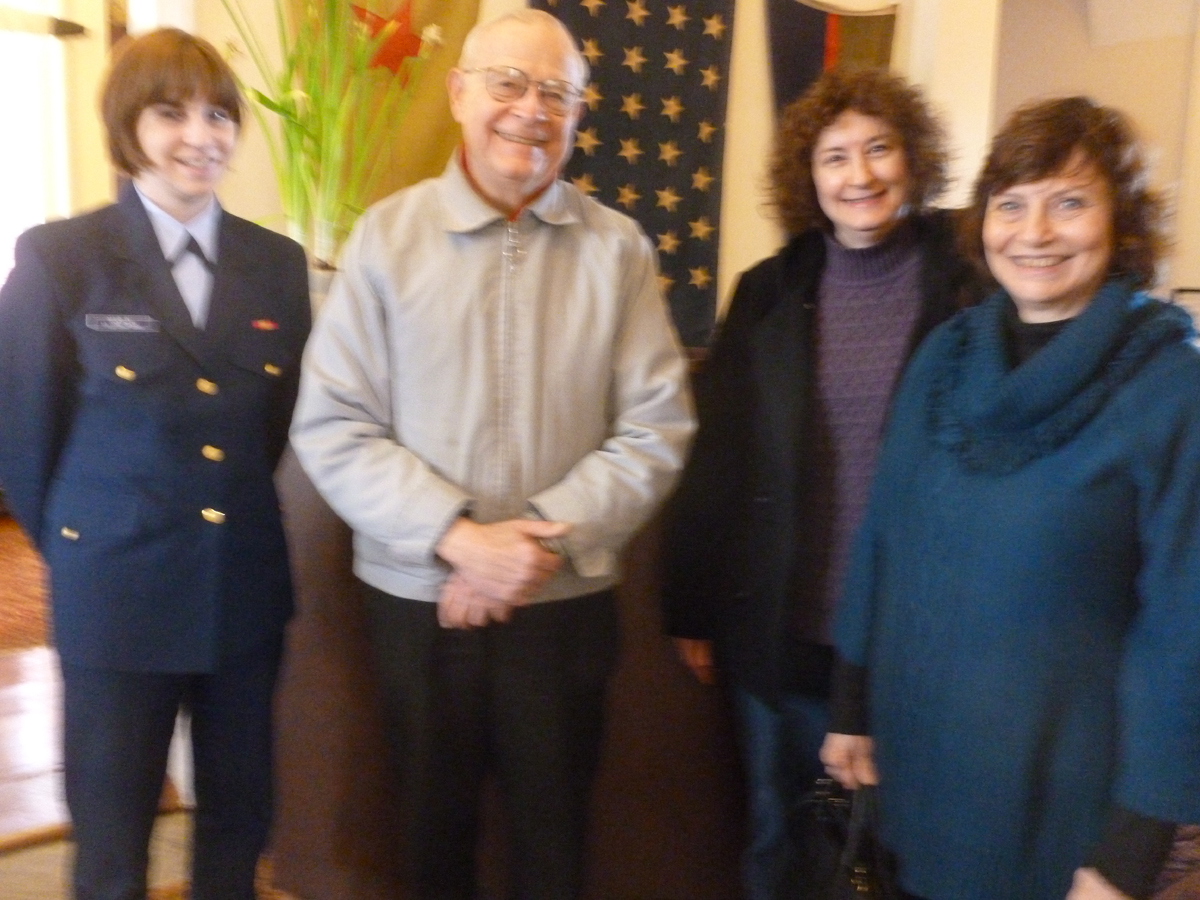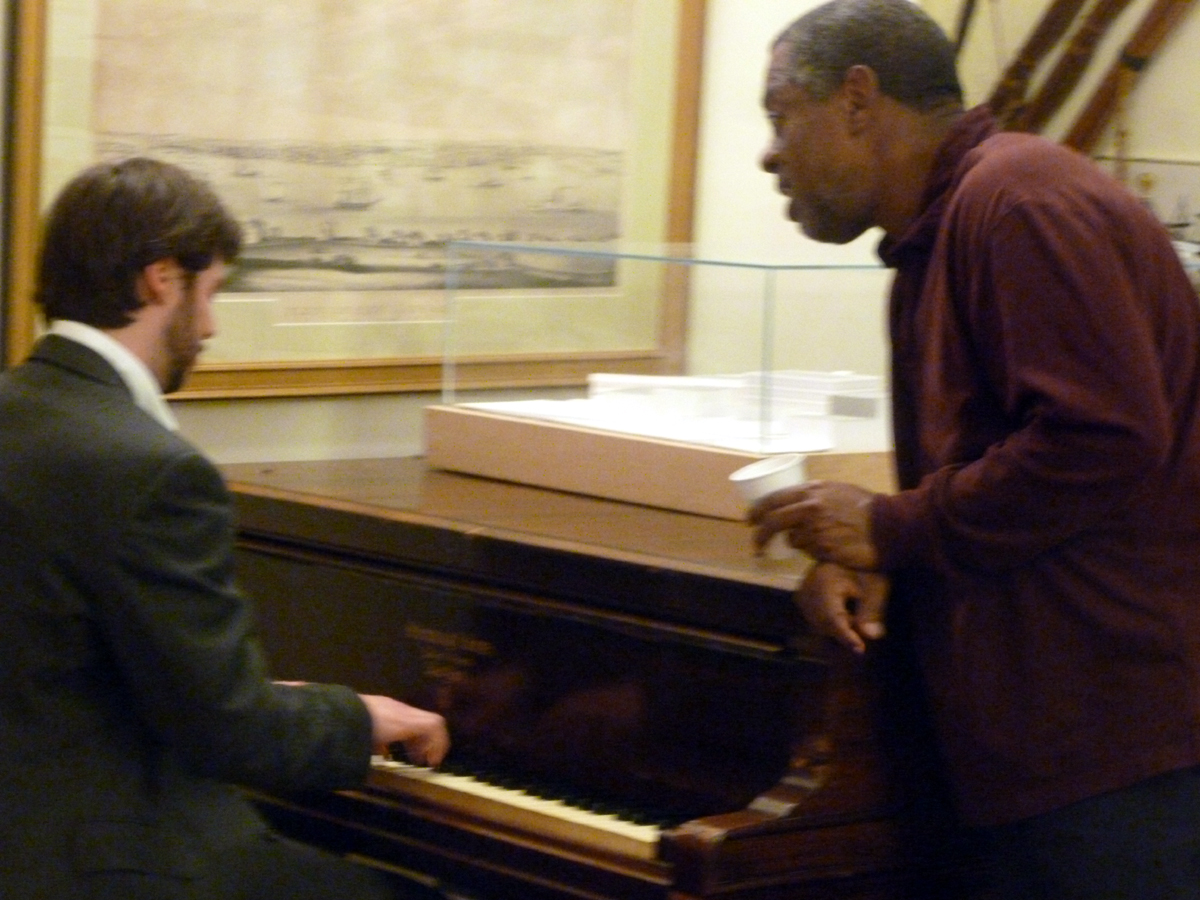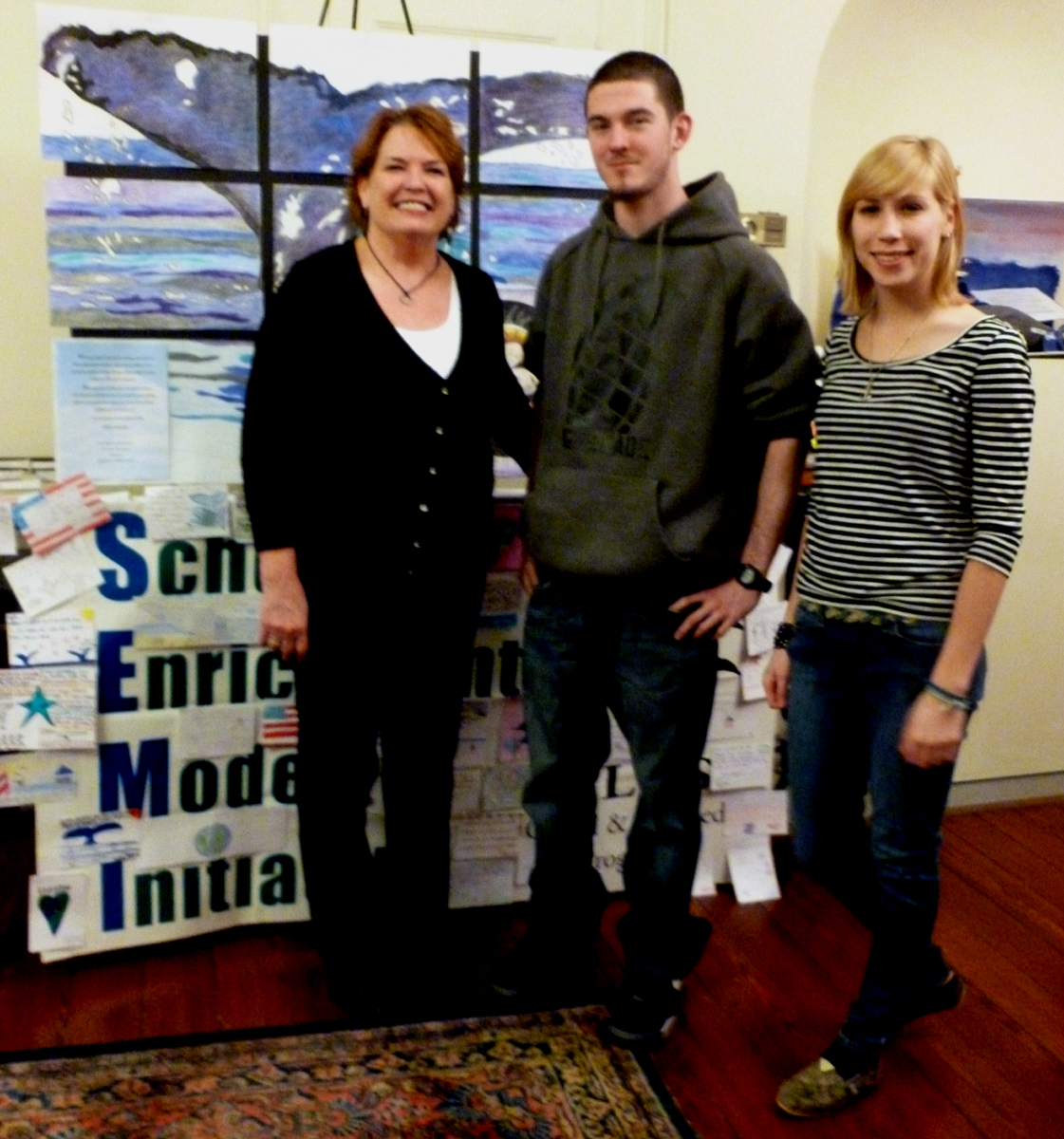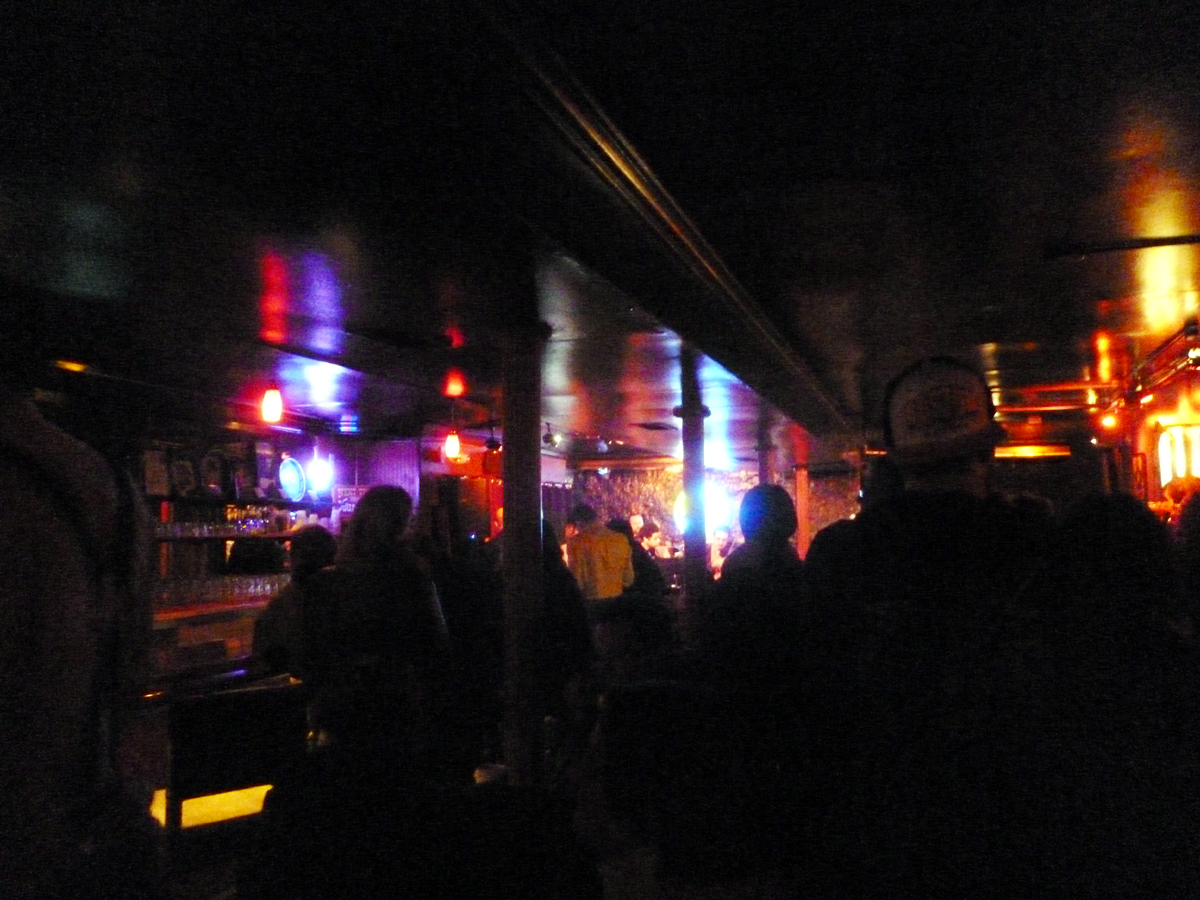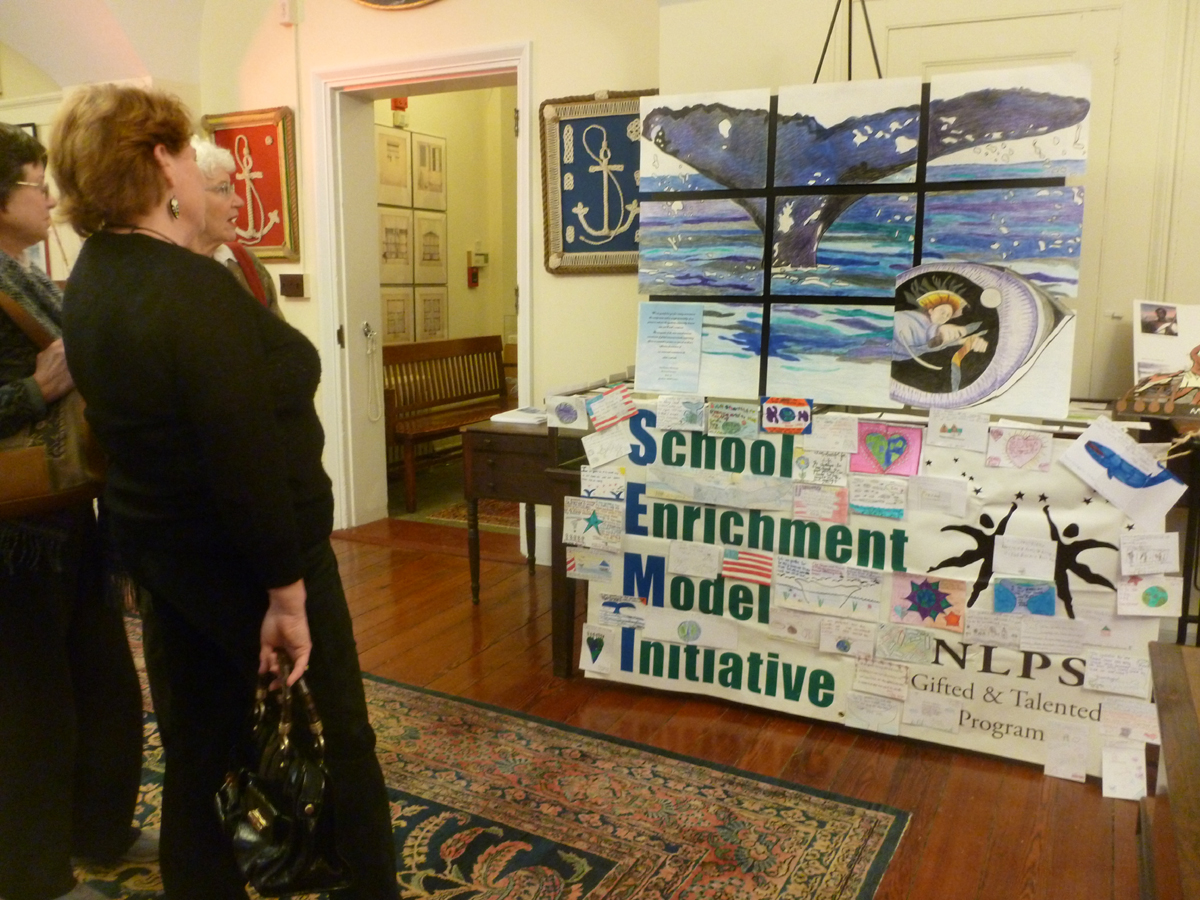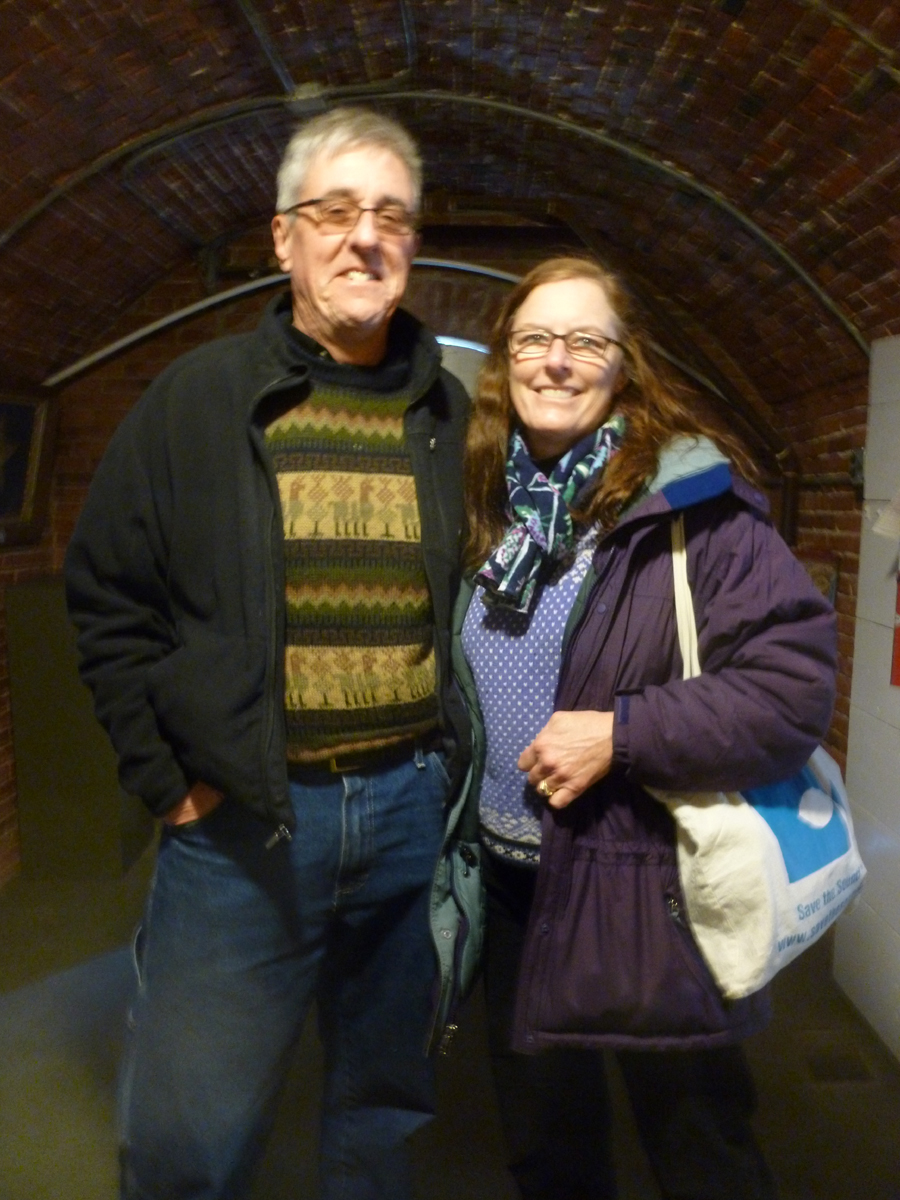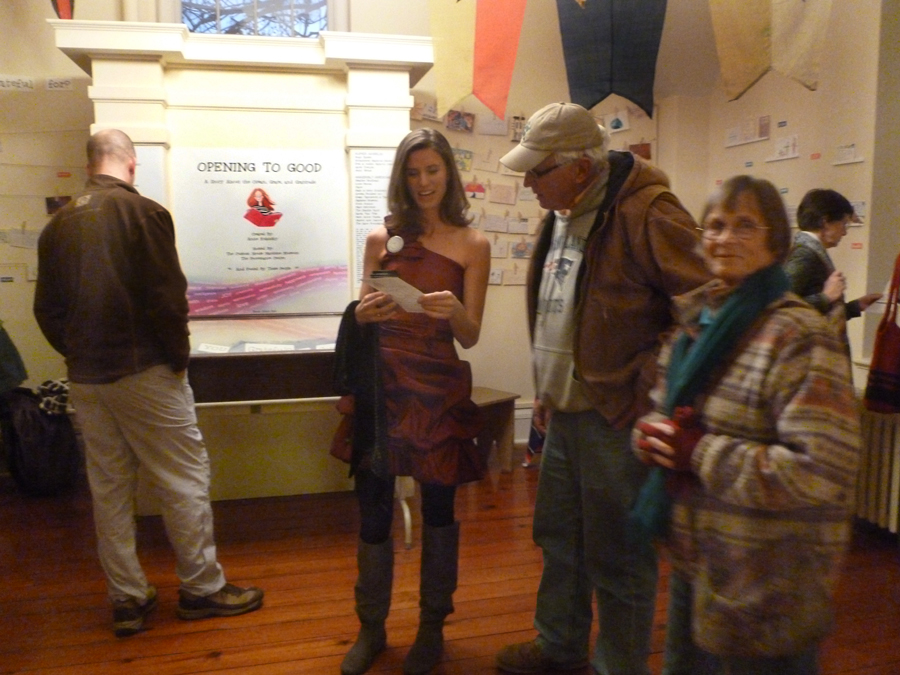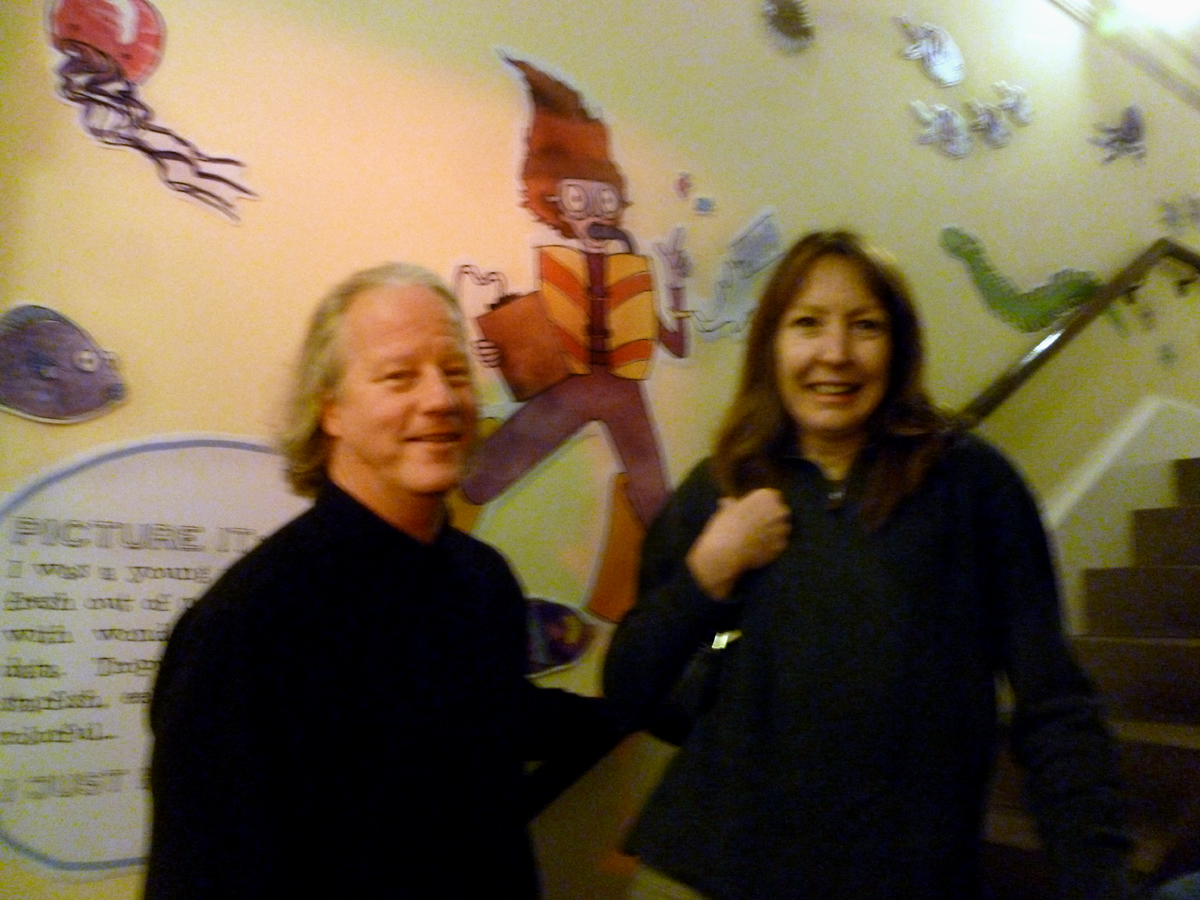 1.27.12
Happy to see our friends
Jody Barthel,
above left, who installed postcards from 102
Lighthouse Kids
just in time for the opening of our new exhibition.
Greg Belanger,
director of
Amistad America,
stopped by, too, to talk about joint plans for this summer. (And coincidently, the day before, an article about the Amistad story and the Custom House had just appeared on
Voice of America.
) To right is head docent
Bill LaRoue.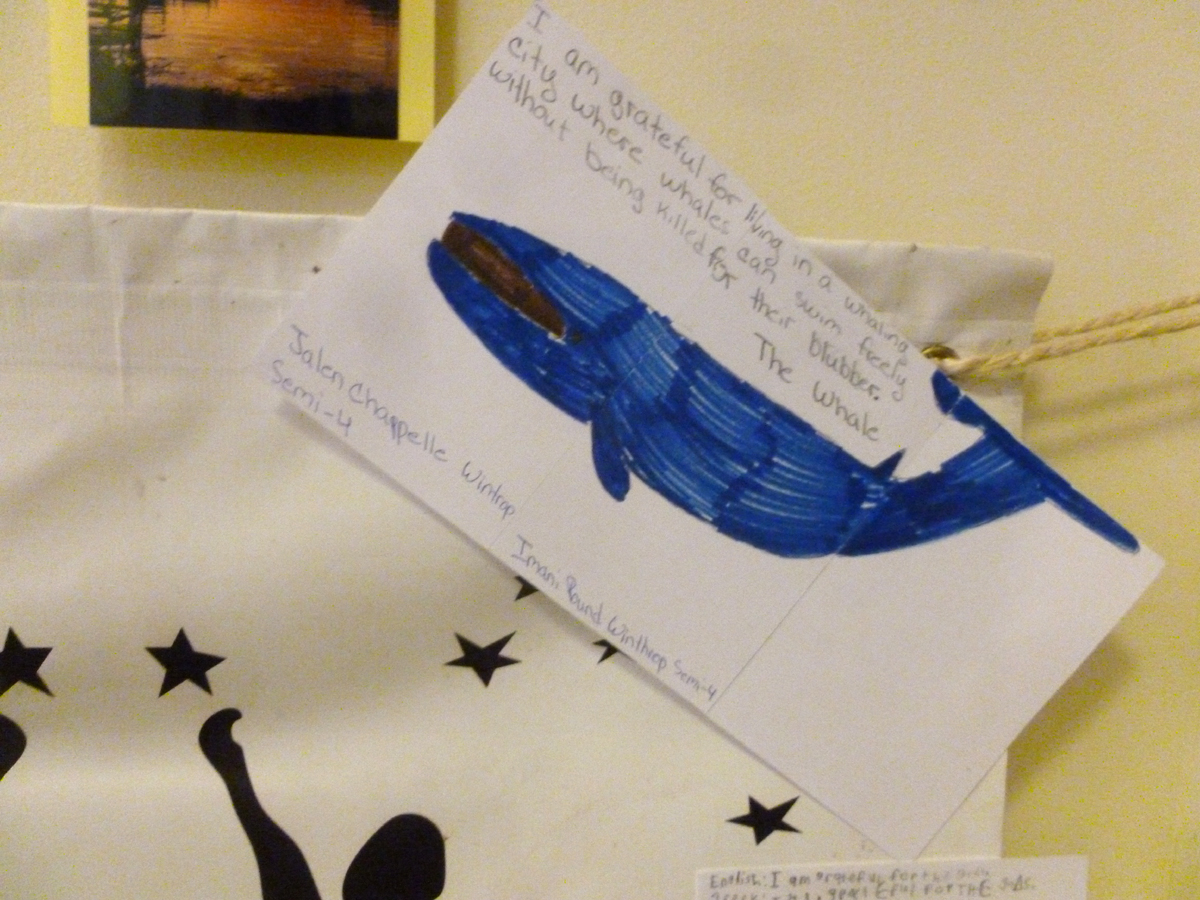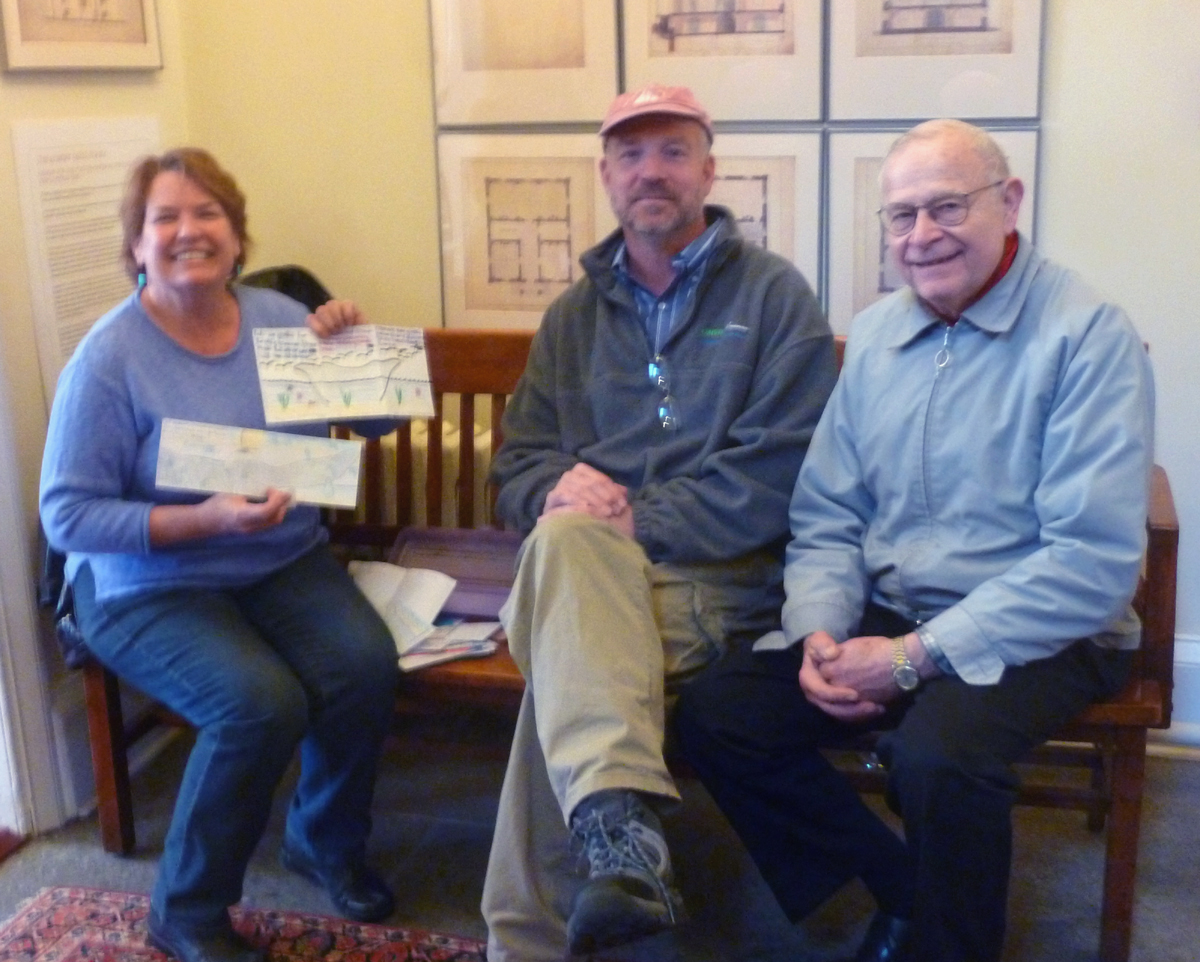 1.2.12  Bill LaRoue was mentor, once again, to his former student- teacher (from when Bill was a professor at Mitchell College), who visited the museum today. USCGA Cadet Leanna held down the front desk as Bill gave his tour, (above). Curt Johnson, of the CT Fund for the Environment, & wife Nancy came to town for the fun (left, below left)! The Lighthouse Kids postcard display in the main gallery.

1.28.12 It was a great evening in New London, primarily due to the many super Hygienic openings in conjunction with the 33 annual Salon des Independants. Loved the Cabaret (left), and the entire scene downtown. There wasn't a seat to be had a Mangetout, which had a special noodles night. The place was hopping.

We had an opening, too, timed to coincide with other events downtown. Anne Kubitsky's Opening to Good, which brought back volunteer Rachel Perry & her friend Nate Palmer (left, below left) to help out. Trevor Giles played the piano, with help from Ronald Bernoudy. Our friends from Four Color Inc, who made this show possible with their incredible print work for Anne, are shown below standing by the stair & Anne, herself, greets visitors at the opening (below right).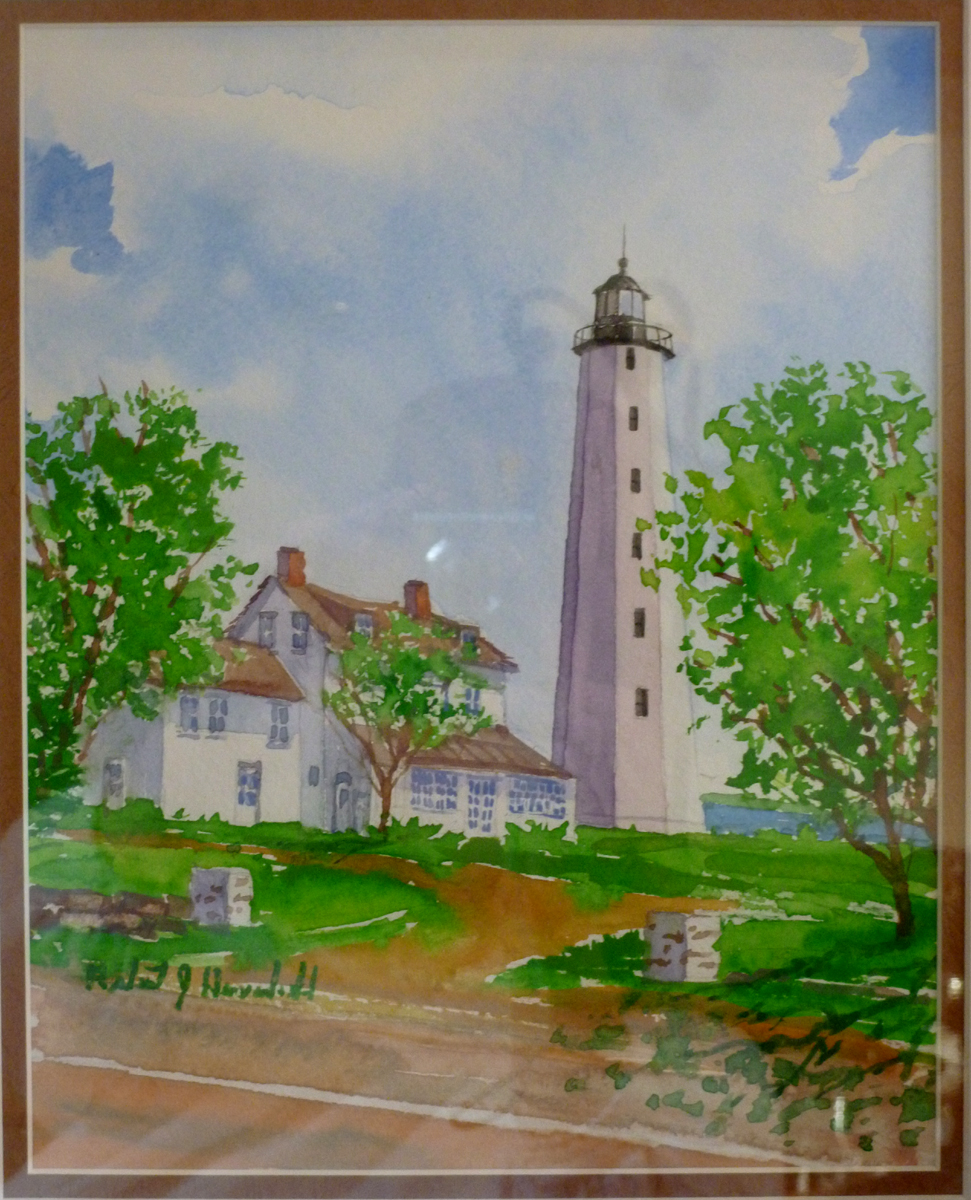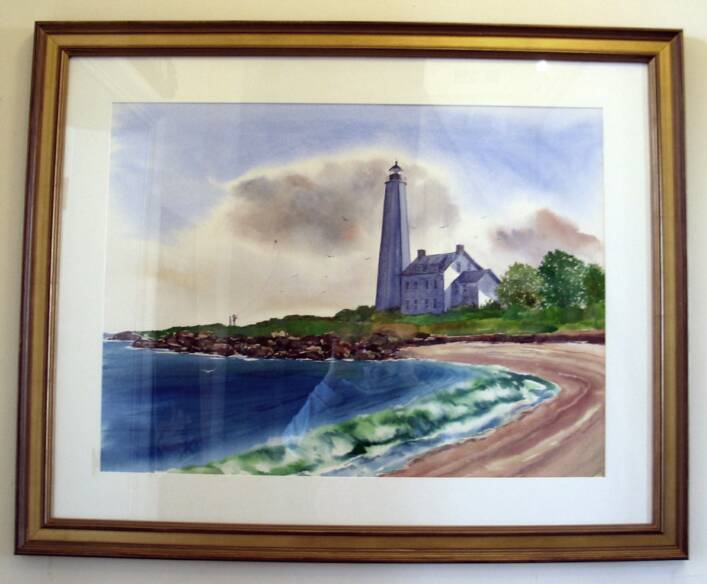 1.29.12 We mourn the passing today of artist Robert Hauschild.

Bob, a great community supporter, loved New London and painted many scenes around town. Two years ago, upon hearing we'd taken ownership of New London Harbor Light, he stopped by the Custom House with the large watercolor, below--a gift! Bob painted the watercolor, at left, last summer in a demonstration at Studio 33 during our Sentinels on the Sound Lighthouse Weekend. My mother watched Bob paint at the gallery with fascination and then purchased the painting for me. I treasure it.