Please be patient, it can take

some time to load the photos.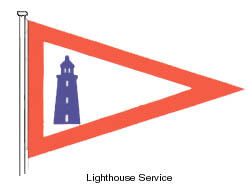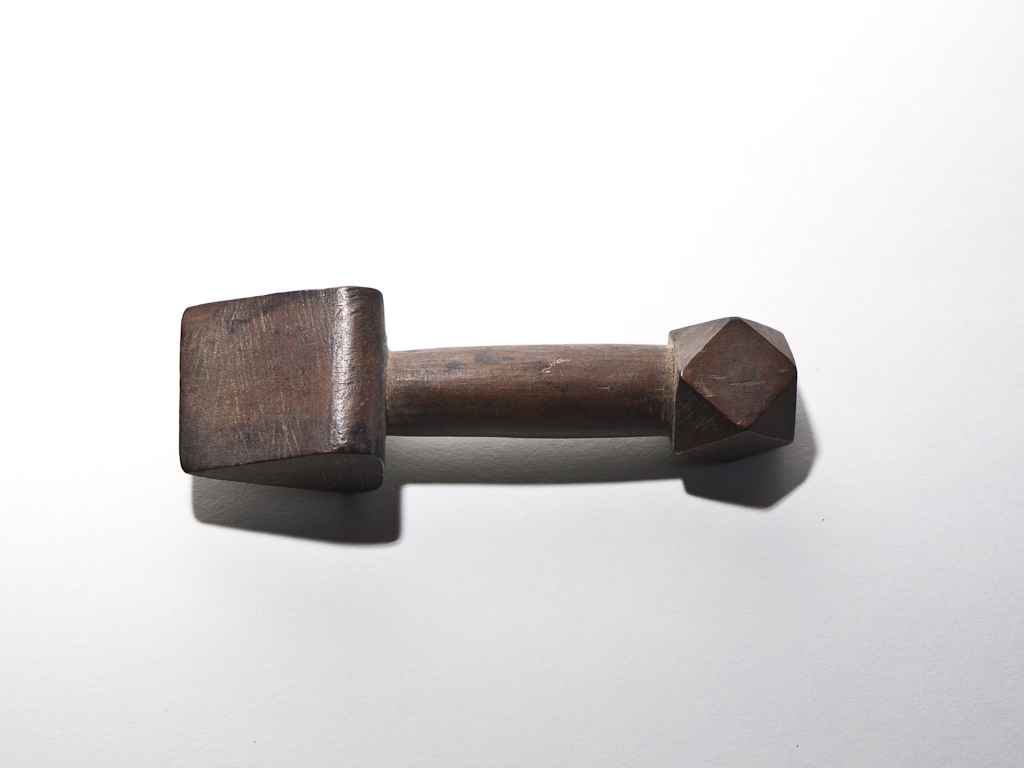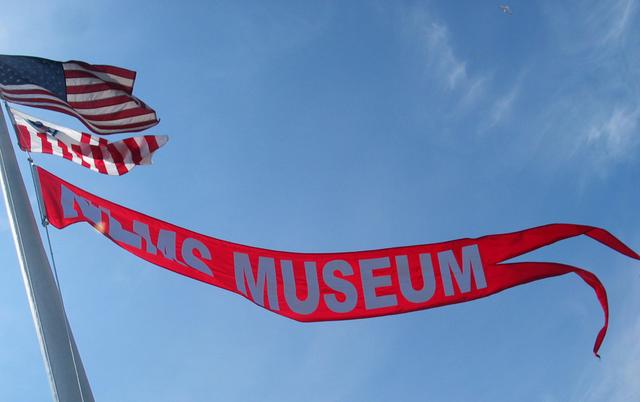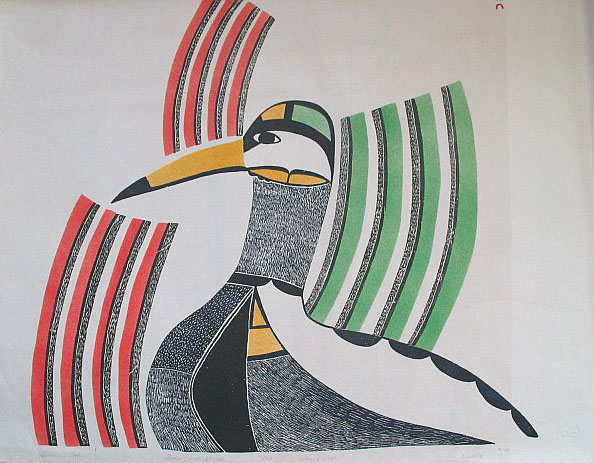 To see what happened in August 2011, click
HERE
.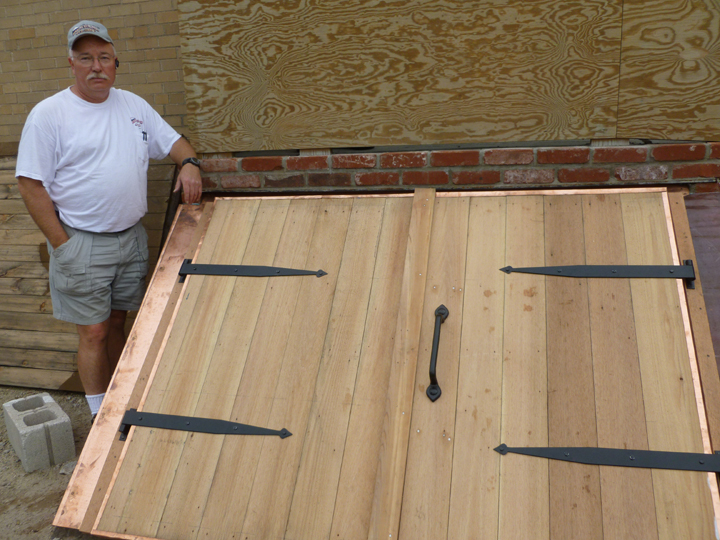 10.3.11 We start the month with great news: the new bulkhead doors leading to the museum's subbasement are just about complete.

David Aiken, of Senkow Builders (left), has created canvas-lined, copper-flashed, water-tight doors. The design is from Lyme building designer & all-round Custom House museum supporter Roger Clements, and is solves a couple of thorny problems out back.

10.3.11 We'd like to thank our friend, Brian McCarthy (below), who is always coming up with good ideas for the Custom House. The latest has to do with WTNH TV-8 and a possible Web-cam link with our lighthouse. The WTNH technical crew came out to look at New London Harbor Light this afternoon.

Stay tuned for breaking news about future developments in this partnership...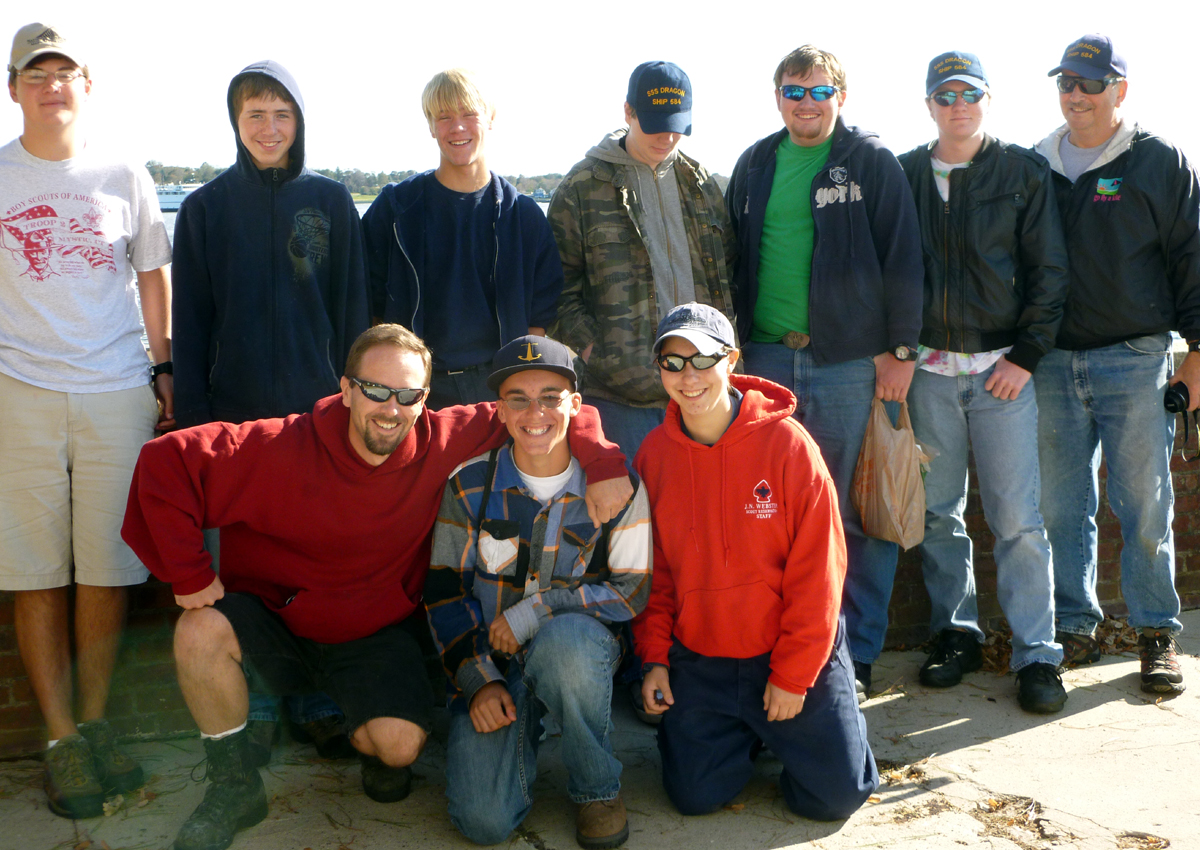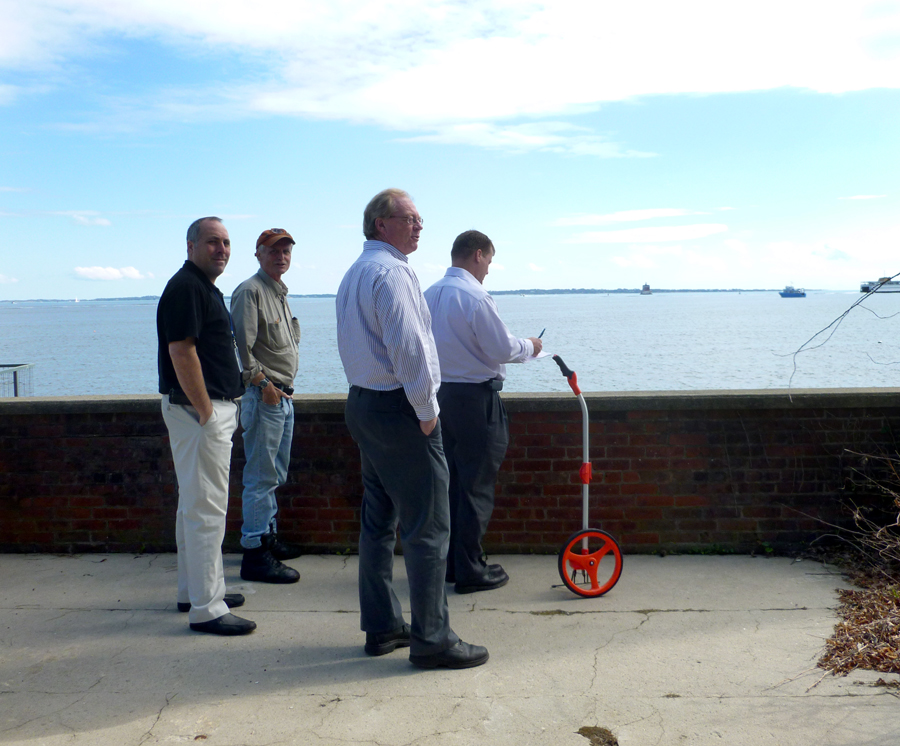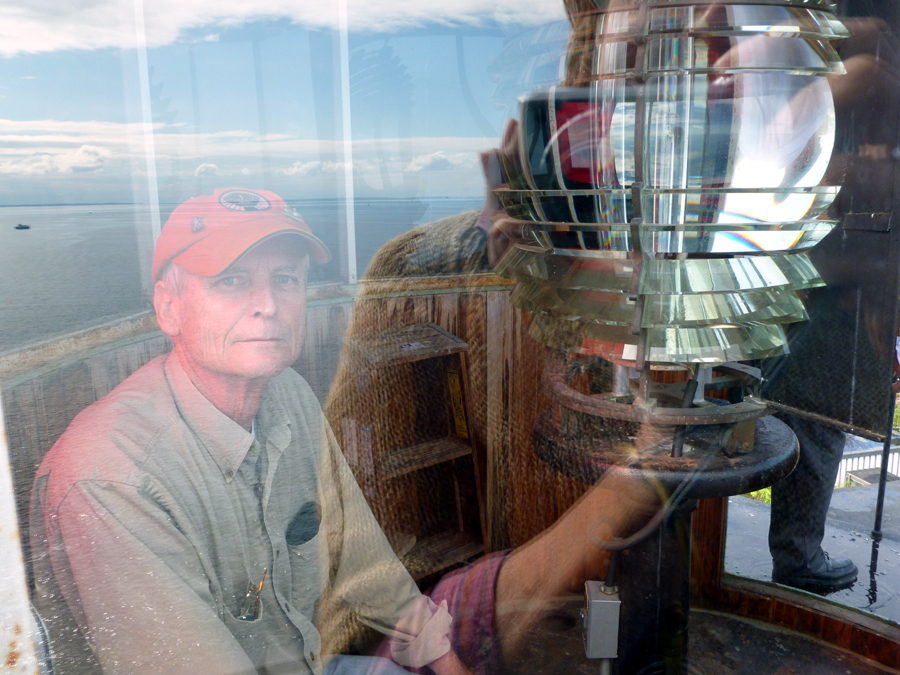 To see what happened last month at the Custom House, click
HERE.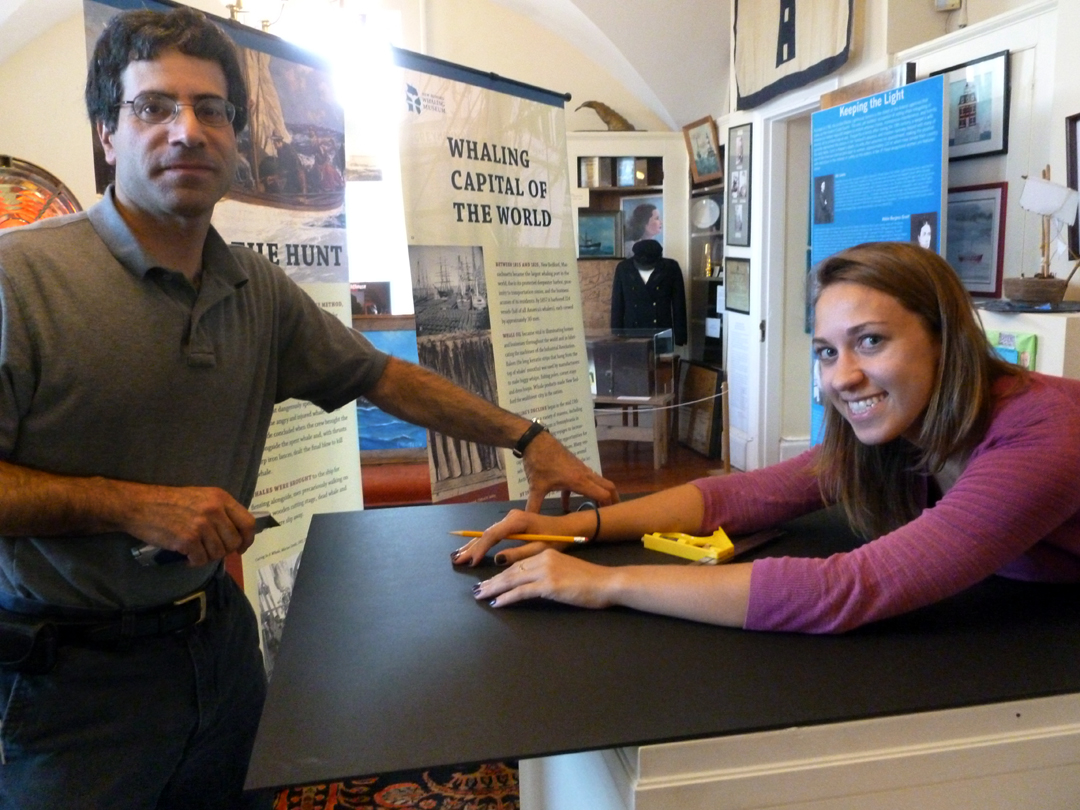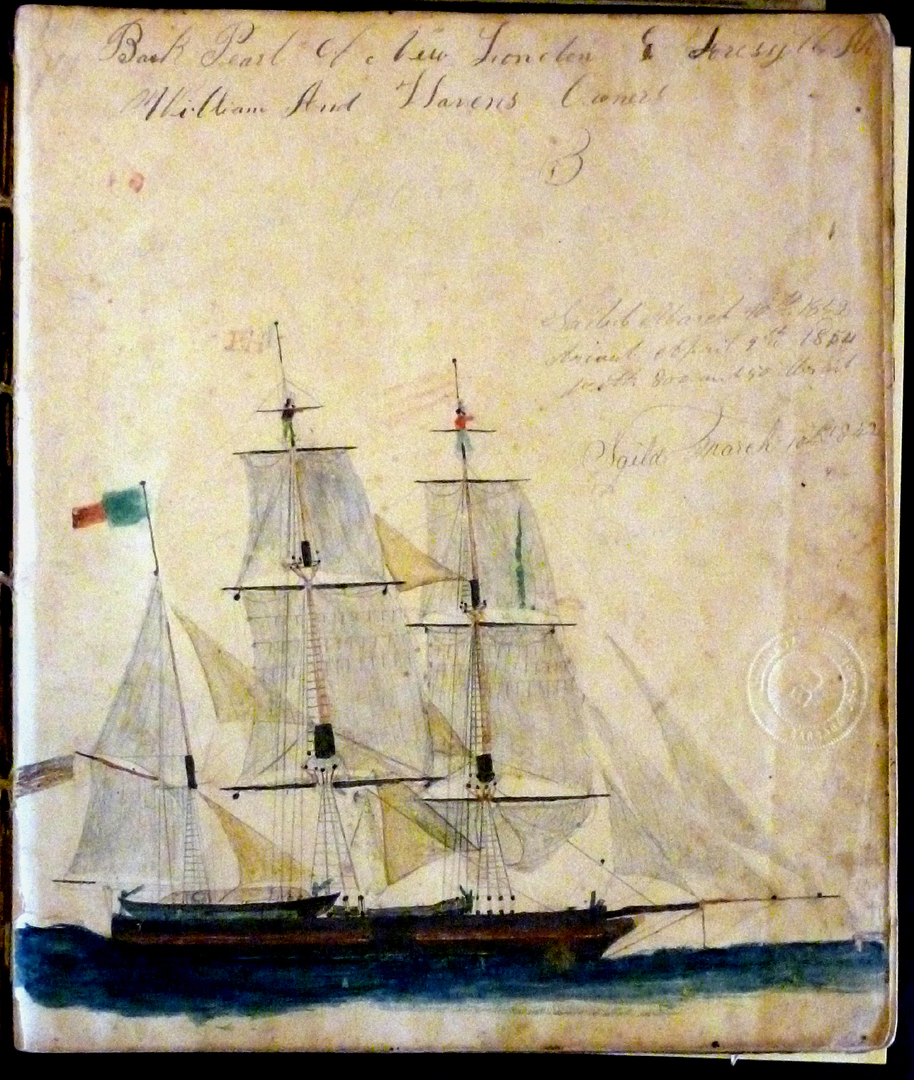 10.5.11 Vice President of Colections and Exhibitions from the New Bedford Whaling Museum, Greg Galer, with Intern Curator Melanie Correia, spent the afternoon installing the new whaling exhibition-- a combination of panels and curious artifacts.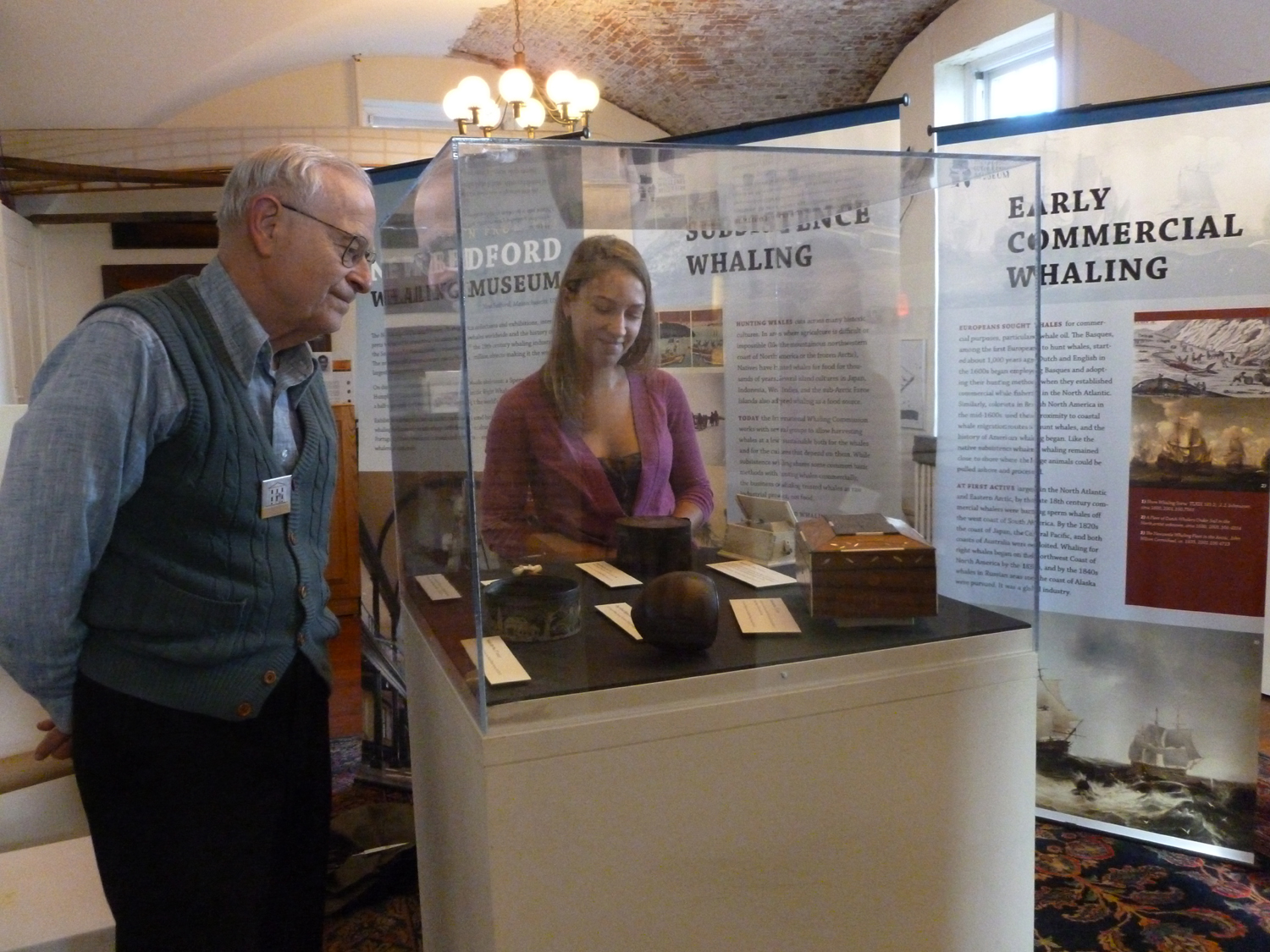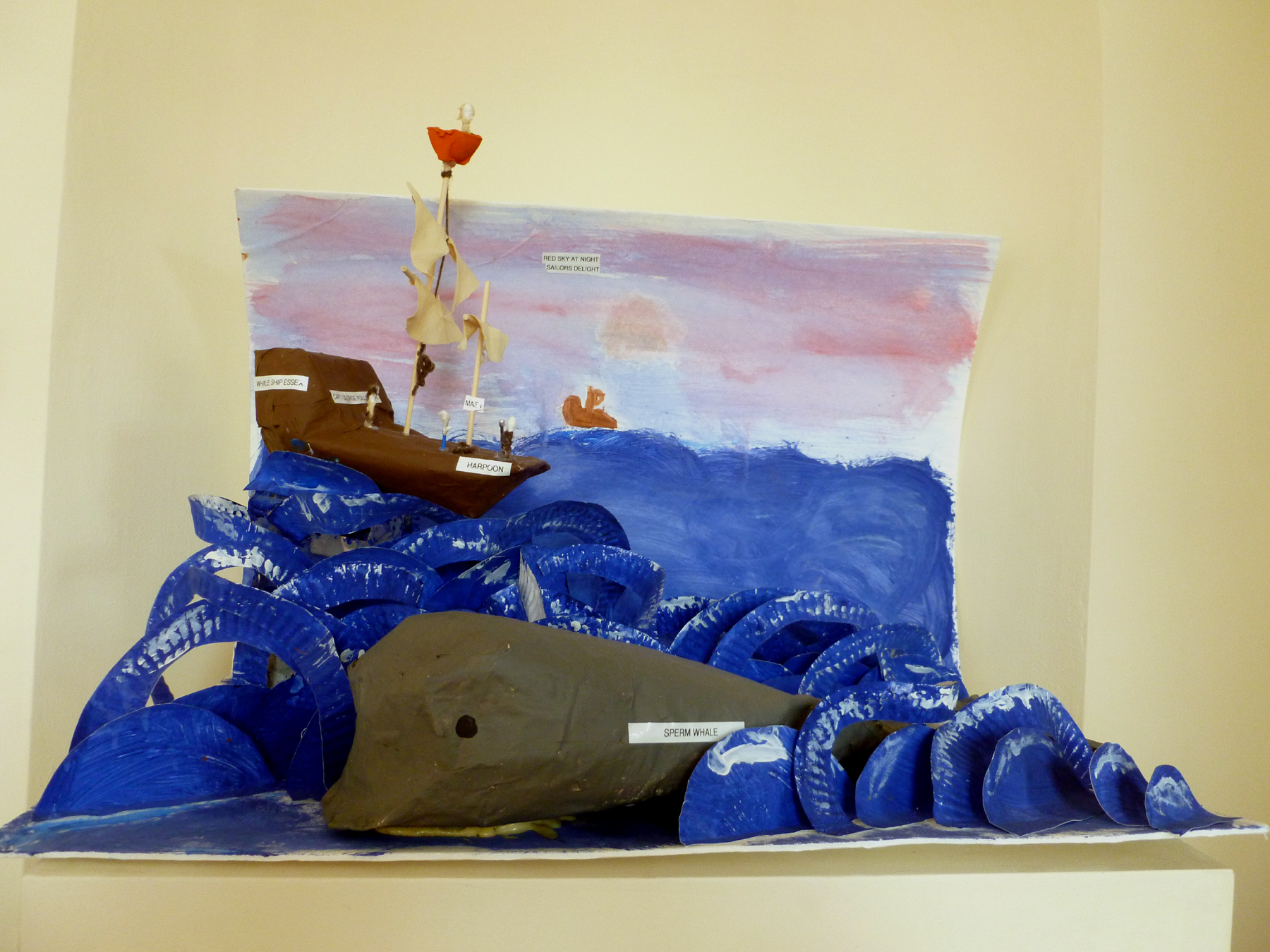 10.5.11 Melanie Correia, from the New Bedford Whaling Museum, shows head docent Bill LaRoue the scrimshaw in the new whaling exhibition. The document below is the ship's log of a whaler, the Pearl of New London.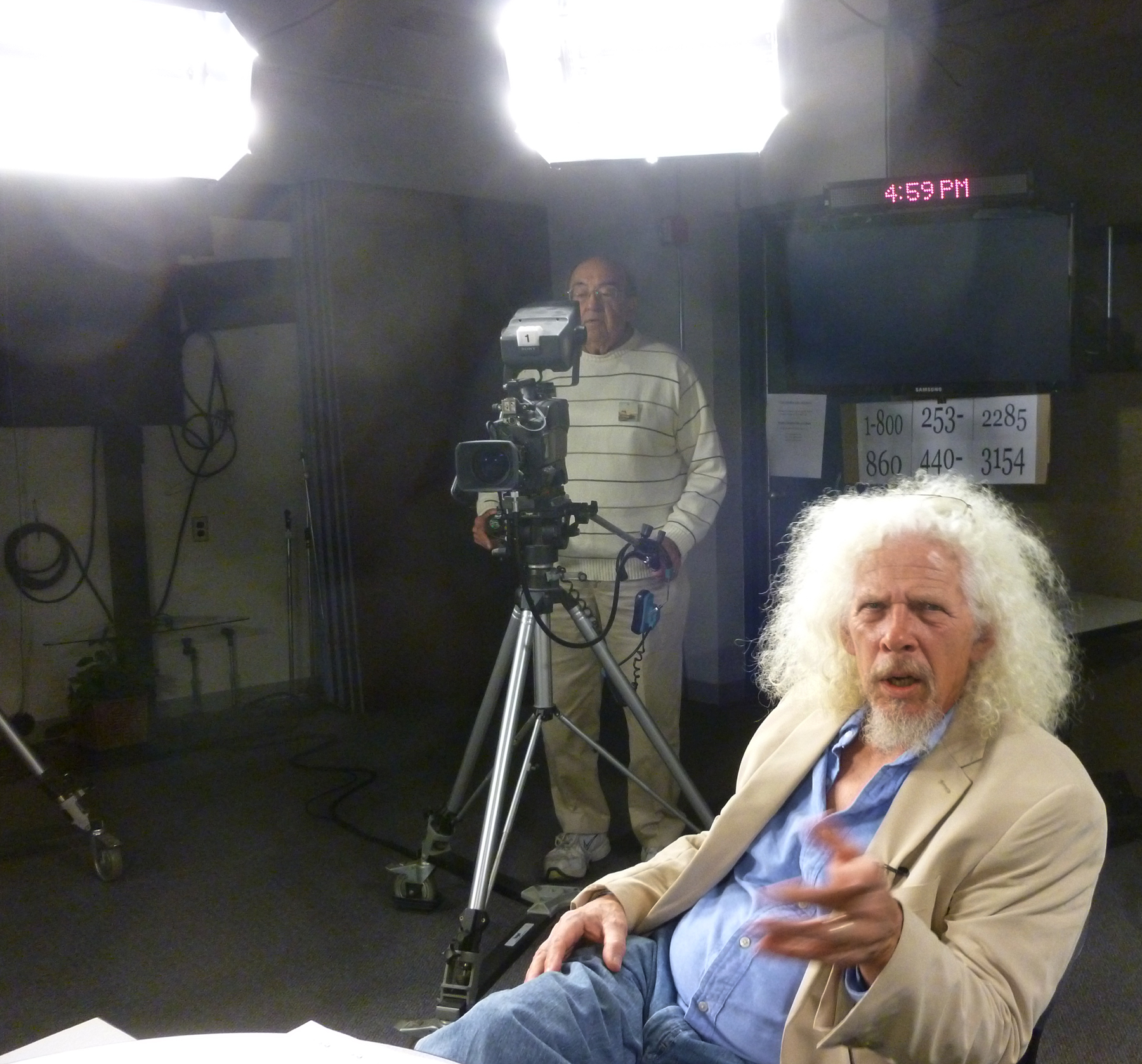 10.5.11 Speaking about the Halloween Bash and other upcoming events,at the Hygienic, James Stidfole was guest on this week's Maritime Matters --NLMS president George Sprecace's cable TV program. It was the one-year anniversary of the program and George (at left siming the camera) made an impressive list of the various guests from the past year's programs.

Below, a New London whaling ship model at the museum, created by a student from New London's Multicultural Magnet School.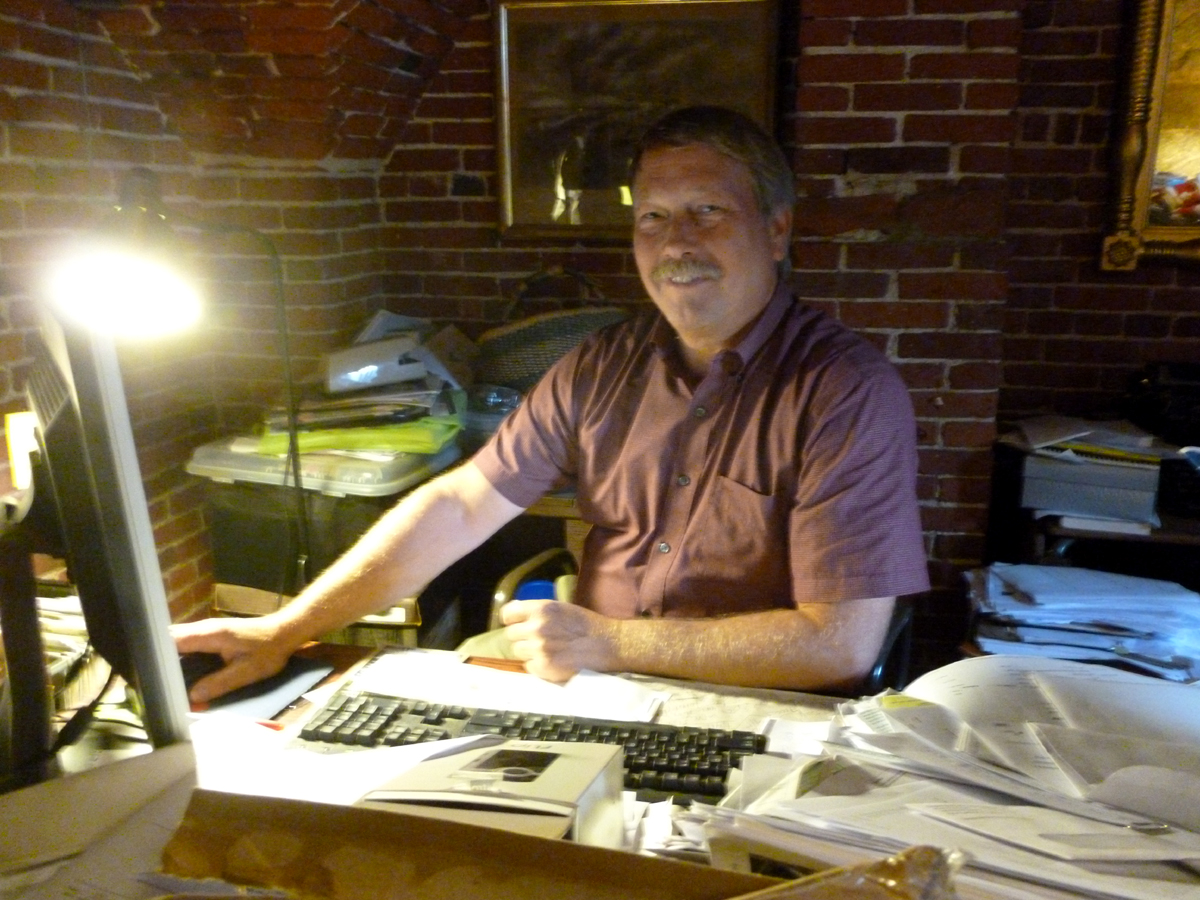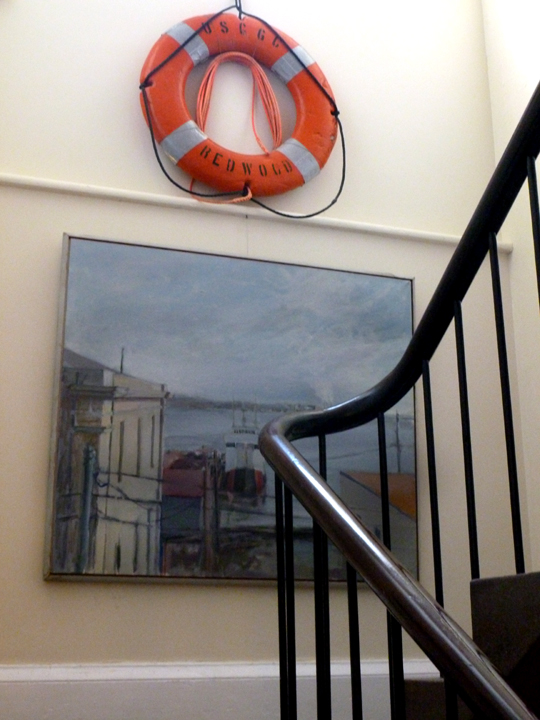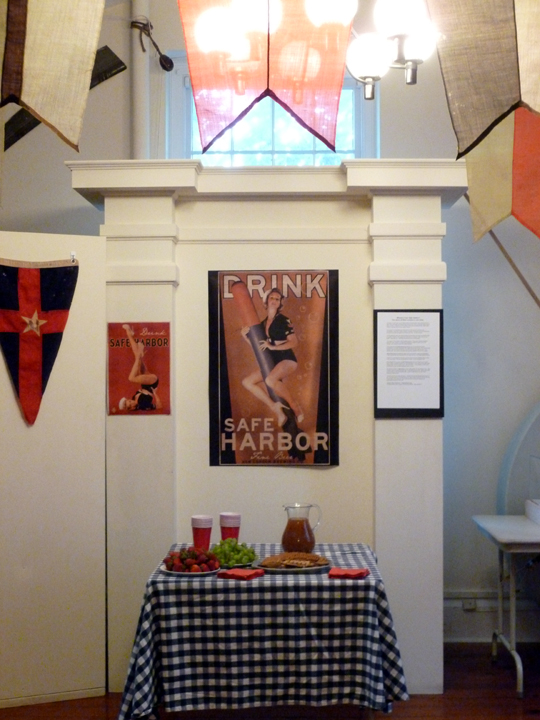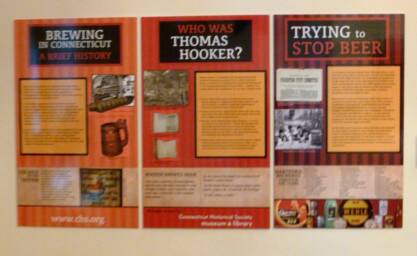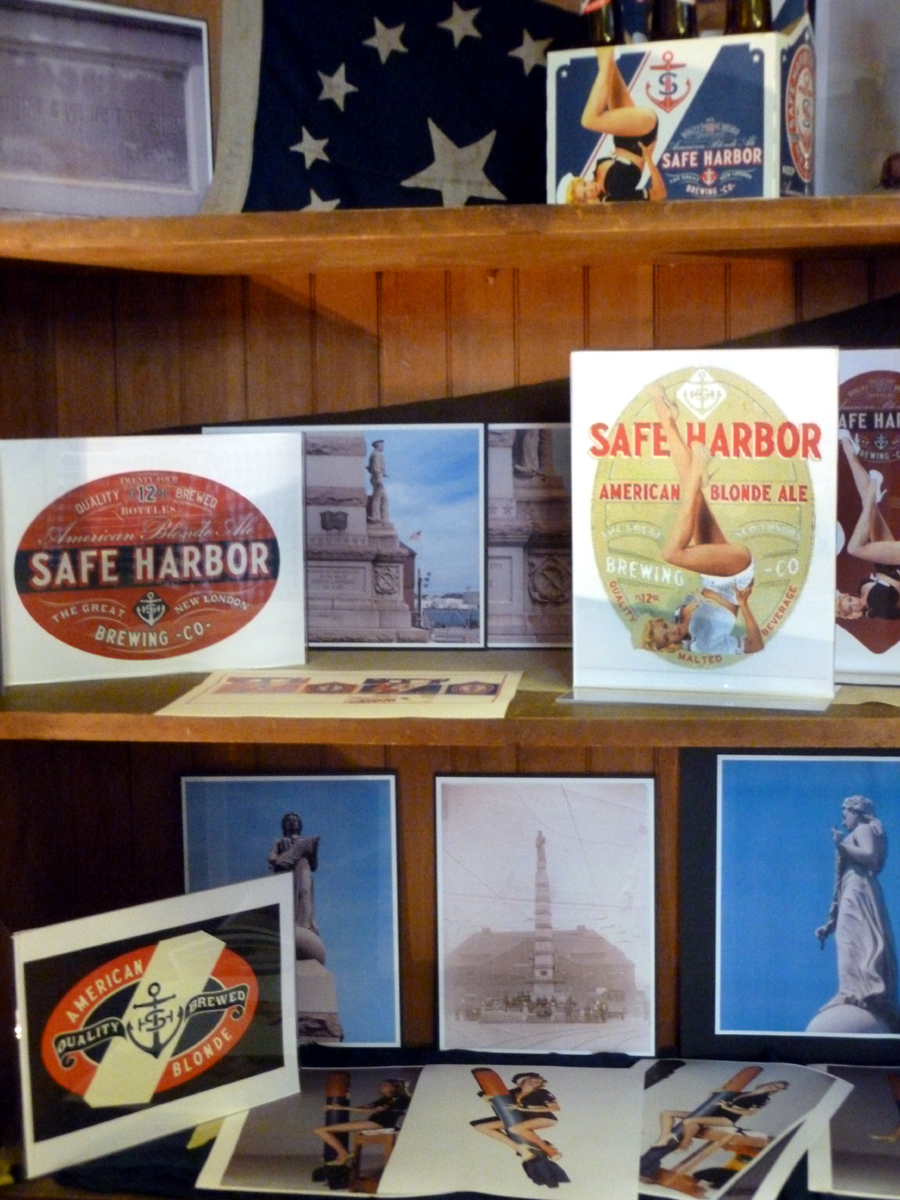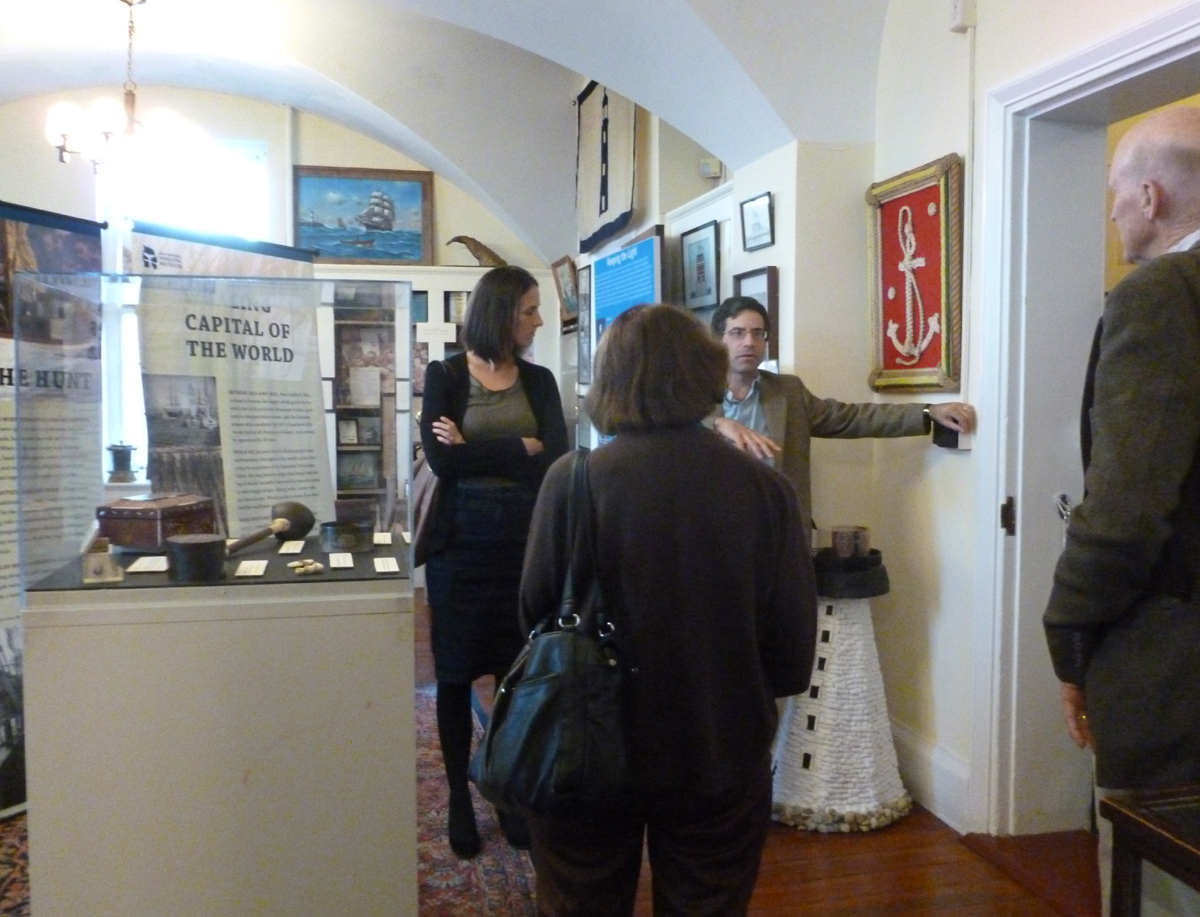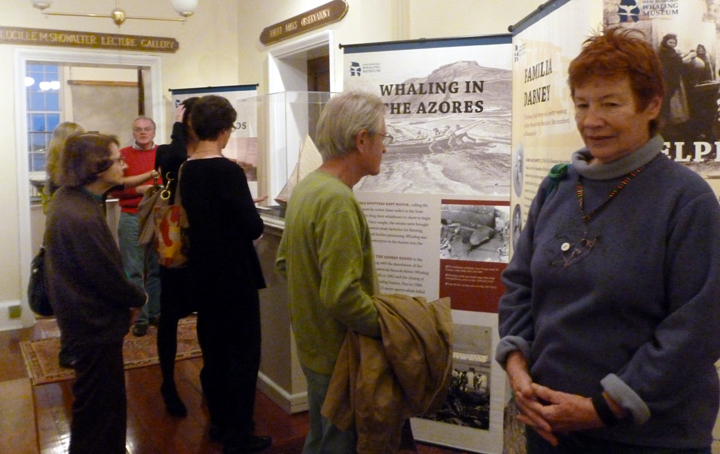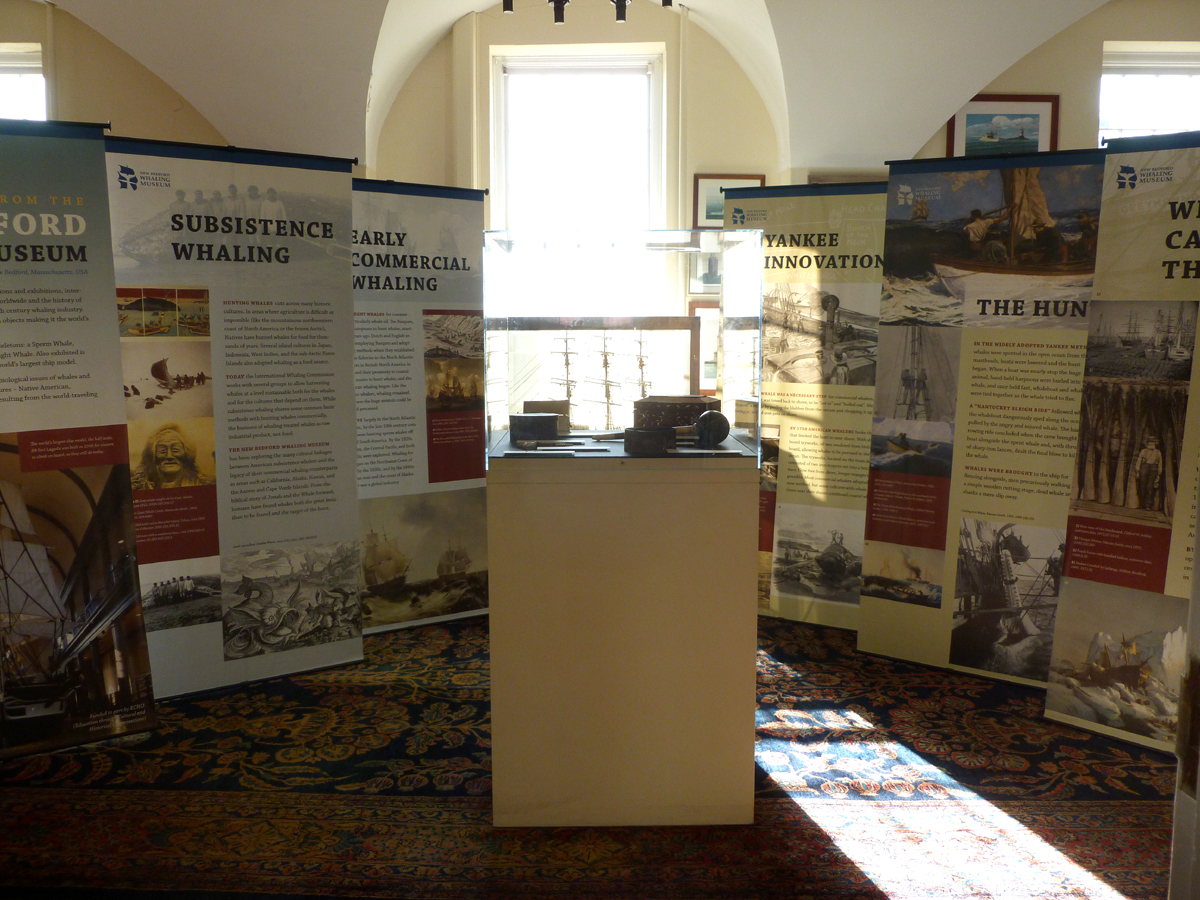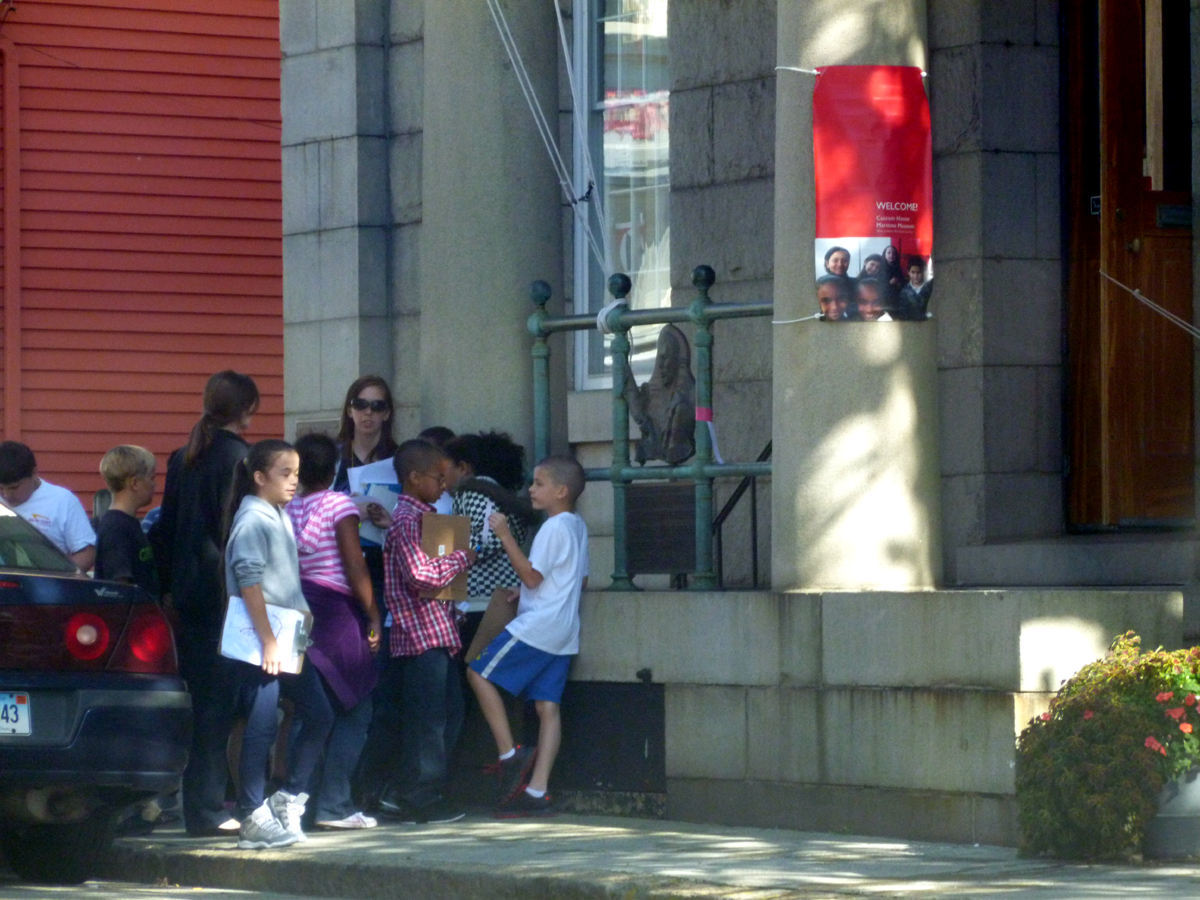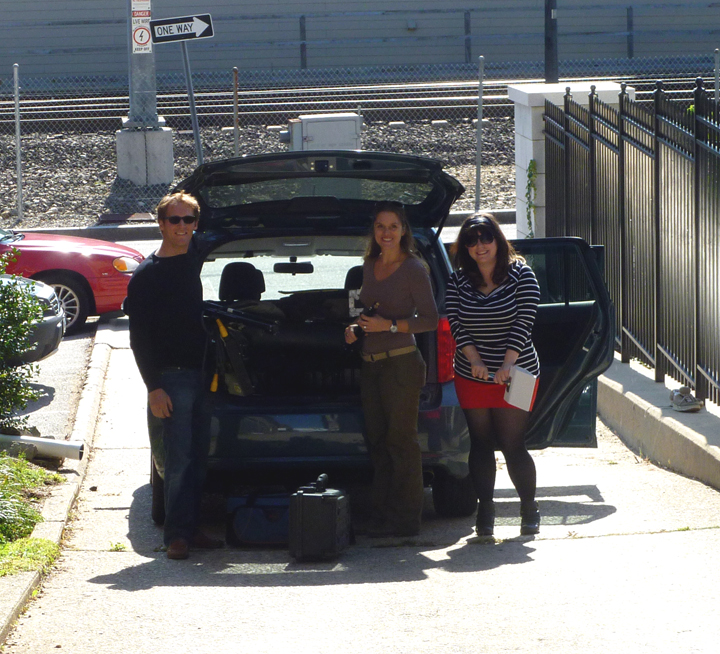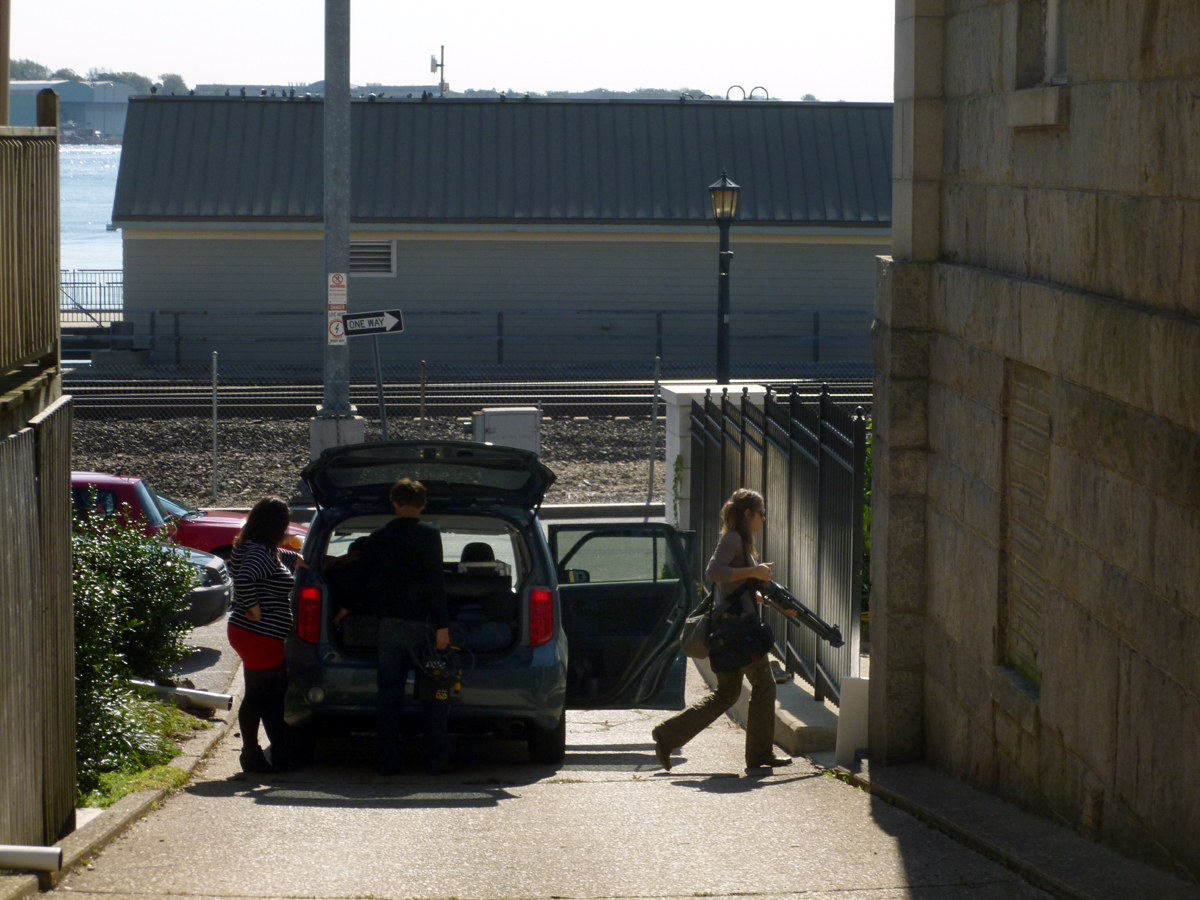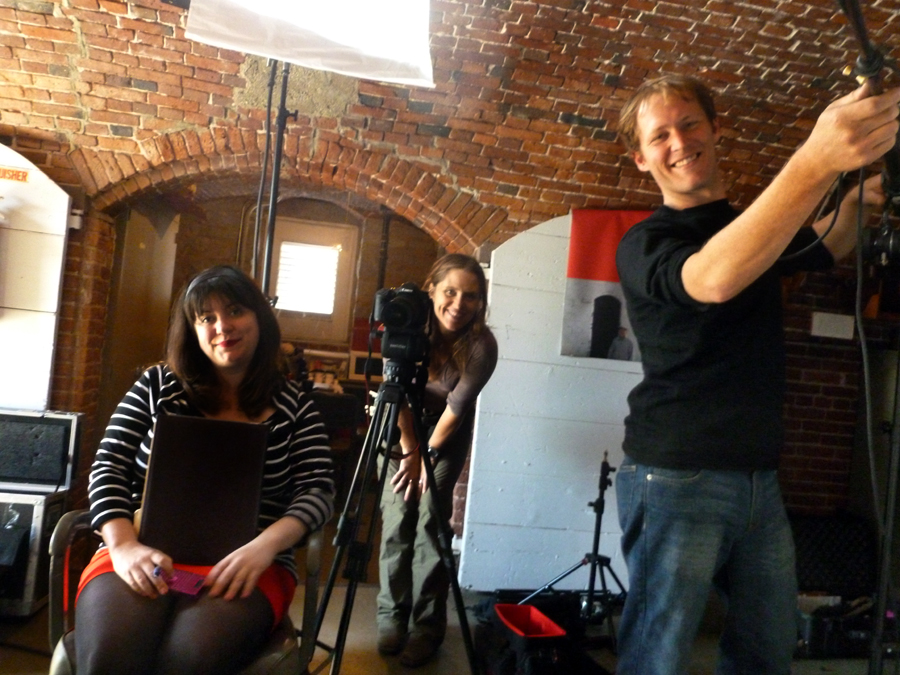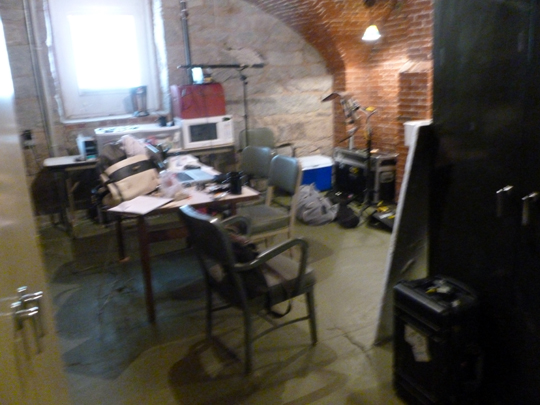 10.8.11
We are very fortunate to have been selected by
Magnet Media
in New York City as a subject for their latest project. Magnet Media is working with
Google
to produce a series of short, two-minute, videos about small business owners across the country and how they make use of their Websites. Magnet decided to profile the Custom House and visited on Saturday.
This morning
Katie (director), Mia (lights & camera) and Miles( sound)
, of
Magnet
, unloaded their equipment at the museum, The crew worked all day to create their portrait of the Custom House, which Mia called "one of the more beautiful subjects" they've photographed. Here is what the team did for the Google series recently in
Austin
. We'll keep you posted--our video should be up next month!
Yes, we had other visitors on Saturday; this young man (lower left) preciously identified the Fresnel lens as a "lighthouse light"!

10.6.11  We were working up to the last minute, but were in fact  ready for the NLart October openings event this Friday night.

Two new exhibitions are on view: a Whaling show from the New Bedford Whaling Museum -- New Bedford being the undisputed whaling capital & New London being #2. Wonderful here are several New London artifacts from the New Bedford collection.

10.8.11 Also opening tonight is an exhibition on New London's new brew: Safe Harbor, a project of Fred (above) of Thame River Wine & Spirits, his friends & Cotterll Brewery. 

While developing the packaging, details of the snappy graphics were taken from New London's Soldiers & Sailors Monument on the Parade. In the exhibition we paired images of the graphics with picures of monument details. We also reprinted thre panels, created by the Connecticut Historical Society, giving a brief history of brewing in Connecticut. The show will be up through November, but you should visit next week, as a part of the Food Stroll, whe we will be handing our free samples!

10.7.11 We want to welcome the New London Maritime Society's newest trustee and soon-to-be treasurer: Alan Lyon. (left)

Alan has a challenge ahead of him, but actually, we are not doing too badly at the museum; (these days holding ones own is really pretty good!)

Alan has some big shoes to fill as Capt. John Desjardins retires from the post. Fortunately, John will stay active with the museum.

Thank you, John and thank you, Alan~!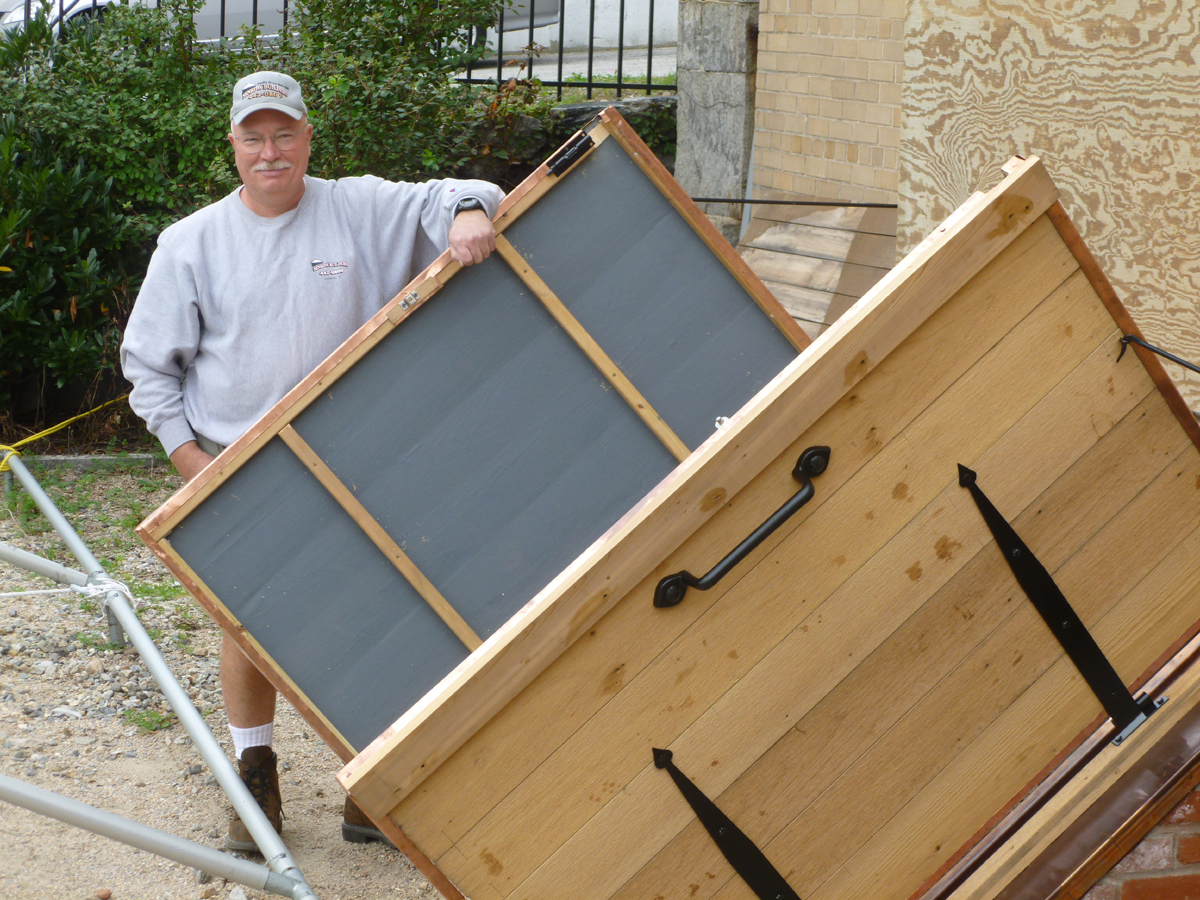 10.10 11 Dave Aiken of Senkow Builders has all but completed the hatch doors to the museums sub-basement (yes, we have two basements). We thank the City of New London, which invested its precious CDBG funds into this project!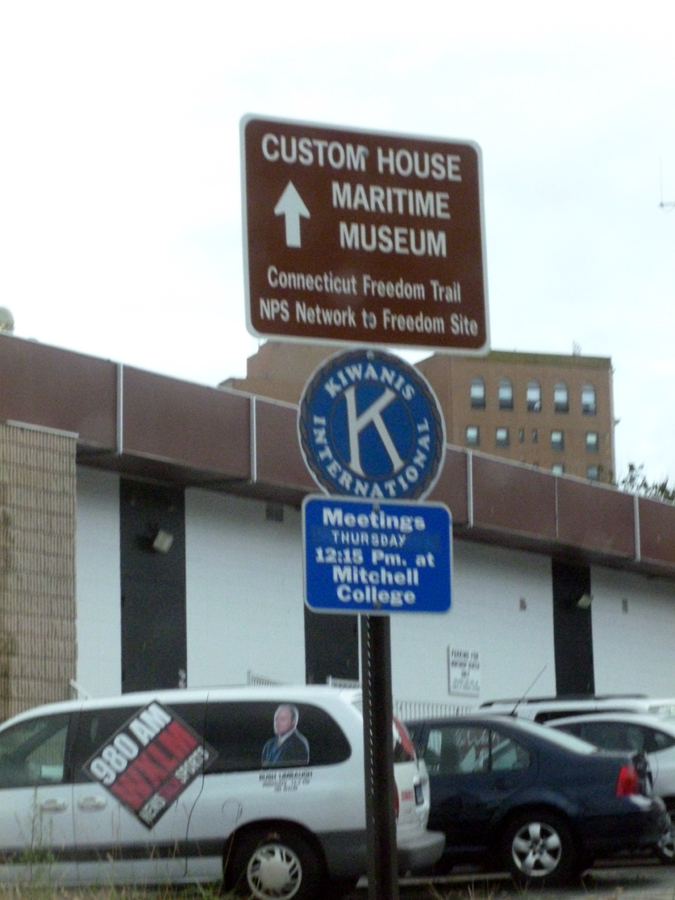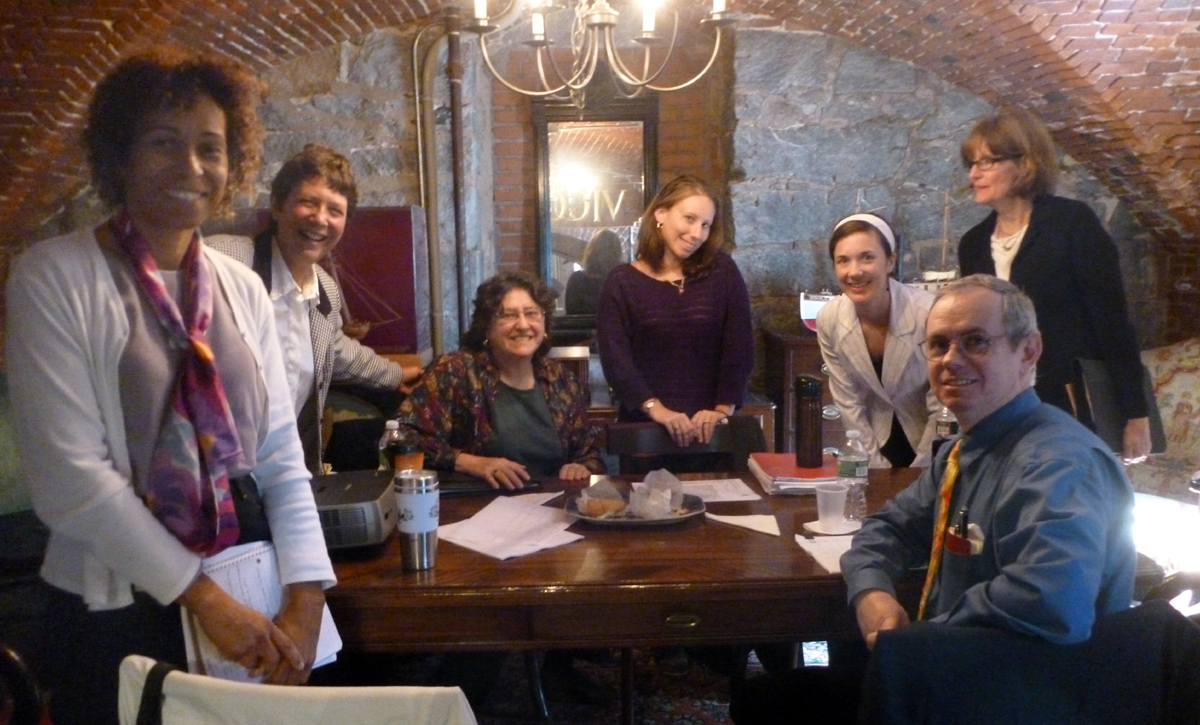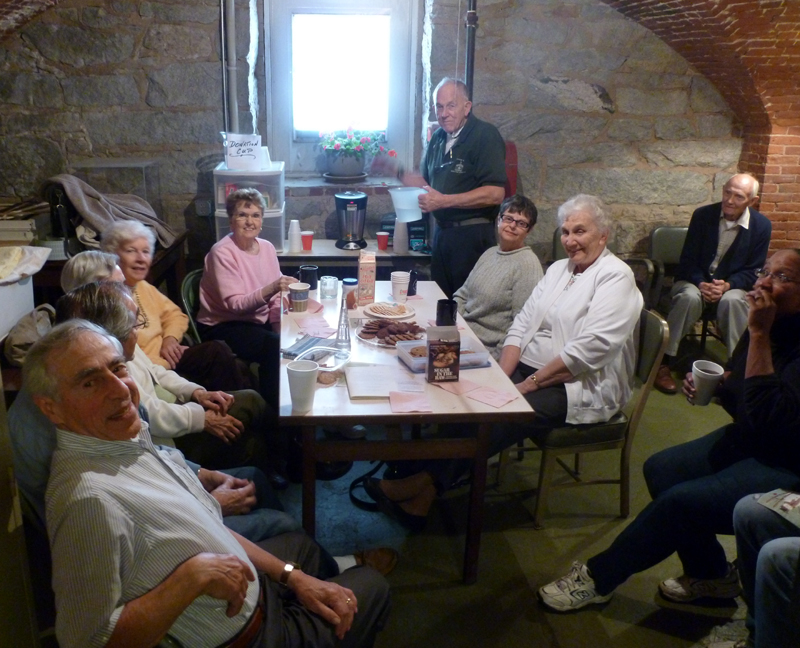 10.18.11 To judge from the photos, you'd think we spend all our time in the museum basement -- or  'lower level' as some of us like to put it. In fact, it is getting very nice down here. One of the greatest recent improvements is the galley, which was rewired a couple of weeks ago. Now a spaceous, attractive room, it has become a gathering place. In fact, the bulk of the Tuesday afternoon GAM crowd ended up sitting around the kitchen table!

10.17.11 Earlier in the week, we hosted our first skill-building workshop with Harriet Grayson. Harriet gave a class on Planning Special Events and we all agreed we learned a great deal, Among the things we found out is that, although we all do these events, we don't take full advantage of their fund-raising potential. This is, in part, due to the fact that many of us find it difficult to ask for money or sponsorships--both key goals of such undertakings.

The solution is that we have asked Harriet back, at a date yet to be determined, to give a workshop on perhaps our most-needed skill: the art of The Ask.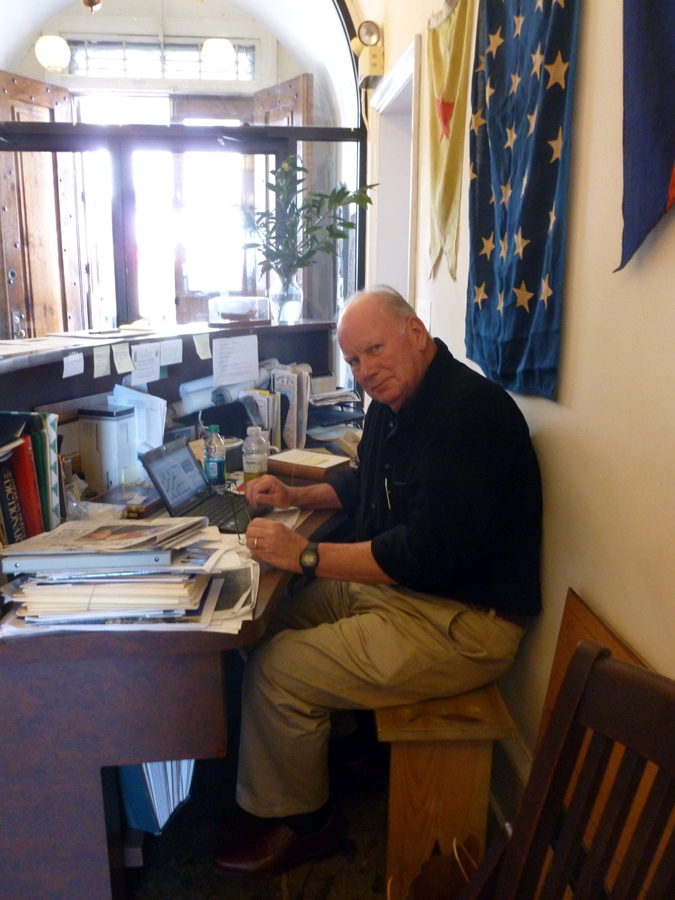 10.18.11 We're keeping our eyes open around town. Our friends in the City's Highway Maintenance Division keep surprising us with new signage, signs which soon will be directing visitors to our door. There are three signs so far: on Tilly Street at Bank, on Bank coming from Niantic, and--most recent--on Eugene O'Neill.

That's good news because we wouldn't want Tom Moriarity, our Tuesday volunteer, to get bored!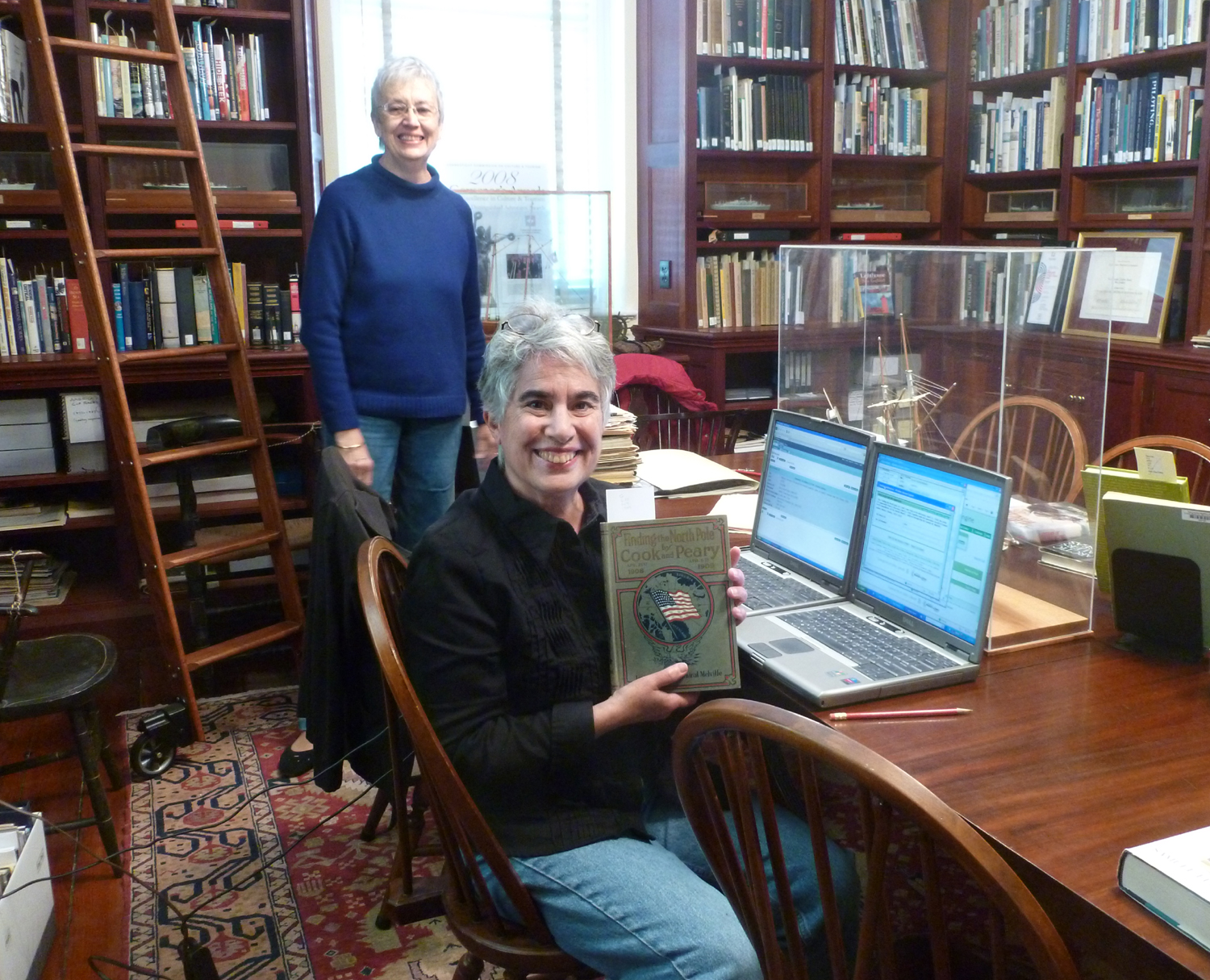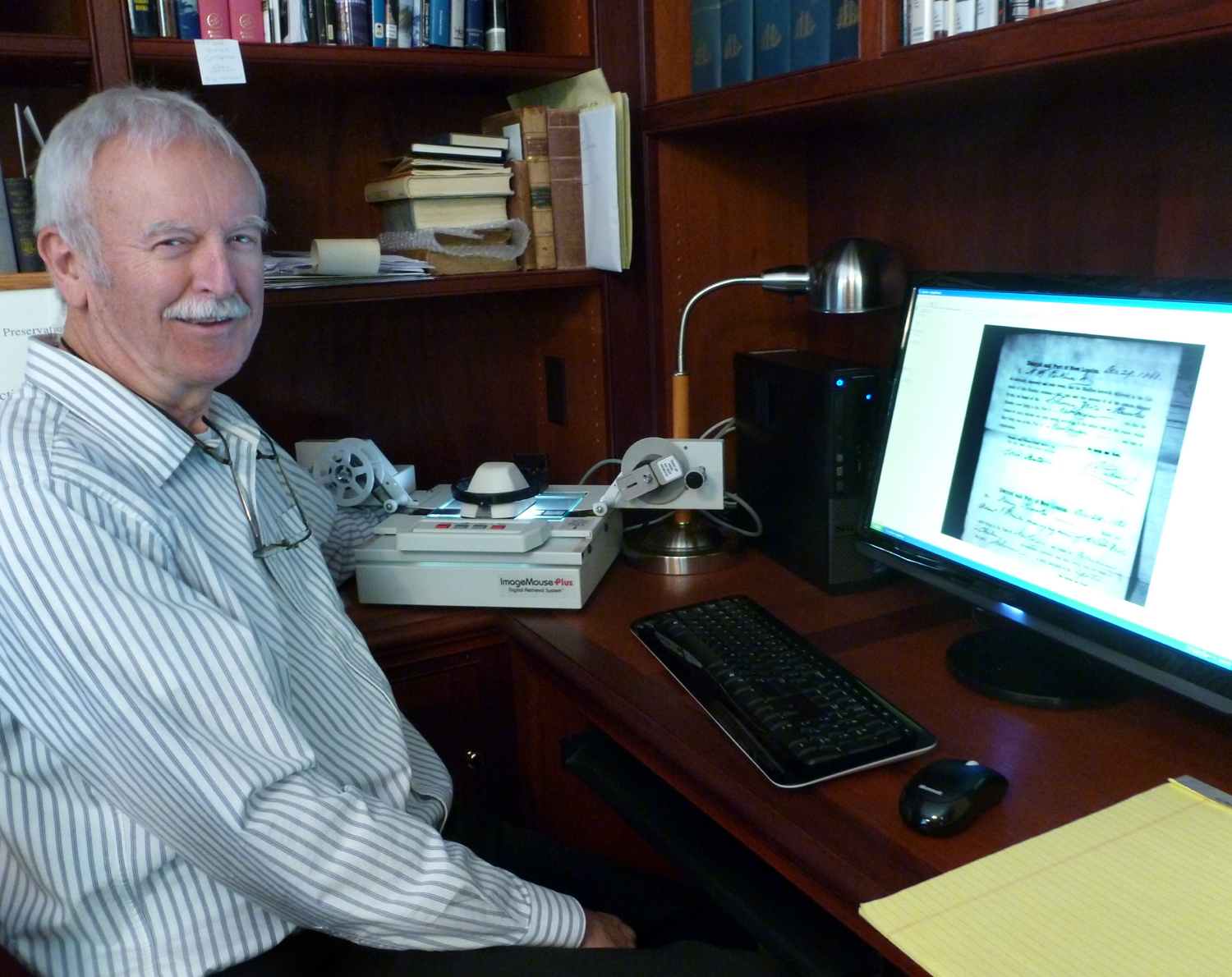 10.19.11 Another area of significant improvement at the Custom House (in addition to the bulkhead doors and galley) is the Frank L. McGuire Library, where a long-awaited new computer and printer have made it possible for us finally to read & print from our stores of 19th-century New London customs document stored on microfilm. At left, librarian Brian Rogers demonstrates the Image Mouse microfilm reader. Below, Carol Rogers works on organizing the Archibald Chester Collection while Laurie Deredita, (seated), tackles the cataloging of new acquisitions with TWO computers at the same time! That's cooking with petrol.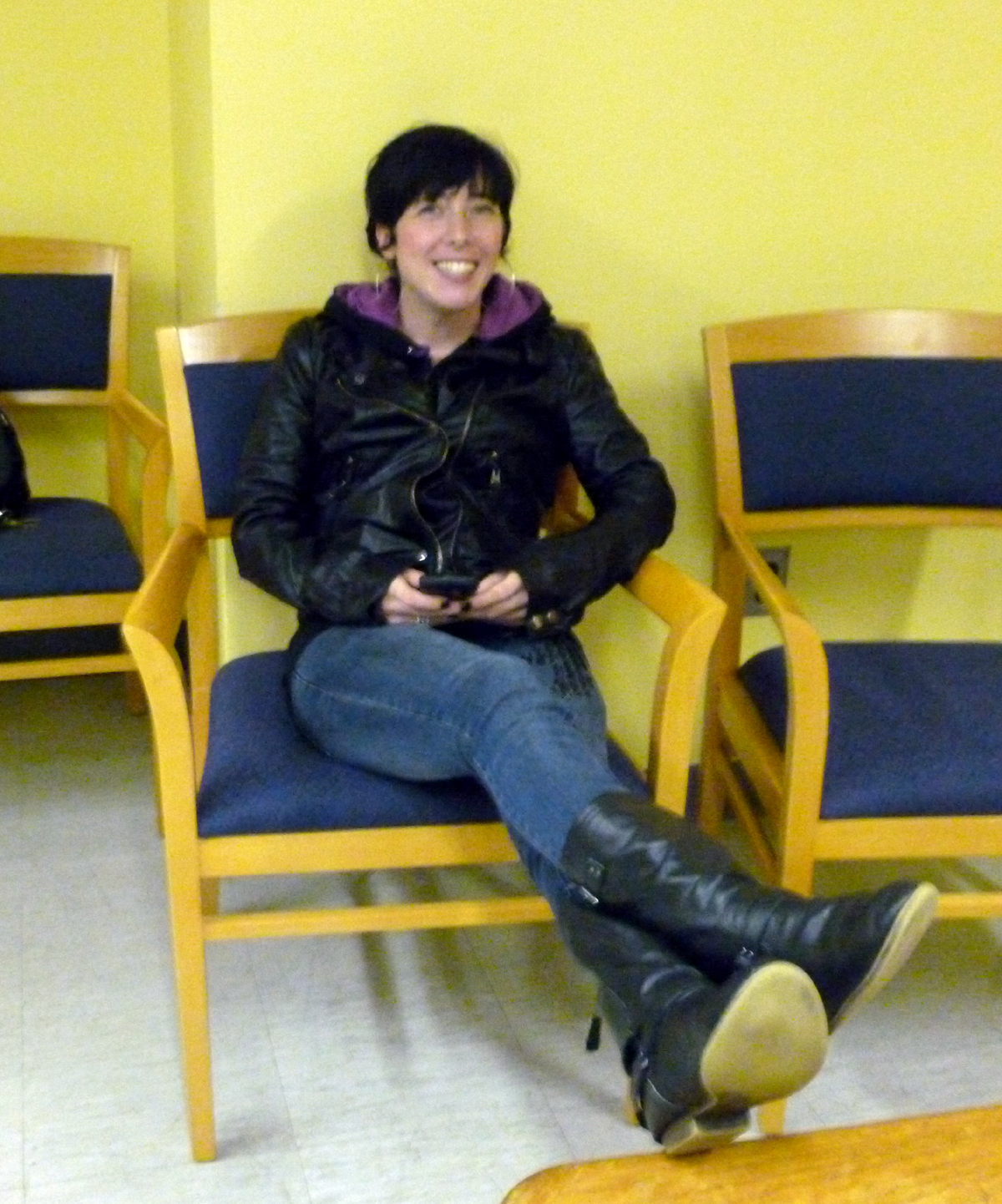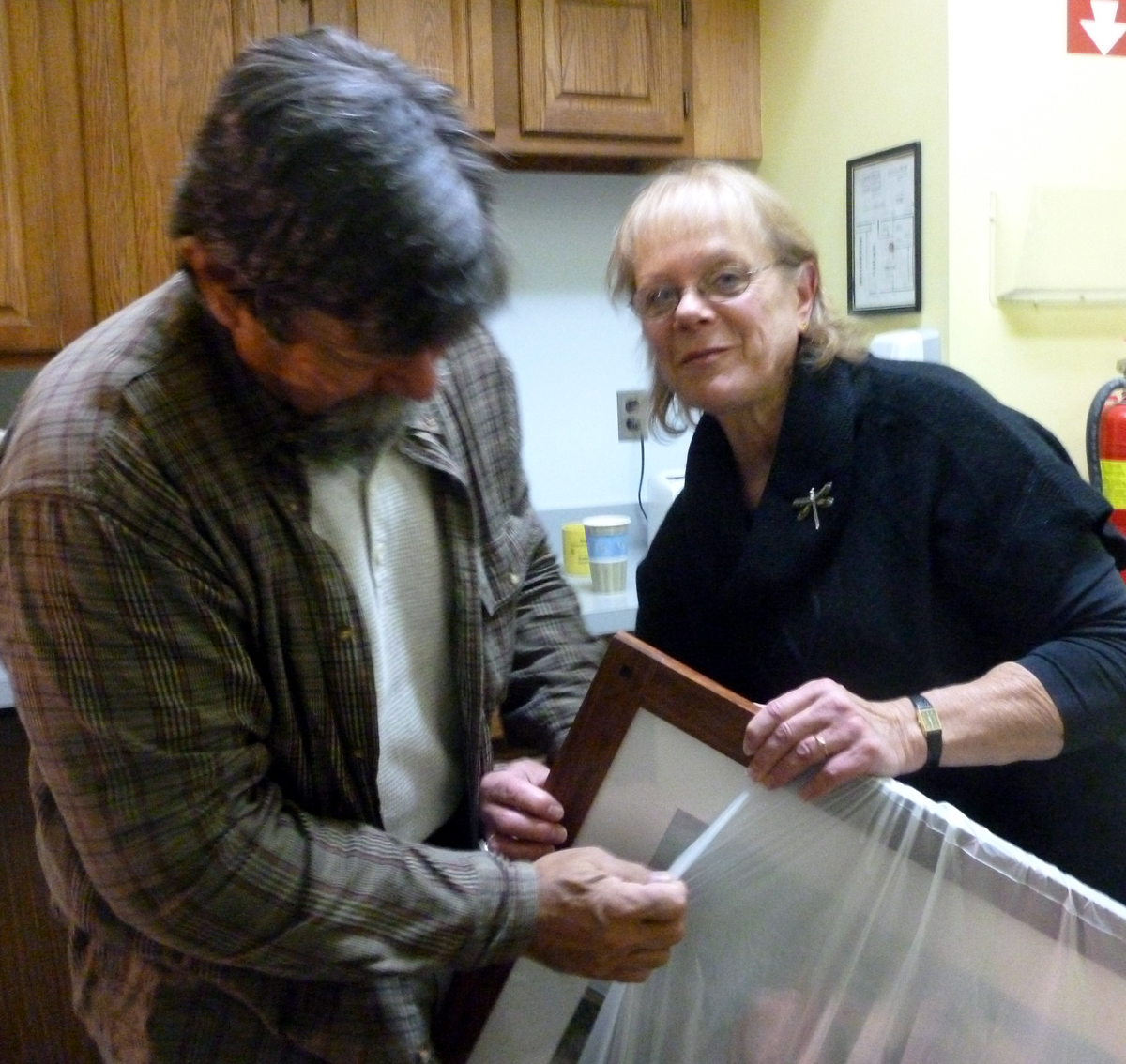 10.19.11 Tonight's TV show, Custom House Maritime Matters, had a decidely spooky feel about it as George Sprecace hosted two people whith big plans for Halloween. Artist and author Pat Kelbaugh (shown near left with husband Paul), whose watercolors of area lighthouses were exhibited this summer at the Custom House, spoke about her new series of supernational novels. Watch for her book signing at Pinc! next weekend. Jackie Steel, far left, has been scheming with downtown merchants to create something truly spookcular for the holiday. Jackie gave a preview of Halloween Town, describing the many safe, family events that will be taking place over the weekend in New London.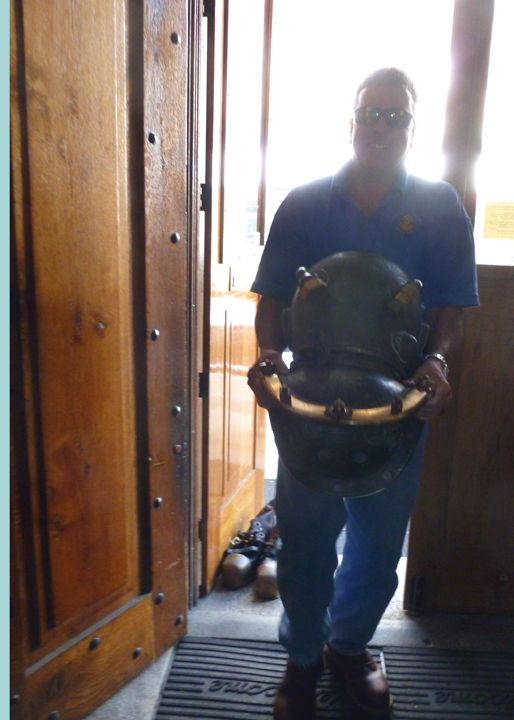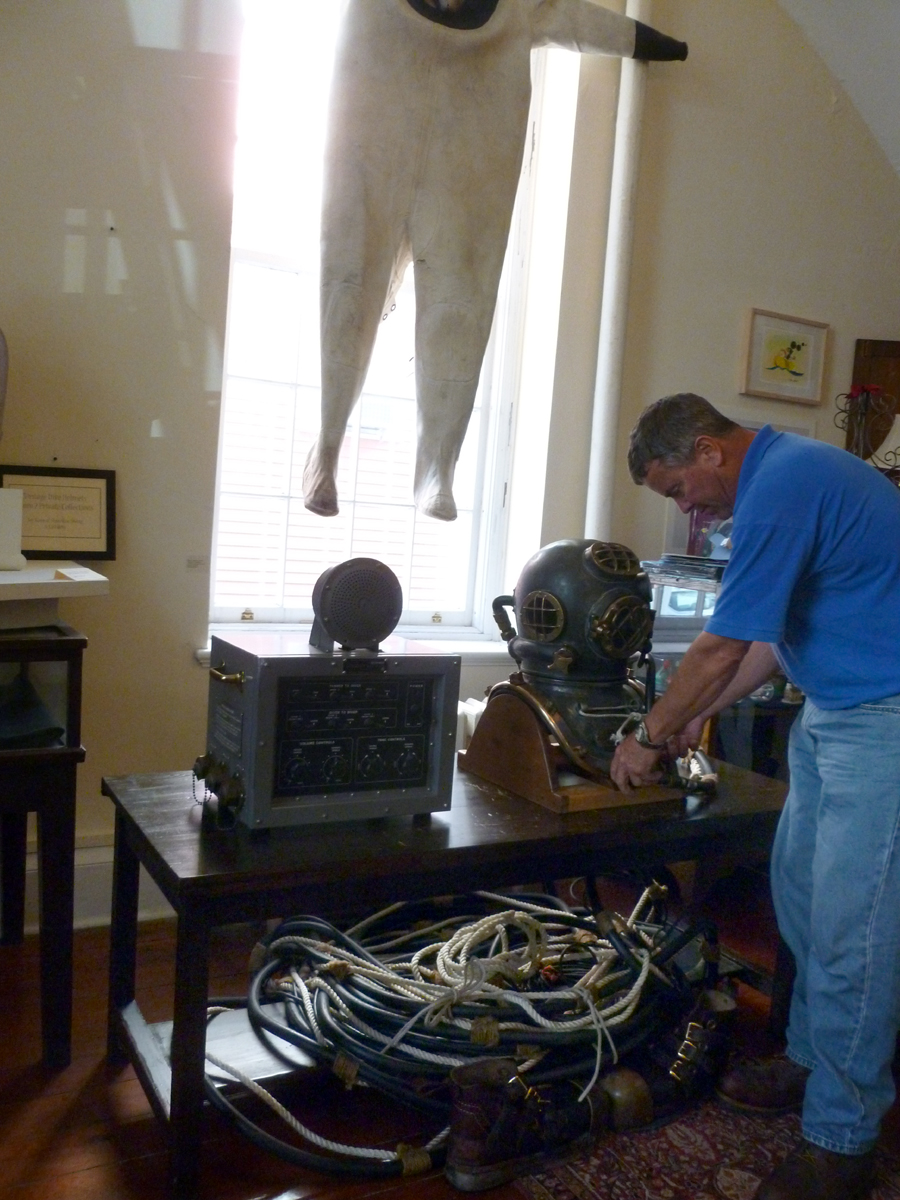 10.20.11 Just in time for our first school visits next Monday, diver Jay Kane, of Shoreline Diving, brought his Mark V deep-sea diving suit back to the museum.

In fact, he took the suit from our display so that he and other vintage dive afficinados could dive in it!

If you recollect, the rubberized suit, helmet (60 pounds), belt (studded with 10 10-pound lead ingots), and boots (each weighing 20 pounds) are very heavy! The dive was watched by two Navy 'spotters'. You might recollect, too, that Navy divers often have the Mark V helmet tattooed on their calfs! So, in addition to the dive fans, the Navy divers got to dive in the suit, too, and they were thrilled to have the experience.

The Mark V suit was introduced early in the 20th centiry and was official deep-sea gear up into the 1980s.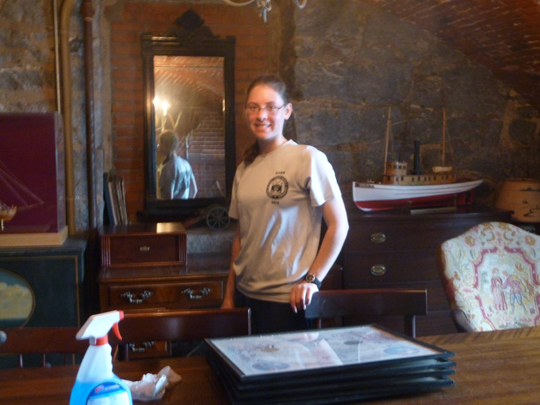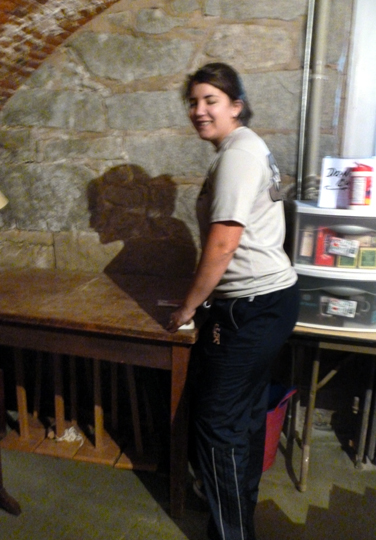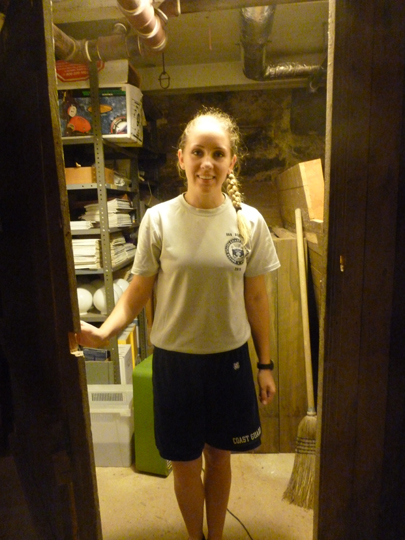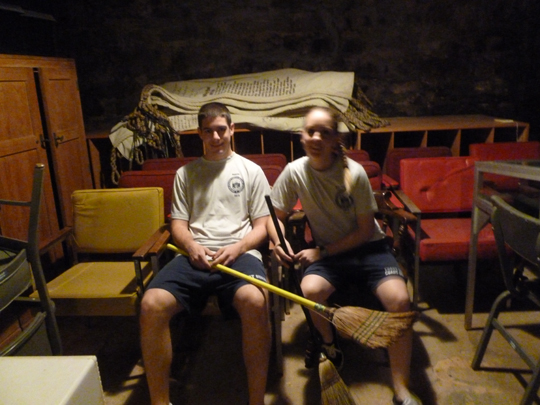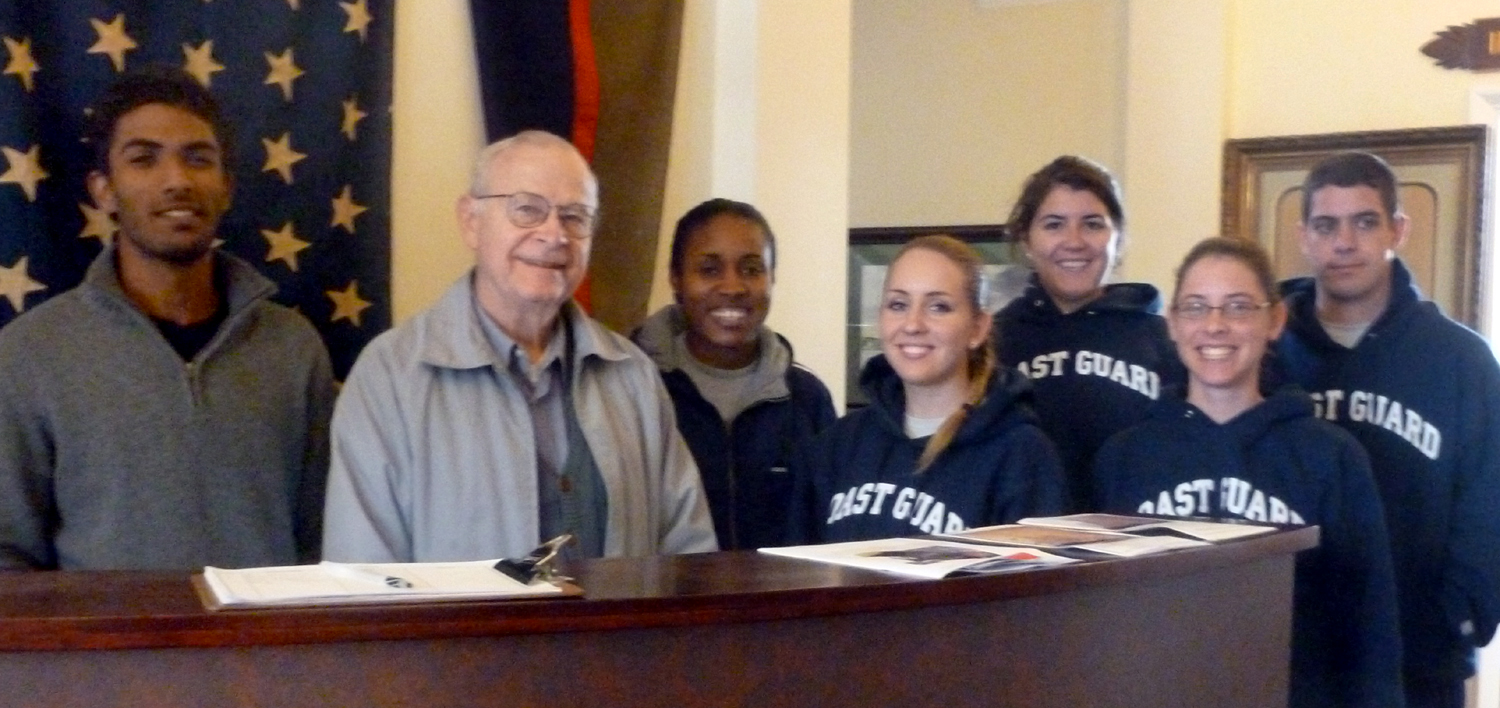 10.23.11 It wasn't our usual Sunday. In addition to (far left, from left) Prasanth, Bill and Brandy greeting the public, we had four USCGA cadets performing Community Service--in this instance, cleaning and reorganizing--in the museum's two lower levels. We'd like to thank USCGA cadets Maria Van Scoyoc, 4th class; Laurin Smith, 3rd class, Caroline Steiner, 4th class and Austin Moran, 4th class. It's looking marvelous in the sub-basement!

10.25.11  Another year of Lighthouse Kids begins (left & below).

Today we had visits from Harbor School's 4th & 5th-grades.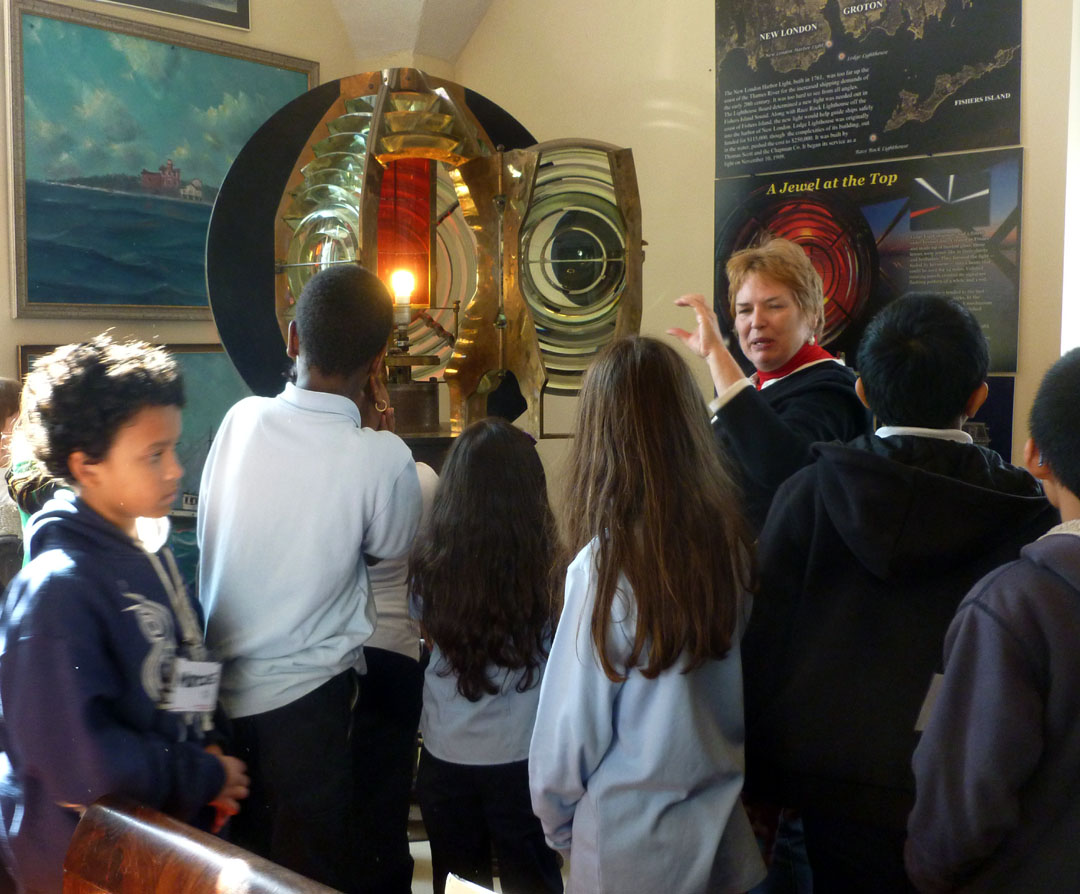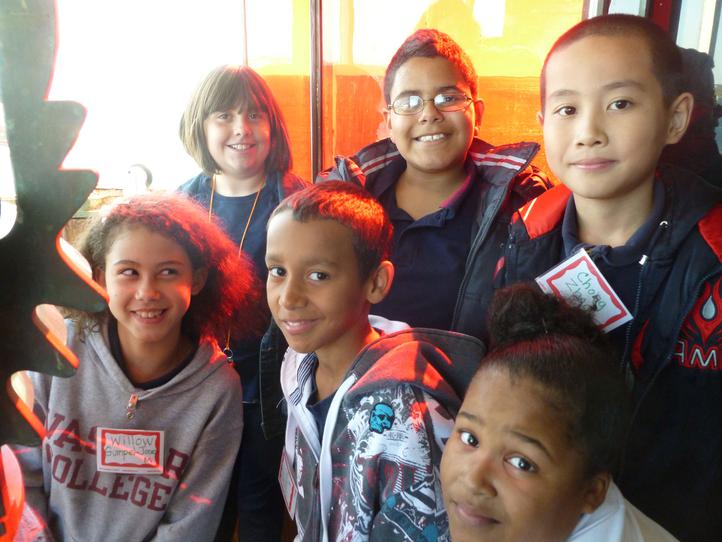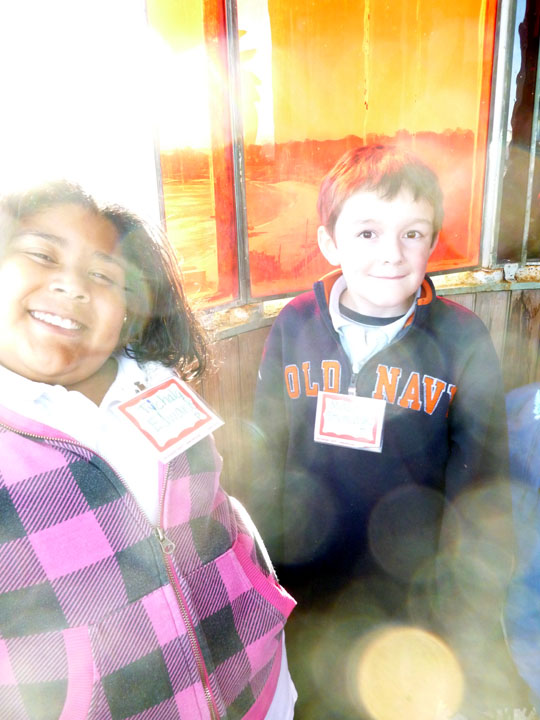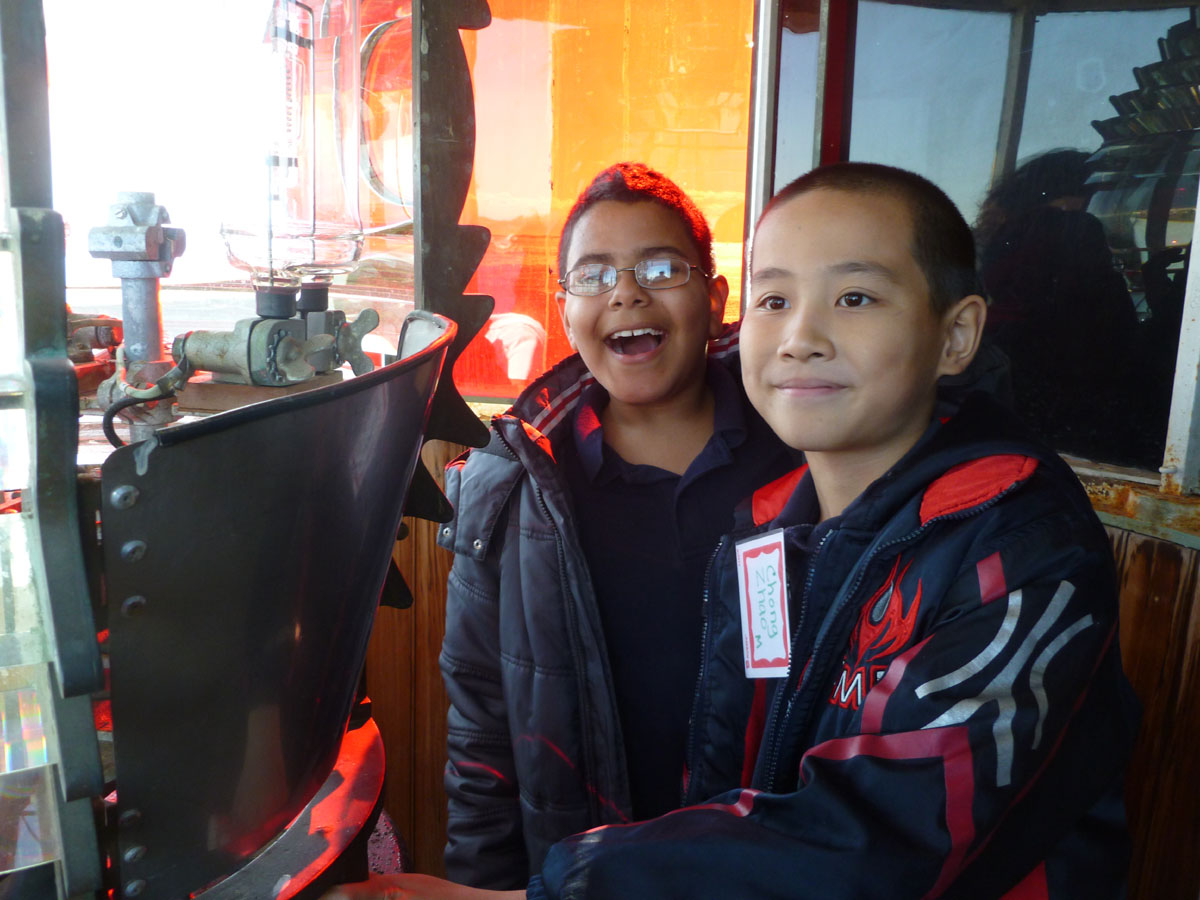 10.25.11 Our museum & website are on Google!

Watch
HERE.
Selected by Google, the New London Maritime Museum was one of only four businesses in the state to be profiled -- they choose us! In an email to the Custom House, Google wrote they believe the Custom House website story 'is great inspiration for other small business owners to realize the power of the web'.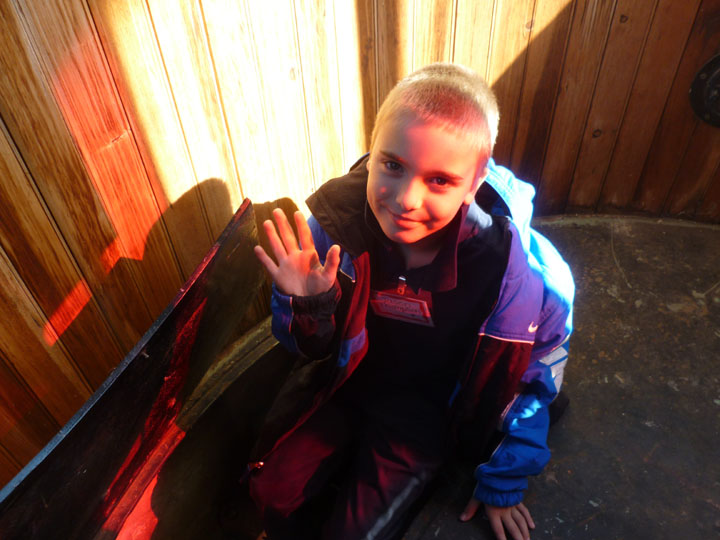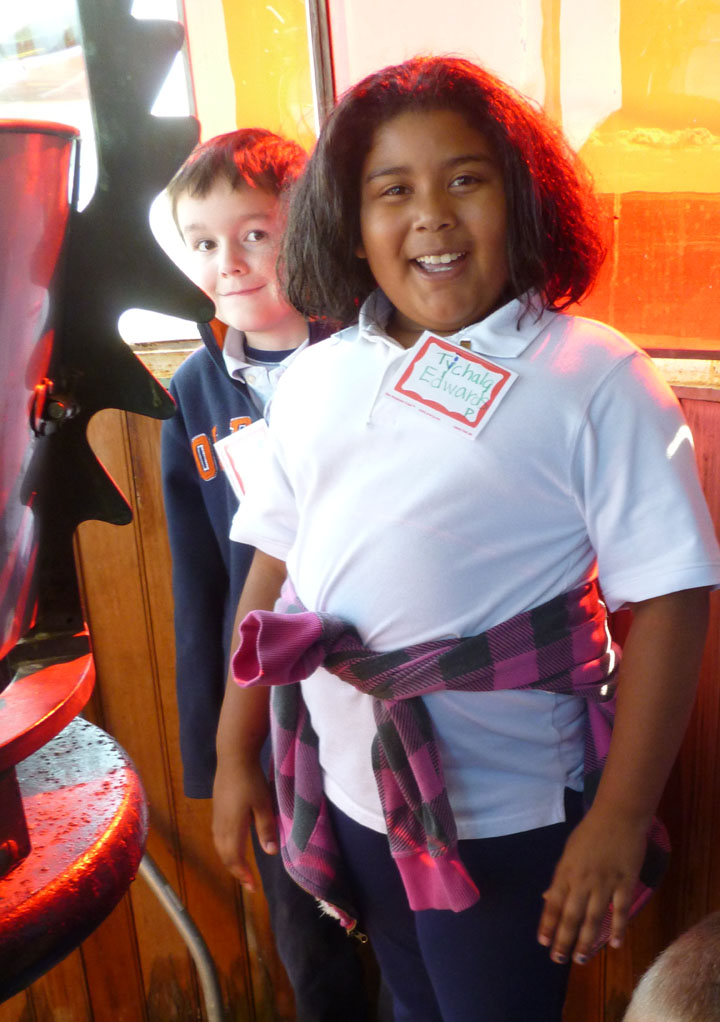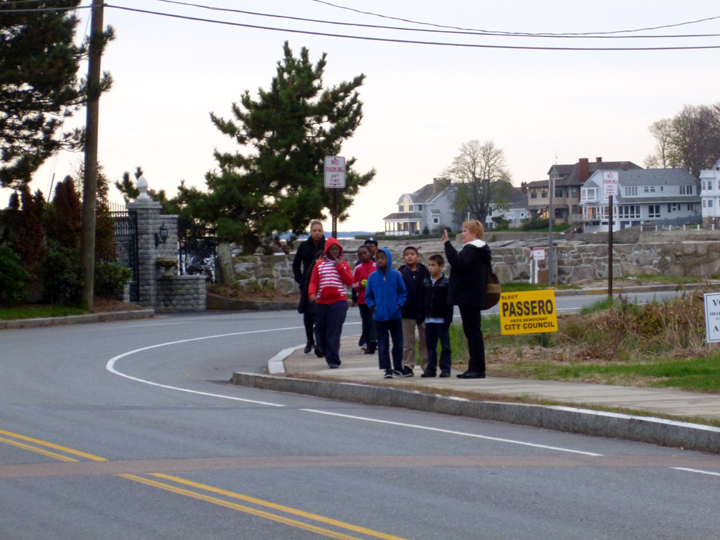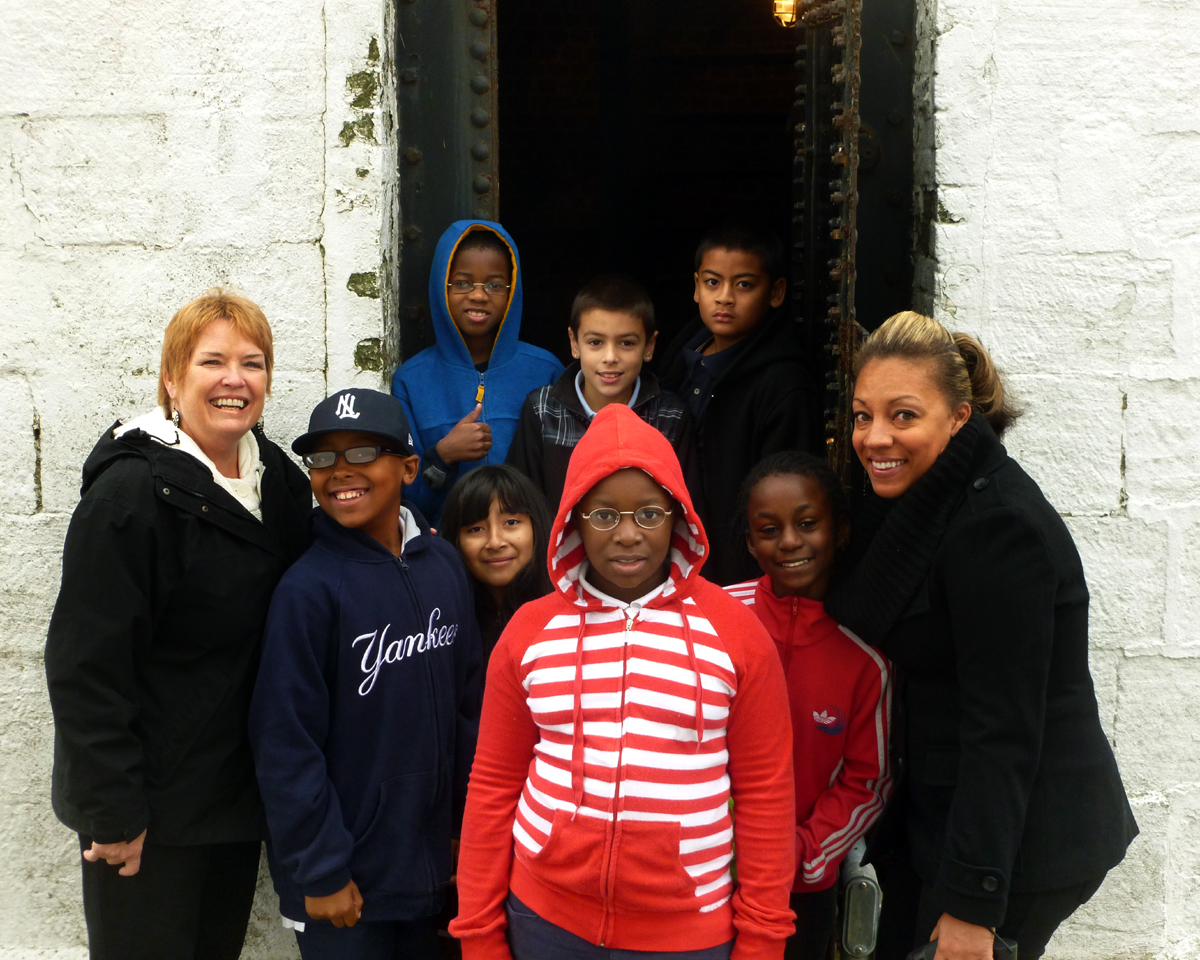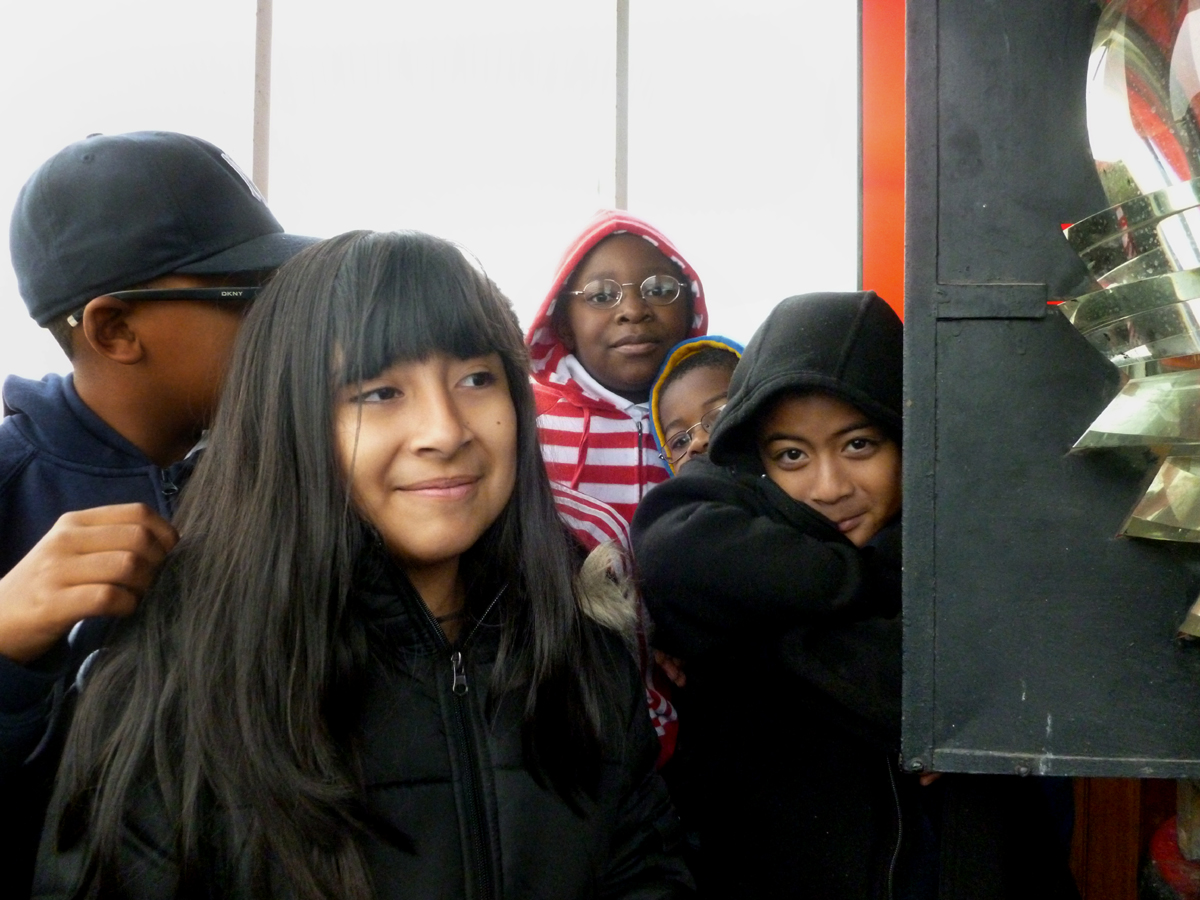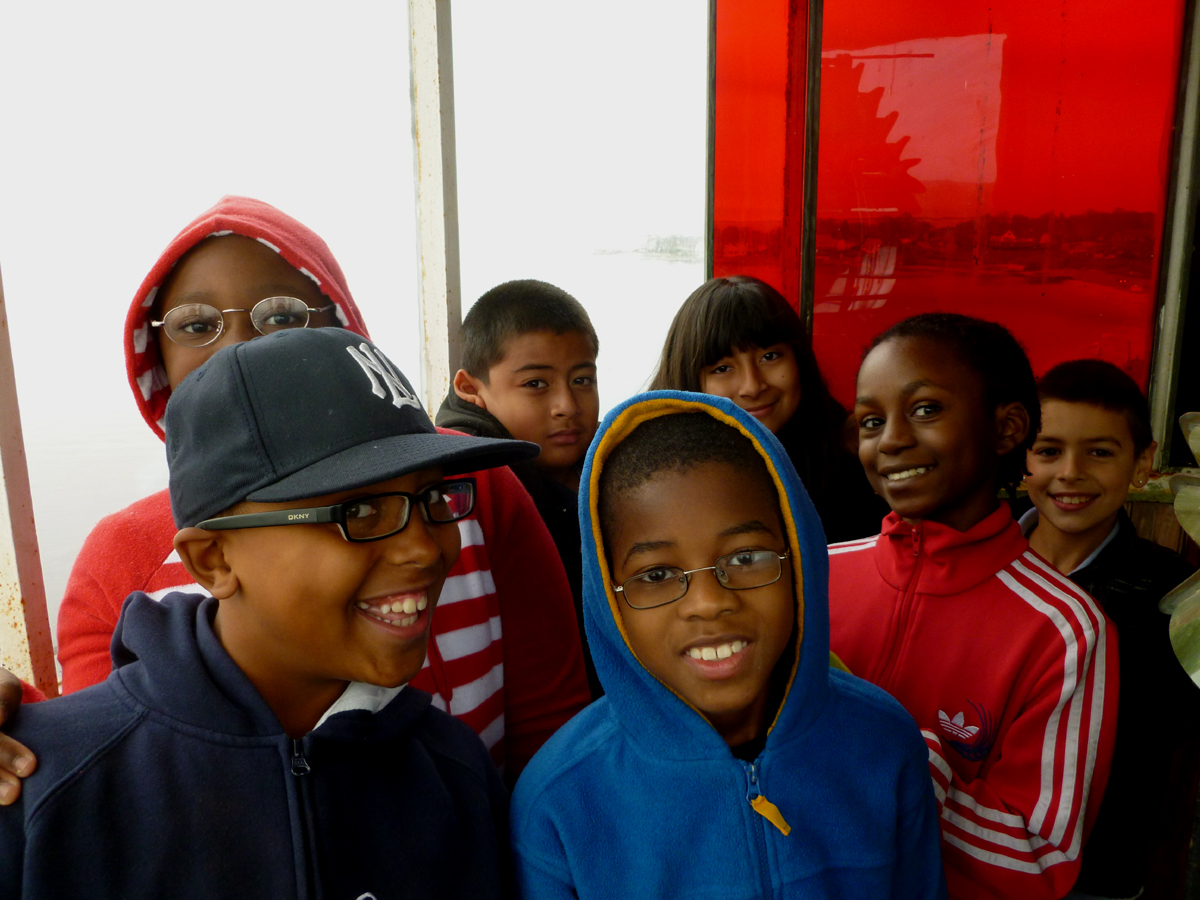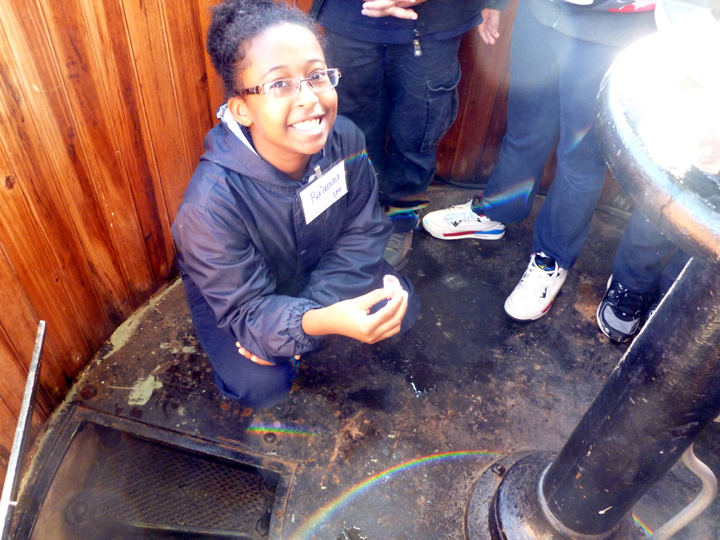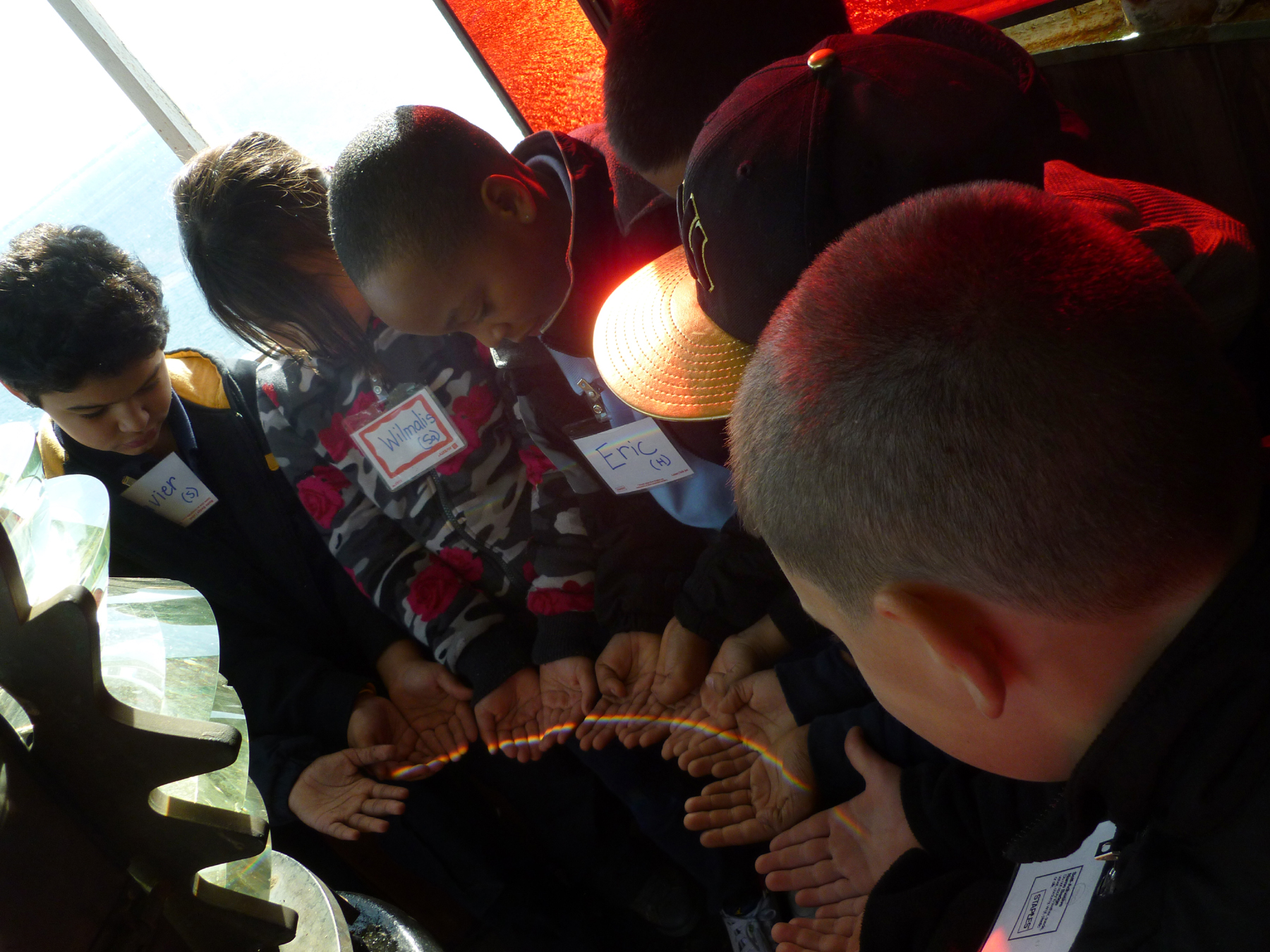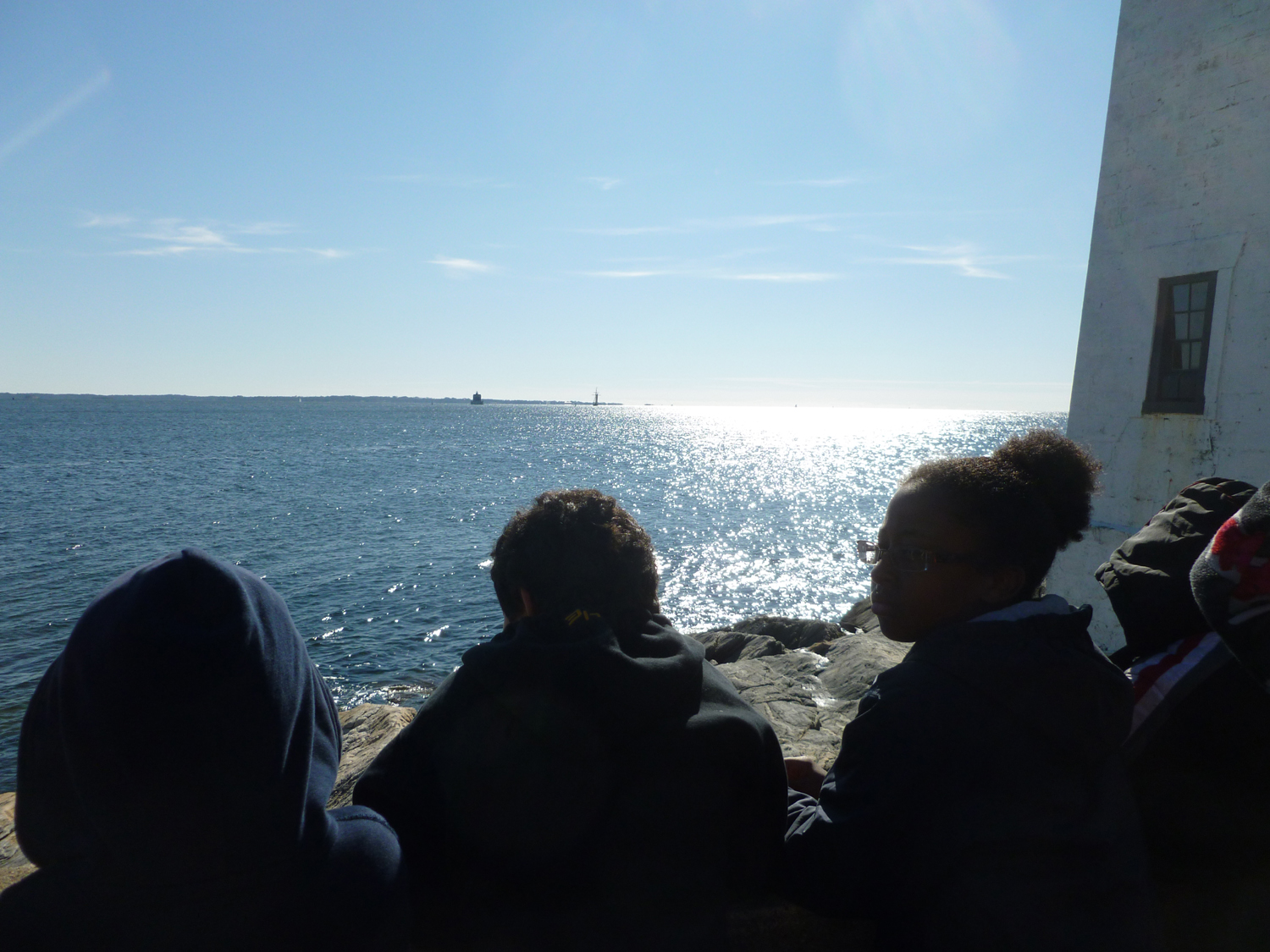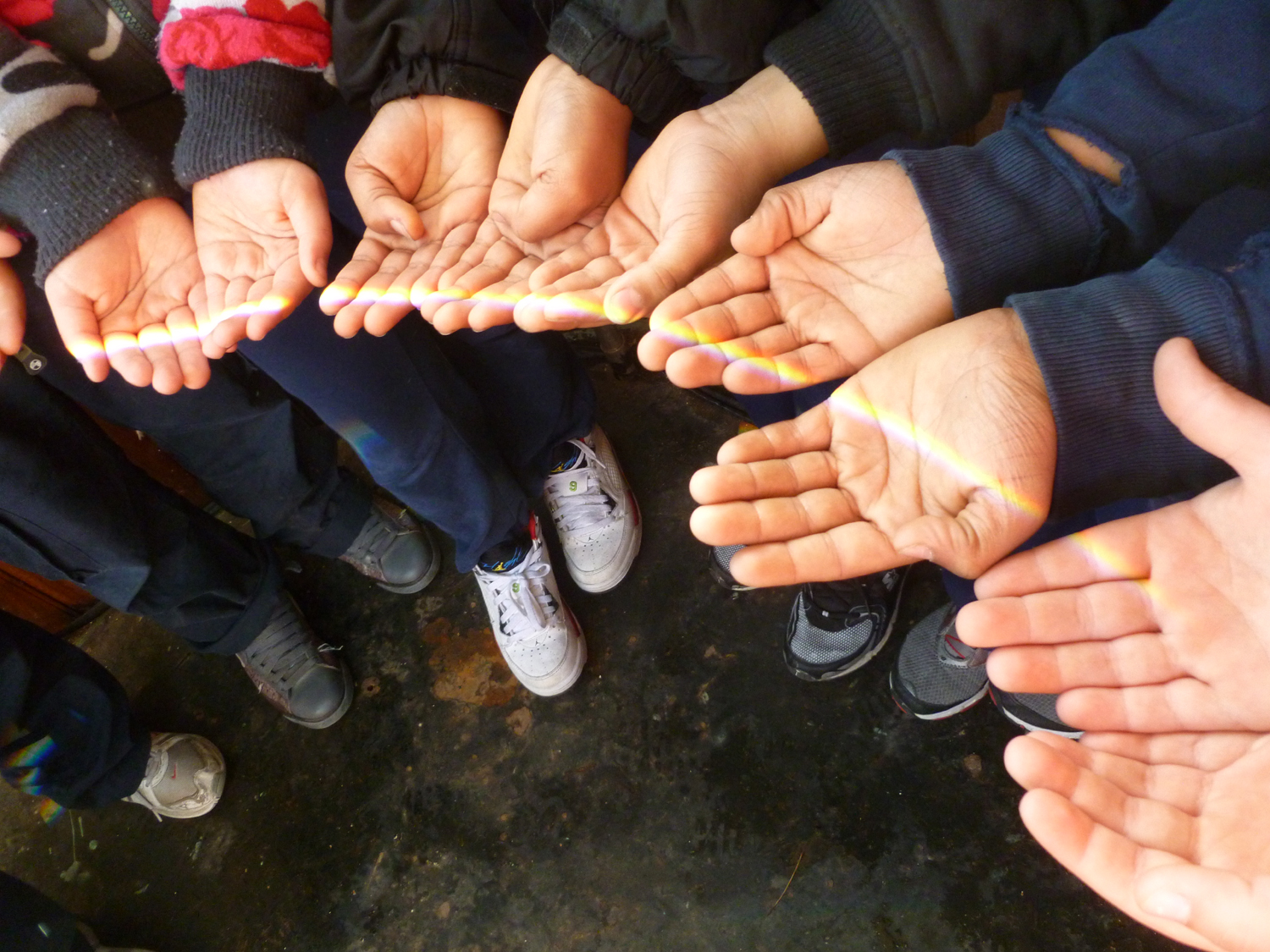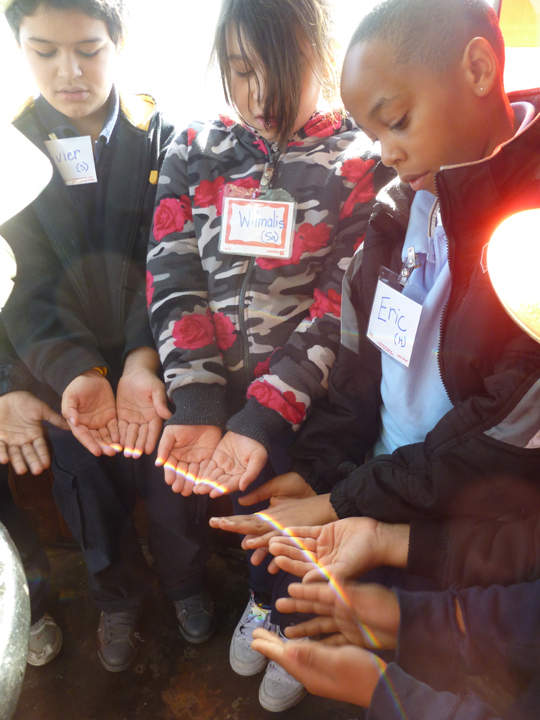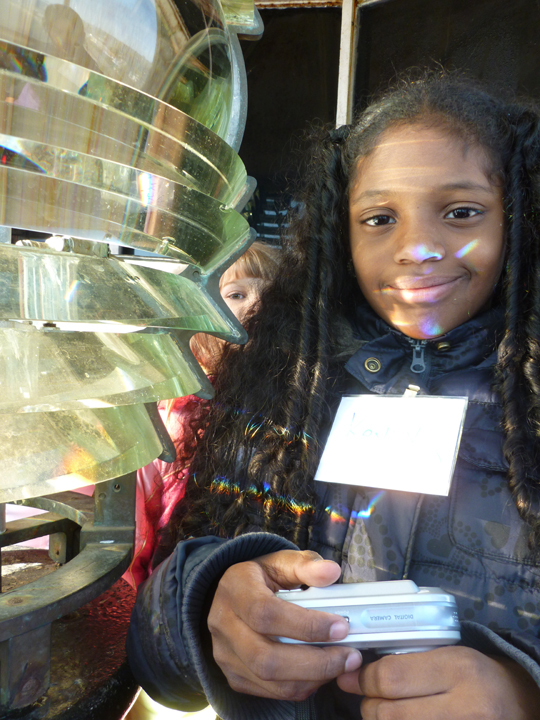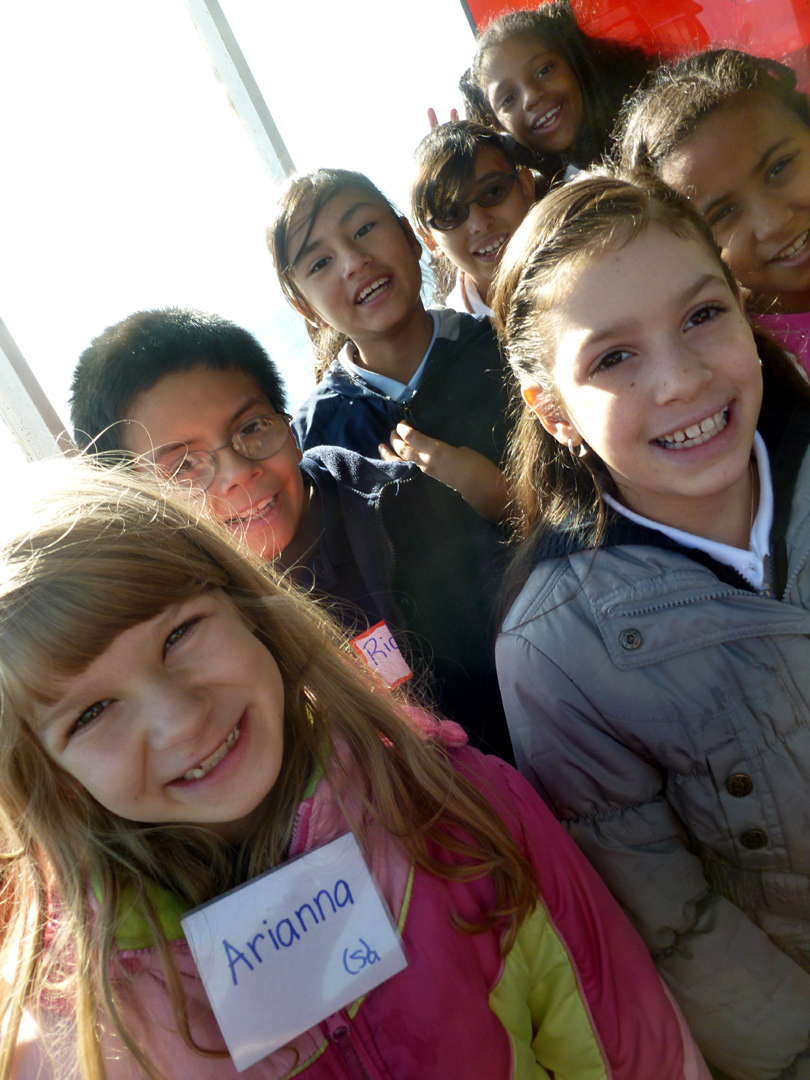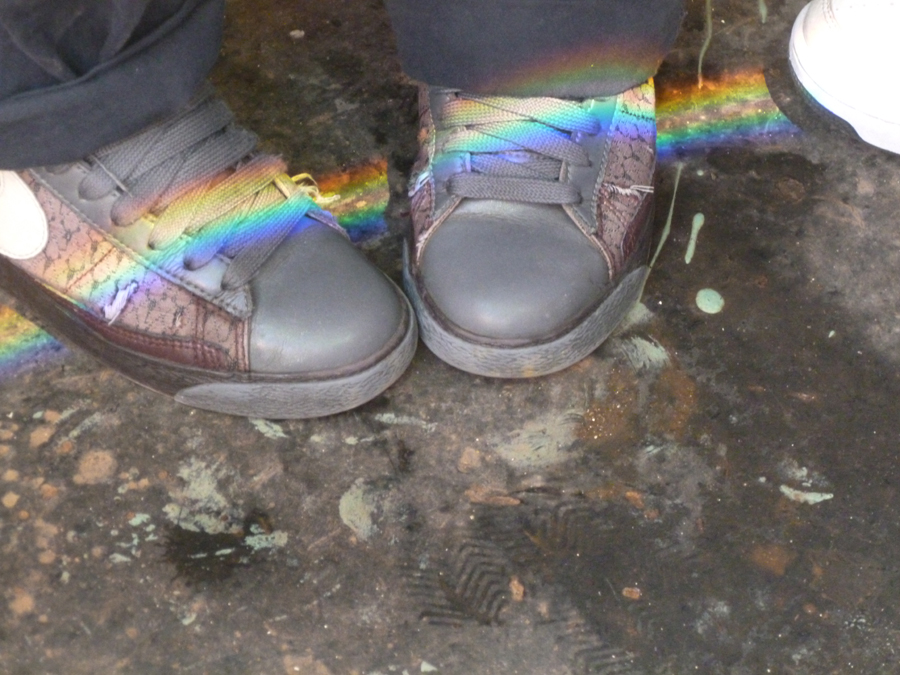 10.28.22 Jennings 4th grade Lighthouse Kids visited the lighthouse today--just at the right time to discover raimbows of refracted light created by the prisms on the Fresnel lens.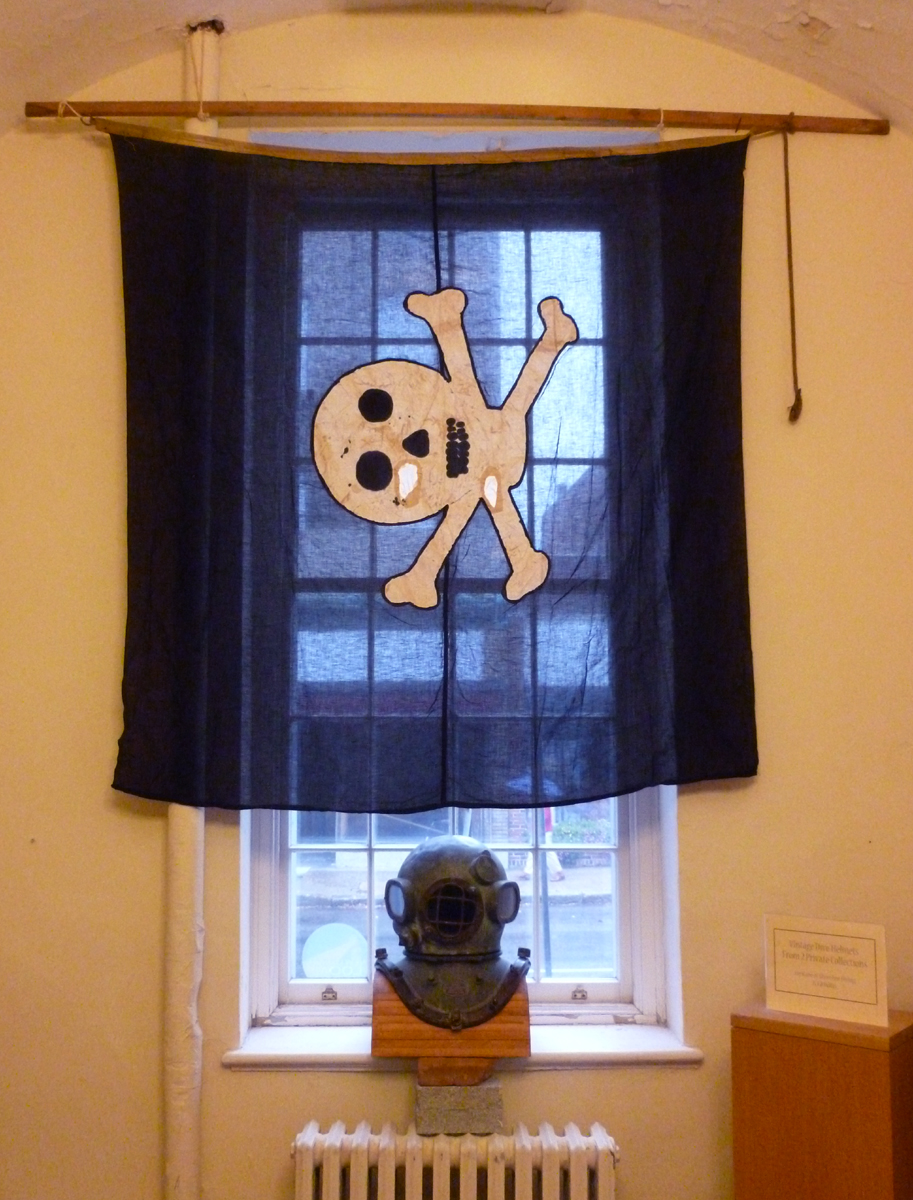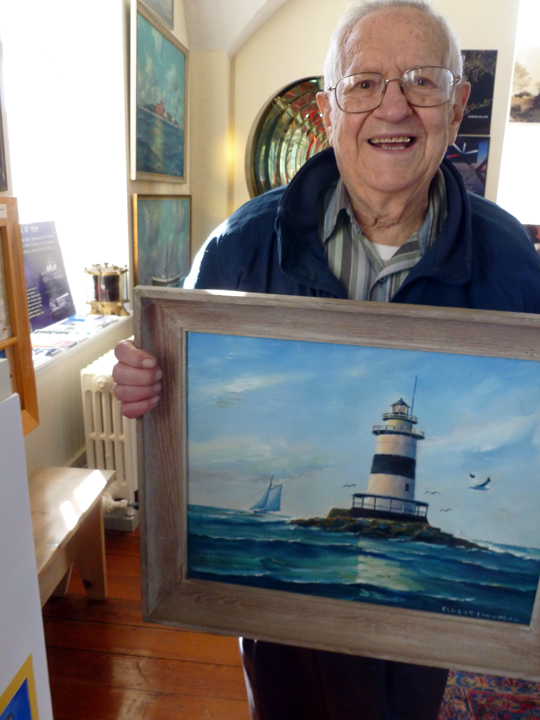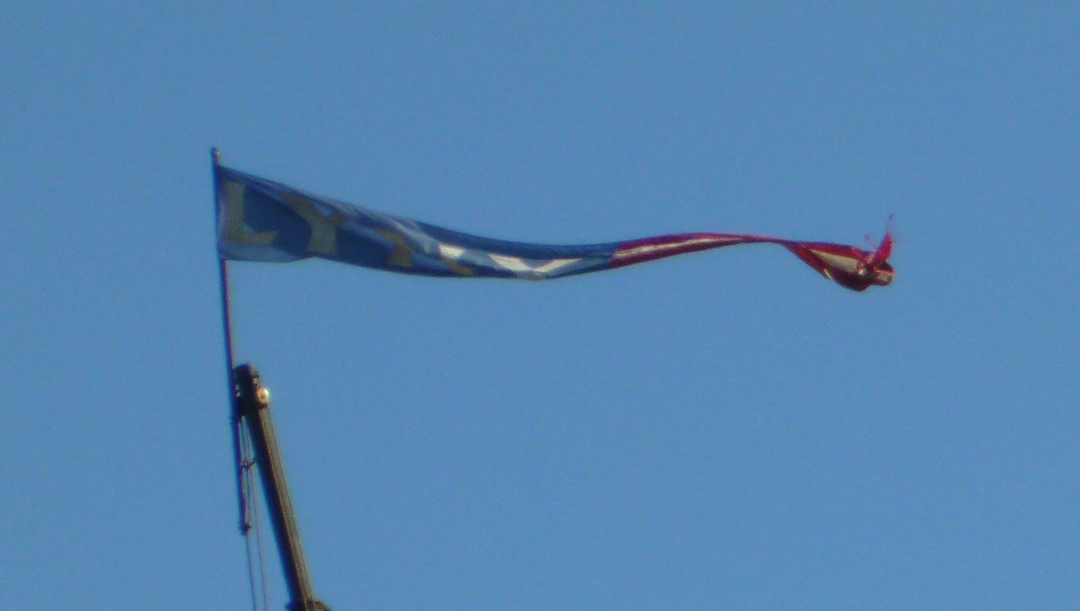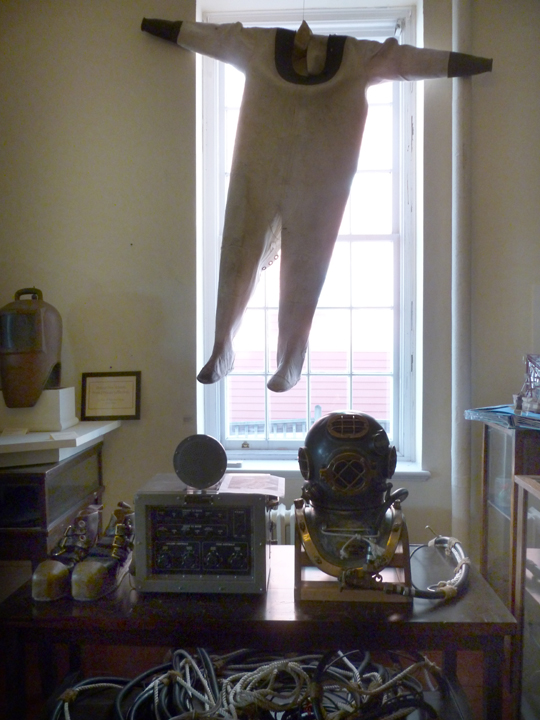 10.28.11 Our friend Marvin Berger stopped by today to pick up his terrific Ellery Thompson painting, loaned to us for the summer's lighthouse exhibition (far left). Thank you, Marvin!

Please forgive our enthusiam for the
LIGHTHOUSE KIDS!
This week, we've had our first visits since June, and it was great to see old & new faces and especially
Jody Barthel,
Lighthouse Kids teacher and super SEMI organizer. Learn more about the program
HERE
.
10.28.11  We thank Brian McCarthy for bringing us this terrifying authentic pirate flag. It's our contribution to New London's Halloween Town, (it shows especially well backlit at night!).

Earlier in the day, the privateer LYNX sailed into town. We watched it from the lighthouse with Jennings School's 4th-grade Lighthouse Kids (bleow), then saw it later downtown at the Custom House pier. We thank Waterfront Coordinator Barbara Neff for the excitement.

The crew of the Lynx trained actors for the Pirates of the Carribean films.

                                A Baltimore clipper, the form is similar to that

                                of the Amistad, with the two raked masts.

                                Below is their elegant flag.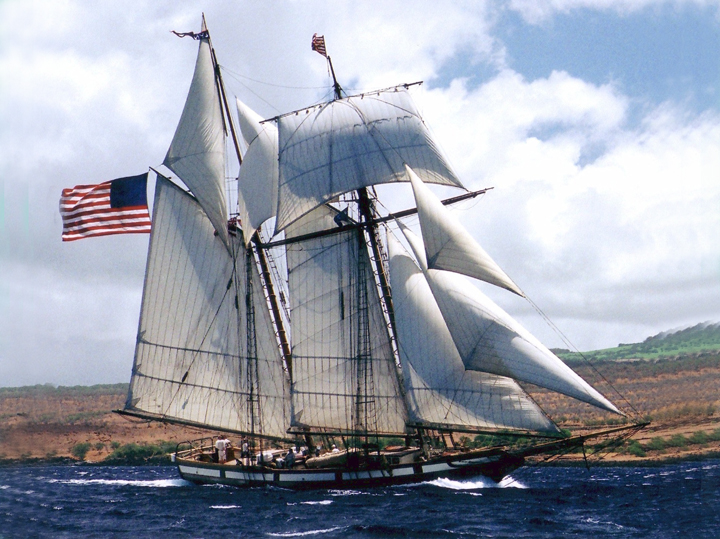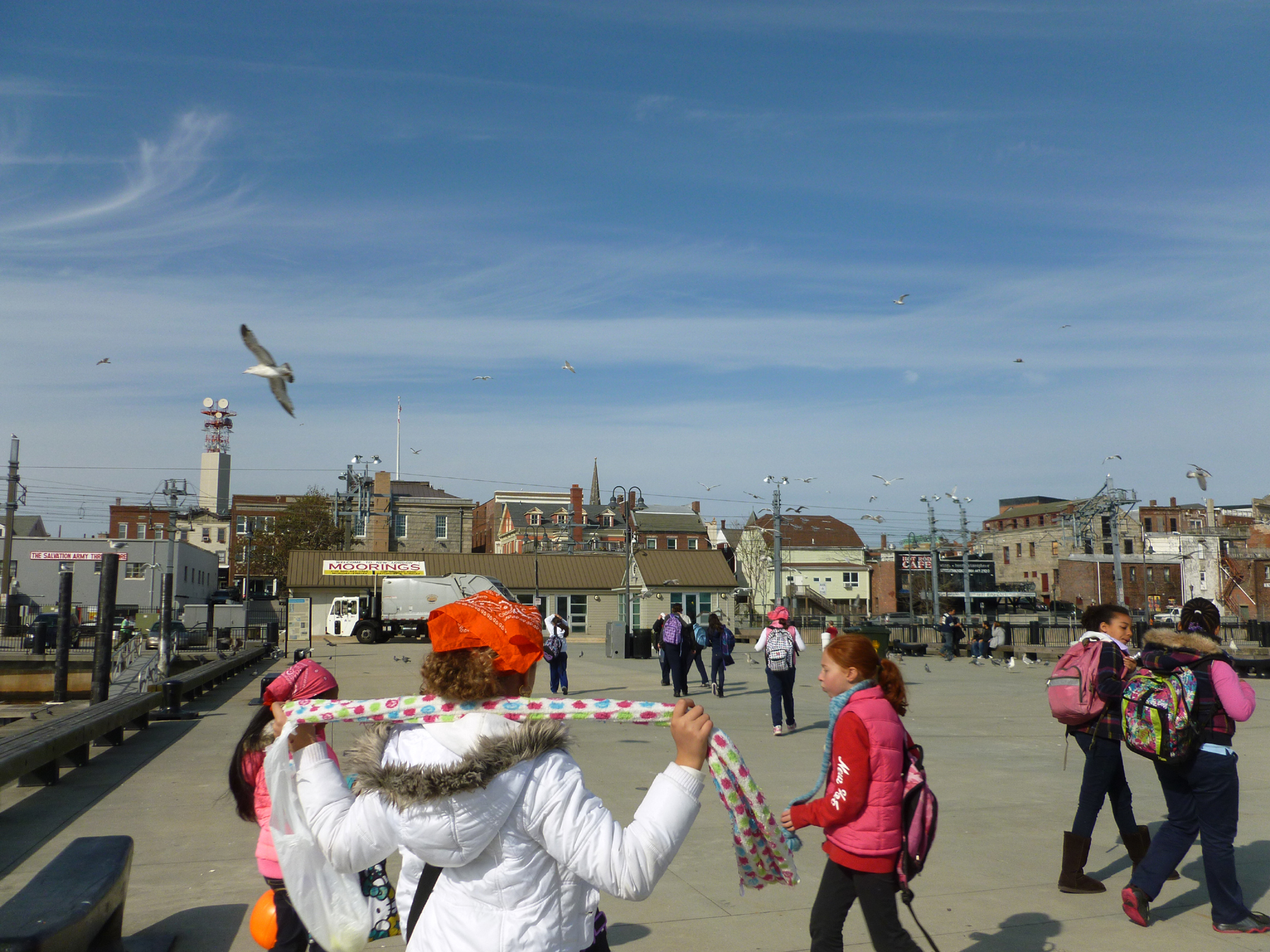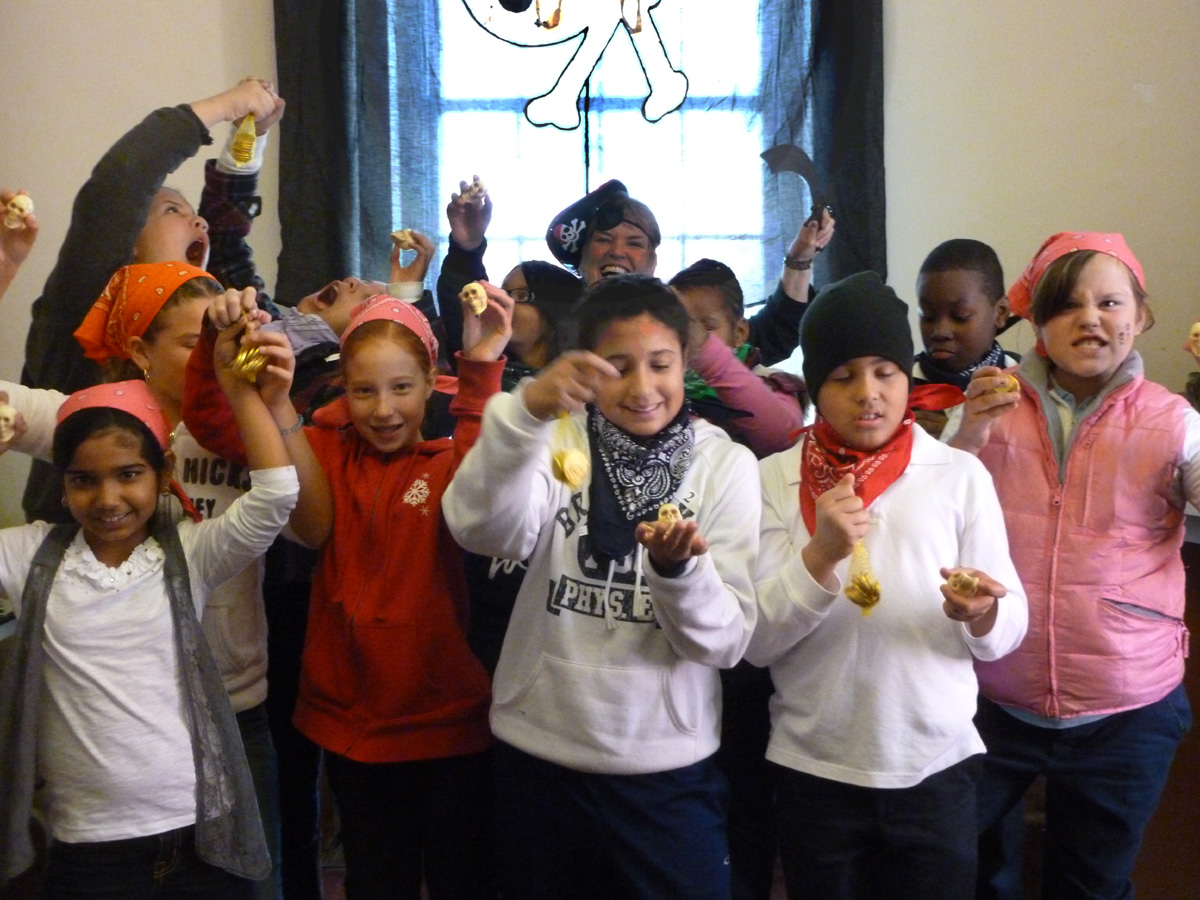 10.31.11 Halloween - Nathan Hale's 5th-grade Lighthouse Kids talked like pirates at the Custom House then visited the privateer Lynx.