Please be patient, it can take

some time to load the photos.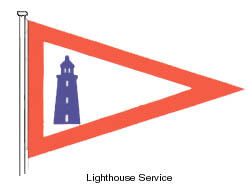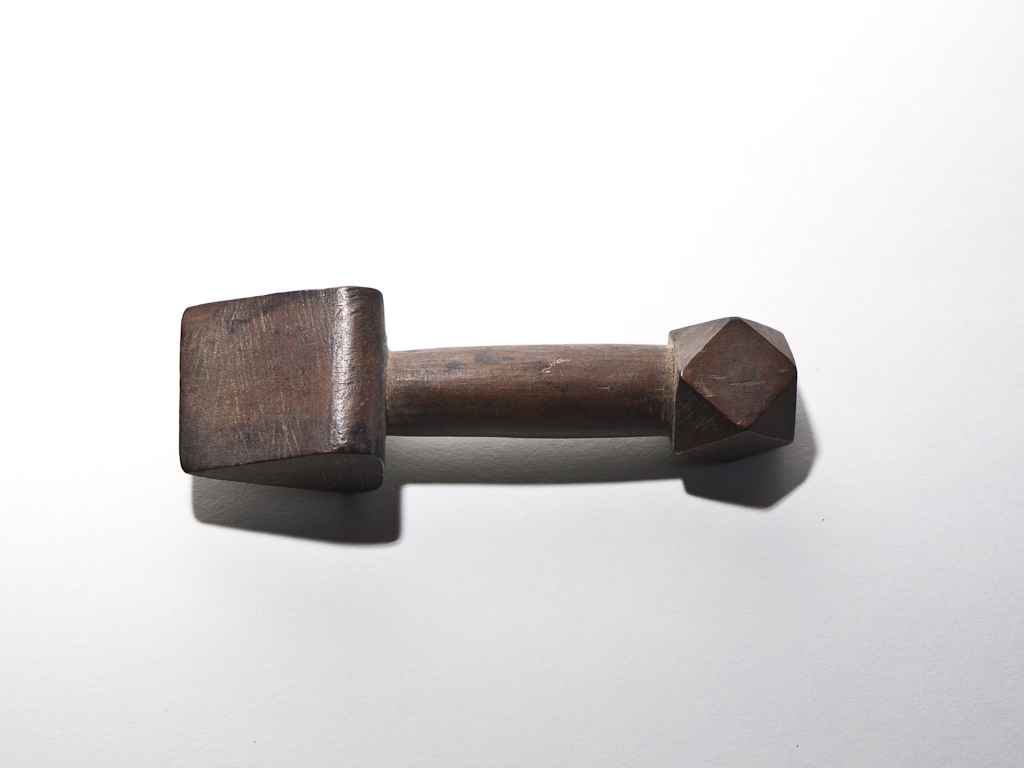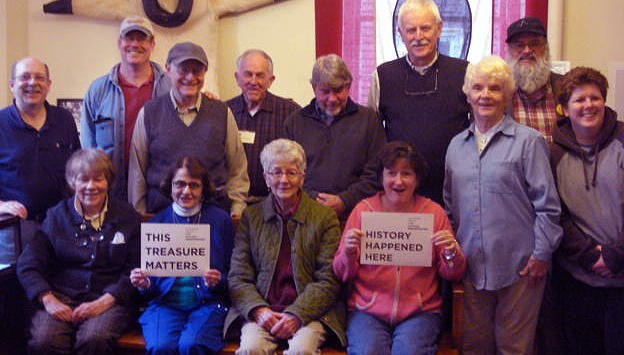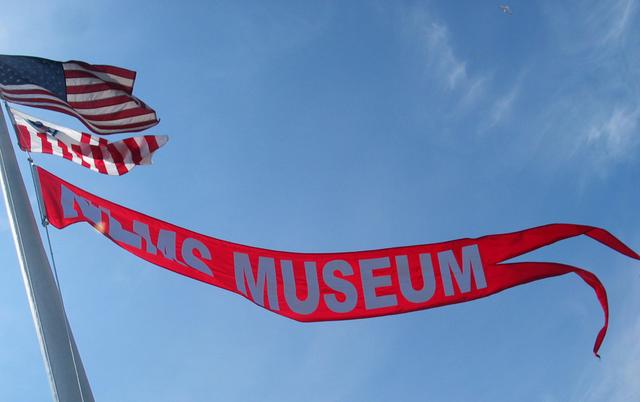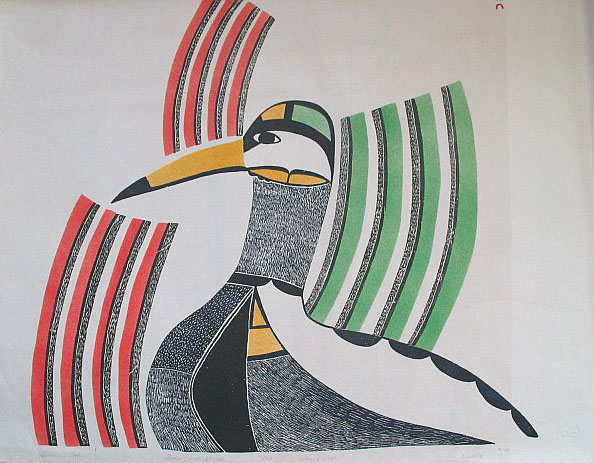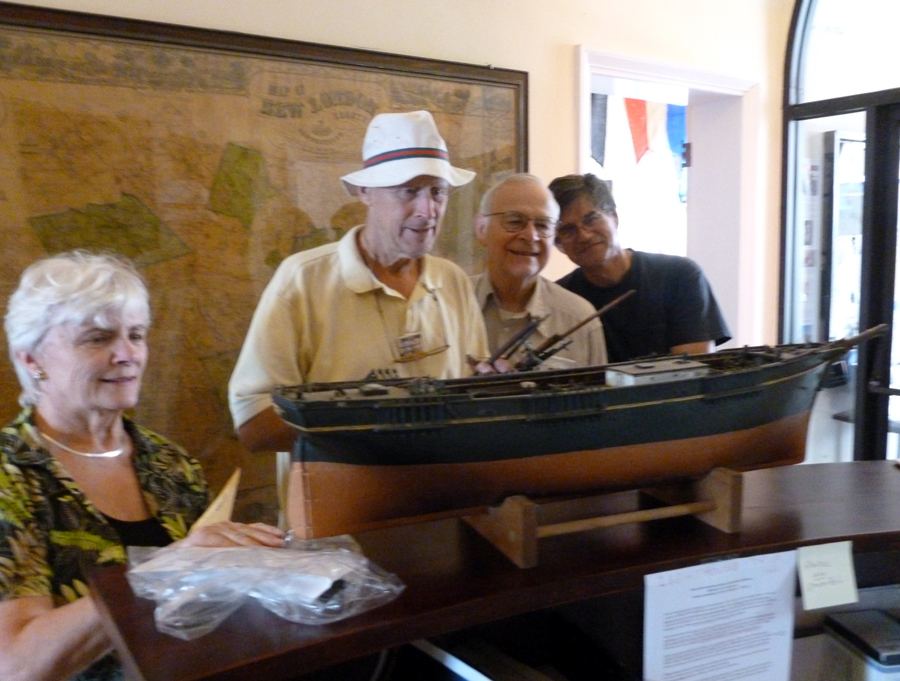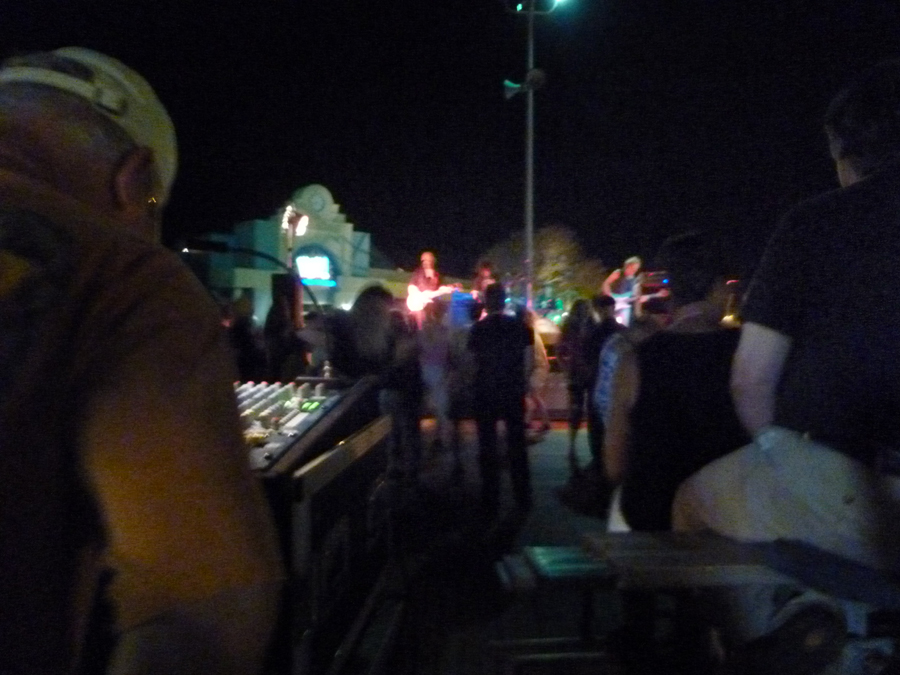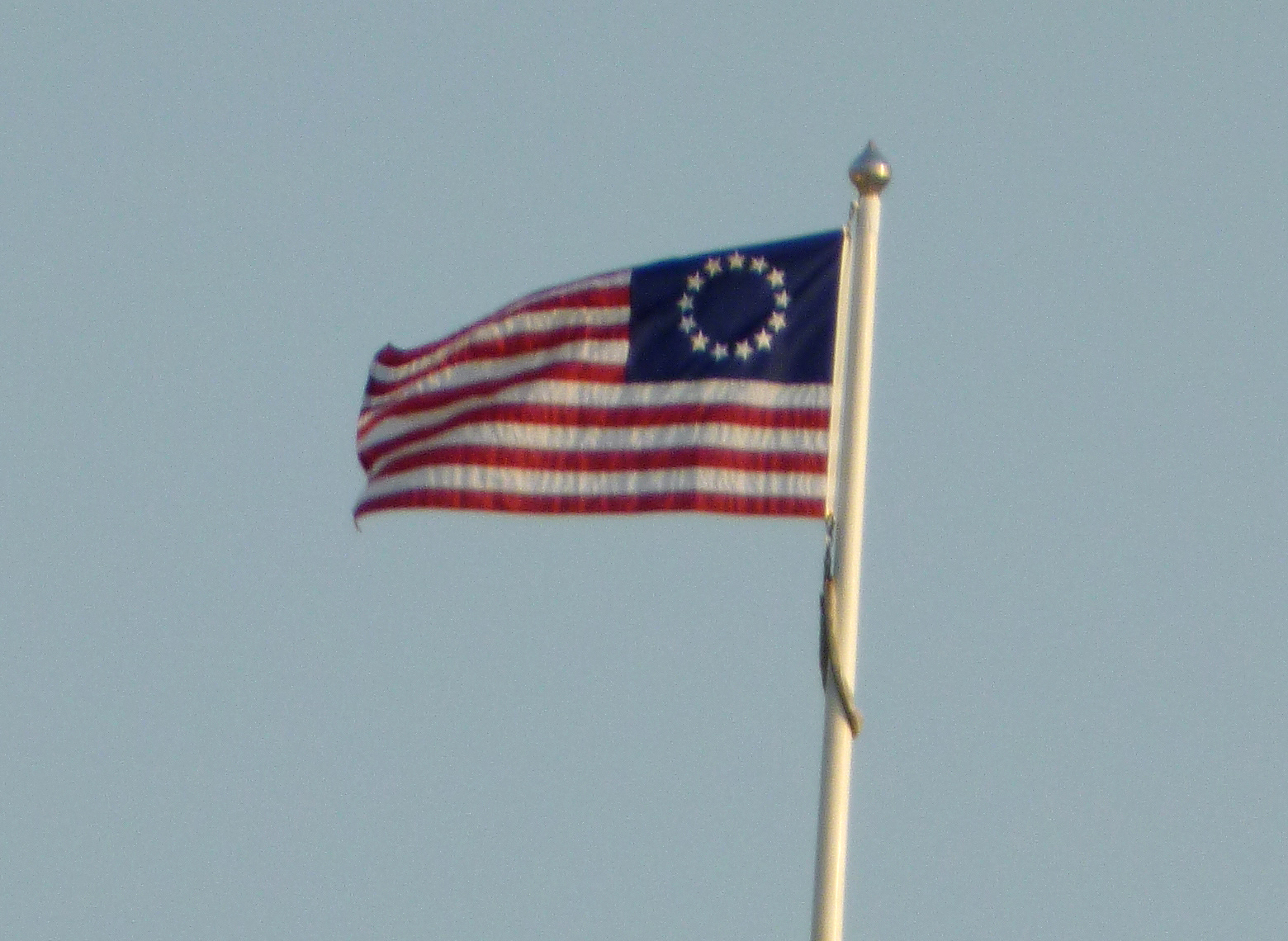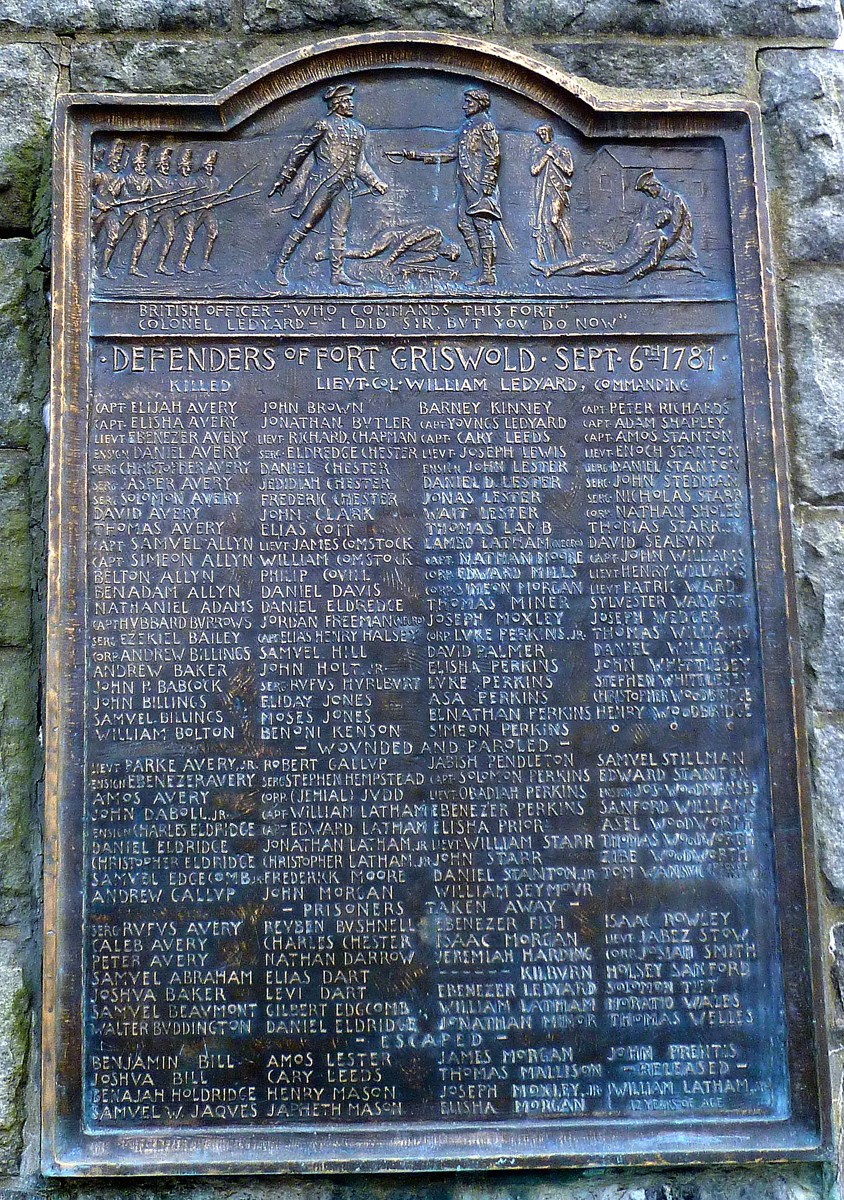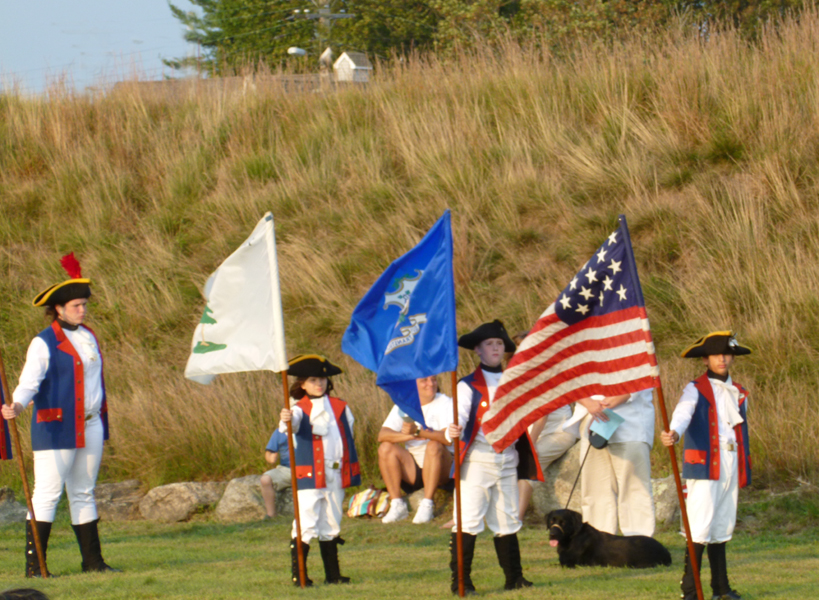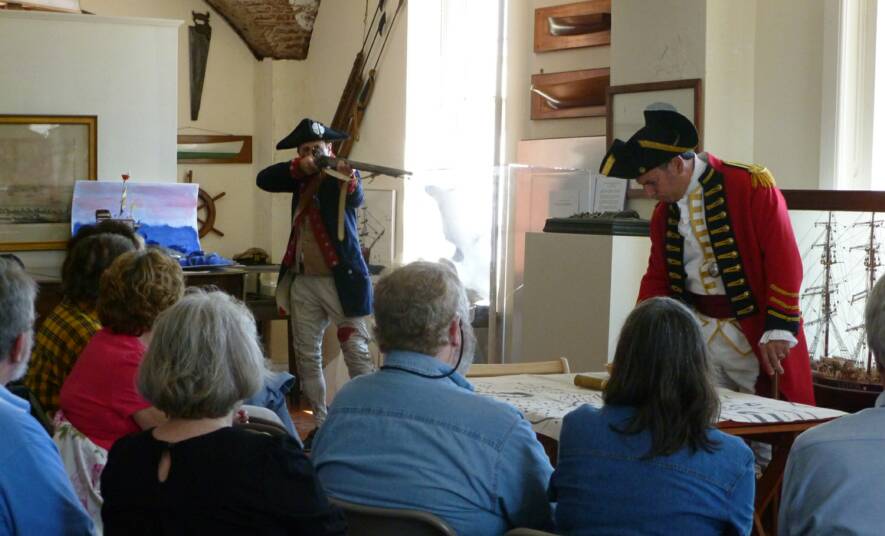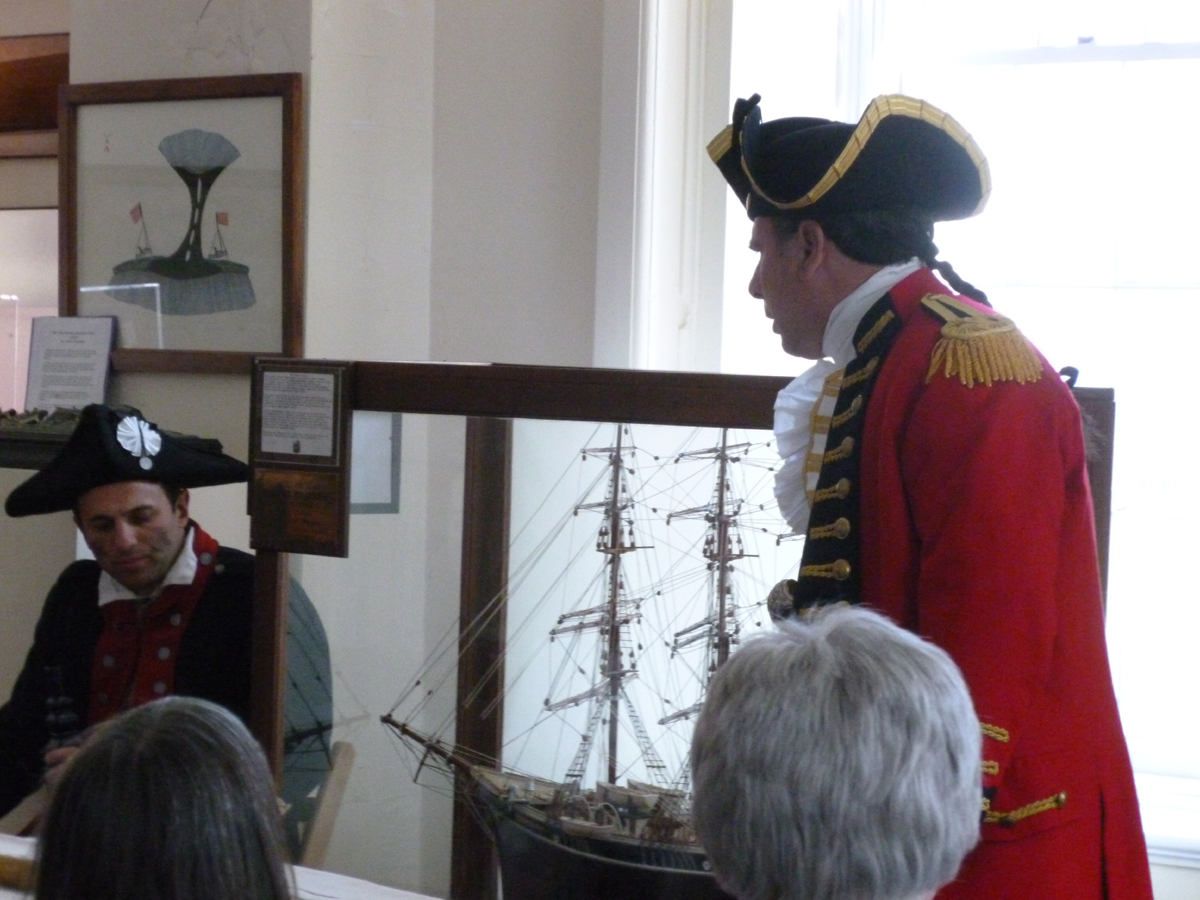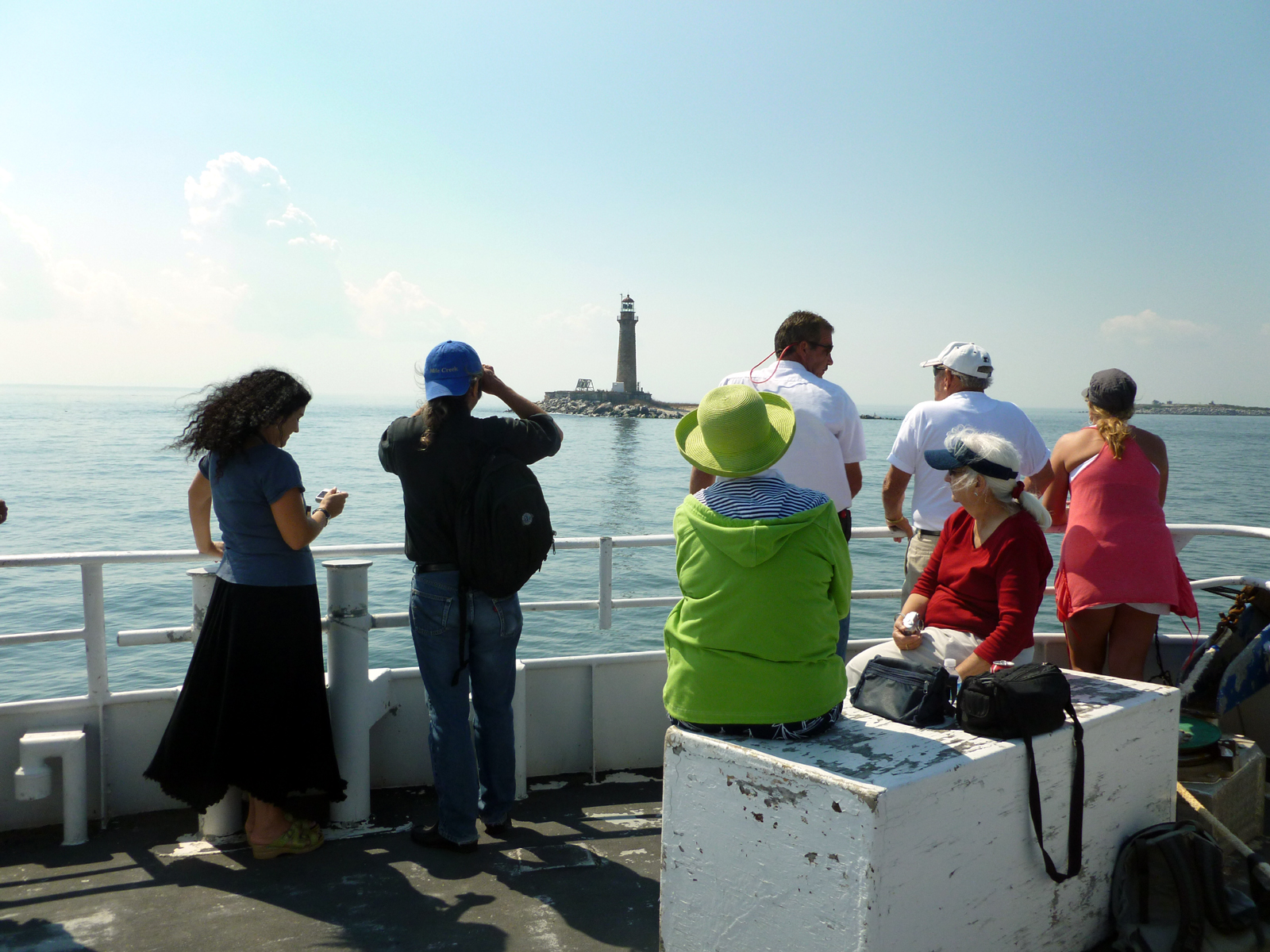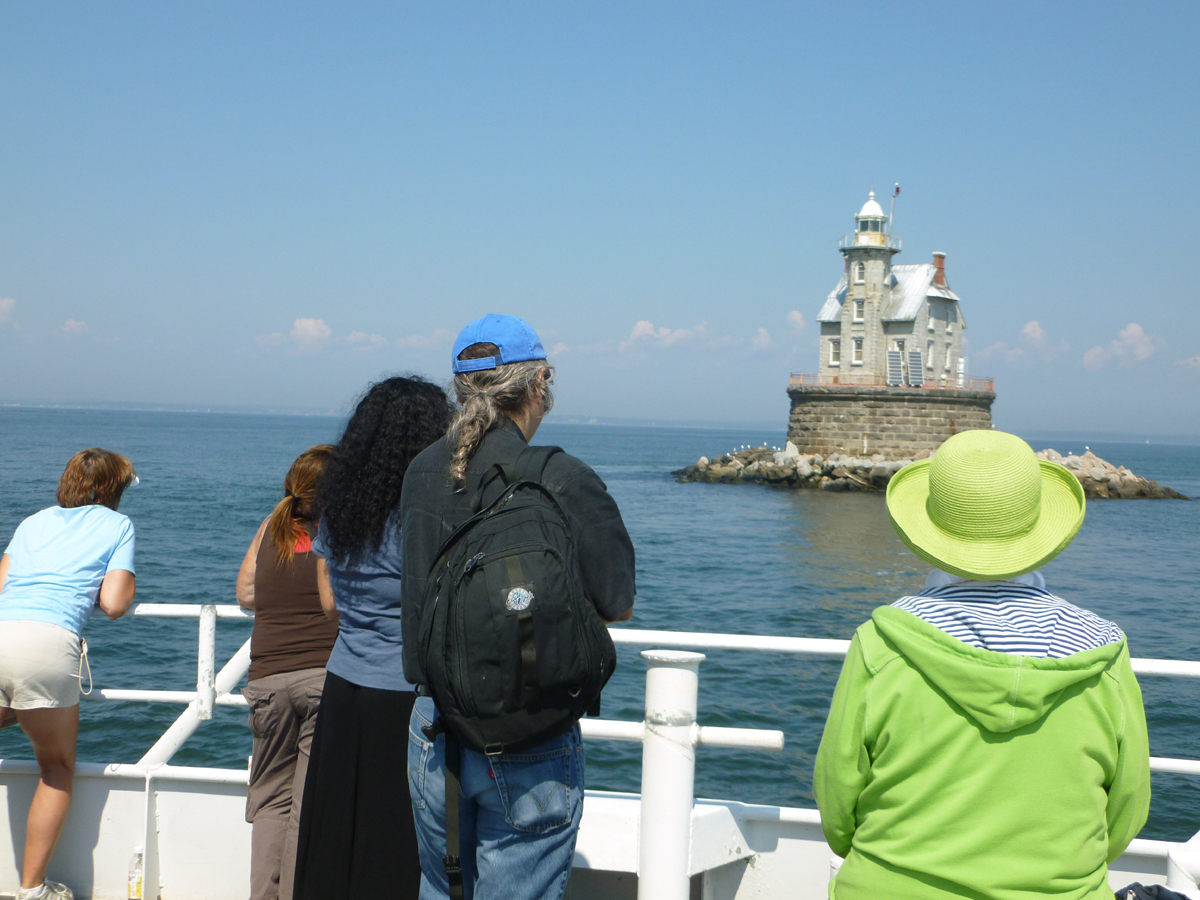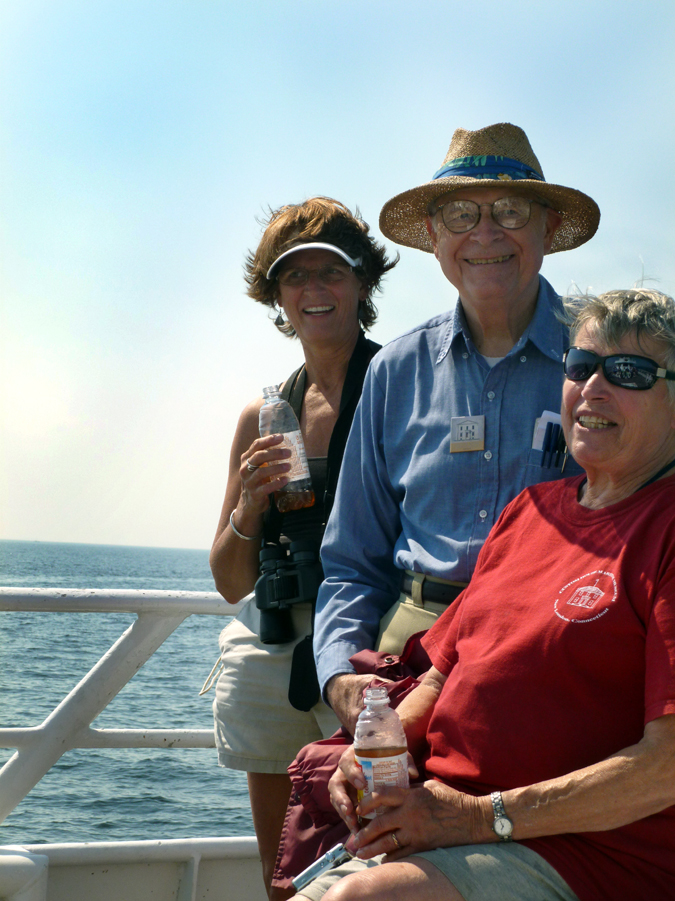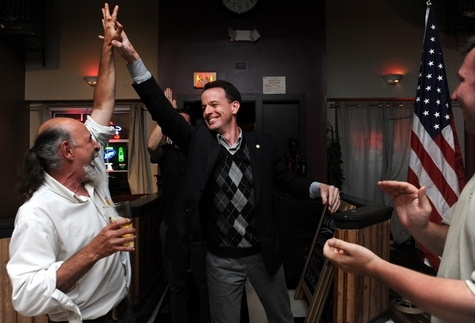 9.13.11 It was an all-round great day--a NEW DAY--in New London!

At left, "Daryl Justin Finizio, center, high-fives a supporter following the registrar of voter's release of results that he beat Democratic challenger Michael Buscetto in New London's mayoral primary Tuesday, Sept. 13, 2011." Dana Jensen's photo for The Day. 

The museum celebrated today, too, with a spectacular Nine Lighthouse Boat Tour & lunch, with a sold-out crowd of lighthouse lovers and truly delicious lunch provbided by Captain's Pizza. By the way, on Friday at 4 PM, Captain's Pizza has a party to celebrate their first-year anniversary.

We thank museum trustee Jennifer Hillhouse (at left with Bill LaRoue and her visiting daughter) for planning and carrying out such a spectacular excursion. We also thank Captain John's Sunbeam Fleet for a beautiful 4 1/2-hour boat trip. The narration on the trip was drawn from the book by the late Captain Benjamin Rathbun. In fact, Ben Rathbun loaned us some paintings for our lighthouse exhibition this summer. I can't think of a more-appropriate way for our first Lighthouse Summer to end!

(Below) Our boat passes Race Rock and Little Gull Lights. This fall, the New London Maritime Society is investigating taking on ownership of both lighthouses!

9.11.11   We were proud to present

The Enemy Within: Arnold Returns Home, an original,

new play set in New London, Connecticut, on September 6, 1781, and which premiered at the Custom House today.

After committing treason against the American cause, Benedict Arnold is made a Brigadier General in the British army. Arnold has invaded Connecticut (his home state). He debates with a captured American Continental soldier as a massacre unfolds at nearby Fort Griswold and New London burns.

(at left) Actors Gary Petagine and Sean Grady perform at the Custom House bringing Arnold to life in an original, interactive and dramatic program.

Arnold has betrayed me. Whom can we trust now?   --George Washington

Photos below show Groton's commemoration of the 230th anniversary of the battle of Groton Heights and Arnold's burning of New London.

9.3.11 Another reason we love New London: The Reducers annual end-of-summer performance at Ocean Beach (left).

9.1.11 The month began auspiciously with a tremendous gift: Adrienne  Cavarly presented the Custom House with the model of a 19th-century merchant ship built in New London, the Black Hawk (see below). 

In addition to the model, which was made by the ship's Chinese cook, we were provided with original documentation, which will be a tremendous project for us to piece together.

We are pleased to announce we have commissioned our Bank Street neighbor, artist Michael Peery, to create a portrait of the museum's founder, Lucille Showalter.

Things are beginning to hotten up following the hurricane.

Stay tuned for a tremendous series of exhibitions and activities at the Custom  House this fall!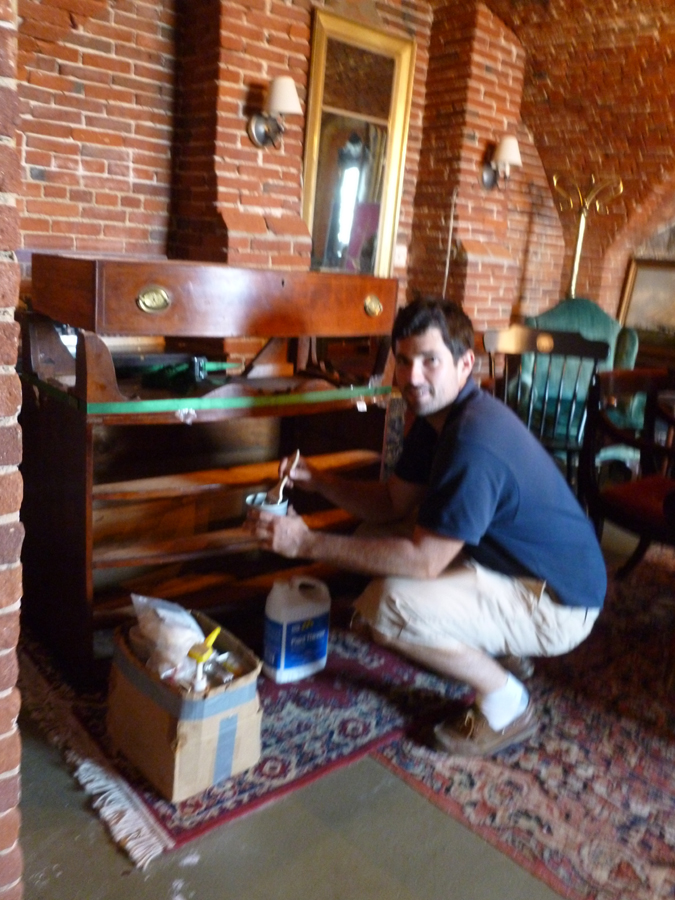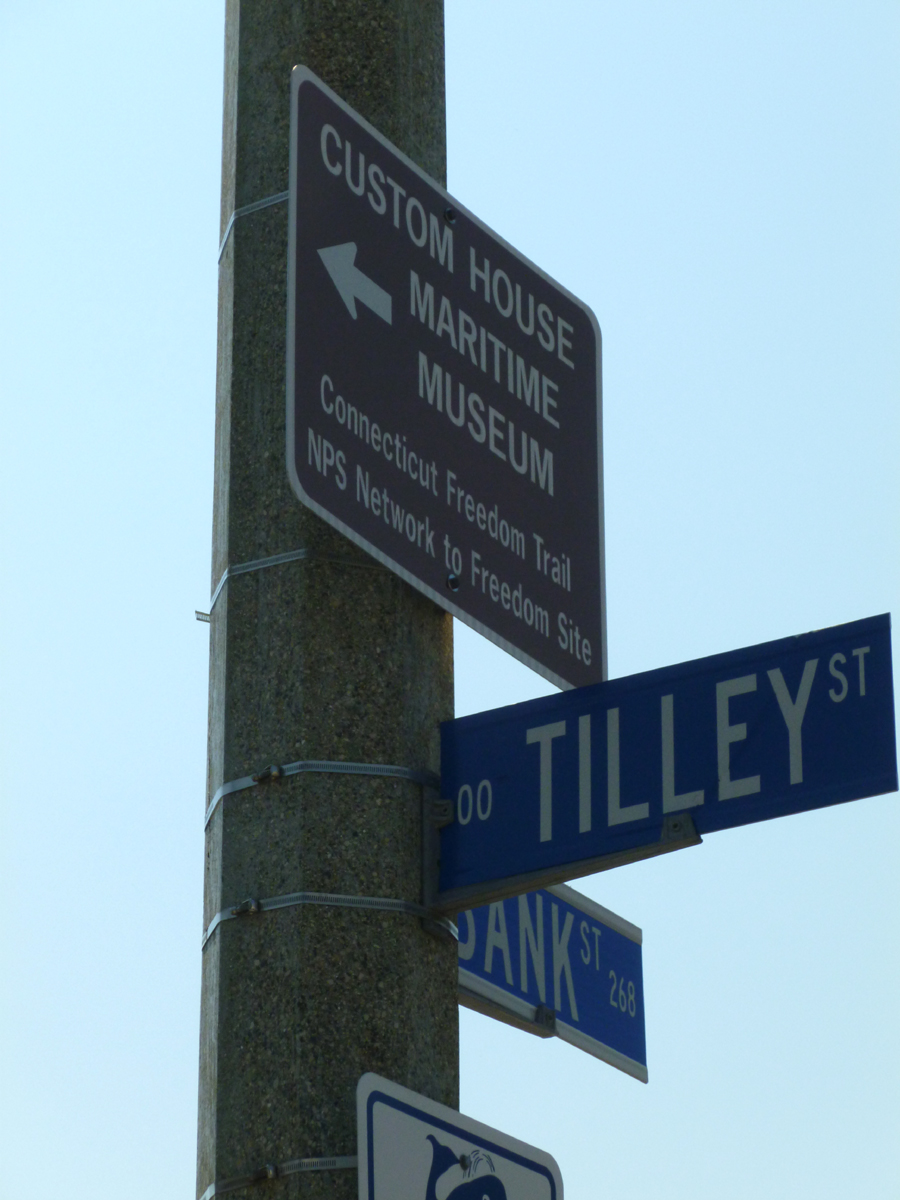 9.14.11 Today was a very good day. Matt Schoman, a new volunteer, repaired the broken & loose legs of a bureau in the Jibboom Room and also reorganized our tool shelves. Thank you, Matt. Both jobs were long overdue.

And then, after 3 1/2 years of asking for help (asking the City of New London, various City Councilmen, and Main Street, who said: 'we already have too many signs'), we got our first directional sign to the Custom House Maritime Museum. It's located at the intersection of Tilly and Bank Streets.

Thanks go to City Manager Denise Rose, and Keith Chapman and Joseph Jullarine in Public Works for their assistance.

Tonight the City's galleries all opened late for "In the Pink" -- a series of art exhibition dealing with the subject of breast cancer. There were pink balloons, pink ribbons on the street lamps and pink ribbons painted on the tarmac of State and Bank. The oddest thing: there were NO POLITICIANS in evidence...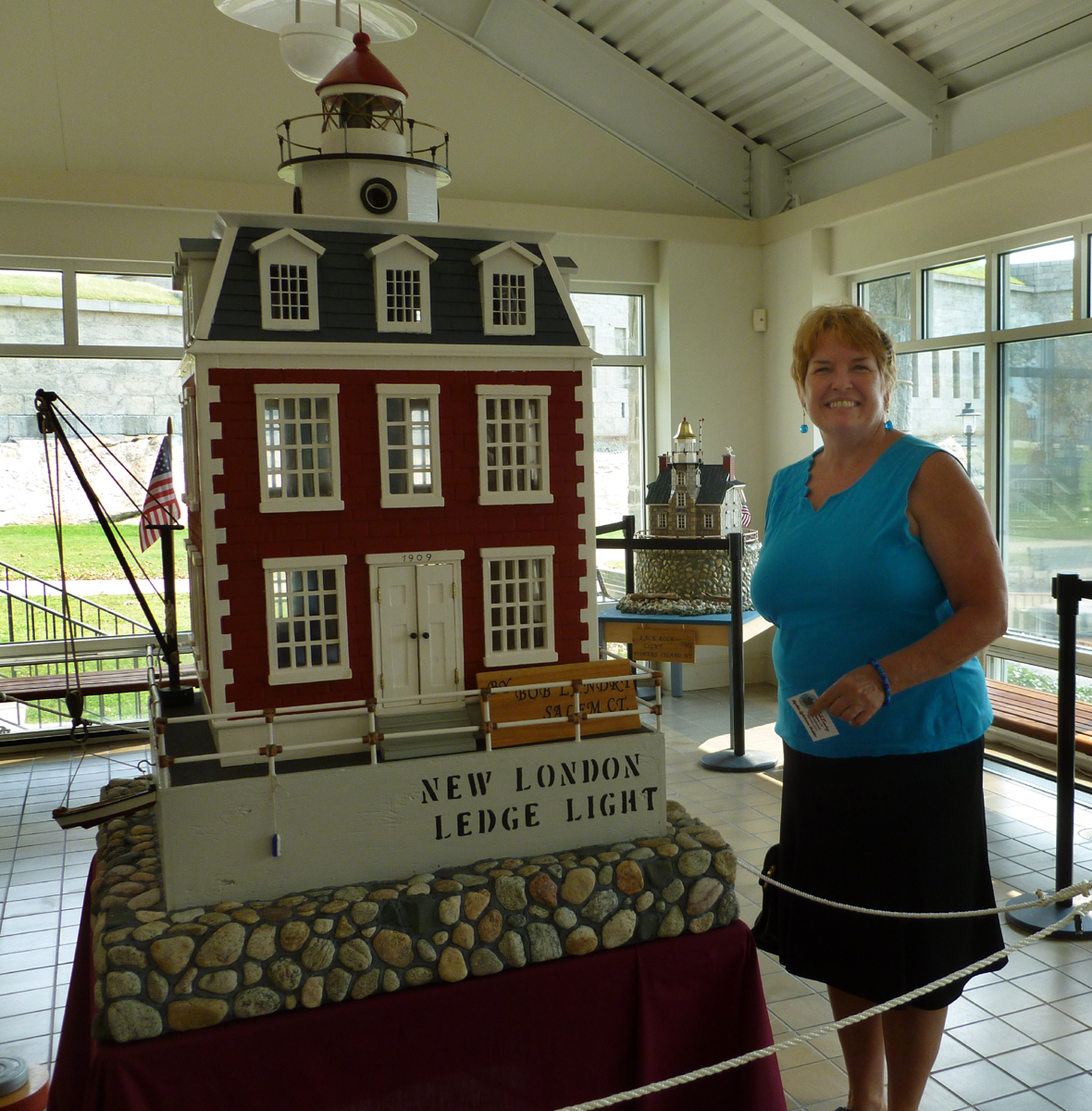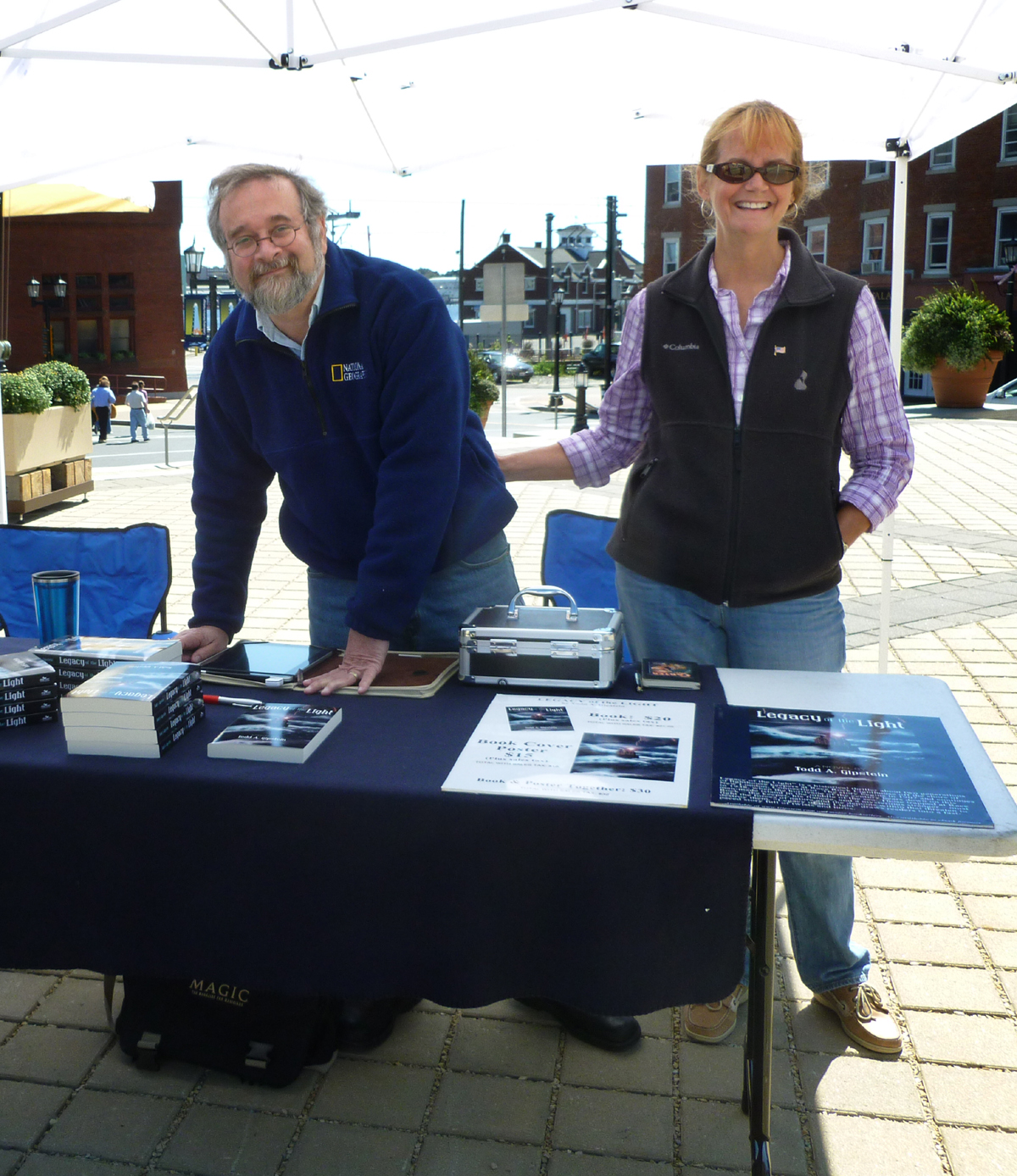 9.16.11 Everyone's back and getting to work. New London Public School SEMI instructor Jody Barthel (left, next to a model of Ledge Light by Bob Landry) stopped by Fort Trumbull museum & the Custom House preparing for a new year of Lighthouse Kids activities. Meanwhile, on the Parade, Mr & Mrs :Ledge Light, akaTodd & Marsha Gipstein (below), were present selling copies of what everyone appears to be reading: Legacy of the Light.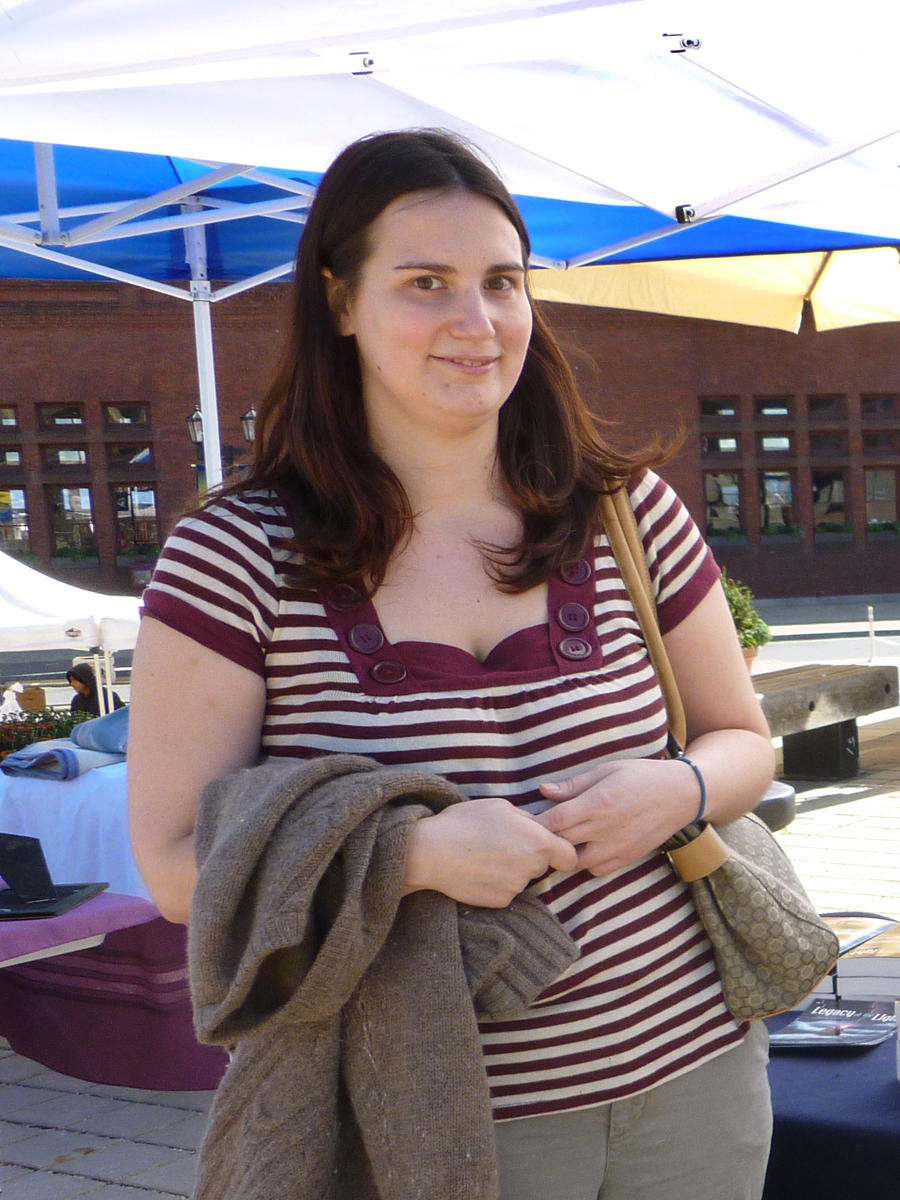 9.16.11 Hillary Bissonette (far left), our newest volunteer, is from Chattanooga, Tennessee. She moved to Ledyard just prior to the hurricane and spent the next six days without power while her boyfriend was out on a submarine. A classical pianist, who minored in history, Hillary got to meet all the New London arts types at a meeting Friday at the Lyric Cafe. We all got together to bring everyone up-to-date with summer happenings and projects for fall.

On the way over to the luncheon, we stopped next door to see Sara Munroe at Studio 33, where artist Jon Balchunas was picking up a newly-framed painting of the Custom House! Jon was getting things ready for the Riverside Park festival this weekend.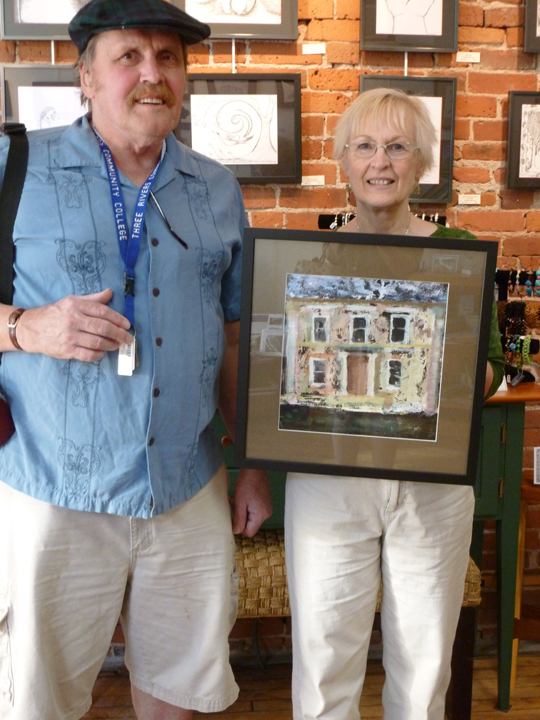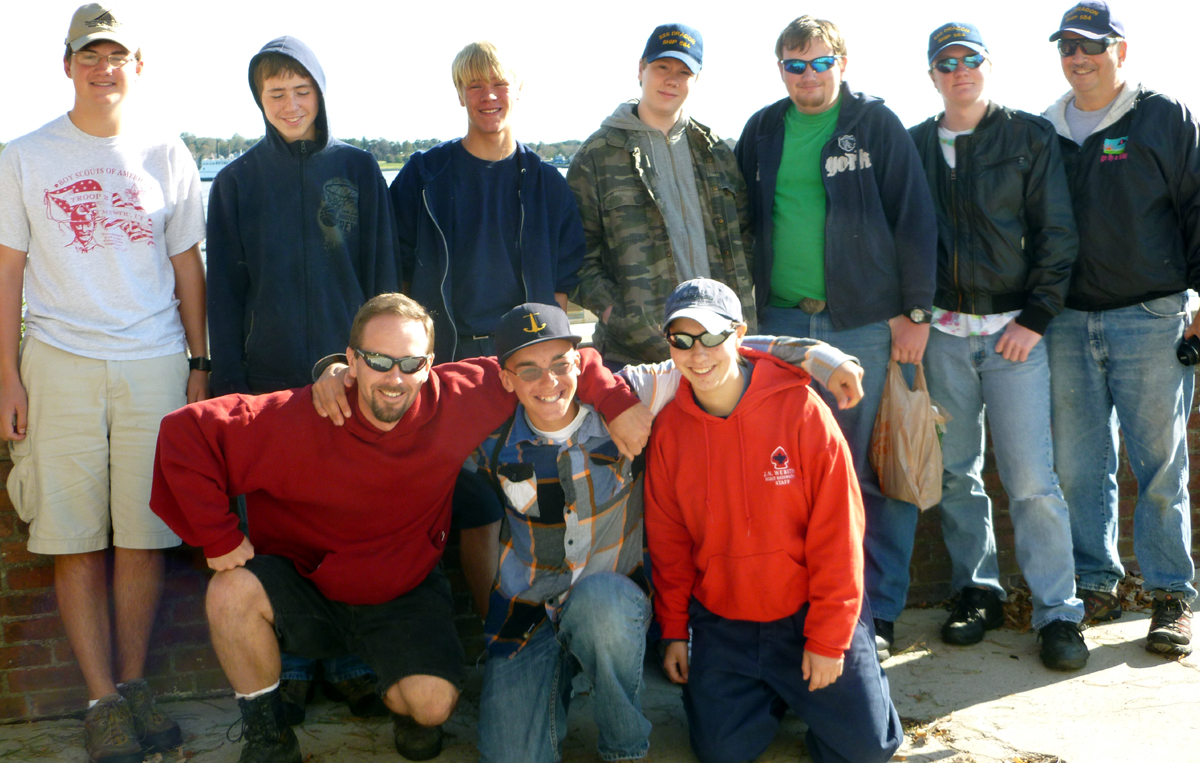 9.17.11 I had never been to Riverside Park, so, egged on by Facebook messages from Kathleen Mitchell, I took advantage of the festivities there this weekend to visit. It is a beautiful site--unlike anywhere else in the CIty. If you haven't been there you must go and see for yourself. We ran into Artist Jon Balchunas (below), who manned a tent with a friend displaying his art work--including the Custom House painting.

Saturday was also Clean Up the Sound Day and, coincidently, our friends the Sea Scouts were hard at work at New London Harbor Light. Amanda Ballassi (front right) led a crew from Sea Scout Ship 584 out of Groton in pursuit of her Quartermaster project--to measure & clean the lighthouse and clear vegetation from around the foundation. Amanda carefully followed directives in the lighthouse structural assesment the museum co-sponsored with the Connecticut Trust for Historic Preservation, which was carried out by John Milner Associates & completed in July. .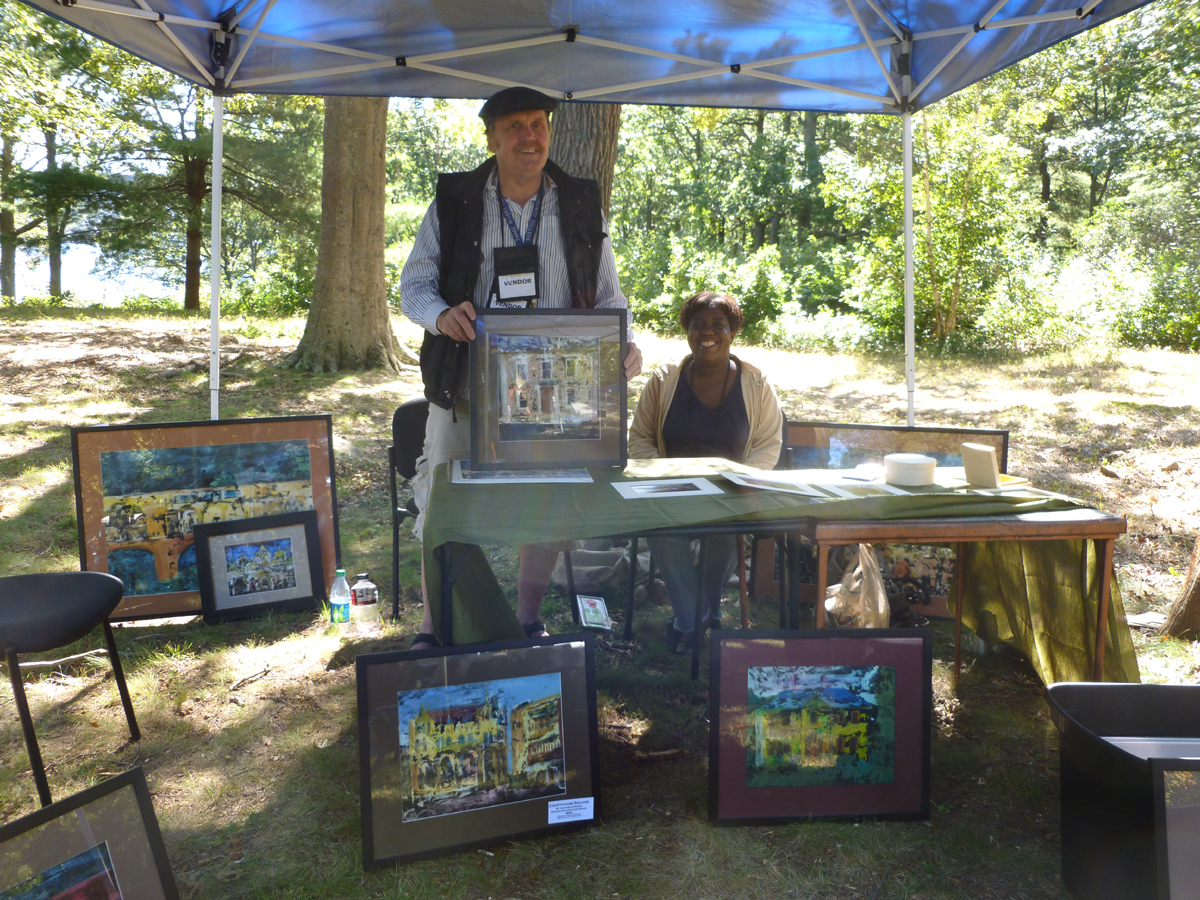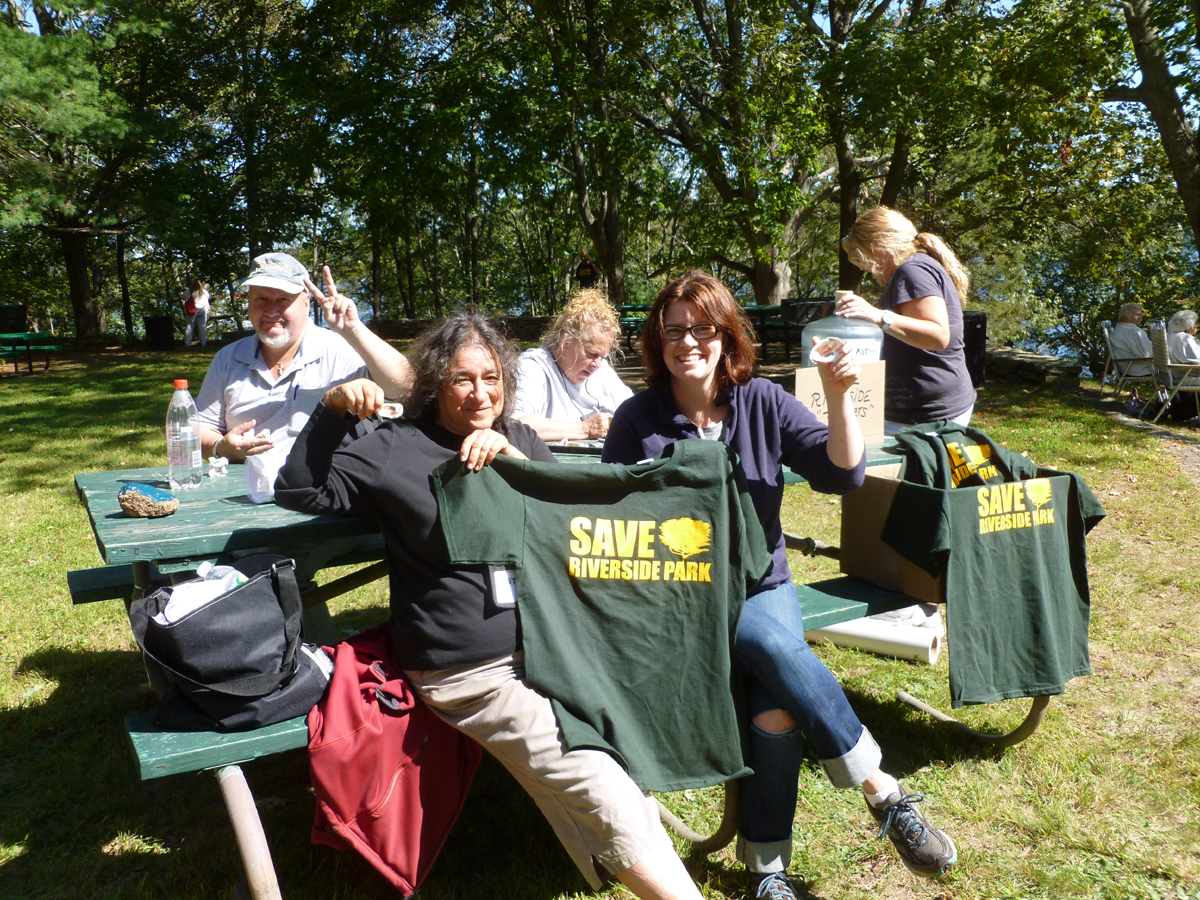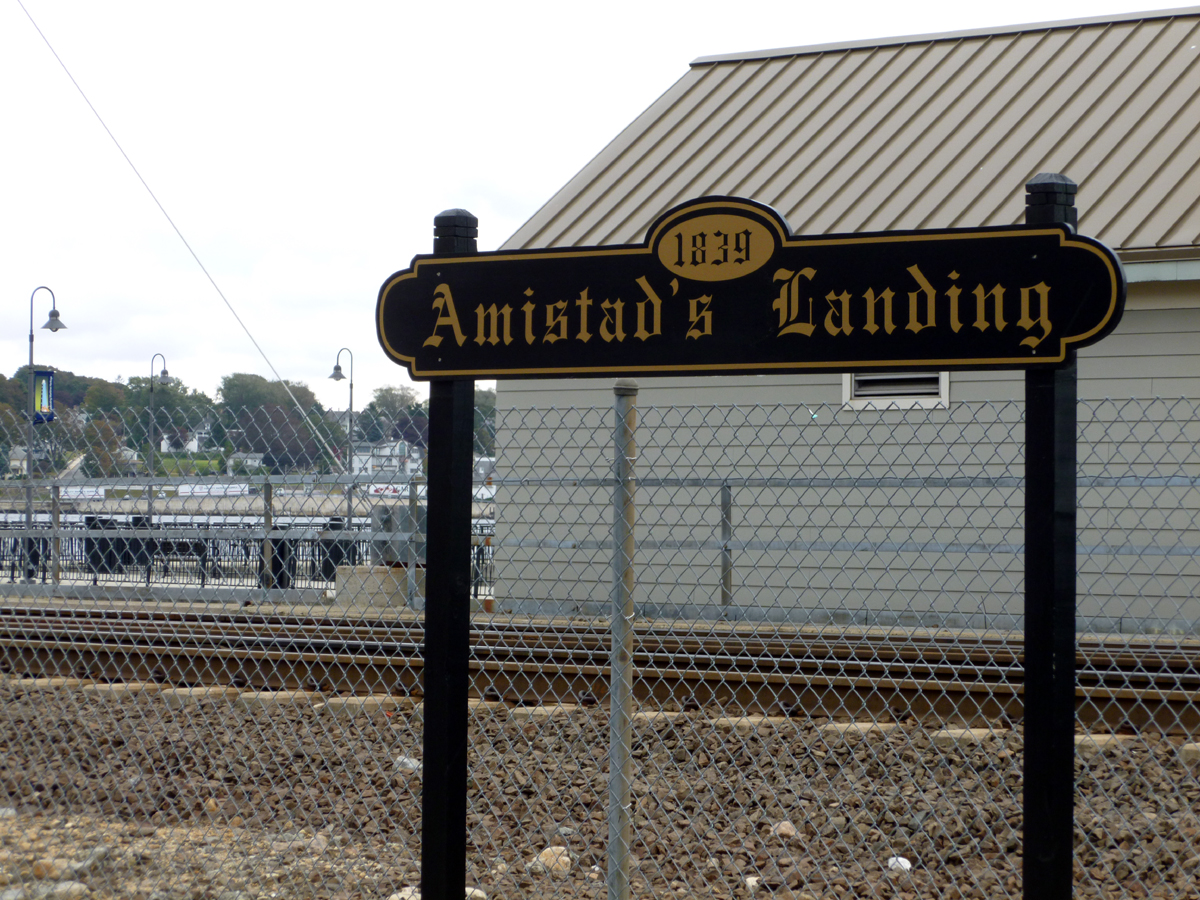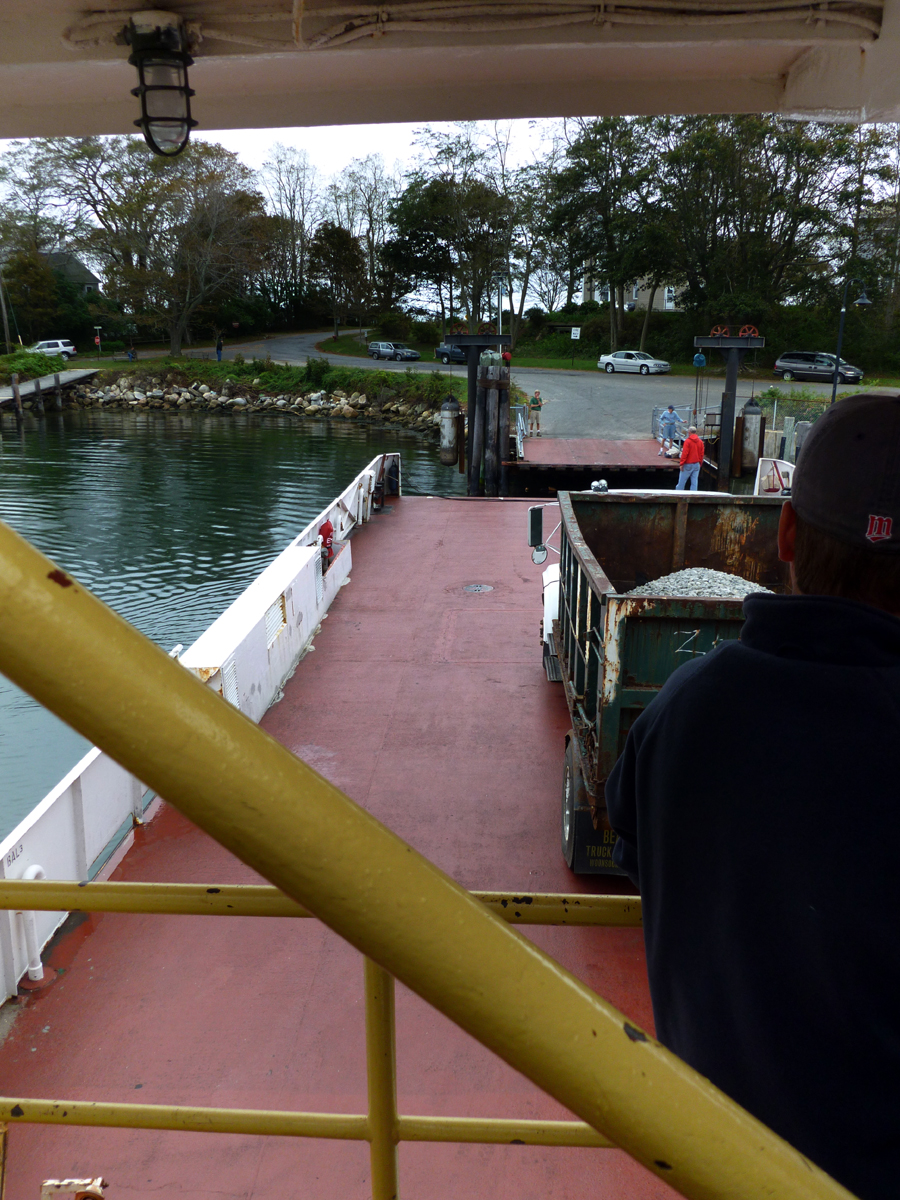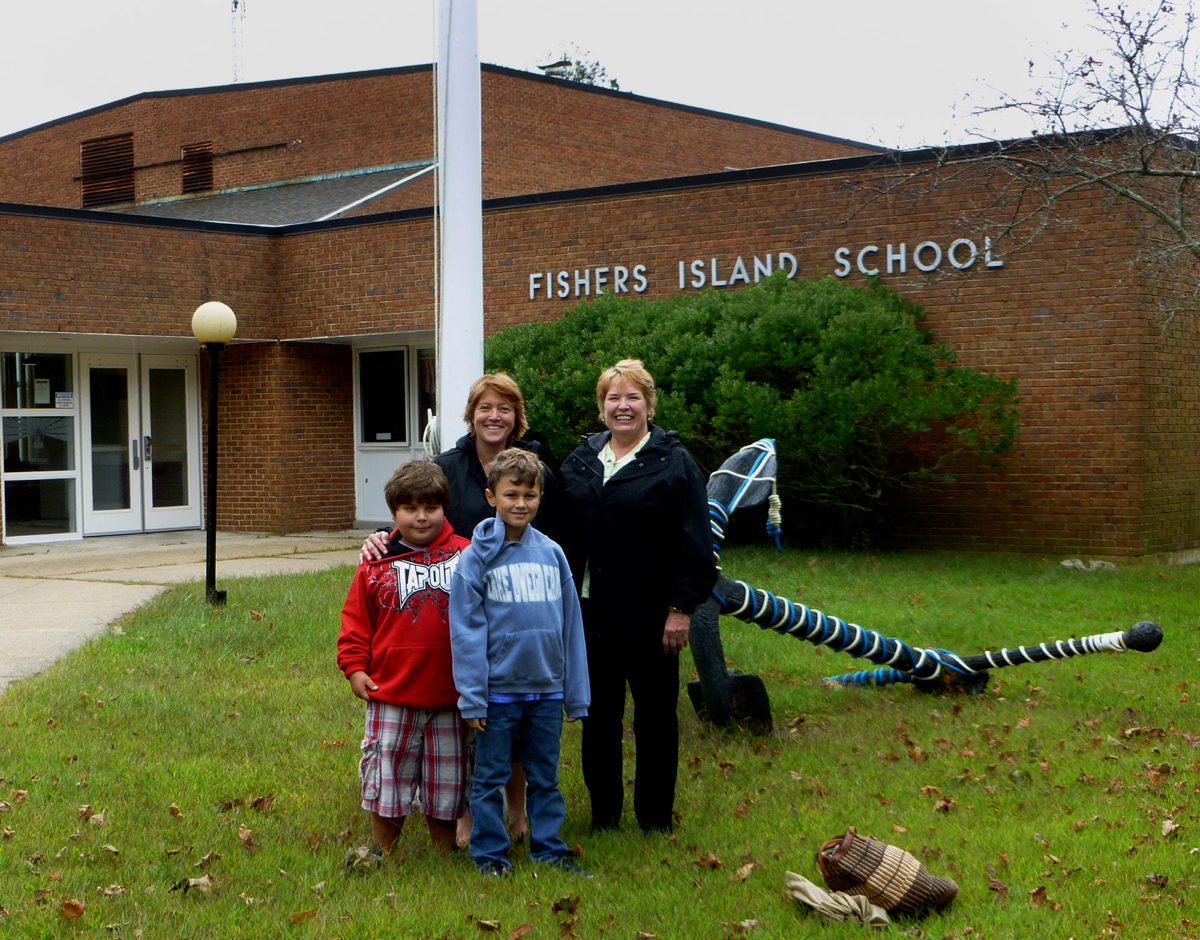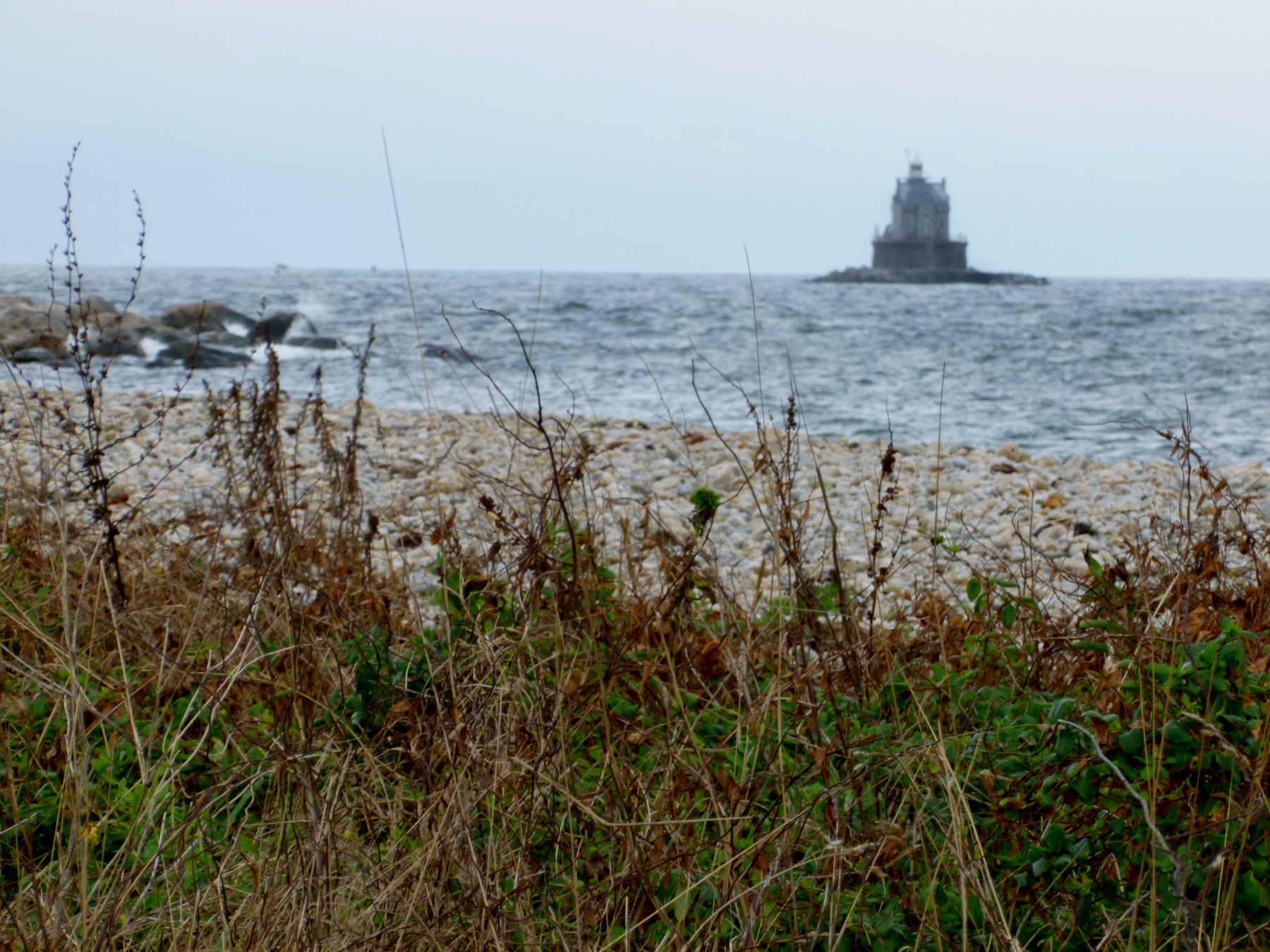 9.20.11 Two great developments today: first, the City's Department of Public Works, and in particular Joseph Jullarine and Ron Goodwin, lept into action and repainted the Amistad Landing sign behind the museum on Water Street.

Second (above left), we began our 'Lighthouse Kids" partnership with Fisher's Island School.

Today, NL Public School SEMI teacher Jody Barthel & I took the ferry to Fisher's Island.

9.28.11 So close and yet... Today was the scheduled trip to Race Rock for the USCG, GSA, NPS and several teams of possible future stewards of the celebrated lighthouse. Unfortunately, although the weather ashore was clear & sunny, in the Race things were decidedly rougher and the landing was canceled! We will reconvene in another couple of weeks. Meanwhile, all the potential owners adjourned to Captain Scott's for chowda'.

9.27.11 Tonight we hosted the 66nth reunion of New London Harbor School Class of 1945. They were adorable, as ever.

9.20.11 Race Rock is closely linked with Fisher's Island --it's right off shore, incorporated in the school emblem (see left), and the island museum exhibits the original Race Rock Fresnel lens. Museum director Pierce Rafferty, below right, stands next to a genuine treasure chest! Fishers Island teacher Jill Picorek & Pierce stand at the Henry L. Ferguson Museum's front door.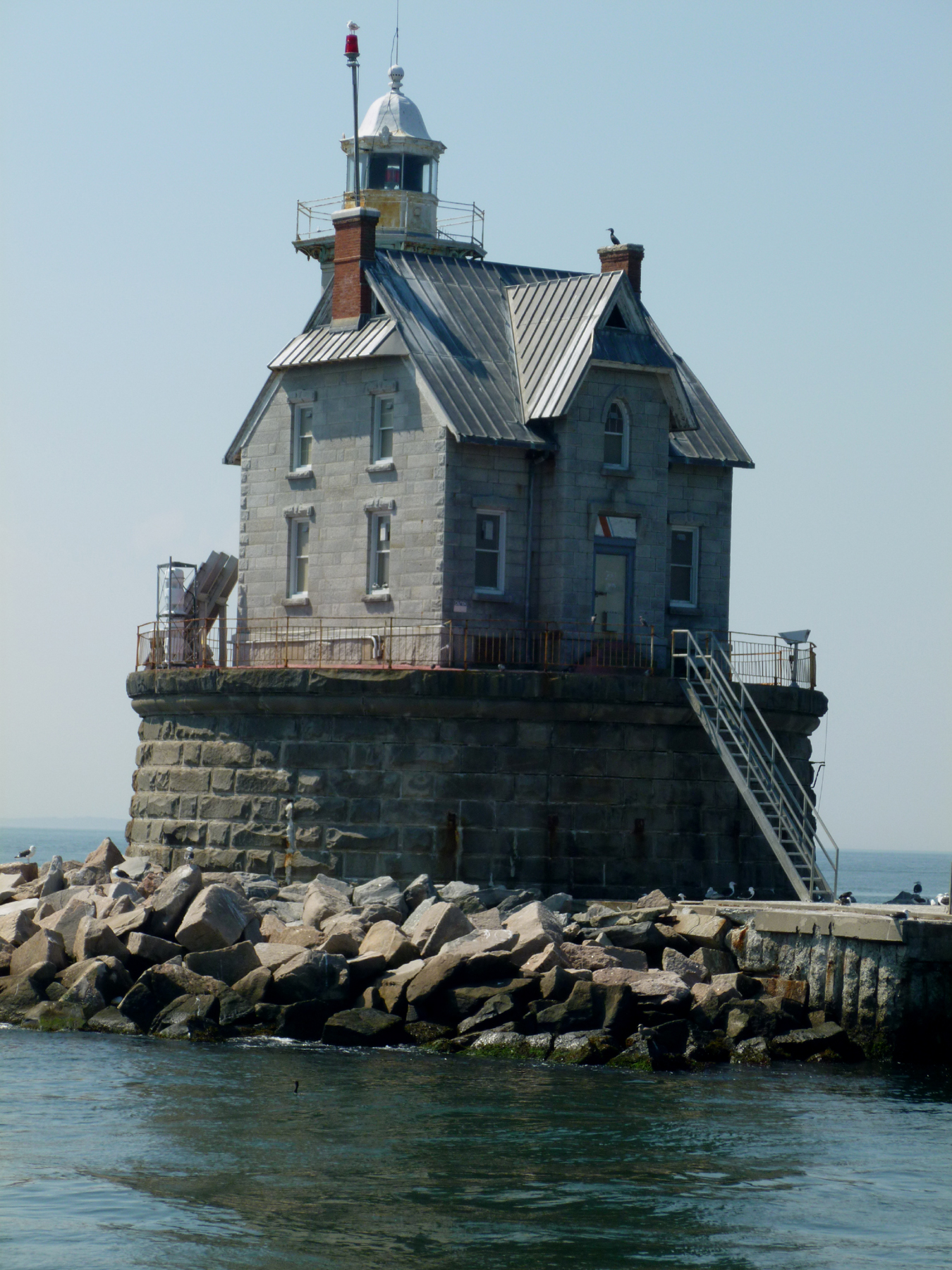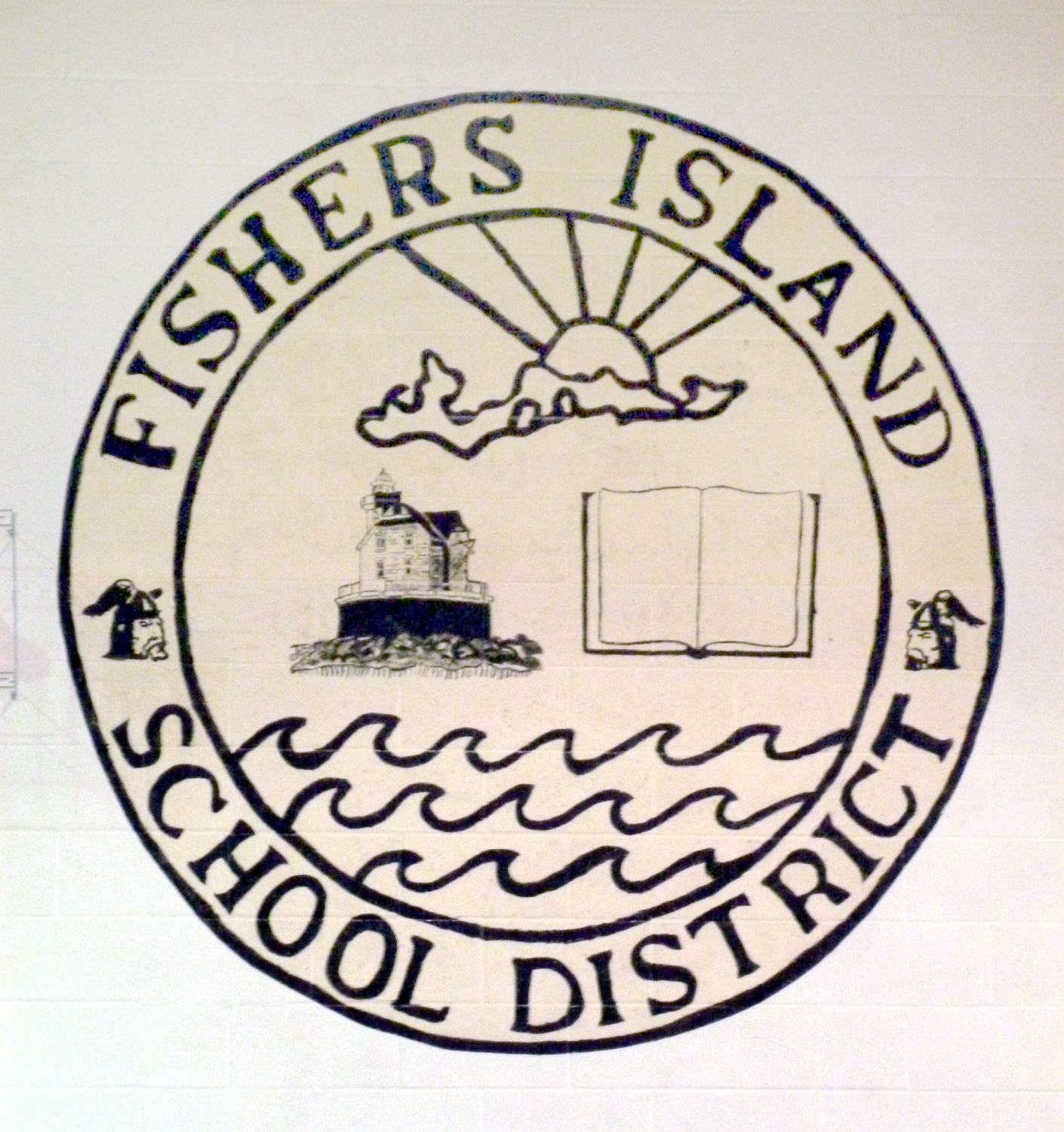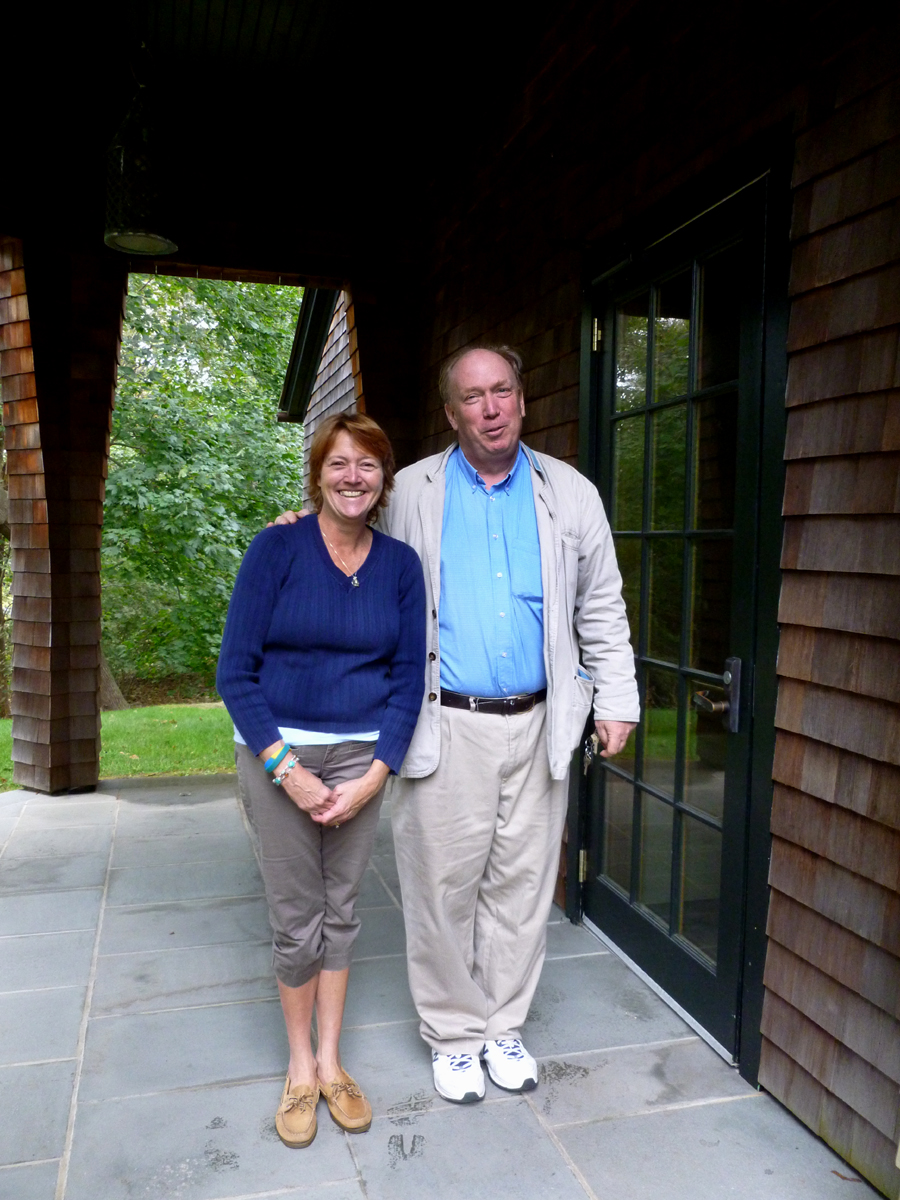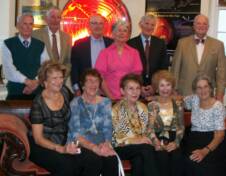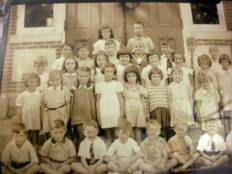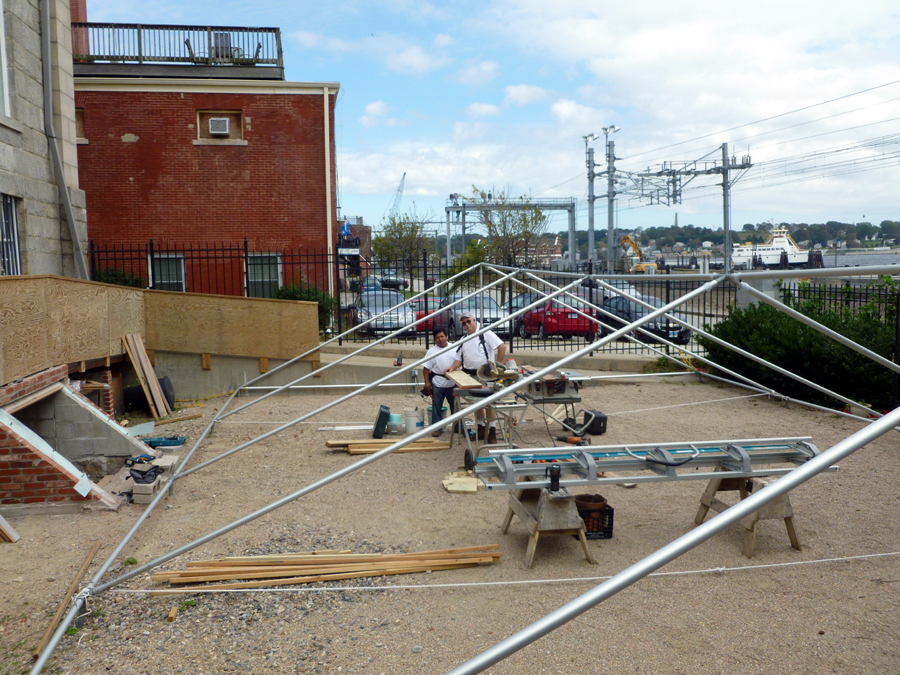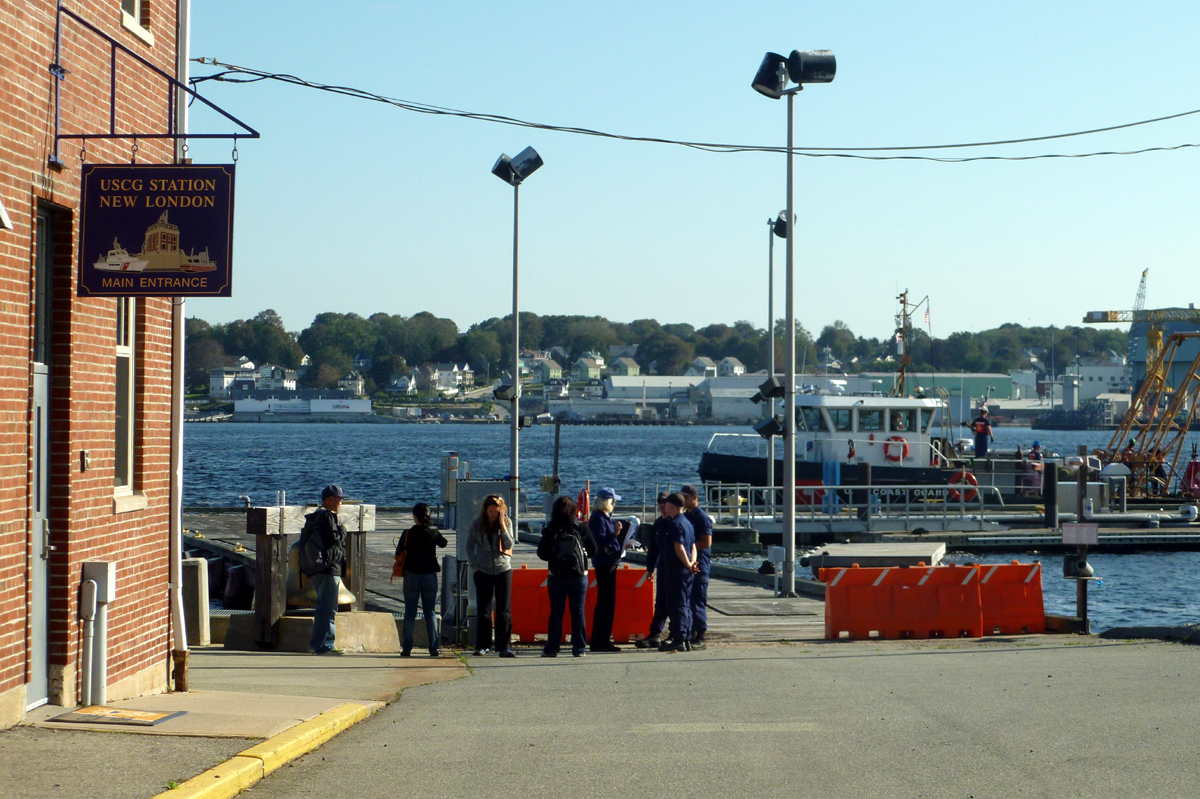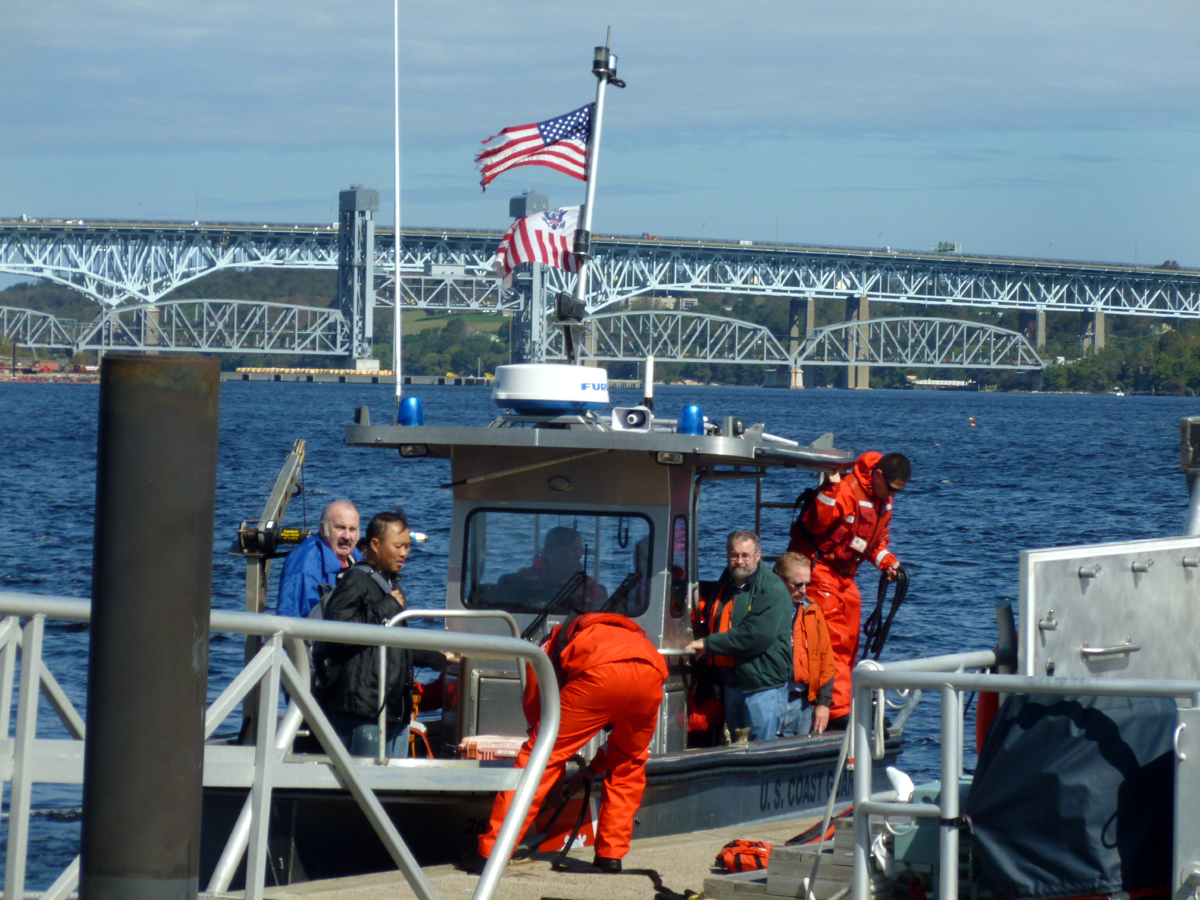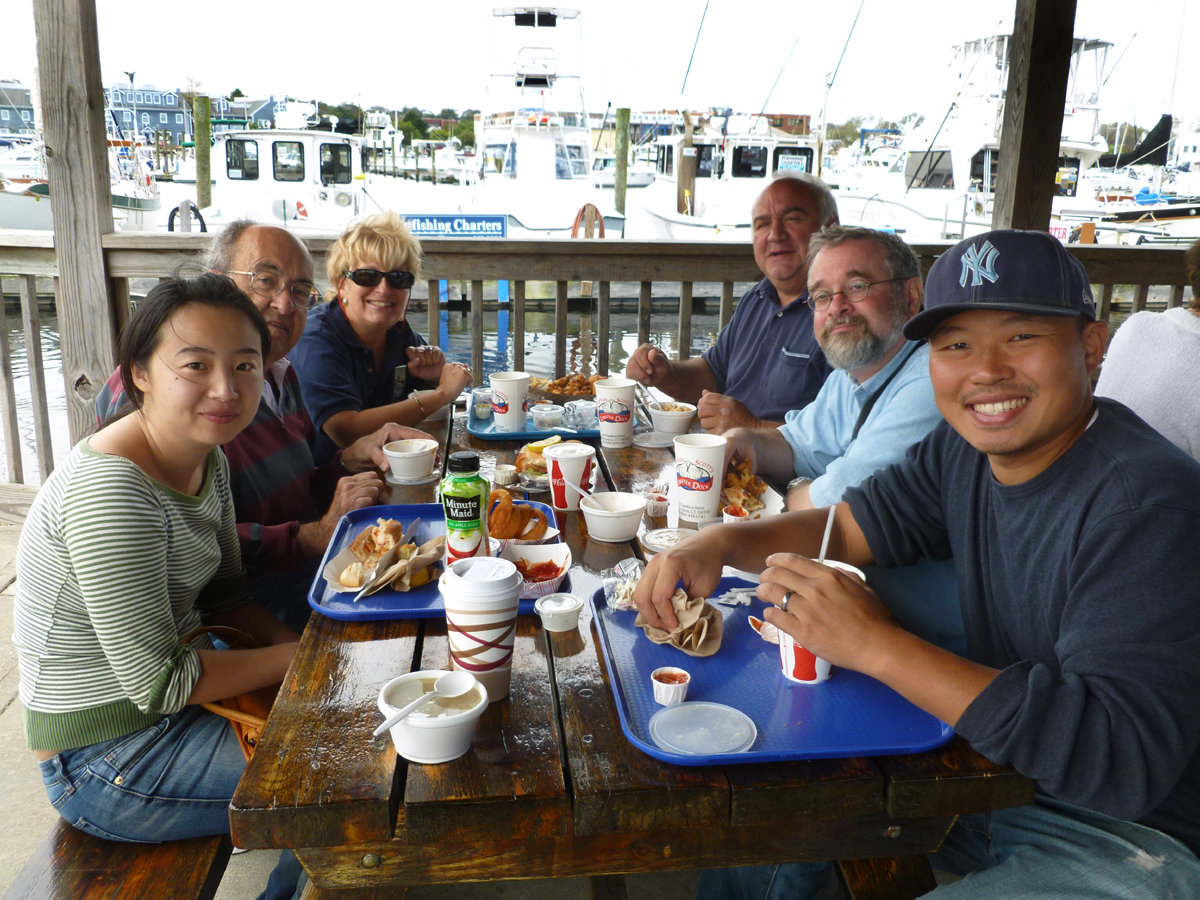 9.28.11 Meanwhile (below), work continues on the back bulkhead entrance to the museum basement. Francesco and Dave of Senko Building is working to make it water-tight!

At left is the crew that did not get to tour Race Rock today-feasting at Captain Scott's before visiting the CUstom House!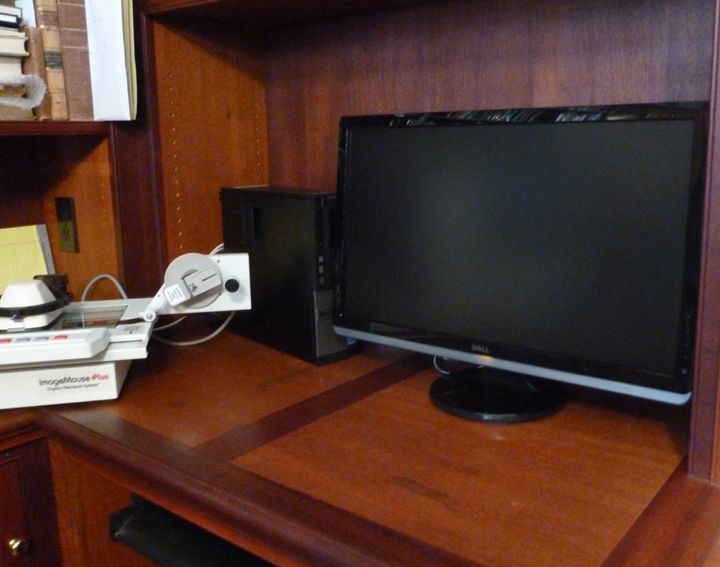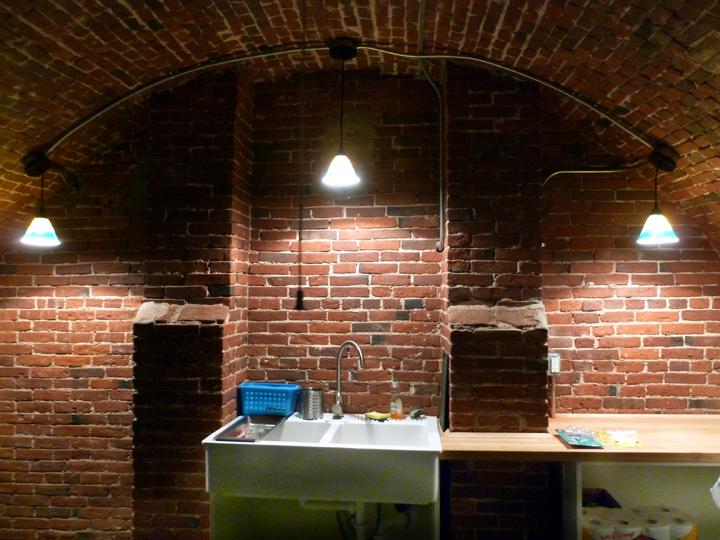 9.29.11 Two HUGE steps forward today: Mike Avery & his son Anthony finished wiring the lower-level Galley (see above left), and Ken Hartley, of Nutmeg Computers, installed a new computer & printer in the Frank L. McGuire Library (above) -- allowing us to see and print our trove of 19th-c, New London, customs documents!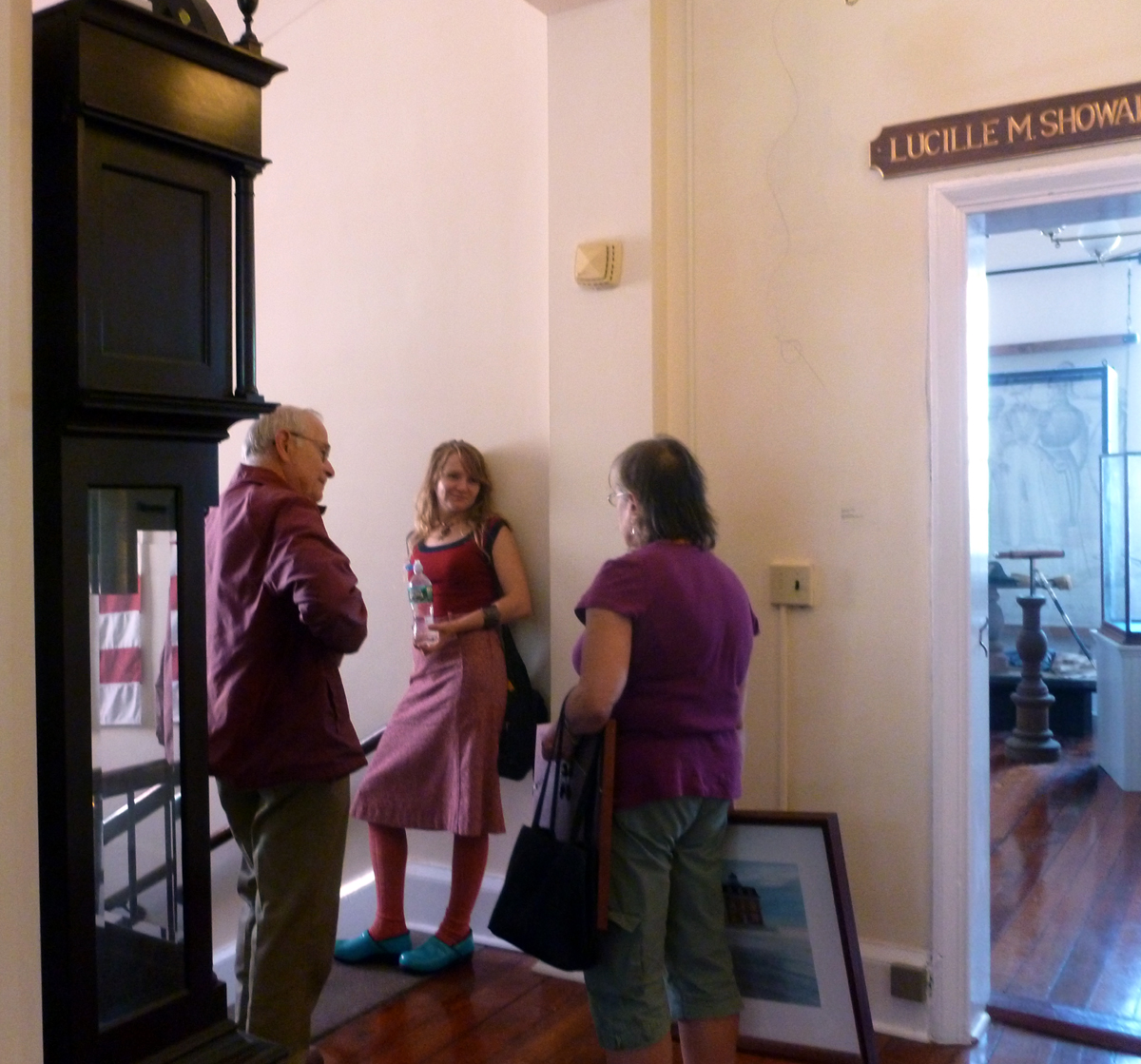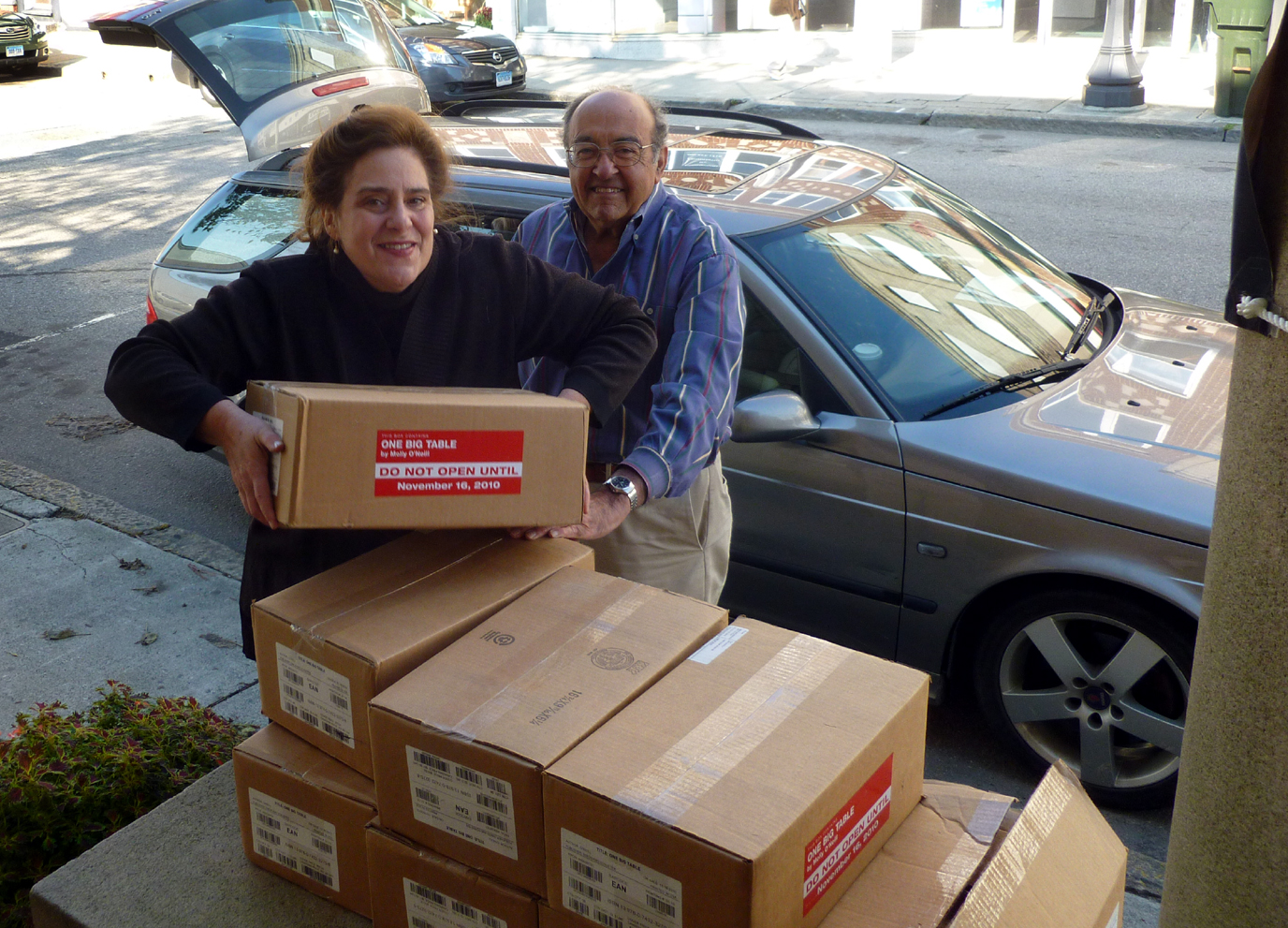 9.30.11 We had both endings & beginnings today - far left, artist Pat Kelbaugh takes down her lovely watercolors, stopping to chat with Anya & Bill; and food writer Molly O'Neill makes her first visit to the Custom House, in advance of her One Big Table dinner event, to take place in New London on Friday, November 11. Molly is shown unloading her books Friday morning (near left) with George Sprecace.

To see what happened in August 2011, click
HERE
.