Please be patient, it can take

some time to load the photos.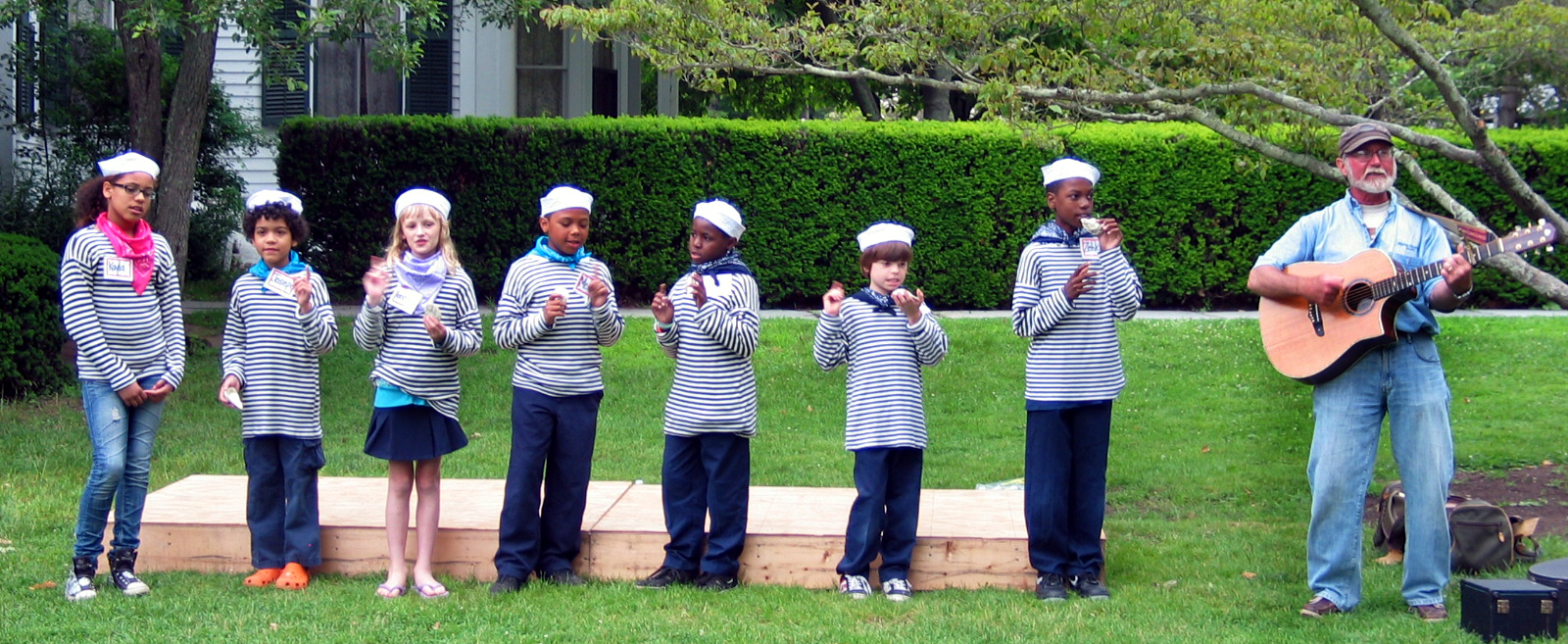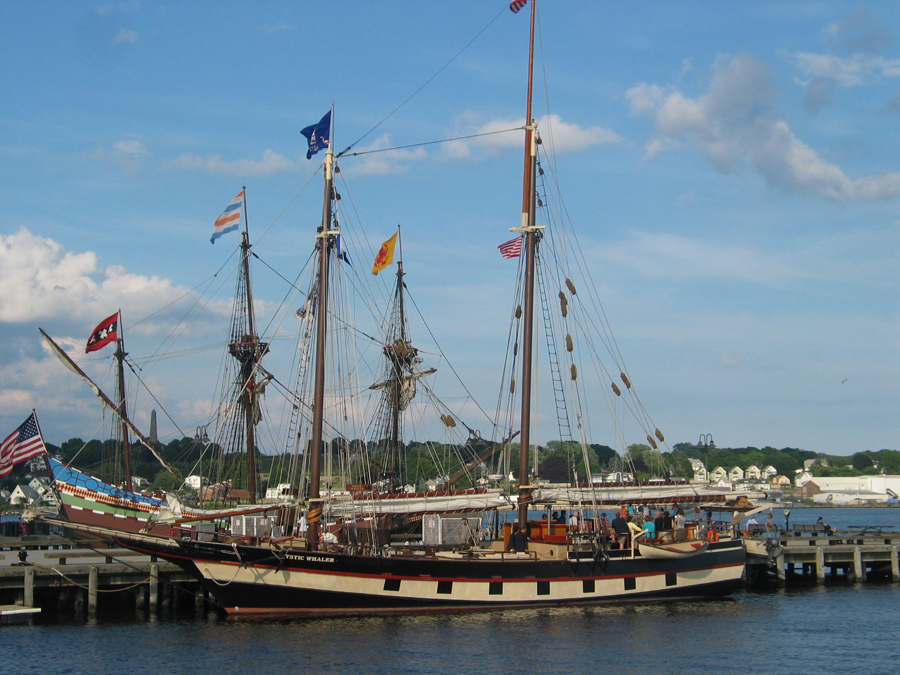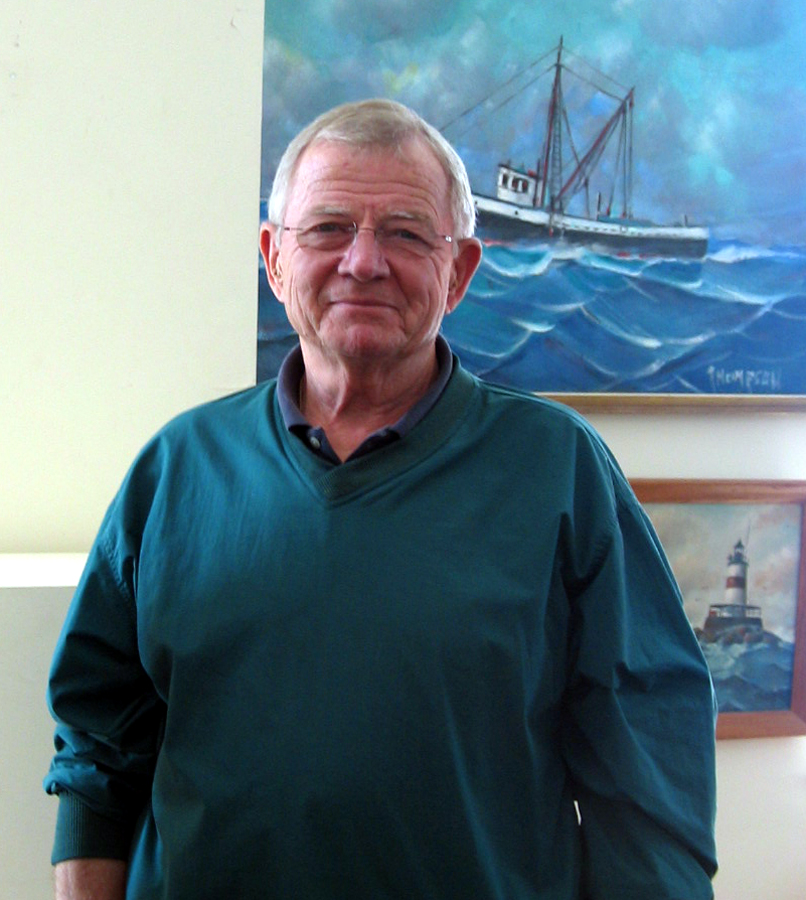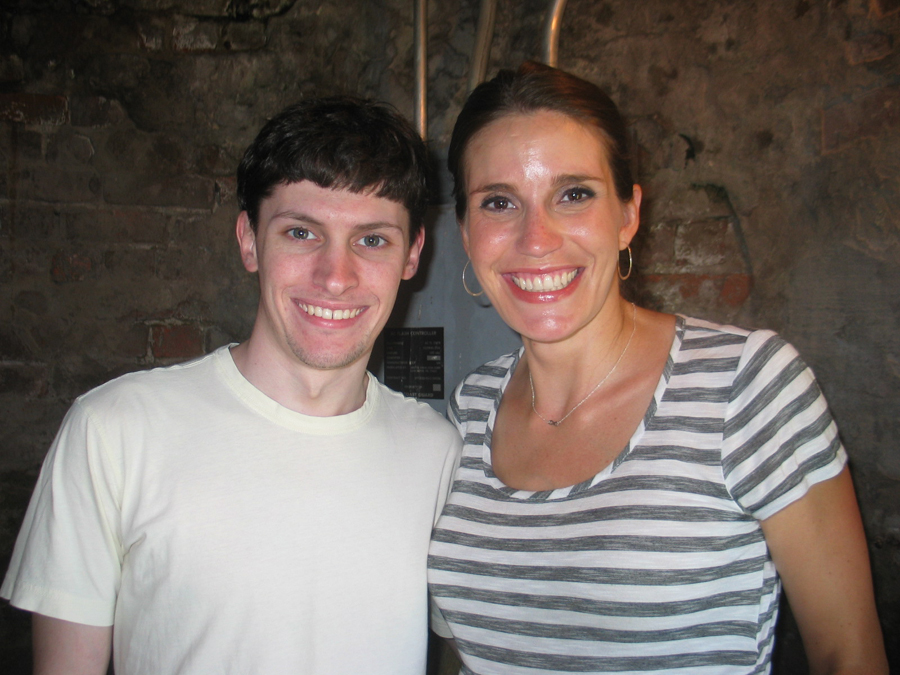 June... There's a lot of preparation going on...and throughout the downtown, NLMS trustee, artist, and tug boat worker Rob Groves has been installing his wonderful lighthouse sculptures. There will be six in all, represention the six nearest area lighthouses, and they will remain up all summer--enlivening our empty storefronts and remaining lit through the evenings. It's all part of Sentinels on the Sound - New London's Celebration of its lighthouse heritage.

Far left is a representation of Avery Point Light in the window of the former Marcus store on Bank Stree. Near left is New London Harbor Light--fittingly installed right across the street from the Custom House.

Some of the hardest workers at the Custom House this past week have been getting ready for the big Lighthouse Weekend coming up! Far left is Bob Getman, who for several MONTHS has been arranging for speakers and figuring out the logistics for our Sentinels on the Sound Symposium.

Near left is
Alexander McDonald
, who first volunteered here two summers ago. He is a lighthouse tour guide in training, while helping organize the new exhibitions. Here Alexander is with
NBC reporter Lauren Petty
on a visit to New London Harbor Light on Thursday! Watch the NBC preview
HERE.
At bottom: the Half Moon, a recreation of Henry Husdon's 17th-century vessel, and our own Mystic Whaler at the Custom House Pier.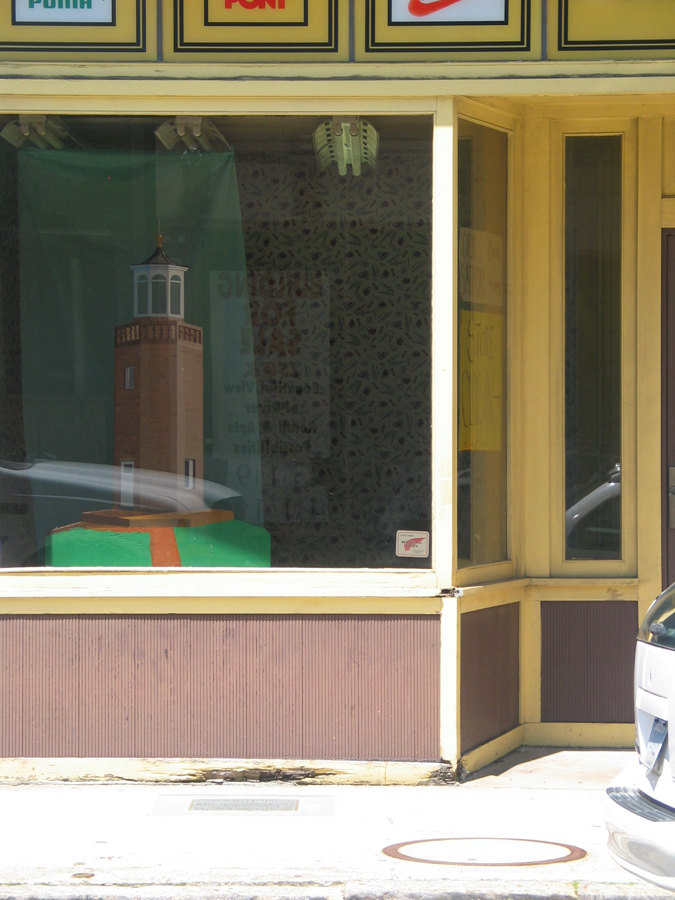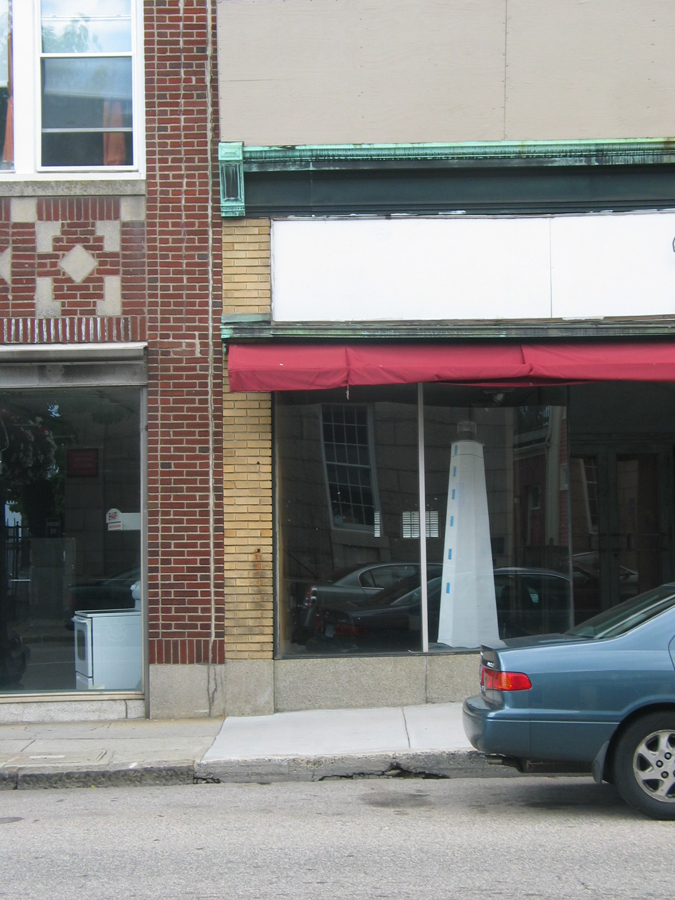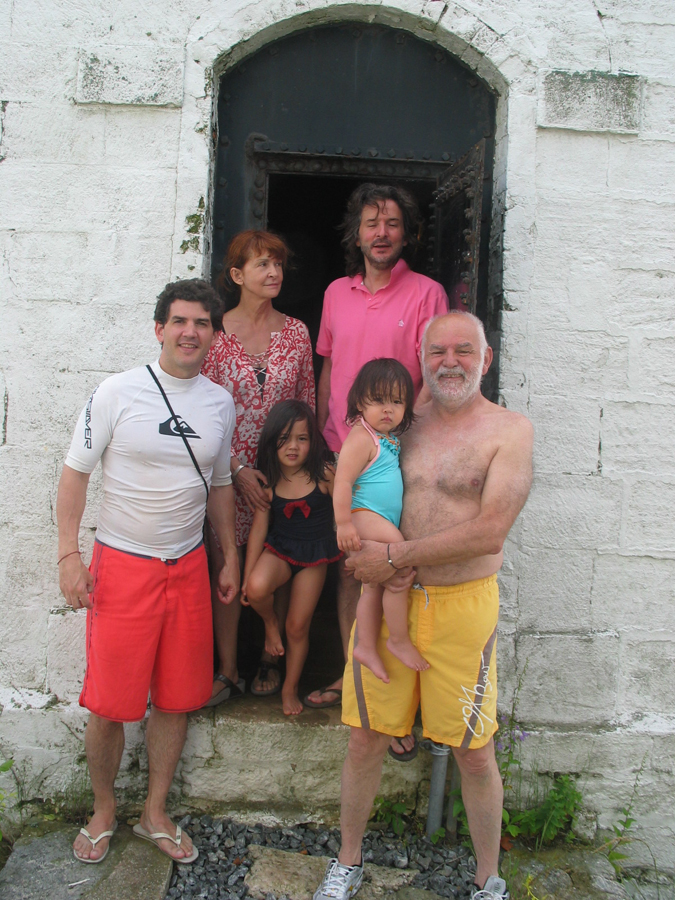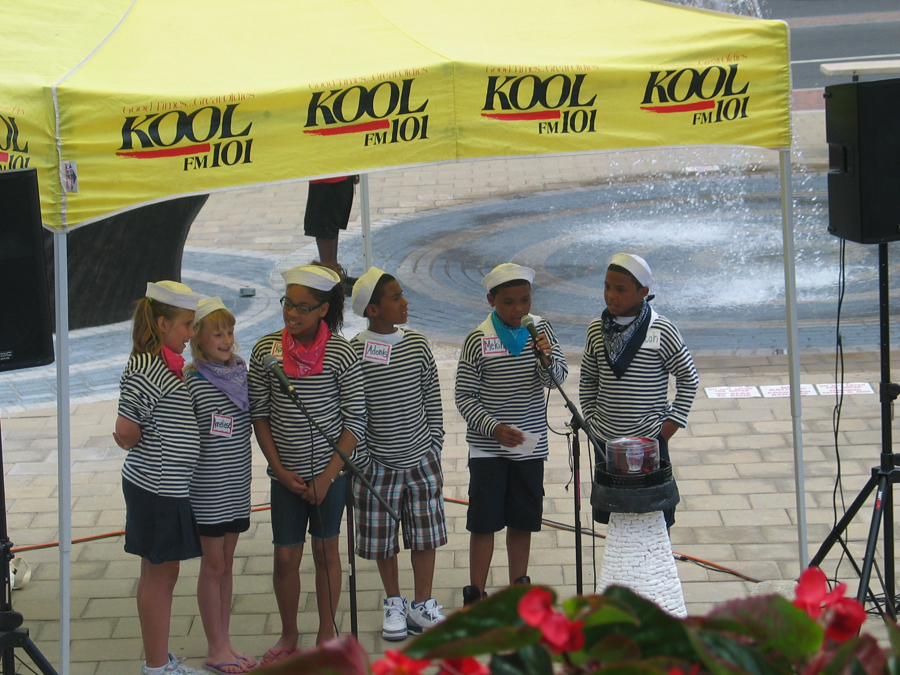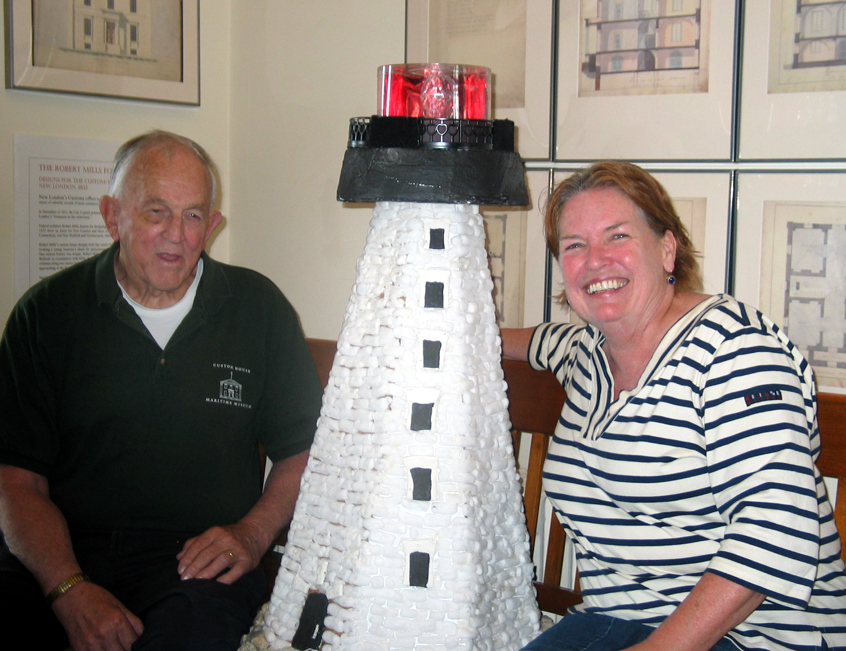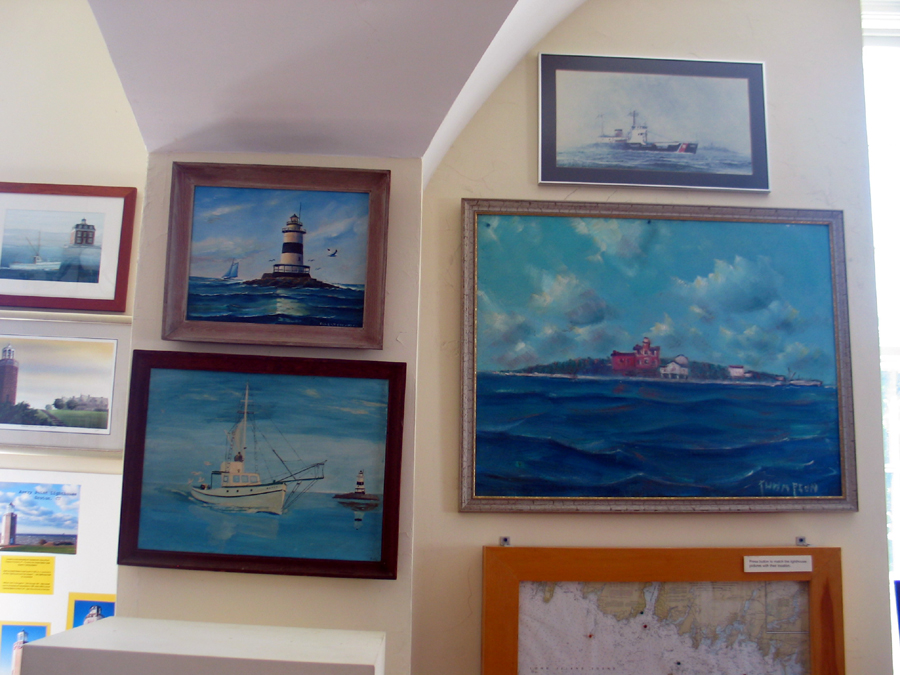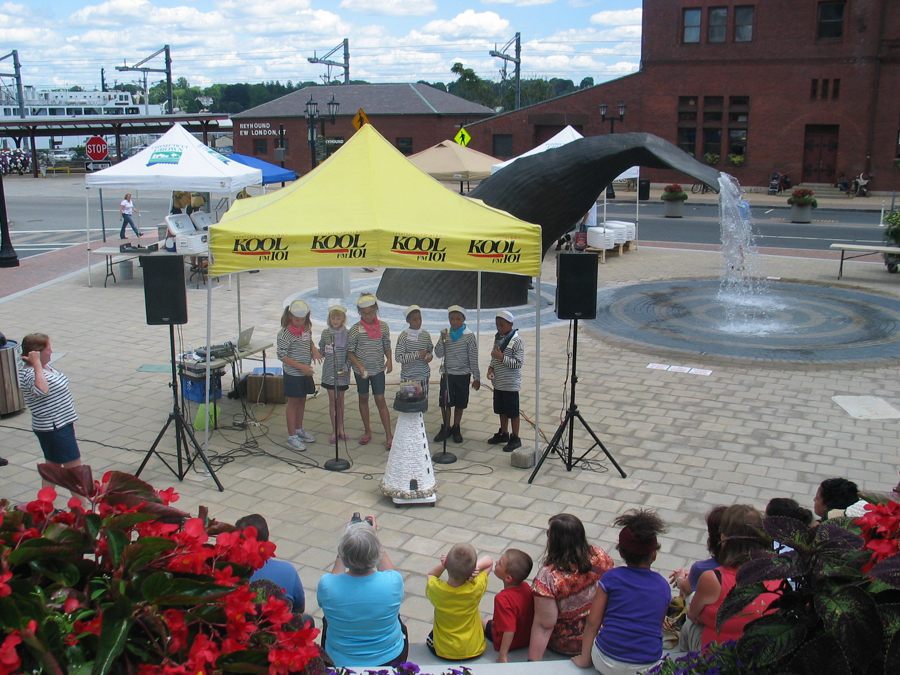 7.1.11 Lighthouse weekend begins for us with a performance on the Parade by the Lighthouse Kids Sea Shanty Singers. At left NLMS docent Archie Chester with our magnificent Jody Barthel, instructor for the Lighthouse Kids and SEMI instructor in New London Public Schools. Between them is the model of New London Harbor Light created this past spring by the students at Jennings School & now on display at our museum.

Below: a family visiting from France visits the lighthouse.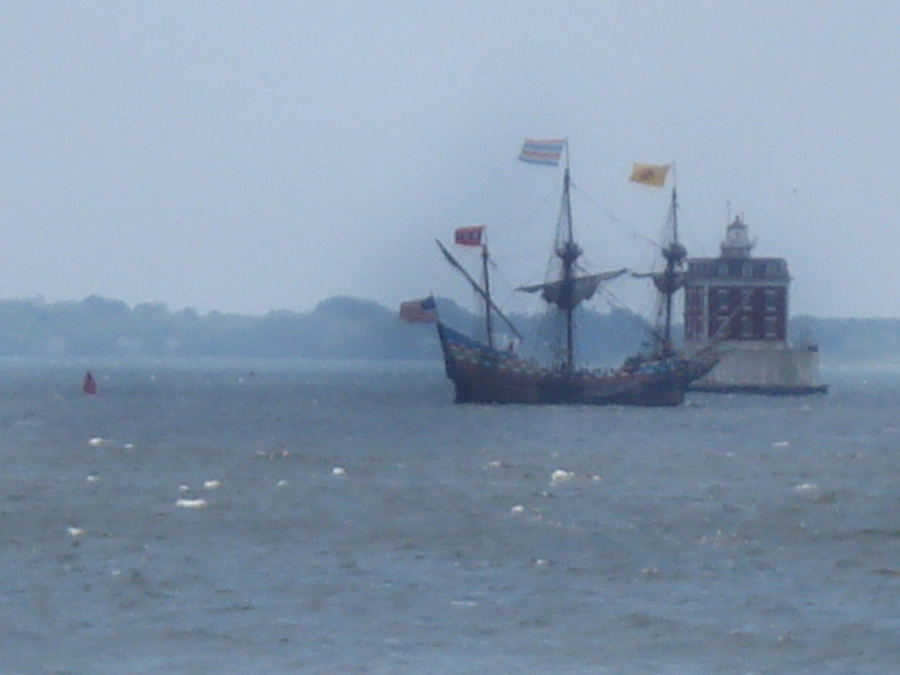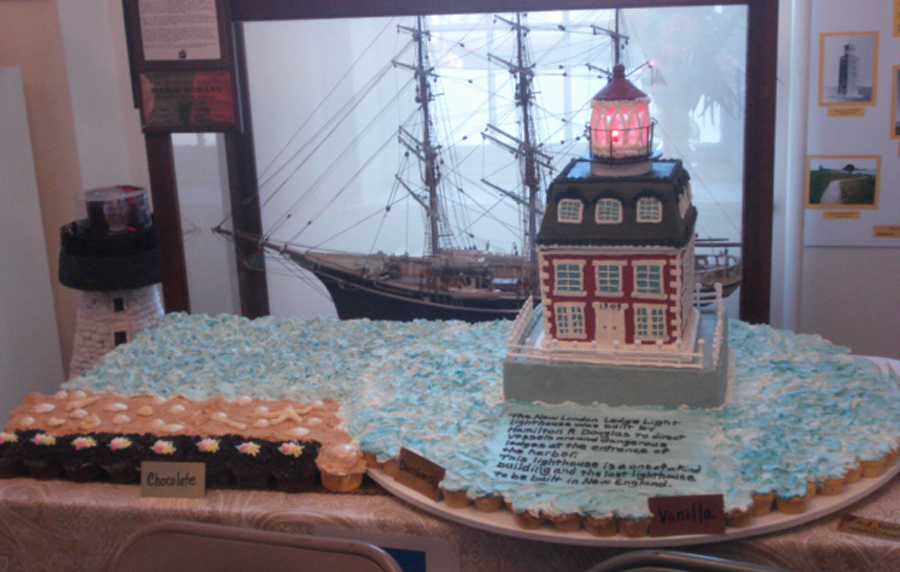 7.1.11
For additional photos of events from
Sentinels on the Sound: A Celebration of New London's Lighthouse Heritage,
click >>
HERE.
  Friday evening brought NLart openings--including
three new lighthouse exhibitions
at the Custom House Maritime Museum,
Todd GIpstein's
book signing and the
Light Cake-Off Competition.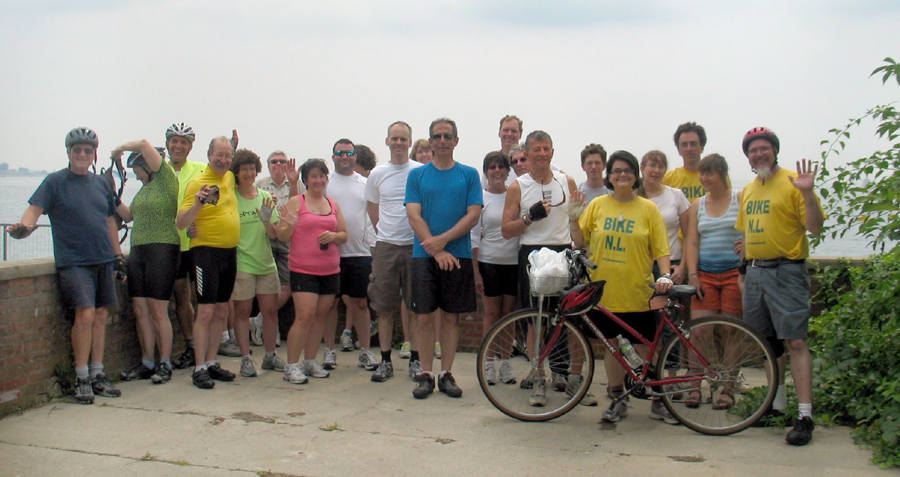 Bike New London at New London Harbor Light - Sunday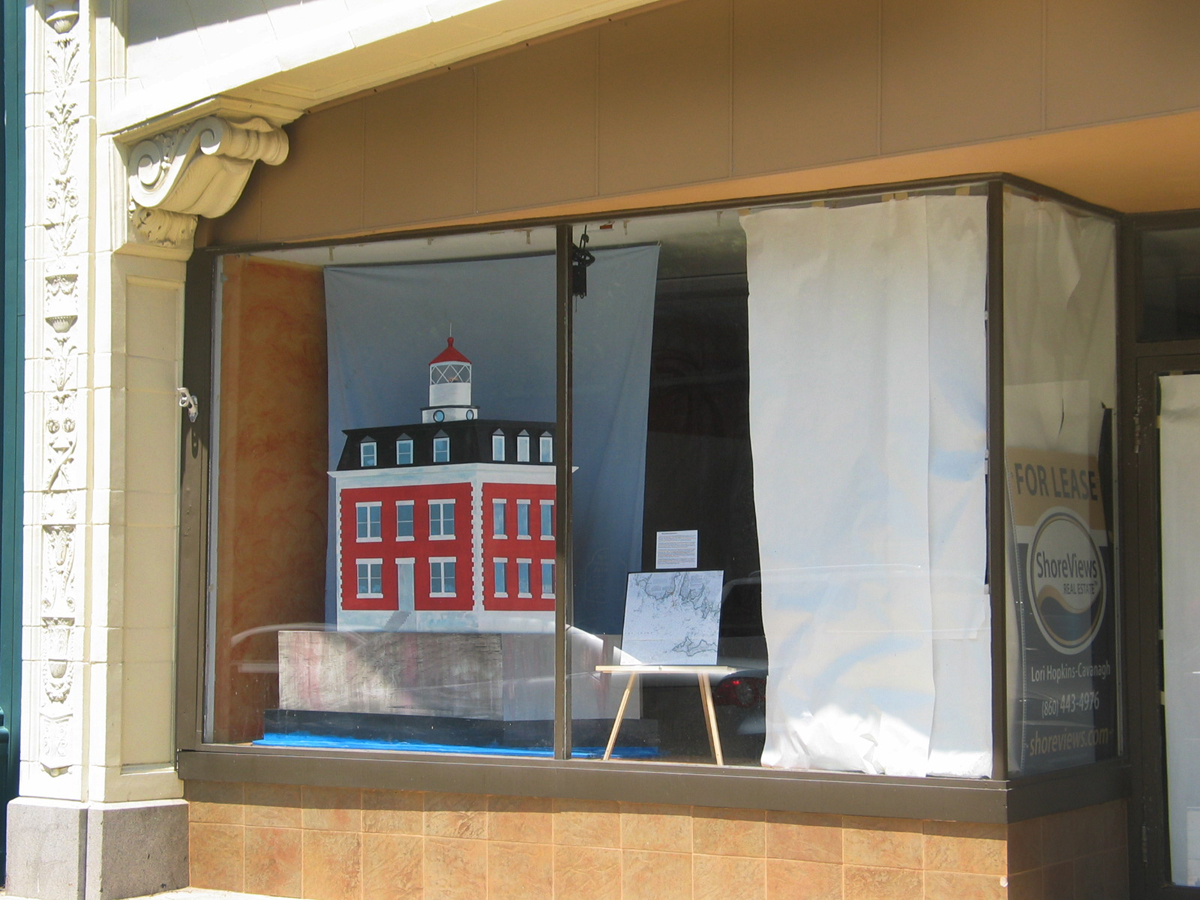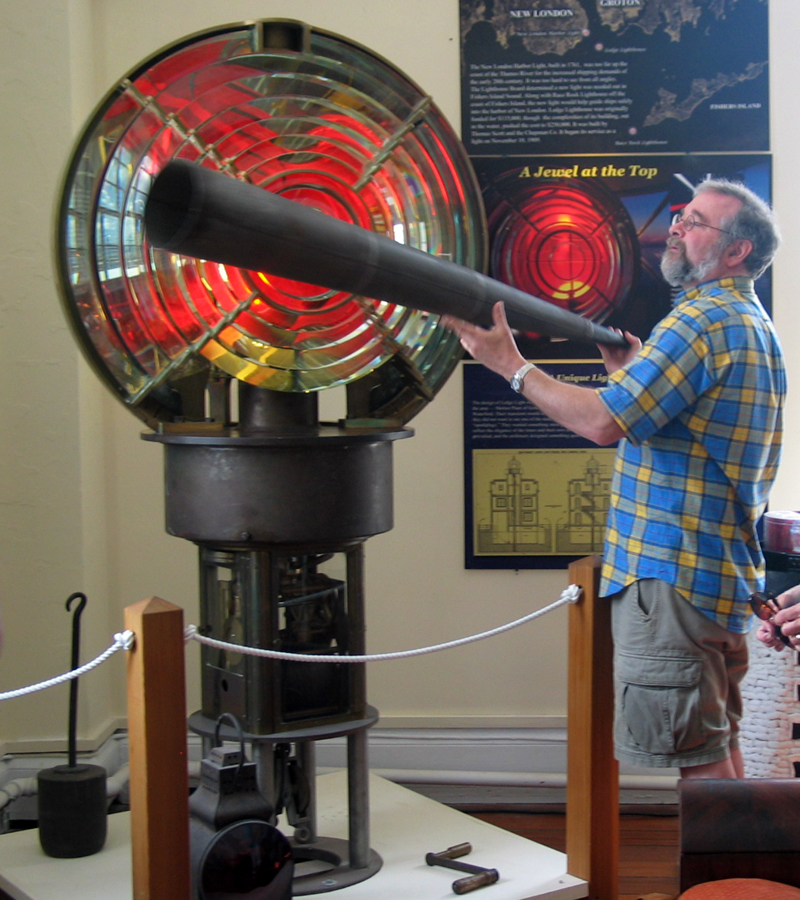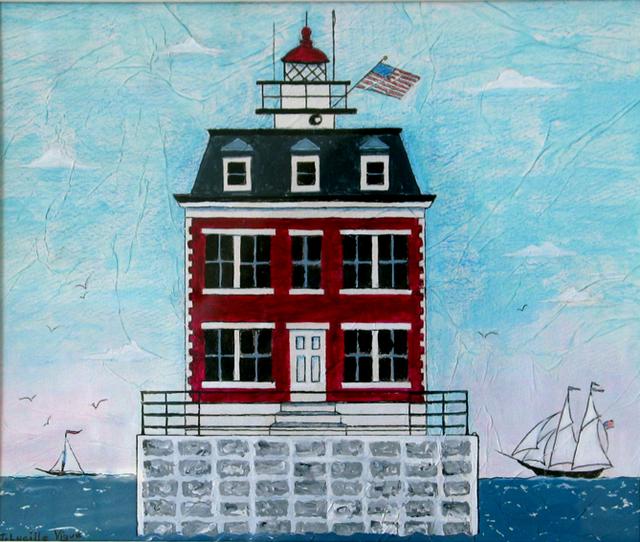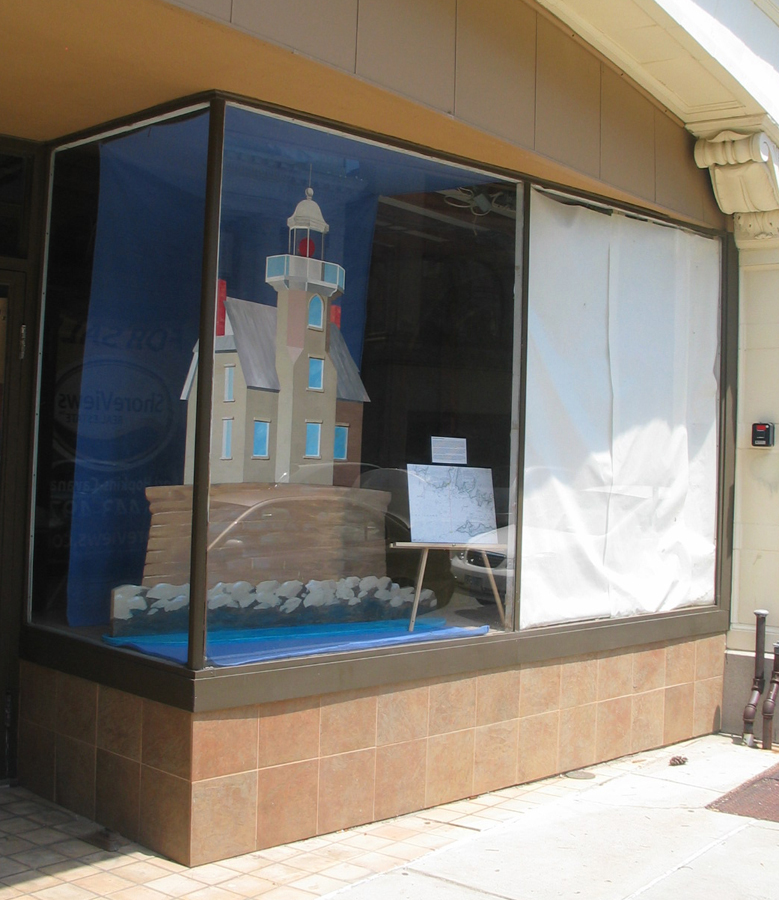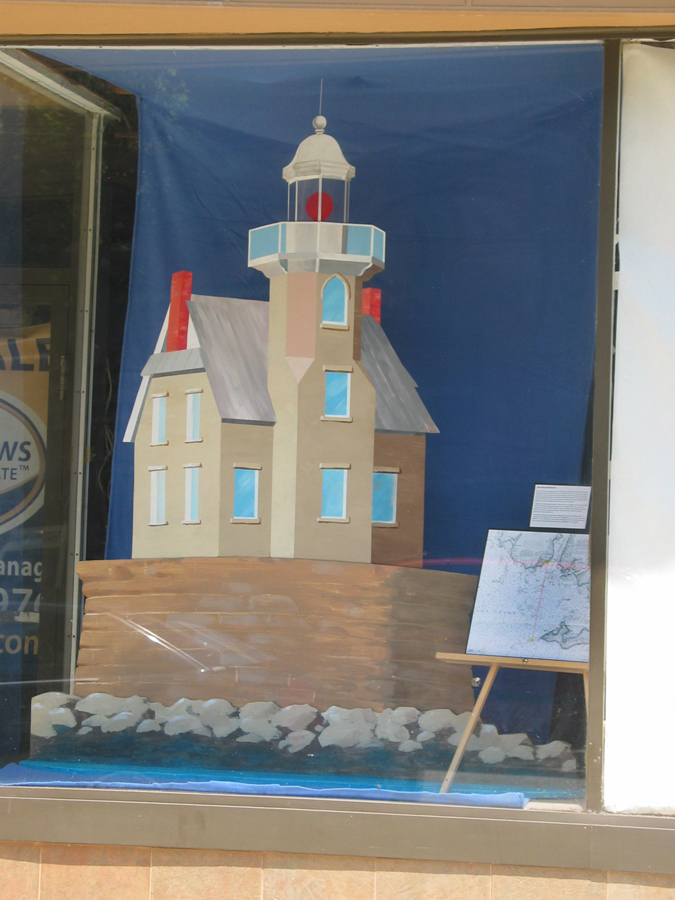 7.1.11 Ledge Light is a big part of the local lighthouse story. Below: The Cake Lady's winning rendition,eft, (7.14.11)Todd Gipstein examines Ledge Light's original fog horn - on loan to us from Mystic Seaport, directly below and above: Rob Groves' storefronts featuring area lights: Ledge below, Race Rock above.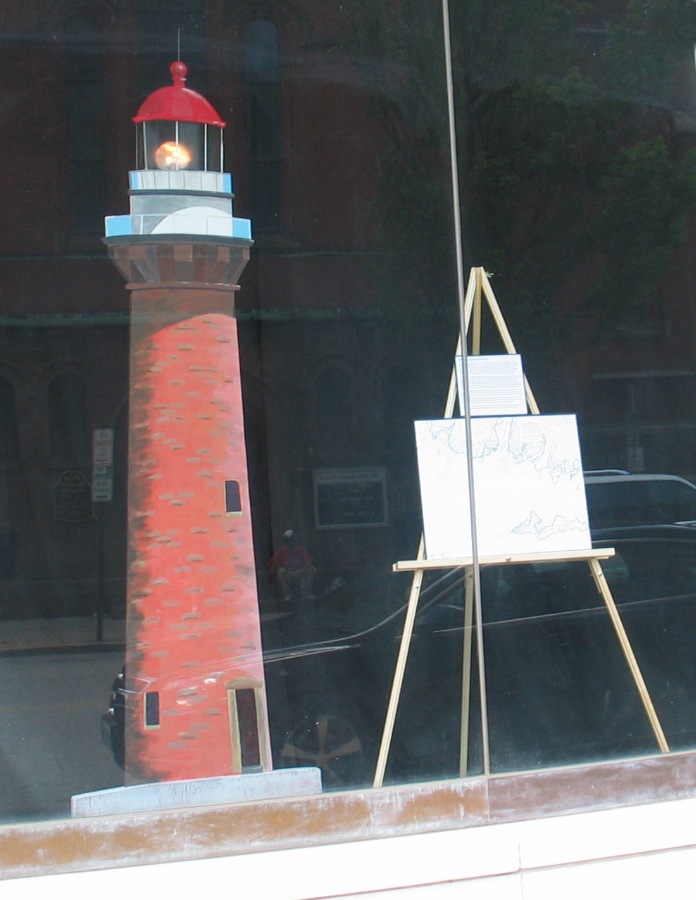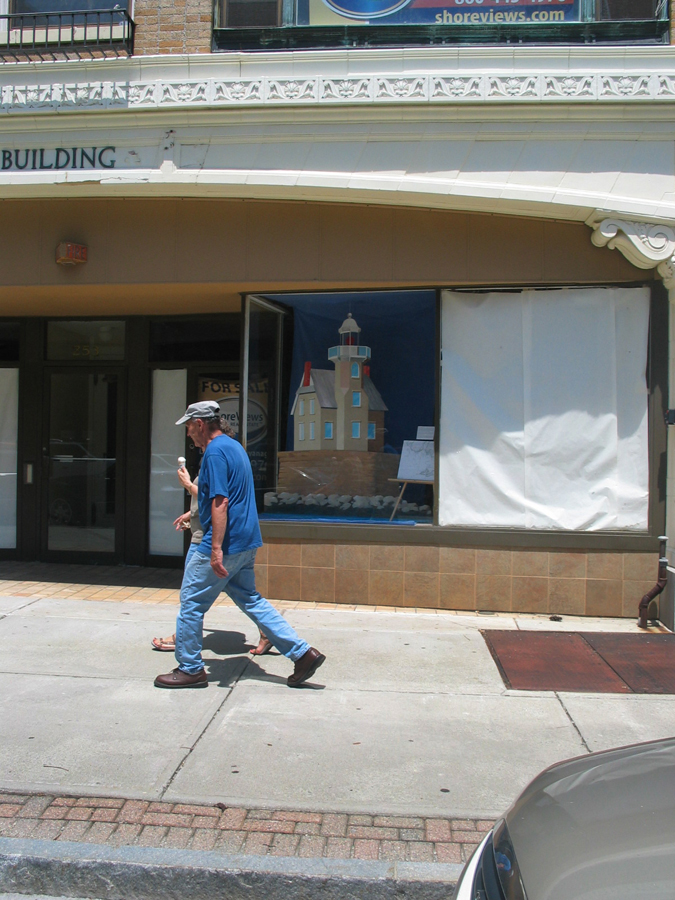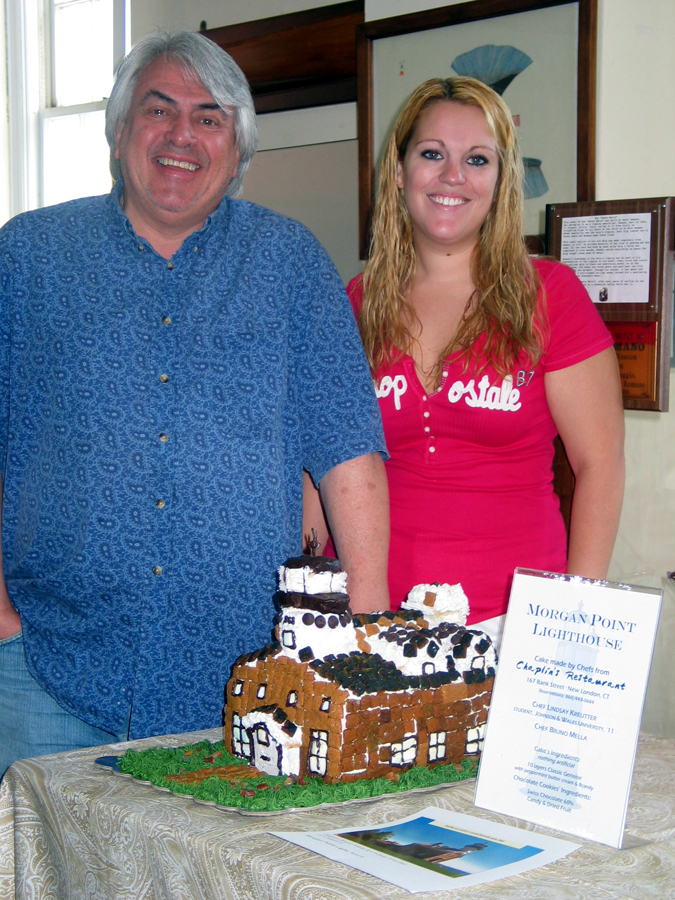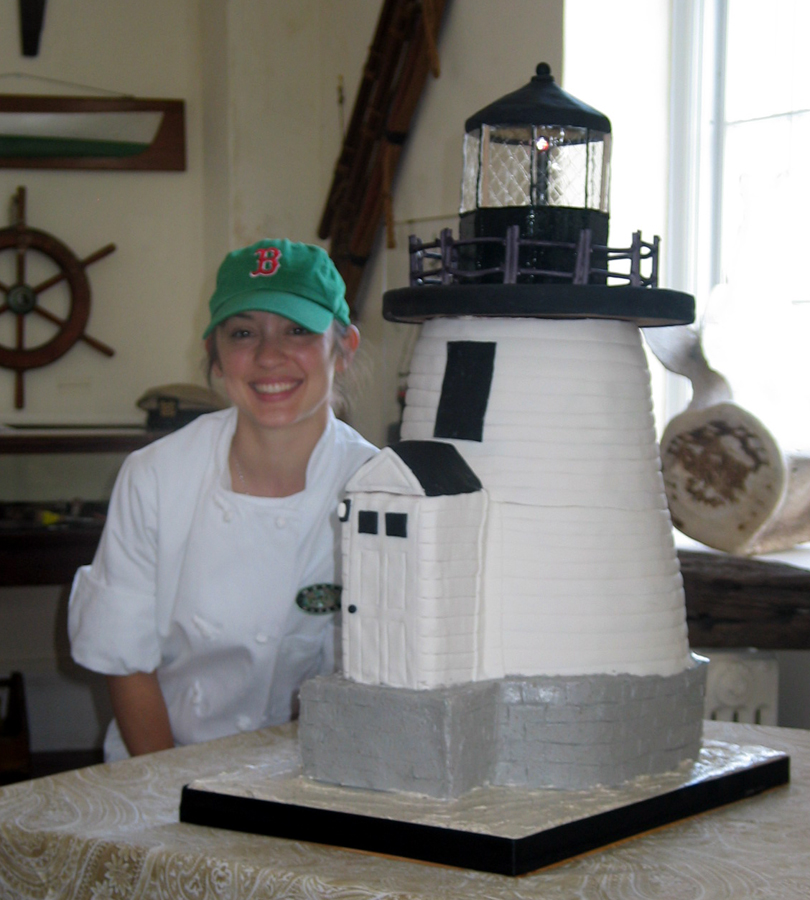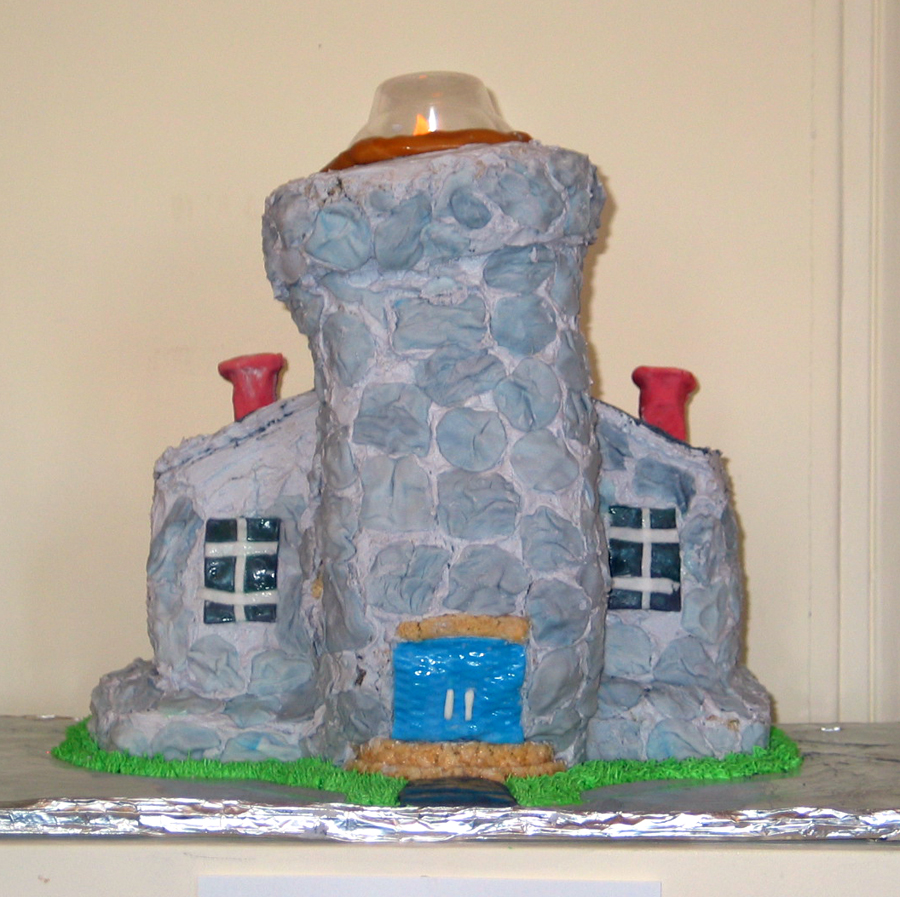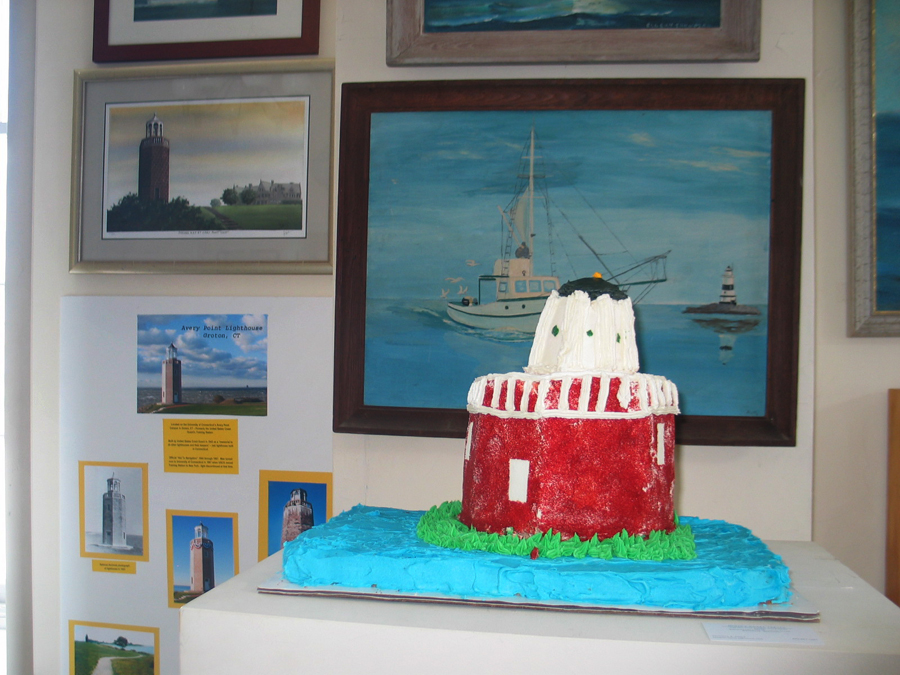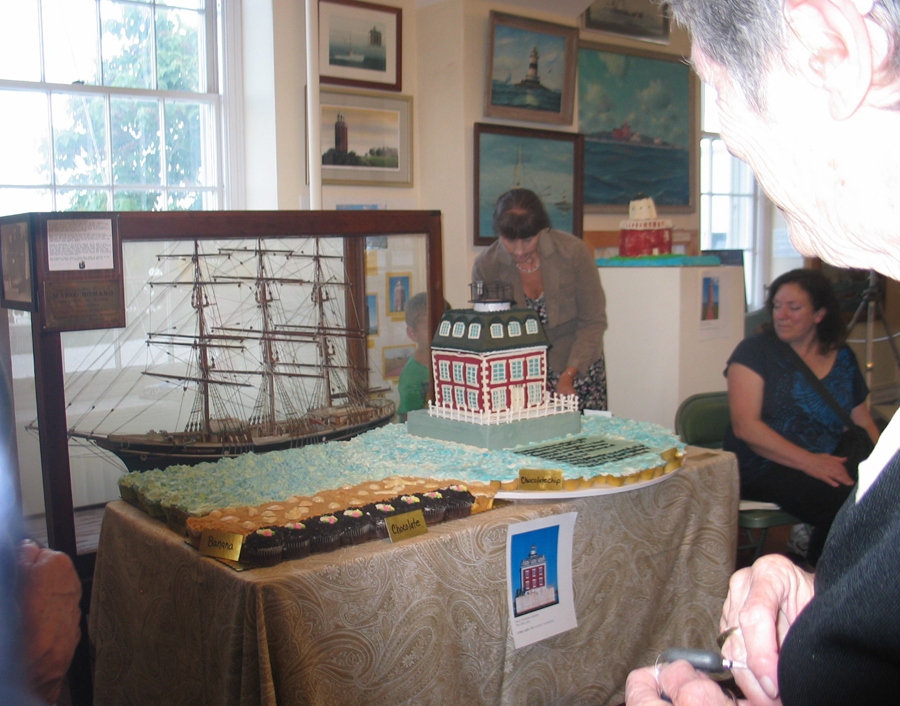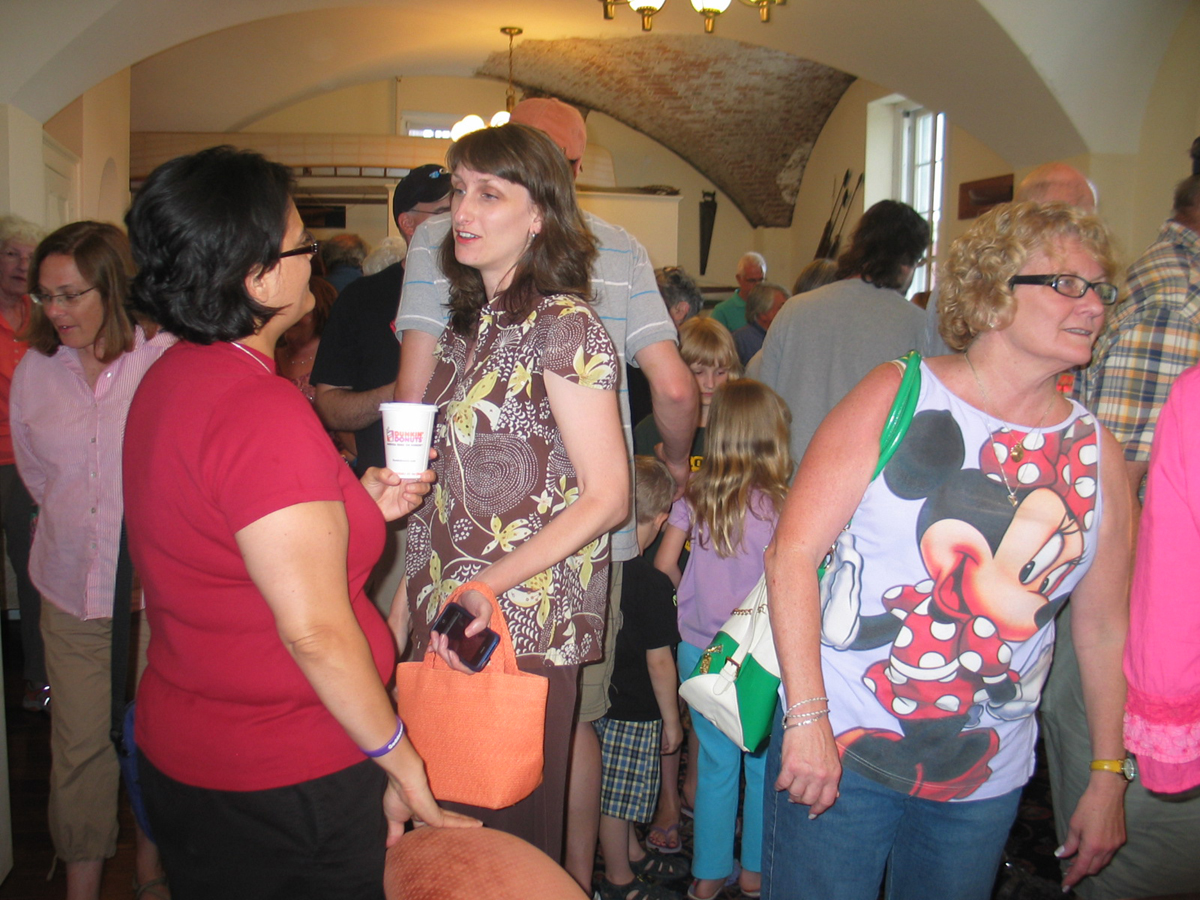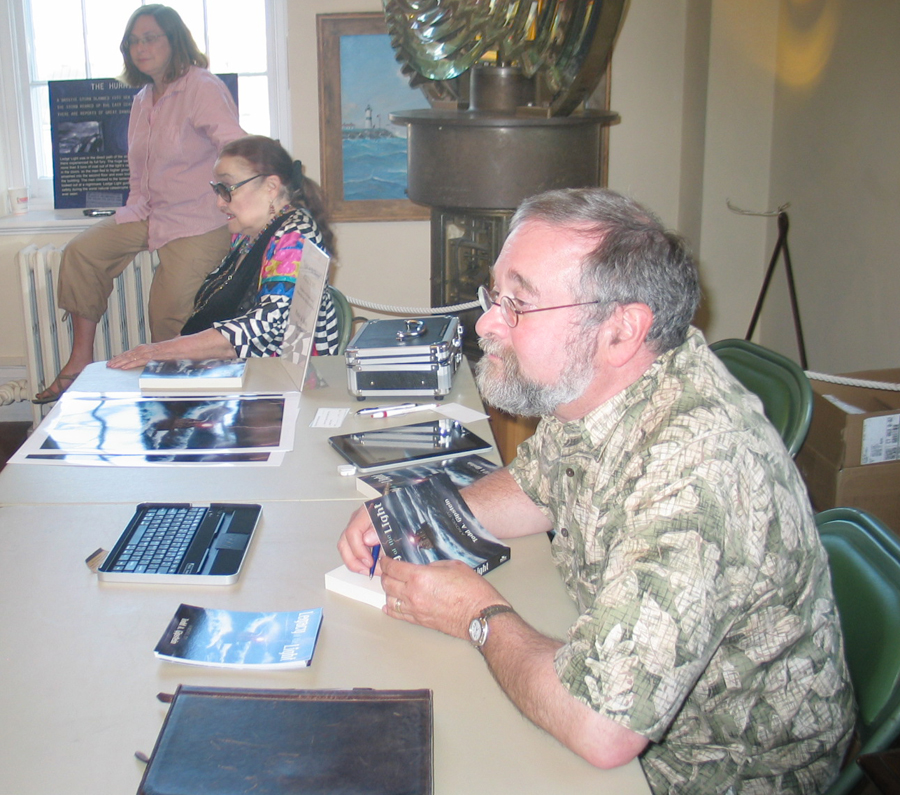 7.1.11 Sentinels on the Sound's Lighthouse Cake-Off Competition was a combined event with Todd Gipstein's book signing and the NLart openings on Friday night. By Friday morning, all nineLighthouse boat tours, scheduled for the weekend, had already been filled! We added an additional five boat tours!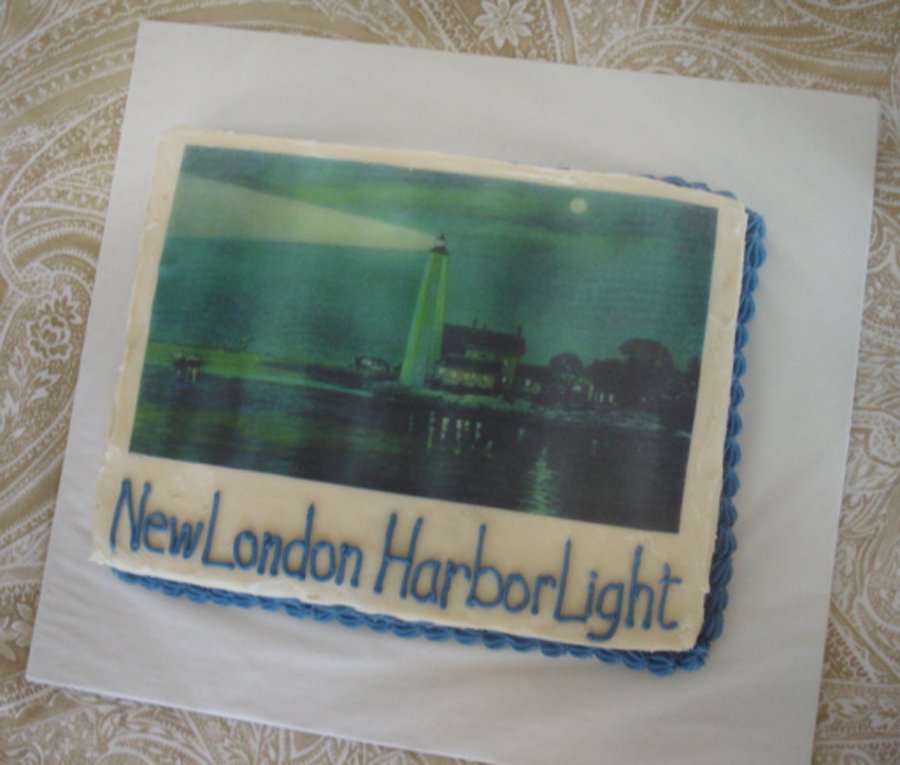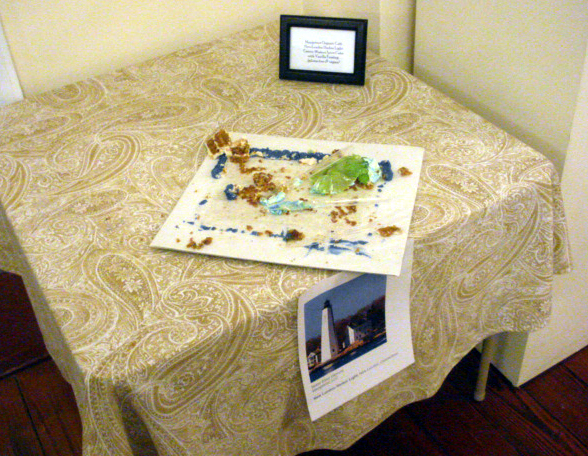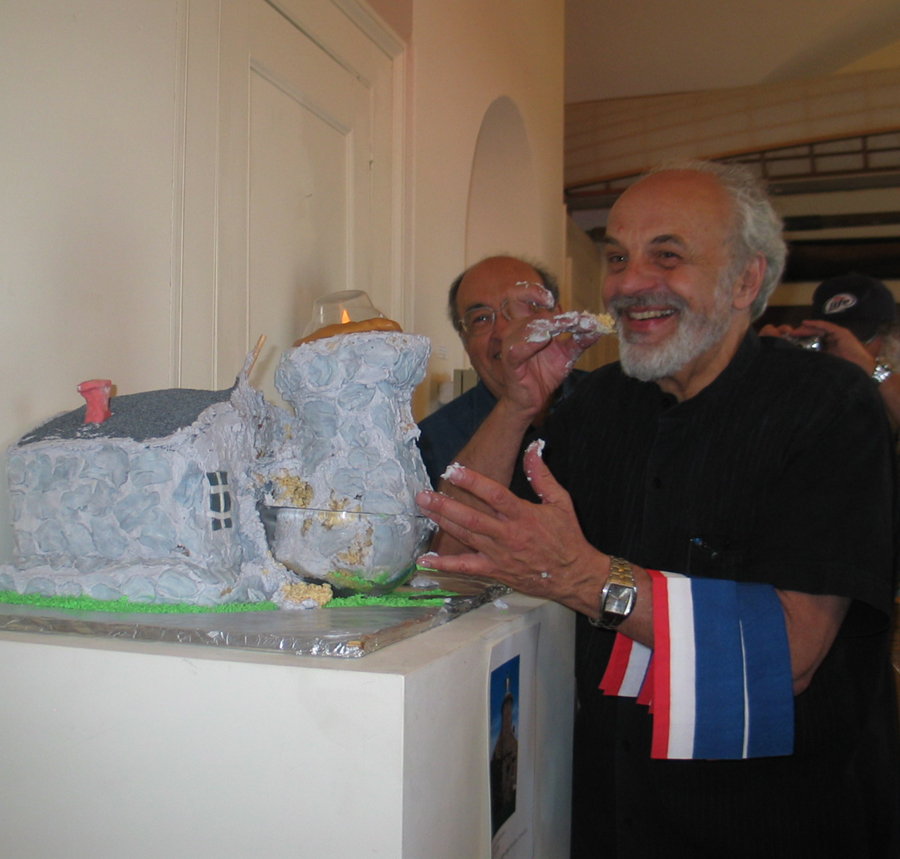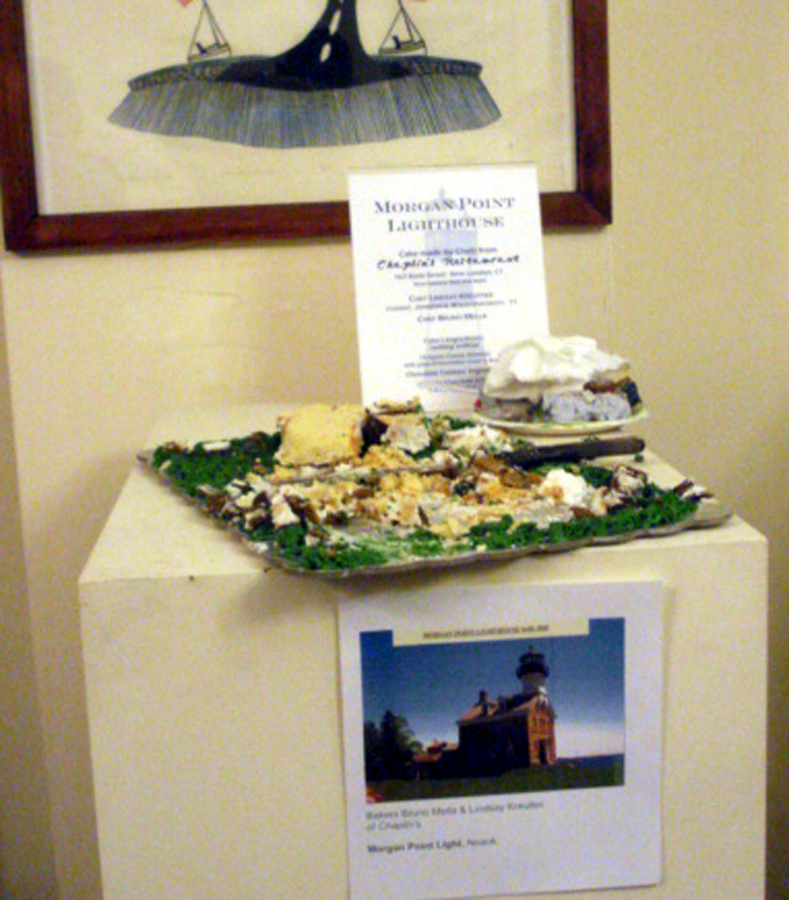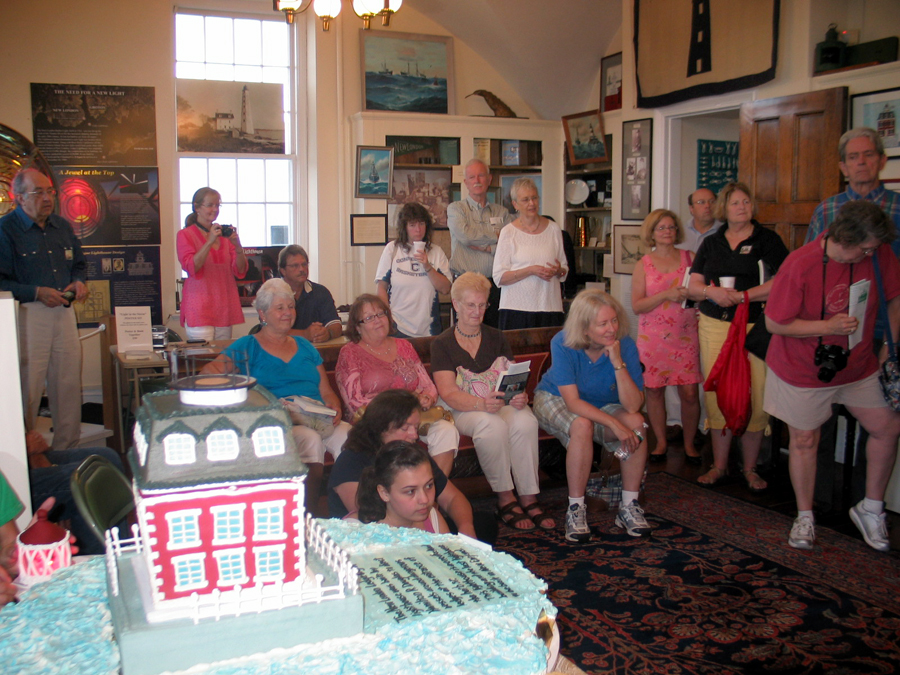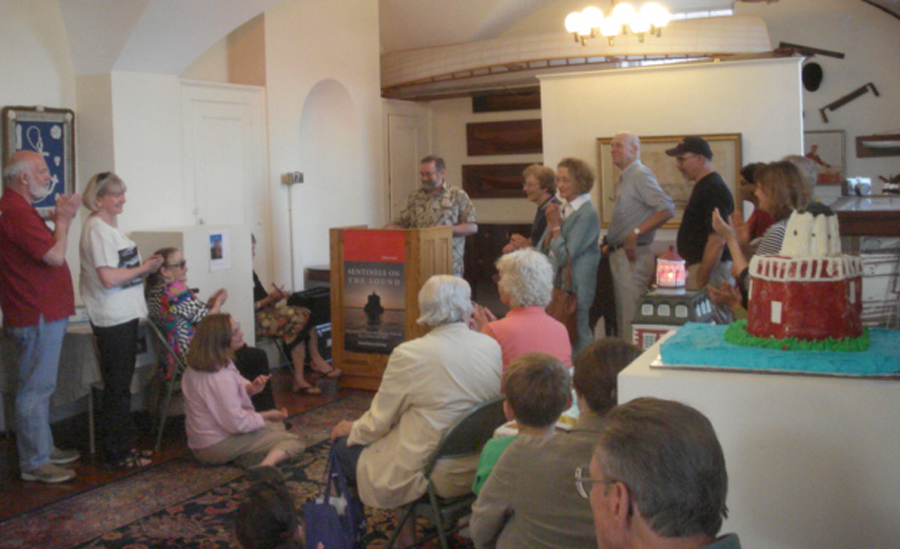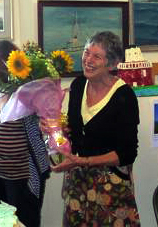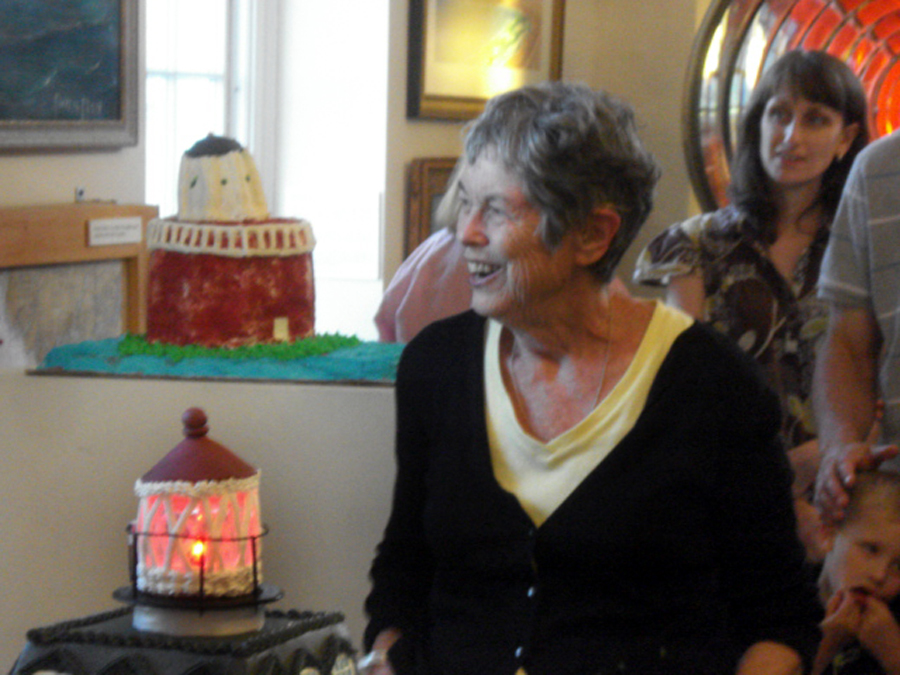 7.1.11 Our neighbor on Bank Street, Studio 33, is featuring lighthouse paintings this month. In our own Maritime Gallery, we have watercolor paintings of area lighthouses (above and near left) by Niantic artist Pat Kelbaugh.

Another important component of the evening was a tribute to Louise Pittaway, who was--for 35 years--curator at The Old Lighthouse in Stonington, Louise was our juror for the cake competition, but she refused to make a choice--saying that every entry had its own special somthing... The crowd then voted and decided The Cake Lady's Ledge Light was winner in three of four categories: Best Lighthouse, Most Imaginative & Best Overall Effort, and that Chaplin's Morgan Point Light won in the improtant category of Best Taste.

Congratulations to all our Bakers. It was a great evening!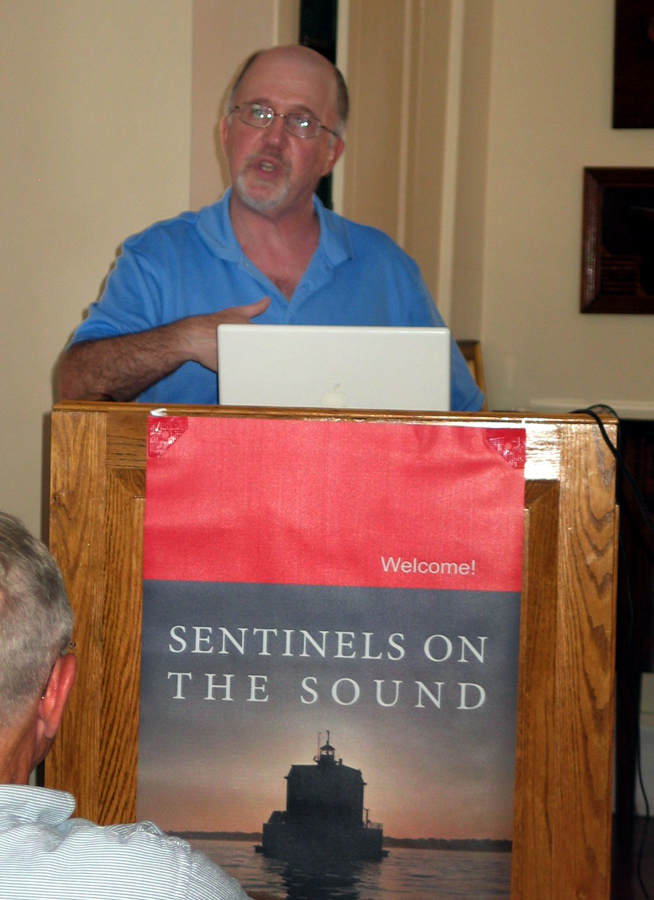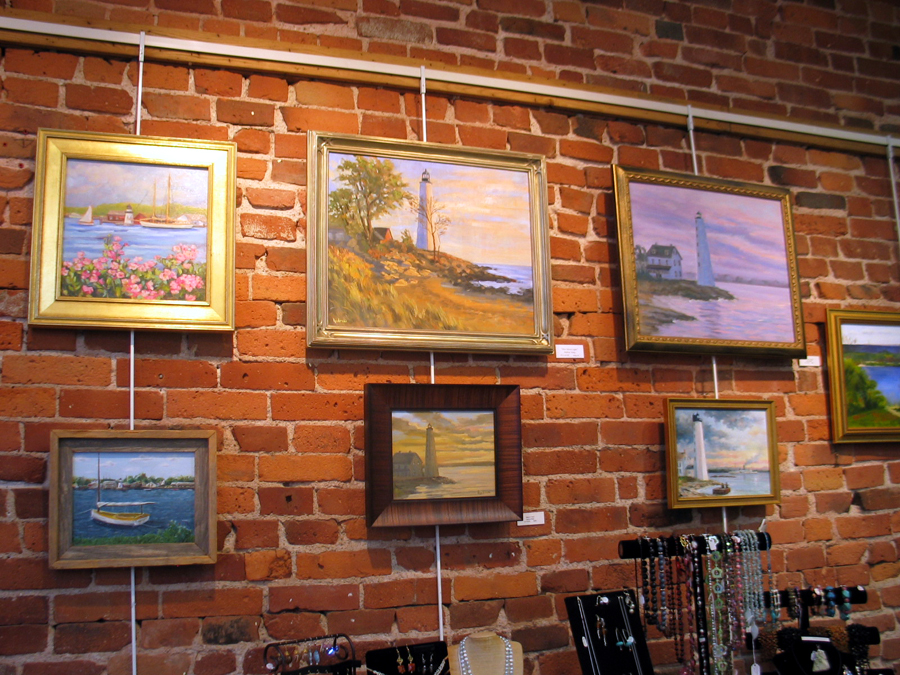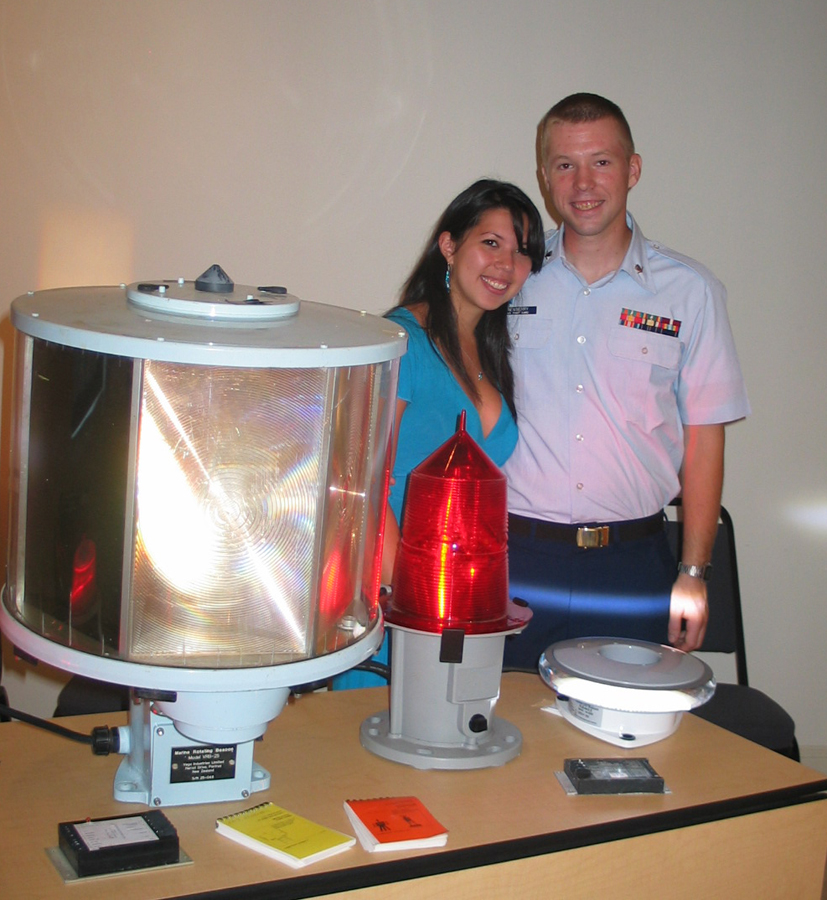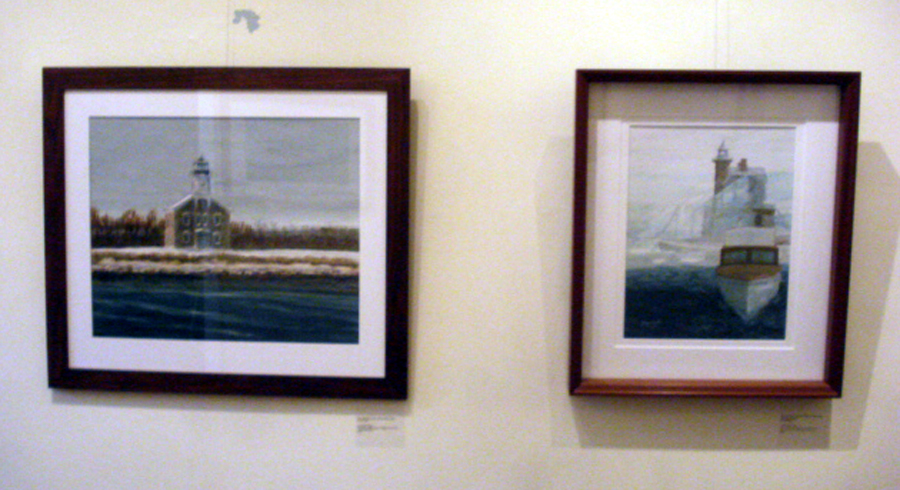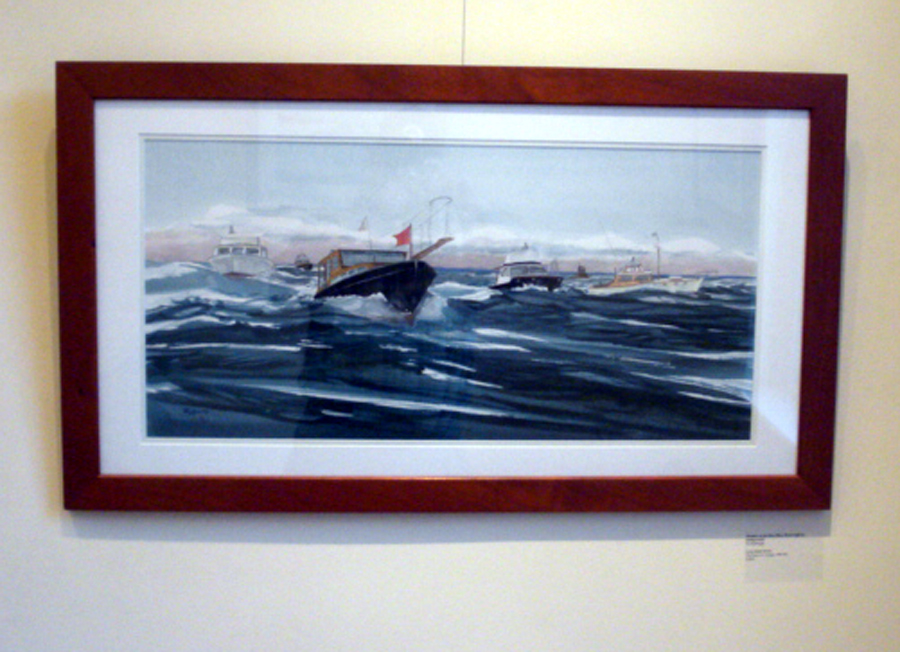 7.2.11 Sentinels on the Sound's Lighthouse Symposium took place at three different locations around town: Fort Trumbull State Park in the morning, Shaw Mansion for lunch, Custom House Maritime Museum for the afternon session. Far left is the morning speaker from the US Coast Guard, near left is Jeremy D'Entremont, our keynote speaker.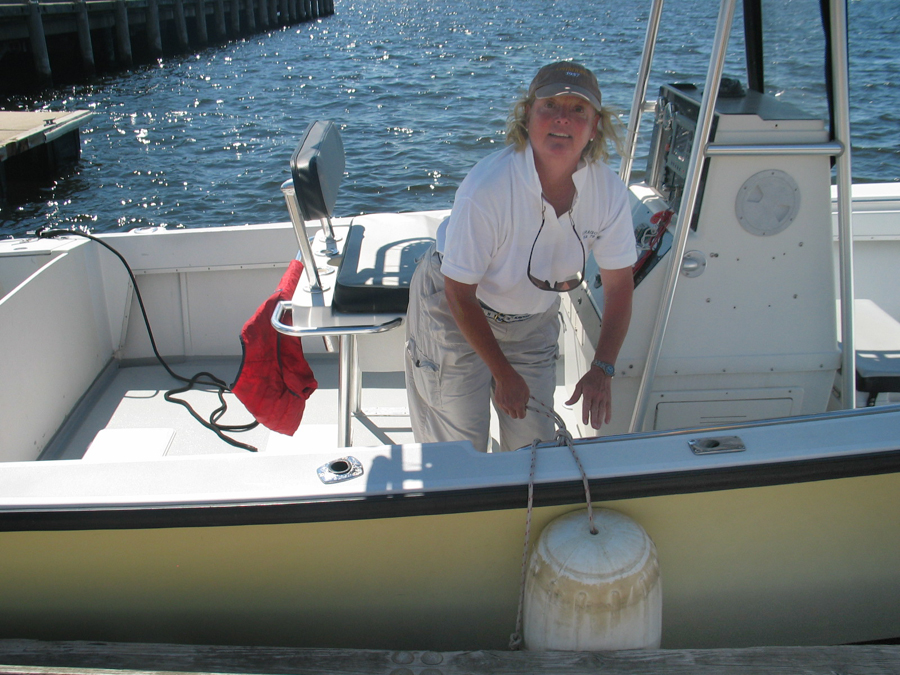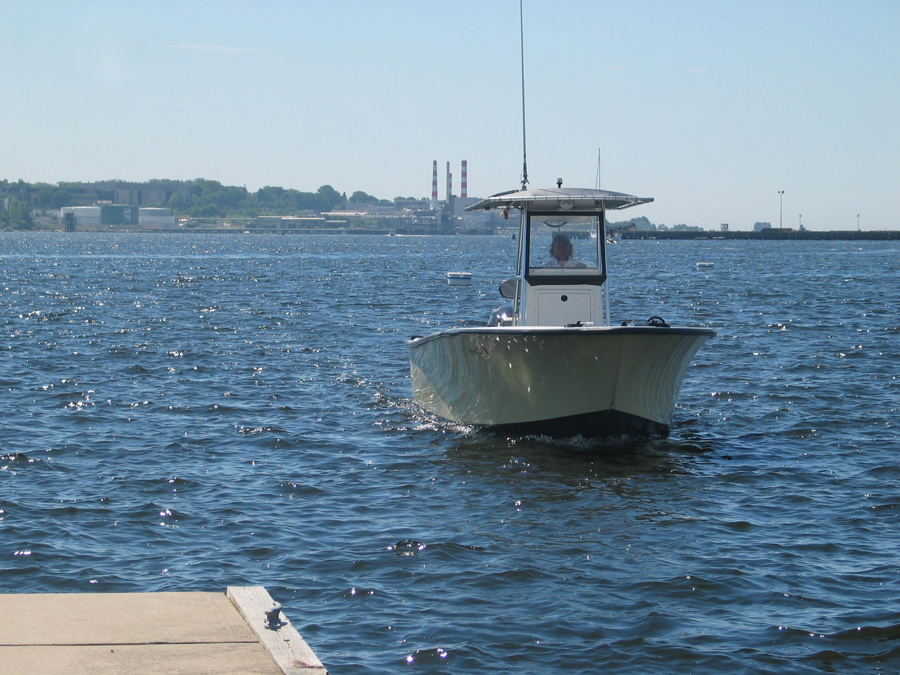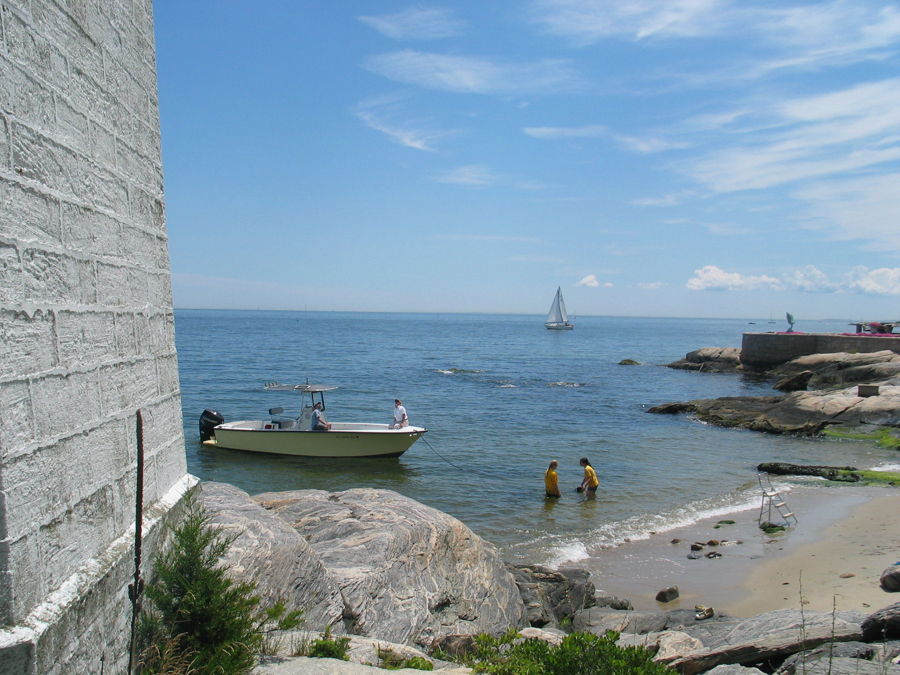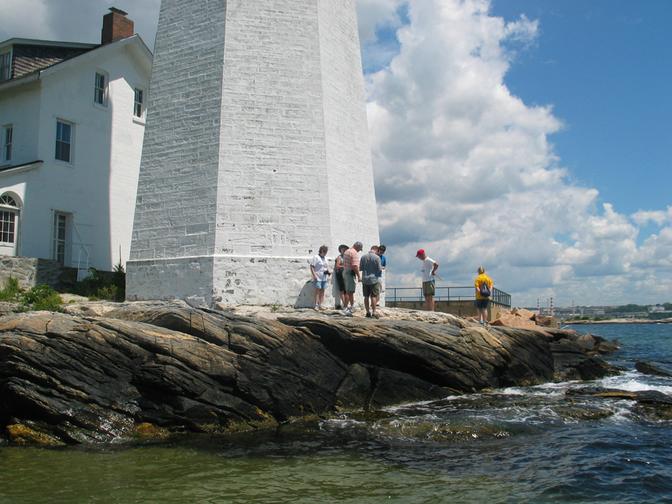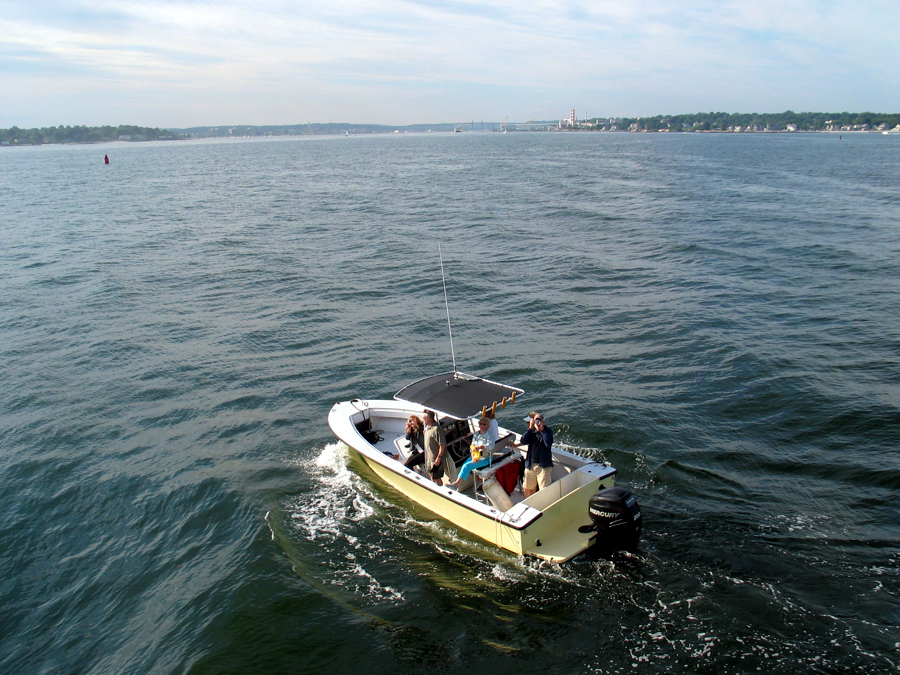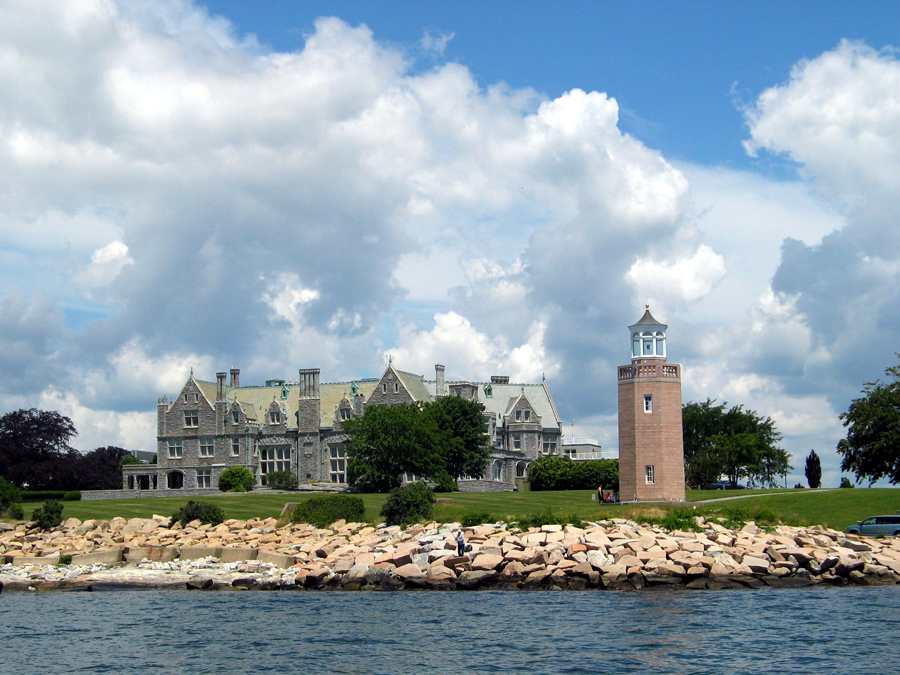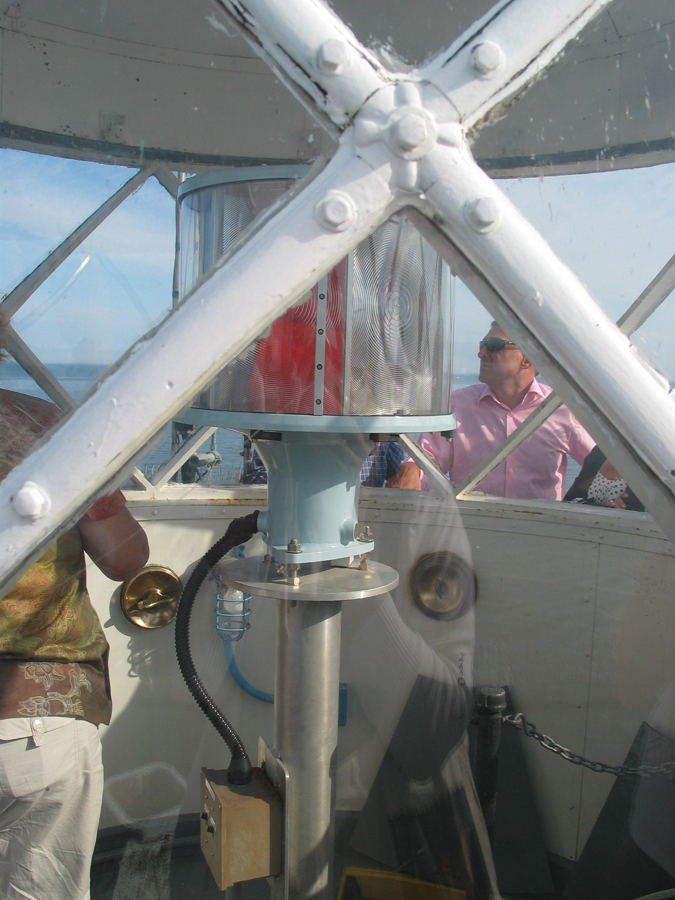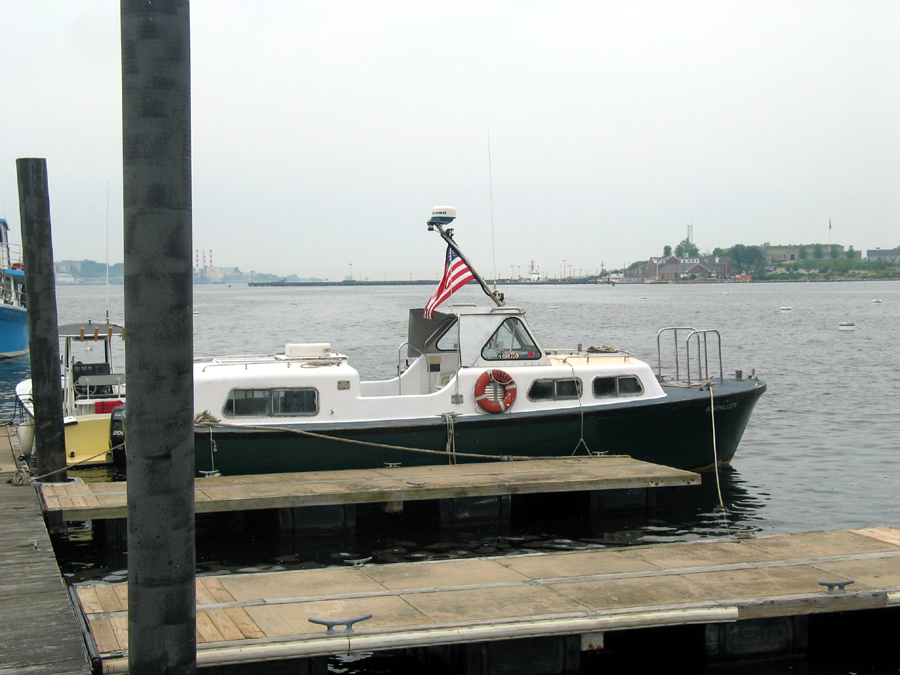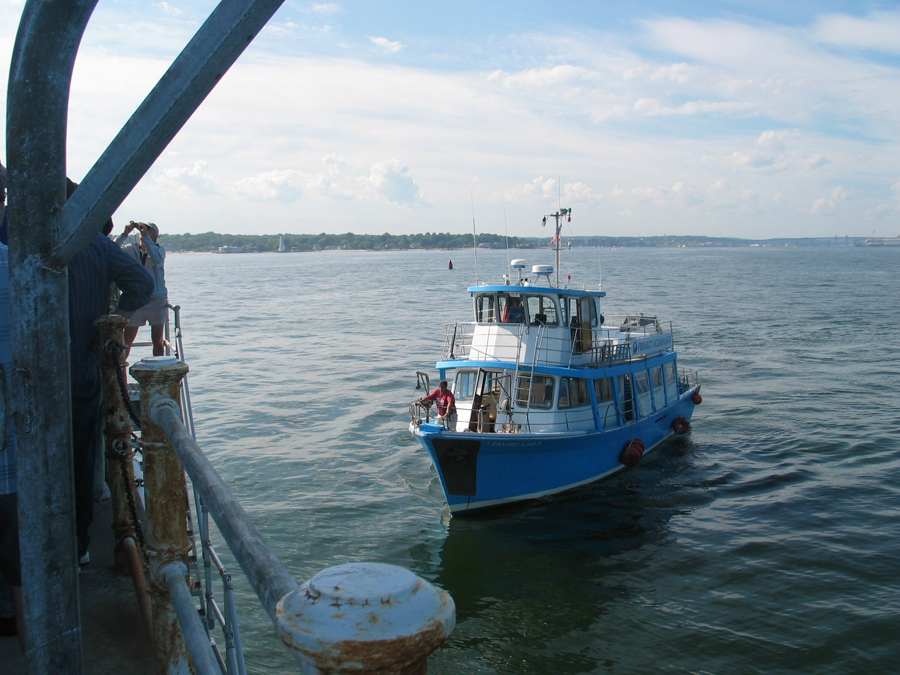 7.2.11 Saturday was the first of two days of boat tours. We presented three options: trips with Katie Beal to New London Harbor Light, 'Three Sisters' lighthouse tours of the harbor with Patrick Kennedy, and Project Oceanology trips out to Ledge Light. All boats left from New London Custom House pier. Our friends the Sea Scouts were there to keep people safe entering & exiting the boats. Thank you for your terrific help!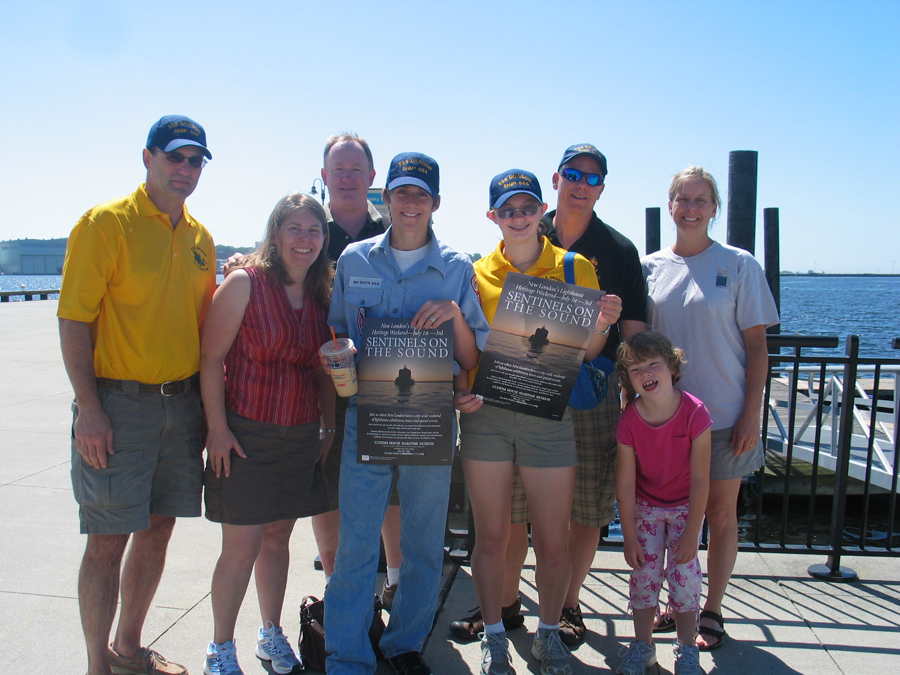 7.3.11 Sunday saw the Shoreline Lighthouse Bicycle Tour with Bike New London. Here they are arriving at the first lighthouse on Sunday morning (left). The boat tours continued and nwighbors visited New London Harbor Light. But as the afternoon wore on, the weather grew stormy.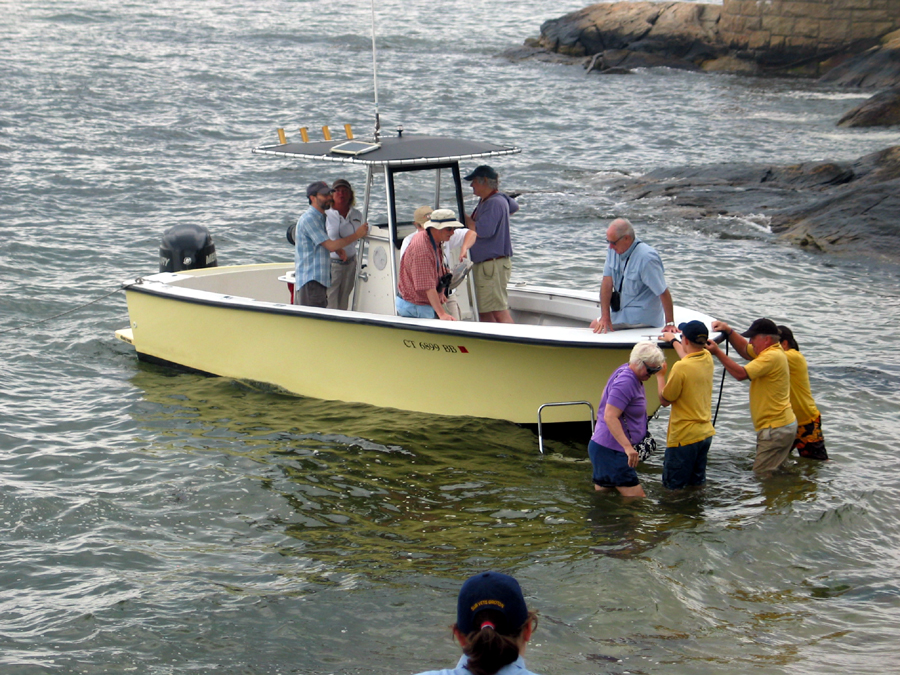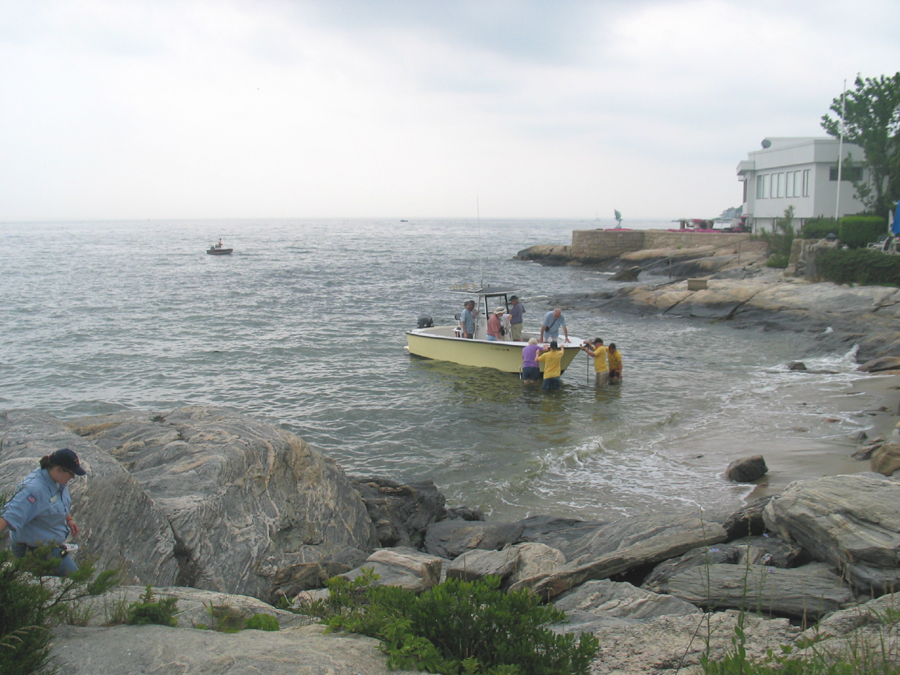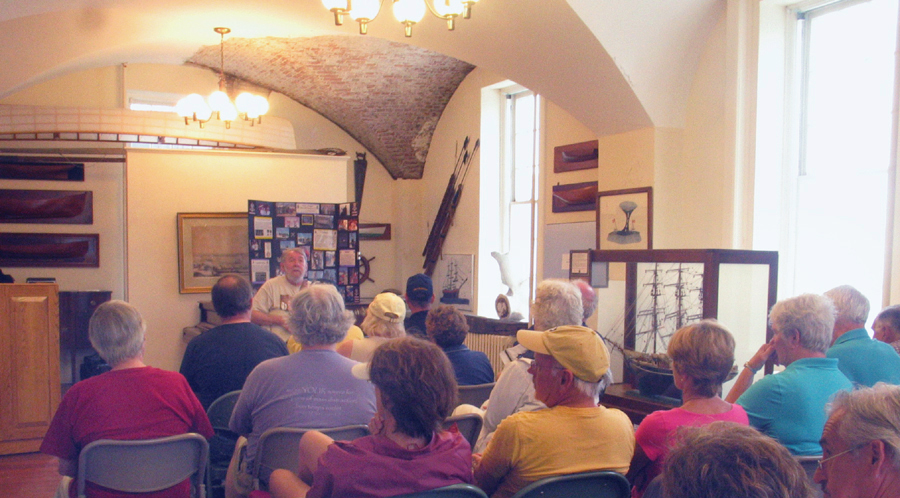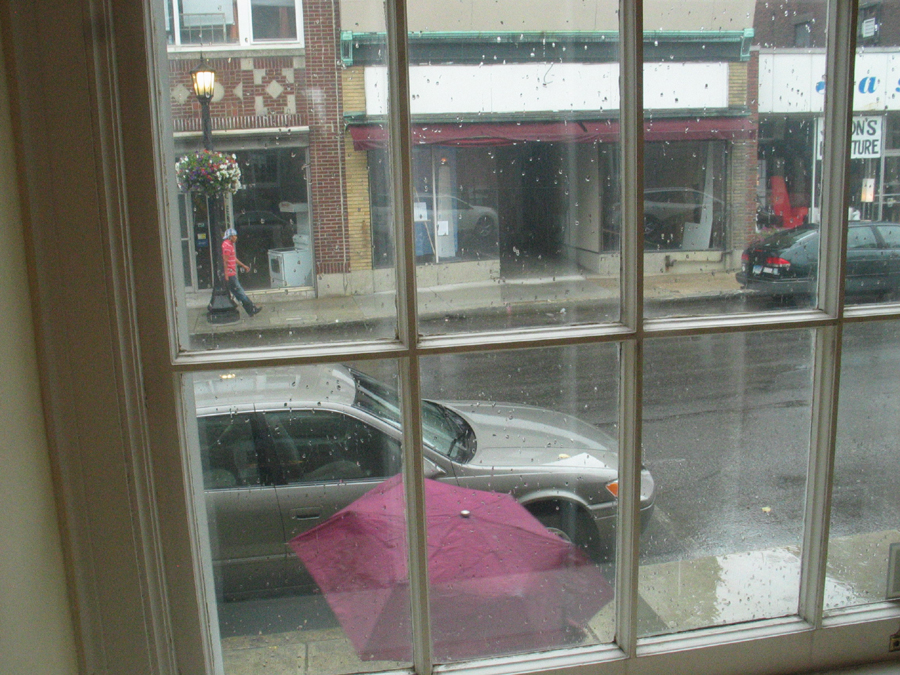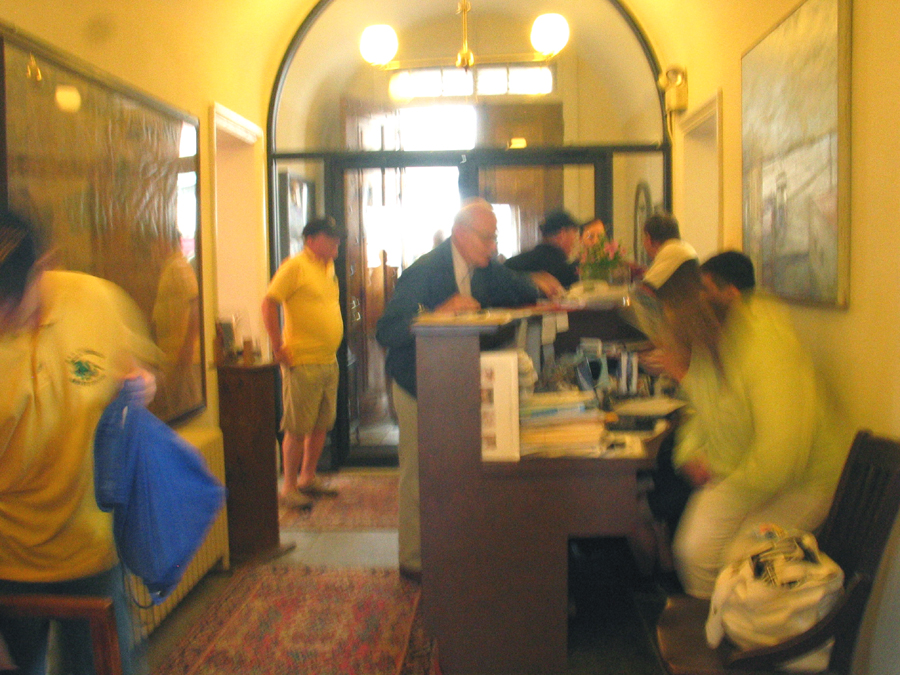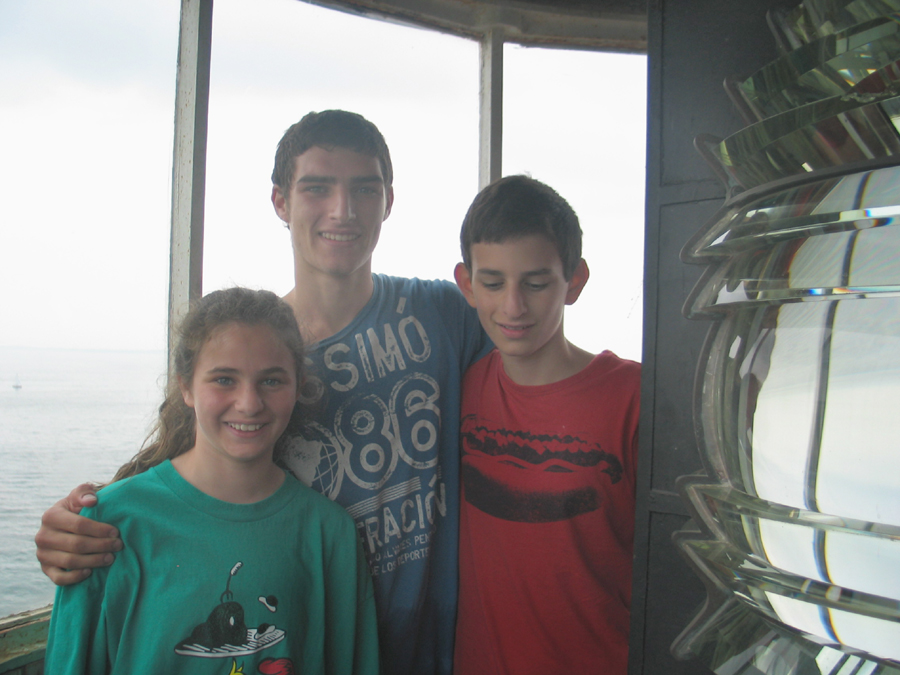 7.3.11 Sentinels on the Sound's final day opened with another round of boat tours. We even added new tours to try and meet the demand (everything had been sold out by Friday morning) but by early Sunday afternoon, inclement weather forced us to cancel the remaining three excursions.

Visitors who arrived for their boat tours at the Custom House, rather than be turned away, were treated to a concert of sea music by John Roberts. Joined by a cadre of followers, the museum;s main gallery filled with harmony as everyone joind in with John--it was a spectacular end to a wonderful Lighthouse Weekend.

The museum staff, however, was pushed to their limit dealing with an unaccustomed crowd, number of phone calls, and complex program of activities. July 4 saw 19 messages on the answering machine requestion information about the next series of boat & lighthouse events!

At the end of the day,I can report we all have never been more happy or positive about our activities. Good activities, good press, good vibes--it made us all feel terrific! Thank you to everyone who helped plan, attended, or just took part in the fun.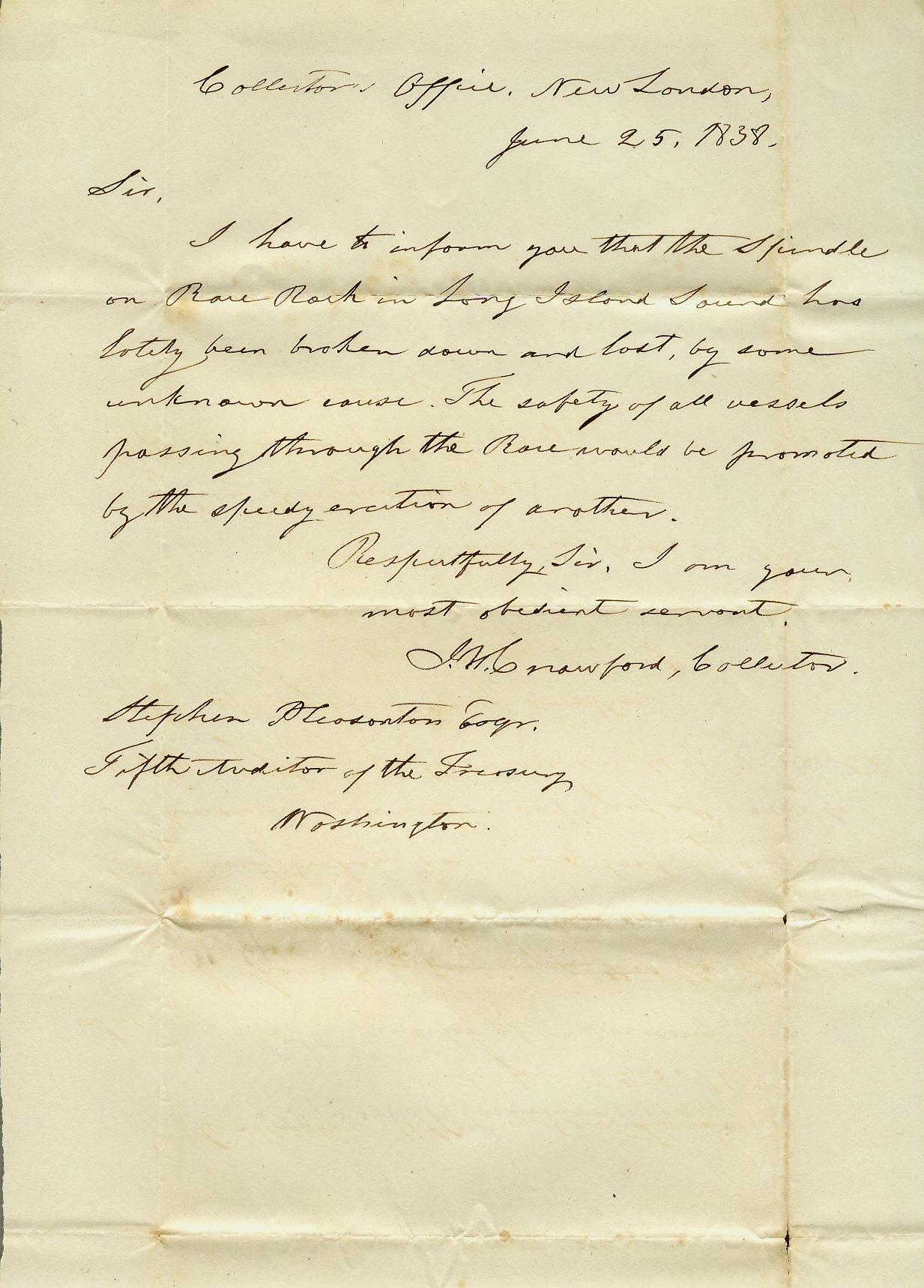 7.5.11 One of the real pleasures of working on our recent lighthouse events was to reexamine the museum's collection of letters written by Ingoldsby Work Crawford, New London's US Customs official in the 1830s and 40s. In that time period, the Customs Service was also in charge of the lighthouses! These letters reveal much of the day-to-day operations involved --buying oil for the lanterns, making repairs, even construction new lights. A common topic was the frequest loss of the 'spindle' marking the Race--where Long Island Sound opens up to the Atlantic (see an example at left).

Librarian Brian Rogers has brought together a fascination exhibition of many of these letters and also books and prints from the museum's collection which is now on view in the Frank L. McGuire Library. It's well worth a visit.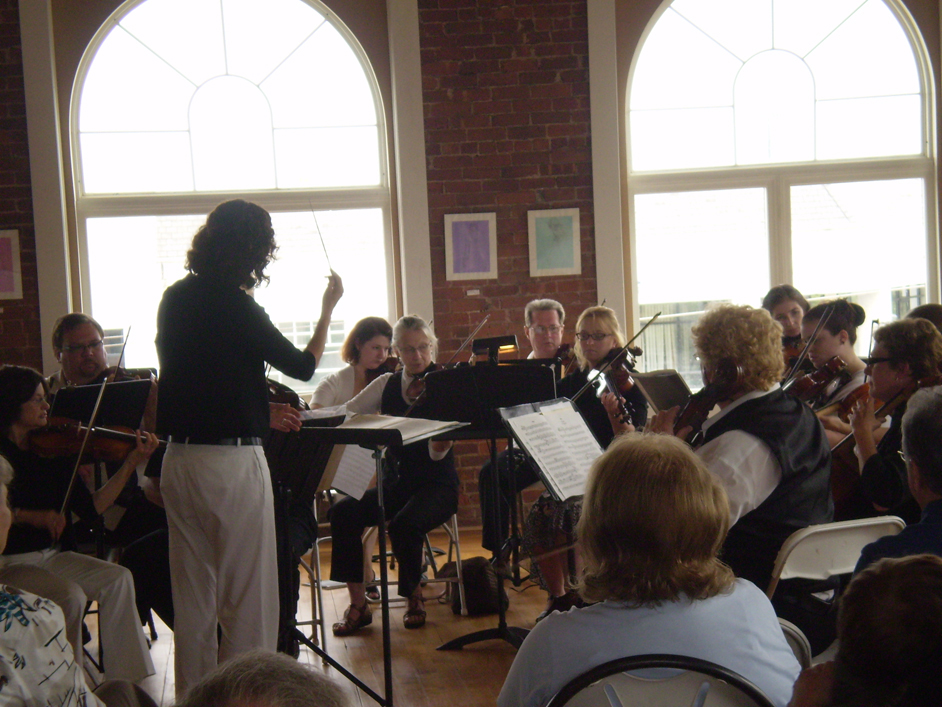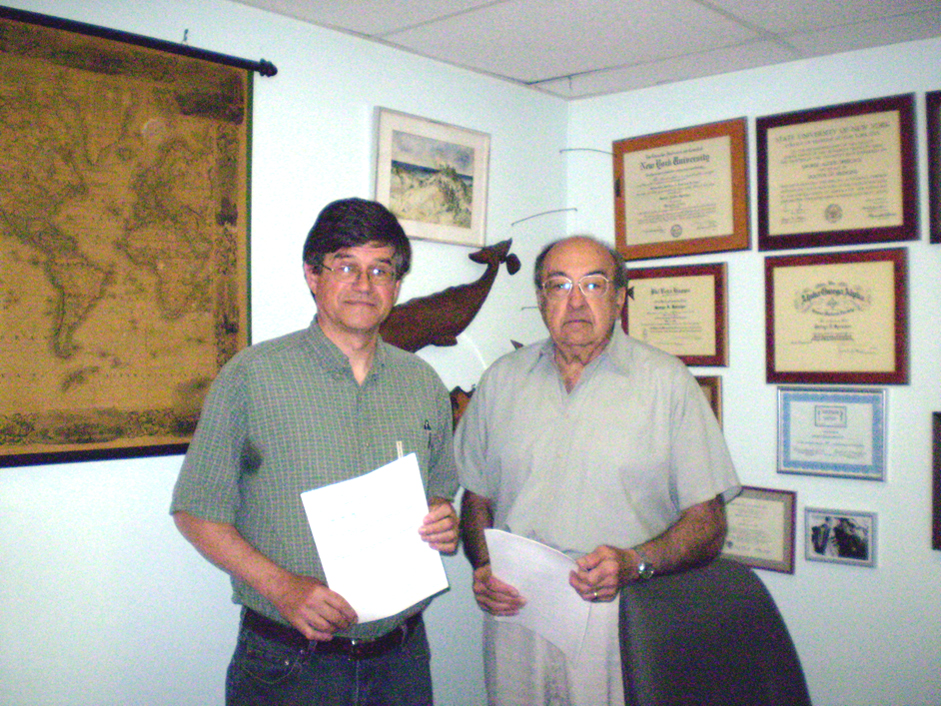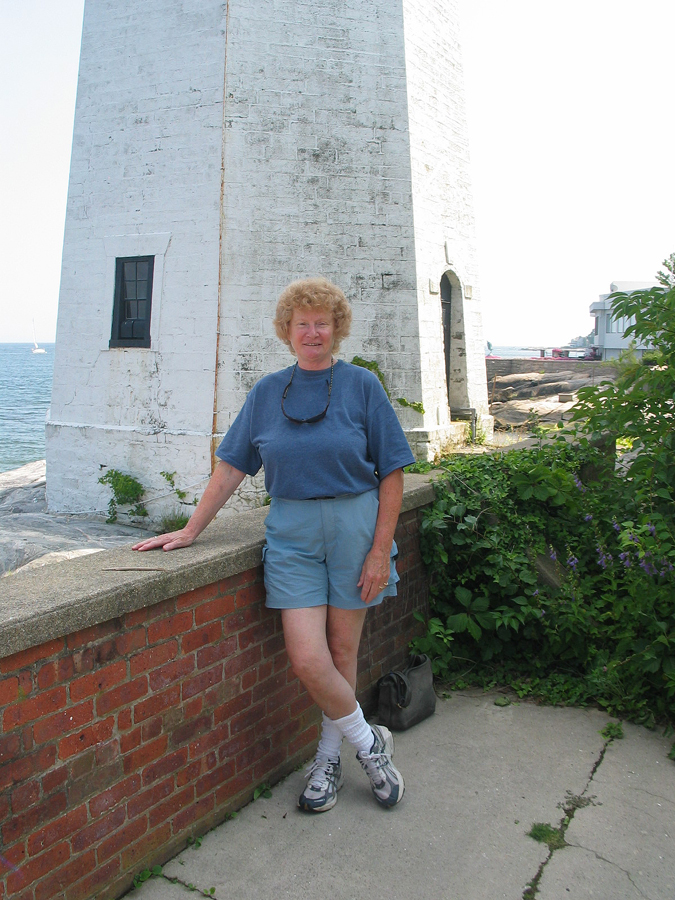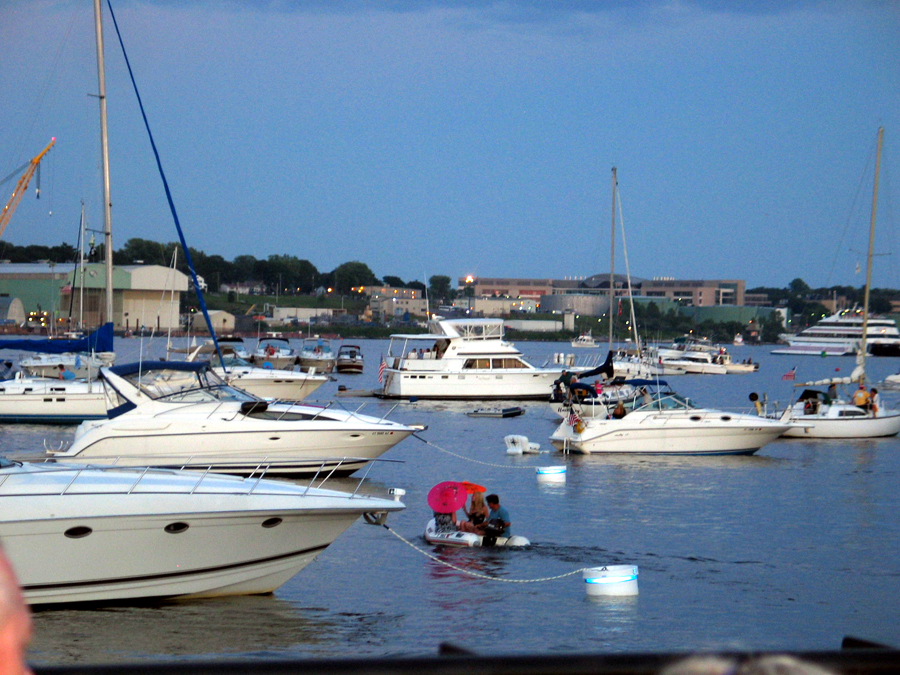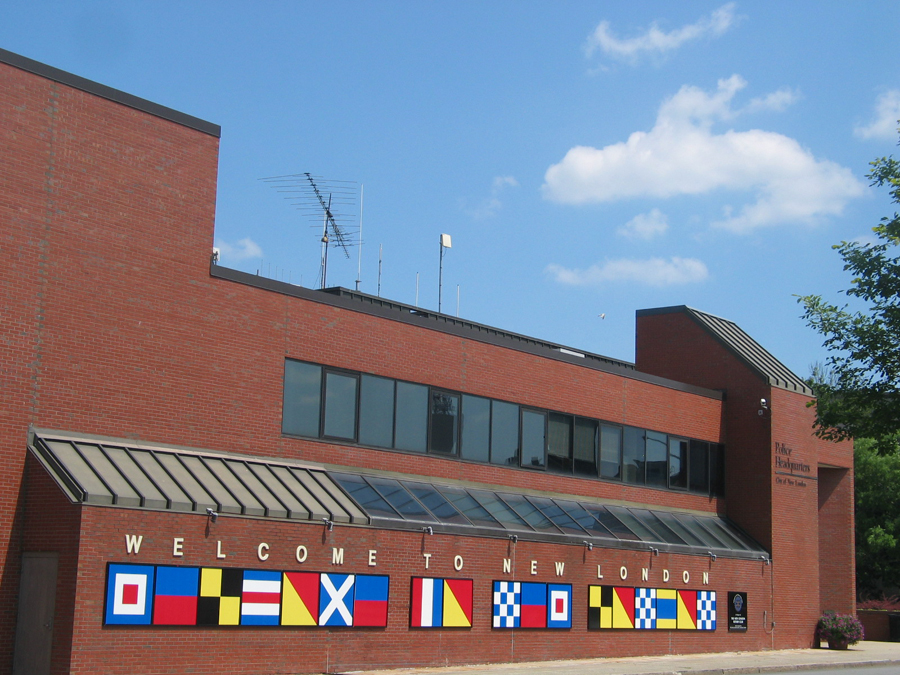 Catching up---& maybe a bit lost in all the recent activity--is that fact that in late June, the New London Maritime Society (i.e. George Sprecace) signed on as fiscal sponsor for the fledgling New London Community Orchestra, which is shown above right giving it's first ever performance at New London's Harbor Towers.

The orchestra wants to create beautoful music while raising money to sponsor instrument lessons in the public schools--two things we also whole-heartedly support!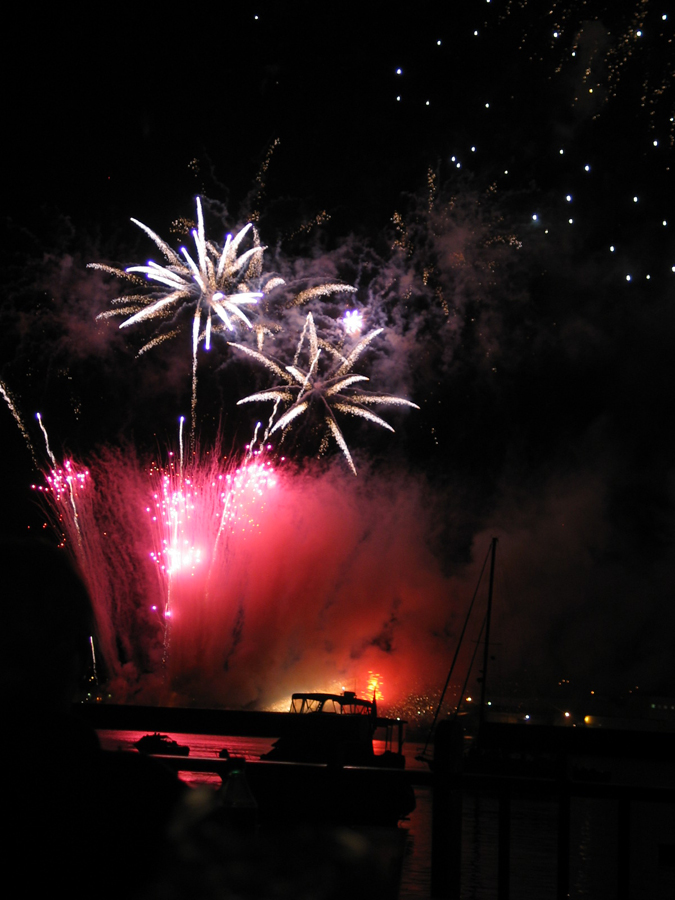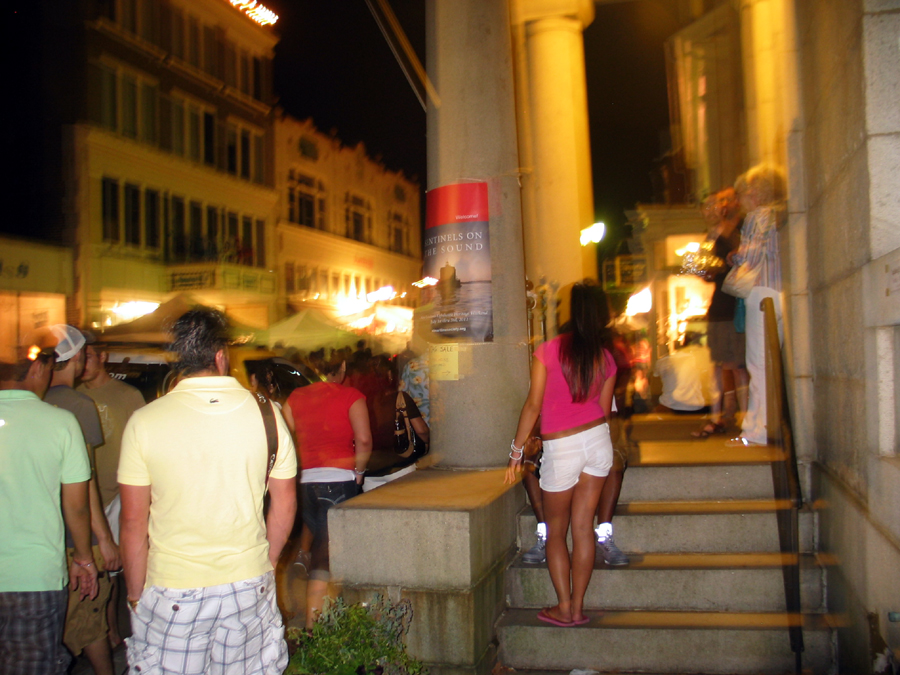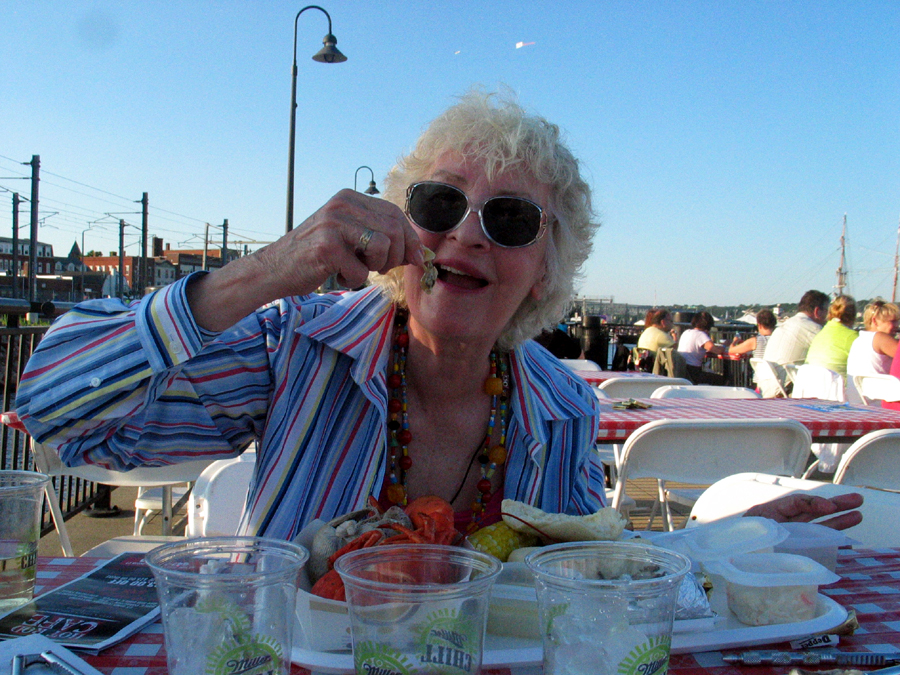 7.11.11 SAILFEST! and Saturday saw the 2nd annual TagSale@SailFest at the Custom House out beneath the tent! Thank you to Jennifer Hillhouse, the major mover of the event, to Bill LaRoue, Carilyn Leuze and Rob Pittaway. Trustee Alice Houston turned up to donate a real whale tooth to the effort--which was snapped up within minutes. Recycle, Reuse--and, in the end, we earned over $500!

SailFest, itself, was unusually fun this year.The carnivalesque rides were moved off the Pier to the parking area behond the Bank Street antiques stores--meaning that people moved up into the city! The new moorings appeared full, the Fireworks Experience--a lobster dinner on Waterfront Park--was delish and lots of fun. Of course, the fireworks were SPECTACULAR.

Well done, once again,  Ms Neff!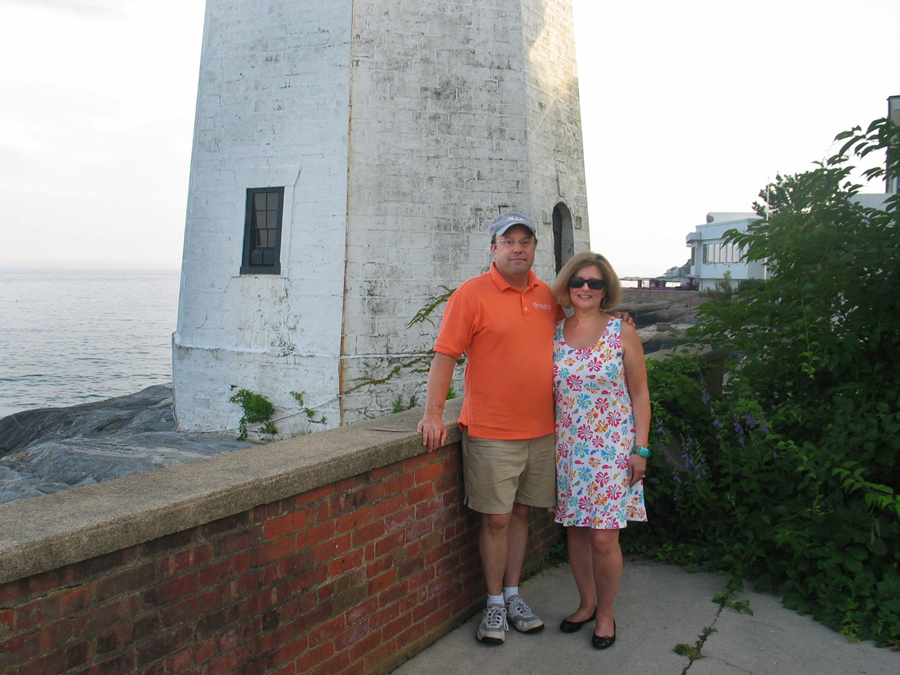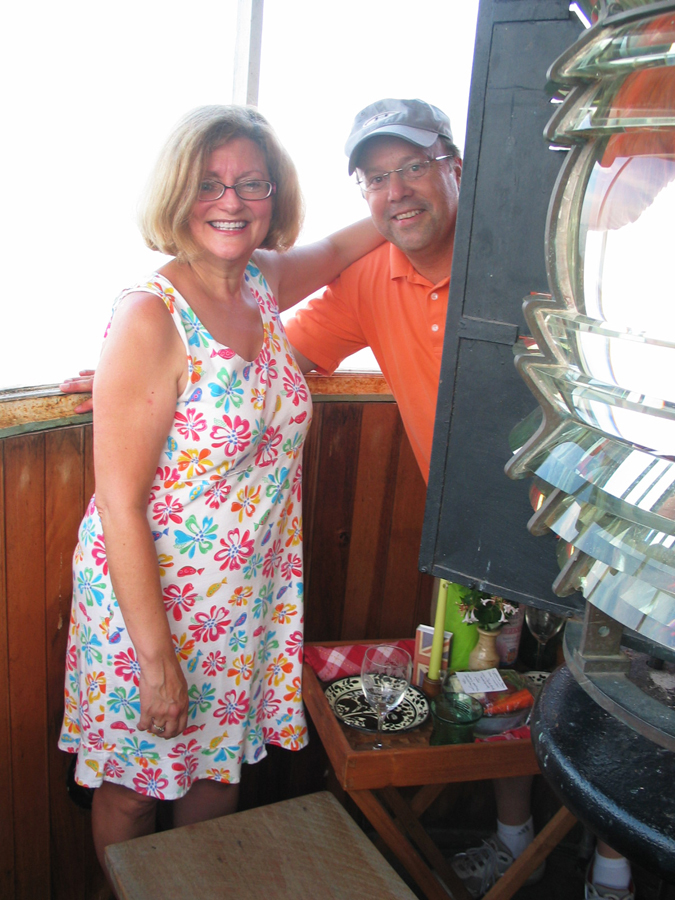 7.7.11 Today was Brent & Robin Eugenidies' fourth wedding anniversary! To celebrate they called in their winnng bid from the Waterford Rotary Make Mine Wine event of last May, to which we--for the very first time--offered a dinner in New London Harbor Light as a silent-auction item!

Congratulations, Brent & Robin, on being the first to dine in the lantern of the lighthouse & HAPPY ANNIVERSARY!

7.12.11 Just noticed on Eugene O'Neill Drive--the latest creation of architect Rick Gipstein, & funded by the New London Rotary (above). Even better--this could go on a bridge over the highway!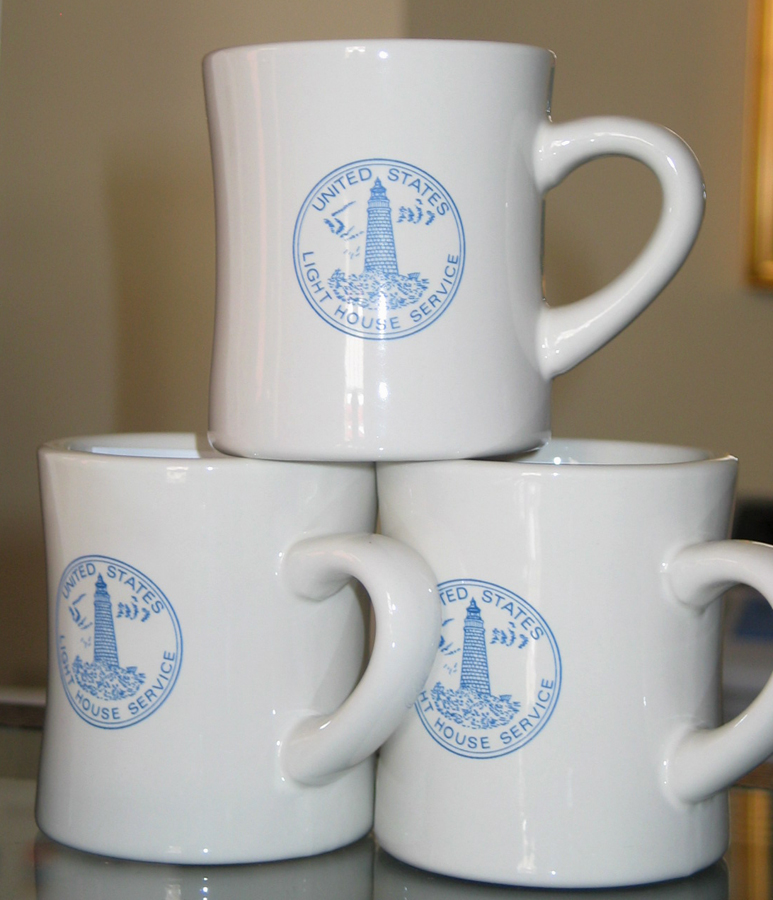 7.13.11 Lighthouse matters continue to consume us here at the Custom House. In addition to giving some individual tours to New London Harbor Light this week we also added these sturdy mugs to our museum shop--reproductions of traditional US Lighthouse Service china.

The big news, however, is that Race Rock is up for adoption -- and you can believe we're on it!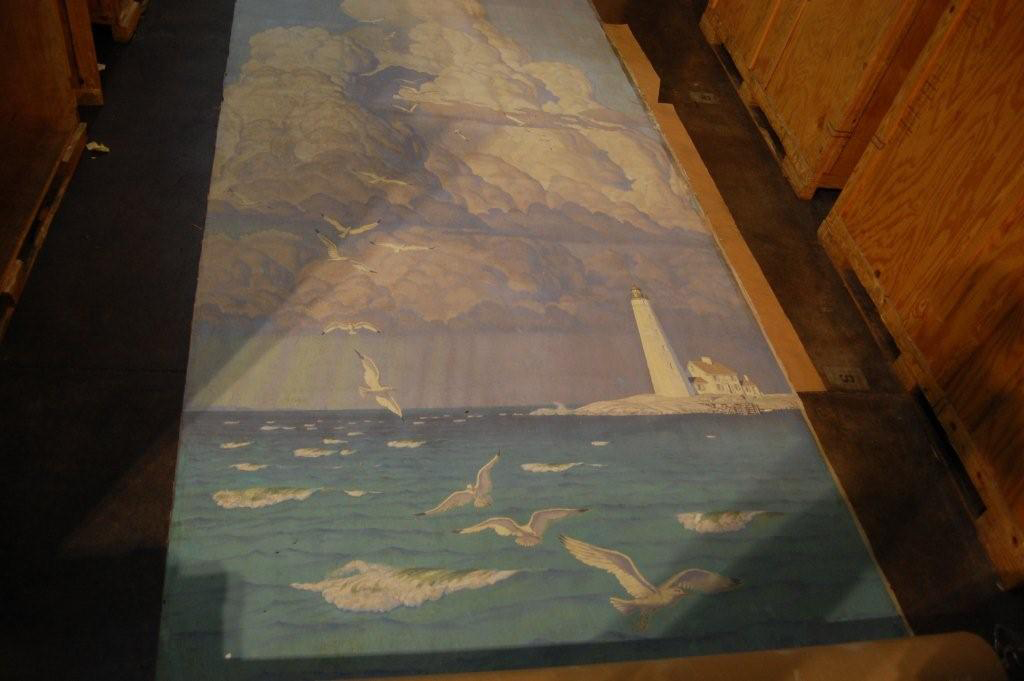 7.15.11 Today, for the first time in my tenure as director at the museum (just over three years), the New London Maritime Society held a retreat.Hosted by trustee Alice Houston, the meeting was an opportunity to look towards the future and celebrate our recent achievements.

One great turn of events is the board voted to purchase a new Apple computer & printer for our terrific librarian Brian Rogers, who has transformed the Frank L. McGuire Library.

They also agreed to purchase the stunning painting at left--a portrait of New London Harbor Light by the noted marine painter from Stonington Griffith Bailey Coale. The 18-foot tall painting will be installed at the landing of our main stairway.

7.14.11 In researching New London Harbor Light, I came across information about New London's Daboll family. The Dabolls ran a school of navigation, wrote textbooks and published an alminac. They also, in the 19th century, experimented with steam-driven fog horns and reputedly some of their experimentation was carried out at New London Harbor Light.

It seemed a good idea to create an exhibition about fog horns--and in researching the topic, we discovered that the original fog horn for New London Ledge Light was in the collection of Mystic Seaport. Always a good friend to the Custom House, the Seaport agreed to loan us the horn and it arrived Thursday, coincidently, at the same time as Ledge Light champion Todd Gipstein was visiting the museum. Here is Todd, at left, trying out the horn to the amusement of Russ & Pauline DeMarco.

We now have three different types of  fog horns in our exhibition but none, alas, by Daboll. We do own a print of the Daboll fog trumpet being used at a lighthouse in the English Channel.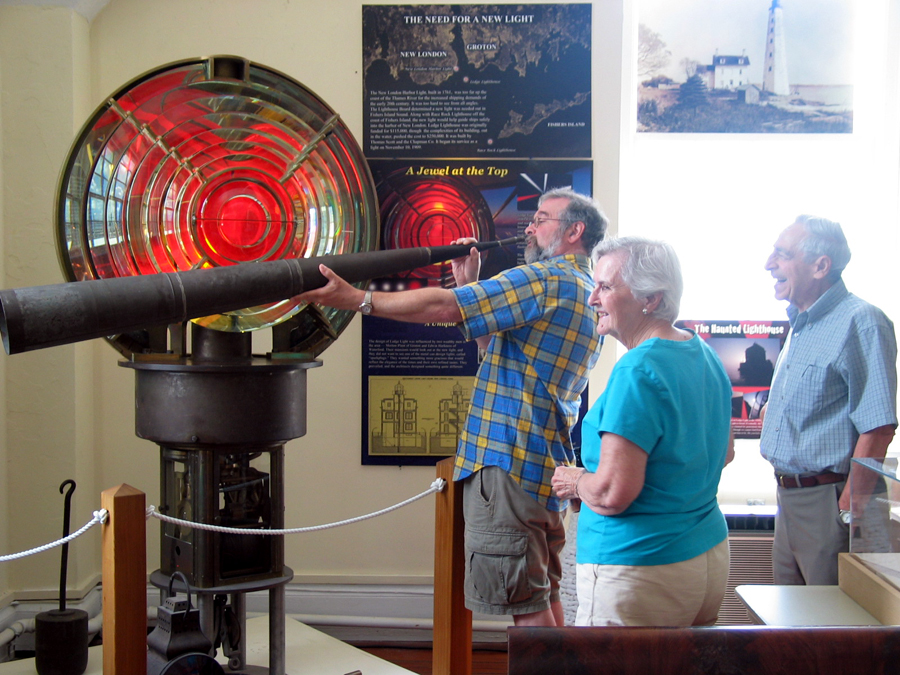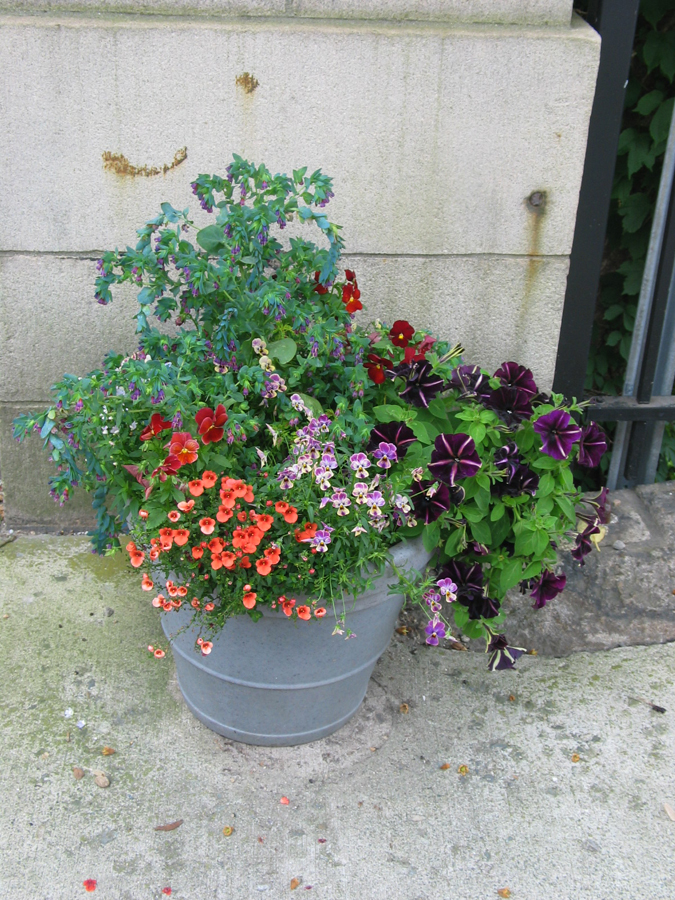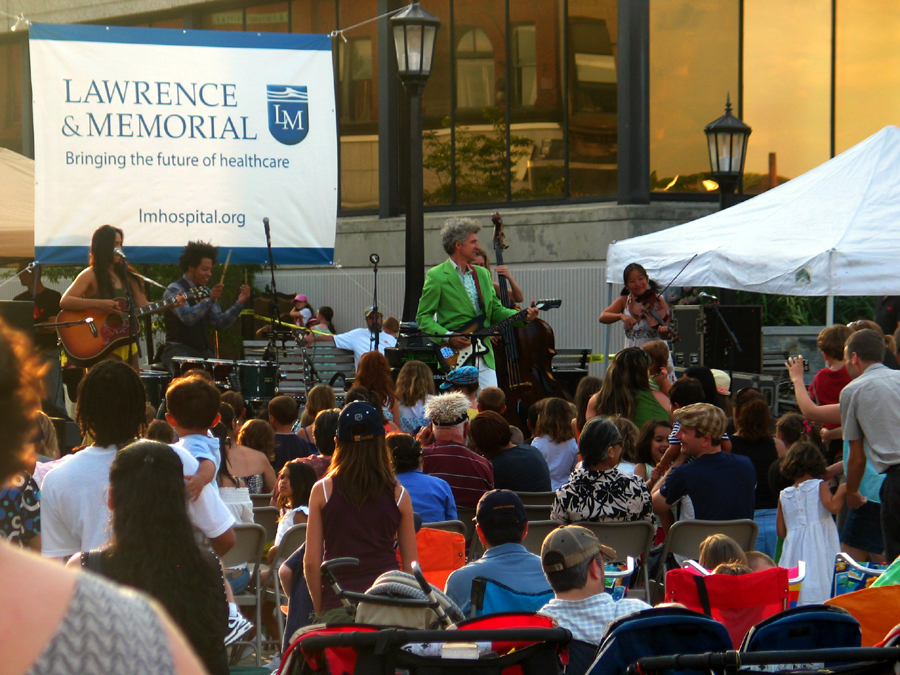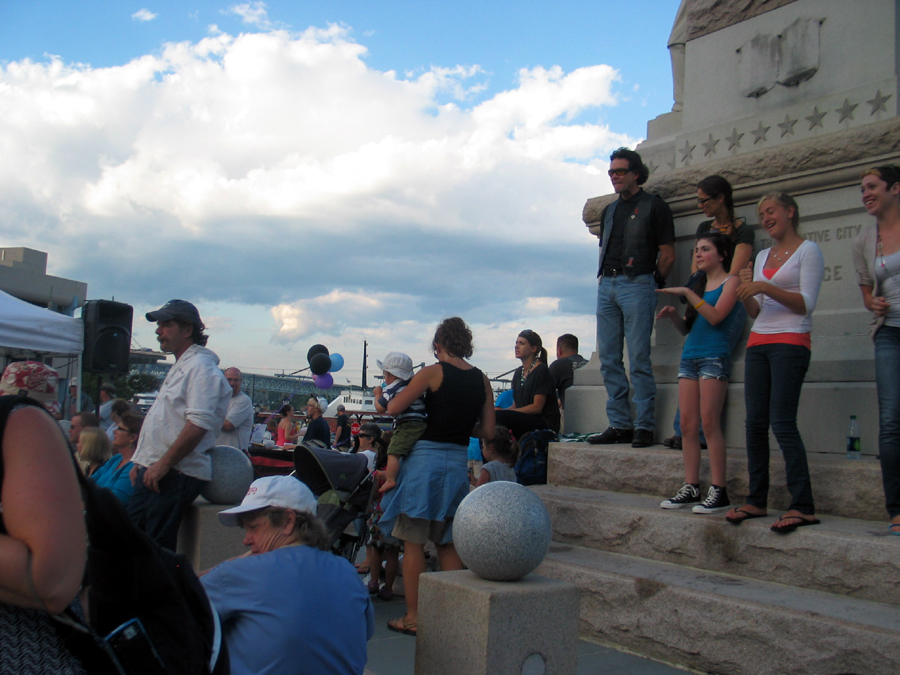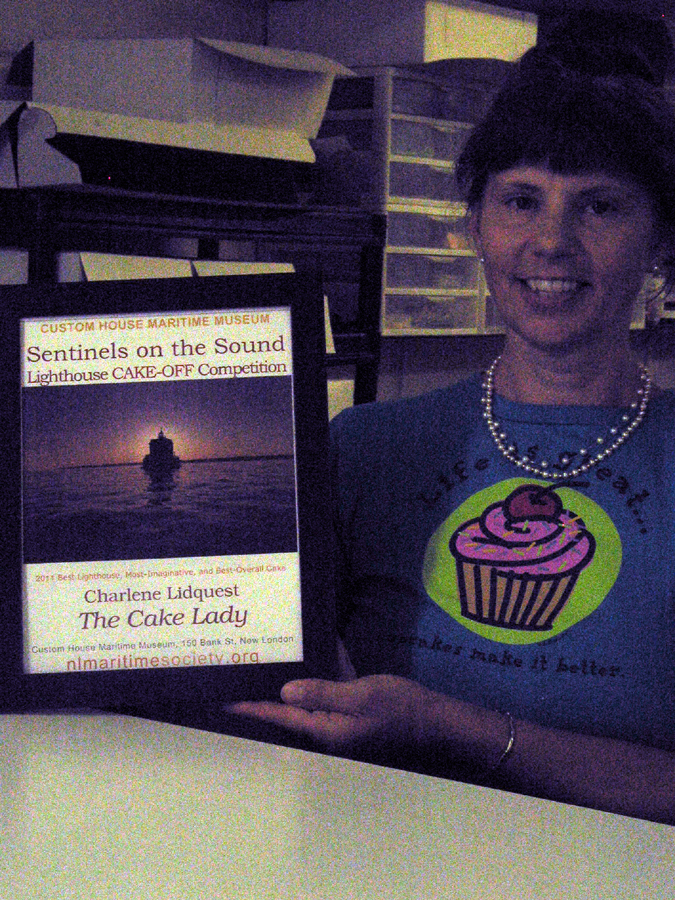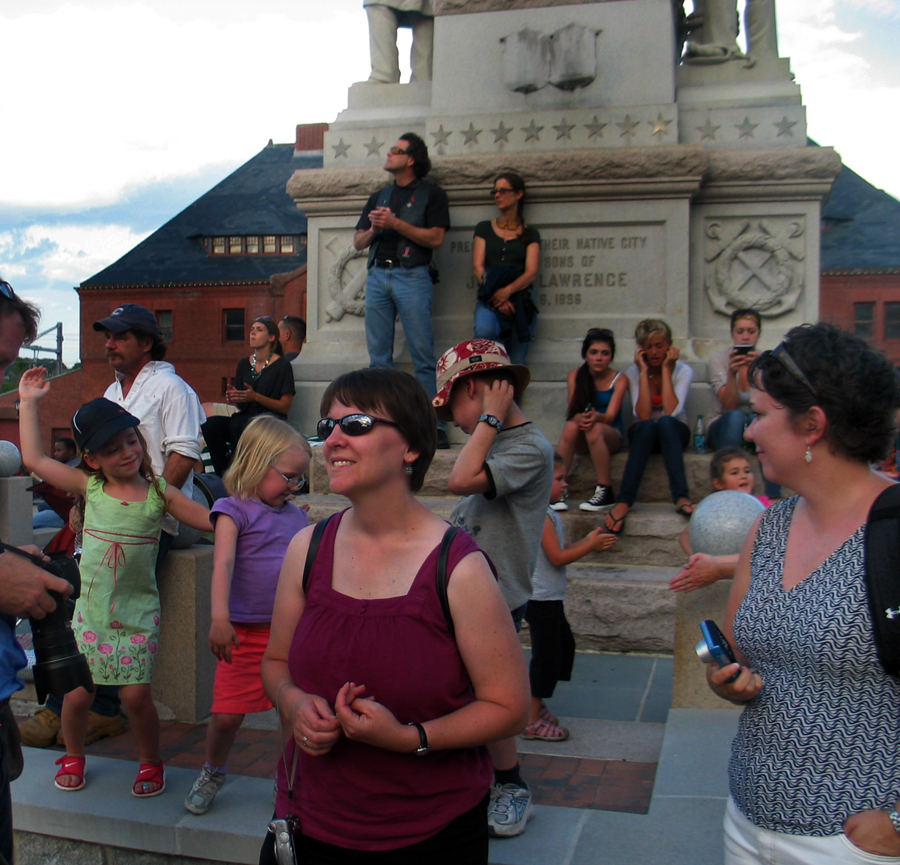 7.17.11 Well, it happens once a year and Saturday was the day. Local vandals trashed our beautiful flowerpot last night, dumping out and crushing all the plants in this flowerpot.

7.21.11 The summer concerts on Parade Plaza are in full swing. Last week was Dan Zanes, who plays something called Kindie (Indie + kids) music. The crowd, which included many young families, loved it.

7.29.11 Because of a great suggestion from Archie Chester, we've started collecting burgees from local yacht clubs for our new NL Yachting exhibition.

7.27.11 Congratulations to our super, top, 'Sentinels on the Sound' Lighthouse Cake-Off winner (near left)  Charlene Lindquist, The Cake Lady, who received her framed certificate this week!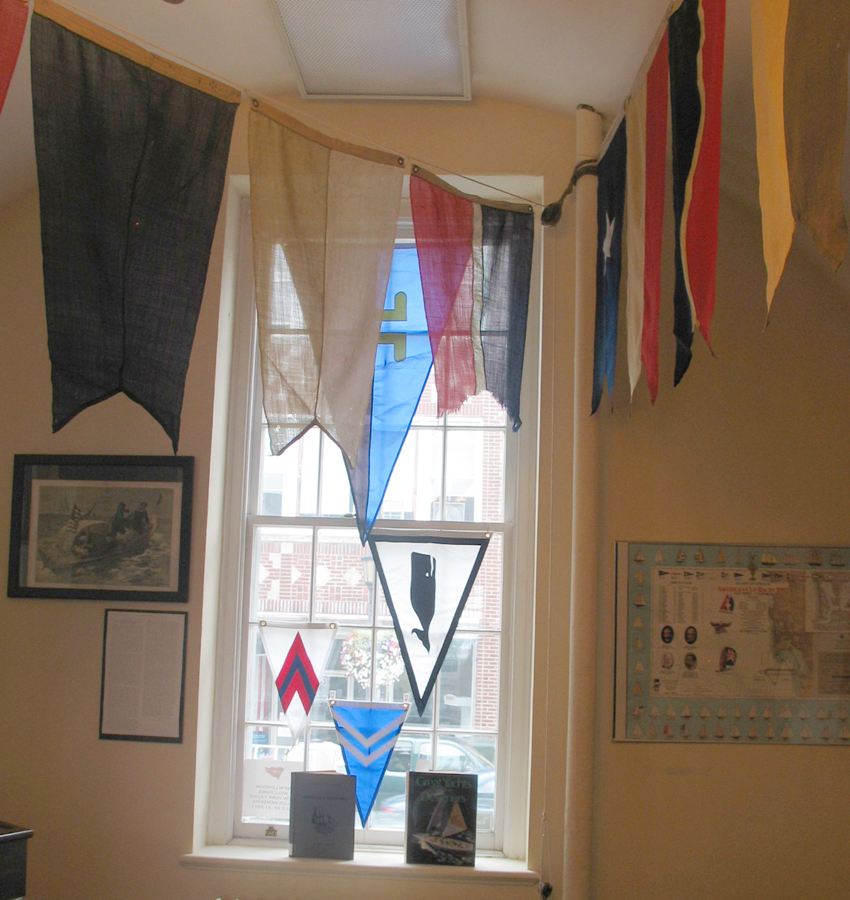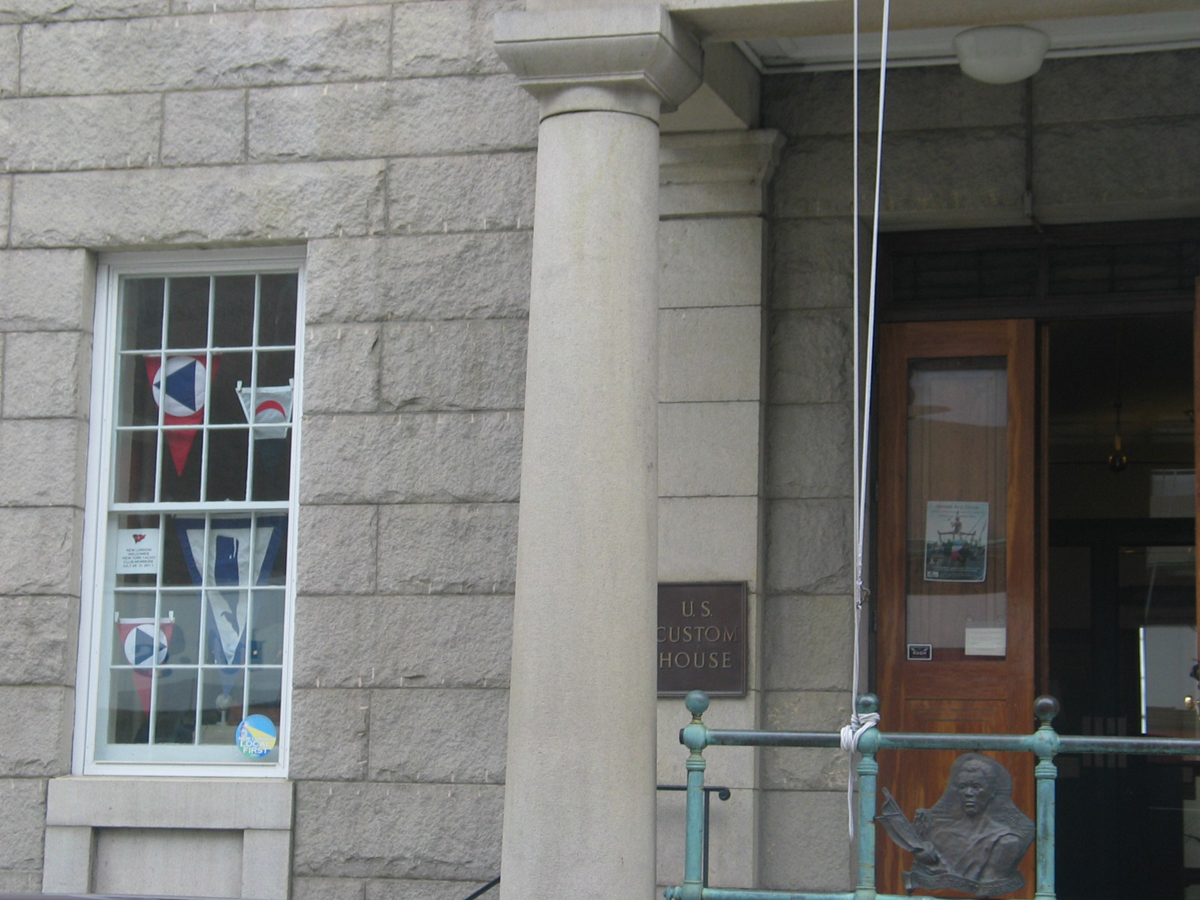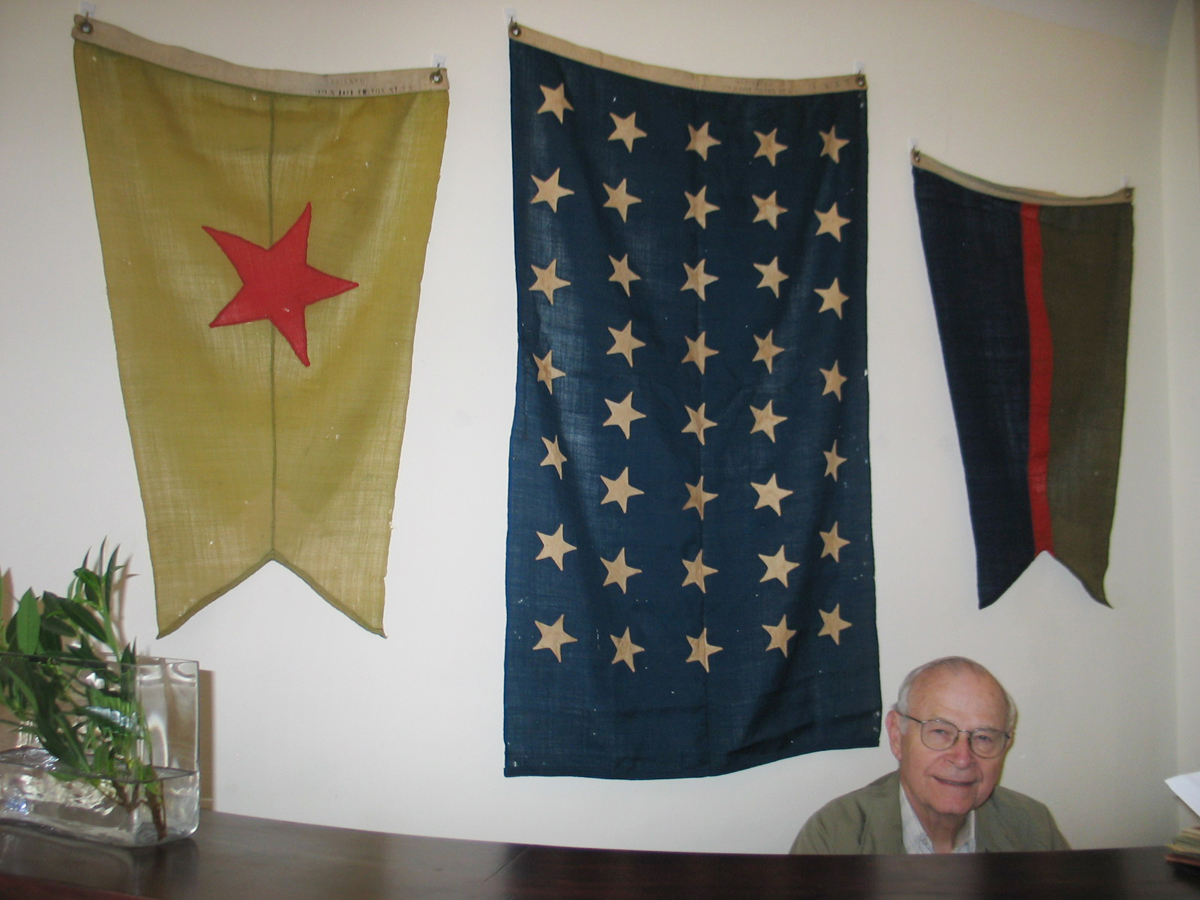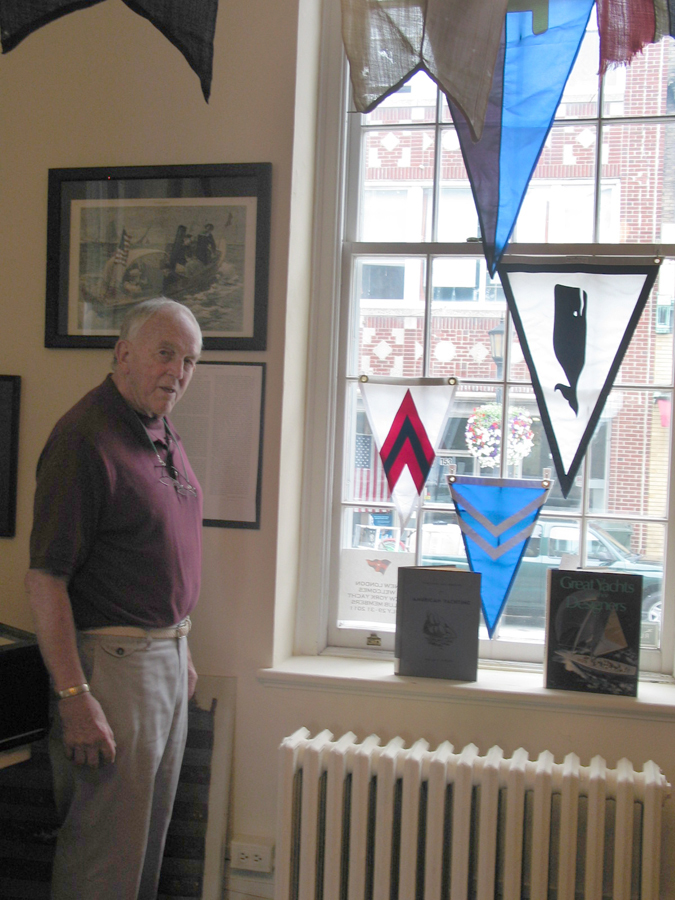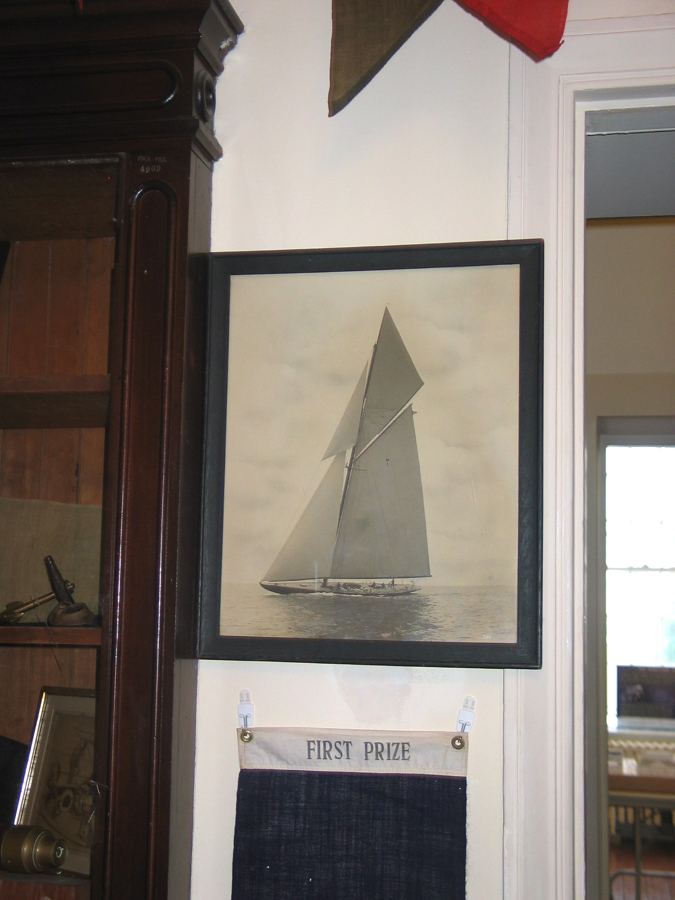 7.29.11 Three days and help from our volunteer crew - special thanks to  Scott Lang - yielded a terriffic special exhibition in honor of the first visit of the New York Yacht Club to New London in sixty years! The show, New London's Capt. Andrew J. Constock - Master of Two Defenders of the America's Cup: Magic and Columbia draws heavily on the Comstock Collection, recently cataloged by Collections Manager Rob Bowman..

Archie Chester thought to collect burgees from

area yacht clubs.

Brian McCarthy loaned us two

vintage photographs.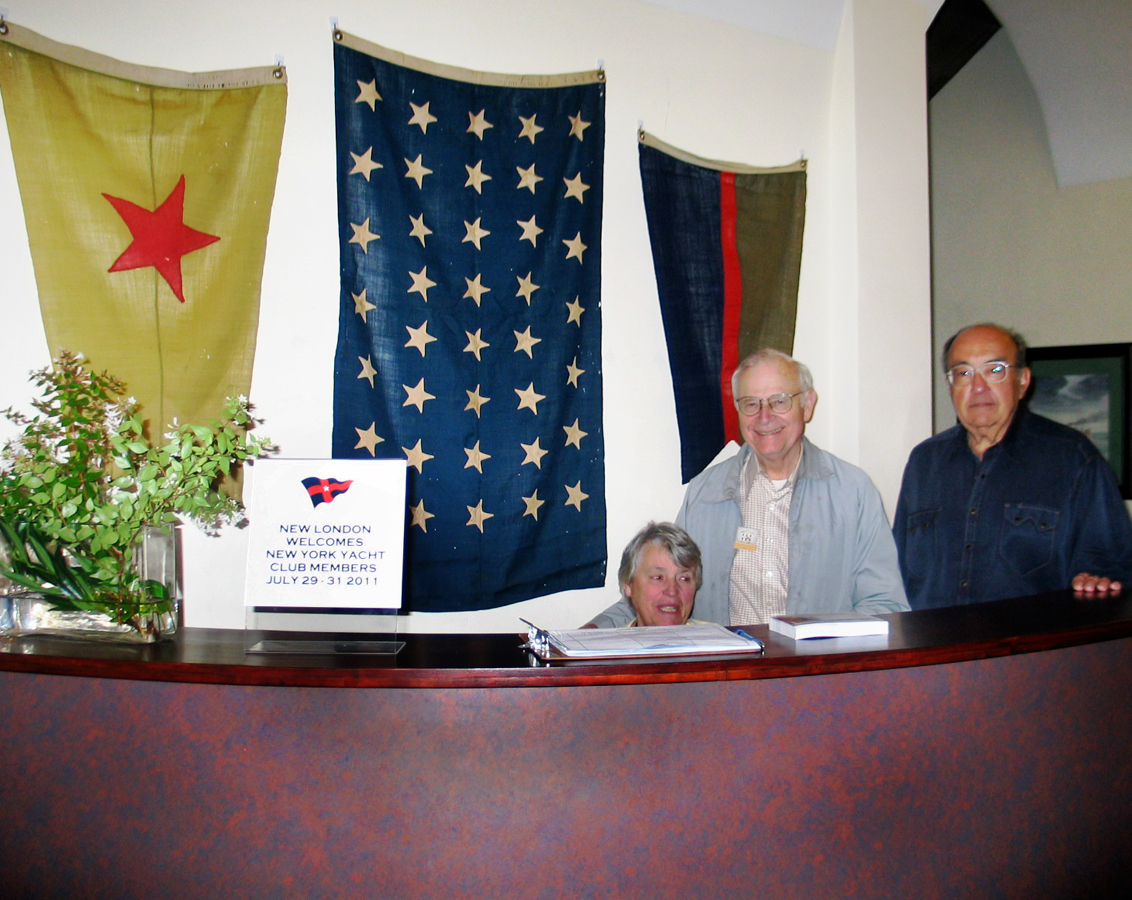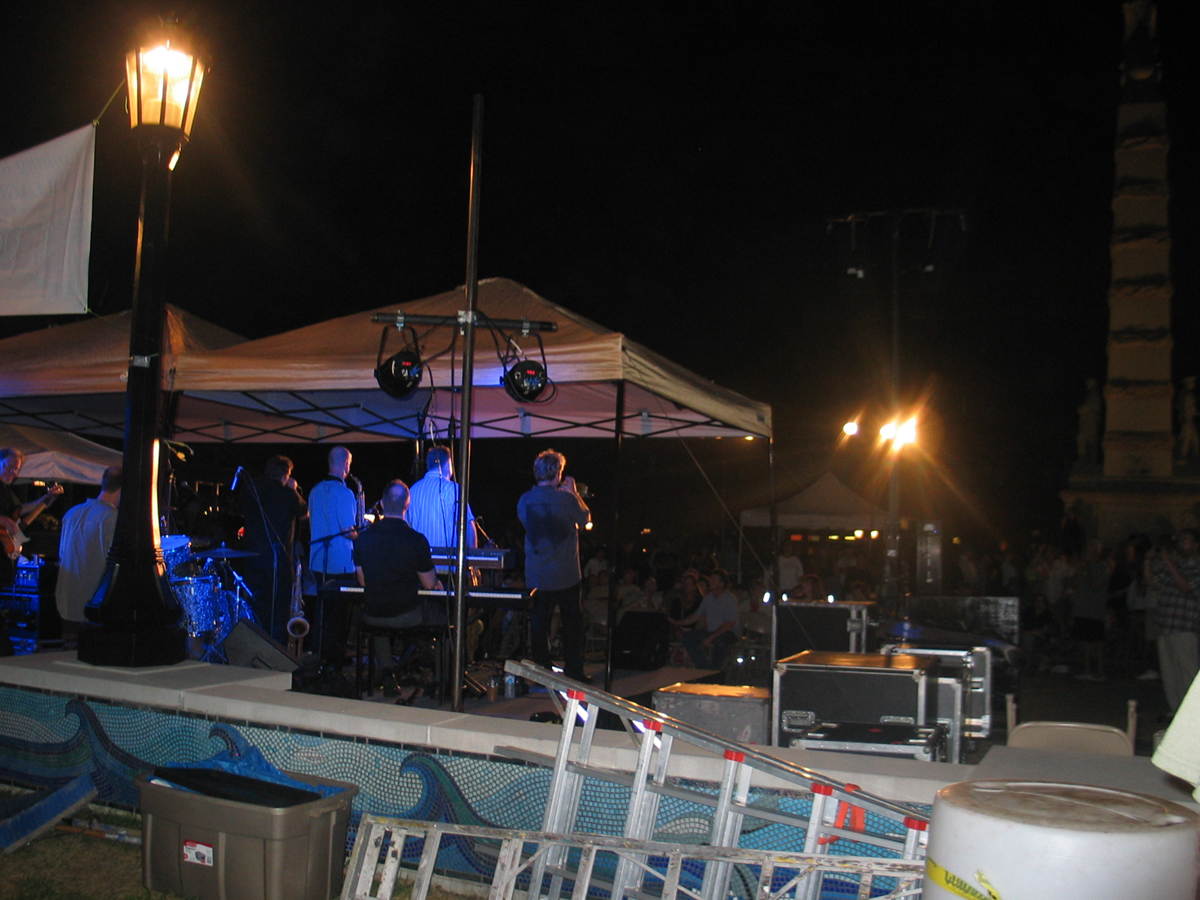 7.29.11 Jennifer, Bill and George greeted NLart and New York Yacht Club visitors on Friday night. Meanwhile, on the Parade Roomful of Blues played until near 10 PM, when it began to rain.

7.30.11 Yachting (Blues & Circus) Weekend began last night, but, for many, the highlight of the festivities was the return of Nimble Arts Circus, for a second year in a row. They set up at noon and by two were giving a pre-show juggling workshop.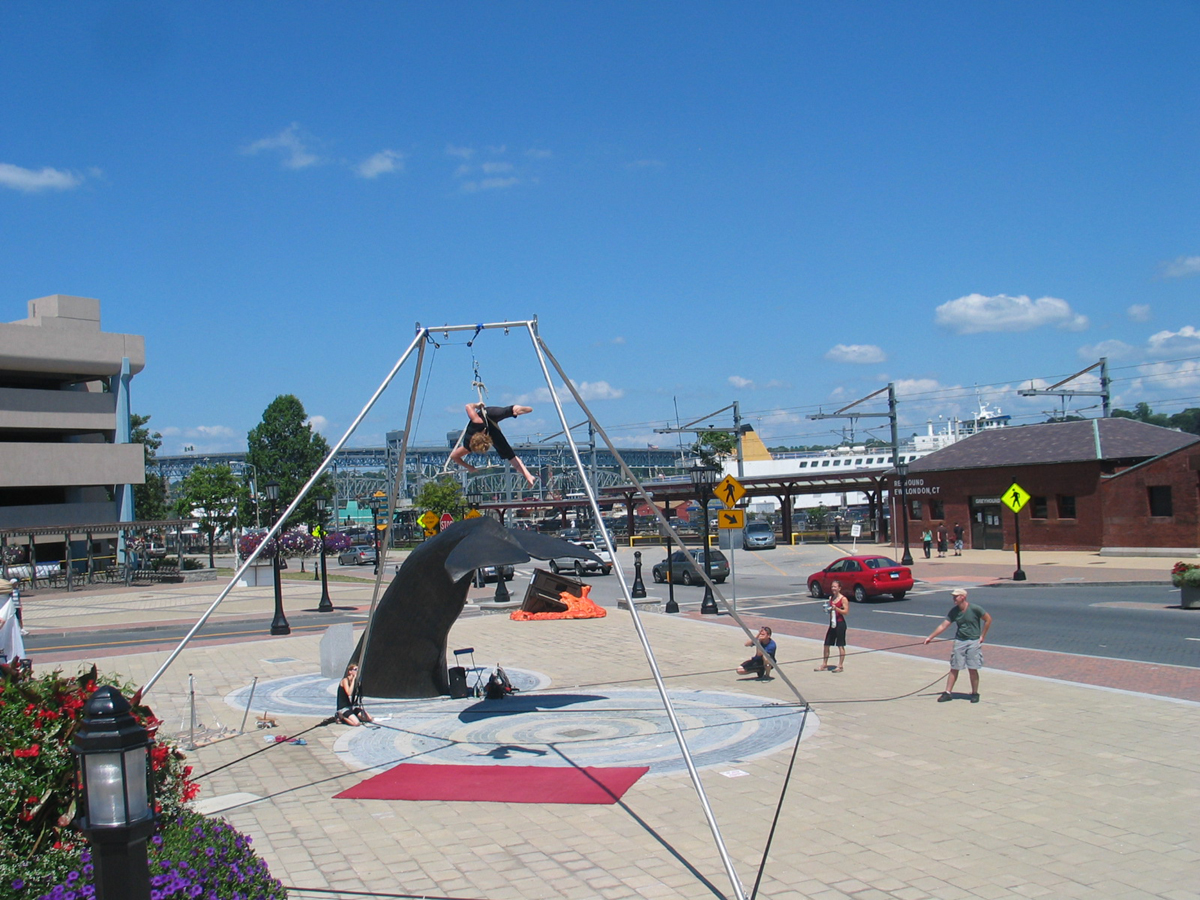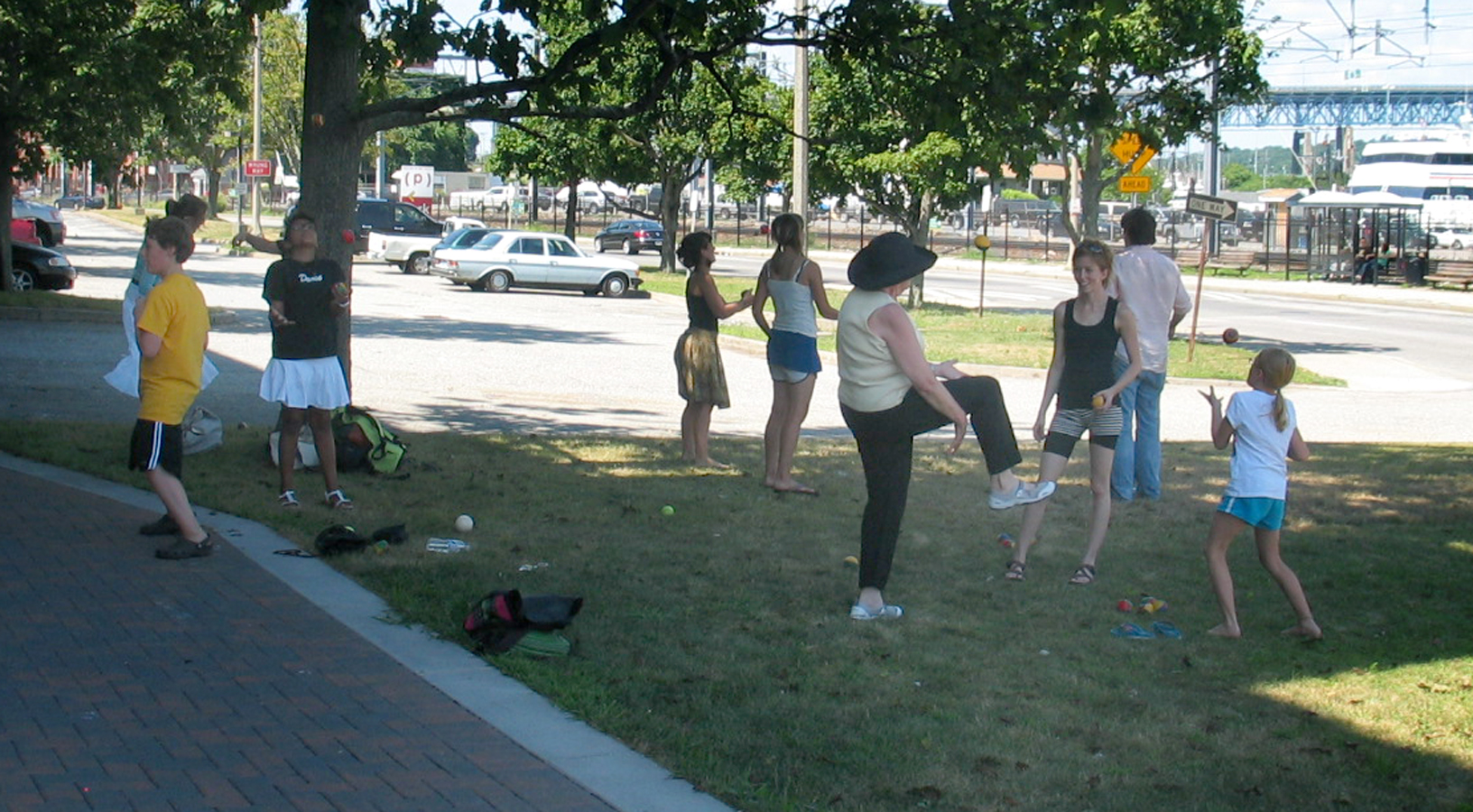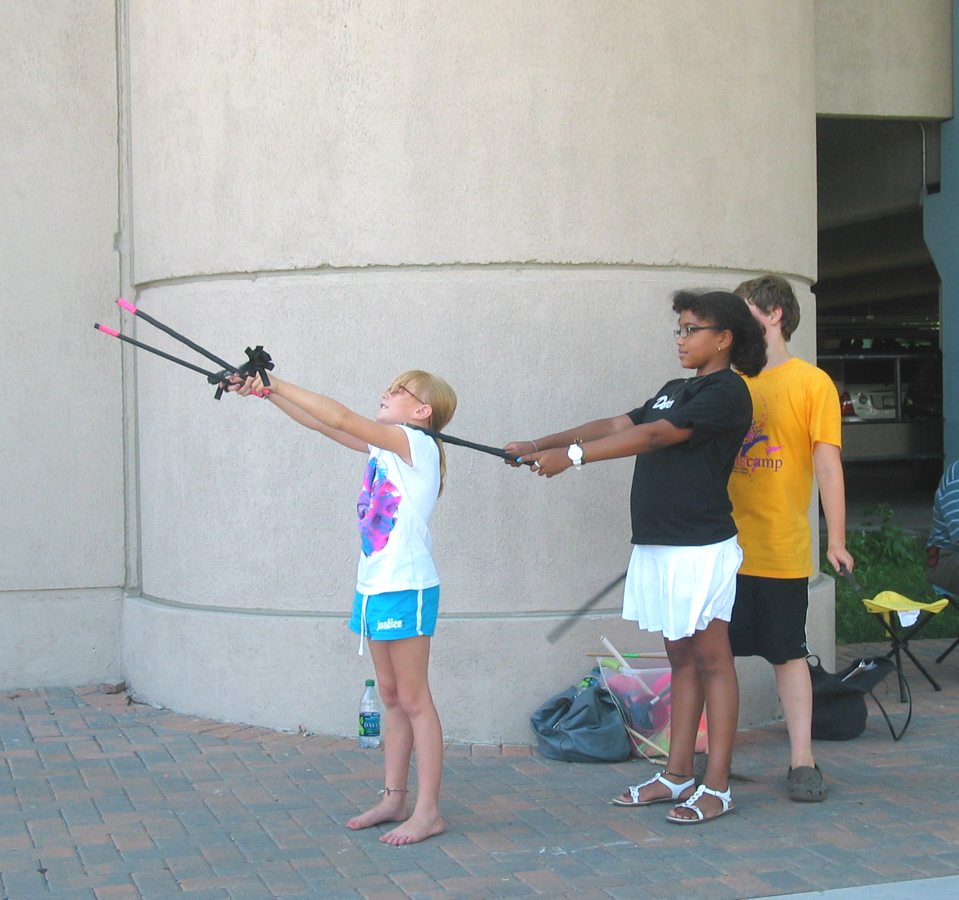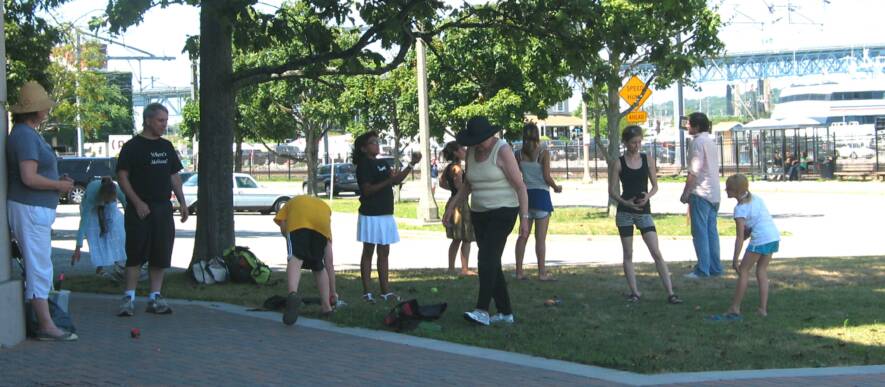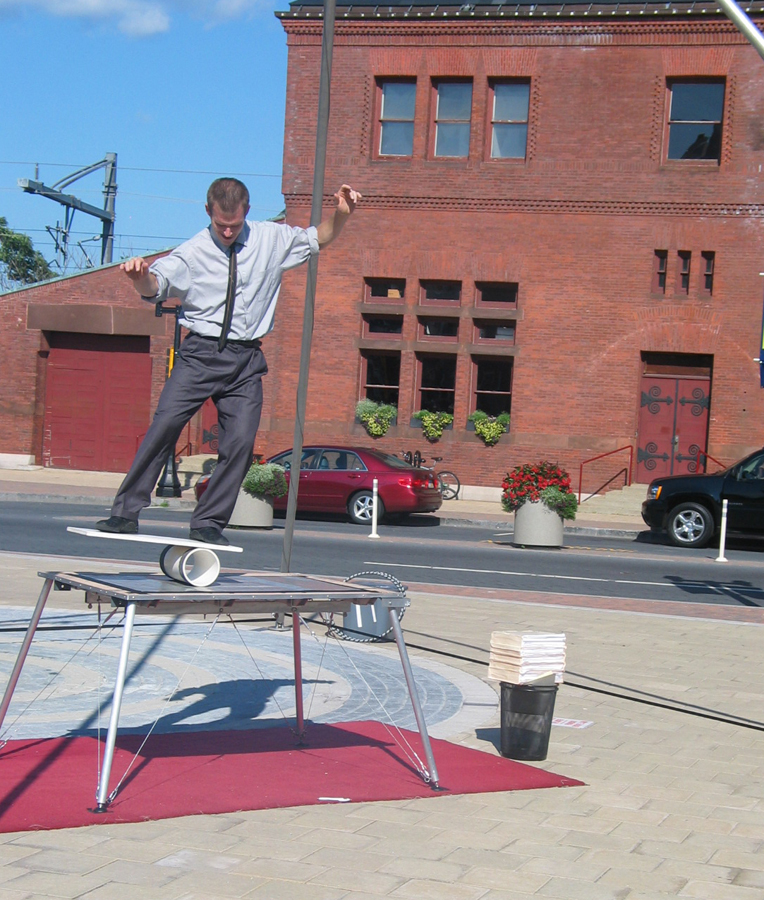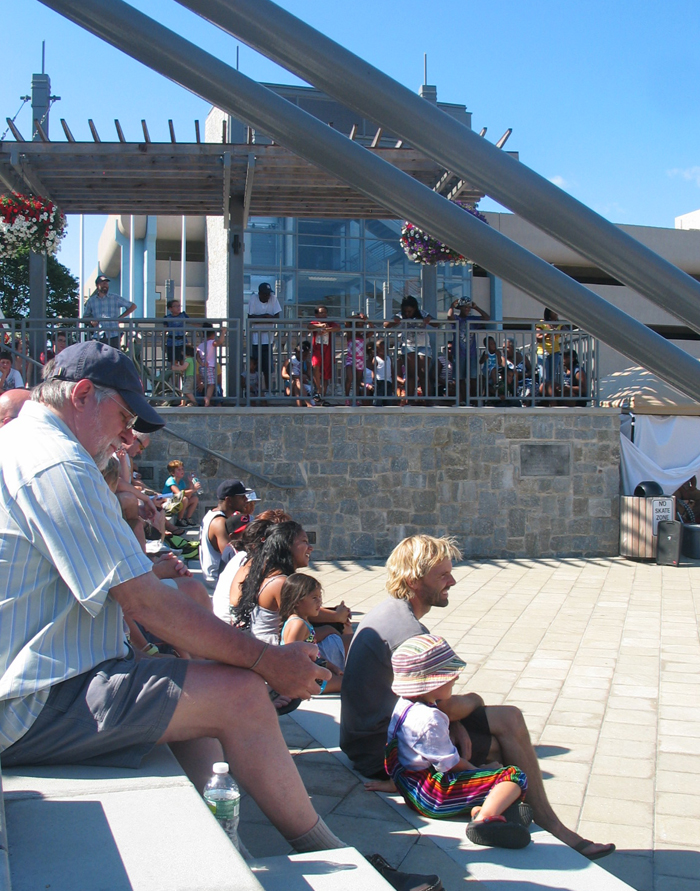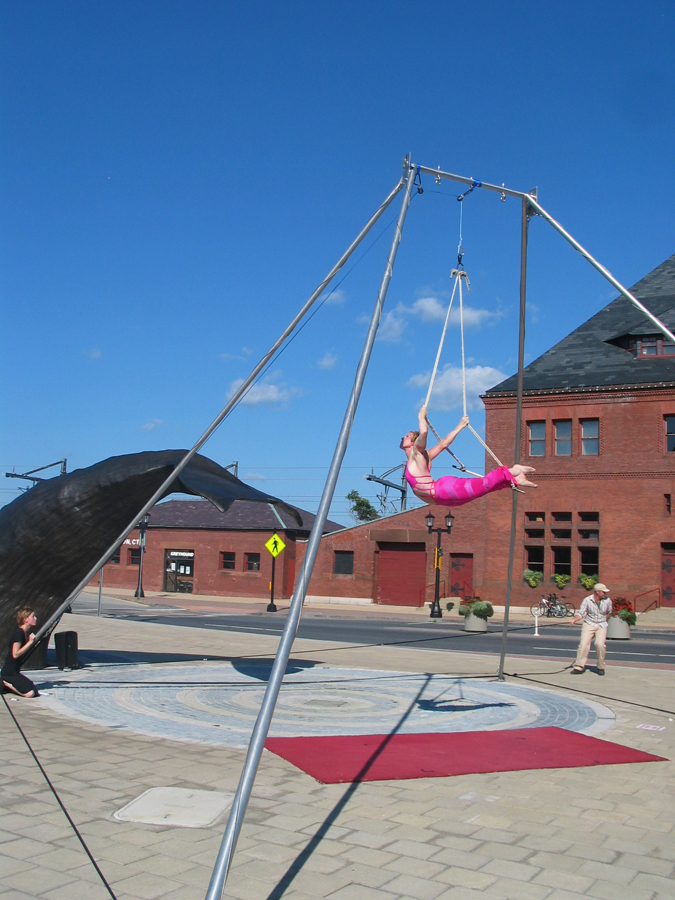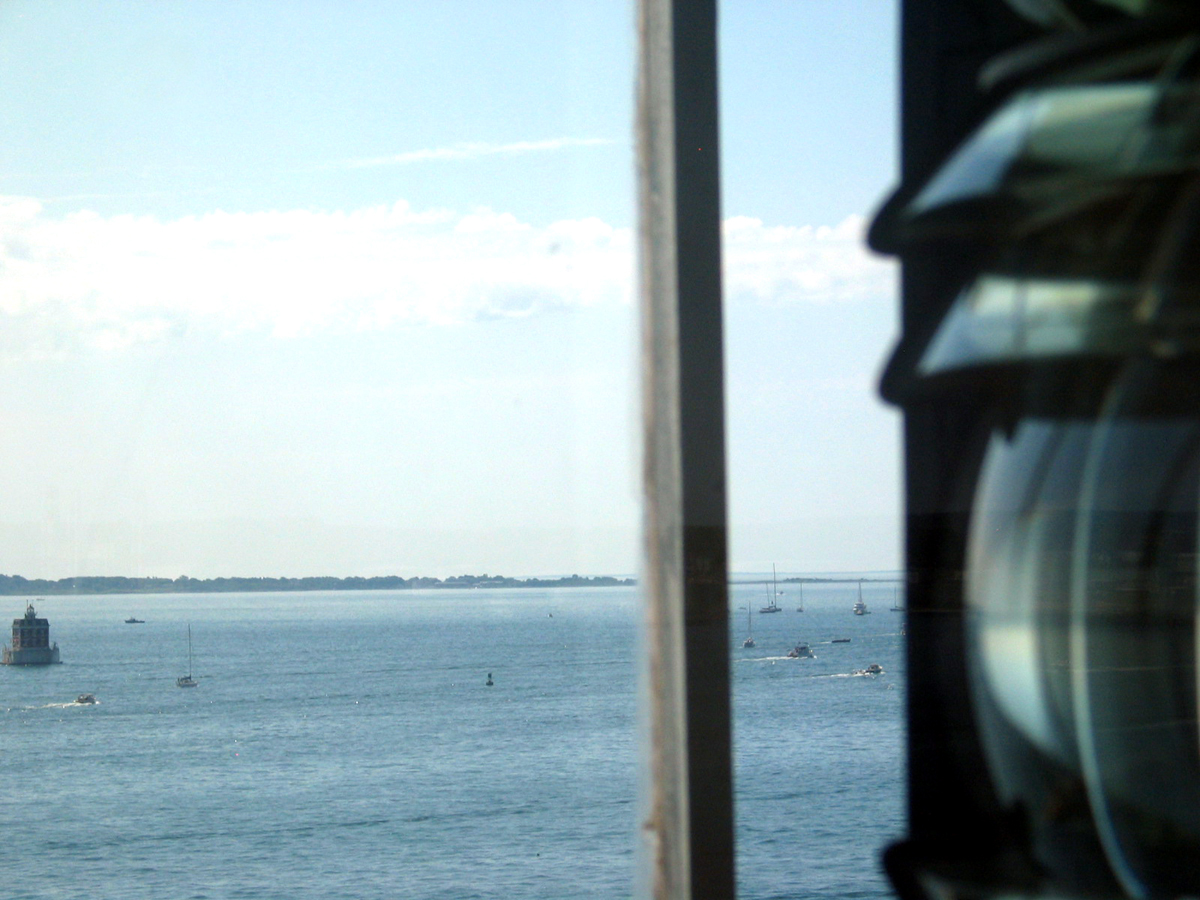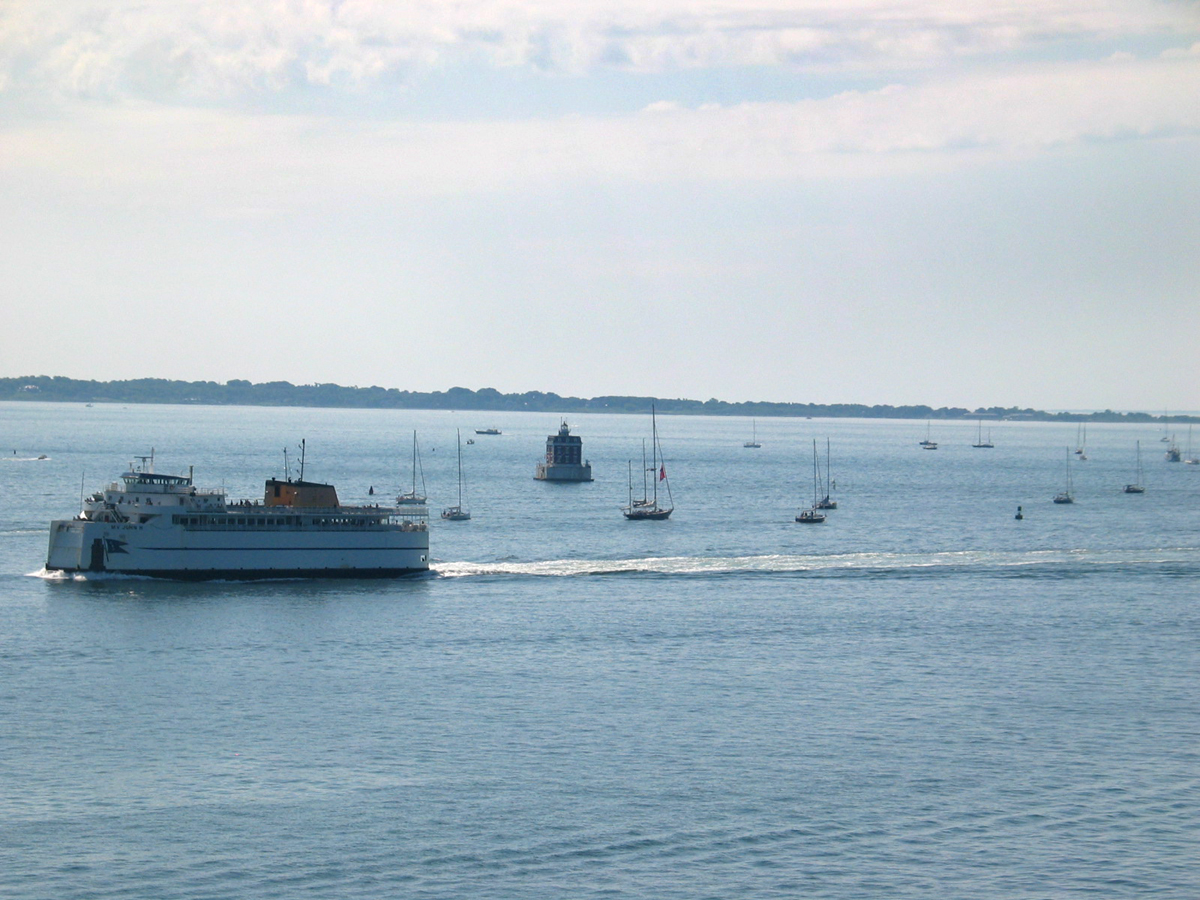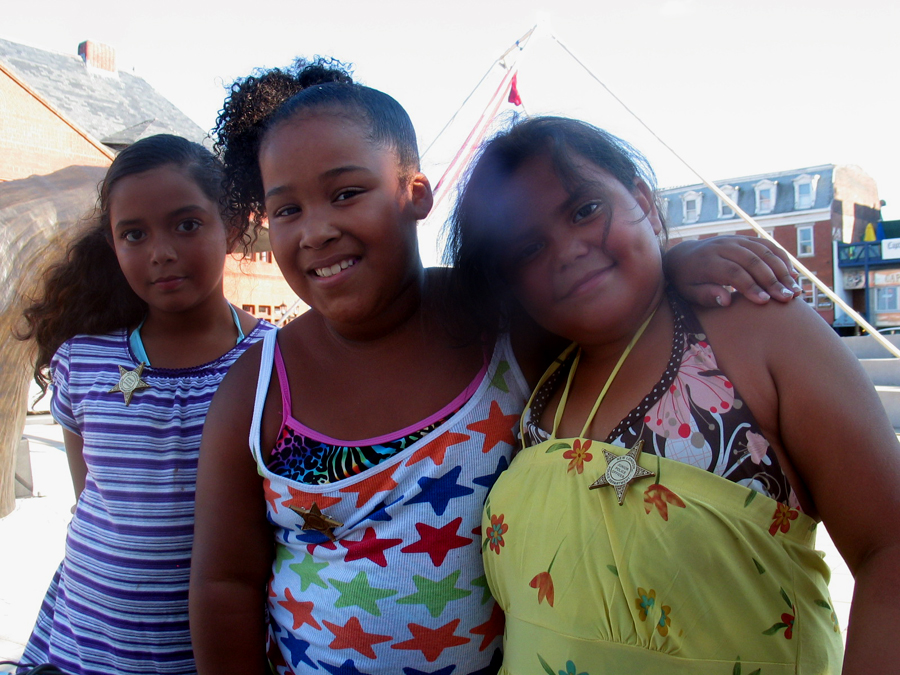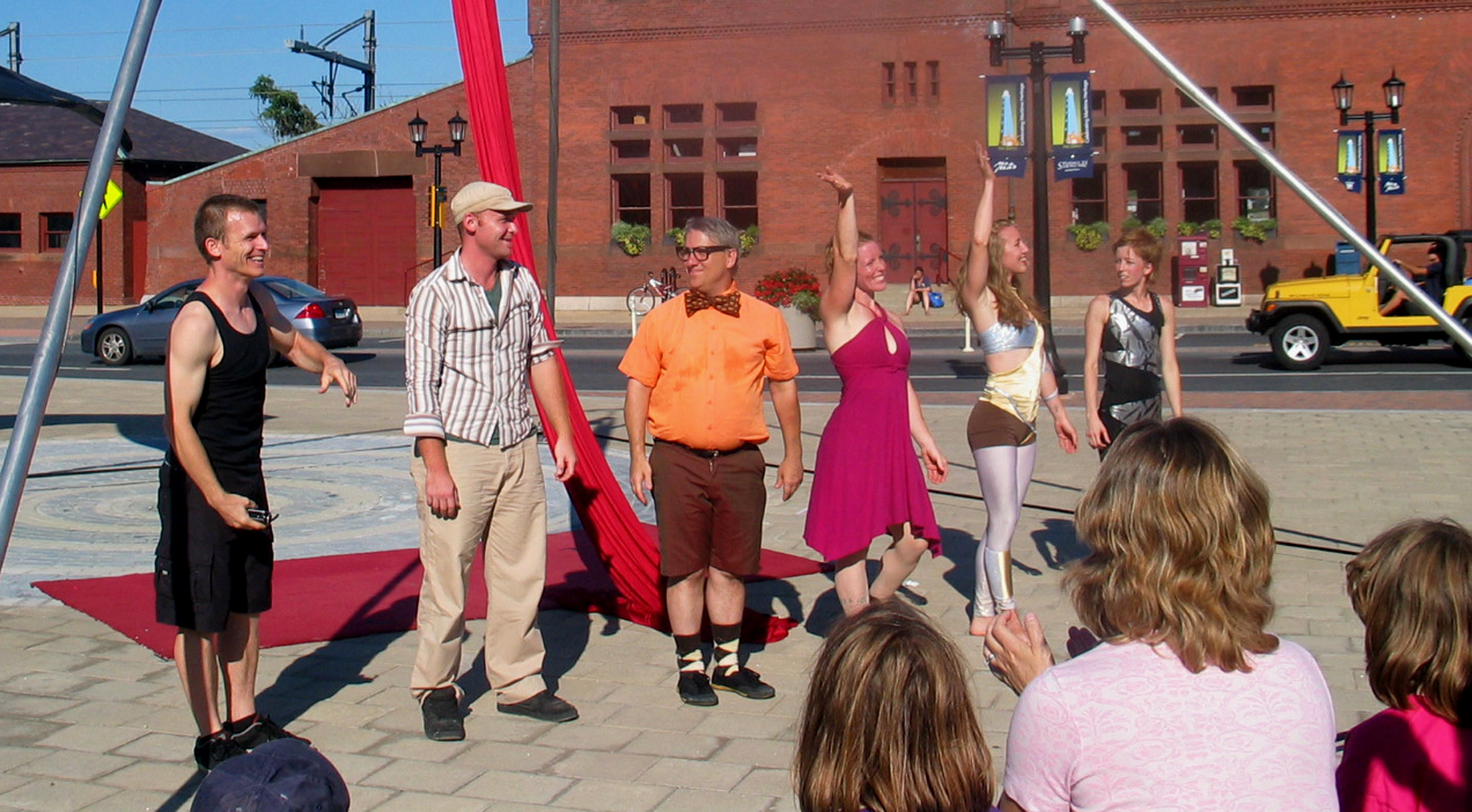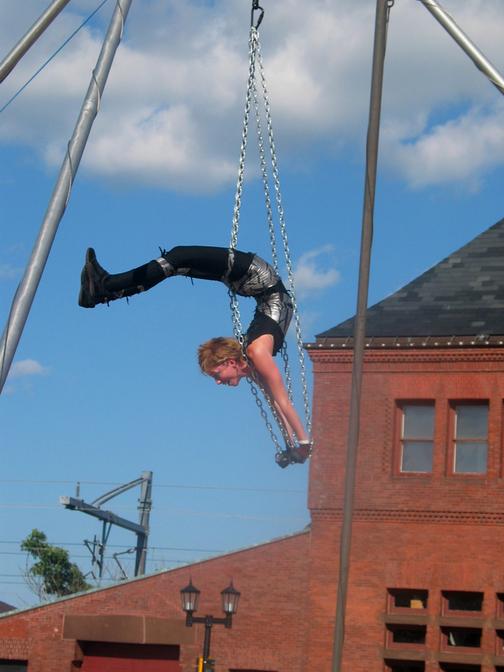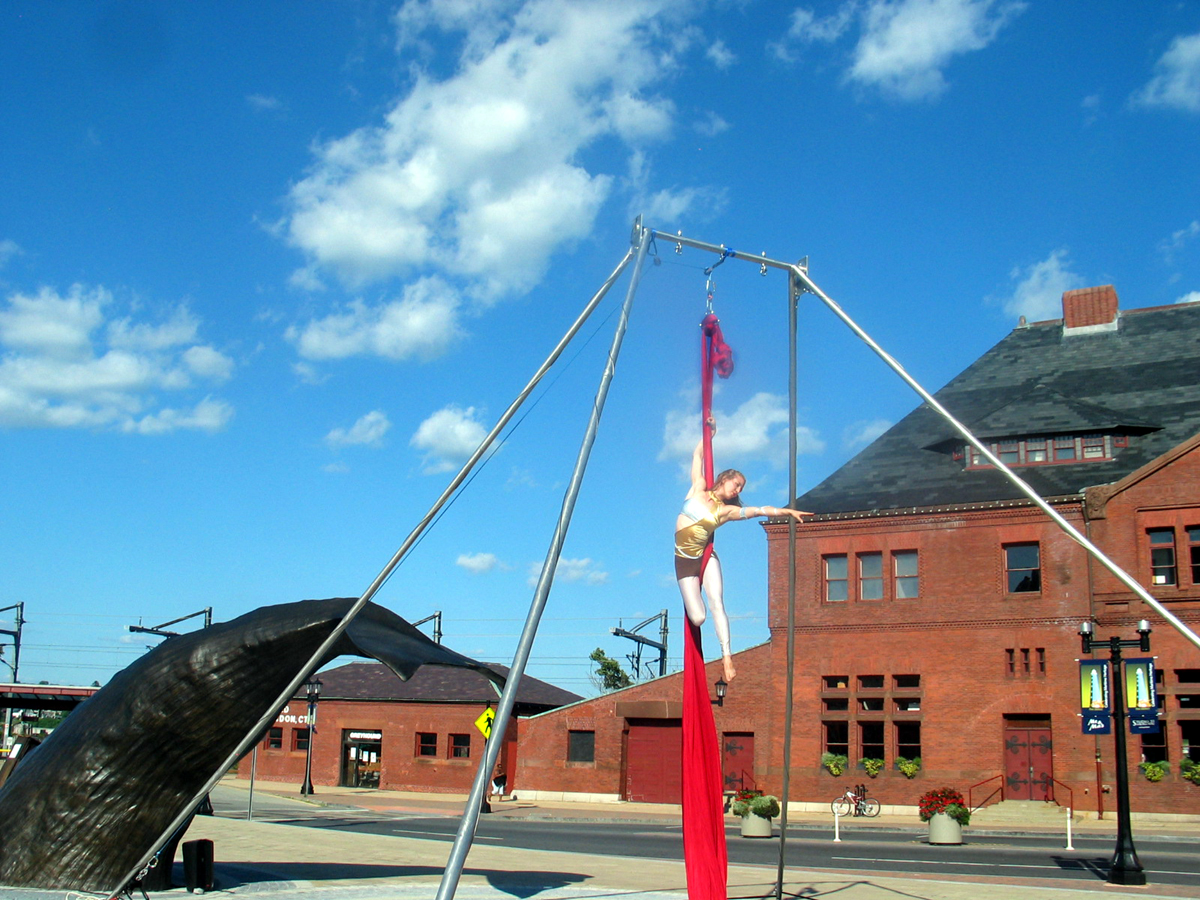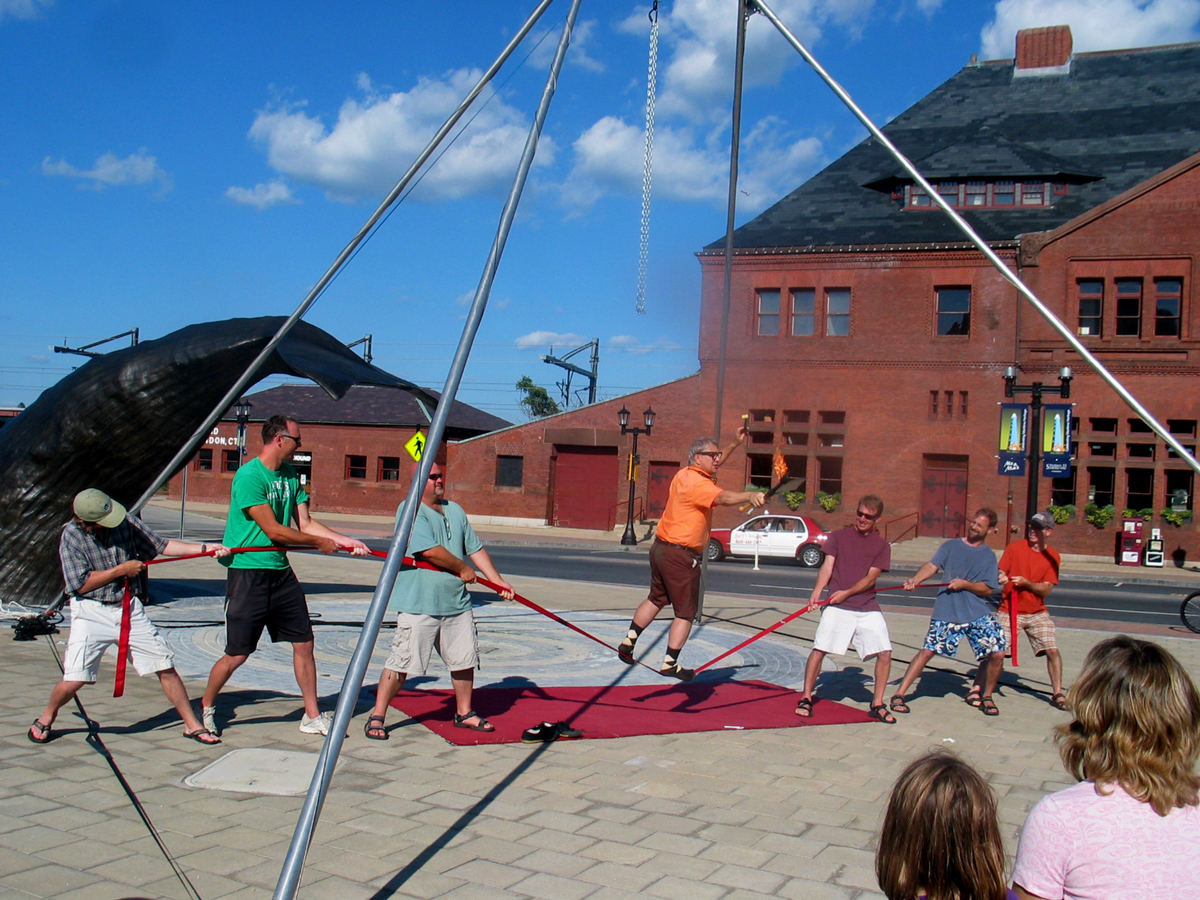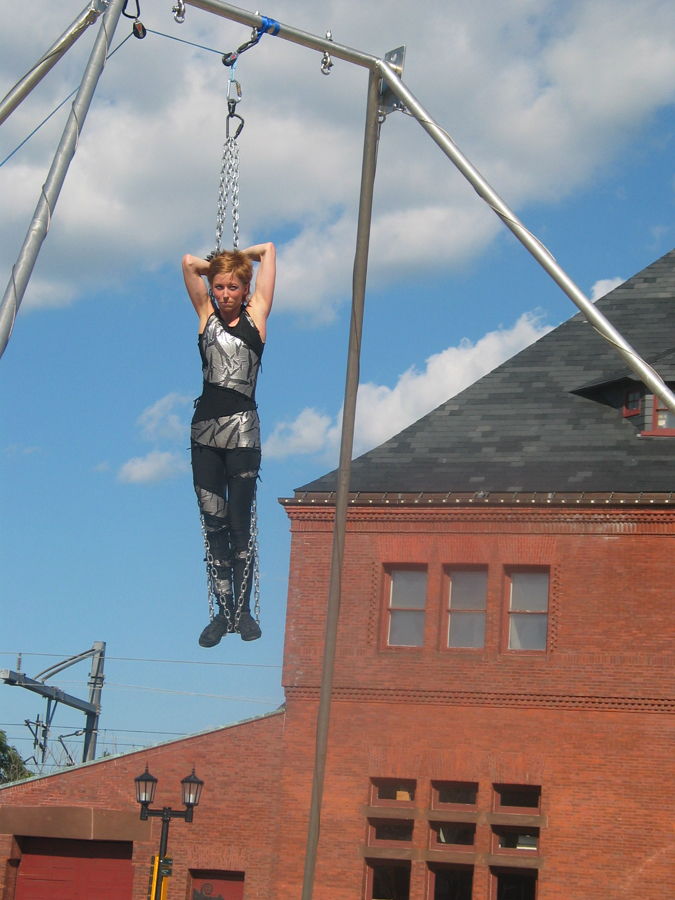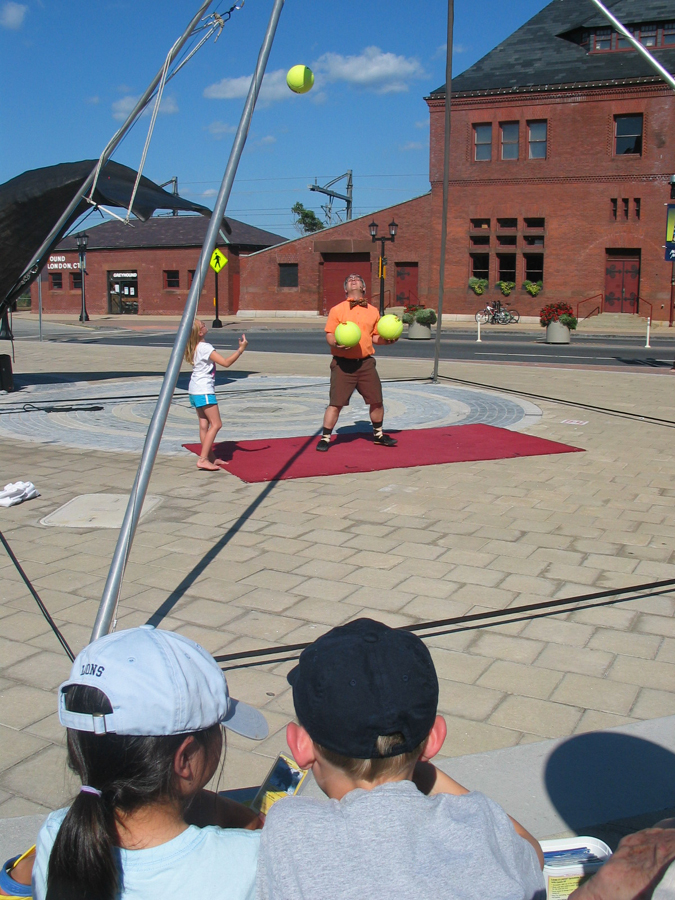 7.31.11 It was a sparkling Sunday morning as the more-than 100 yachts-with-tenders of the New York Yacht Club motored their way out of New London Harbor. The banks along Pequot Avenue were lined with viewers and the waters peppered with boats of all sorts--canoes to ferries--watching this rare sight.

7.30.11 Can you tell, we really love the circus!

Nimble Arts returned with two free performances on New London's Parade Plaza, one at 4 (in case the NYYC-ers were in town following the Queen's Cup Race), and again at 6:30 PM. A whopping great meal was again provided for the circus artists by Mangetout -- all healthy, half-vegetarian and lots of chocolate! Makayla, a juggling student, wanted more juggling! but everyone was transfixed by Aimee, Alissa and Melissa on the rigging with a trapease, silks and chains. Tony Duncan was back juggling and doing his death-defying Dinner of Death. There were amazing feats of balance & lots of fun. Thank you to everyone who turned out on Saturday & thank you NImble Arts!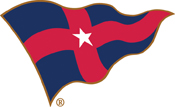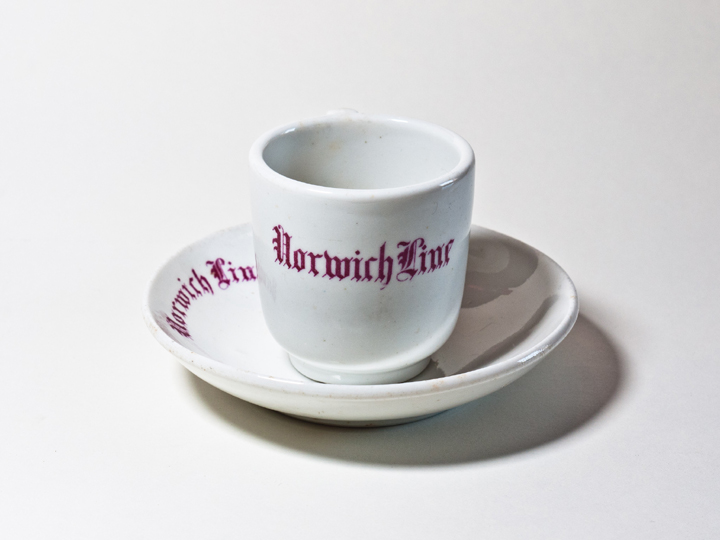 7.31.11 We say good bye to July, 2011 --a remarkable month --a month that has raised both the Custom House Maritime Museum and the City of New London up a notch, both in terms of challenges well-met and, more-generally, in a broadening of the general awareness for what we both can do!

The New York Yacht Club motored out from up the Thames & the USCGA this morning at 9 o'clock, pausing by the Custom House Pier to give a final salute (thank you Michael Passero for the photo). We watched from the deck of New London Harbor Light, hoping & waiting for the sails to unfurl. They did not. But it was an impressive site, none the less, with more than 100 ships- with-tenders sailing out through the channel in one long parade, and then turning left...

Last night we also received word from
Serenity
(of
Nimble Arts
) that she has received & loves the photos (see a sampling below) and hopes she & the
troupe
return to NL again next year. Me too!